Is it Better to Stay in Malta or Gozo?
Although Malta and Gozo are part of the same archipelago, they both offer different things. As a knowledgeable local, here is a quick overview of what you can expect as a traveler from Malta vs Gozo:
In general hotels in Gozo cost 10% less, food 15% less and also activities are less expensive. However Malta has more historical sites and a range of things to do for all ages. The activities in Gozo does not have as many historical attractions and they are better suited to older kids and adults. Gozo is wilder and has many more stunning views than Malta.
Malta vs Gozo: Costs
According to data gathered in September 2022 in Malta, an average meal is around €20 per person if you do not order a meat dish. On average hotels are around €107 whereas you will pay €159 for Airbnb's. Of course there many properties well below and above that average.
To give you a good idea of costs, here is the article on is Malta expensive. In the article you will get a full breakdown of costs for accommodation, restaurant prices, activities and public transport.
Malta and Gozo are not similar in costs except for transport. Whatever you can expect to pay for transport in Malta, you will pay in Gozo. The costs and system of public transport is outlined here in the best ways to get around Malta.  
On the other hand Gozo is 10-15% less expensive than Malta overall. The only exception is to rent a flat or house all to yourself. In fact I outlined this in the Guide to Gozo where Airbnb's are 30% more expensive. If you look at excluding 1 or 2 bedroom apartments or flats then the difference is greater. However you can get good deals well below the average price on Booking.com for Gozo here.
Restaurants are cheaper in Gozo vs Malta if you do not go to tourist traps. Like for example Xlendi Bay which can be just as expensive as Malta. Usually more rural, quiet areas have less expensive restaurants.
Malta vs Gozo: Things to Do
Kids Activities
Young kids are catered for well in Malta, in fact here are 16 fun kids activities in Malta. On the other hand Gozo does not have much for young kids. There are of course the beaches and some small play grounds here and there. However other than that there is nothing else.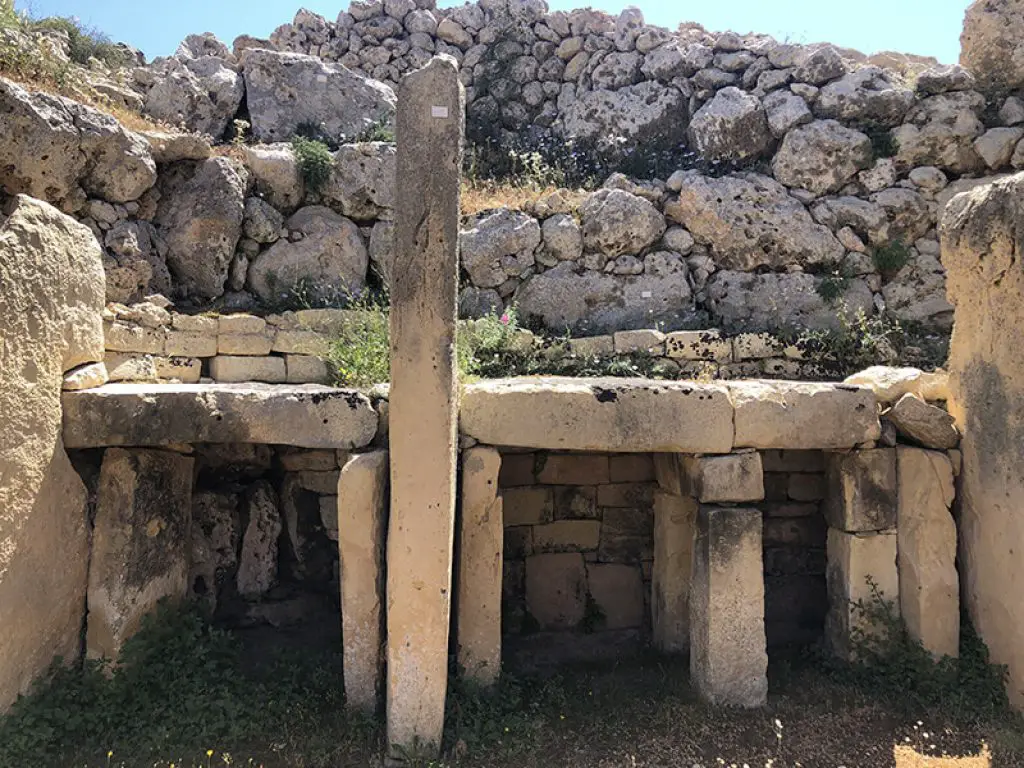 Gozo is better for anyone over a certain age that is able to appreciate art and culture, walking and scenic views. Here are 12 activities in Gozo for older kids and adults.
Historical Sites
Gozo is a smaller island than Malta and has less sites of historical significance. There are the Ggantija Megalithic temples, Basilica of Ta' Pinu, the Citadel and world war 2 shelters.
You can visit sites on your own, or consider touring Gozo with an expert guide who will give you a dose of history.
In comparison, Malta has many more sites to visit. In fact most tourists are surprised by the sheer amount of historical sites for such a tiny island! If you are into history, you are definitely going to have plenty to do.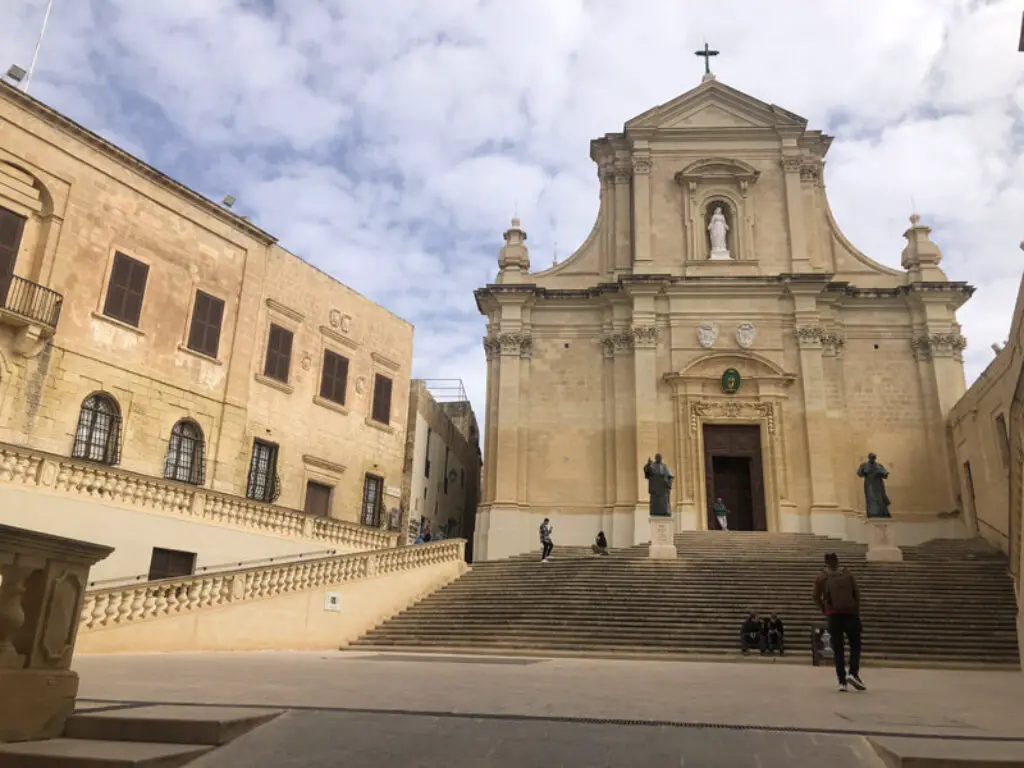 Malta has 3 megalithic temples of its own: Hagar Qim, Mnajdra and Tarxien. Several historic fortified cities: Valletta, Mdina and the 3 cities (Vittoriosa, Senglea and Cospicua). It also has war shelters, catacombs, the Hypogeum and not to mention the many sites in Valletta alone.
To get a quick overview of Valletta you may want to hop onboard one of the
Malta Fun Trains
. For a half an hour tour, you get a dose of history while riding a trackless choo choo train that takes you around the city.
Nightlife
Malta is known as a party island and hence has a lot going on when it comes to nightlife. There is the town of Paceville and the outdoor nightclubs UNO and Gianpula Village. Albeit a lot of Maltese are not going to Paceville as much because the nightclubs are getting replaced by gentlemen's clubs. So some are heading to Valletta instead for a nicer environment.
On the other hand Gozo is far calmer and quieter and does not have as much variety. In fact Gozo only has La Grotta nightclub and is not known for its nightlife. However La Grotta is a nice underground venue with a good vibe.
Malta vs Gozo: Beaches
Malta has many more beaches than Gozo and hence many more beautiful ones. In fact there are the best beaches in Malta which also covers a few beaches in Gozo.
The most beautiful beach in Gozo is Ramla il-Hamra with its distinctive red sand and stunning scenery. It is also a blue flag beach like Malta's best beaches Golden Bay and Ghadira Bay.
Malta vs Gozo: Scenery
Malta and Gozo are look better during autumn time and spring. They start looking nicer after the first few rains that water the soil. As a result, new fresh grass sprouts out and turns the parch brown countryside landscape green.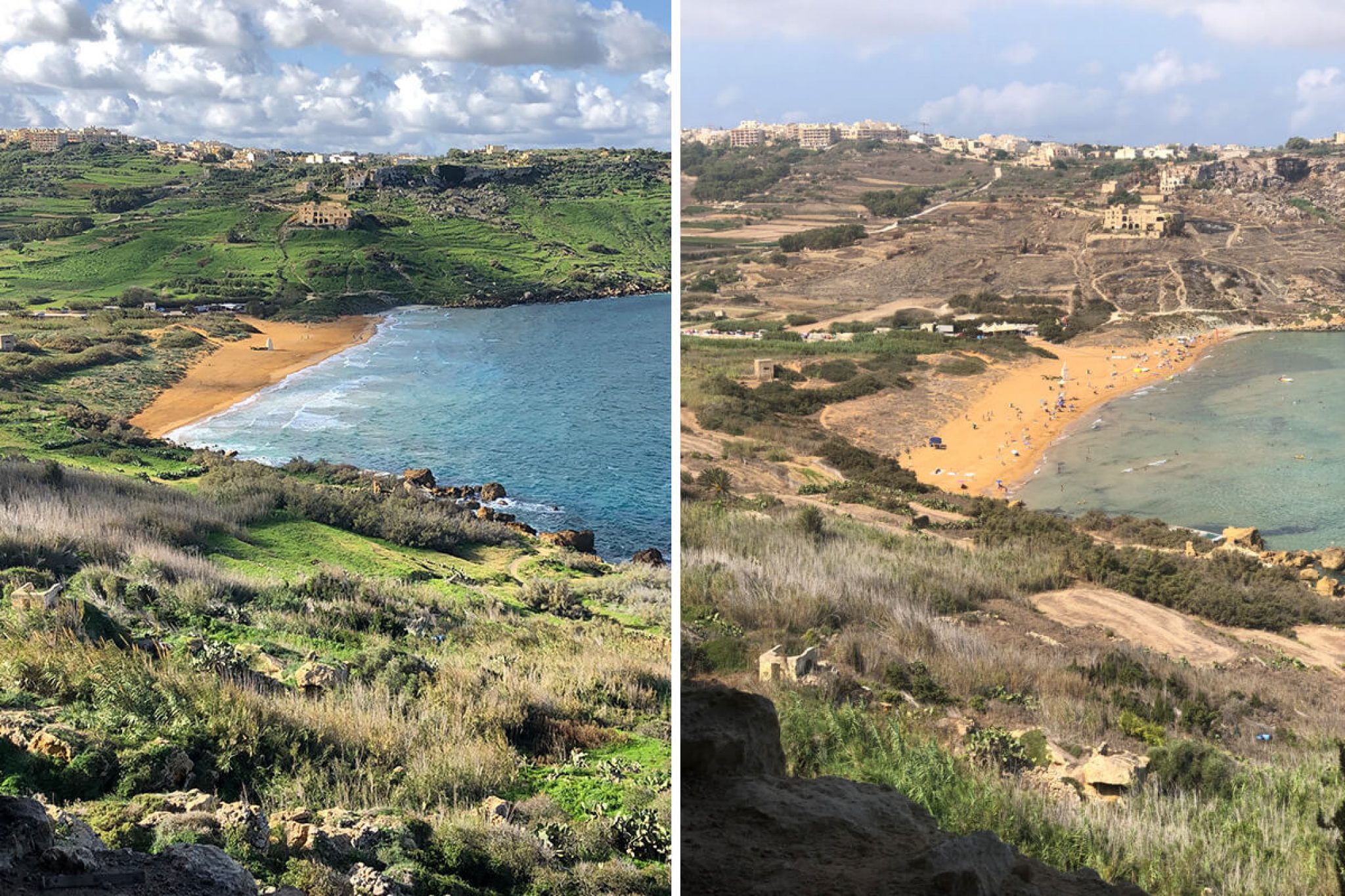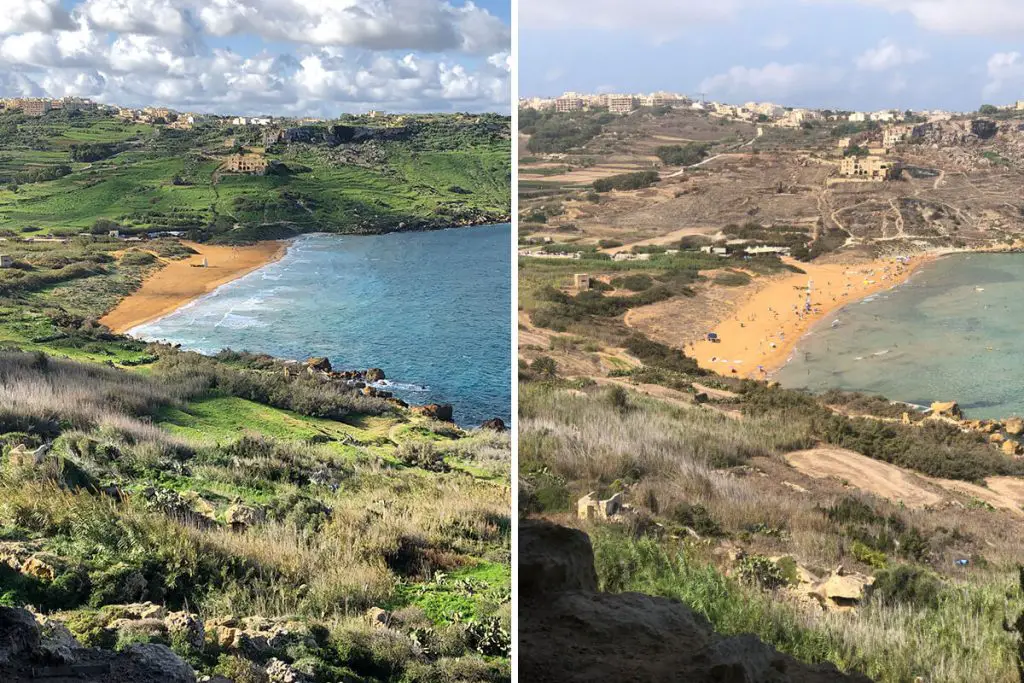 There are many beautiful places in Malta including built up places. Like for example Valletta in the upper Barrakka gardens and Mdina at the back of the city. Gozo has the Citadella which has amazing views that you can also access from the back of the city.
However if we look at countryside areas, Gozo by far has the best countryside views. Gozo is more rural and it has many hills, but 3 main high hills. They are Ta' Ġordan T'Għammar and Ta'Dbieġi. The views from the Ta' Gordan area are really stunning. I've walked there several times and it never ceases to impress.
Around these locations you get some gorgeous rolling hills and the views are spectacular. However there are also many other beautiful views in Gozo in other areas not just there.
Malta has several places as well like Dingli cliffs and Wied iz-Zurrieq. There is also Buskett which is Malta's largest woodland.
Malta vs Gozo – Verdict
To sum up, it would be good to visit both islands. However which one you pick to spend more time in, depends on what works best for you. Here is a breakdown of the pros and cons for each island.
Malta
Positive
Many activities for all ages
More beaches
More history and culture
Party island
Negatives
Crowded
more expensive
More traffic
Gozo
Positive
More scenic
10-15% cheaper
Much less traffic
Negatives
No activities for young kids
Almost no nightlife
Much less traffic
To conclude Malta and Gozo can get somewhat expensive, especially if you visit tourist traps. However it is easy to find less expensive options all over the islands. So anyone on a budget, can get accommodation and find restaurants that are way less expensive than the average prices on both islands.
Related Articles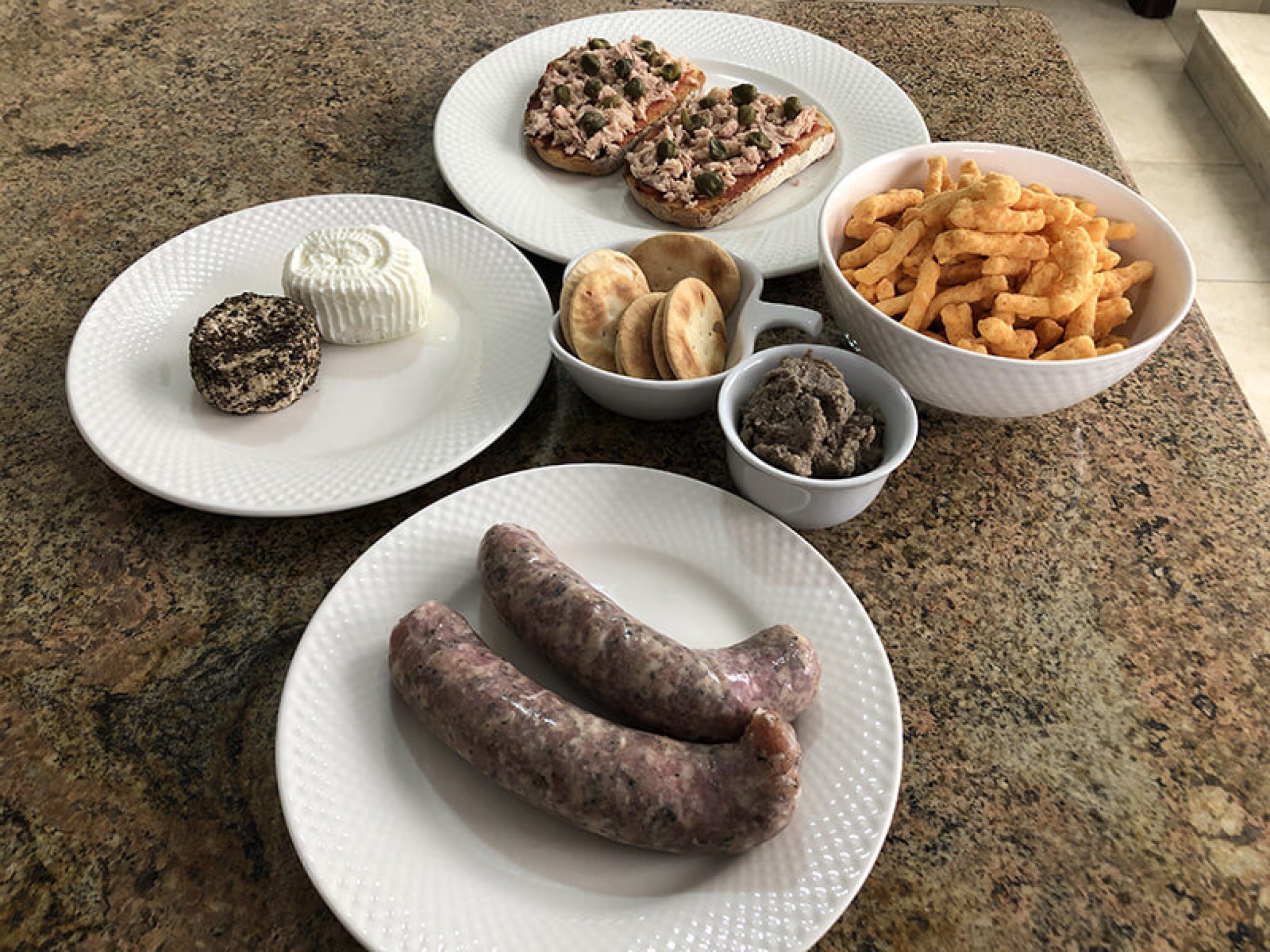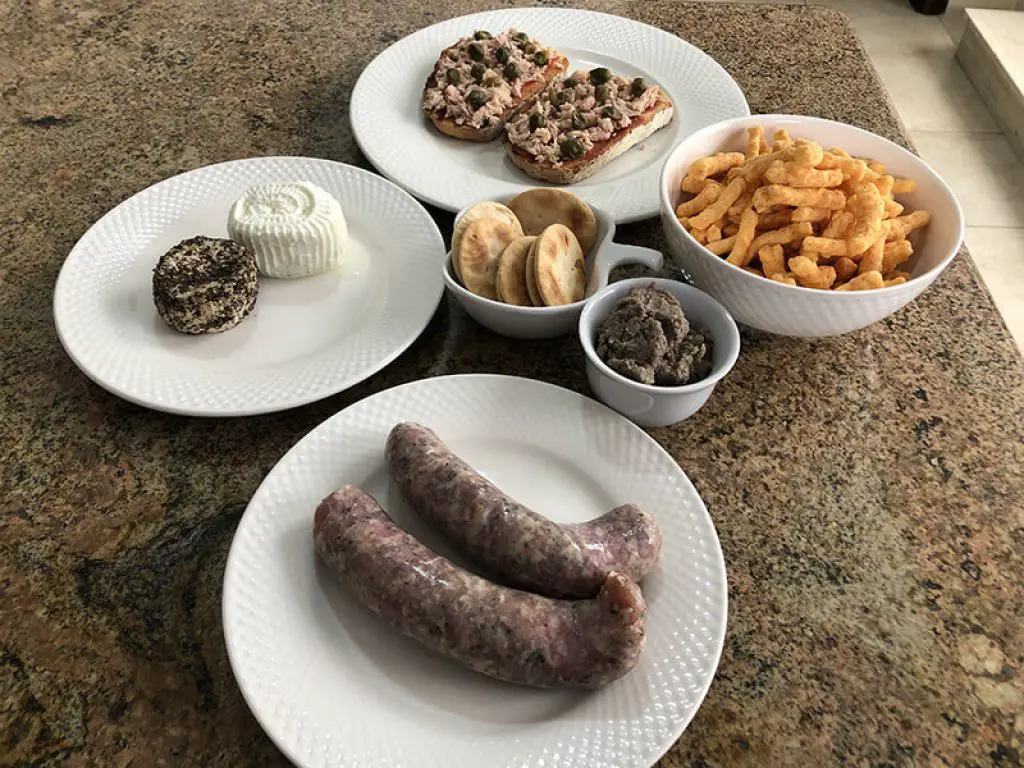 A Guide to Savoury and Sweet Traditional Maltese Snacks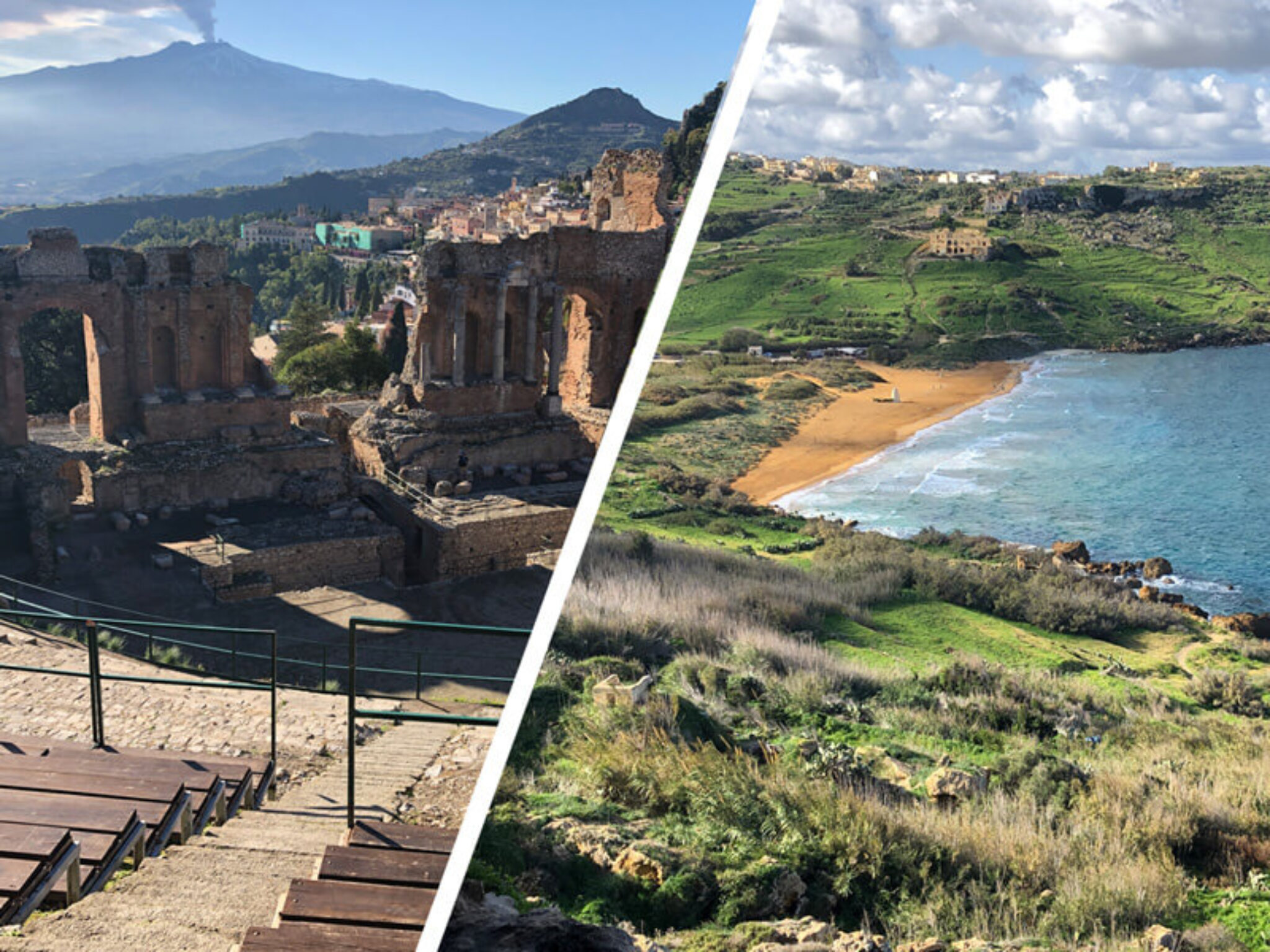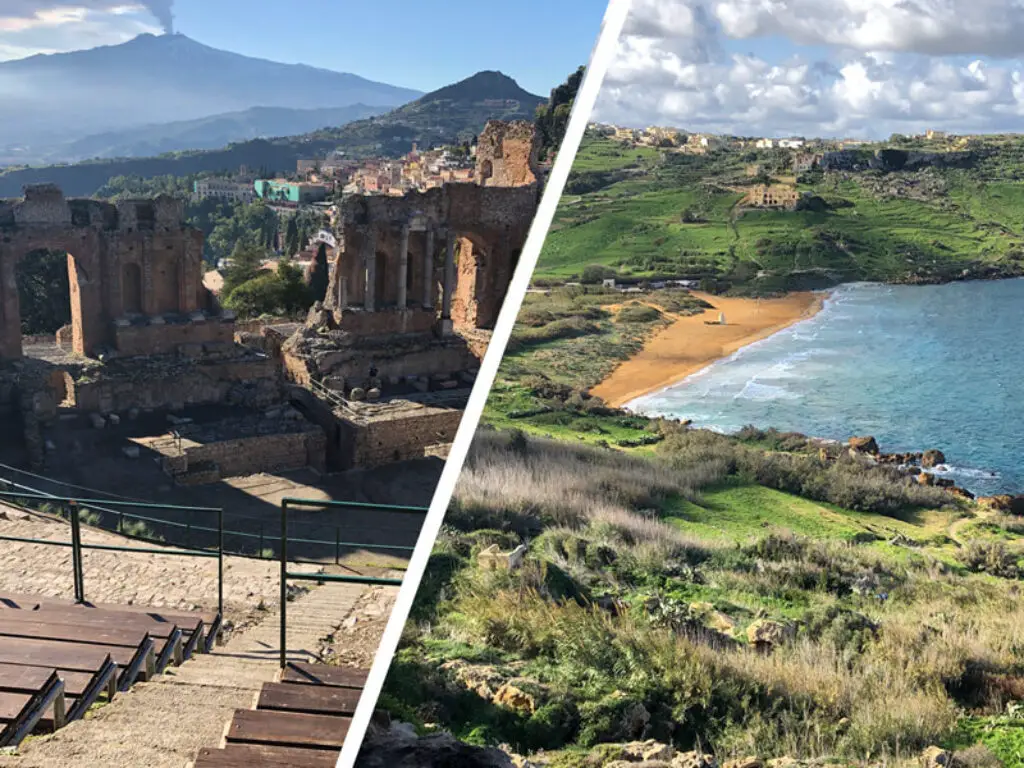 Comparing Sicily vs Malta: Choosing Your Mediterranean Escape