Best Ways to Get Around Malta (Public Transport vs Car Rental vs Taxi)
As locals, my friends and I have used various modes of transport to get around different parts of Malta and Gozo. Whether you use public transport or a combination of different methods will depend on two things. Firstly which town you are staying and the places you intend to visit. So what is the best way to travel around Malta?
In general Malta's public transport is good especially within and between major towns. Additionally it is cost effective, but smaller towns and remote areas are not as well catered for. In this case, a taxi or renting a car may be your best option.
When you are visiting the island you may opt for some tours to see Malta, some of which provide transport to and from your hotel. So it is worthwhile checking before you plan your route to get to any location.
Public Transport in Malta
There are no trains or trams in Malta except for trackless tourist trains for tours which operate 3 routes around; Rabat, Valletta and Bugibba. However there is a proposal for an underground Metro system as a form of public transport to be built in future. Currently public transport to travel in Malta and Gozo consists of spacious and fully air conditioned buses.
The buses will get you to most places including many kids activities and beautiful spots on the islands that are covered in these 4-day and 7-day itineraries in good time. Buses are frequent, and all in all, they are reliable in major towns like Bugibba, Sliema, Valletta and Victoria in Gozo.
Bus Tickets and Cards
You can easily purchase tickets from the bus driver once you hop onto the bus. Each ticket is €1.50 per person in winter and goes up to €2 during the summer period. Regardless of the season, night trips are €3 per journey.
With these journey ticket you do not need to purchase another if you travel back within 2 hours. However you can also opt to buy travel cards for the buses. The Tallinja cards are another great option that is cost effective.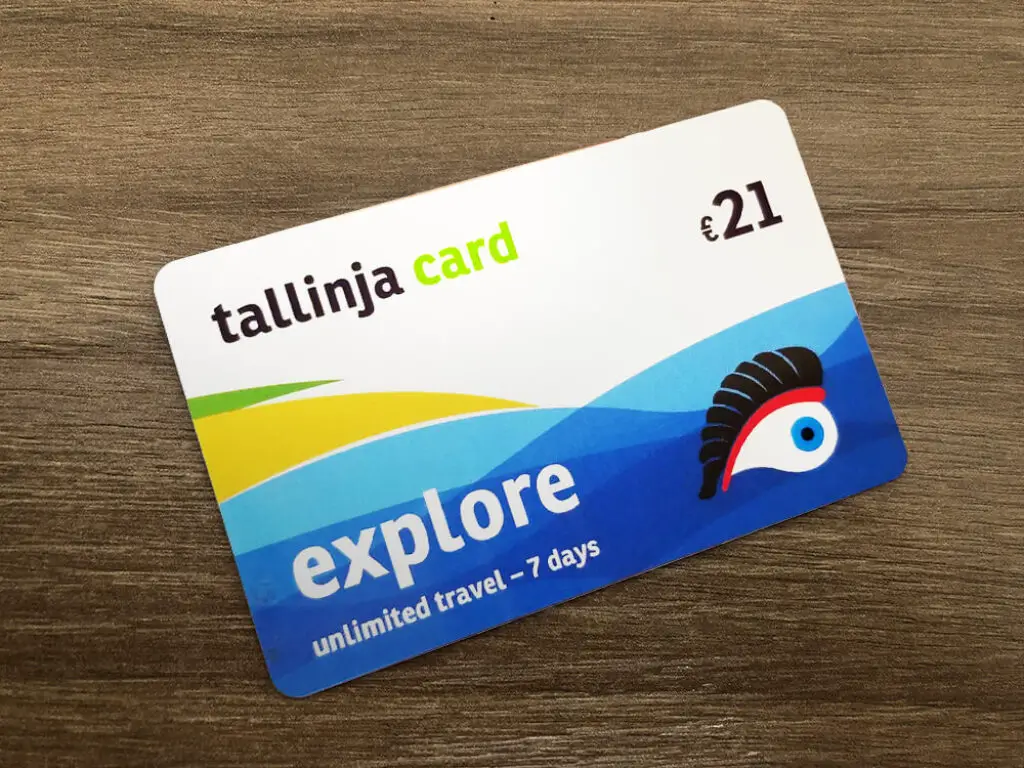 There are several different Tallinja cards you can opt for. There are 7 and 12 day cards and cards for children. The kids cards are great for families because kids get discounted rates.
Additionally with tourist travel cards you can also get some other benefits. Like for example getting access to hop-on, hop-off buses, a round trip to Comino and other benefits. You can check the Malta public transport website for up to date information.
You can get hold of these tourist travel cards from different sales points and terminals. They are:
Malta International Airport arrivals lounge between 08:00 to 19:45
Valletta Bus Terminal (next to Bay A1) between 06:00 to 17:45
Victoria (Gozo) Bus Terminal between 08:00 to 12:00 Monday to Saturday
You can also get a Tallinja card around the clock from a dispensing machine found at these locations:
Malta International Airport – Arrivals Hall
Malta International Airport – Close to Airport 3 Bus Stop
Valletta Terminus – Close to Bay A1
St. Julian's – Ross Bus Stop
Mosta – Rotunda Bus Stop
Buġibba Terminus
Victoria, Gozo Terminus
Mġarr, Gozo – Gozo fast ferry terminal
Malta Public Transport App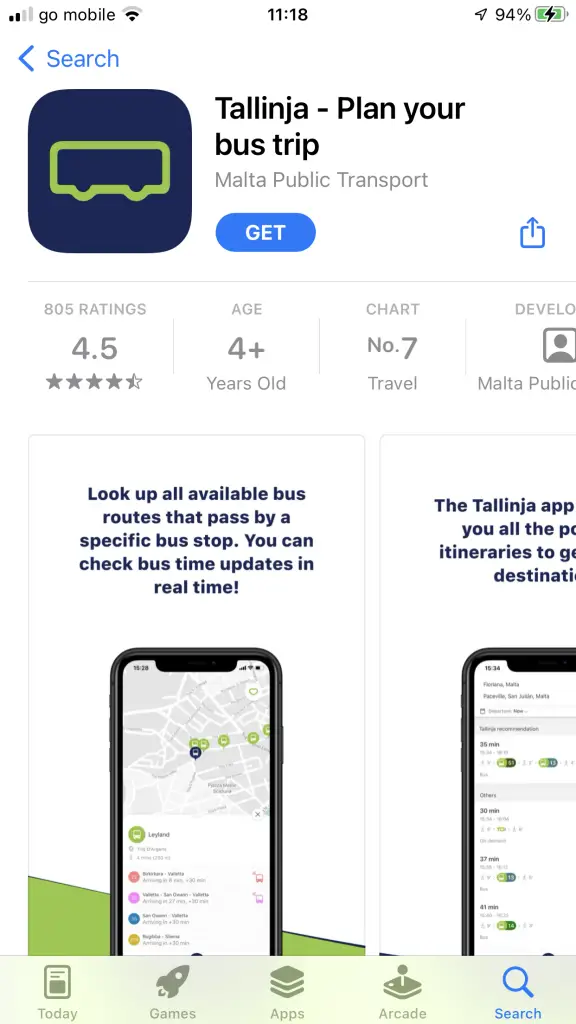 You can download the Tallinja app to get all the latest and updated information. You can find out bus stops, available routes and times you need for the bus service.
When to Consider Alternatives to Public Transport
There are times when you may need or want to consider other modes of transport. They are:
Rush hour in the morning and evenings when schools are open
Travelling to remote areas
Firstly travelling at rush hour during school times is hectic even in areas that are well catered for. My colleagues complained many times about how they waited for the bus, but it kept on going past them. Unfortunately this happens when the buses are full and there is no room left for anyone else to board. So if you need to be somewhere at a fixed time, it is definitely better to seek alternatives.
Some parts of Malta and Gozo are remote. As a result bus stops are further off so you will have to walk over a kilometre or more. During the hot summer sun you want to best avoid remote areas like this.
When you travel in summer in the Maltese islands make sure you carry water, sunscreen and a hat. People have gotten sun stroke while waiting for long periods in the sun.
By remote areas I mean some beach areas which are listed in this article for the best beaches in Malta.
Here is a breakdown of the closest bus stops to these beaches:
| | |
| --- | --- |
| Beach | Closest Bus Stop (km) |
| Armier and Little Armier | 1.2 km |
| Dwejra | 0.16 km |
| Ghadira Bay | 0.01km |
| Ghar Lapsi | 0.1km |
| Gnejna | 0.05km |
| Golden Bay (Ghajn Tuffieha) | 0.2km |
| Mgarr ix-Xini | 1.7km |
| Paradise bay | 0.1km |
| Ramla il-Hamra, Gozo | 0.37km |
| St George's Bay | 0.17km |
| St Peters Pool | 1.5km |
| Xlendi Bay, Gozo | 0.1km |
Ghadira Bay and Golden Bay are the beaches that have the most bus routes stopping on the closest bus stop. Additionally although the closest bus stop to St Peters Pool is over 1km away there is an alternative – you could take a ferry, which is covered further down this feature.
Alternatives: Renting a Car to Travel in Malta
Renting a car is of course less cost effective if you are a couple, but as a family it is more worthwhile. In general, for a family of 4, renting a car will cost around twice as much as public transport. However renting in Malta is cheaper especially for smaller compact models.
Renting a car has its benefits. Firstly because you can just up and go with no restrictions on timing. Secondly you have no restrictions on locations you can visit.
Moreover you will have less travel time because you can take more direct routes. On the other hand buses need to cater for travellers going to a number of different destinations. So that means that the bus routes are winding and take some time to get to each destination.
There are many companies in Malta that offer a car rental service. The easiest way to find the best deals are through Discover Cars, which won the award for the world's best car rental booking website in 2022 at the World Travel Tech Awards.
Not surprisingly they have an excellent rating on Trustpilot because they provide customers with high-quality car rental services and exceptional customer support.
Here is a guide on driving in Malta weighing the pros and cons of car rental, costs, rules, street parking, and general parking details. Additionally there is a specific guide for driving into Valletta to find out the fees associated with entry, parking and tips.
Alternatives: Taxis to Travel in Malta
There are a few different cab services in Malta, the best ones are Uber and eCabs. The eCabs app works very much the same way as the Uber app does. Most importantly you have everything live displayed on the apps including a transparent fee.
On the other hand the white taxis are not great and I do not recommend you use them. Unfortunately over the years they have built a bad reputation for overcharging and mistreating clients. In fact I do not know anyone that uses white cabs. 
The benefit of using cabs is that they are convenient. They will come and pick you up from whatever location you are at and drop you off right where you need to go. However their drawback is that they are more expensive.
Ferries
There are some ferry services in and around the island of Malta. As mentioned there is a ferry from here in Marsaxlokk that takes you to St Peters pool. Sometimes the companies change. However this time when I was over in Marsaxlokk there was not just any ferry, but a traditional Maltese Luzzu boat courtesy of Charlie's Boat Trips.
The ferry is €10, but it is worthwhile getting a trip on a Luzzu. Charlie will drop you off right at St Peter's pool, but you will need to call Charlie before you decide to go. His mobile number is +356 79 444 001 and you can check out Charlie's facebook page here.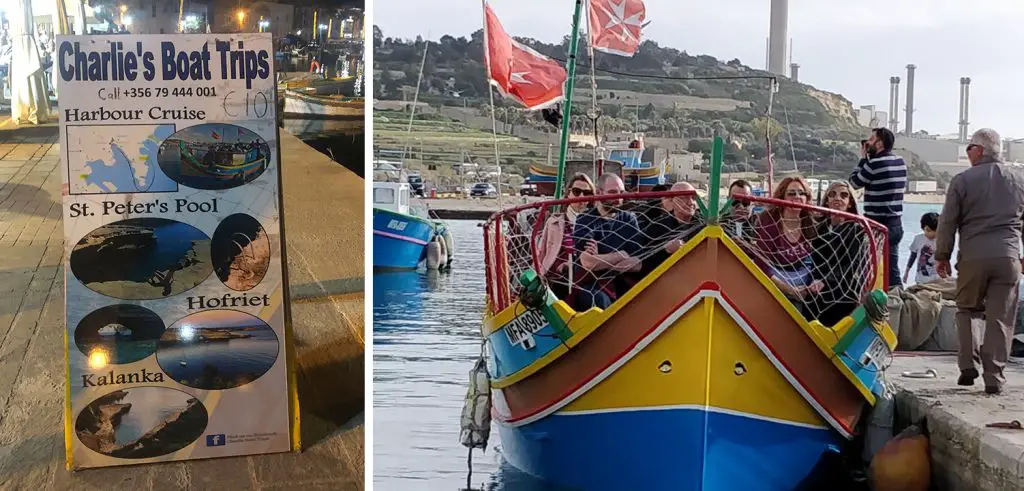 Here is the location where you can get the boat to St. Peters Pool.
There are also other ferries that travel to other parts of Malta, Gozo, Comino and Sicily. For the routes, terminal locations, costs and more information you can check out this guide to ferries in Malta.
Related Articles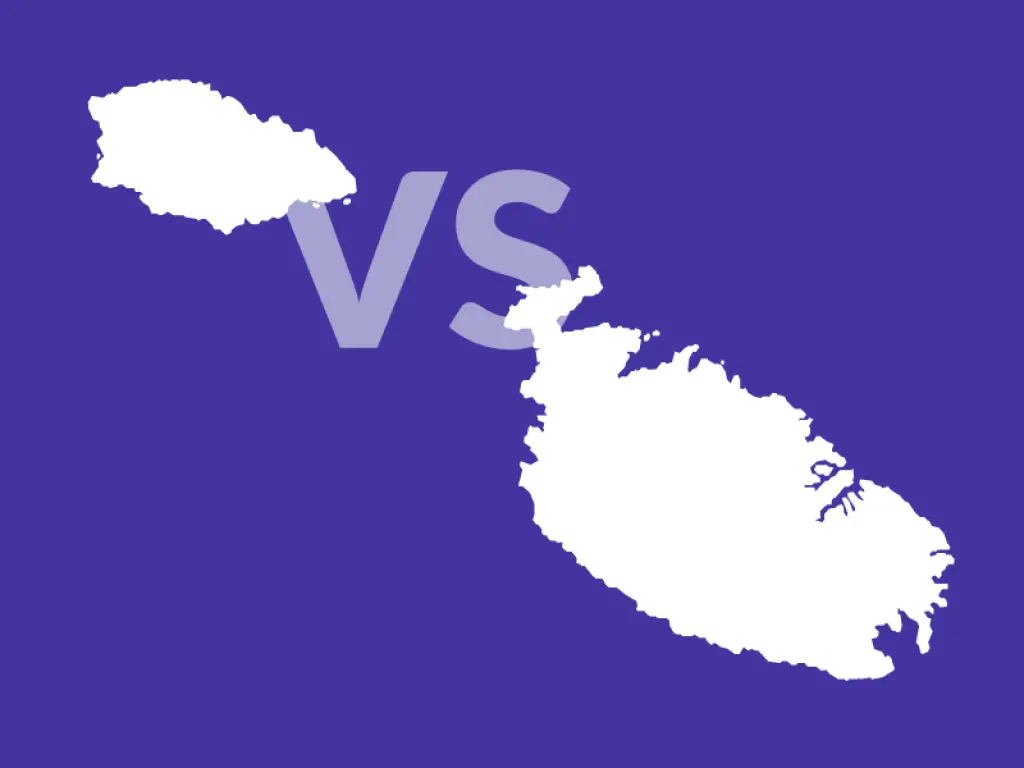 Is it Better to Stay in Malta or Gozo?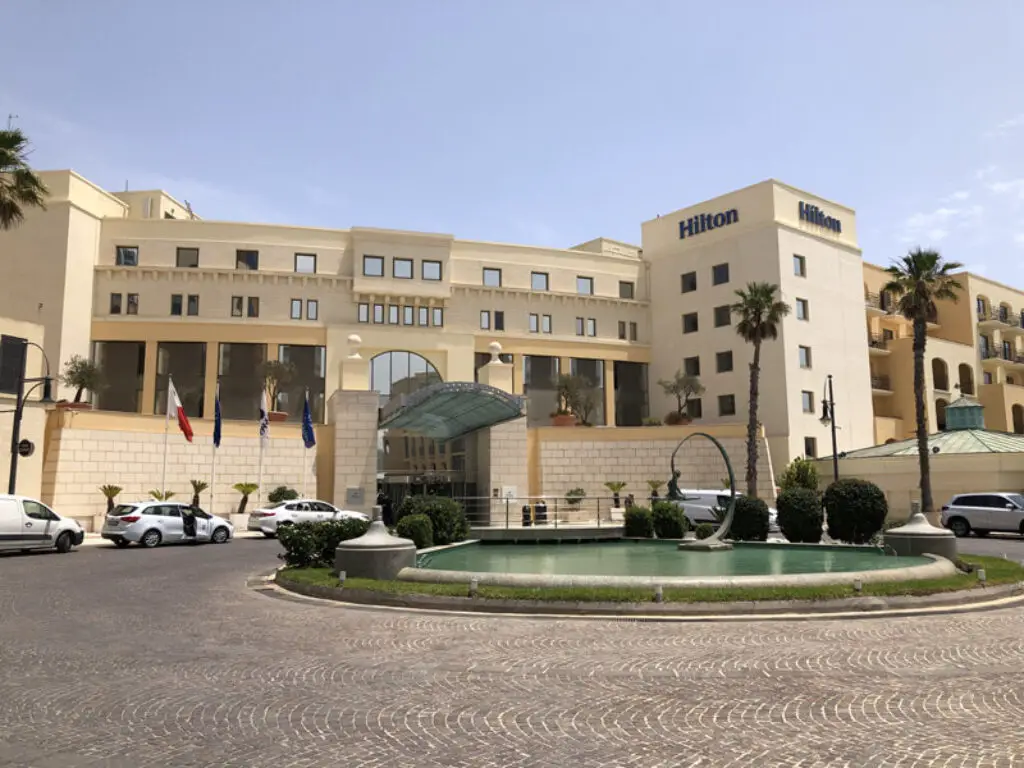 Where to Stay in Malta: Sliema, St Julian's or Valletta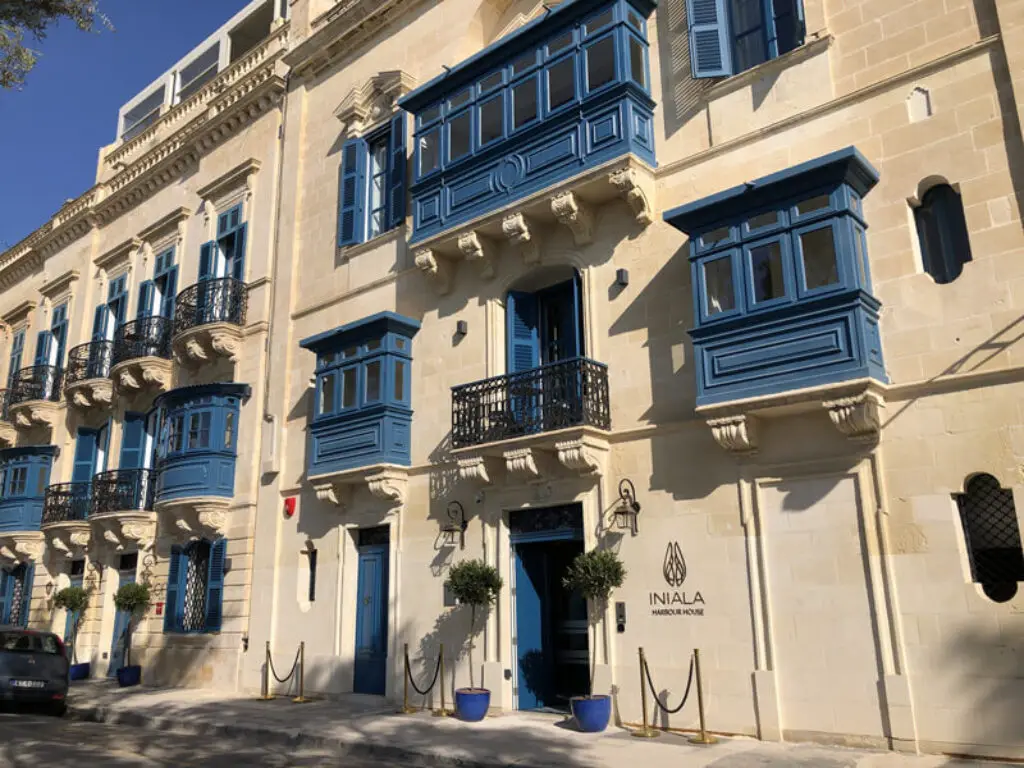 2 Best Hotels For The Most Amazing Luxury Holiday in Malta