Sicily With Kids | Activities | Accommodation | Travel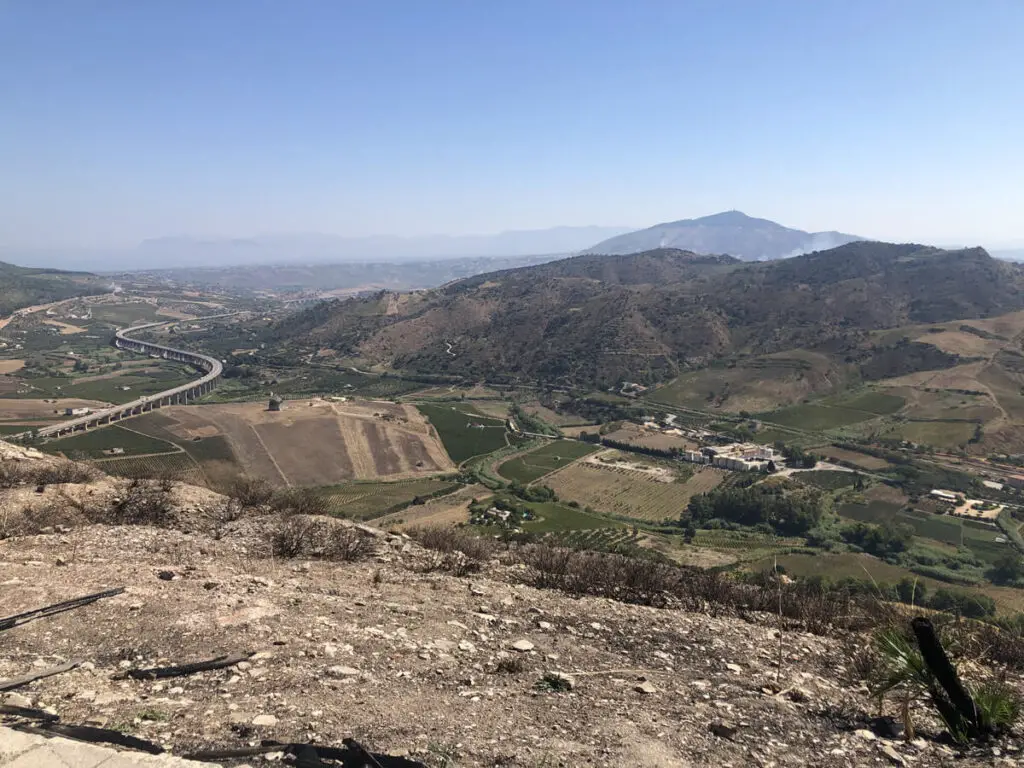 Sicily is a fantastic destination for families with kids of all ages. It offers a diverse range of attractions and activities including many beautiful beaches, water parks, adventure parks, theme parks, small zoos and donkey trekking. There is also a selection of family-friendly accommodations that offer child minding services or kids playgrounds and pools.
For teens that are into history, art and architecture there is also plenty to do. Whether you choose to explore the east or west side, or both, there are three 4 day itineraries and a 10 day itinerary for seeing the highlights in Sicily.
However in this article I'm going to focus on fun activities for younger kids, below the teenage group. I will go give you a comprehensive overview of the best areas for kids, recommend suitable accommodation with amenities to ensure your kids have a comfortable and enjoyable stay.
Best Part of Sicily for Families
As mentioned in the article on east vs west Sicily, the best part in Sicily for families is the East. As you can see on the map below, it has many more activities that are suitable for them. All activities across Sicily are listed on this article on things to do with kids in Sicily.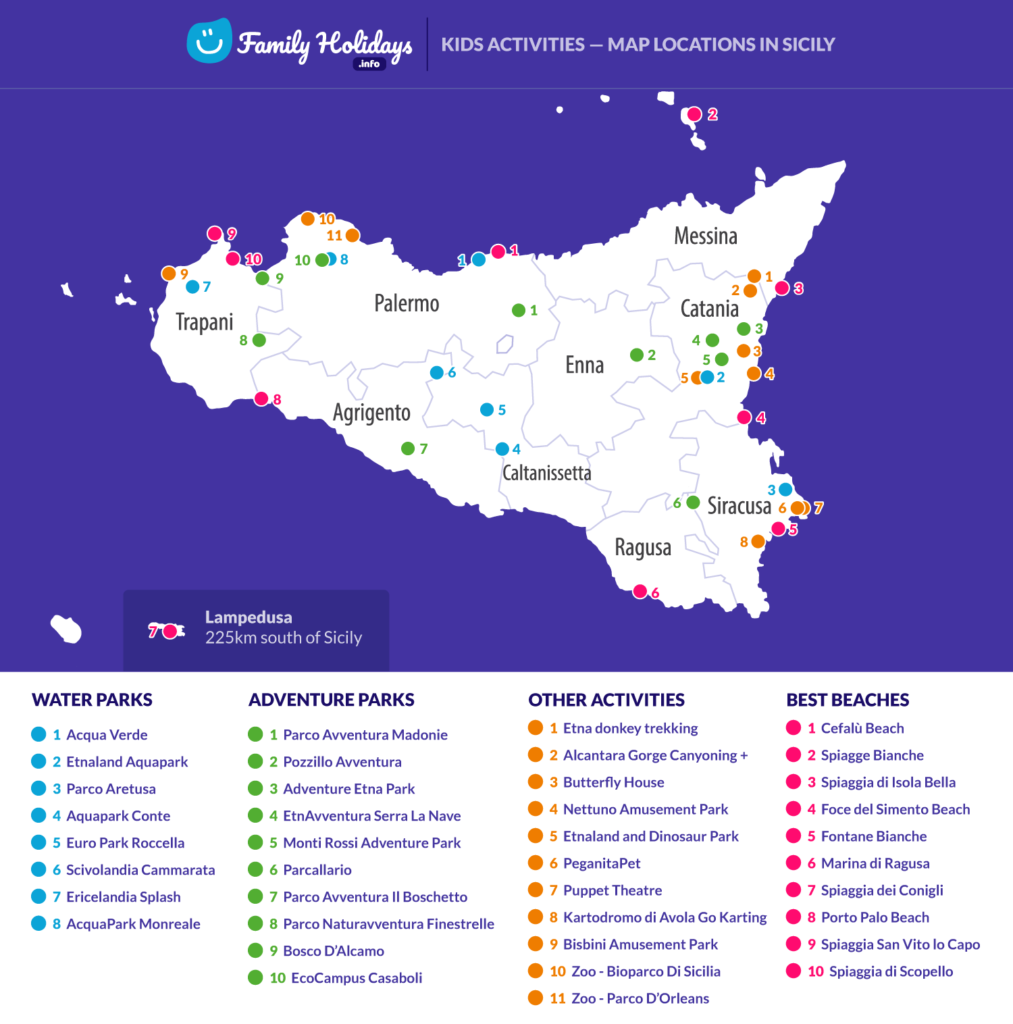 The West Including Palermo With Kids
There are some activities you can do with kids over on the west to keep them entertained. This is fantastic because the Baroque capital city of Palermo is one of the best places to visit and never ceases to disappoint.
In between the more grown up things you may want to do, you can give the kids a break and take them to do some activities they will enjoy.
The kids have a couple of small zoo areas, a water park and adventure park to look forward to. Additionally the west side of Sicily has some wonderful beaches.
Mondello beach in Palermo is one of the best beaches around those parts. Plus there is Spiaggia Scopello and San Vito lo Capo which are around 1 hour and 50 minute's drive away from Palermo.
Accommodation for Families in the West
San Vito lo Capo Beach in particular is amazing and in a lovely town, but that there aren't many resorts. The Villaggio Cala Mancina at the top of this list on Booking.com is a good resort for families in this area. It doesn't have the best facilities, but it does have family rooms, an outdoor swimming pool, kids outdoor play equipment and a kids club.
The thing is San Vito lo Capo is a little way off, and you may not want to go that far. In this case you may want to find accommodation closer to Mondello Beach. Apart from having easy access to the beach it's only a 25 minute drive from Palermo's city centre. 
Alternatively there is Monreale which is just outside of Palermo. The nice thing about it is that is it not an expensive area and absolutely stunning.
In this case the BnB Casa Rossa in Monreale is a fantastic place to stay. It's a Bed and Breakfast, but it also has apartments. It is exceptionally well rated, comes with a pool, and has some stunning views of the surrounding landscape. It is within 15 minutes' drive from the Cathedral of Monreale, an adventure park and a water park. Plus they have a fenced private car park.
The handy thing about Monreale and Palermo is that they are in the middle of other places of interest. If you travel west you have San Vito lo Capo and to the east you have Cefalù. Cefalù is a lovely coastal town known for its cathedral and beaches.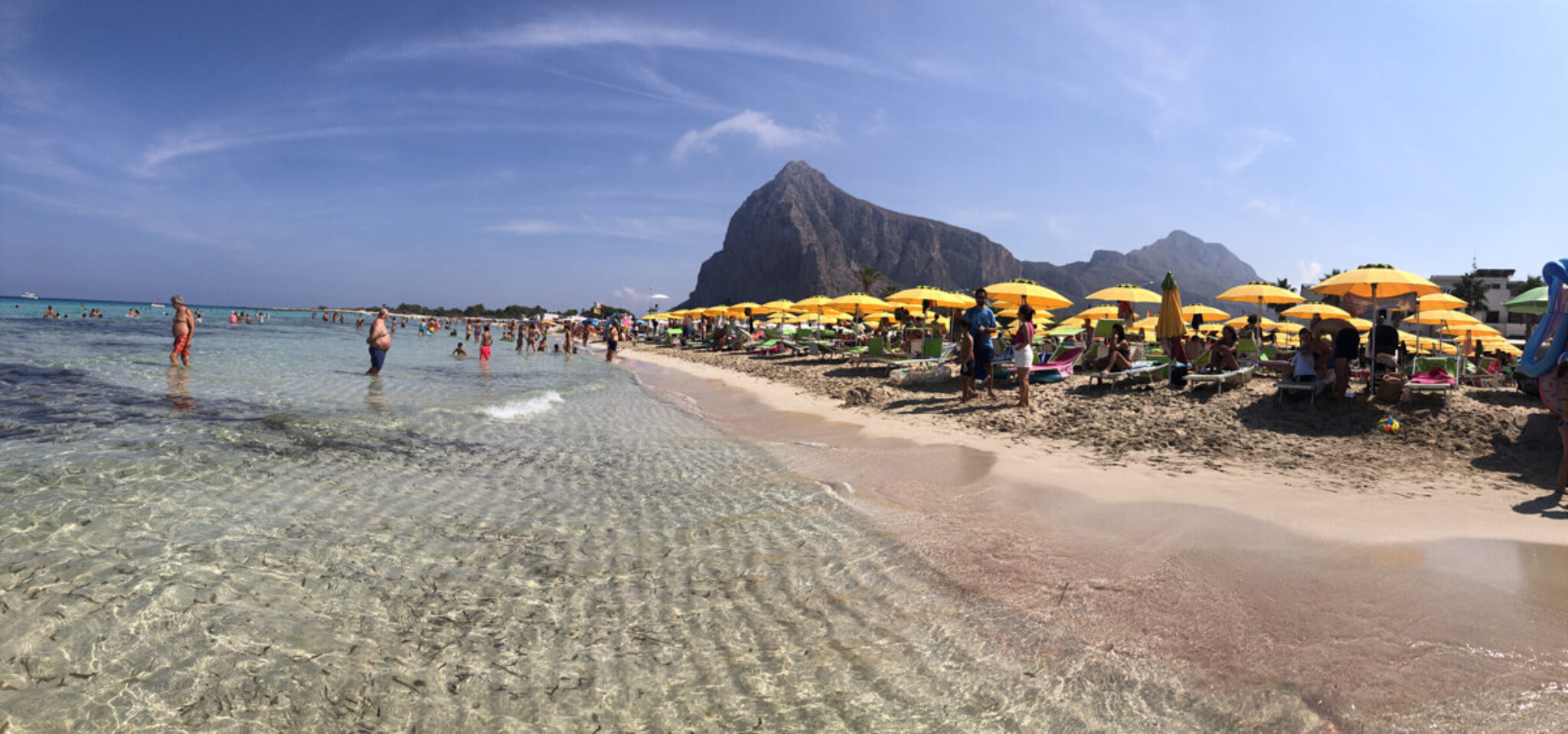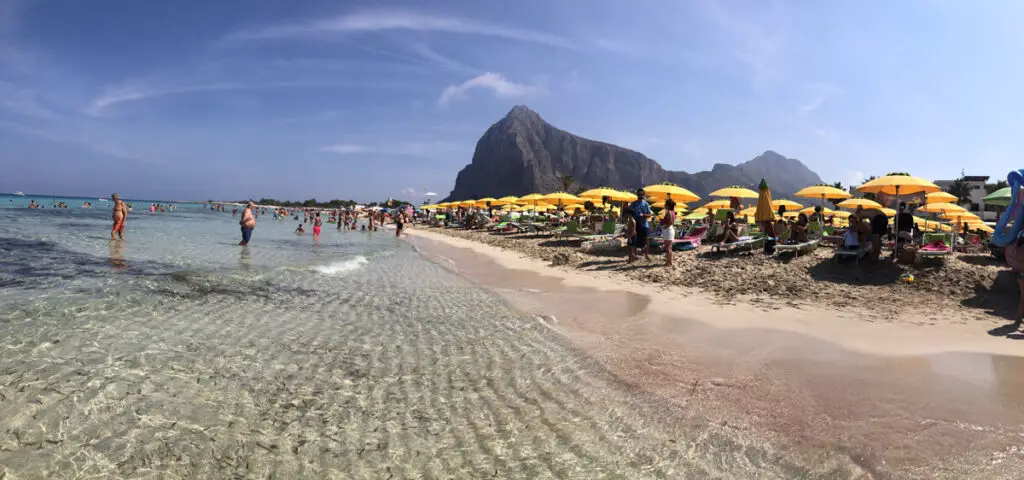 The East Including Catania With Kids
The east has quite a lot of things to do to keep the kids going for a week if not more. Plus there is quite a bit of variety. The drawback is that you will need to travel around a little bit, usually not more than an hour or so.
The good thing is that you can quickly visit some historical places and then do an activity with the kids that's close by.
For example you can see Catania's city centre and then go check out Nettuno Amusement Park. The Puppet Theatre and Peganita Pet is in, or close to Syracusa and Ortigia. Plus you can donkey trek around Etna which is one of the great ways to explore this UNESCO site, and fantastic for anyone over 2 years.
Accommodation for Families in the East
City Centre
You may want to be right in the city centre and stay in a hotel with family rooms Le Suites Del Duomo House or Il Sovrano. They are more expensive than average, but well rated with family rooms, babysitting/child minding services and a public parking in a location close by. 
However if it was me, I would look at an agritourism stay.
Agritourism
Agritourism means agricultural tourism – a farm stay. To clarify, you do not have to do any work on the farm, you simply relax and do your thing, similarly to you would at a B&B or hotel.
Agritourism is really popular with Italians and Maltese looking for a relaxed place to stay, especially for families with children. They are usually in the country areas, and some have a pool, a kids play ground and farm animals for the kids to enjoy.
Plus these farm houses provide a more homely and authentic Sicilian feel. They also usually grow their own produce on the farm and cook tasty meals for guests.
One of the best ones is called Boscoscuro at the top of this list right on the foot of Etna. It doesn't have a pool, but it is a fantastic place with 50 acres of garden, family rooms, free parking, a kids play area, horse riding and artistically decorated rooms.
Alternatively if you really want somewhere with a pool, Agriturismo Ruvitello might be preferable.
There is also a good one over in the town of Noto. Noto is known for its Baroque architecture and is a UNESCO world heritage site. Outside of the town is some beautiful countryside and a great farm stay. It's a great area with some activities for kids and other historic towns close by. Plus it's only an hour away by car from Catania.
Agriturismao Val di Noto at the top of this list has everything you need for your family. It features family rooms, an outdoor swimming pool and kids pool, kid's playground and play area with goals, plenty of farm animals and parking onsite.
Getting Around Sicily with Kids
By Car
When it comes to getting around Sicily with kids, traveling by car is generally the most convenient option. It gives you the flexibility to explore various attractions at your own pace. Plus, it can also be more cost-effective, most especially if you rent a car for several days or more.
One highly recommended car rental company is Discover Cars. They won the tech award for the best car rental company in 2022 and have an excellent rating on Trustpilot. If you consider their reliability and customer satisfaction, it's worth considering them for your car rental needs in Sicily.
The only thing I would suggest is that you are careful where you park the car. Several Maltese I know that travelled up to Sicily by car, have had their car broken into or car parts stolen.
In fact Sicily has a high rate of car theft especially in Catania. Hence if you hire a car, make sure to not leave anything in plain sight. Additionally the accommodation I have suggested above have a private car park on site or somewhere close by. So you can rest assured your car will be secure if you use them.
Public Transport
If you plan to stay put on one area, you may as well rely on public transport and not hire a car. Public transport is great within towns or adjacent areas.
It's when you have to cross Sicily from east to west that travel times extends drastically. This is because of a lack of interconnectivity in the network. However this does not apply to the major towns of Palermo and Catania that are well serviced.
Regardless if you want to cross Sicily you should check Omio. It will give you both train and bus options if they are available. This is especially handy for the longer trips because sometimes buses take more direct routes and are cheaper than trains.
I have a whole section dedicated to travelling within Sicily. So if you need more information on the topic, here are the guides below: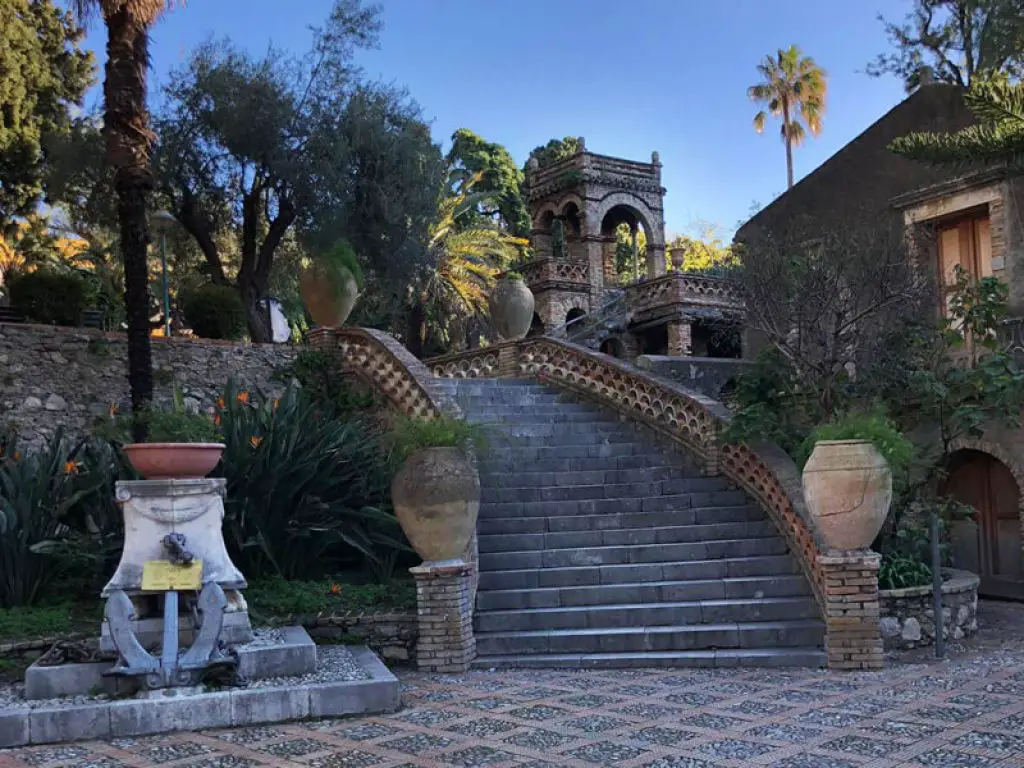 A guide on getting around Sicily including information on public transport, taxis, and hiring a car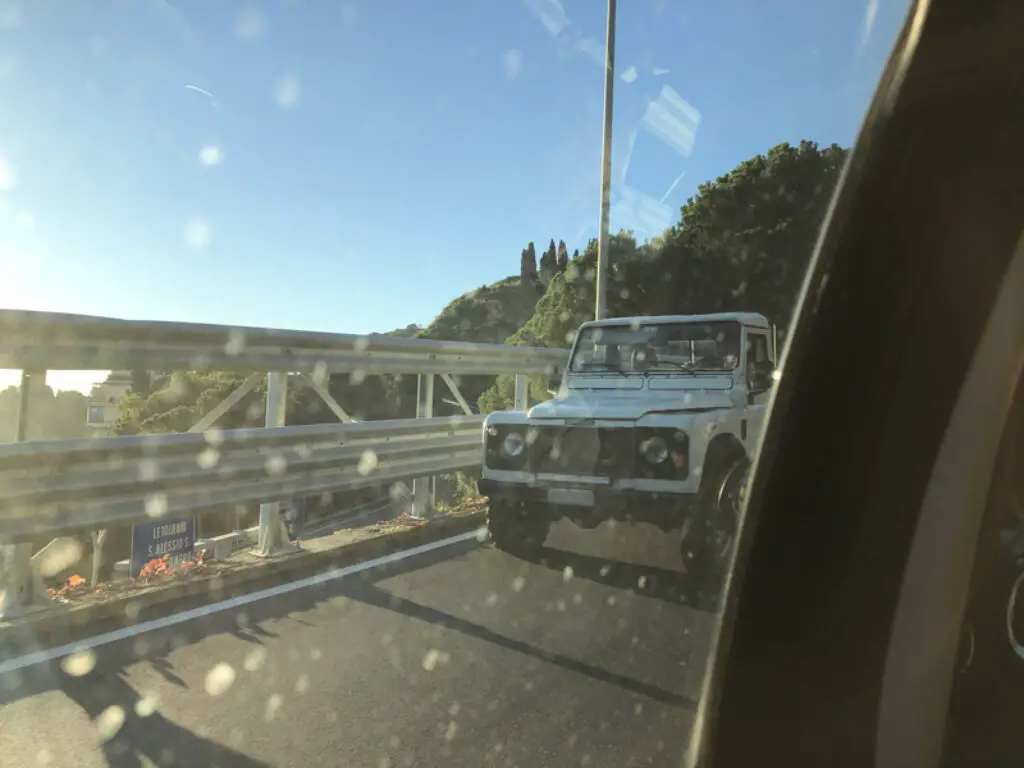 A guide on hiring a car in Sicily, covering the cost range, age restrictions, documents and more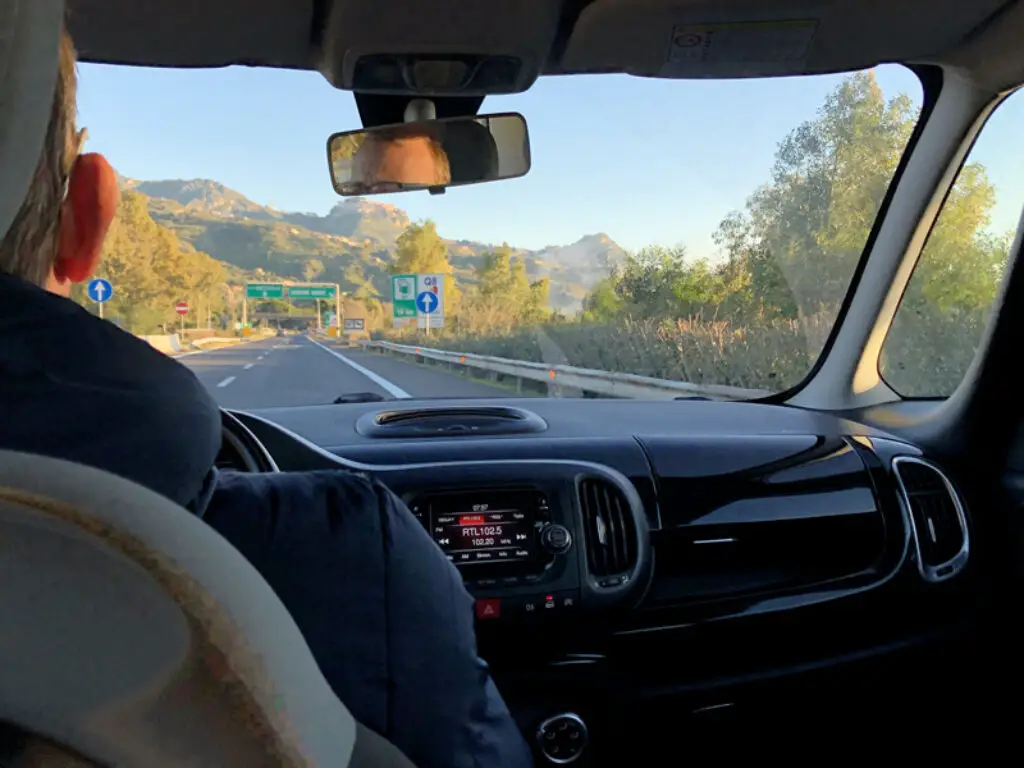 A guide on driving in Sicily, covering the rules, driving culture, and strategies to avoid congestion taxes and tolls
Walking Around Sicilian Towns
If you plan to walk around with your kids in Sicily, it's important to keep a few things in mind. Many of the popular tourist towns in Sicily have limited traffic zones called ZTL (Zona a Traffico Limitato).
In these areas, a congestion tax is applied where you will need to pay to enter or pass through them by car. However, the positive side of these zones is that they help reduce traffic. As a result it makes it more enjoyable to explore these central areas with your kids.
There are also some old town areas that have incredibly narrow streets like on the island of Ortigia. It does get tight especially when cars go by, but the good thing is that they are in ZTL Zones. So if you have to go through these streets it's a lot easier since there is much less traffic.
Strollers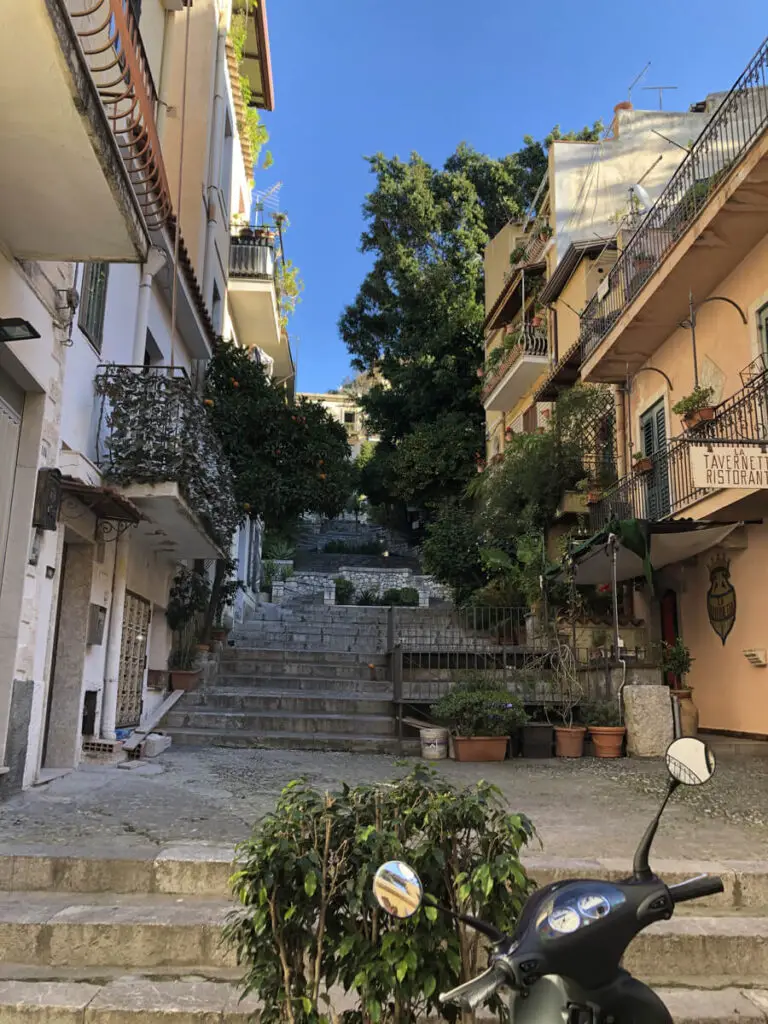 While walking around, you may encounter some stairs in certain towns like Taormina. These stairs connect one street to another when they are on a hill like the ones in the image. If you have a stroller, you will need to lift it to navigate these stairs.
However, it's worth noting that apart from these stairs, there aren't many areas with cobblestones across Sicily. Most areas have smooth roads and pavements, at most they will have paving in some central town areas. This will enable you to comfortably push a stroller without needing to remove your kid from it.
Related Articles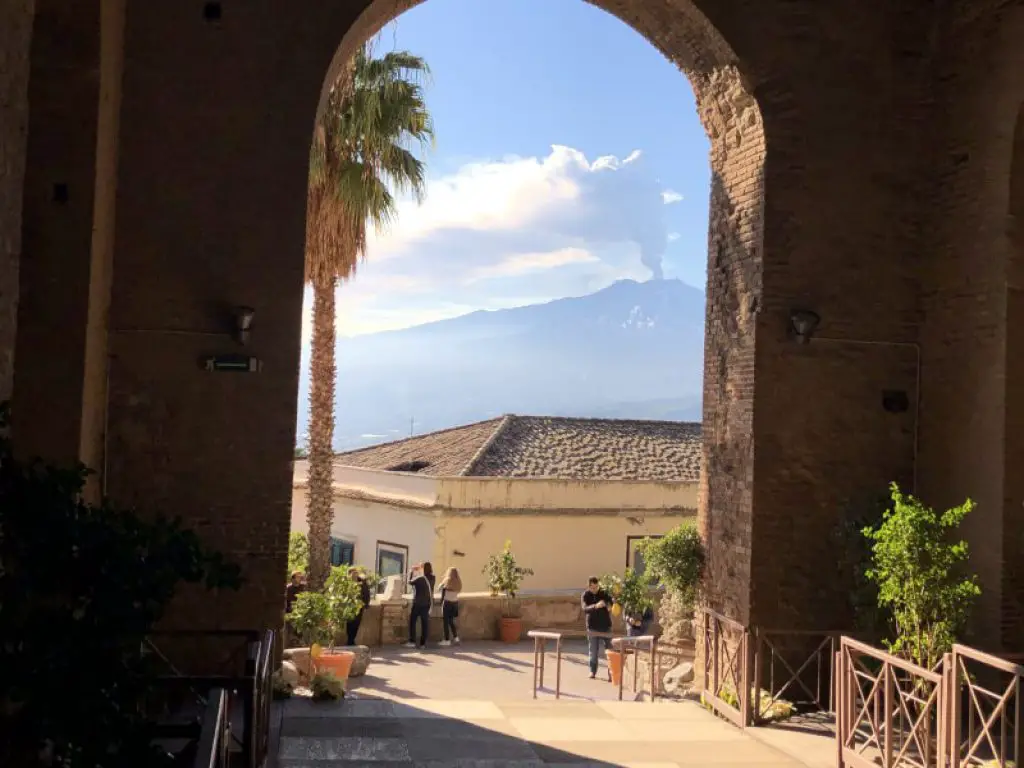 What Is the Best Month to Visit Sicily? A Year-Round Destination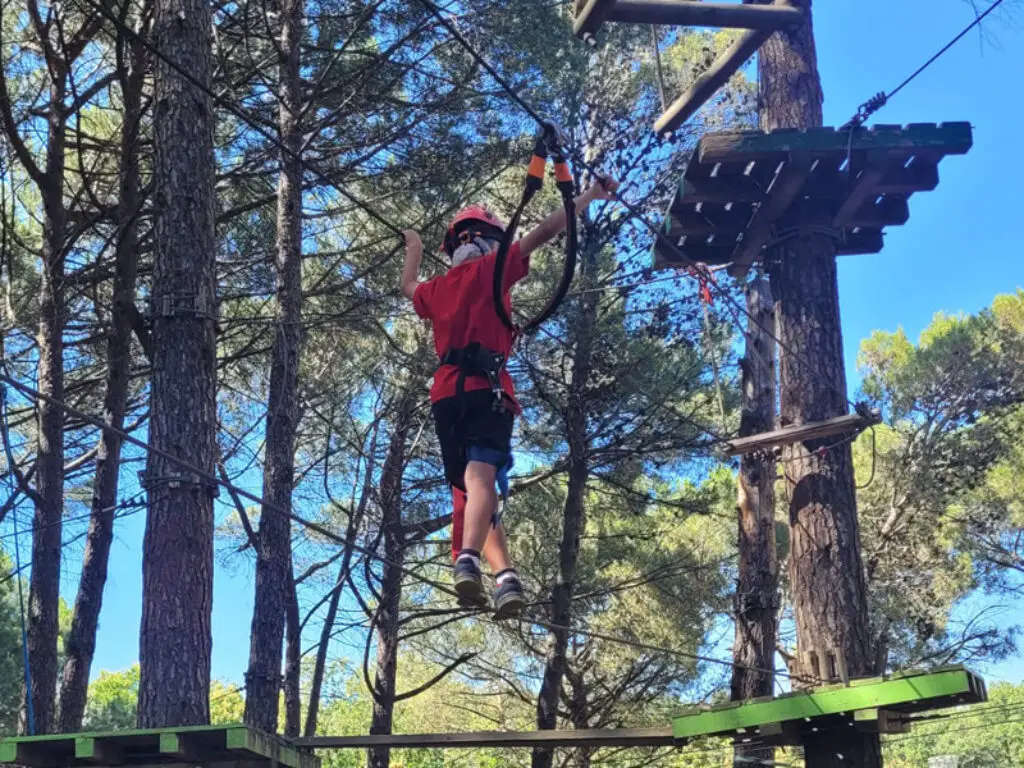 10 Best Aerial Adventure Parks in Sicily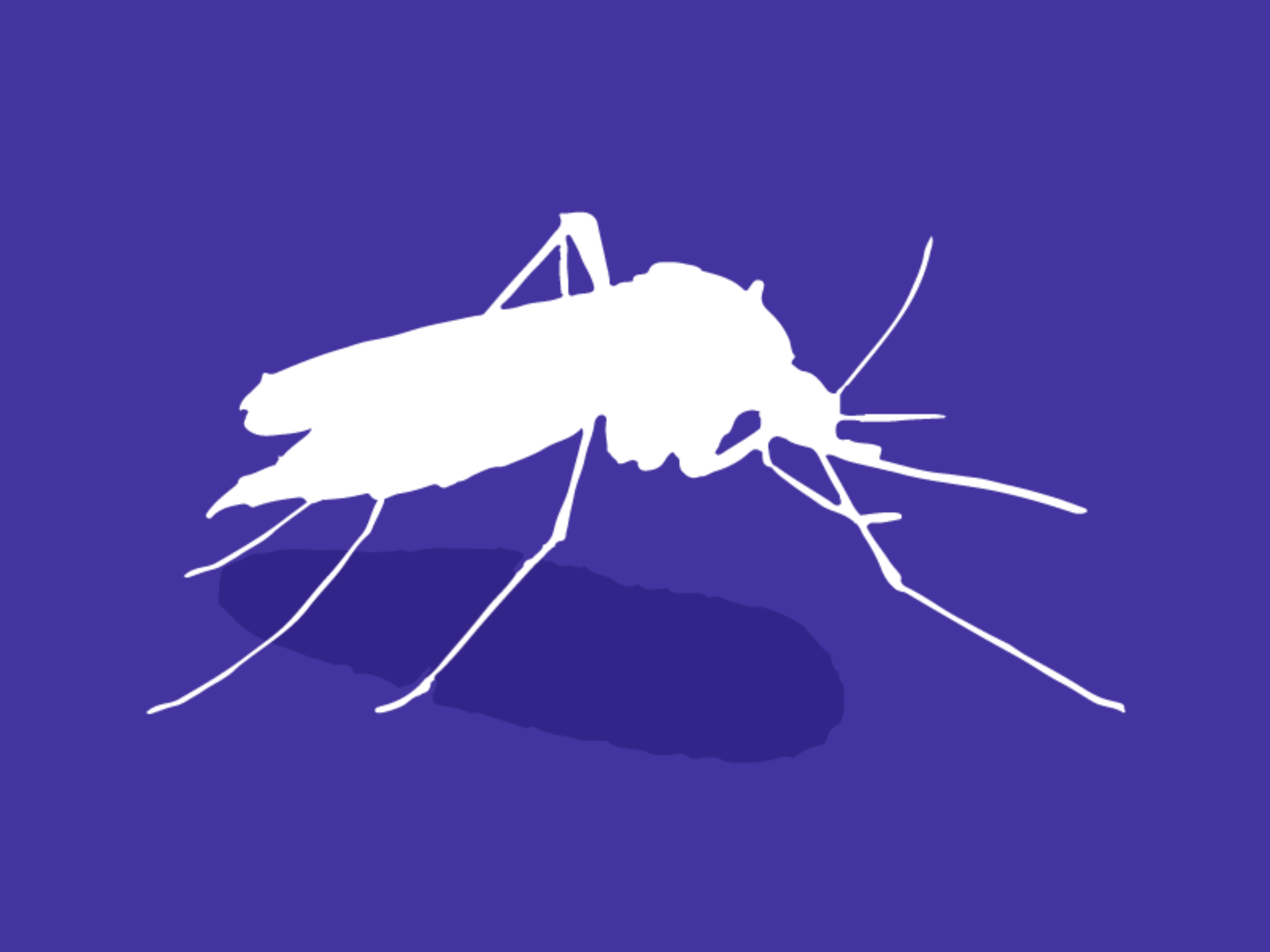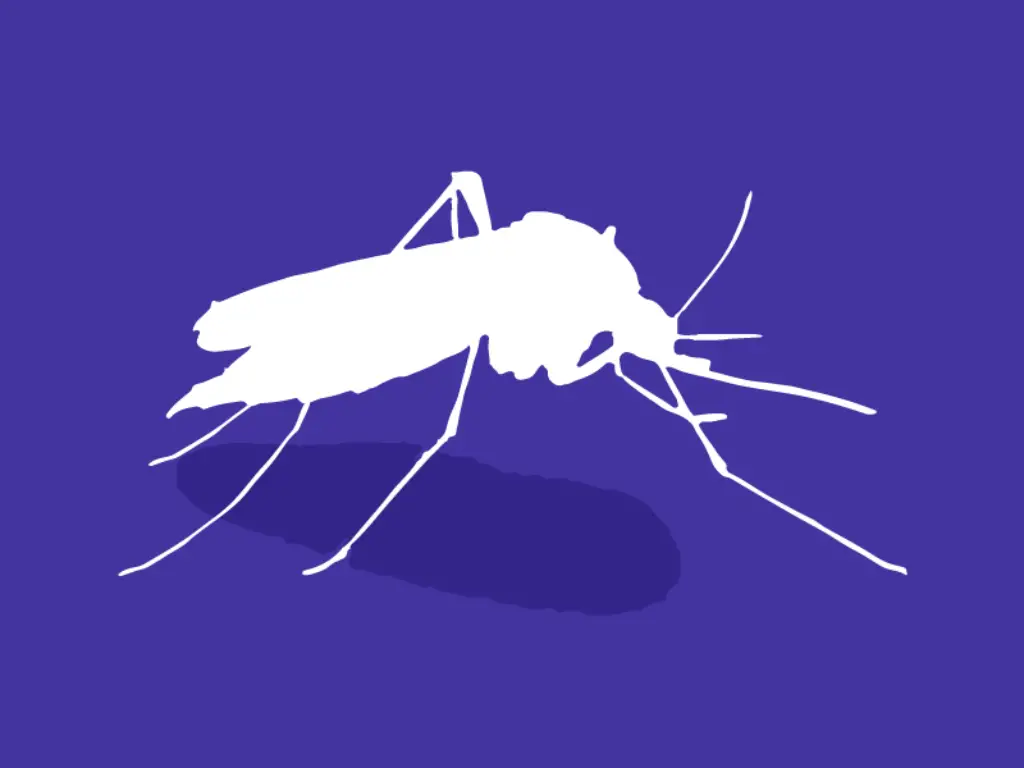 Mosquitoes in Sicily: Insights and Bite Prevention