East vs West: Which Part of Sicily is Better?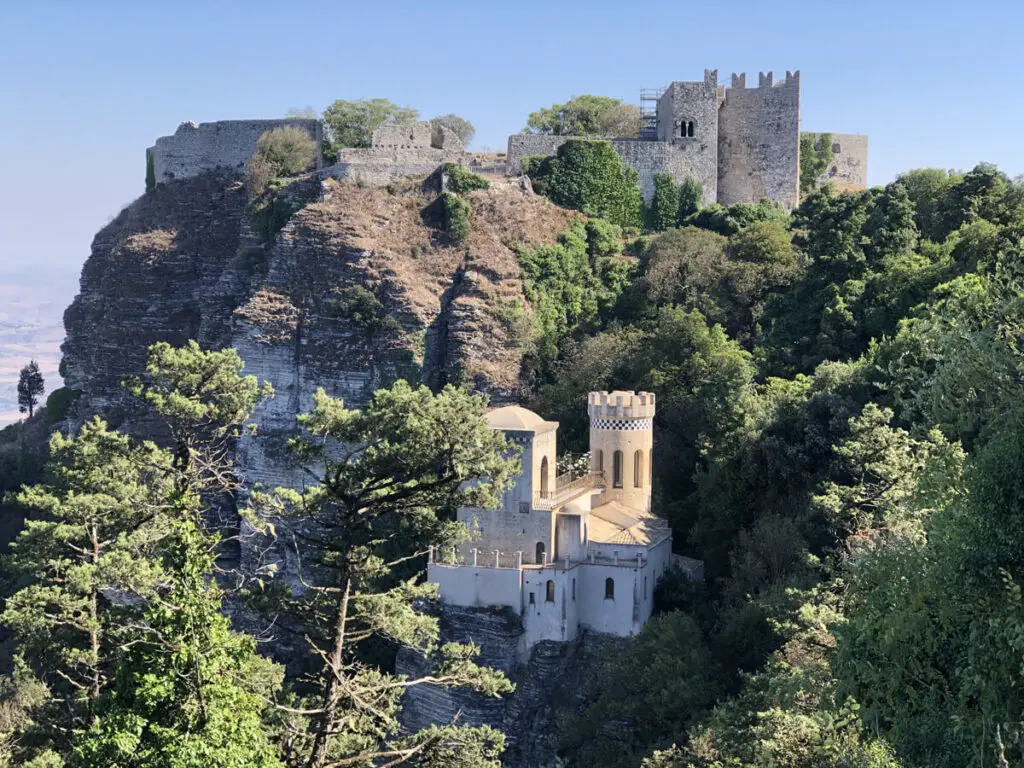 There are plenty of great reasons to make Sicily your next holiday destination. Not only is it the largest island in the Mediterranean Sea, but it's also among the most beautiful. Awash with historic towns and cities, gorgeous architecture, naturally stunning landscapes, breathtaking beaches, lush vineyards, and vibrant culture, a visit to Sicily is ideal for all the family.
So, if you've chosen to visit this island paradise, the next question you might have is which is the most beautiful part of Sicily to visit?
Overall the east side is marginally better than the west side of Sicily. It is the most beautiful side and easier to get around without a car. It also has more water activities for summer, a wide array of day trips and more family-friendly activities. On the other hand the west is slightly better for history, architecture and beaches.
Getting Started in Sicily
Having traveled the length and breadth of Sicily in the past, I'm certain that wherever you visit you'll have a great time. There truly is something for every type of traveler. From families and couples to solo backpackers, you won't be disappointed. Plus most of Sicily is relatively inexpensive.
The island is ideal for both short stays and longer visits. Fancy a long weekend in a vibrant, cultural, and historic city with a beach? Palermo in the west is hard to beat. Meanwhile, for a longer visit, the ancient port city of Catania in the east makes an ideal base for exploring the island.
Still looking to narrow things down a bit? In this guide, we'll take a look across the entire island to discover the best places for stunning scenery, family activities, beach resorts, and much more.
The Nicest Part of Sicily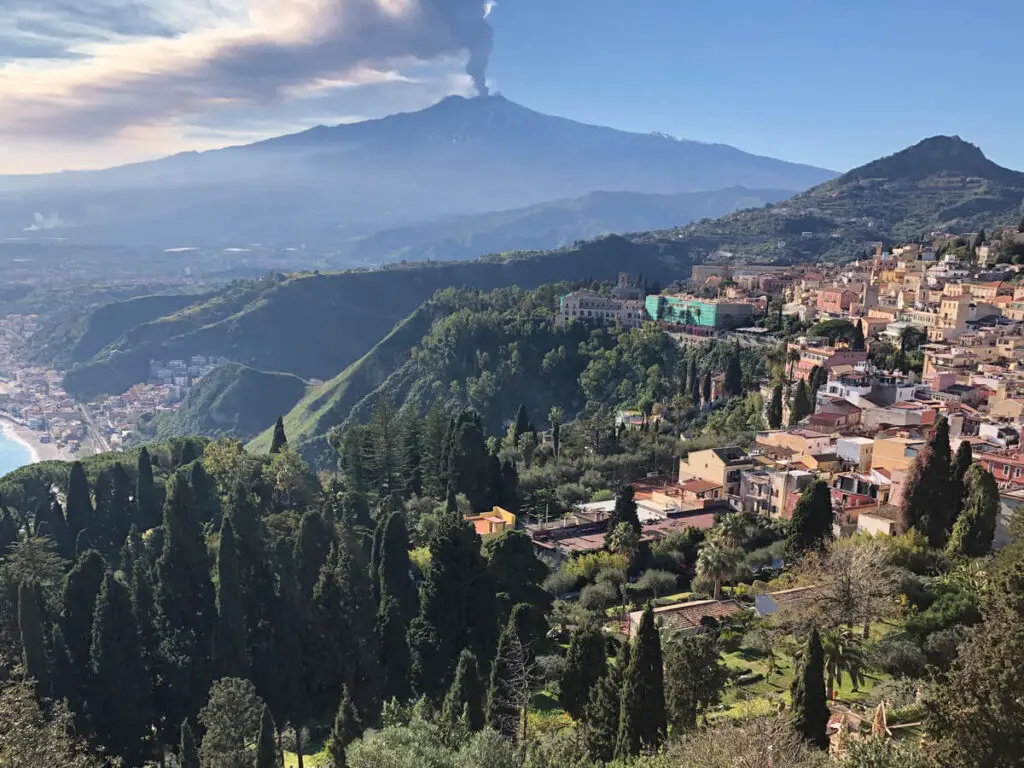 Verdict: East
They say beauty is in the eye of the beholder, and that's certainly true. Sicily's landscapes are absolutely stunning across the island, and there's plenty to take in.
The east part of the island stands out as one of the nicest places in Sicily. In particular, the northeast tip of the island, the Messina Province, and especially the city of Taormina offer jaw-dropping natural and historic scenery. In fact on this site there are two 4 day itineraries for Sicily that also include Taormina.
Taormina is the most expensive town in Sicily with good reason. It blends incredible views of tropical blue seas and sandy beaches with a mountainous backdrop—Mount Etna. It's ever-present and gently smouldering on the horizon—the area boasts almost unrivalled natural scenery. There are also tons of tours to experience Mount Etna of varying durations.
Not surprisingly this is the location for the ultimate luxury stay in Sicily. Plus, Taormina is one of the oldest parts of the island, with gorgeous medieval streets, churches, and architecture on every corner.
This guided tour of the city of Taormina is expensive, but it is the only one that takes you to different Gothic and Baroque buildings and provides their historical background. You are also taken to some spots for some incredible panoramic views.
However the tour does not include entry tickets to the ancient Greek Theatre which you may want to purchase.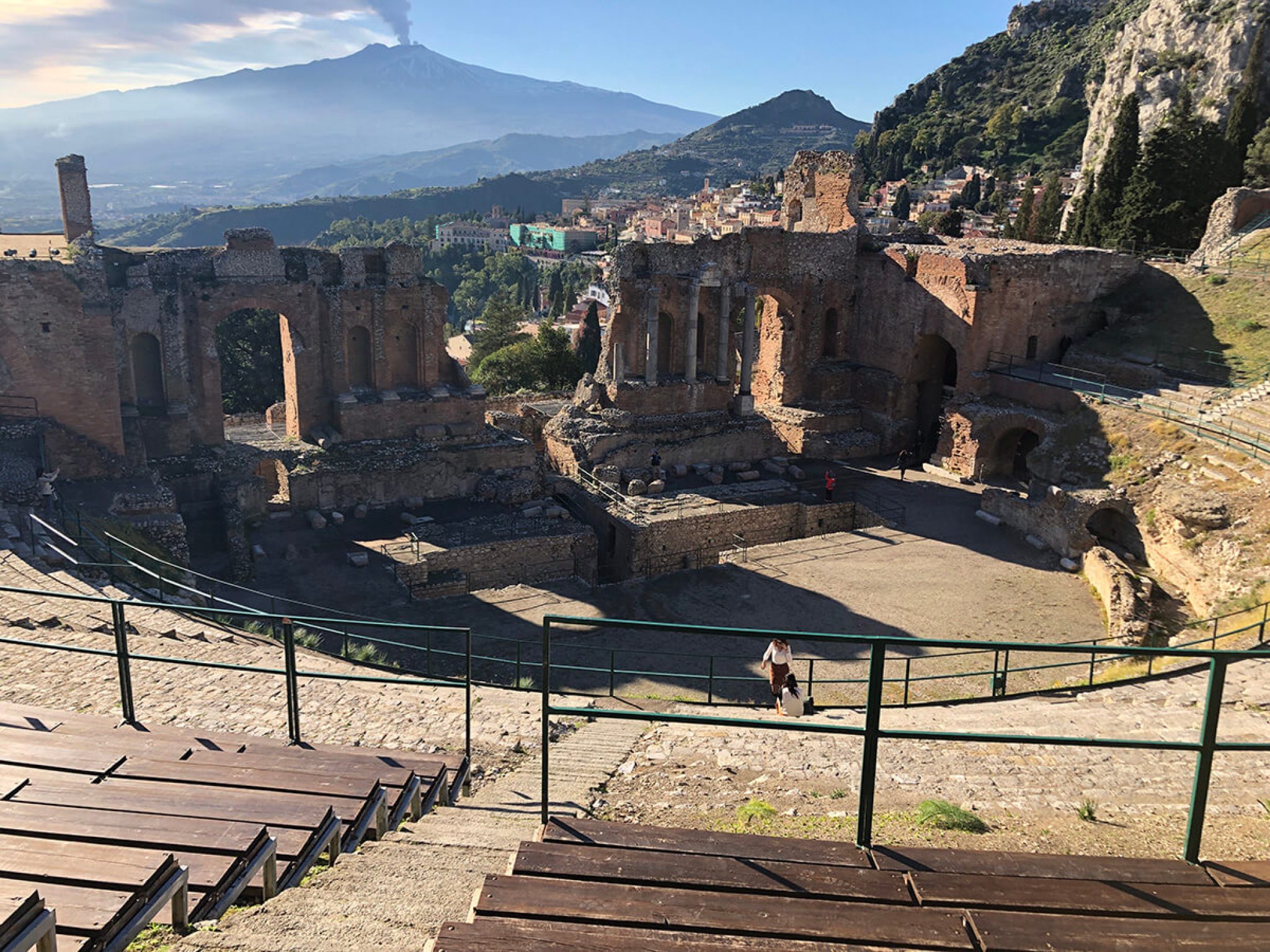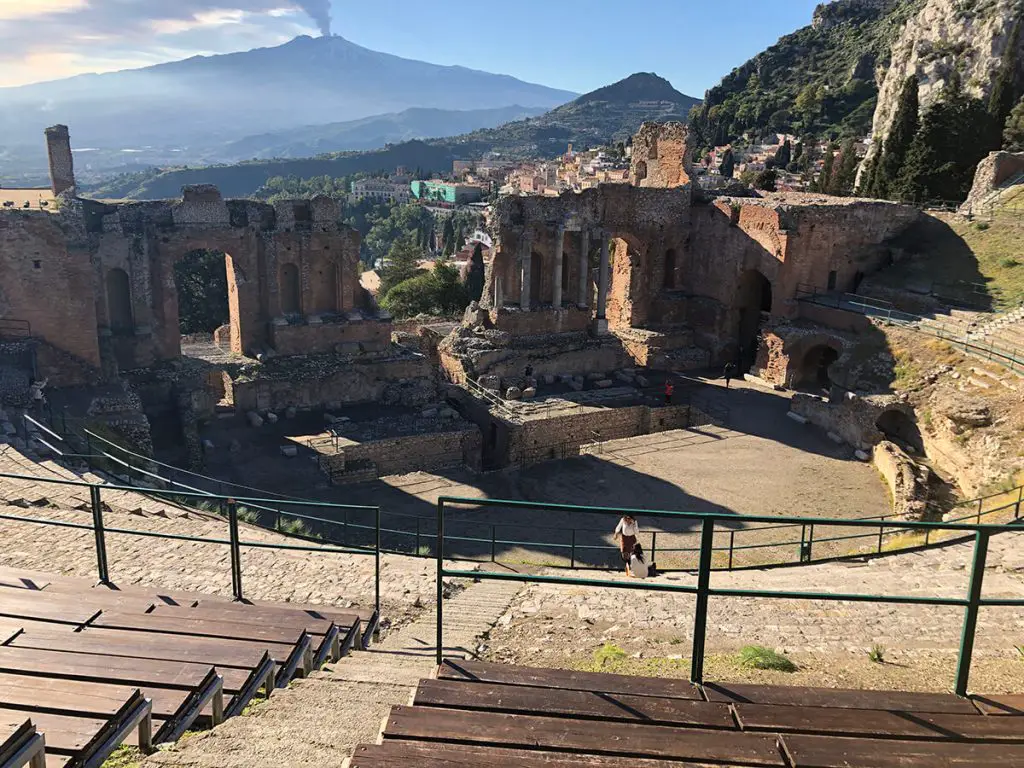 Some of the best views I've ever enjoyed have been from the top of the ancient Greek amphitheater in Taormina (the Palatine Hill in Rome is another). The photos really don't do the undulating landscape justice. Craggy, rocky hills loom all around, and straight ahead, the epic volcano, Mount Etna, smoulders and smokes. Meanwhile, in the forefront, you'll find ancient monuments, still vibrant and alive. It really is a magical experience.
You may not want to stay in Taormina for long especially during high season when prices for accommodation explode upwards and becomes incredibly expensive. However you can find some great places that won't break the bank out of high season.
One great place to stay is the B&B Teatro Greco which is less expensive than most others in Taormina. Additionally it is right next to the Grand Hotel Timeo which is the ultimate luxury stay in Sicily. Not surprisingly, considering the Timeo caters to wealthy, discerning travellers looking for the best of everything, it has the best view of Taormina.
This means that the B&B Teatro Greco shares similar views that the Timeo does at a fraction of the cost, plus it has great ratings. The issue is that it is a small, boutique B&B with not many rooms, so some advanced planning is required.
If you happen to visit at the time street vendors are selling bottles of Meloncello in the streets near these hotels, buy a bottle! Trust me it's delicious!
If you do not stay in Taormina, you can opt for a day trip to Taormina from the most popular cities to visit. Here is one tour from Catania and one tour from Palermo so that you can enjoy one of the most coveted spots on the island.
The Best Part of Sicily for Families
Verdict: East
Sicily is a fantastically family-friendly destination, and there are countless activities for everyone to enjoy across the island. As you can see in the map below you can find plenty of water and adventure parks throughout Sicily, as well as incredible beach resorts and various other activities.
Generally speaking, the eastern part of Sicily, especially the province of Catania, boasts a large cluster of things for the entire family to see and do.
Here, you'll find a wealth of activities for kids in Sicily. Such as donkey trekking and amusement parks, as well as some superb beach resorts, like Spiaggia di Isola Bella and Giardini Naxos. With good rail links and easy access to day trips, this area is also fantastic if you don't have a car but would still like to get out of the city to explore.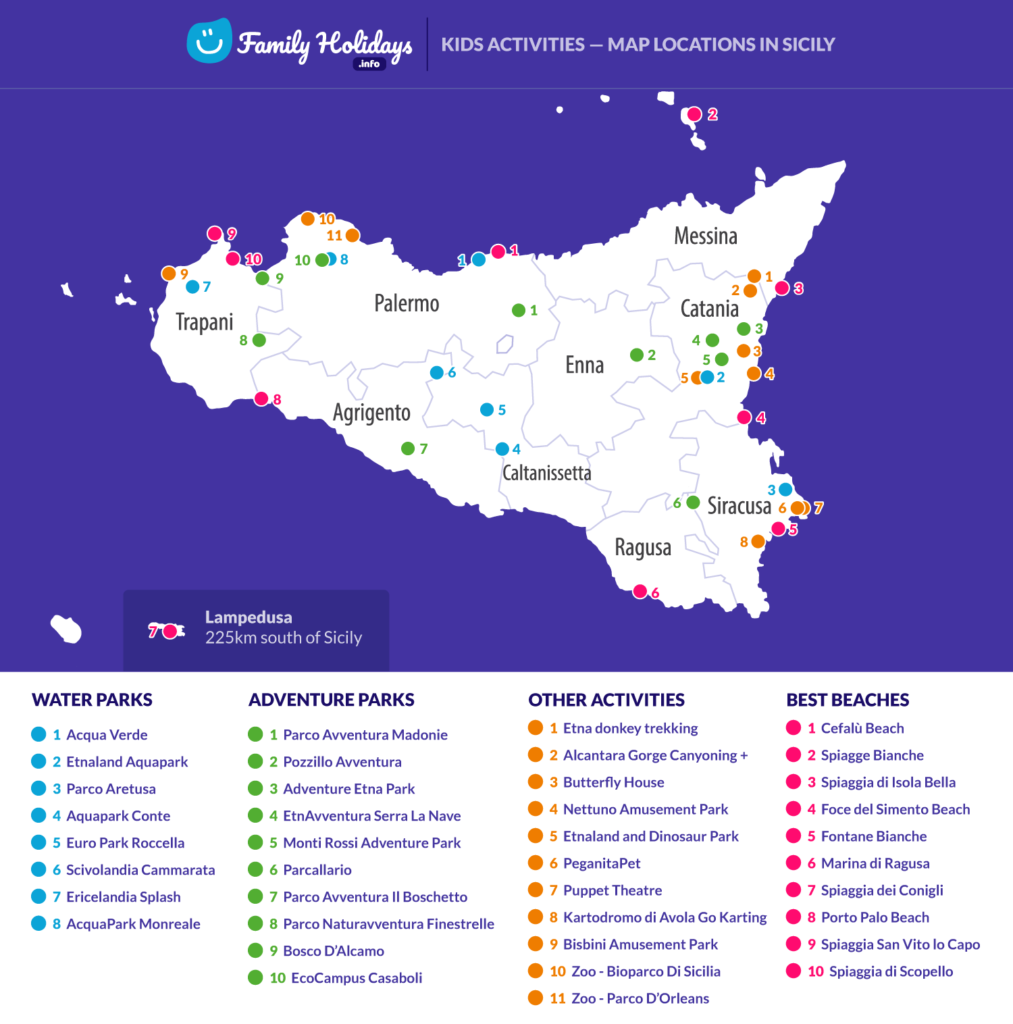 Having said that, you will also find numerous great family-friendly areas on the other side of the island. While Old Town Palermo can be a little chaotic for families with younger children, there are several more suitable places to stay.
Check out the Mondello Beach neighbourhood in Palermo with plenty of lovely places for families to stay close to the beach. One of the most well rated is the Domia Boutique Hotel e Cucina which is 400 meters away from the beach front. Mondello's Rooms By the Sea is not as well rated, but much less expensive and located in the best area of Mondello close to the Lido di Mondello.
Alternatively you can opt to stay in Cefalù, which has a more relaxed old-town vibe, complete with it's own spectacular beach. For some reason, the hotels in this area are not as well rated as the apartments. The best rated is the fabulous Moramusa Charme Apartment, but only offers 1 room. The next best rated are the Abelia Sea Suites, both located in close proximity to the beach.
Finally, the Villaggio Cala Mancina is an amazing resort that boasts superb facilities for children of all ages. Additionally it is just a short walk from one of the best beaches on earth, San Vito Lo Capo. In fact San Vito Lo Capo is at the top of our list of the best beaches in Sicily.
The Best Side of Sicily for Beaches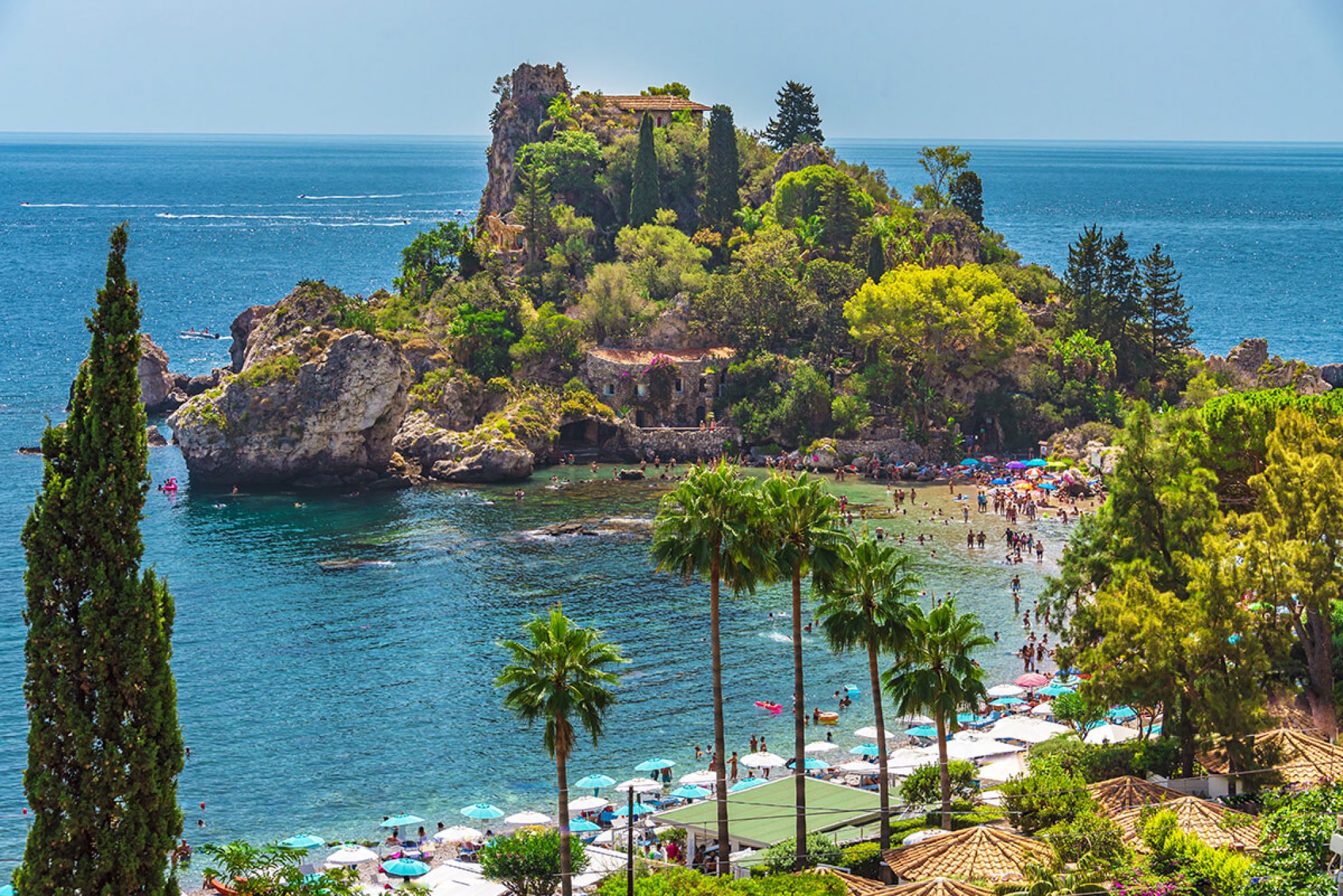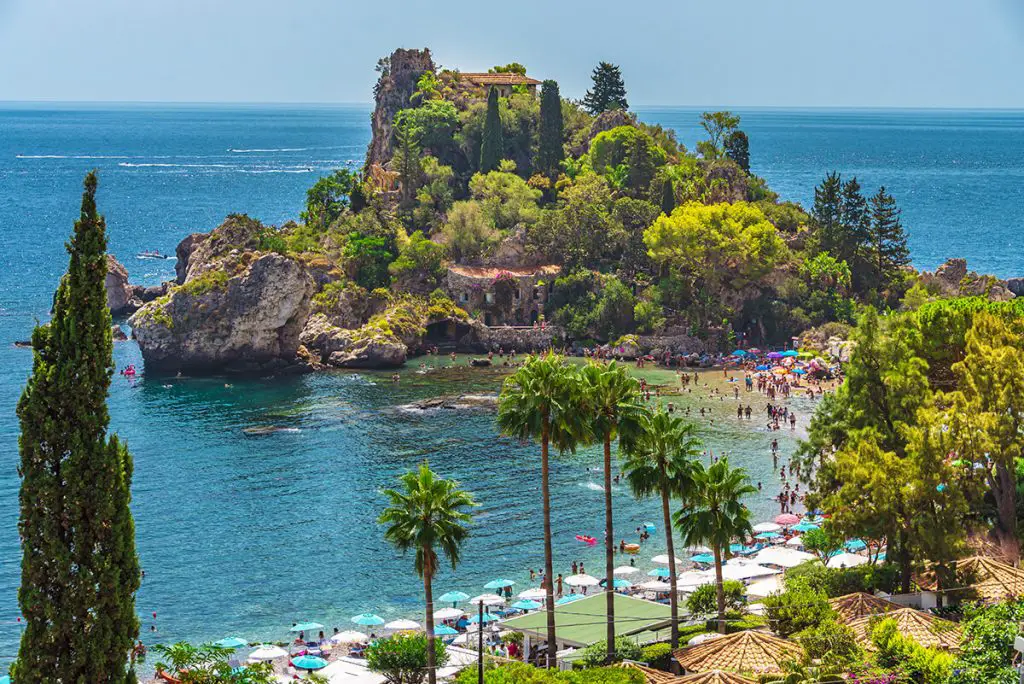 Verdict: West
You'll find spectacular beaches all over Sicily, and whether you prefer the east or west of the island really comes down to personal preference. For us, the west part of the island just about wins out though.
Even though it doesn't quite make our toplist, Mondello Beach is often considered one of the very best in Sicily, and is very close to Palermo, ideal if you're staying in Sicily's capital.
San Vito Lo Capo sits on the northwest tip of the island and is another breathtaking beach that boasts a long stretch of gorgeous, soft sands and sparkling blue waters. It takes the top spot on the toplist, but if sunbathing and swimming aren't quite your jam, you'll also find that it's a great place for trekking as it's just a stone's throw away from the iconic Riserva Dello Zingaro.
This renowned walking area takes you along the coastline, discovering a wealth of hidden coves and bays along the way. Meanwhile, Fontane Bianche on the east coast offers a relaxing beach getaway in a small, quiet seaside town.
It is also close to the Baroque towns of Noto and Syracuse, with many amazing tours of both towns. Off the coast of Syracusa is the small island of Ortigia, considered the historic heart of the city, renowned for its ancient ruins, Baroque architecture, and picturesque streets. It is popular and one of the best areas to stay to enjoy the Baroque architecture Sicily has to offer.
Also on the east side of the island, you'll find a number of beautiful beaches in and around the city of Catania. Out of all the towns in Sicily, Catania takes the cake for the most tours available to choose from. So you will definitely have plenty to do to keep yourself entertained.
The Best Part of Sicily for History and Architecture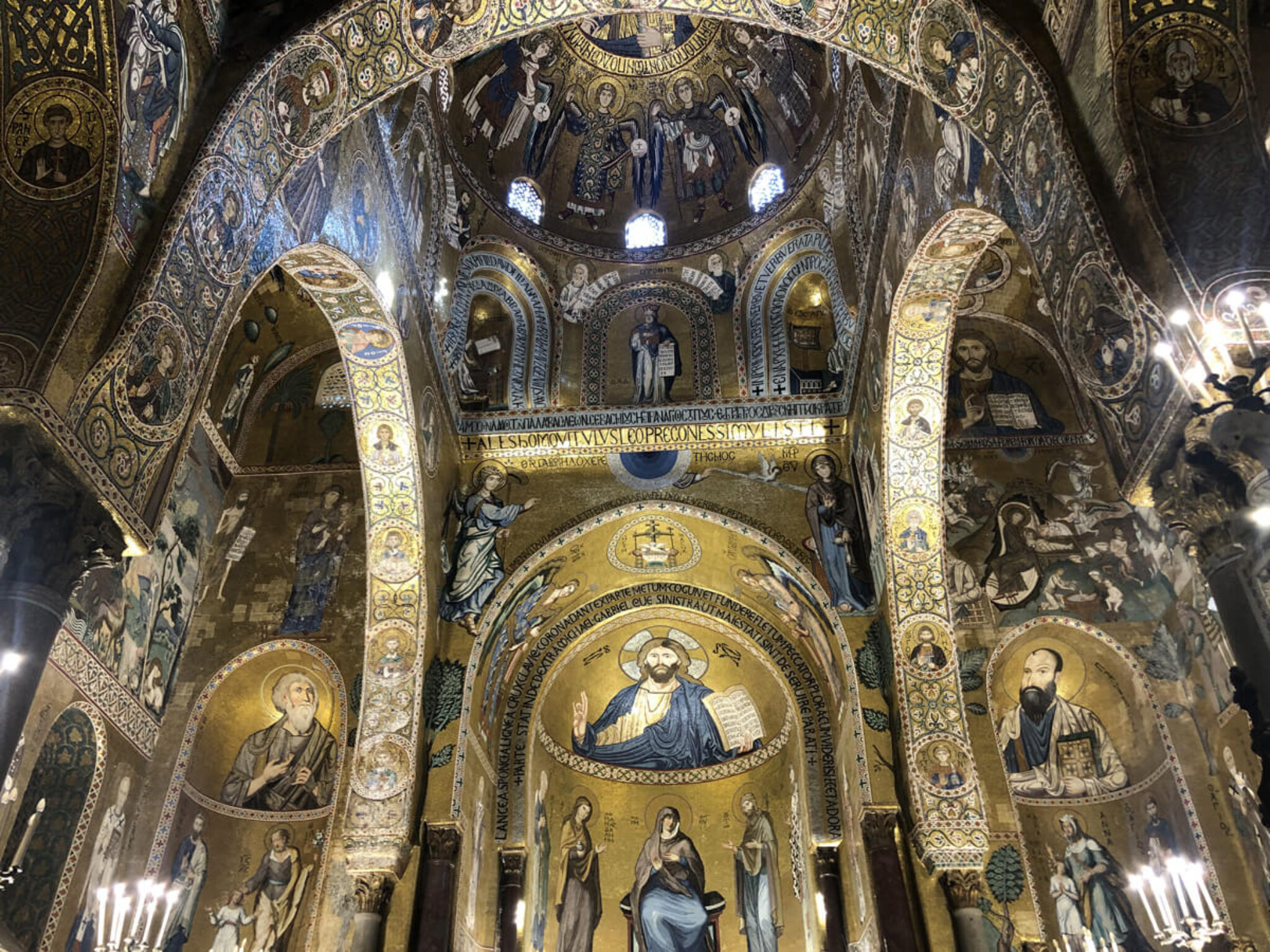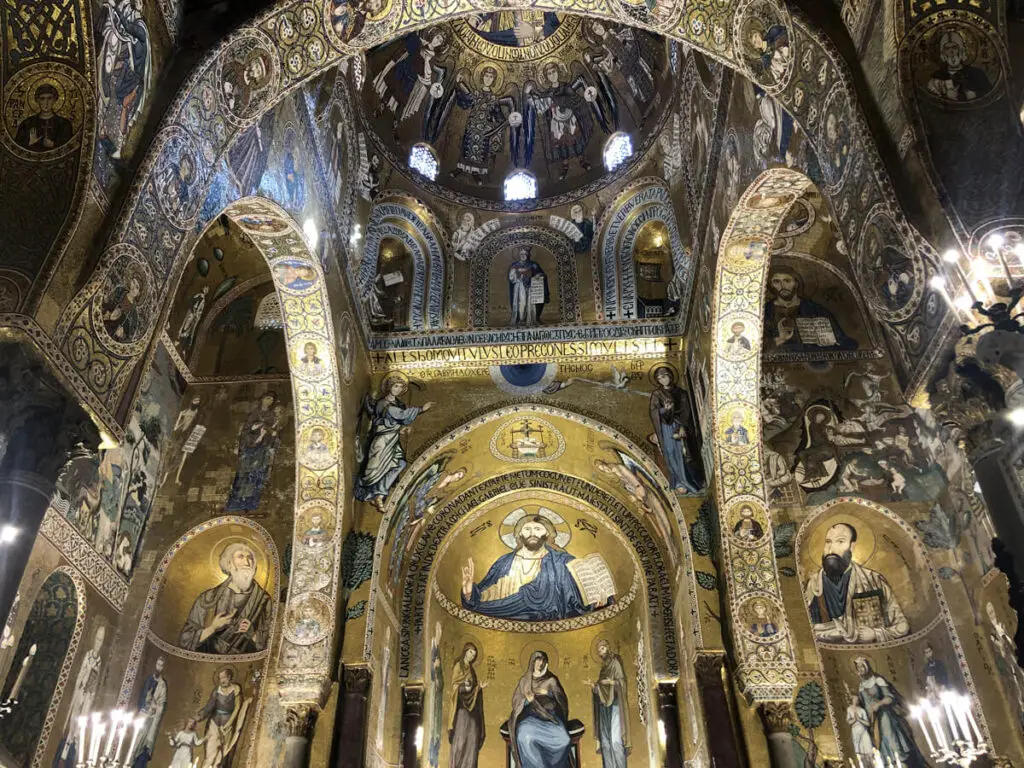 Verdict: West
You'll find superb examples of historic streets and buildings throughout the ancient island of Sicily. Both Palermo and Catania boast a vibrant old town area, complete with bustling markets that have changed little over the centuries.
There is this walking tour to see the historical highlights of Catania and this equivalent walking tour in Palermo which are fairly inexpensive and well-rated. You may have the opportunity to see some of the medieval churches, townhouses, and castles dotted throughout both cities which are a joy to discover. Meanwhile, you'll find plenty of museums and guided tours to help you delve ever further into the vibrant history and culture of Sicily.
Outside of Sicily's two major cities, things get even better. The west part of the island tends to win out here, in particular the hilltop city of Agrigento. It sits on the southwest coast of the island and is an amazing place for history buffs.
Despite its small size, the town of Agrigento is arguably one of the best towns in Sicily for architecture and historic sites, a city of narrow, stone streets, winding alleys, and quaint boutiques, cafes, and galleries.
However, it's most well-known for the Valley of the Temples, an immense archaeological site complete with incredibly well-preserved ancient Greek temples and buildings and the ruined city of Akragas.
Meanwhile, the southeast corner of Sicily also offers a haven for history buffs. It boasts countless examples of traditional Sicilian Baroque architecture, in towns such as Ragusa and Noto.
The former is famous for its unique layout, with the old town separated by the newer, upper town, by a cavernous ravine. Ortygia Island is another great place to discover the Baroque tradition, this 2 hour walking tour of Ortygia is perfect to give you a good understanding of the area.
In Ortygia you will discover sublime fountains and striking monuments mixed in with the ancient ruins of the Temple of Apollo and the Neapolis Archaological Park not far off. There is a tour that departs from Catania which will enable you to visit the Baroque towns of Syracuse, Ortgyia and Noto all in a day if you choose to stay there.
For an immersive and enriching experience, you could consider staying at the Aretusa Vacanze B&B in Ortigia, a beautifully restored 17th-century building that captures the essence of the era. Although it may be pricier than other options, the B&B boasts excellent reviews, making it a worthwhile choice to fully immerse yourself in the historic charm of Ortigia.
The Best Part of Sicily for Day Trips Without a Car
Verdict: East
If you're planning to visit Sicily without a car, but still want to get out and explore, you'll find plenty of day trips that are easy to enjoy from Catania. Compared to Palermo, Catania tends to be better linked by train to a number of fantastic resorts, beaches, and fascinating towns and cities.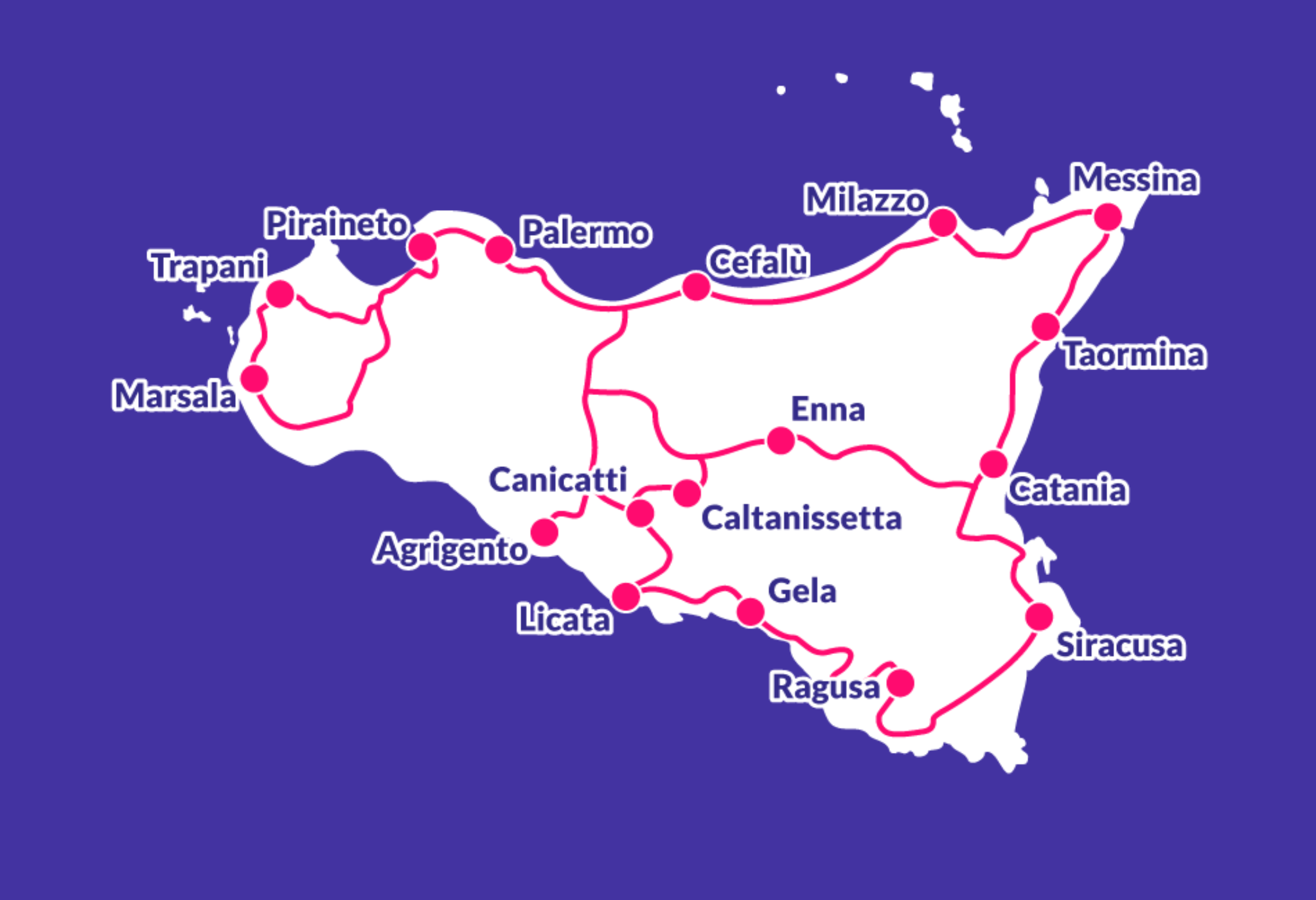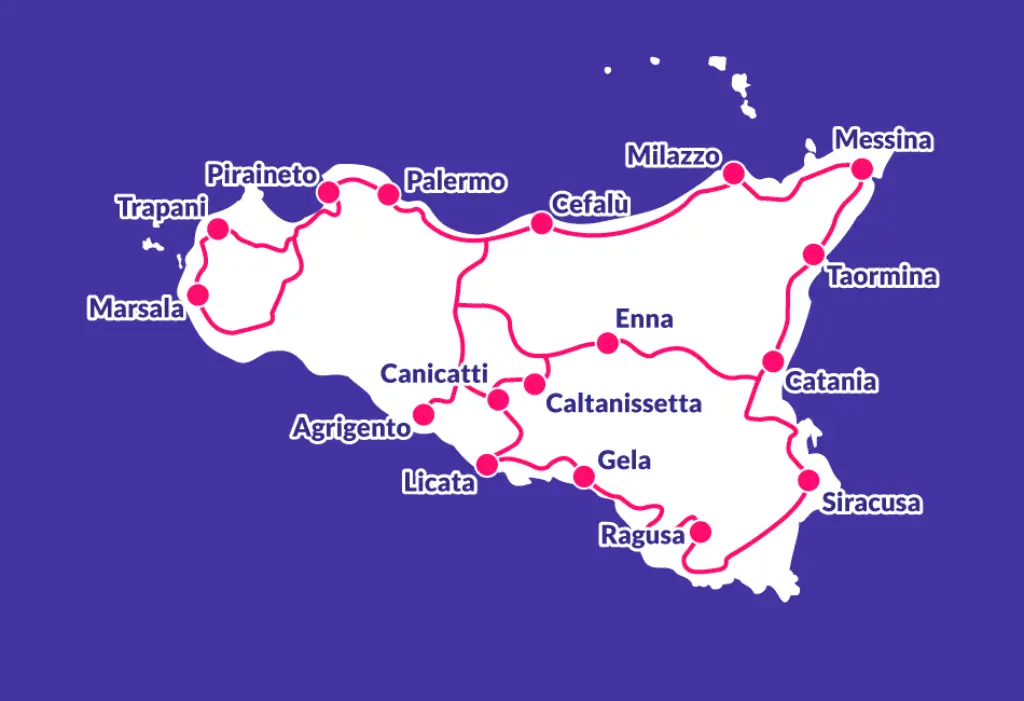 From Catania, it's easy to take a train to Taormina and enjoy the gorgeous natural scenery and ancient sites. You can also head south, towards the Baroque towns of Ragusa, Siracusa, and Noto. Alternatively, there are many organised tours that start in Catania and take you on a journey to discover these fabulous, historically, and culturally rich locations.
For example these tours are of the most popular areas to visit:
Catania also sits at the foot of Mount Etna Volcano, and you'll find countless day trips and tours to visit Etna that take you trekking up the sparse slopes and to the summit and rumbling crater. You'll also find donkey rides, mountain bike tours, and many other ways to discover one of the most active volcanos on earth from Catania.
The Best Part of Sicily for Water Activities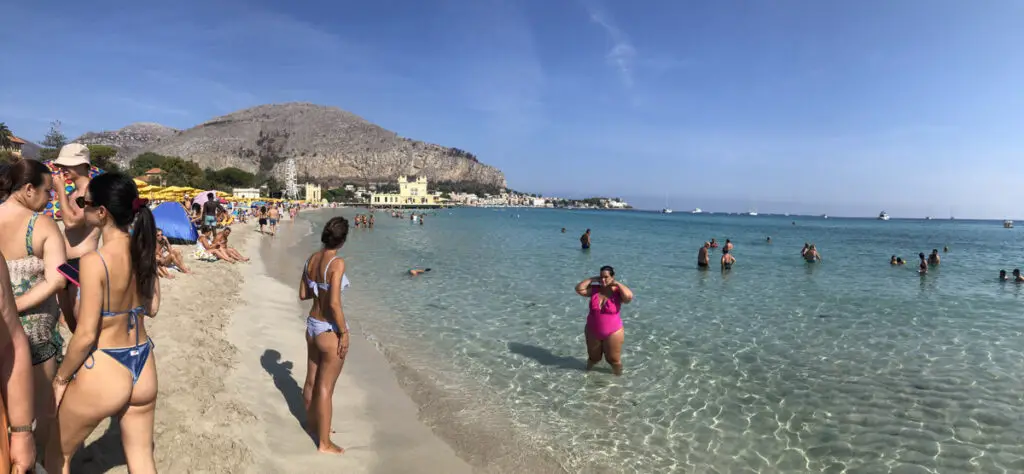 Verdict: East
As an island, you can be sure to enjoy an array of exciting water sports and activities in Sicily. Both Palermo and Catania are great options, depending on what you're looking for. Palermo tends to offer more in the way of water sports like windsurfing, kitesurfing, and stand-up paddleboarding, with lots of options for rentals and classes at the stunning Mondello Beach.
However, in terms of the sheer variety of water activities on offer, the east part of the island wins for us. You'll typically find a great number of organised water-based tours and trips in Catania with a wider range of activities to choose from.
The ancient port city is excellent for sailing boat tours, snorkelling trips, and guided diving sessions, which can be booked in advance or joined on a whim. If you are interested, there is this well rated Gulf scuba diving tour with a marine biologist, it is one of the tours you will need to book in advance.
There are several fantastic water parks dotted along the east part of the island too. The best one by far is Etnaland Water Park in Catania. Also in the east part of the island you can visit the beautifully wild Alcantara River Park. Why not try canyoning and body rafting in Alcantara Gorge? Here is one amazing body rafting tour that is cheaper if you make your way to the gorge as opposed to this more expensive body rafting tour with pick up from Taormina.
Where Should I Fly to in Sicily?
Palermo and Catania are the two most popular cities to fly into when visiting Sicily. Choosing between the two really does come down to what you plan to see and do during your stay on the island.
In general, if you fly to and stay in Catania, you'll typically find many other sites and attractions nearby, which are easy to access by train or through a guided tour or day trip. The city of Catania itself is gorgeous, a bustling historic city abuzz with life and culture.
Meanwhile, Palermo tends to be a great choice for a more inclusive visit to Sicily. If you prefer to stay in one place rather than travel out and about too much, Palermo is a superb choice.
The city is gorgeous, with great nightlife, excellent restaurants, and stunning architecture at every turn. There are plenty of museums, galleries, and craft shops to keep you entertained, not to mention the vibrant markets and sumptuous street food.
Plus, Palermo has its own, easy-to-reach beach, Mondello, which is widely regarded as one of the most beautiful in Sicily. And while there's a lot to love about staying in Palermo, there's nothing stopping you from taking a day trip.
It's easy enough to visit Mount Etna Volcano from Palermo, as well as other interesting places, such as Taormina. As an added bonus, you'll get to see more of the countryside along the way.
For an overview of all your options for flights, trains and ferries to get to Sicily, you can have a look at this article on how to get to Sicily.
Conclusion
So, which part of Sicily is better to visit? It's a hard call, but for us, the east part of Sicily just about wins out. That's not to say there's a lot to love about the west part of the island though. Let's quickly go over the best part of Sicily for each of the activities we've discussed.
The east part of Sicily: Ideal for family activities, day trips, stunning natural beauty, excursions to Mount Etna Volcano, and water activities.
The west part of Sicily: Fantastic beaches and some of the most impressive historic sites and architecture on the island.
Palermo is a superb, all-inclusive destination for shorter stays, complete with a beach, old town, markets, nightlife, and much more.
Catania makes a perfect base for exploring more of the island and enjoying a wider array of activities.
As you can see, it's hard to go wrong with a visit to Sicily! When choosing where to stay, it's best to write a list of what you want to see and do most of all. Also consider how you plan to get around, whether it's a rental car, taxi, or train. Once you have this information, double-check the guide above and see which part of Sicily is better for your dream trip.
Related Articles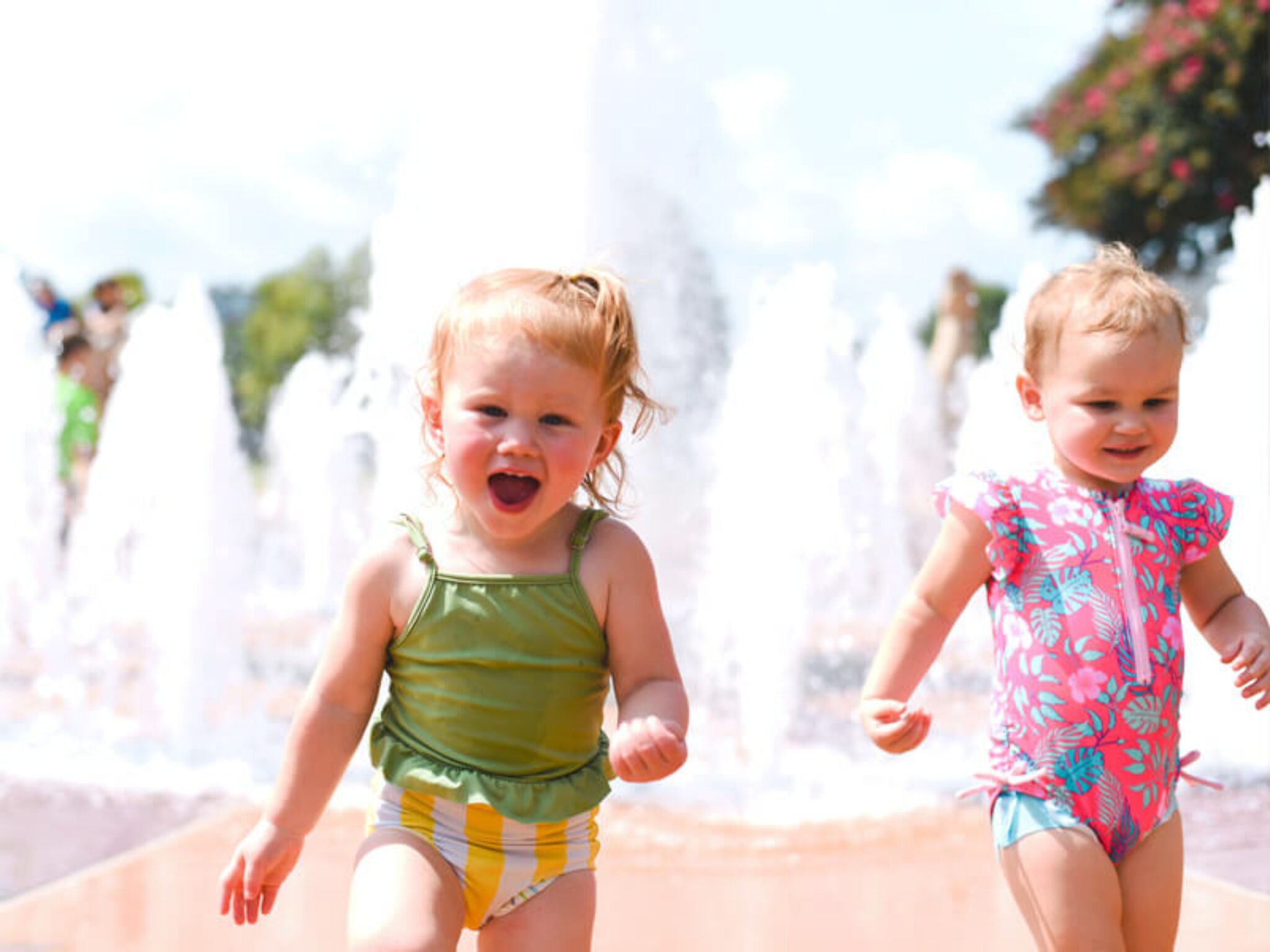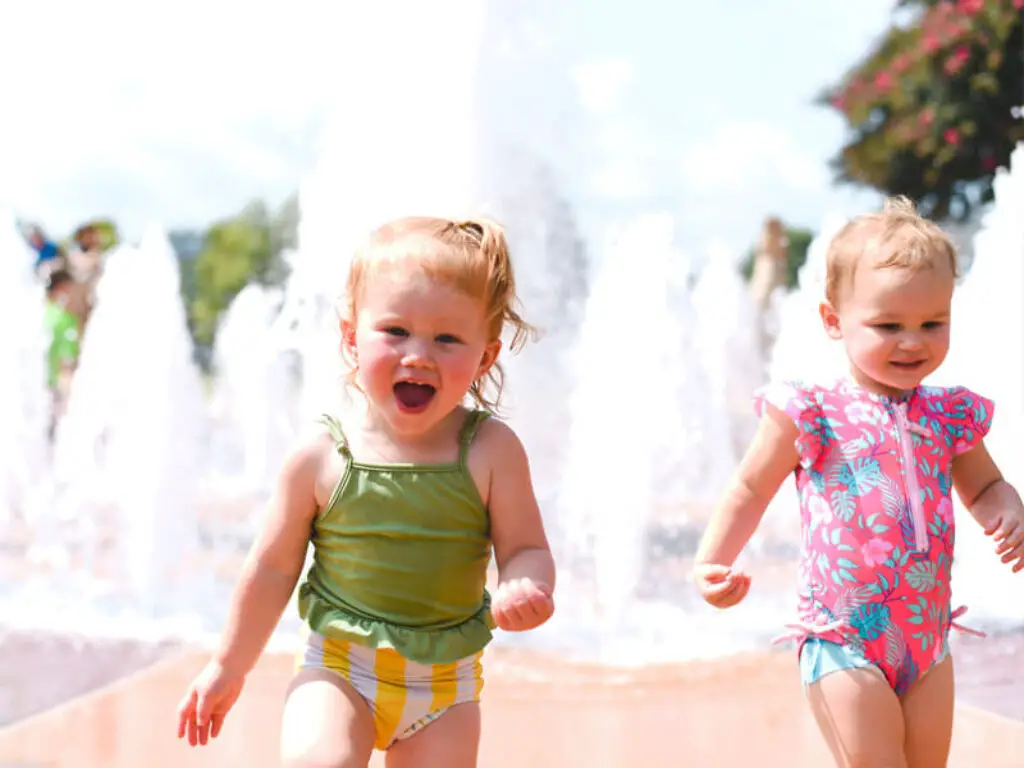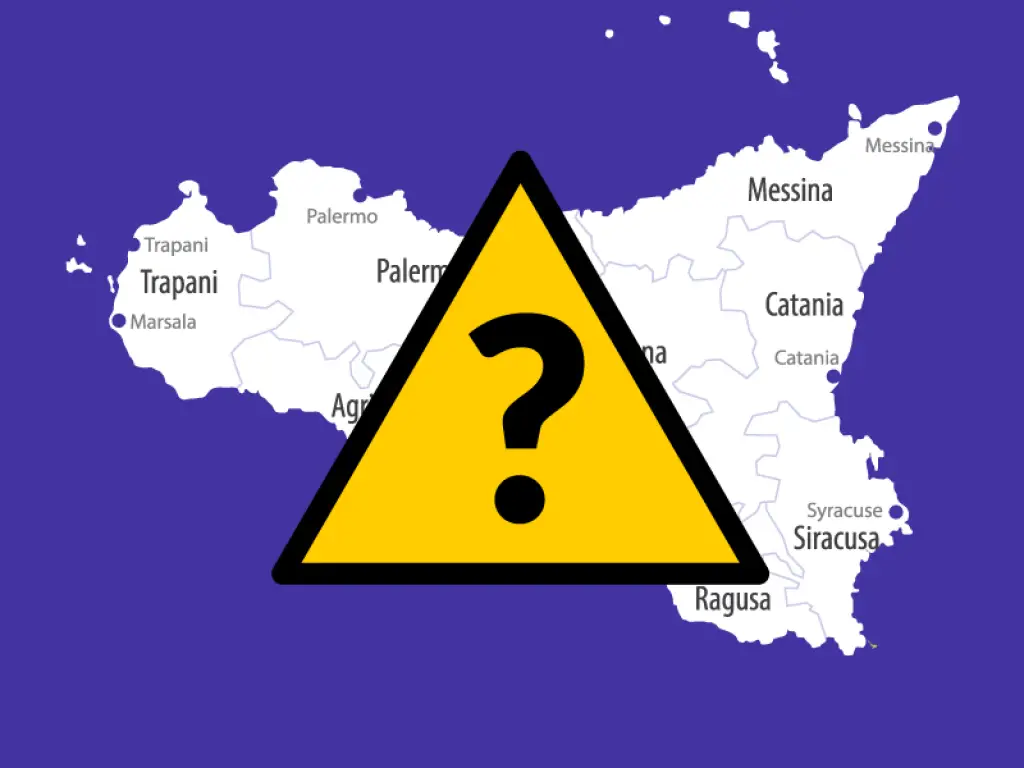 Is Sicily Safe for Tourists? How To Enjoy Your Sicily Trip Safely