The Top 10 Most Beautiful Beaches in Sicily for Families
Sun, sea and… screaming kids. If you're planning a trip to Sicily and want to fast track the best bits (without the screaming moments!), then read on. We've done the hard work for you, to locate the very best beaches in Sicily for families. More than just blue-flag standards, they're hand-picked for their family-friendly amenities, welcoming vibe, activities for youngsters, and sense of fun and adventure.
So brush off your passport and dust off your travel buggy, we're about to take you on a tour of the top beaches in Sicily.
1. Spiaggia San Vito Lo Capo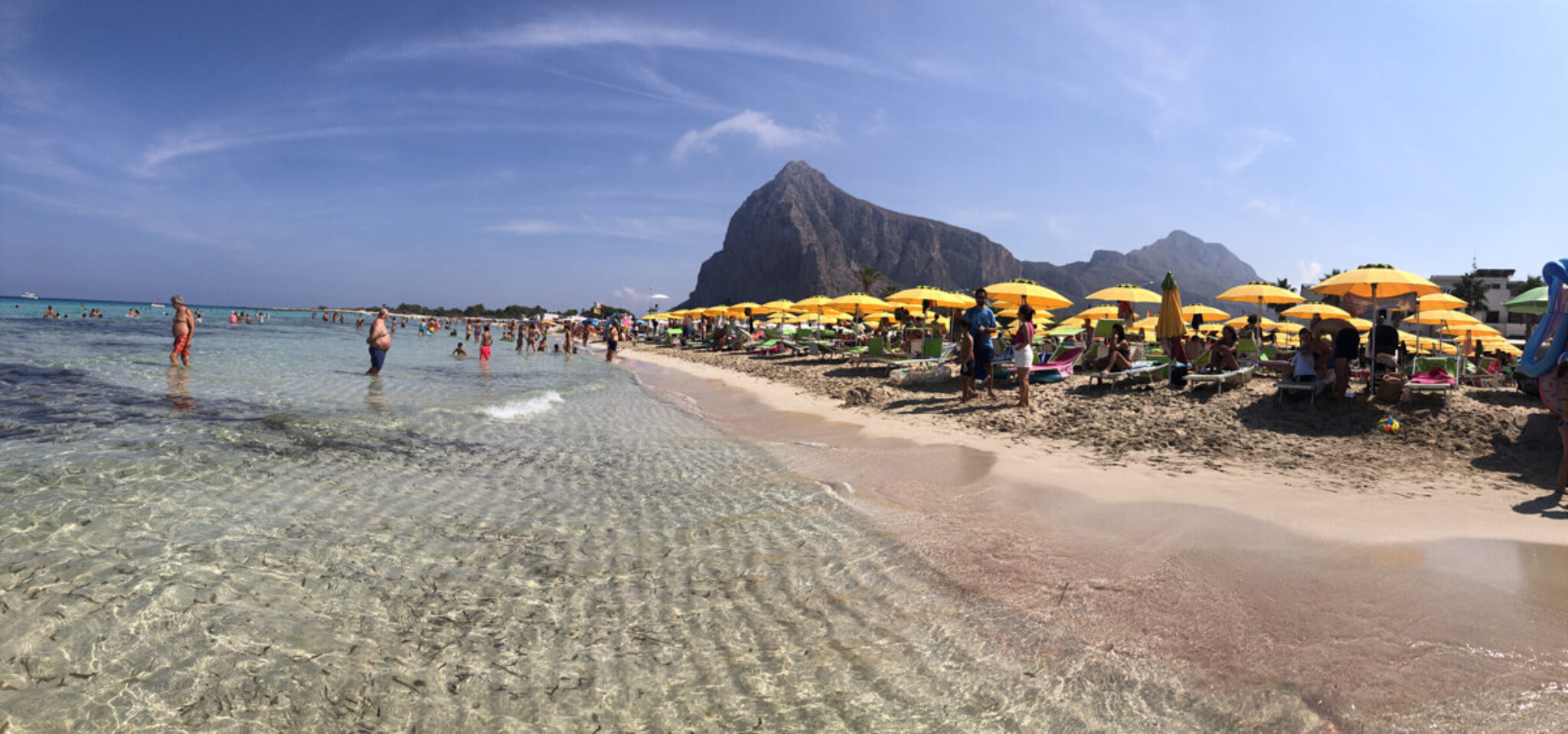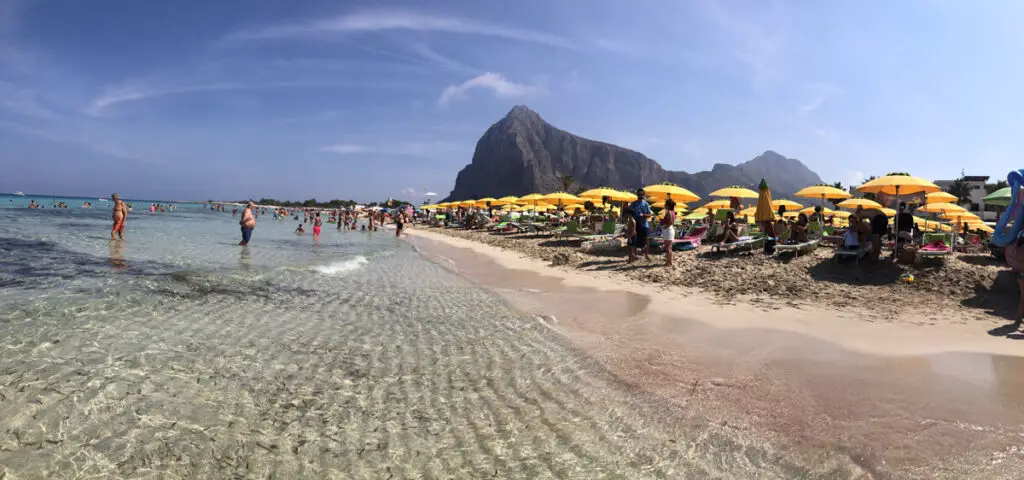 Location: View on Google Maps
Straddling the northern most tip of Sicily (see map at the bottom of this article for reference), overlooking the breathtaking Tyrrhenian Sea, San Vito Lo Capo is one of the very best beaches in Sicily. Here turquoise waters and golden sands rise up to meet you, with a dramatic mountain backdrop. It's so beautiful it is also included in this 4-day itinerary for the west and a 10-day itinerary.
Rest assured, there's a decent amount of shade too, whether under a palm tree or beach tent. This hidden gem also happens to be a children's paradise, in no small part thanks to its long shallow waters ideal for paddling about in the sun. 
For older kids, there's plenty of activities to pass the day, from volleyball to surfing. There's endless facilities to make the most of your visit too. You can also explore the iconic Riserva Dello Zingaro which is not too far off. You could trek it there or take it easy and opt for this whole day tour from Castellammare to San Vito Lo Capo and the Zingaro Reserve which will also give you the opportunity to swim.
The beach of San Vito Lo Capo includes public showers and bathrooms for washing down the kids after a long day at the beach. And, you won't need to worry about packing food, since there's a ton of restaurants dotted along the beach. This includes everyone's favourite – 'Bar Gelateria La Sirenetta' – go on treat yourself, you're on holiday after all!
This is an all-round winner when it comes to family-friendly beaches in Sicily. The only caveat is that you'll need a car, although there's plenty of parking once you arrive. Another alternative is staying in the San Vito Lo Capo area if you want to make the most of a beach holiday.
2. Spiaggia di Marina di Ragusa
Location: View on Google Maps
For all-out unapologetic beach culture with all the trappings of a family day out, you can't go wrong at Marina di Ragusa. This popular beach retreat attracts tourists and locals alike. The epitome of Sicily beaches, you can expect long walks on soft golden sands with the gentle lapping of ocean waves.
This all bodes well for families with children of all ages. Flanked by tall palm trees, there's some shade, however you're best to pack your own holiday umbrella or beach tent. Alternatively, there's sun loungers with umbrellas for your comfort (aprox €16 a day). It's easy to see why it has been awarded blue-flag status for its cleanliness and environmental friendliness, as well as gaining a prestigious green-flag for its safe swimming conditions.
As a bustling former fishing village, the area is well-equipped for catering to the masses. This means you won't have to venture far for an ice-cream, panini, or other local delight – there's much on offer along the promenade including parking.
Should you ever fancy a change of scenery, there's also a children's playground for passing the time, walks around the yacht marina, or peaceful strolls through the Irminio River Nature Reserve close by. With free public showers, toilets and an equipped Lido for renting parasols, beach towels and loungers, you can't beat it for family frolics.
Ragusa also has some lovely Baroque architecture in the town to appreciate, and if you are really into the culture and food you could join a 5 hour traditional Sicily cooking class.
3. Spiaggia dei Conigli, Lampedusa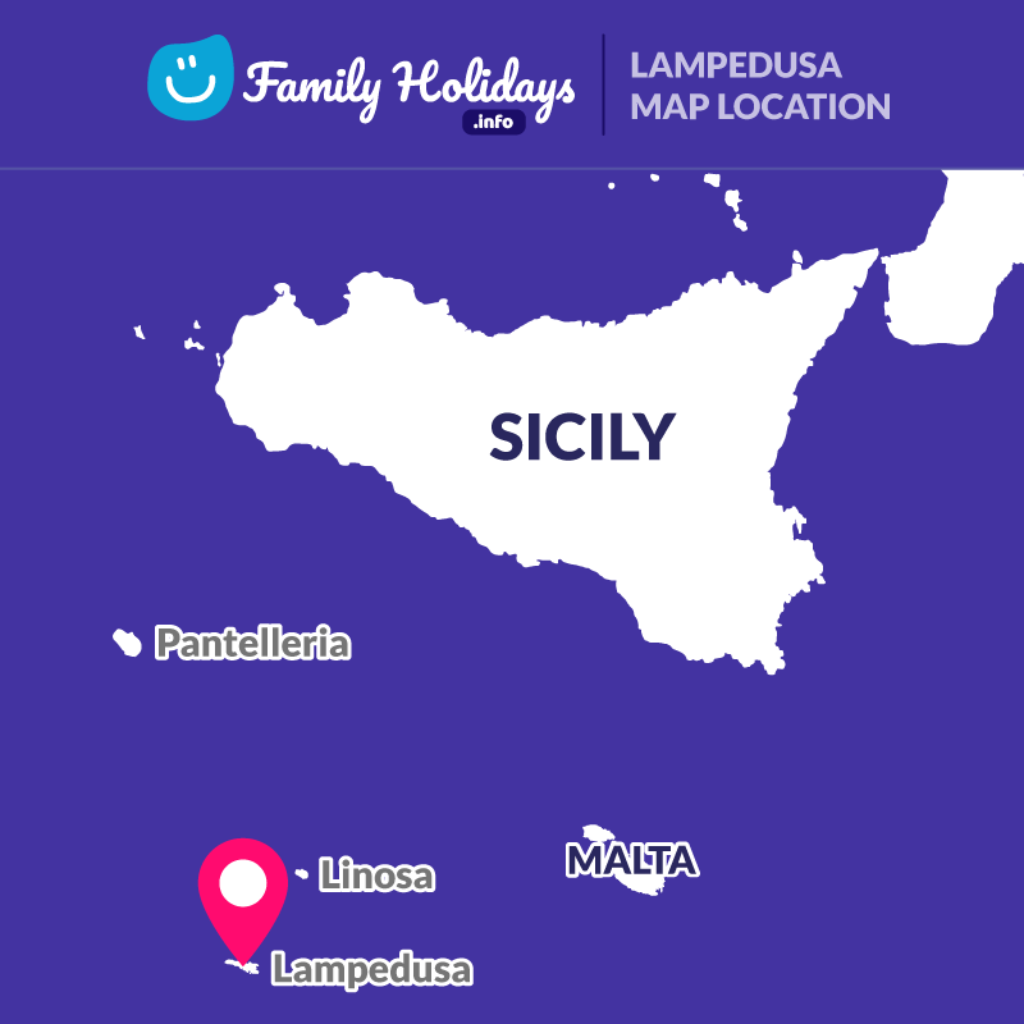 Location: View on Google Maps
Looking for some far-flung fun? We've got just the ticket. The Isle of Lampedusa is the perfect day trip for families with teenagers. Boasting one of the best beaches in Sicily, you'll be greatly rewarded for taking the time to visit this magical nature reserve. By boat or plane – you have two options for arriving in style. There are numerous flights from Sicily which take around an hour, or you can get the ferry which operates twice a day and takes four hours.
Once there, you'll be greeted by impossibly white sand surrounded by glistening clear waters enclosed in a bay – note, the walk in can be a tad rocky so wear good shoes. While there's a handful of places to eat, you would be wise to plan ahead with snacks and water. And while this blue-flag beach boasts amazing views, be prepared that there's no parking nearby. One final point – time your trip right and the kids will be thrilled to see loggerhead turtles laying their eggs.
Lampedusa is a pretty little island with all the benefits of being in the Mediterranean to enjoy the sunshine. If it's worth your while to stay longer, you could opt for a tour in Lampedusa that also includes lunch. There are a handful of lovely tours in Lampedusa that will enable you to explore different parts of the island.
4. Spiaggia di Cefalù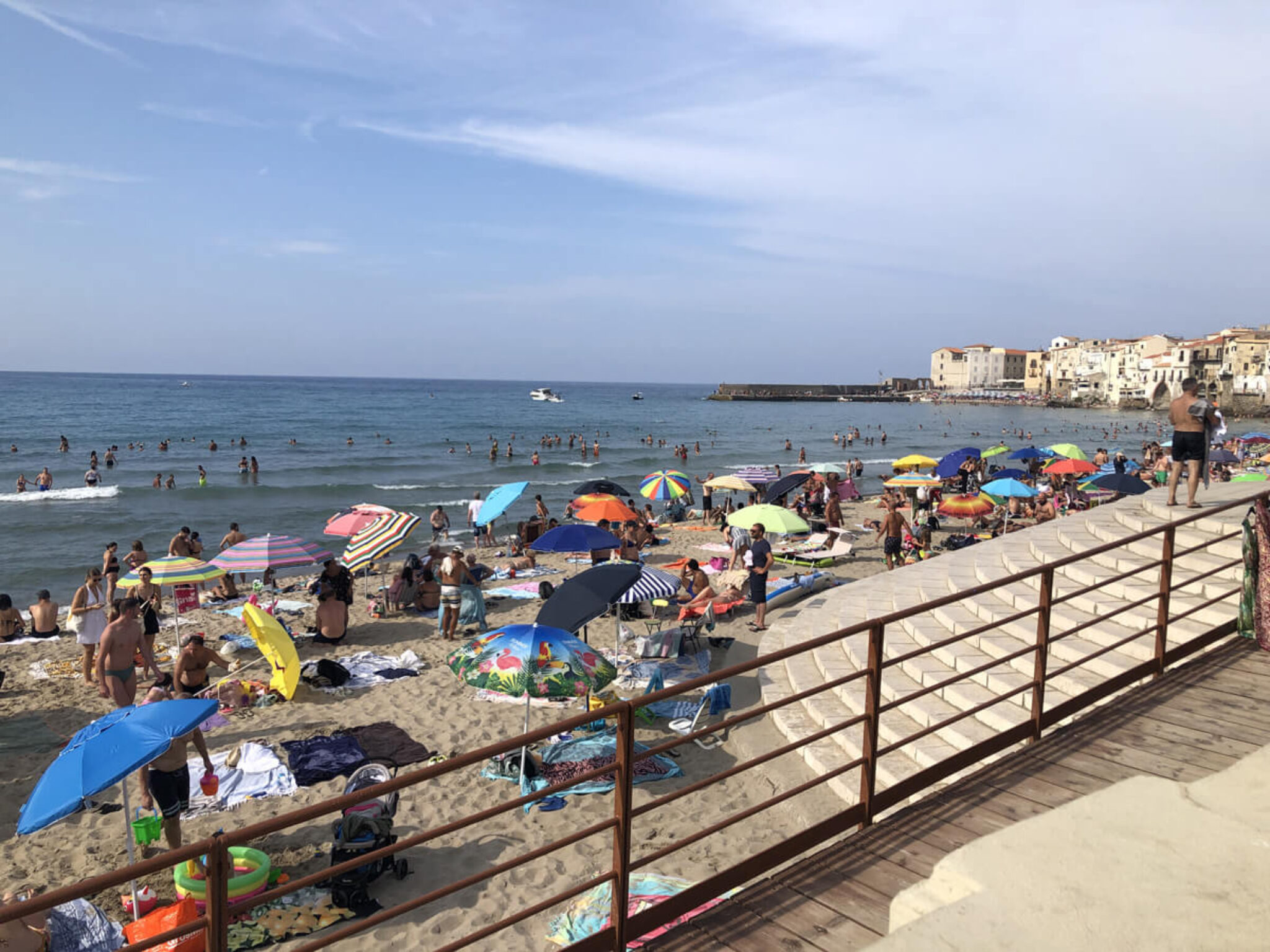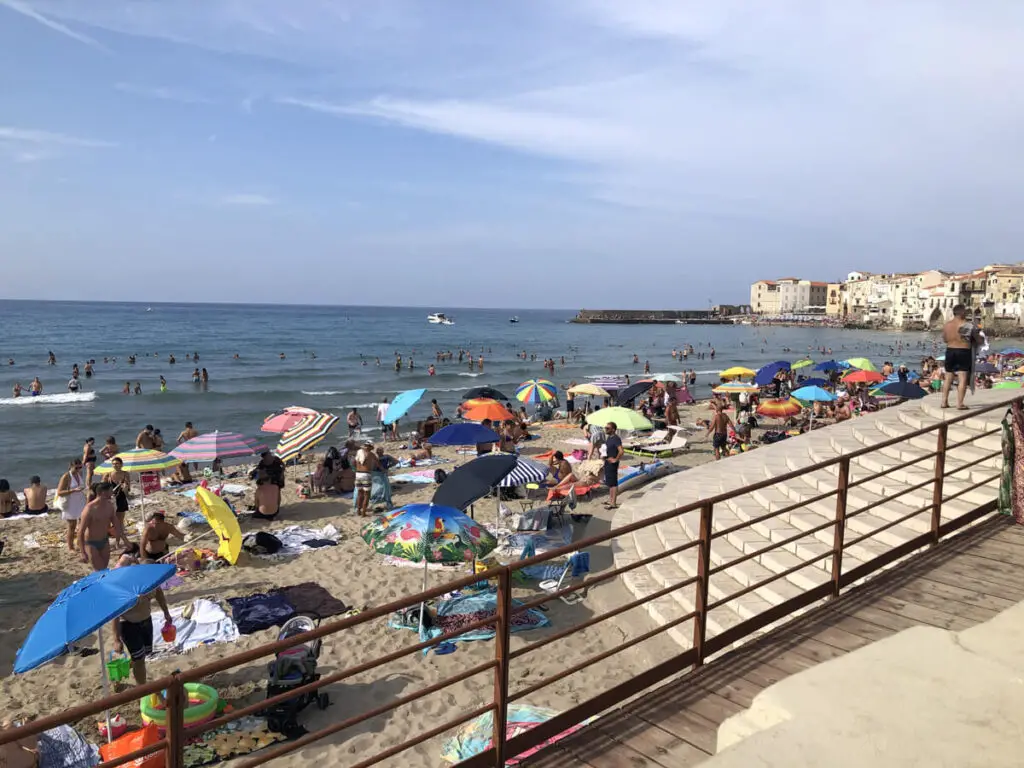 Location: View on Google Maps
According to the experts at Lonely Planet, Spiaggia di Cefalù is one of the best Sicily beaches for families. With luscious blue-green waters set within a sandy crescent, and its craggy coastline, it's easy to see why.
Ideal for families, it's a picturesque spot where the waters are shallow enough for the pitter patter of tiny feet, or the occasional body board. Make the most of your day at the beach and rent a lounger – there's enough to go around.
Should you choose to arrive by car, there's parking options in the area, but you'll still need to walk a fair bit to get into the beach. Once there, you won't need to venture far for a smattering or restaurants and public toilets.
Although it never becomes too overcrowded, it remains a popular tourist spot in peak summer months, especially as it's just an hour from Palermo by train. Linger a little longer and you might even be persuaded to detour via its historic centre for a gelato, as well as taking in the sights such as the historic Norman Cathedral (be prepared for a steep climb!).
If you are going to stay in the area and have older kids, you may want to consider a half-day wine tasting tour in Castelbuono from Cefalù. This tour will take you into the UNESCO site of the beautiful Madonie Range.
5. Isola Bella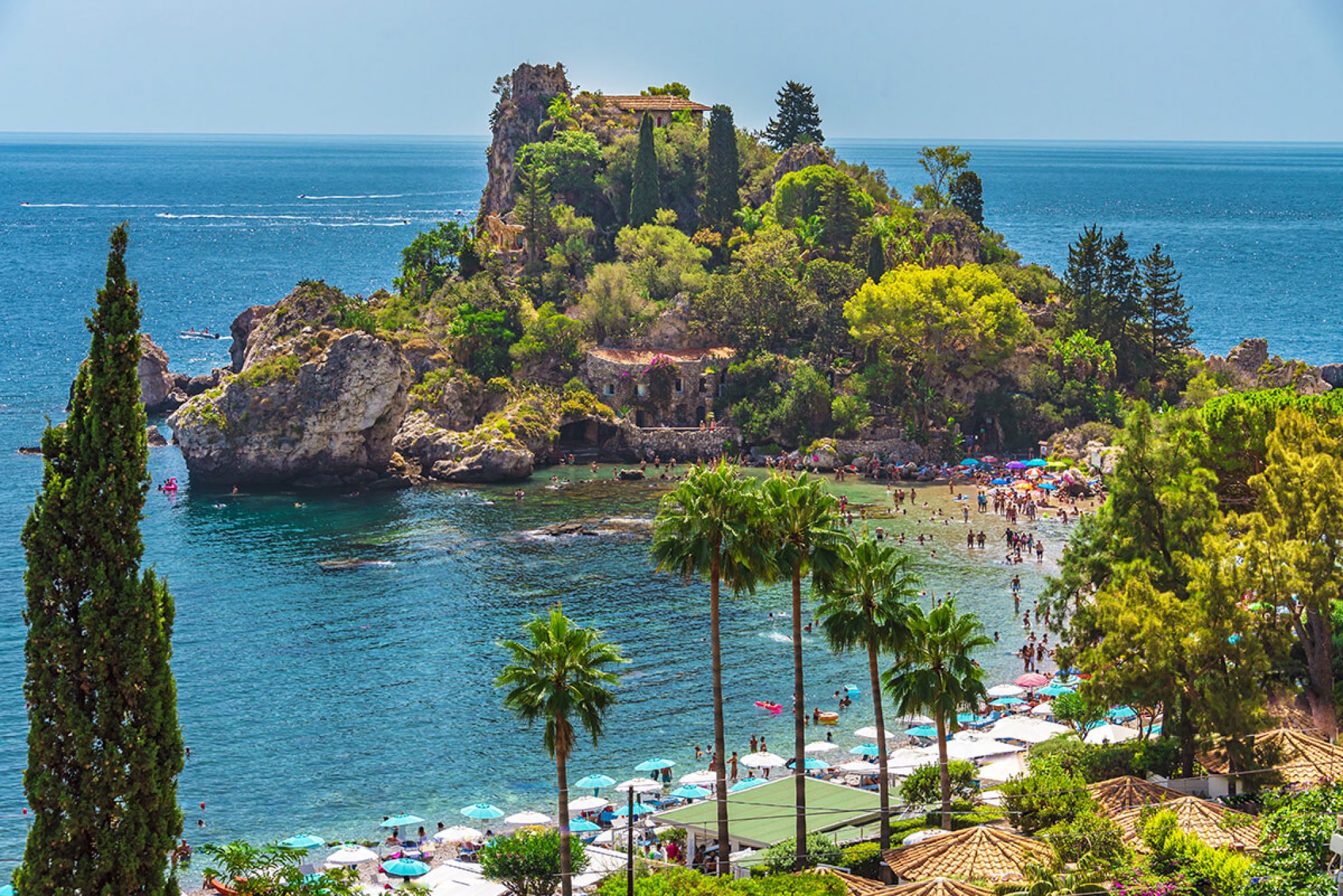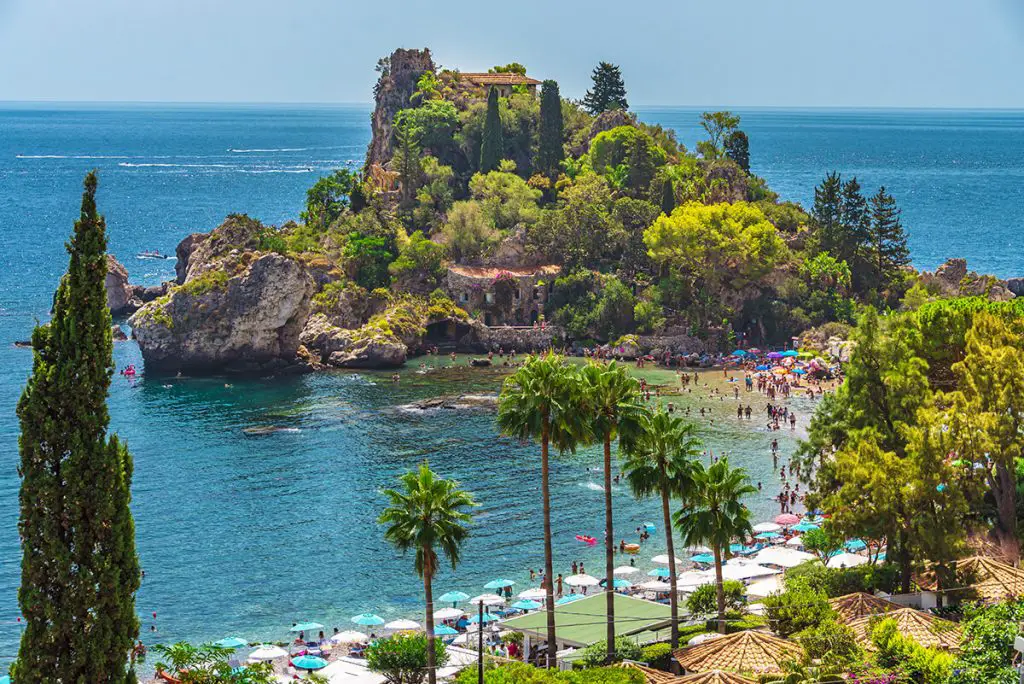 Location: View on Google Maps
One of the pure joys of visiting Sicily is it's ever-changing terrain. One minute you can be on a chic coastal beach reminiscent of the Caribbean, the next in a luscious nature range akin to South East Asia. Isola Bella is exactly that.
This tiny beach island perched on the eastern edge of Taormina is the jewel in the crown of Sicily beaches. Taormina is the most breath-taking location on the island, and offers the ultimate luxury stay in Sicily.
If you're into adventure Isola Bella is definitely for you. To arrive here you need to take the €4 cable car from Pirandello to Mazzaro, followed by a short stroll. Leave the car at home.
Rich in marine life, it's the perfect place for basking in the beauty of nature. It's not, however, ideal for young children since it can be quite rocky so you should look to wear sturdy shoes, like these aqua shoes from Amazon will do the trick. Additionally it is not very pushchair-friendly being a pebble beach.
While it's fun for a swim, many come here to snorkel, or take a jet-ski or boat around the island. Restaurants aren't the easiest to come by in these parts, making it better suited for a pre-packed lunch or picnic.
While you are in Taormina you should check out the highlight of the town. In fact you can easily spend 2 days in Taormina, not just enjoying the beach, but also the historical areas.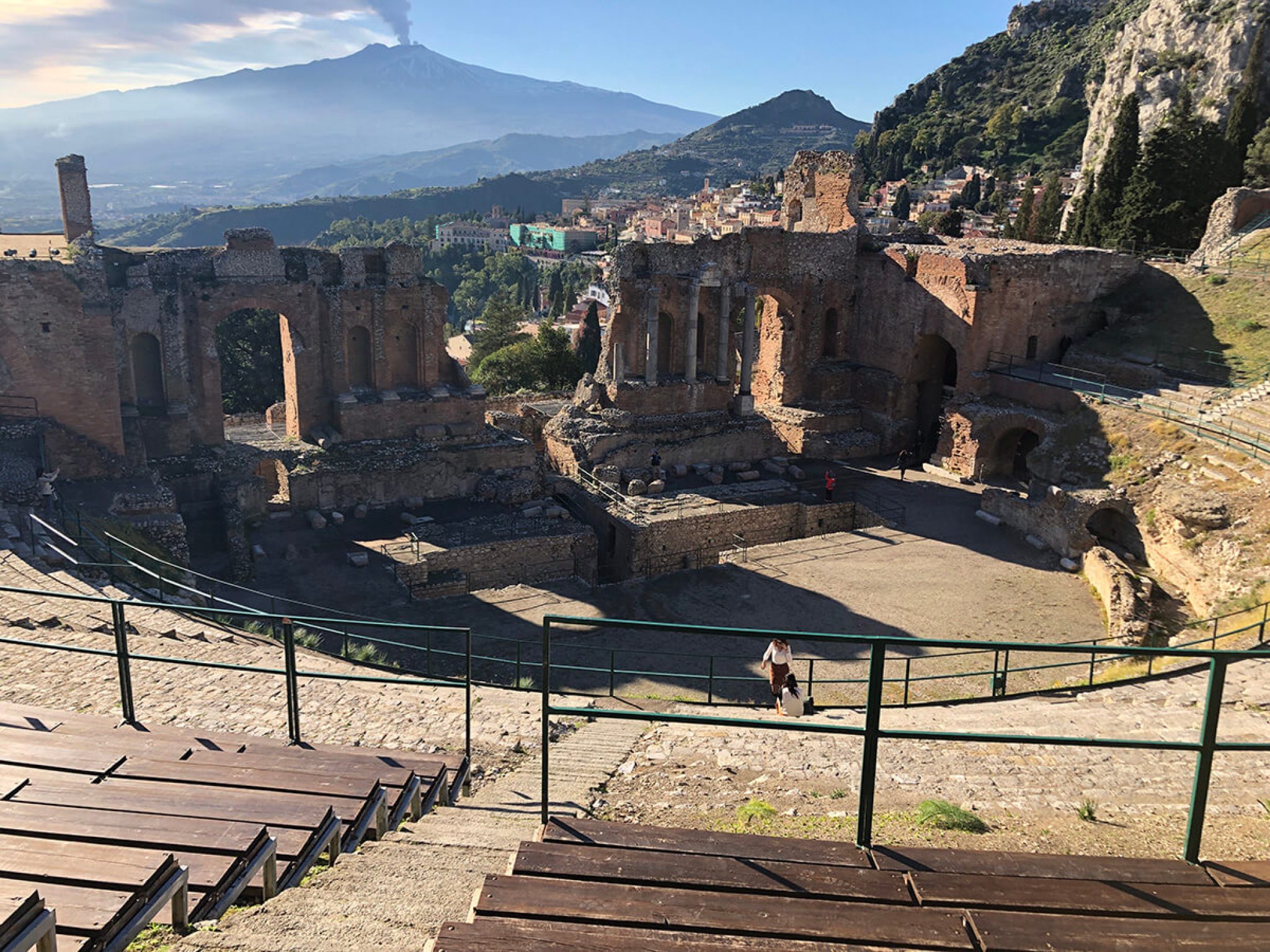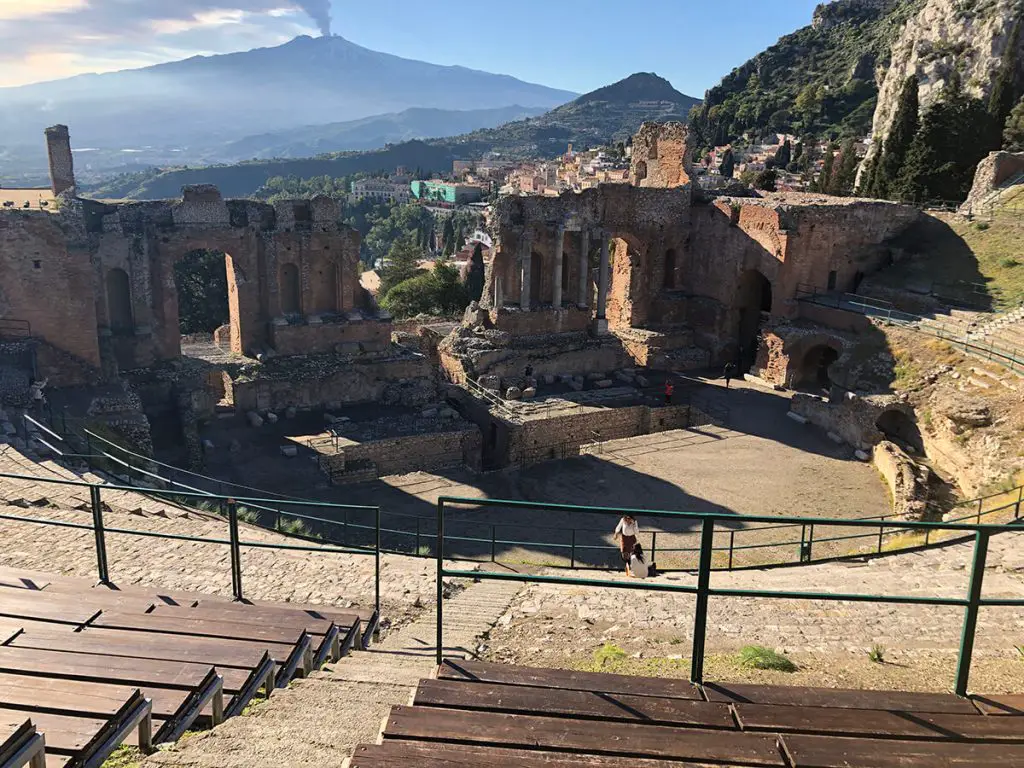 6. Foce del Simeto Beach
Location: View on Google Maps
Literally translated as 'Mouth of the River Simeto', this pristine beach will take your breath away. If you're looking for somewhere unspoilt and remote, it's one of the best beaches in Sicily for families. However, with limited facilities, you'll be grateful that you packed plenty of supplies in advance, such as snacks, sun-cream and umbrellas for shade.
You can easily lose a day or two to this stunning setting, with its chilled vibe and gentle waters inviting you to lay back and relax. Situated on a peaceful nature reserve, the beach is on one side, the Simento River to the other. This makes a fun base for exploring with little adventurers, including shell collecting at Oasi del Simeo.
Like something out of a postcard, the landscape is very flat – this bodes well for the young visitors who just want to dip in and out of the sea. The only downside is that there are limited restaurants nearby – the best being Sicily Country House – a lovely homely mansion with an outdoor pool, but do book in advance.
The beach is not far off from Catania's city centre, where there is plenty of other activities for kids you can access from there and plenty of amazing tours for older kids and adults.
7. Spiaggia di Scopello, Trapani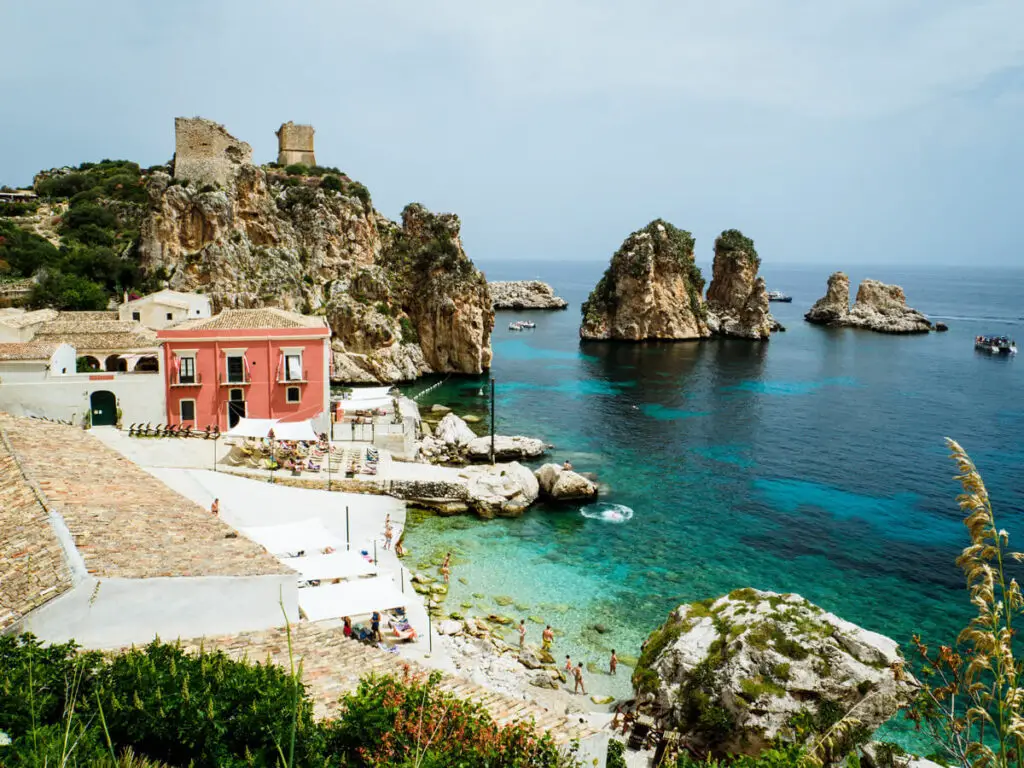 Location: View on Google Maps
If you want to combine a beach visit with an educational twist for the kids, look no further than Trapani. Set on a pretty peninsula, this sleepy village is home to some of the most delightful Sicily beaches – which inspired Homer in his iconic book The Odyssey.
Its long maritime history dates back to the 13th century, when it flourished as a fishing port and salt producer – which is still does to this day. In fact there is an interesting 2-hour tour of the salt flats. There's so much to learn and discover here, making it ideal for curious minds.
The €8 entrance charge for the beach means it never gets too overcrowded either. This fee includes access to its museum, a tour, and a sun lounger on the beach. Here you can expect glorious crystal-clear waters and plenty of fine sand.
Arriving by car? There's a few parking spots, but they can get busy. And while there's a couple of food options nearby, about 1km before you arrive there's a famous gastronomic hub which offers the very best in Sicilian cuisine – not to be missed for your cultural day out.
8. Porto Palo di Menfi, Agrigento
Location: View on Google Maps
On the quiet north-west coast, in the small town of Agrigento lies one of the best kept beaches in Sicily. Surrounded by rolling hills and wineries, it's a stark contrast to the white sands that greet you in this rustic Sicilian town. The unspoilt stretch of beach is the romantic vision you have of Sicily brought to life.
Sand dunes and sparkling waters stretch for 12km that, even in peak season, never get too busy. However shade is sparse, so pack your beach chairs and umbrella. Holding Blue Flag status for the past 20 years is testament to how clean and cared for the beach is. In fact it's an idyllic destination for some quiet downtime with the family and settling into Sicilian life.
For dining, there's a couple of restaurants noted for their seafood, including popular 'Da Vittorio' in Porto Palo where you can enjoy a true authentic Italian experience. There's also a couple of mini market shops for basic supplies. All-in-all, it ticks most boxes.
Once you are over in the province of Agrigento, you may as well find some time to head over to the Valley of the Temples. It is further afield from the beach, but it is by far the most important site of ancient classical culture in Sicily. You can opt for inexpensive entry tickets to the temples or a more expensive option with guided tour of the temples.
9. Spiaggia Bianca, Lipari
Location: View on Google maps
For the intrepid family, a real treat lies in store in the breathtaking Aeolians. This smattering of islands can be found of the north-east shore of Sicily, if you don't mind a brief jaunt by sea. For this reason, it's better suited to families that don't have prams and buggies in tow.
In under an hour the hydrofoil from Milazzo swoops you over to Lipari, a quicker option than ferry. However there are different ferry companies operating services to Lipari that depart from several locations within Sicily. You can easily find all the listed ferries and book them using Direct Ferries.
Once you arrive to Lipari it's a short 10-minute taxi ride to 'The White Beach' as it's known. Gaining recognition as one of the best beaches in Sicily thanks to its sensational white pebbles – which derive from naturally formed pumice stones.
Popular with snorkelers, explorers and lots of locals, the water is crisp and clear, making it ideal for hiring a boat to explore the hidden bays and coves. There are sunbeds for hire, and a couple of restaurants and a cocktail bar for quenching your thirst. If you dare to venture further, take a day trip by boat around the rock of Stromboli – home to three active volcanos the kids will be in awe.
10. Fontane Bianche (Siracusa)
Location: View on Google Maps
Tucked away on the beautiful east coast, Fontane Beach offers 3km of white sand and turquoise waters to spend a day or longer. Complete with sun loungers and umbrellas, there's plenty of shade for families. This is also a fun spot for enjoying beach volleyball and watersports, with one of the best beaches in Sicily for children to splash about in with its calm tide.
During peak season there's a lifeguard on hand when it gets busy. To enjoy your family day to the max, all the facilities you could want are here, including; a beach restaurant, changing rooms, showers and toilets.
Come the weekend the locals enjoy this beauty spot, however it's certainly less busy mid-week. Getting here is easy enough using public transport, the train from Siracusa takes 15 minutes, with just a short walk to the beach.
The location of this beach is ideal for anyone with kids as there are several other activities the kids can look forward to in the area. There is go karting, a petting farm, a puppet theatre and a water park. Not to mention you also can see the splendid Baroque buildings within Ortygia and Siracusa and the Neapolis Archaeological Park.
Best Beaches in Sicily Map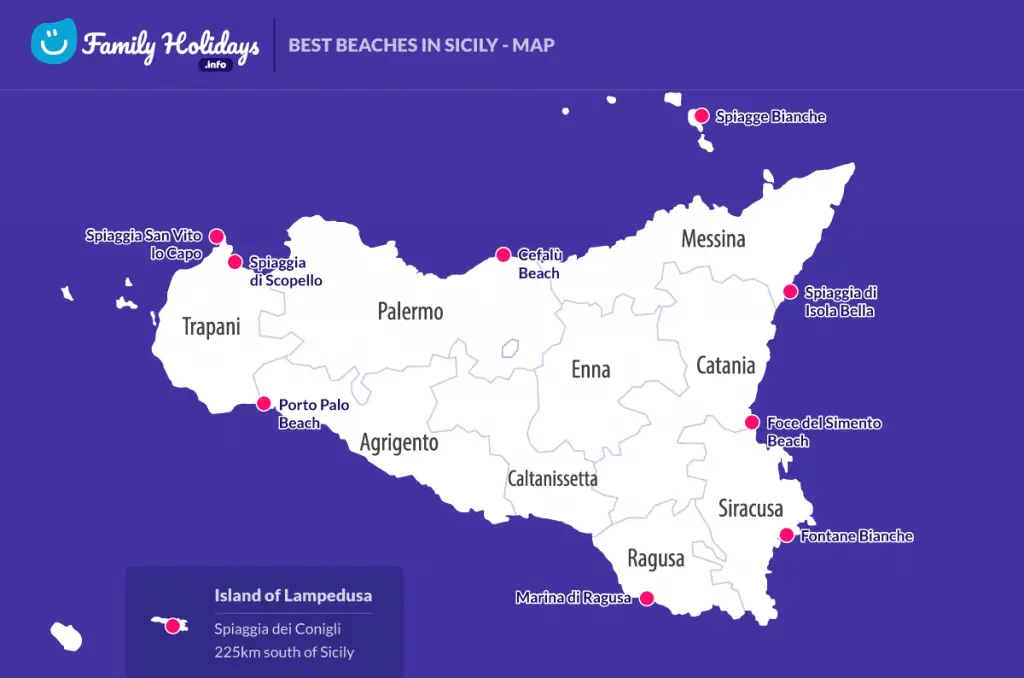 Related Articles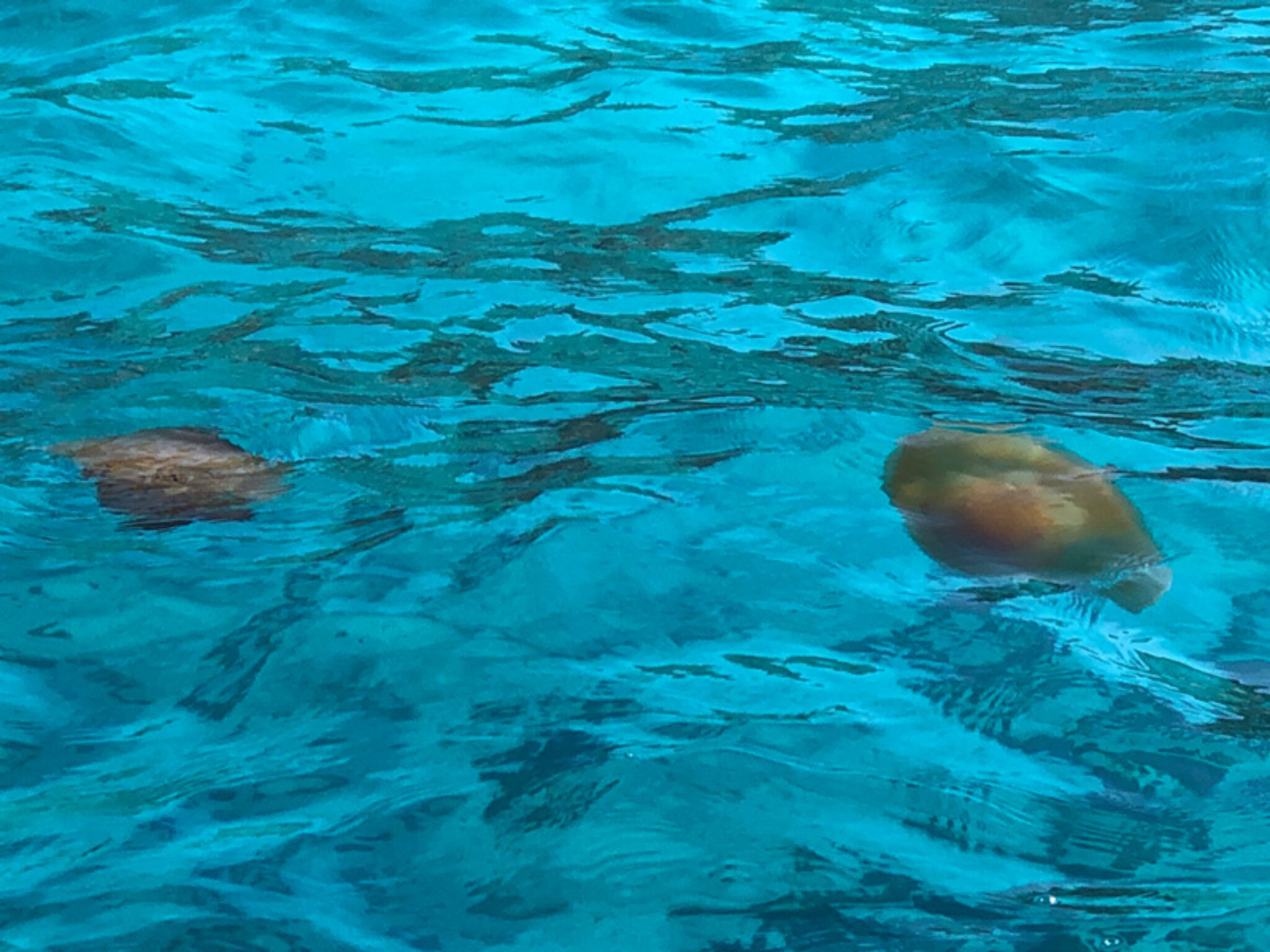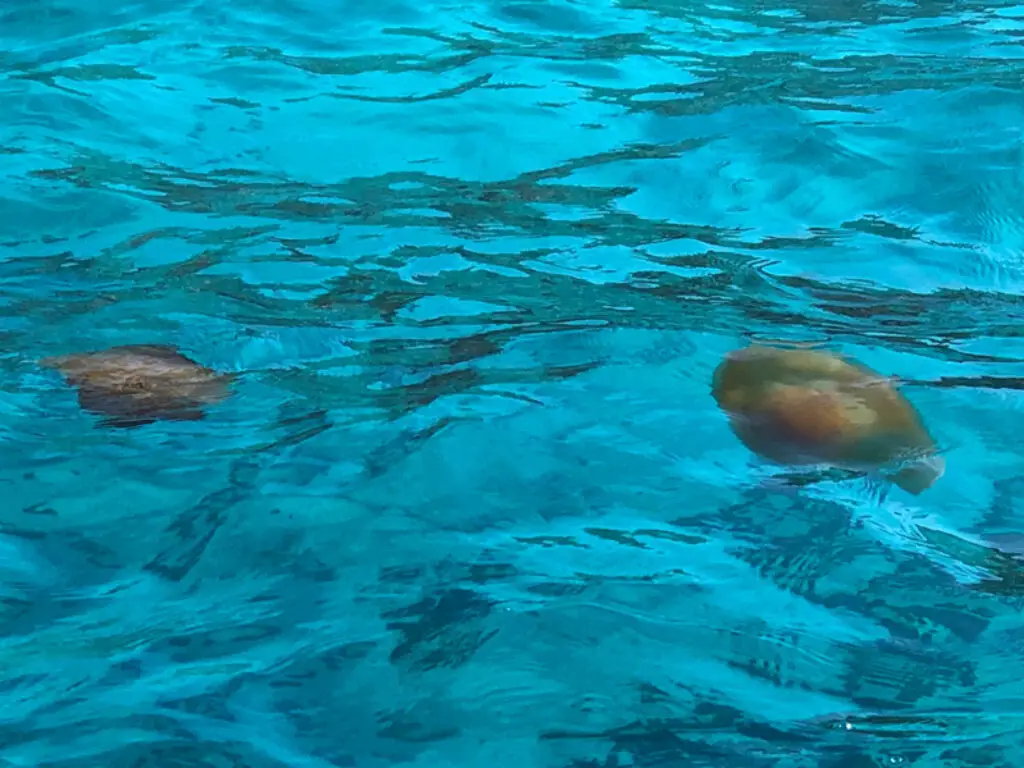 Avoid Jellyfish in Sicily: Info, Live Bays and Treatment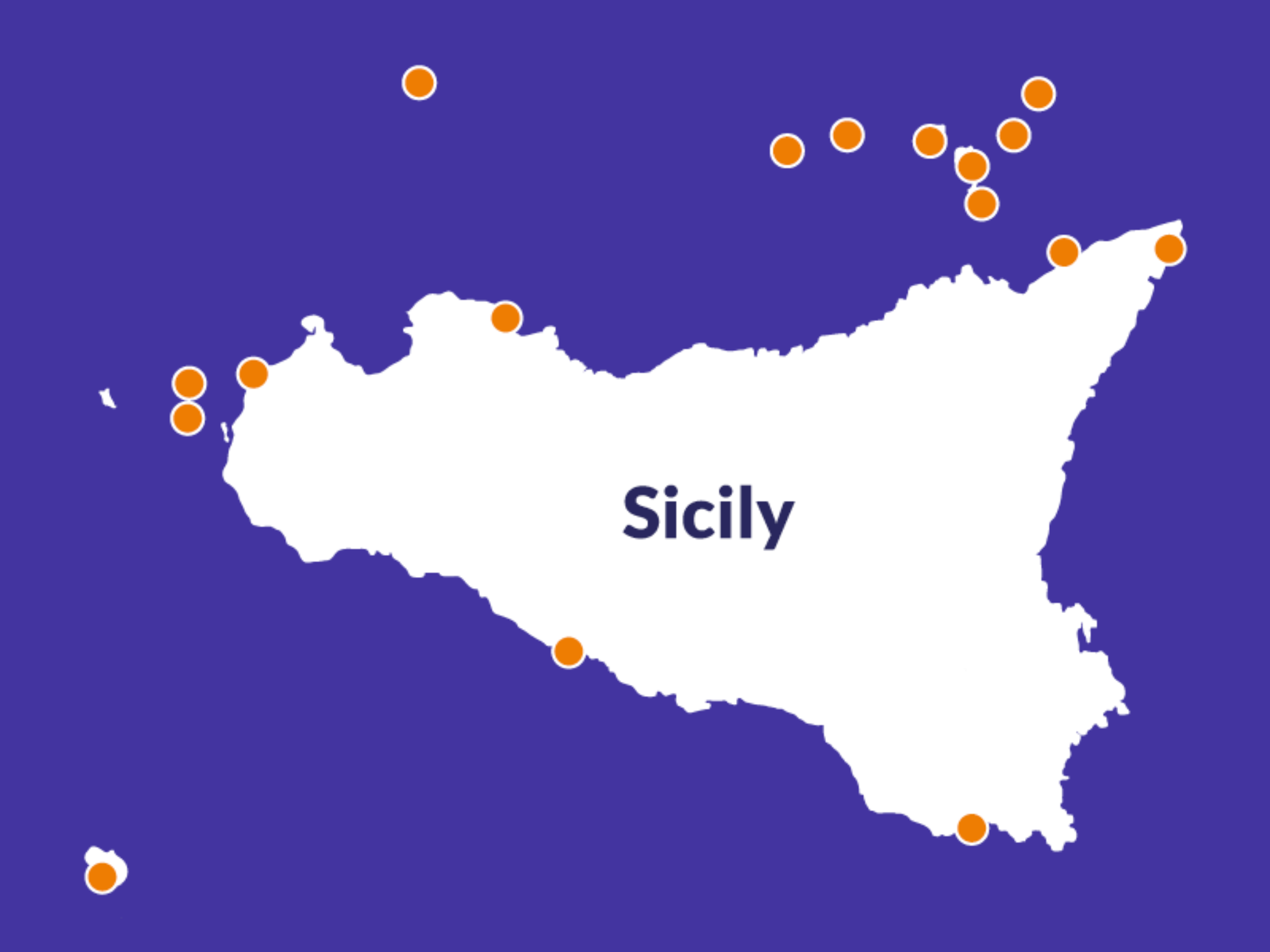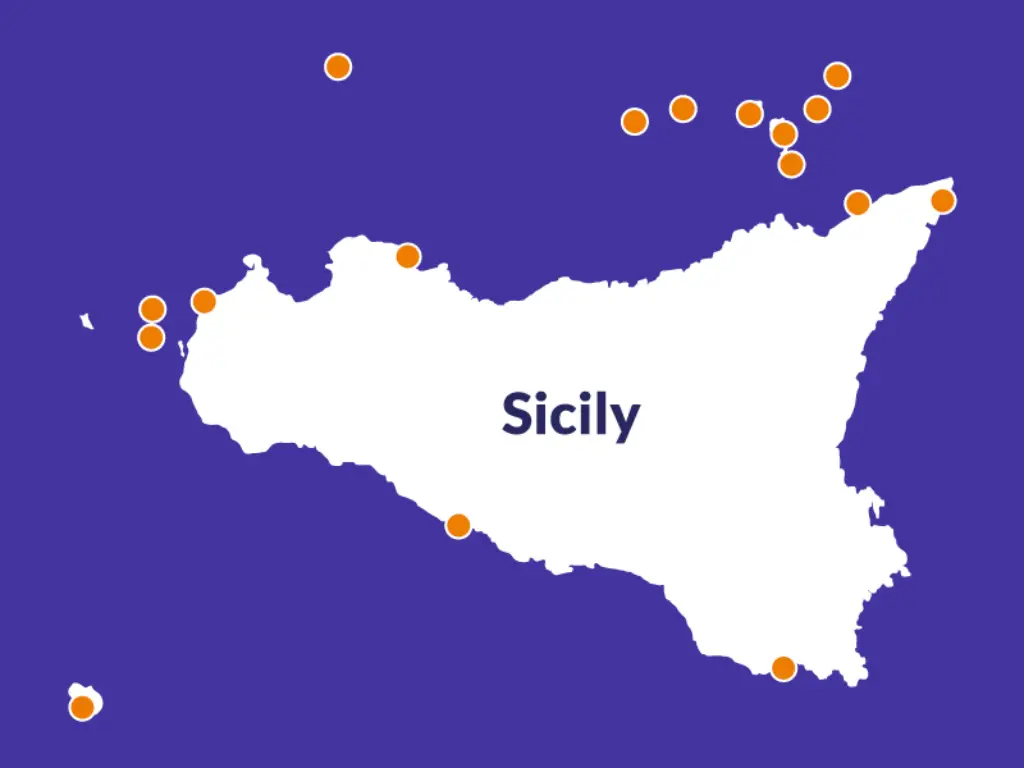 Ferries in Sicily: A Complete Guide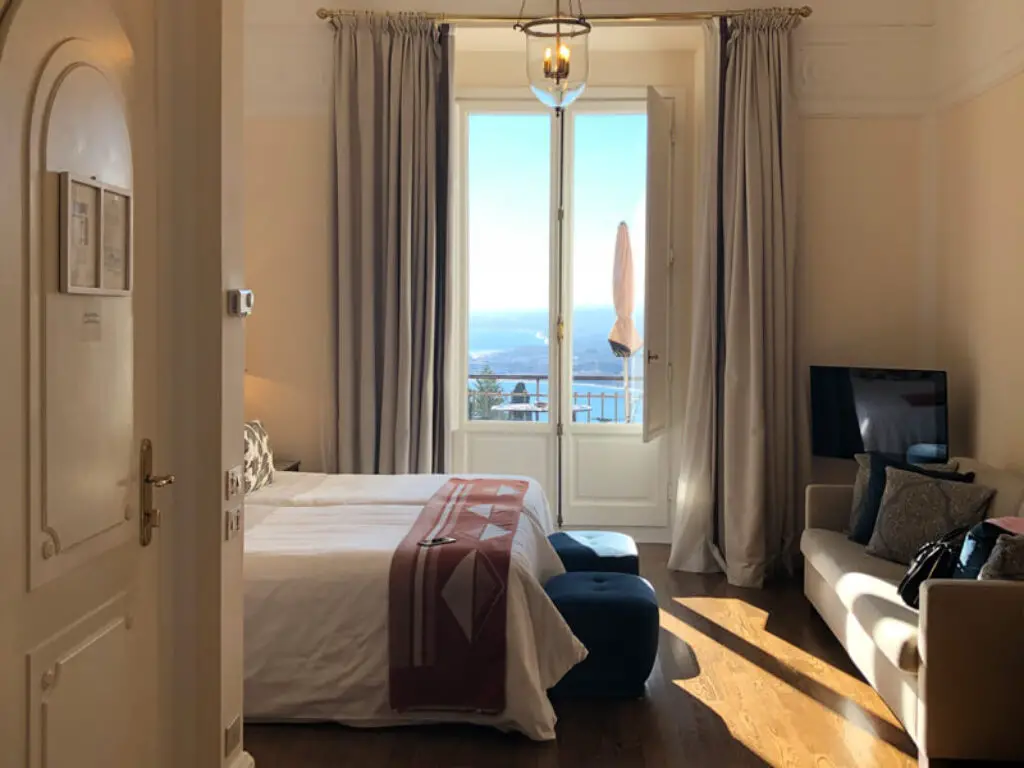 The Ultimate Luxury Holiday in Sicily to Remember