Christmas in Rome: A Fabulous City With A Fantastic Christmas Vibe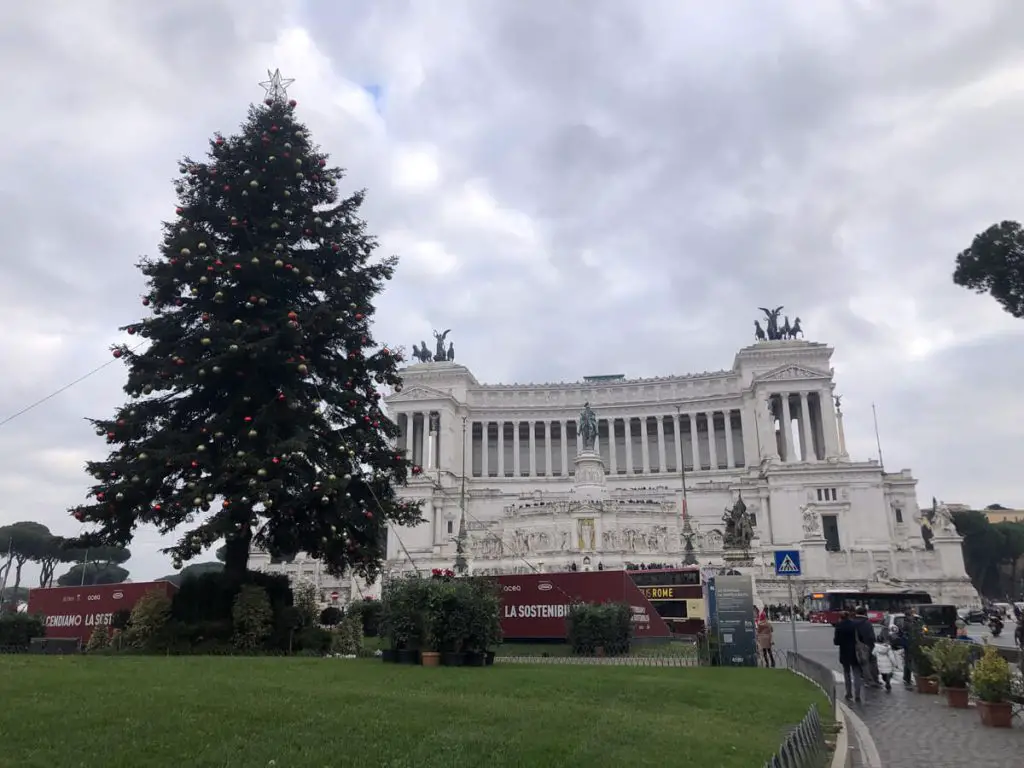 Rome is a fabulous holiday destination regardless of the time of year you visit. However during Christmas in Rome you have some additional things to look forward to.
During Christmas in Rome there are several Christmas markets and Christmas decorations in the city. Churches display a crib and various squares have a large Christmas tree. All attractions are open, bar 25th December, 1st January and some also on 26th December. The Vatican has an Epiphany parade on the 6th January, marking the end of Christmas.
Here is some more detail on what to look forward to. You may prefer to get an overview of the Christmas decorations, cribs and epiphany parade by checking out this video on the Family Holidays YouTube channel.
Christmas Decorations in Rome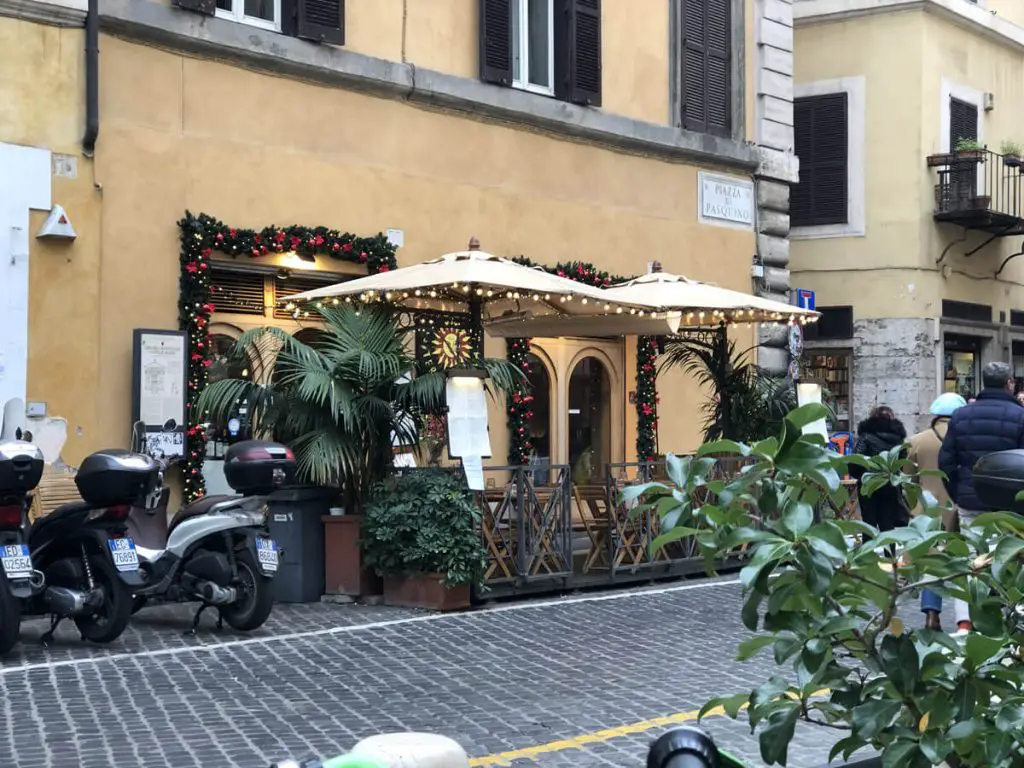 There are not a huge amount of Christmas decorations in the streets of Rome. Mostly they are confined to restaurants and hotels and barely any hung in the streets.
However there are many squares that display a large Christmas tree. Usually they are traditional Christmas trees like the one in the image at the very top of this feature. However you can find some different and more creative Christmas trees in different places, that are tailored to better suit the audience and location of the space.
For example at the Rome zoo (purhcase tickets), they had a Christmas tree made of recycled plastics, mostly plastic bottles. On the other hand at Piazza di Spagna (the Spanish steps) there was a metal, classy, gold Christmas tree made by one of the luxury brands.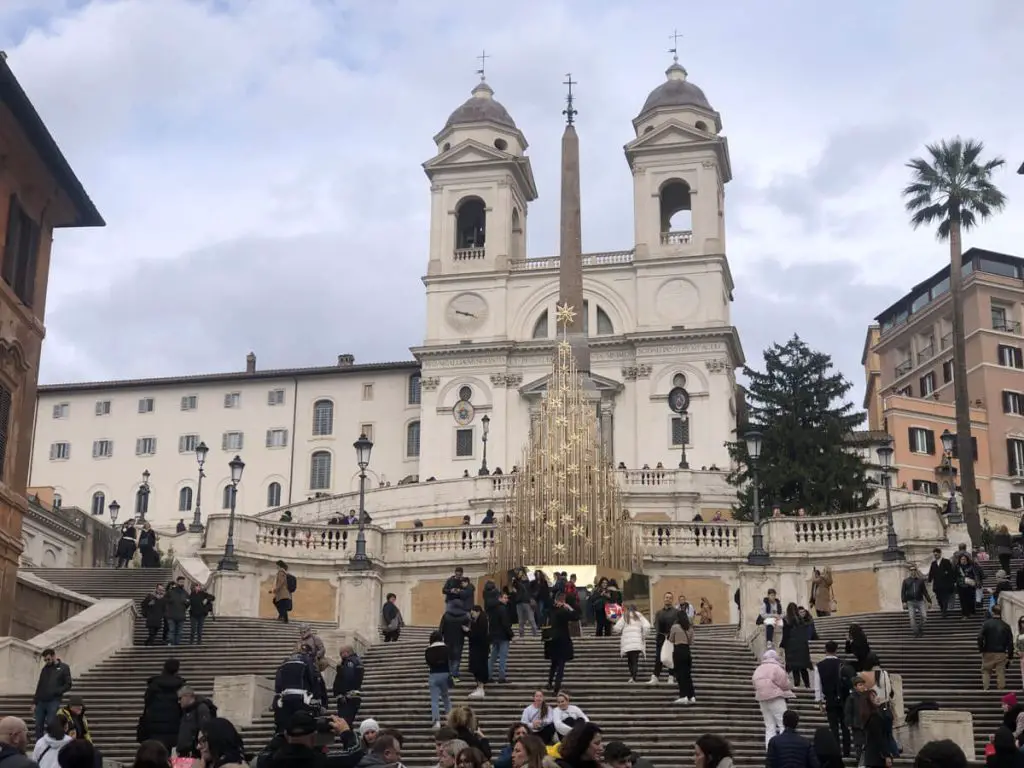 Christmas Markets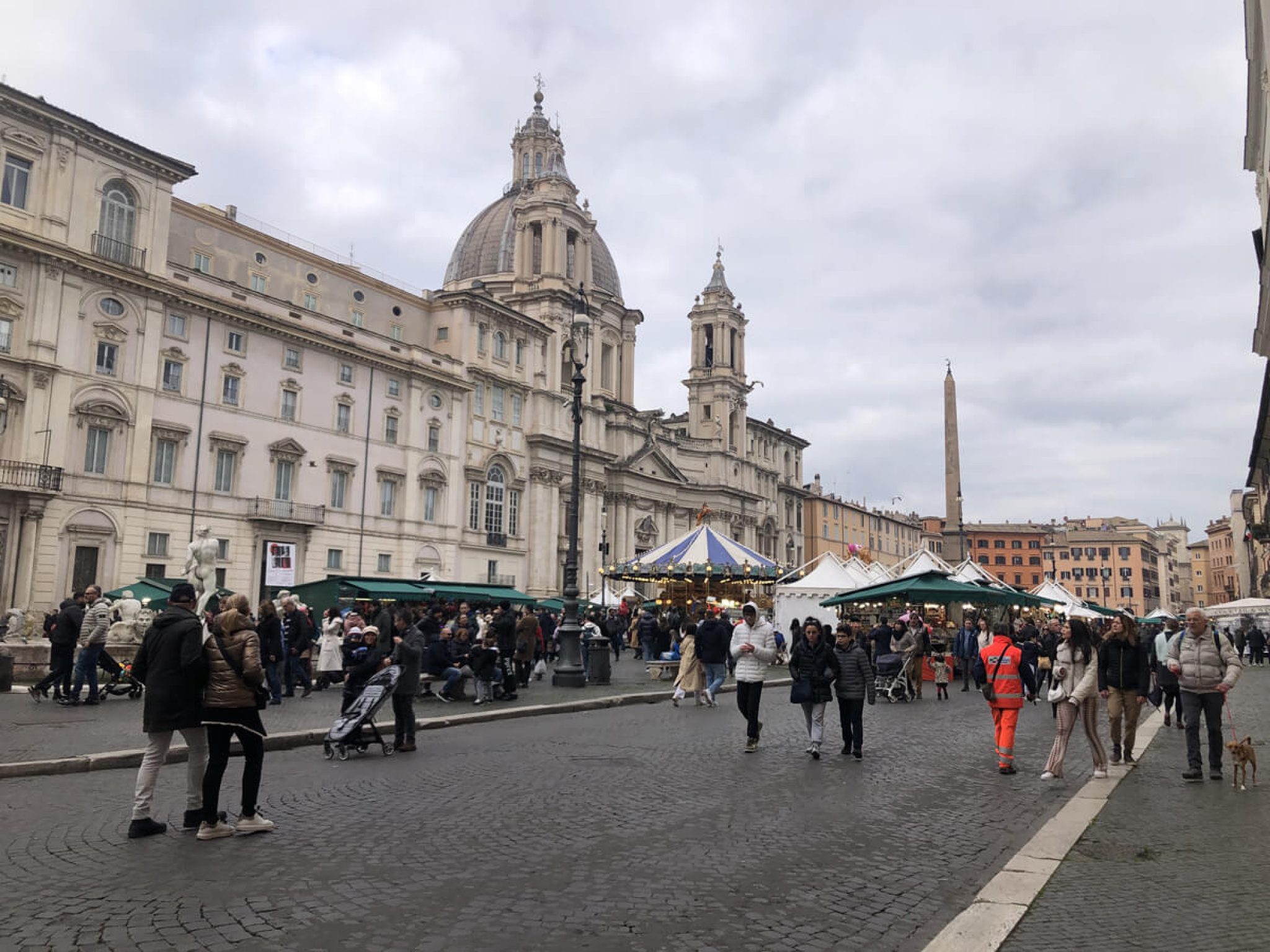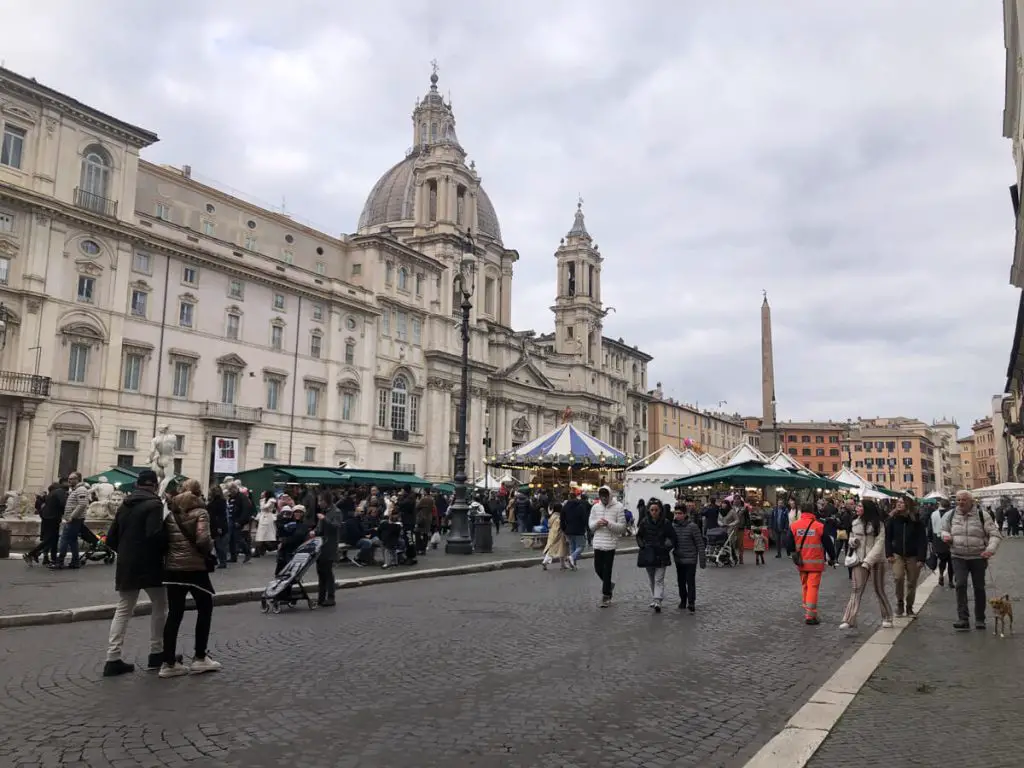 There are several Christmas markets, but the best one is in Piazza Navona. It is not the largest Christmas market in Rome, but it has quality items and has a stunning backdrop – Piazza Navona. Piazza Navona is famous for its beautiful Baroque architecture that you can feast your eyes on.
Here is a feature on the Christmas market at Piazza Navona which will give you a better idea of the market. It also has a video of the market to give you a good overview of what to expect.
Another good thing about Piazza Navona is that it is in central Rome. Hence you will not be far off from other places of interest by walk.   
Alternatively there is also Cinecittà World which would take around 45 minutes to get to from the city centre by public transport. You can buy tickets to Cinecittà World here which I highly suggest because it is popular.
Alternatively there is the GiftLand Vintage Market which is the largest Christmas market with 200+ stalls, and is around 20 to 30 minutes journey by public transport from the Colosseum.
Christmas Activities for Kids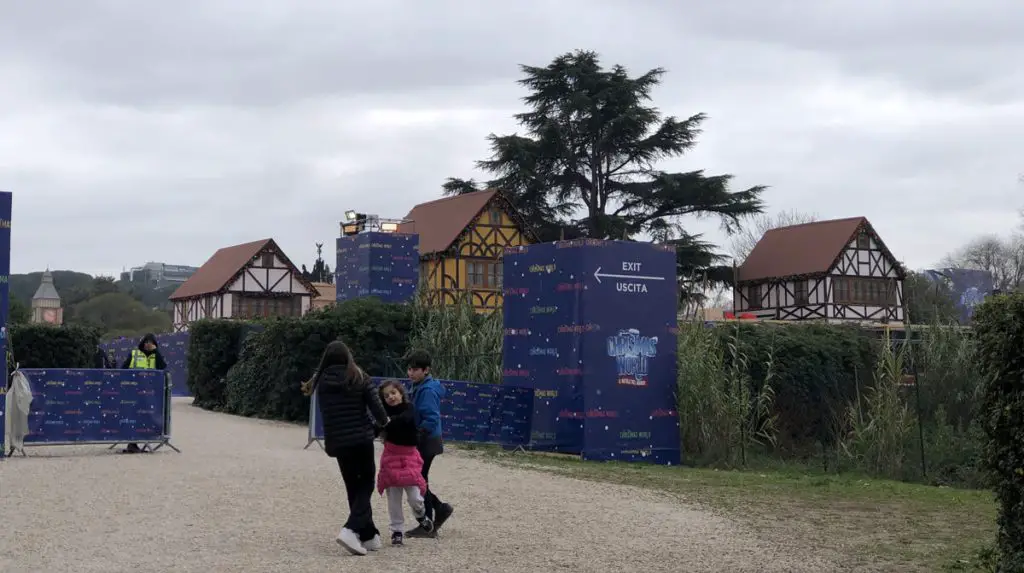 For families with kids there are some Christmas activities that get organised in Rome. Most will be in Italian and not worthwhile, but there are a couple you could consider that are organised over in the Borghese Gardens.
The puppet theatre organises craft sessions for kids all year round on specified dates. At these craft sessions kids make characters and during Christmas the activity is Christmas themed. You can find out more about what there is at the Villa Borghese Garden here.
Additionally there is Christmas World that gets set up from early December to early January. Kids can have the pleasure of meeting Santa, ice skate, enjoy beautiful lights including an illuminated zoo, have some tasty treats at the food markets and check out the shows.
Christmas World is a well rated event on TripAdvisor that kids truly enjoy. If you want to see more you can check out the Christmas World website.
Christmas Cribs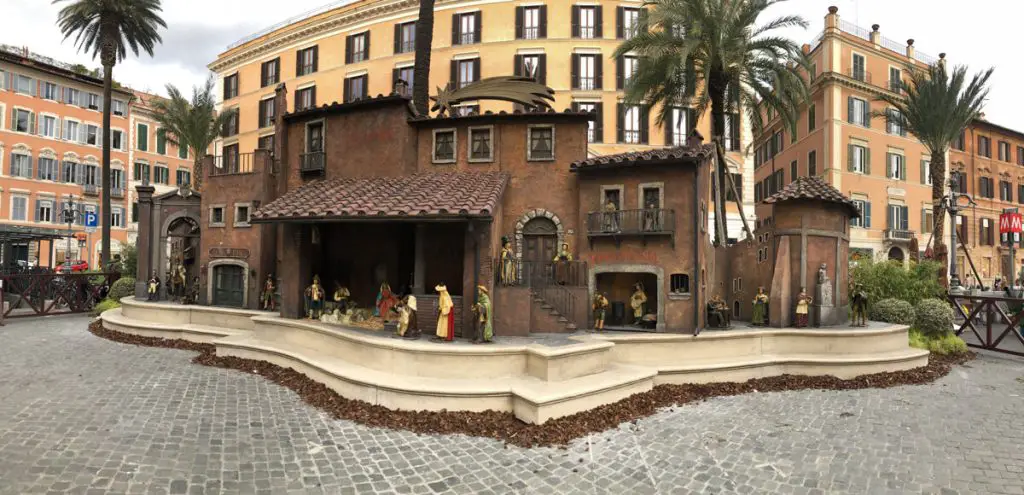 During Christmas in Rome, it is a tradition for Christmas cribs are set up in every church as well as some other locations. They are a delight to see for anyone that likes to view cribs, either because you may be into the art of crib making or enjoy viewing models.
The cribs are crafted using wood, cork, paper-mâché and delicately painted. They come in all sorts of sizes, standard small ones all the way up life sized models. What is nice about them is that they are all unique. Some are modern and minimalist, whereas others are more complex and intricate.
Here are some examples, this crib is from the church of San Macuto Vescovo located here on Google Maps.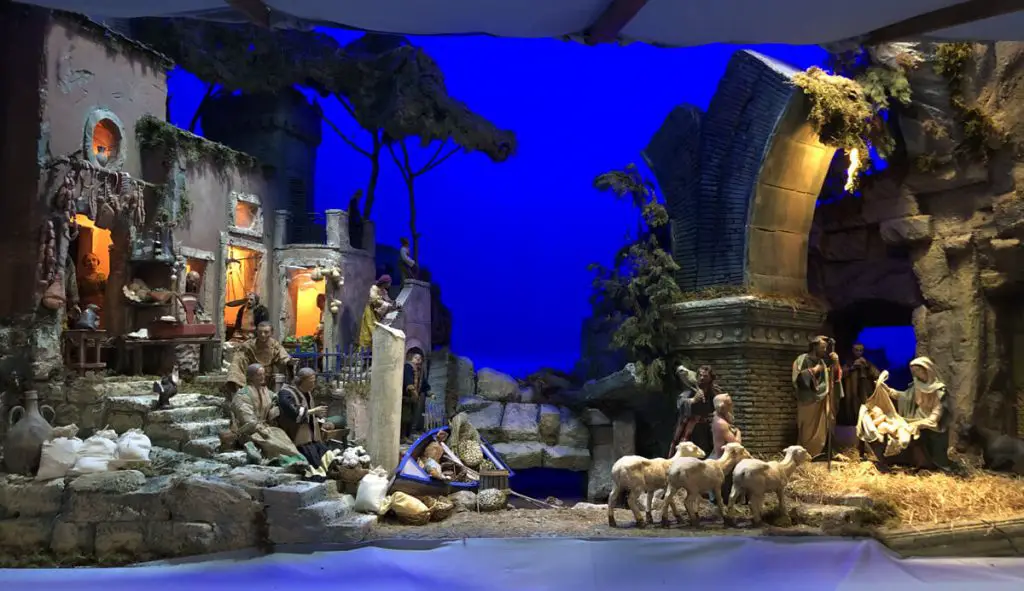 There is also 18th century Neapolitan style cribs. You can tell which ones they are because the figurines are dressed in 18th century dress. Additionally the structure of the crib mimicking the walls have a grey blue colour. Some of these Neapolitan style cribs are actually antique cribs dating back to that time.
Here is an example that is in the St Ignatius of Loyola church located here on Google Maps.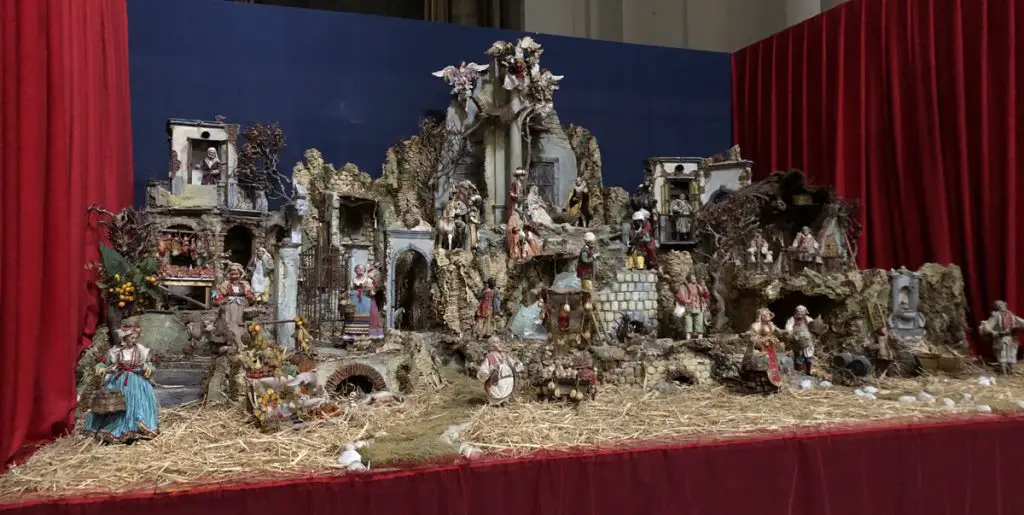 There are also several cribs at the Vatican which is a must to visit when you are in Rome. You will find one crib outside in St. Peter's Square which is set up next to the Christmas tree, one inside St. Peter's Basilica and another inside the Sistine Chapel.
The one outside in the Square is really large, a new crib is commissioned every year and is a piece of art in its own right. A fantastically talented individual or a group of individuals crafted this beauty below in wood, and was displayed for Christmas 2022.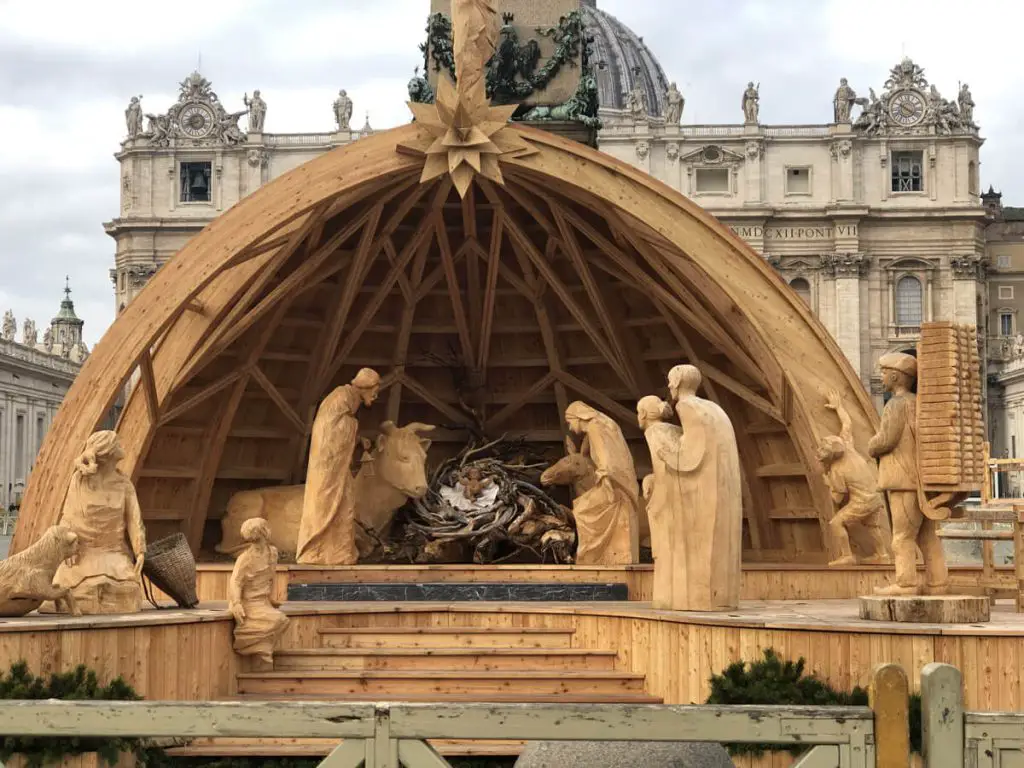 Apart from cribs in churches you will be able to spot others elsewhere. I saw a crib at the Colloseum, the Zoo and the Spanish steps.
Tip:
Accommodation in Rome is expensive, however if you book in well in advance you can save quite a bit of money. Additionally
accommodation close to the Vatican here
tends to be a little cheaper, plus you will be in a safe area of Rome to avoid the mishaps that happened to me and I detailed on
is Rome safe
.
Attractions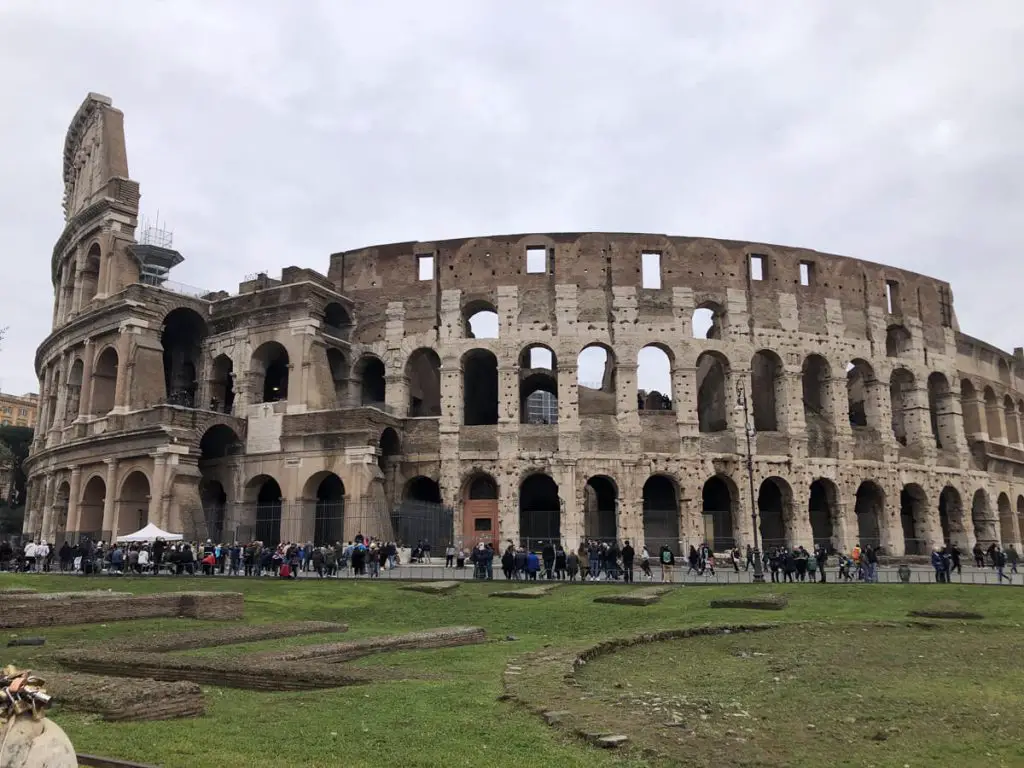 If you are looking to visit the attractions in Rome, everything is open at this time of year. Whether it's the Colosseum, Pantheon, the Vatican, Villa Borghese and everything else. However, attractions are closed on Christmas day and on new year's day. They may also be closed on the 26th December and on additional days.
On the days when attractions are closed, you could opt to visit some of the places of interest that are in public areas. Like for example the Spanish Steps, the gorgeous Trevi Fountain and some other famous squares.  
It is extraordinarily busy during Christmas in Rome, with both local and foreign tourists visiting the city. In fact you should consider booking tickets for attractions you want to see at least a week before you intend to visit.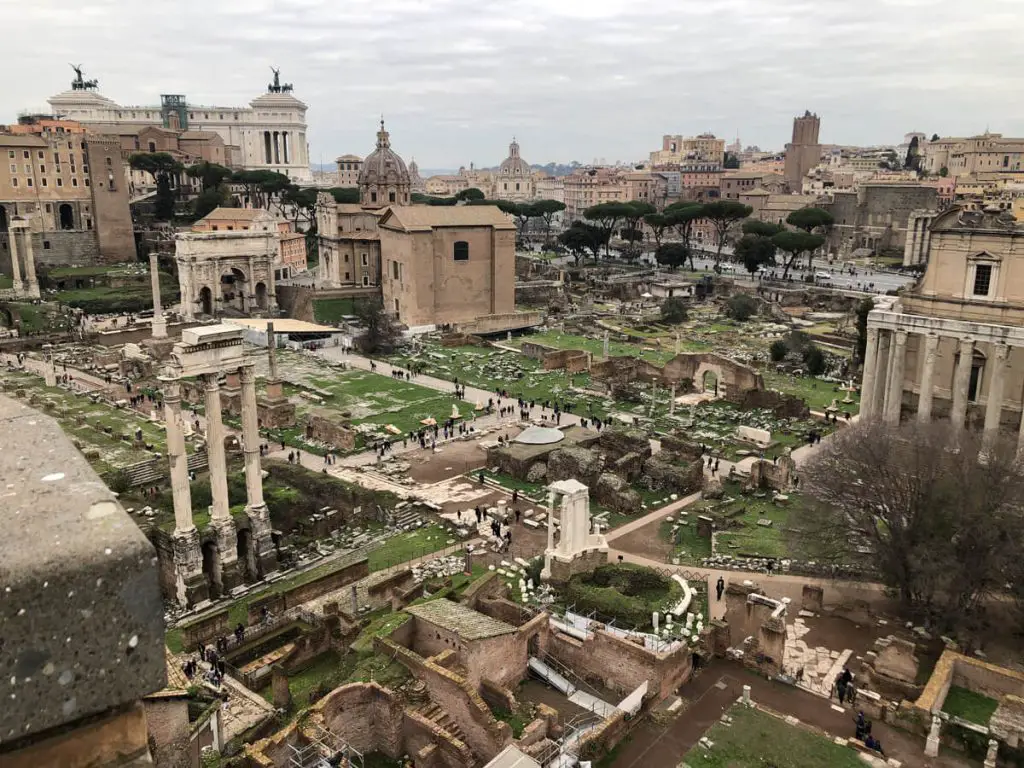 Although I had seen the Borghese Gallery before, I wanted to visit the gallery again and look at the wonderful artworks housed there. Unfortunately I was unable to get tickets this time around, because it was booked throughout the whole period while I was in Rome.
Luckily I managed to get tickets to other attractions including the Vatican. I visited the Vatican not on my preferred day, but at least I did manage to get tickets. Plus if you book in advance, you will have the option to pick just an entry ticket or opt for a tour. That is to say as opposed to having to opt for the kind of ticket you wouldn't have selected if you had the choice.
Here is where you can book entry tickets in advance to the Colosseum, Roman Forum and Palatine Hill, the Vatican Museums and Sistine Chapel (entry into St. Peter's Basilica is free), and the Borghese Gallery. Like this you not only are guaranteed entry when you visit Rome, but you also get fast track entry to skip the queue.
There are also many tours to go visit these attractions, but they of course are more expensive. Here are various tours for the Colosseum archaeological park, the Vatican and Villa Borghese.
Although Rome's attractions are busy during Christmas, the rest of the winter period is much less busy.
Traditional Christmas Mass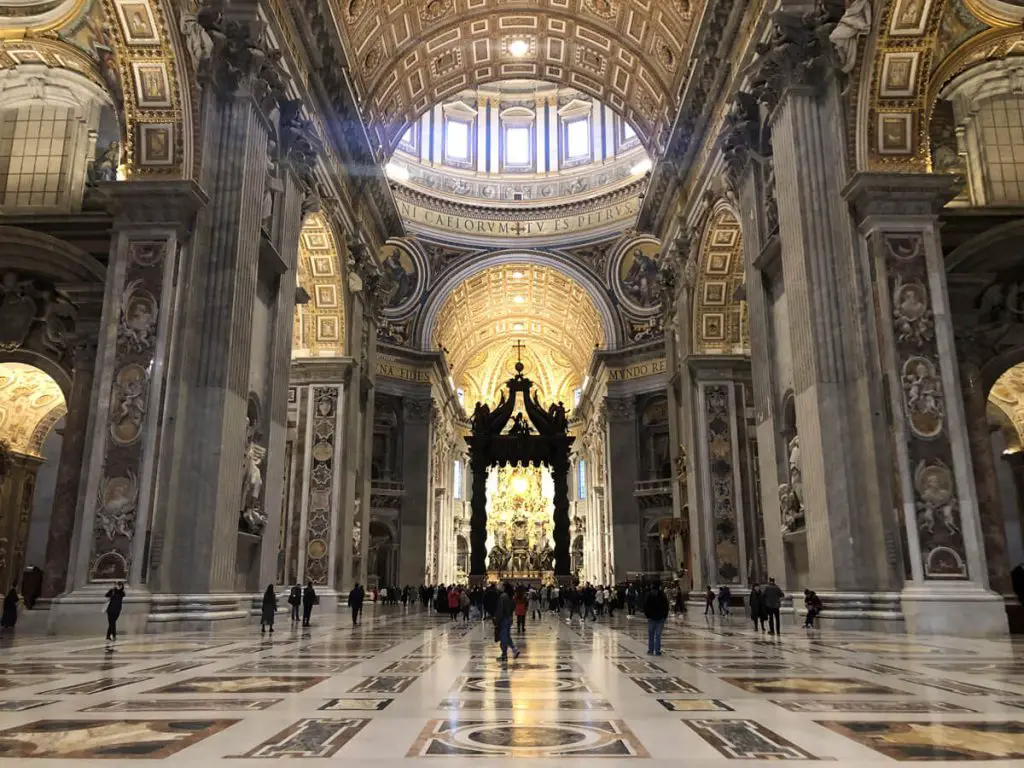 If you want to have the most special experience in Rome then you should consider attending midnight mass at the Vatican.
It is a tradition for Italians to go to church at midnight or on Christmas day before they continue celebrations. Most Romans go to one of the many churches within Rome. However the very best and once in a lifetime opportunity lies in the one you will experience at the Vatican.
The mass as the name implies starts at midnight, between the 24th and 25th December. The mass is in Italian, but the experience trumps the language barrier; The mass is presided by the Pope in the most breath-taking setting at St. Peter's Basilica. Additionally there is a choir that sings during the mass which makes it extra special.
Believe it or not, entrance for midnight mass in the Vatican is free. However you need some forward planning because this is a highly anticipated event and incredibly popular. Even though it is free you will still need tickets, you can do this by following the instructions on the Vatican's website.
You should look to book at the very least 2 months in advance. Additionally seats are not numbered and you will need to go through security before entering the Vatican. This means you should look to get to St. Peter's Basilica well in advance to ensure you get a good seat.
Epiphany Parade at the Vatican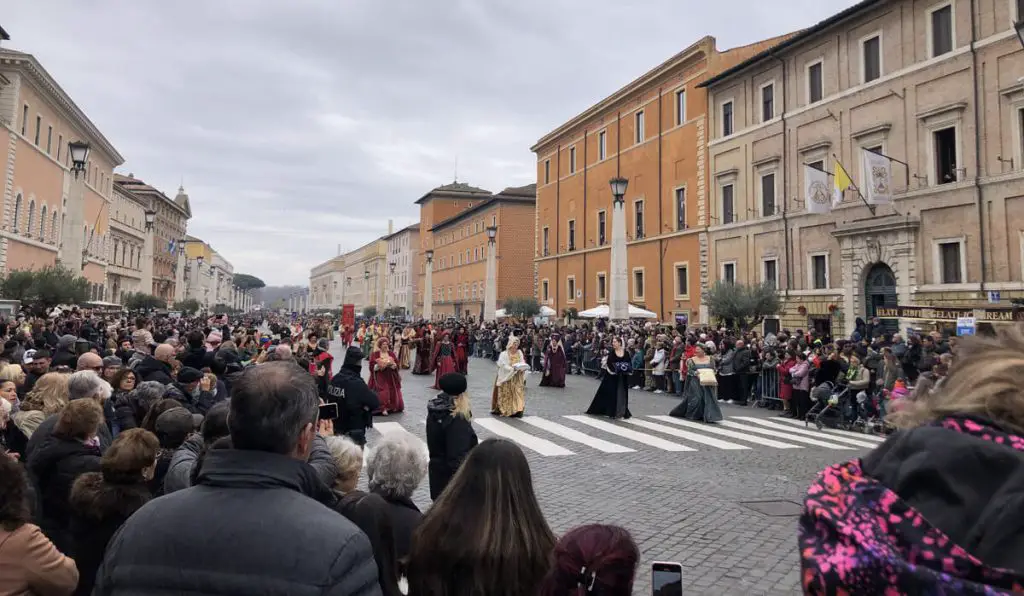 The Epiphany falls on the 6th January in Italy. It is a national holiday, and marks the end of the Christmas season. On this day you should make your way to the Vatican to see the parade commemorating the visit of the Magi to the Christ Child.
Bands, performers with banners and flags, the 3 kings and other figures in lavish costumes, slowly walk down the main street leading up to St Peters Square.
It is quite the site to see. Plus you can also hear holy mass at the Vatican presided by the Pope, either in St Peter's Square or inside St. Peter's Basilica. However it is hard to get a seat inside the basilica if you do not go early.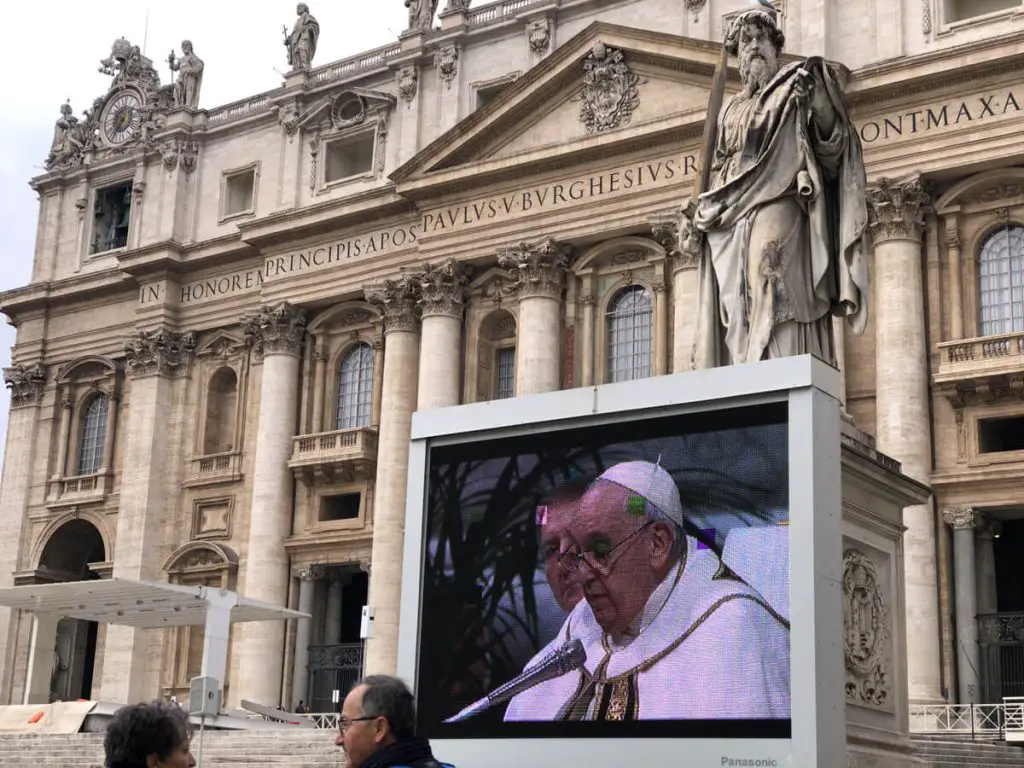 Sales
One last thing to look forward to at the end of the Christmas season are the sales. My holiday in Rome was jam packed viewing the highlights of Rome, and I regret not doing any shopping. I could have taken advantage of substantial discounts.
Usually sales start in early January with everything from clothing and accessories to electronics at discounted prices. If you look around you could stumble across items with as much as 60% discount. With plenty of stores all across Rome offering items for all budgets, you are bound to find some things that you just have to buy.
Things to Note
Public Transport
Public Transport in Rome is not always punctual, but it is frequent which makes up for the brief waiting time. However on public holidays during the Christmas season there are reduced services. Here is all you need to know about transport in Rome, prices and where to get tickets.
However if you want to travel outside of Rome without a tour guide, your best bet is to use Omio which will give you all the options of both trains and buses to travel anywhere you need.
Alternatively there are a couple of well rated tours, but they are expensive. Both leave from Rome to visit Pompeii, Amalfi Coast and Positano and the other one is dedicated to the Amalfi Coast and Positano.
Restaurants
On Christmas Day some restaurants close, and the rest are fully booked. Hence unless you plan to cook a meal for yourself because you booked a holiday flat, you need to pre book your reservation early.
However if you plan to eat out, you should know that on Christmas Day there are Christmas menus which are different from regular menus. They are usually at the very least a 3 course meal, and they are usually pricier than the regular menus.
Weather
The weather in Rome is always cold during Christmas time in Rome, however by varying degrees. Even if the cold weather sets in later in the year, Rome will be cold, but it could be mildly cold. Other years you will need to wear thicker, warmer clothing, and add a good set of gloves and cosy shoes to keep your extremities warm.  
Of course you will need a coat. You should opt for taking a water proof coat with you just in case it rains. An umbrella is a must and you should consider carrying it with you if the weather forecast is signalling it is likely to rain.
Sometimes snow falls in Rome, although on the odd occasion, and usually is a very light dusting.
Shops
Shops usually have extended opening hours before Christmas day, to make sure everyone has a chance to buy gifts. However shops close early on the 24th December and sometimes have an extended break and remain closed until the 27th December.
If you are able to, you may want to wait for the sales in the new year, when you can get some good bargains.