Transport in Rome: Trains, Buses, Taxis and Renting a Car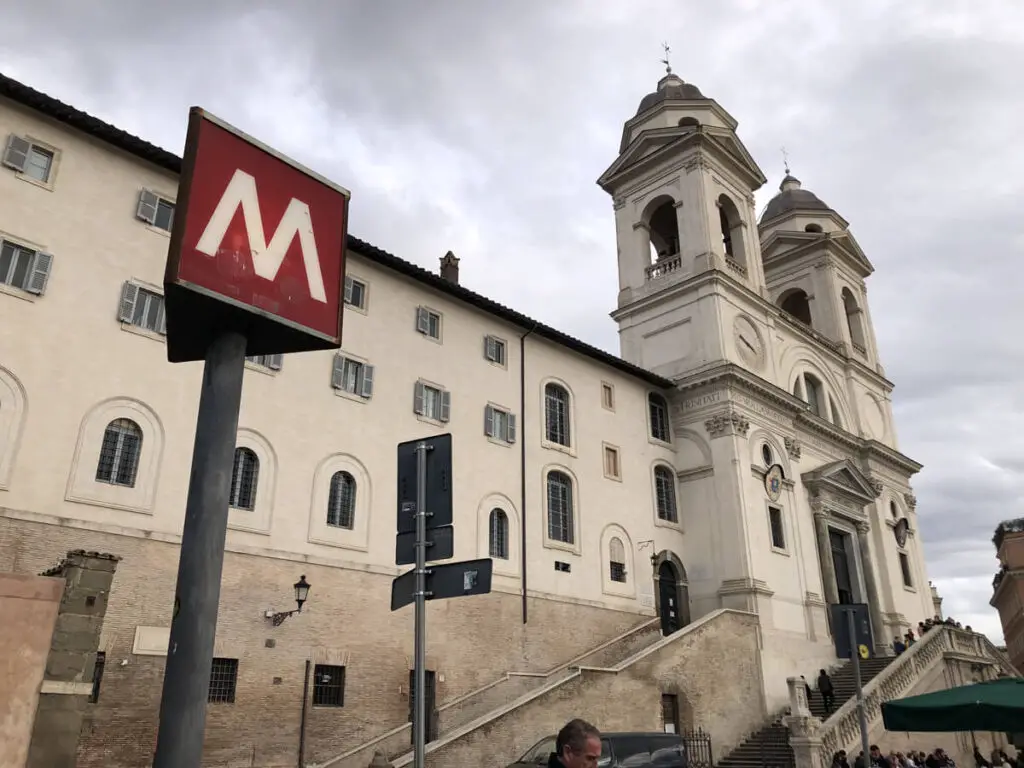 On my trip to Rome I used public transport, taxis and also walked around to experience a good portion of sites and activities over the 5 days I was there. Here are some tips about travelling around Rome based on my experience.
Best Way to Travel Around Rome
Public transport is frequent, mostly runs on time and is cost-effective making it the best way to travel around Rome. However in the historic centre, there is less than a kilometre distance between many popular sights, hence it is best to walk from one location to the next.
Here is a map that shows the locations of all the highlight in Rome: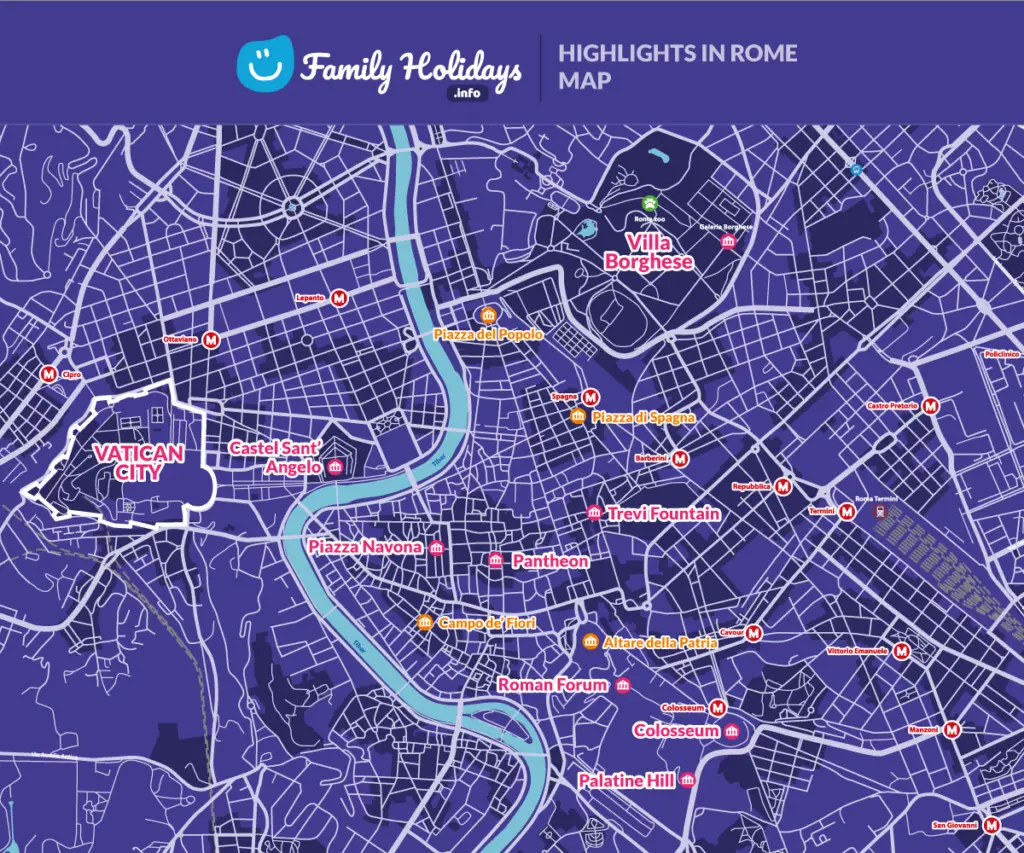 The central historic part of Rome is a small section which is the medieval and Renaissance quarters. It stretches from Piazza del Popolo to Piazza Venezia where there is Altare della Patria, and from Piazza di Spagna to the Tiber river.
You can get to this area using the metro or bus and then walk within the historic centre. To visit the historic centre you can catch the train to Barberini and then walk to the Trevi Fountain, Pantheon and Piazza Navona. After that you can travel to visit the Campo de' Fiori market or head over to another sight.
There is this walking tour that covers the Trevi Fountain, The Pantheon and the Spanish Steps which will allow you to experience the beauty and history of Rome up close. Led by a knowledgeable guide, you'll learn about the fascinating stories behind each site, while taking in the stunning architecture and scenery along the way.
Cost of Public Transport in Rome
You can purchase tickets for public transport in Rome from vending machines at metro stations or news agents. With these tickets you can use any form of public transport, whether bus, train or tram.
As of January 2023 ticket prices are as follows:
| | |
| --- | --- |
| Ticket | Price |
| 100 minutes | €1.50 |
| 1 day | €7.00 |
| 2 days | €12.50 |
| 3 days | €18.00 |
| 7 days | €24.00 |
Some of the tickets that only serve a day up to a few days are less worthwhile than the 7 day ticket. However if you are there for only a couple of days you clearly would not want to purchase more than a 2 day ticket.
I ended up needing to purchase a 7 day ticket since I was there for 5 days. It was definitely worthwhile because I used public transport at least twice a day to and from the hotel.
Tip: When you use your ticket for the first time, you should make sure to validate it straight away in the validating machines at the train station or as soon board a bus. Otherwise you could end up getting a hefty fine.
For more information on other costs for a trip to Rome for accommodation, food and activities you can read the article on is Rome expensive? It will give you a full breakdown of costs before traveling so you can budget and plan your trip accordingly,.
Trains in Rome
There is both an underground metro system and over ground trains in Rome. However unless you want to go further out from central Rome you will mostly use the metro. Rome's metro system is made up of 3 underground lines; A, B and C which are colour coded orange, blue and green respectively.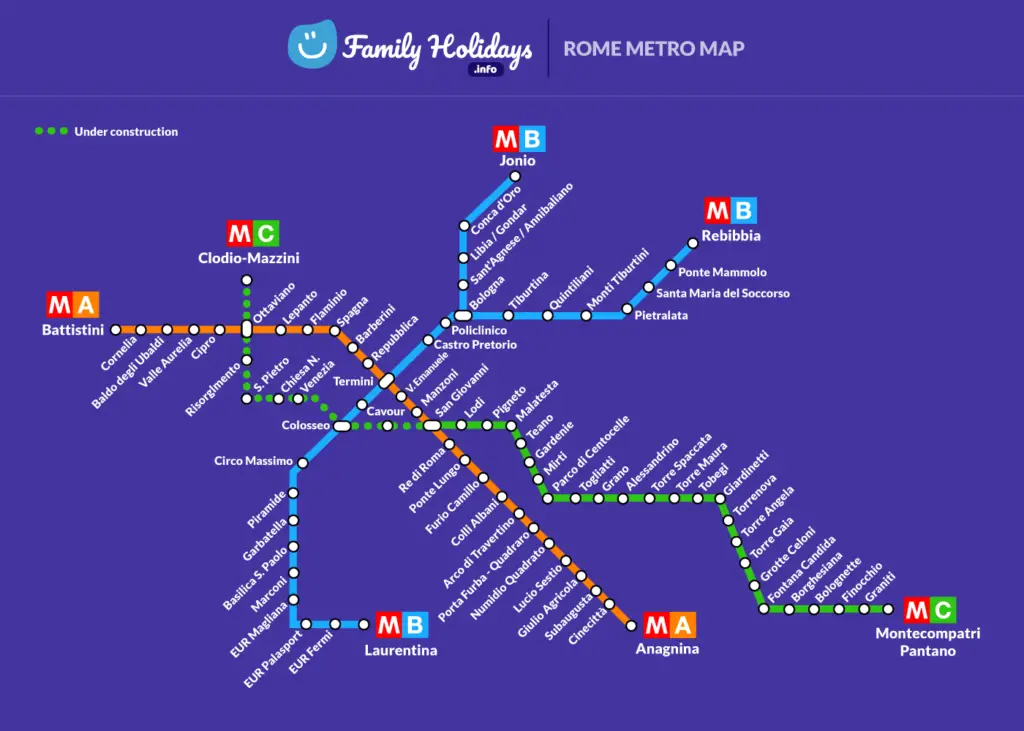 Most of the time in the central area you will use either the A or B line or both. The metro train lines in Rome is actually the smallest system in Europe and is not that extensive. However the C line is getting extended further into the central area of the city.
Having said that, the A and B lines service the central area where all the main tourist attractions are located pretty well. To change train line you will need to stop at Termini station.
List of Stations Closest to Tourist Attractions
| | |
| --- | --- |
| Tourist Attraction | Closest Train Station |
| Colosseum | Colosseo (B line) |
| Trevi Fountain | Barberini (A line) |
| The Vatican | Ottaviano (A line) |
| Villa Borghese | Spagna, Flamino (A line) |
| Spanish Steps | Spagna (A line) |
| Piazza del Popolo | Flamino (A line) |
| Castel Sant' Angelo | Lepanto |
Metro Experience
The metro is good with trains frequently picking up passengers, especially in central Rome. You will not need to wait long on the platform for a train to arrive. However during holidays like on Christmas day, you can expect reduced services. Hence if you are travelling on holidays make sure to plan ahead and check the schedule.
Some of the trains are newer than others and some of the older ones are covered in graffiti. However the trains are comfortable inside so no complaints there. In summer it's a different story as Rome gets hot and so do the trains when they are packed. The metro is still good though since it is by far cheaper than taxis.
Some of the train stations are new, whereas others are not maintained and quite dirty and need a good scrub. Additionally, at night the areas in and around the Termini Metro Station is not safe so you should avoid it. However, the service is good and you should definitely use it.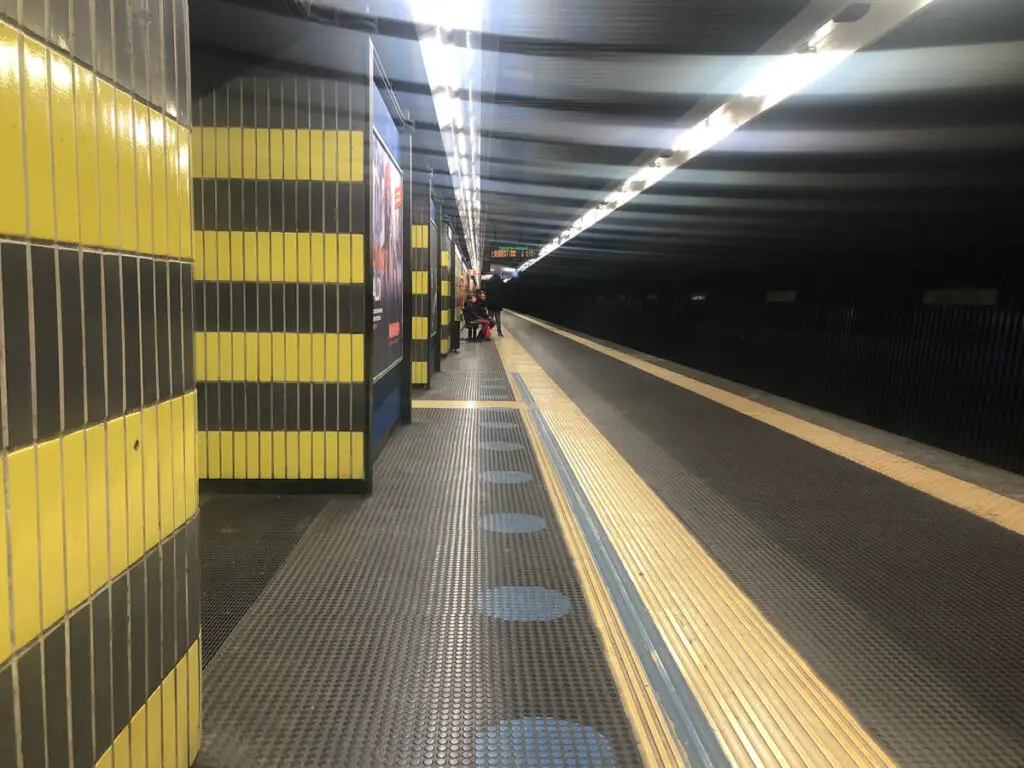 Buses in Rome
What the buses have over the metro system is that you get to see the view as you go by. So you will get a better idea of the general area of Rome and also see some ruins or other sites along the way. However buses are slower vs trains as a means of transport because they have to navigate through streets with traffic.
Alternatively you could opt for the hop-on hop-off bus in Rome which offers 1, 2 or 3 day tickets and takes more direct routes. It allows you to explore the city at your own pace, giving you the flexibility to get on and off at any stop you wish. With audio commentary in multiple languages and a route that covers all the major attractions, the bus provides a convenient and informative way to see the best of Rome.
The metro is also more direct. However since the metro is not that extensive you will likely need to use a bus at some point. There are many buses navigating Rome's streets on different routes and they are frequent. Even in areas half an hour out of the historic centre, like the area where there are the catacombs.
The catacombs are in the south eastern part of Rome which is not serviced by trains. Hence you will need to use the metro for part of the journey and then need to change over to travel by bus.
In the catacomb area the buses are not as frequent as in the historic centre, but still frequent enough. In fact throughout my trip in Rome, I did not spend longer than 15 minutes waiting for buses or trains. Usually I would be onboard within 5 minutes, which made getting around Rome quite easy.
The journey to the Catacombs from the city centre did take a little longer since it was further out. An alternative is to opt for a guided tour of the Catacombs of Rome that includes transfers. It provides a hassle-free way to reach the sites and ensures you have a knowledgeable guide to provide historical and cultural context to the experience. Additionally, a guided tour ensures that you do not miss out on any important details or hidden gems of the catacombs.
The best way to check bus routes is by using Google Maps. All you need to do is click on the bus icons on the map and you will see all the available buses. The information also includes live feedback on the time the bus will arrive. You will also need to make sure you are on the right bus stop by checking the sign that displays all the bus numbers. They will either be static signs like the one below or digital ones.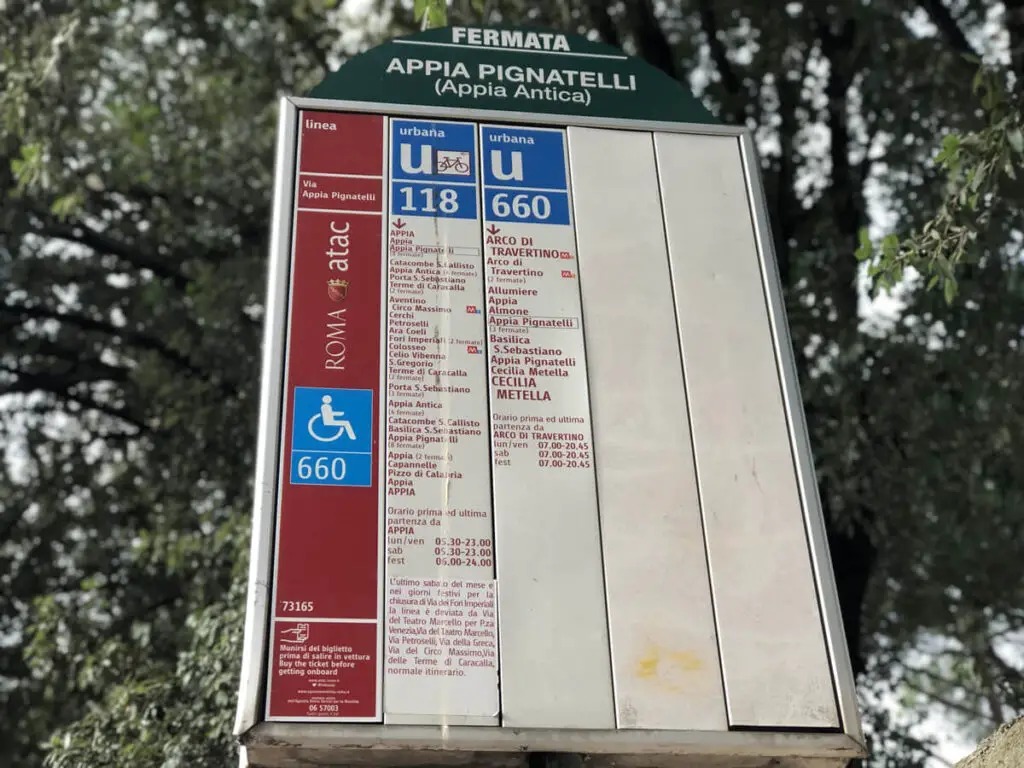 Trams in Rome
There are trams in Rome, but you will not see any in the historic centre. However you will find trams slightly further out. Since there aren't any trams in the historic centre I cannot relate any personal experience about the service.
However at some point when I was walking from the Villa Borghese gardens to get to the kids museum (one of the activities for kid in Rome), there was a bizarre situation. Initially I thought a car and the tram had a bad accident over here on Google Maps.
There were the police involved and loads of people were starring. It turns out a car parked on the tram tracks and the tram could not get past! I spoke with someone from one of shops right opposite, and she mentioned that it happens on a regular basis at that spot.
I'm not sure if other tram lines are disrupted by this sort of behaviour. However it was worthwhile mentioning that the only tram line I came across had issues of this sort.
Travelling on Public Transport With Kids
Of course during peak hours of the day there are far more commuters on the trains and buses. If you are travelling with young kids you should try and avoid travelling during peak times. Even though buses and trains are frequent, commuters are jam packed like sardines at these times.
With an overwhelming amount of commuters, sometimes it took multiple tries before the buses or trains managed to close all the doors! These situations are usually worse in major metro stations like Termini, but also other bus stops and metro stations in central Rome.
In fact I did not spot families with kids using public transport in Rome during peak hours. Usually they chose to travel when it is quietier.
Taxis in Rome
As you would expect, taxis are more expensive than public transport in Rome. However sometimes you may prefer to use a taxi for various reasons. Uber operates in Rome and in fact I used the app several times and it wasn't exorbitantly expensive.
For example a 20 minute journey from the Vatican to my hotel close to Castro Pretorio train station was just under €17. A 36 minute journey from my hotel to Ciampino Airport was €46. Of course the rate charged by Uber also depends on what time you travel.
What I didn't like about Uber in Rome is that it took long to find and allocate a taxi on the app. Sometimes even after the app found a taxi driver it would go back to searching for another taxi driver.
In fact I regretted not walking up to one of the taxis that were stationed around the perimeter of the Vatican. It would have been quicker if I had done this than waited for the app to find the taxi driver and wait for the taxi to arrive.
One thing that families with kids under 12 years old should know is that taxis are legally exempt from carrying car seats. You can sit your child on your lap or strap on a regular seat belt for them. However, if you feel more comfortable having your child in a car seat, then you may want to check out Taxi Bambino.  
Renting a Car in Rome
Renting a car in Rome or any large city in Italy is not the best way to get around. That is to say unless you want to visit places beyond the city that are not serviced well by public transport.
In this case you would want to find a good deal by using a platform like Discover Cars which has an excellent rating on Trustpilot. They provide customers with high-quality car rental services and exceptional customer support.
However as mentioned previously, if you are staying within the city, and especially the central areas, it is best to stick to public transport because the city is well serviced with a good system.
At most you may want to consider a taxi in certain instances like if you are tired or want to avoid a peak hour commute. Additionally central Rome has lots of traffic and the parking rules are hard to understand.
Related Articles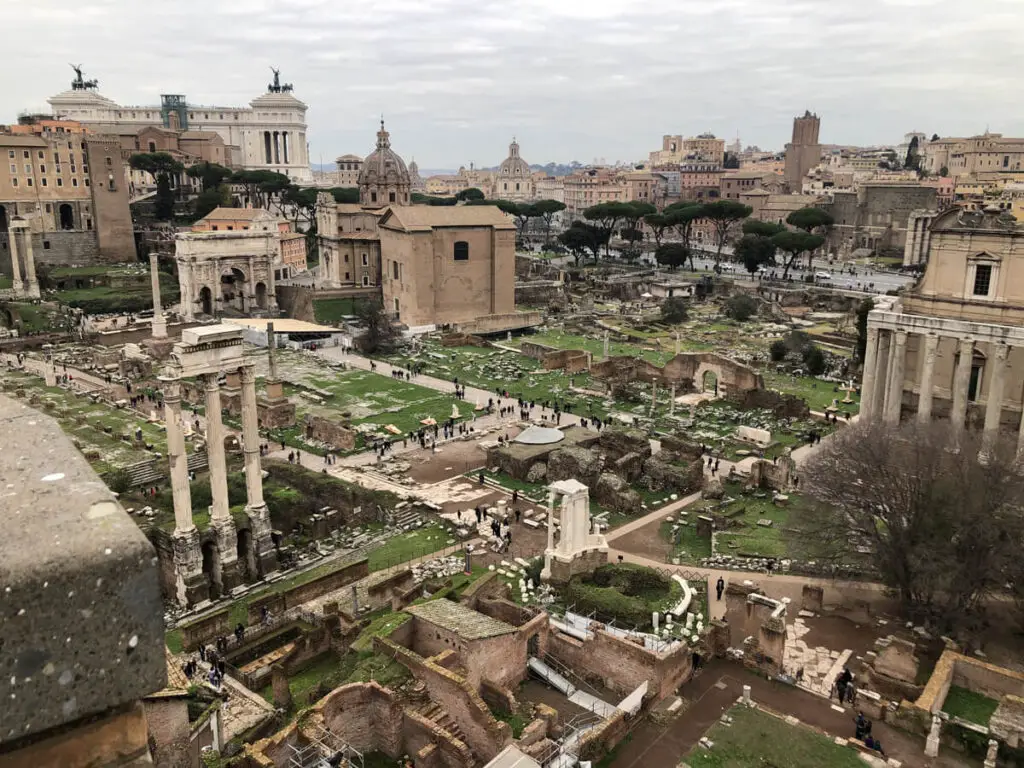 Italy Family Holidays, Kids Activities, Itineraries, Guides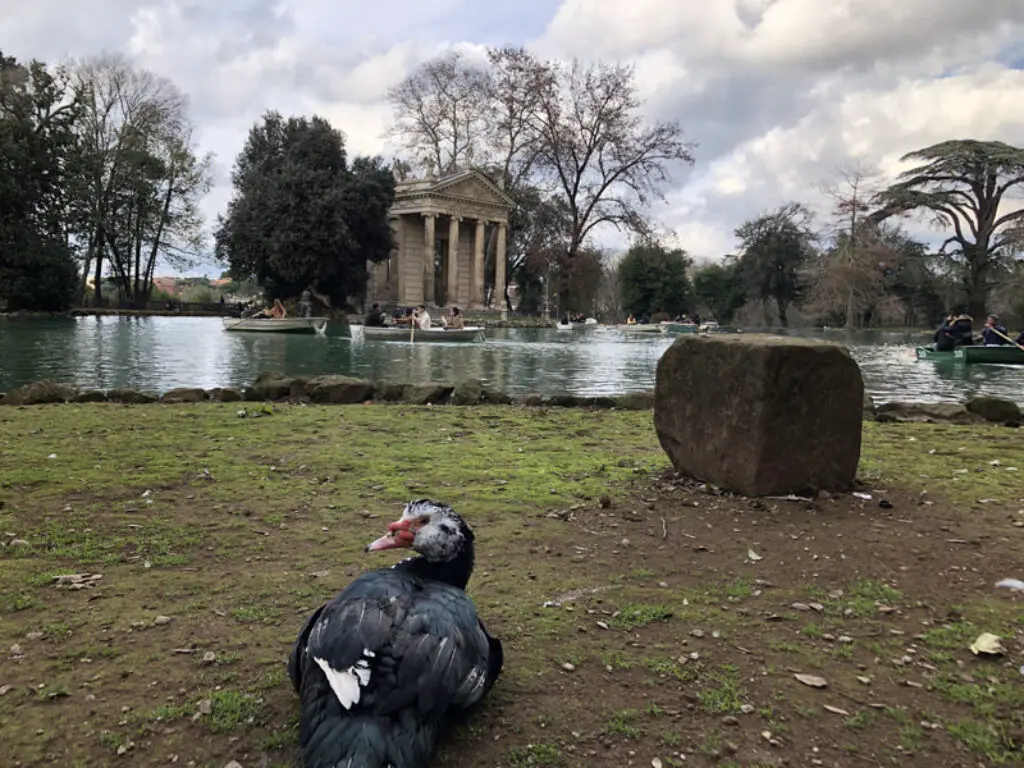 Villa Borghese Gardens – A Perfect Place for Families