The Best Christmas Market in Rome in Piazza Navona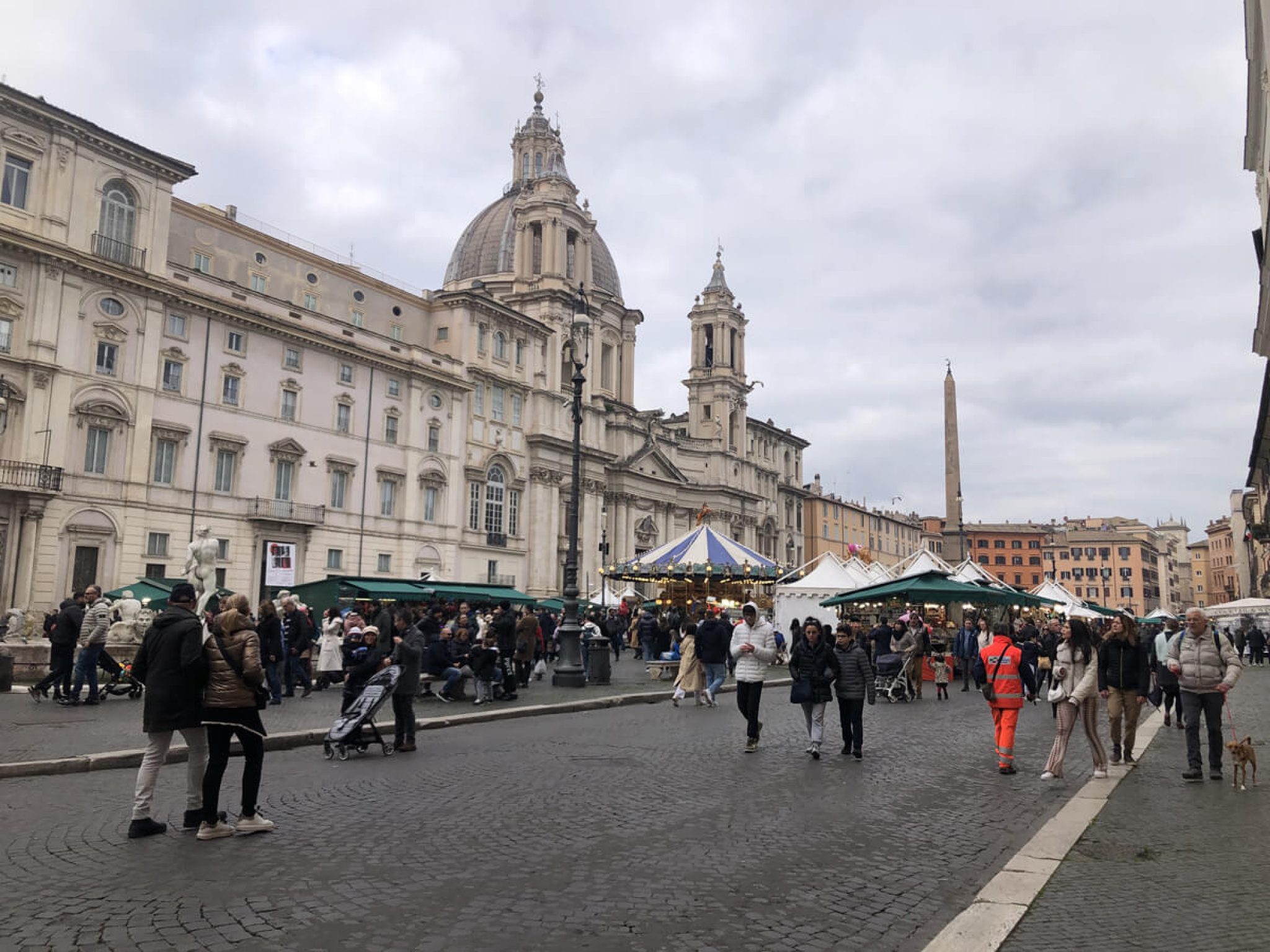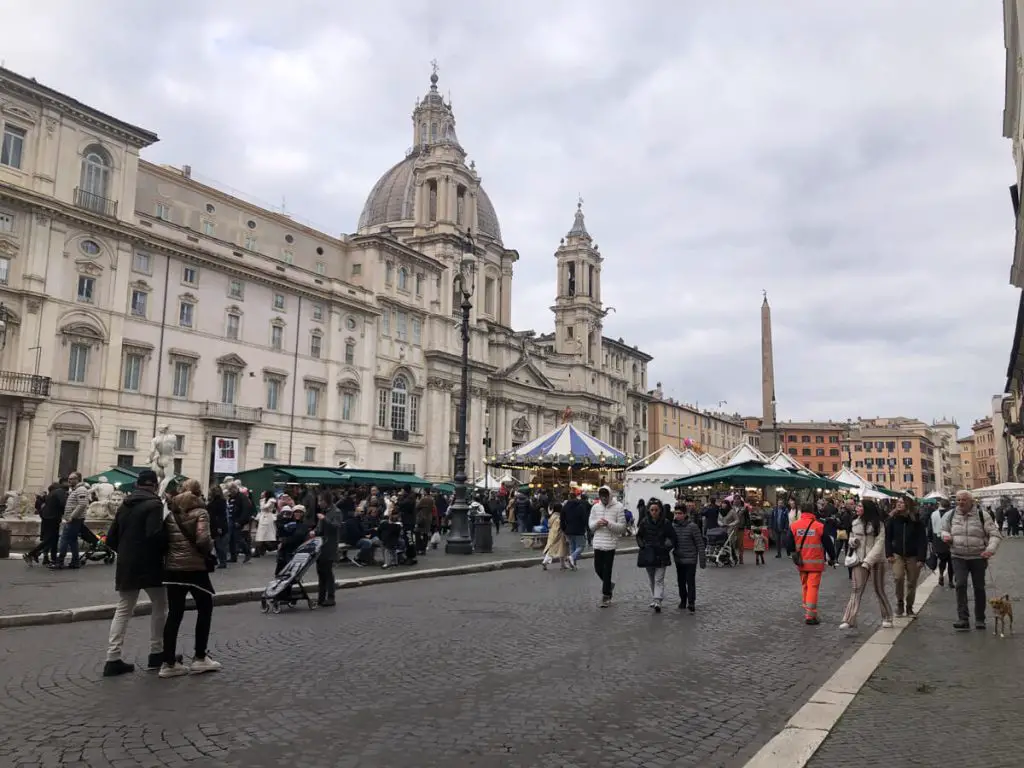 There are several Christmas markets in Rome, including the one in Cinecittà and the Vintage Market at Giftland which is the largest with over 200 stalls. However the best Christmas market is the one in Piazza Navona, which is set in a historic piazza with quality Christmas items on sale.
Piazza Navona in and of itself is definitely a location to visit. To give you some context:
Piazza Novona is a famous piazza dating back to the 1st century. In Roman times it was a stadium, but today it is prime example of Baroque architecture. There is the church of Sant'Agnese in Agone and fountains; Fontana dei Quattro Fiumi by Gian Lorenzo Bernini in the middle, and 2 smaller fountains at the sides by Giacomo della Porta, Michelangelo's protégé.
You can still see the ruins of the stadium till this day. So apart from the market you can get a tour with an audio guide of the piazza and visit the underground area.
If you would like to watch a video about the Christmas market instead of reading, here is what you can expect from the Christmas market at Piazza Navona:
Christmas Market Overview
Piazza Navona is located here on Google Maps and around 50 meters by 225 meters. It provides ample space for the traditional Christmas market to get set up every year from the month of December until the 6th January. From one year to the next the start date varies, but it usually starts on the feast of the Immaculate Conception on the 8th December.
The Christmas stalls are lined along the longer sides of the piazza in two rows. That is to say, in front and behind the fountains. The stalls do change from year to year, but you will always find a stall for games, toys, Christmas decorations, food, drinks and sweet treats.
There are a lot of families that come here that come for the entertainment and Christmas shopping. There are quite a lot of different things to buy, but there isn't a huge amount of choice.
So although it is a lovely Christmas market it is quite small. However if you are looking for a large Christmas market and are open to suggestions here are some of the biggest Christmas markets in Europe.
Christmas Items to Buy at the Market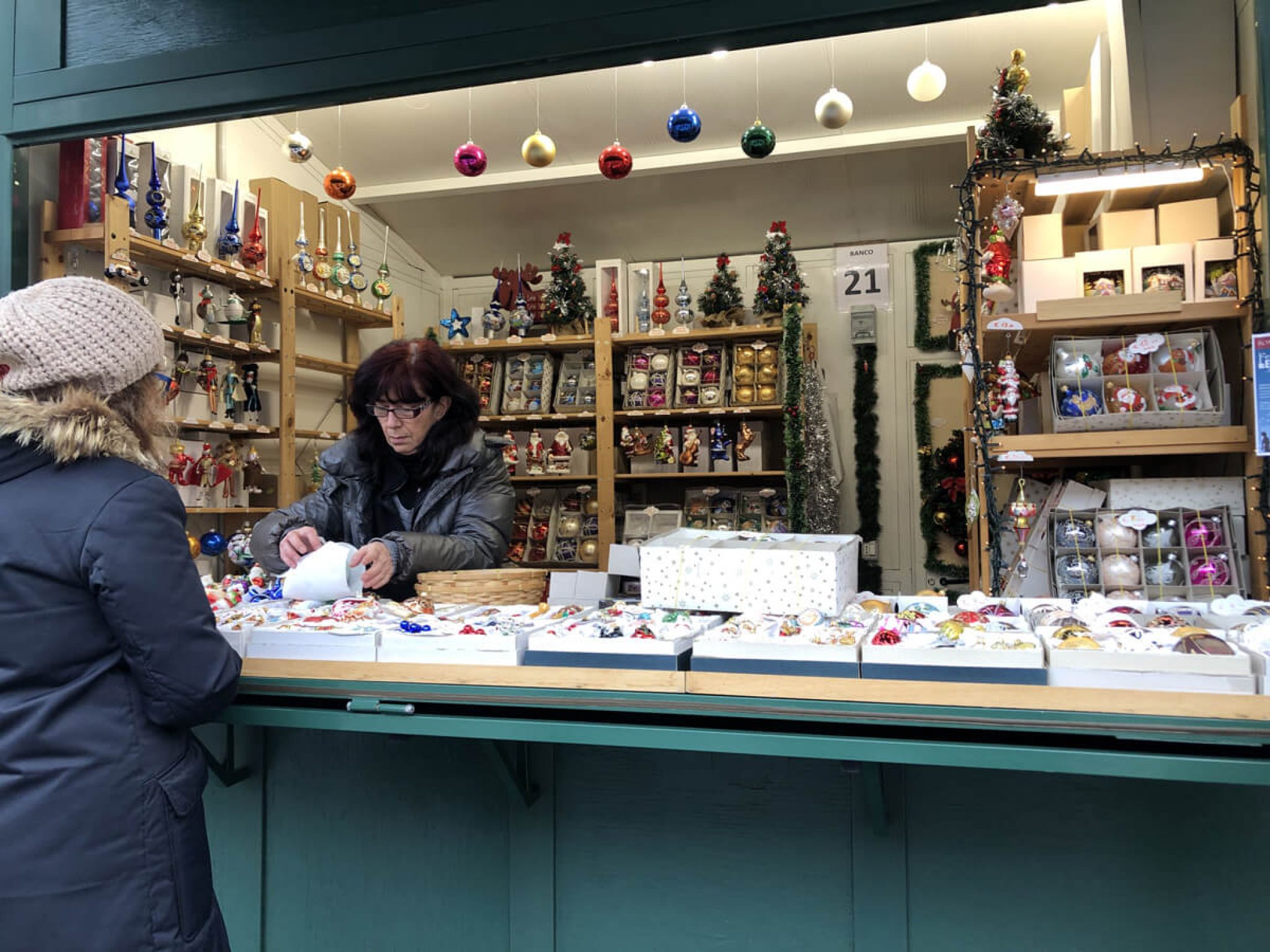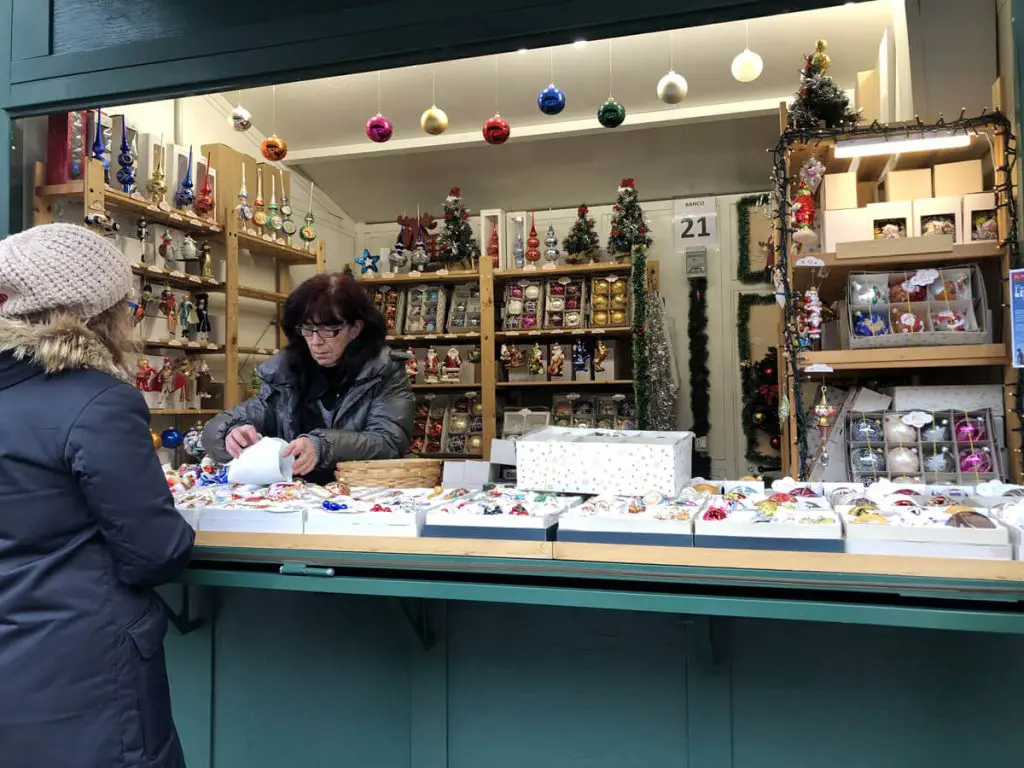 Of course no Christmas market is a Christmas market without Christmas items. You will find plenty of Christmas stockings for the kids to hang for Santa, to fill them with nice presents and treats.
There are beautiful glass baubles for Christmas trees which are beautifully decorated, and some other decorations. There are also more religious things to buy like Christmas cribs, albeit they are small ones. You will also find plenty of figurines to place in and around the Christmas cribs. Some of the figurines were rather expensive, but there was a stall that had more reasonably priced ones.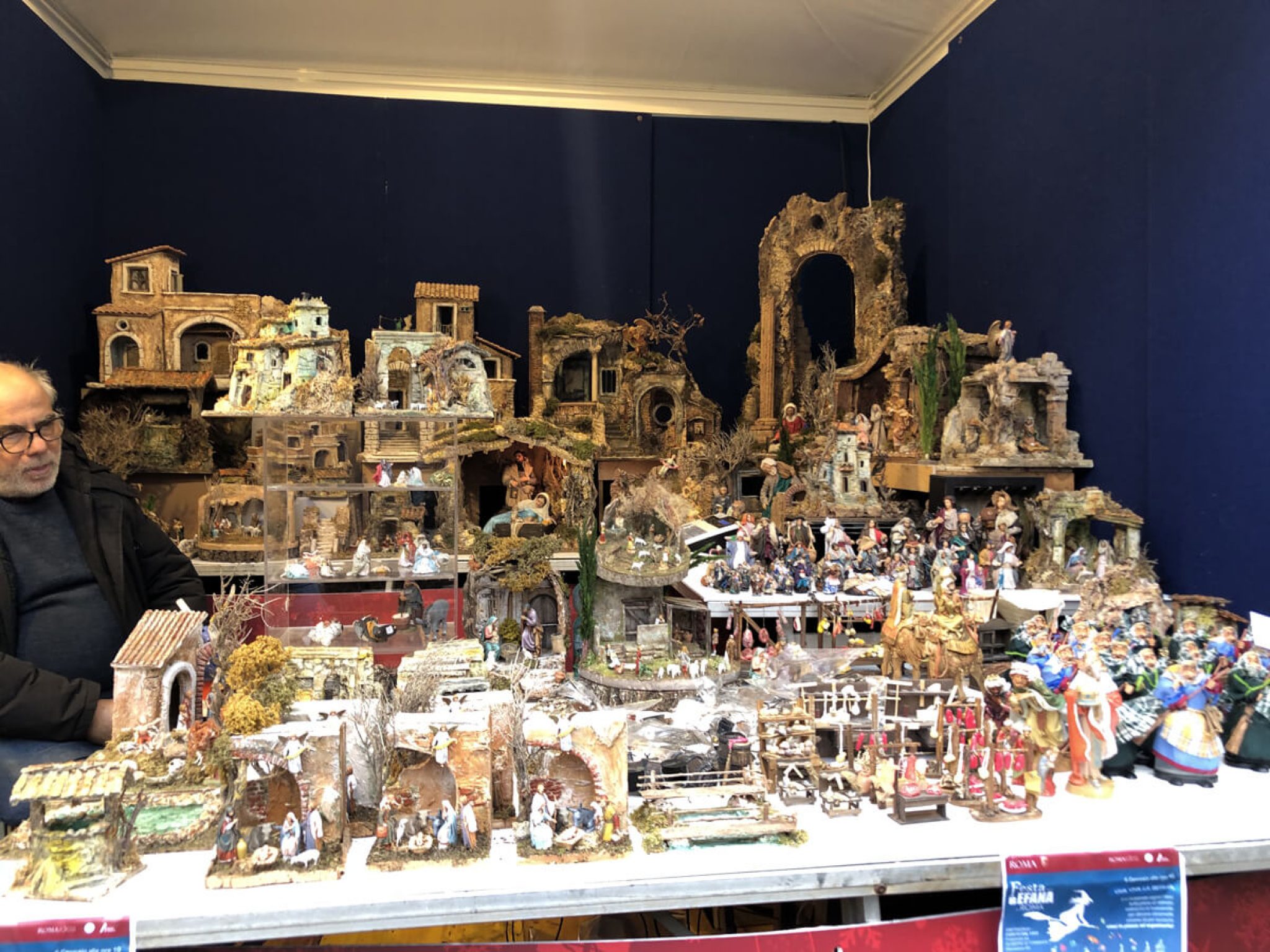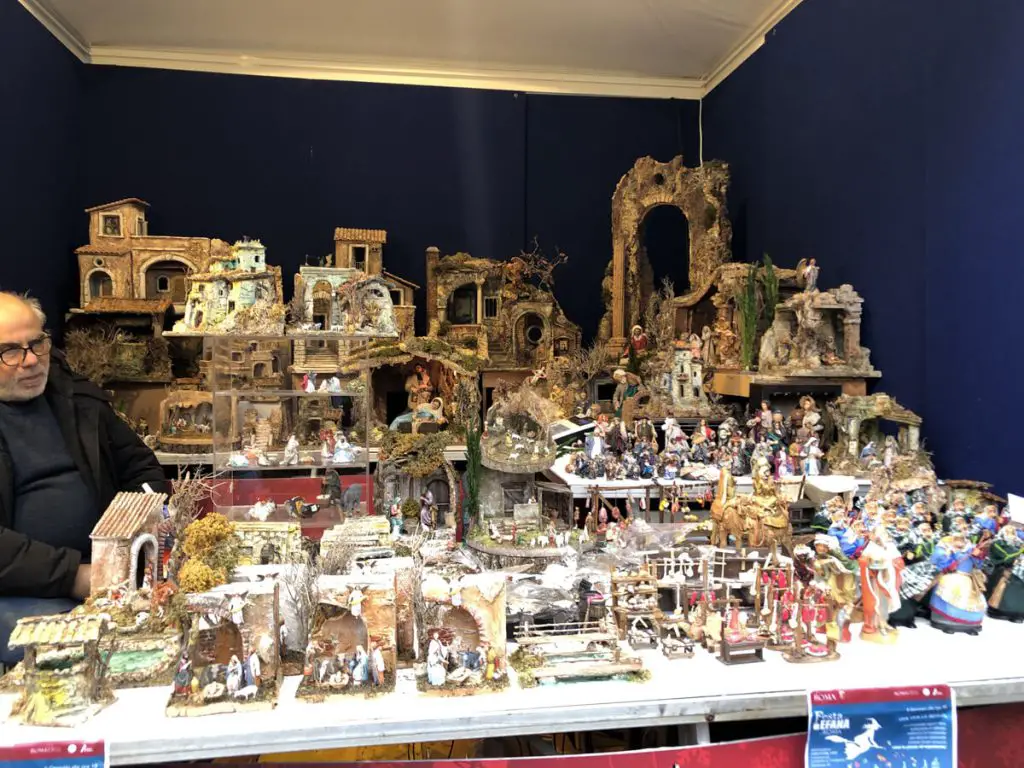 Food and Treats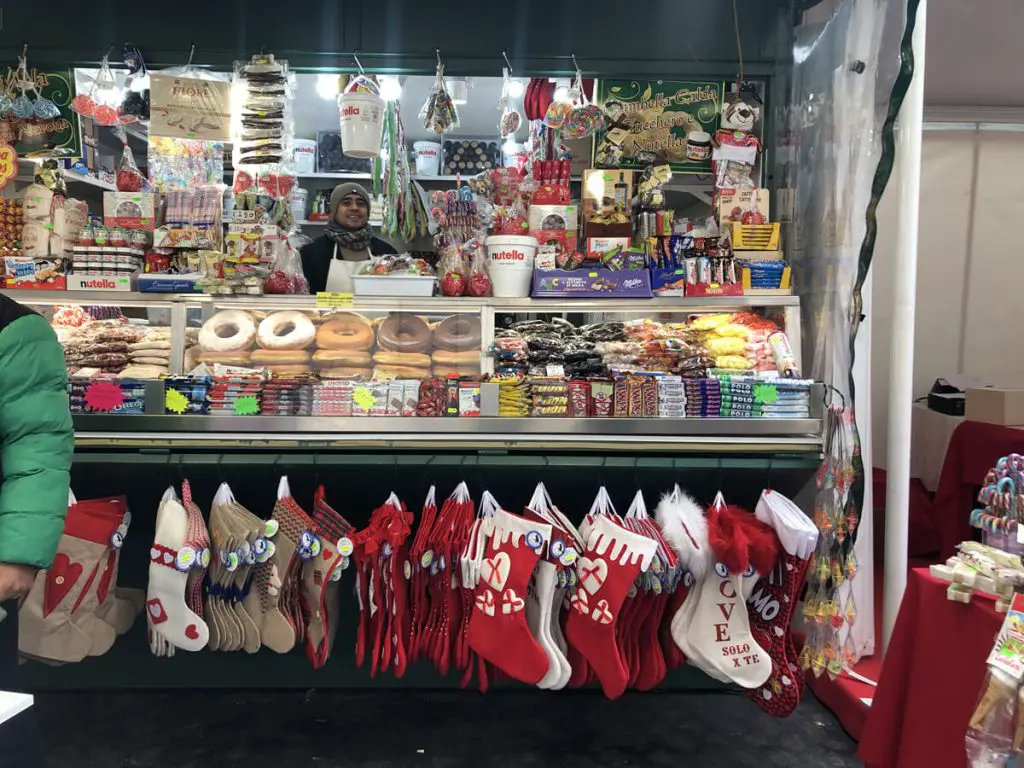 If you are hungry you can get some nice sandwiches at the market, snacks or some sweet treats. There are the standard treats you can find, all sorts of candies and different types of chocolates. You will find chocolates like those of Cadbury or Kinder. Plus local Italian sweets like tasty white nougat with whole nuts inside. You will not find loads of it around in the market, but you will find some.
In Rome you will also find people selling lovely warm chestnuts in different places including Piazza Navona.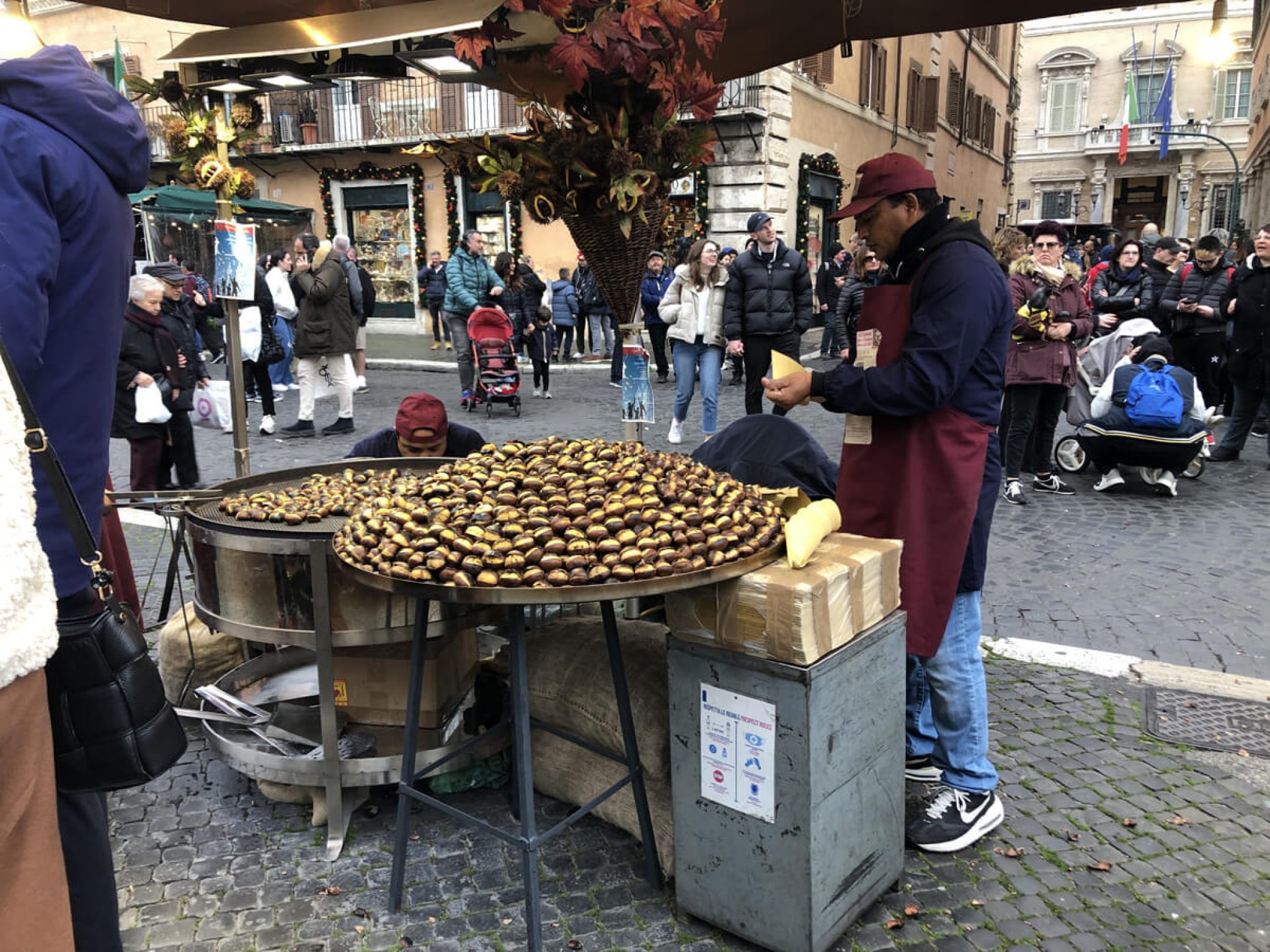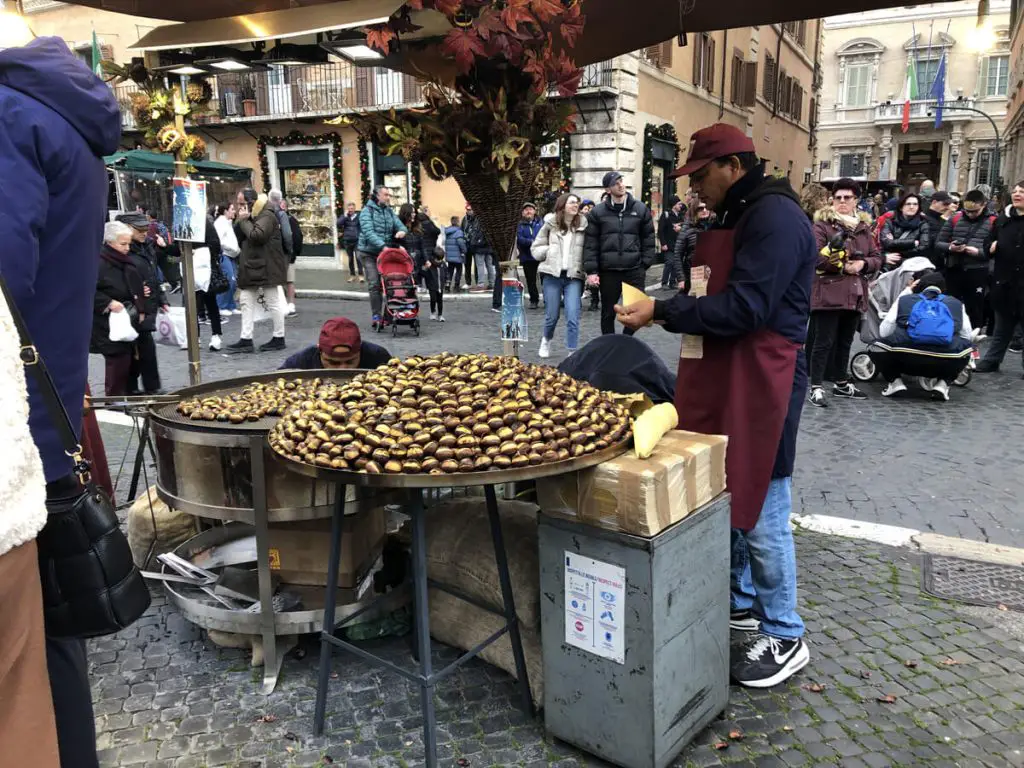 You may want to consider buying some Italian products like delicious cured hams, or Italian oil to take home with you.
Kids Entertainment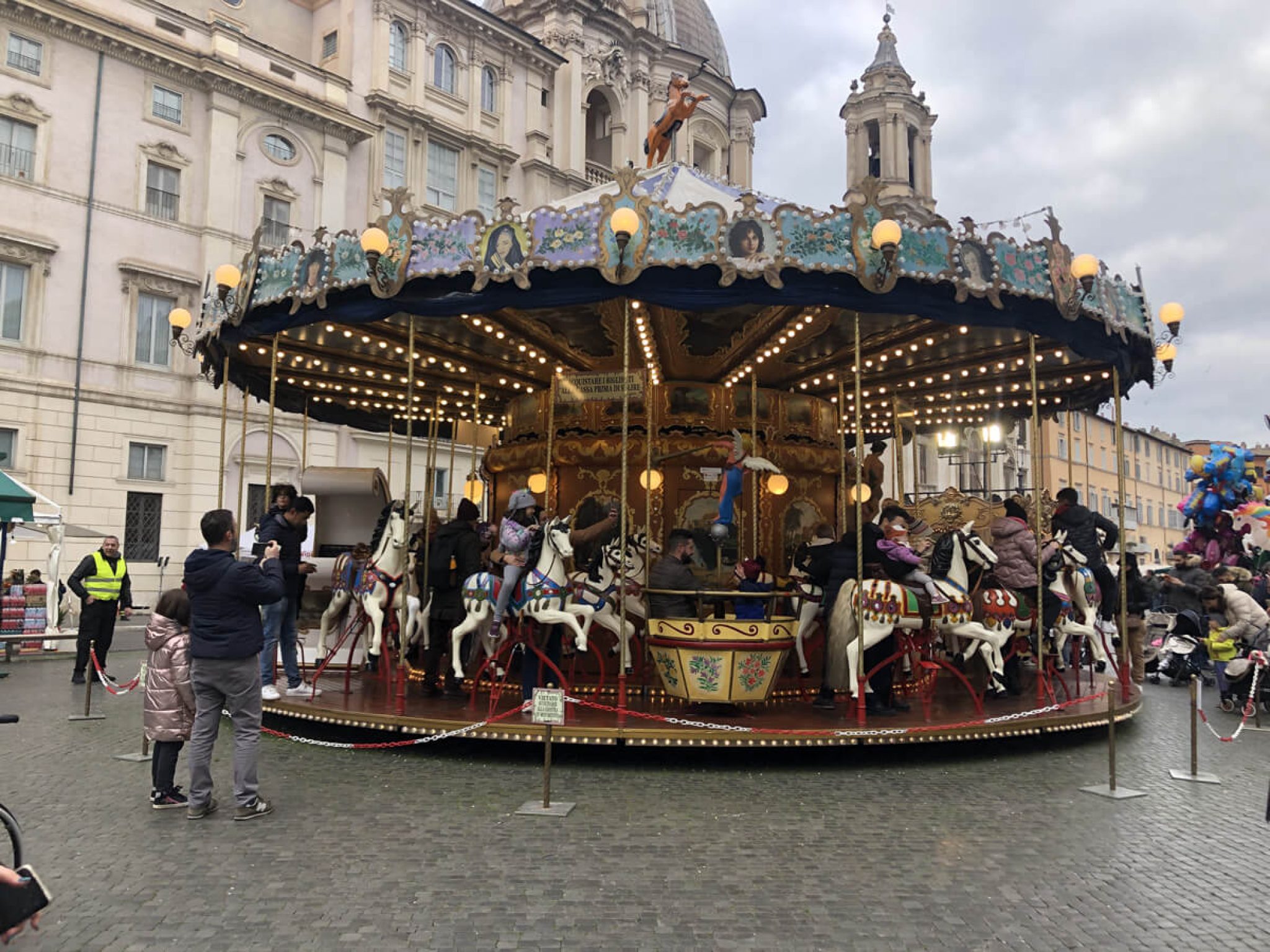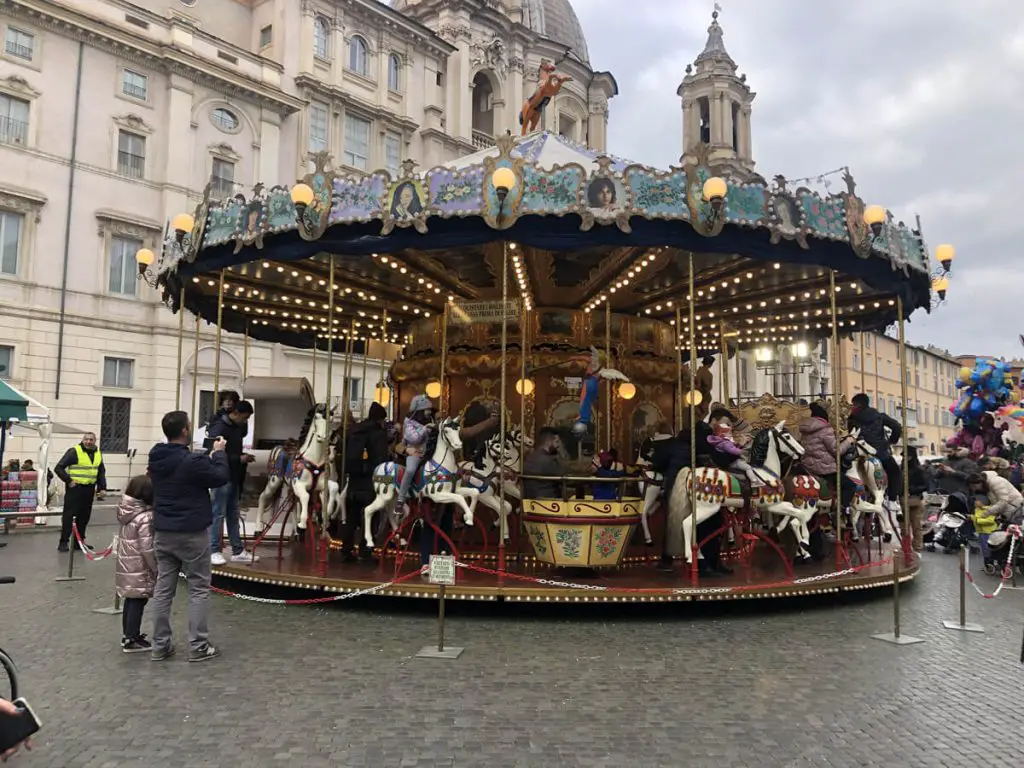 One of the things in the piazza that is set up for the Christmas market in Piazza Navona is this pretty carousel. It plays music while the kids go for a spin around on the horses.
However, kids need more than that to keep them entertained. In fact while I was there, there was an area on the side of the piazza with fire fighters showing kids how to be a fire fighter. The kids that were there were rather pleased, they got to handle some heavy duty gear while they posed for photos for their parents. They also got to dress like fire fighters as well!
There were also a couple of shooting games they could play at a couple of stalls and helium balloons. There was also a puppet theatre with a performance running while I was there.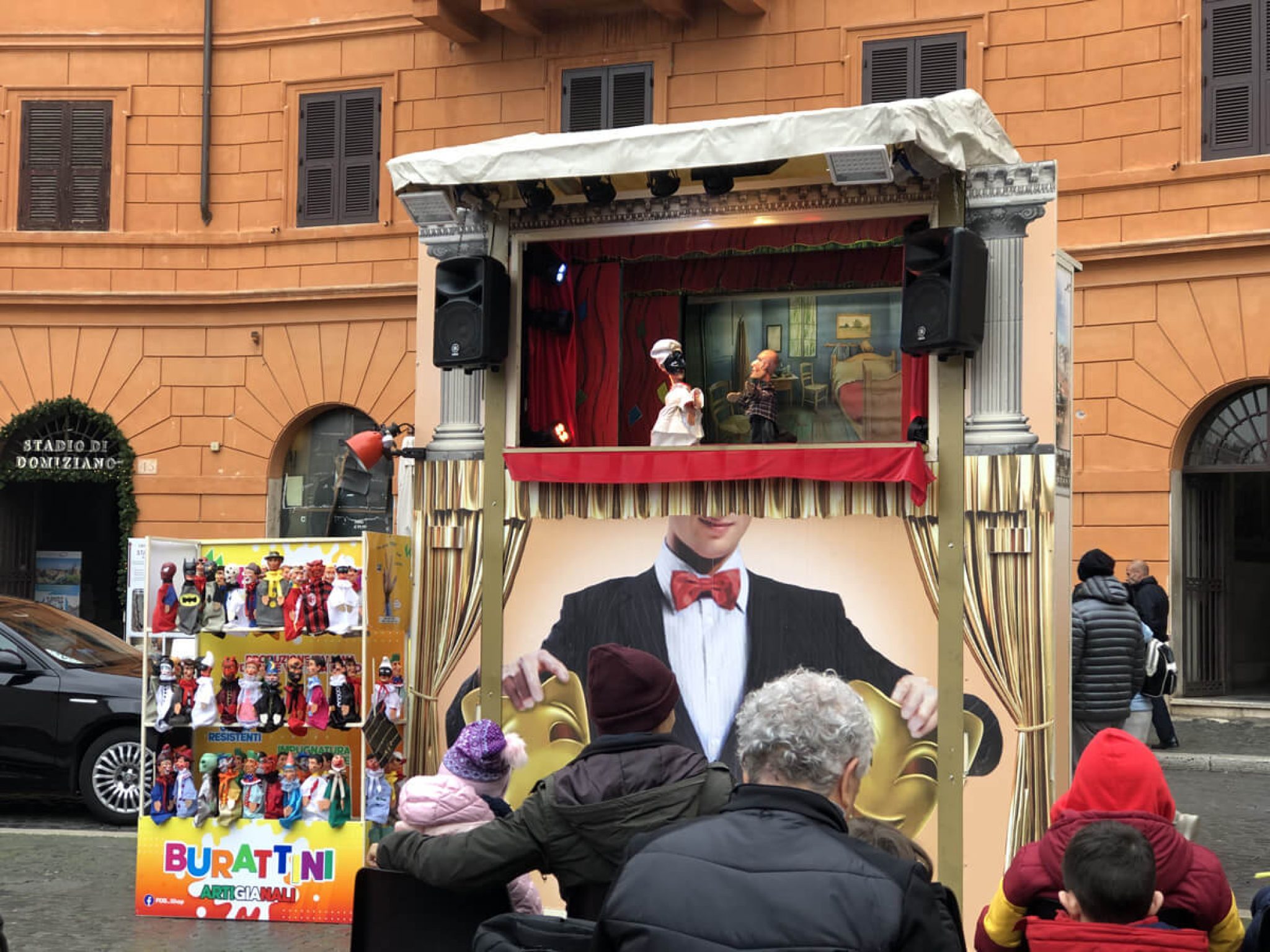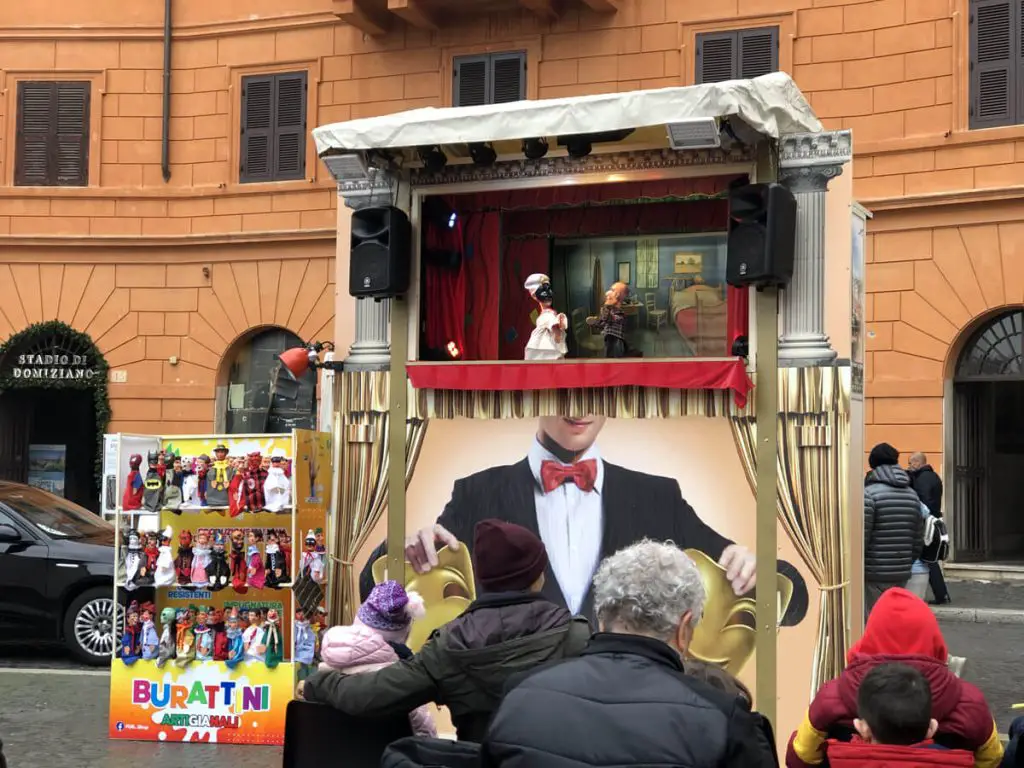 Marionettes and puppet theatres are a traditional part of Italy, particularly in the south and most especially in Sicily. The performances are in Italian, but they are fun and will capture your kids attention for a brief moment.
Kids Toys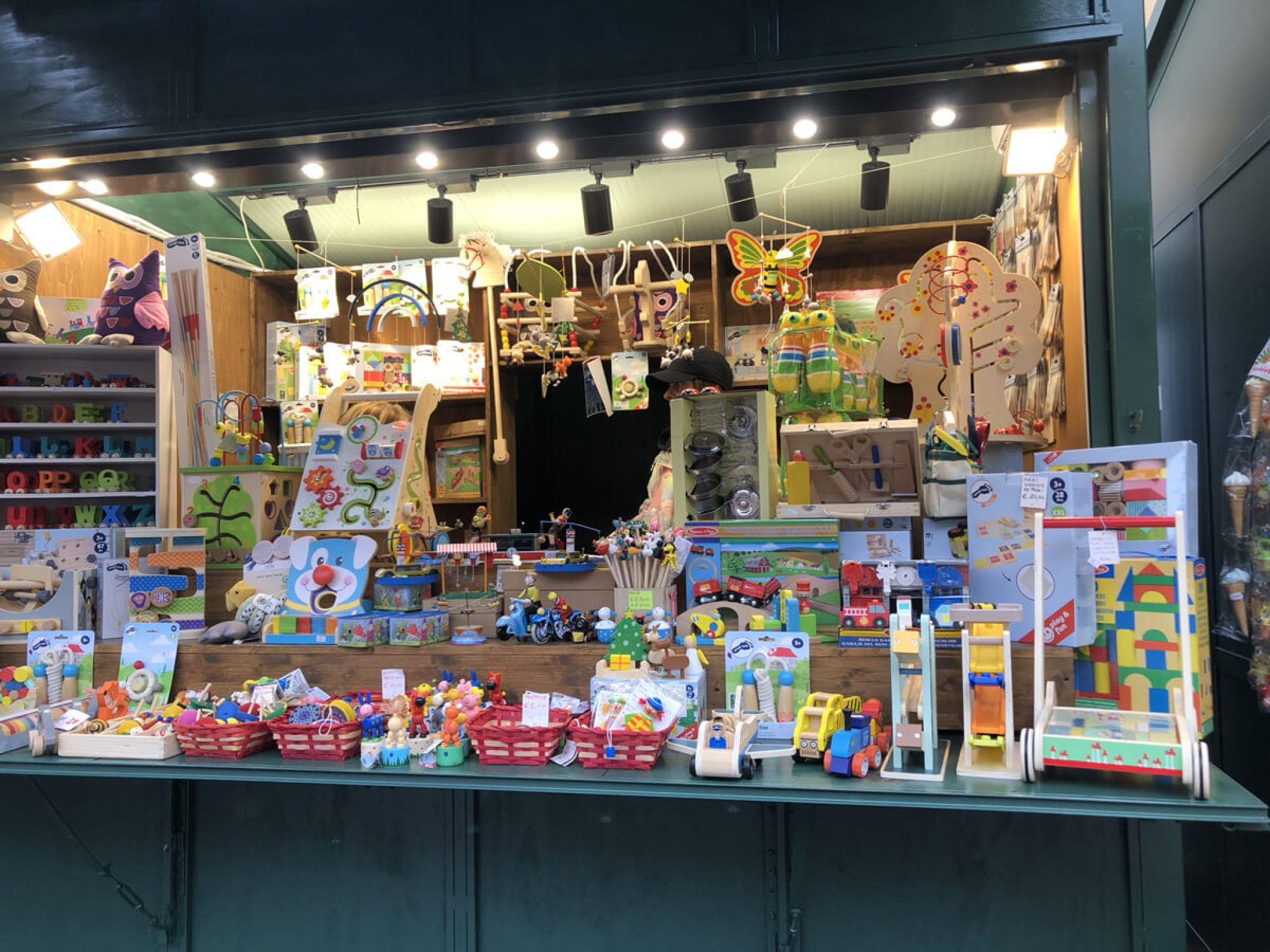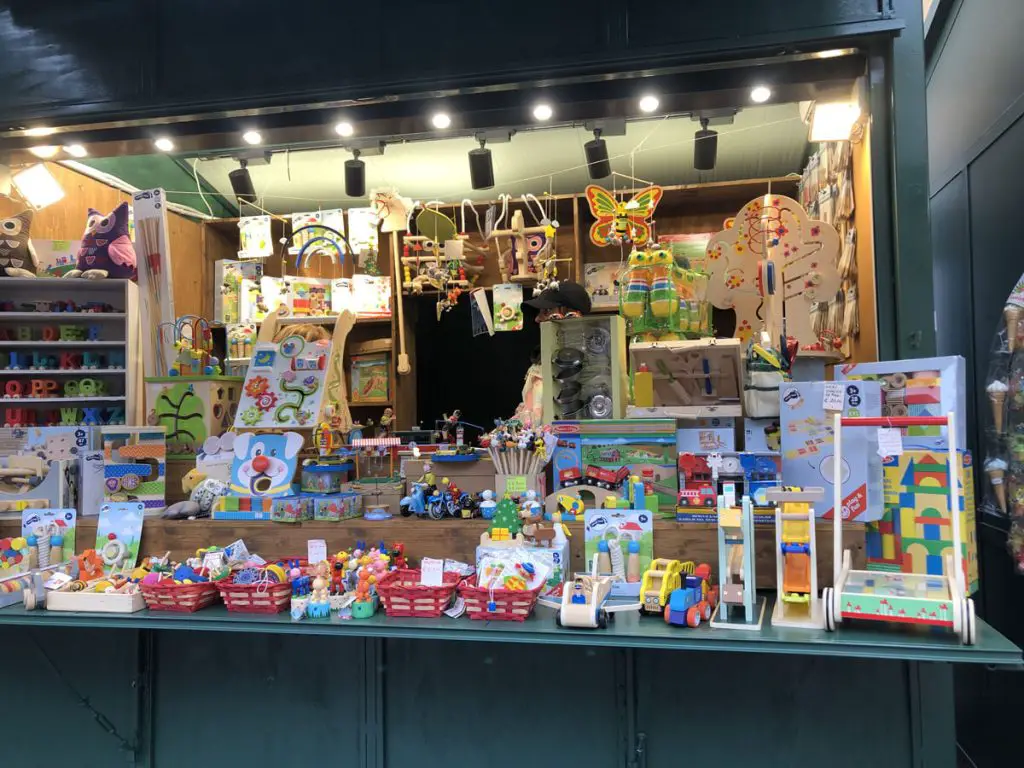 If you are looking for presents for young kids, you have several stalls which you can check out. There aren't any stalls with gift items that older kids would be interested in. They would probably be more interested in presents they could get from a high street.  
There are the usual plastic toys for younger kids, but there are also some nice wooden toys. In general the wooden toys are well crafted, have more character and nicer than the plastic ones. Additionally they are more durable and biodegradable which is always a plus.
La Befana Toys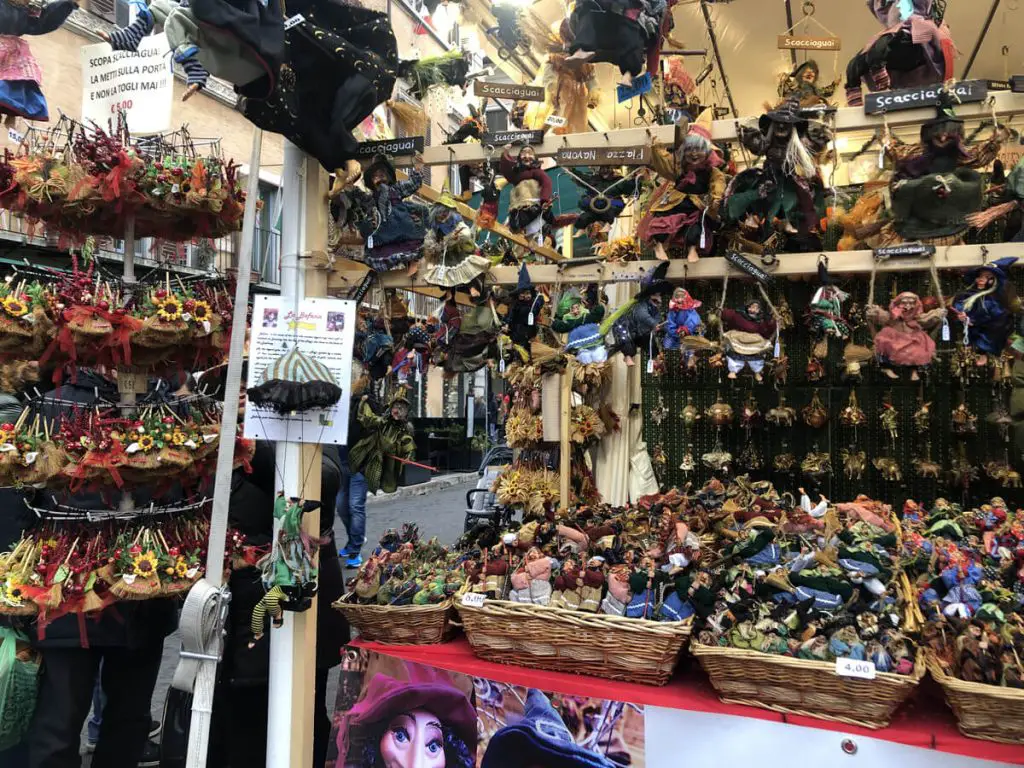 There are quite a few representations of La Befana in the Christmas market in Piazza Navona. Mainly little dolls of this witch that look rather creepy, but do not let that fool you!
The feast of La Befana coincides with the feast of the Epifany on the 6th of January. As the story goes, La Befana was approached by the Magi, (the 3 kings) that were on the way to visit Jesus in Bethlehem. They asked her if she wanted to join them on their journey to see Jesus. However she refused, and in hindsight, once they left she felt guilty.
So to make up for this, she goes around giving present to children on the eve of the Epifany. However she gives lumps of coal to the kids that misbehaved.
She sounds very much like Santa except for the lumps of coat. However the tradition dates way back, long before Santa. So if you are looking for something traditional then a small doll of La Befana might be a perfect gift.
How to Get to Piazza Navona
Piazza Navona is not far off from the Pantheon, and in between the Pantheon and Castel Sant'Angelo. The closest train station is Barberini which is on the A line, and takes 18 minutes by walk from there.
This is quite a fair bit of distance away. However there are other significant points of interest along the way, with some of the top highlights of Rome which will make your journey more worthwhile. What I did was walk from Barberini to the Fontana di Trevi, to the Pantheon and then to Piazza Navona.
After Piazza Navona you may want to check out Campo de' Fiori which is stone throw away and a well-known open air market. There are plenty of local produce, fruit and veg and clothing for sale there. Alternatively you may want to head to Castel Sant'Angelo or do both.
Other Things to do at Christmas Time in Rome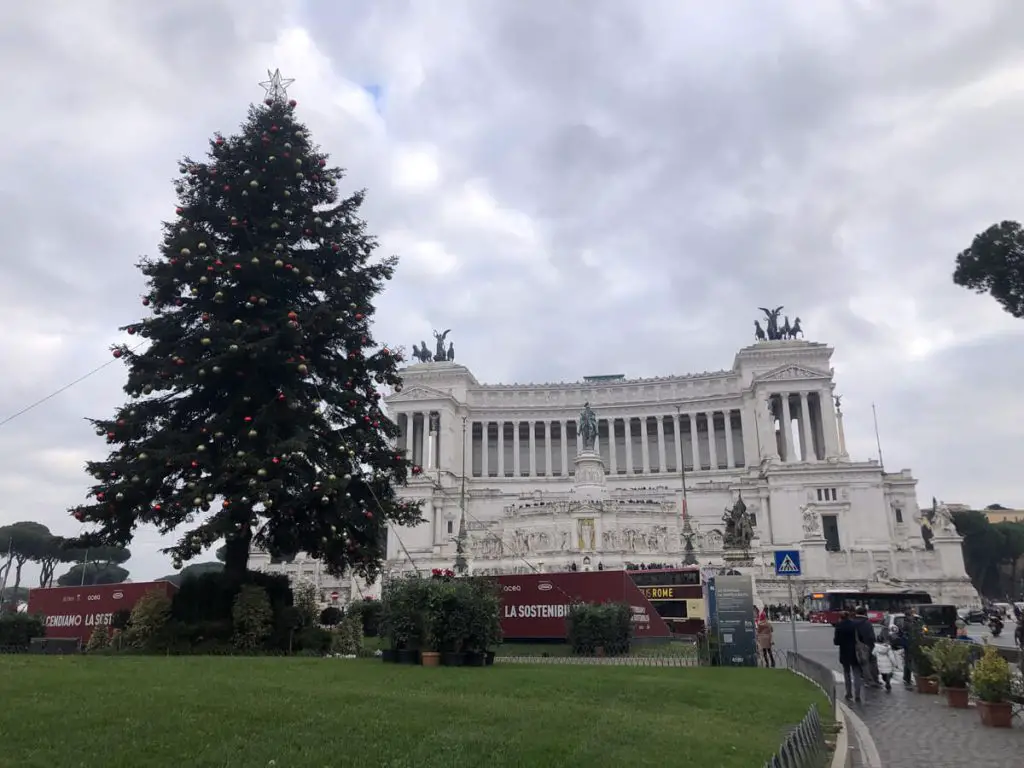 Rome is a city of tradition and it comes alive during Christmas. With decorations in the streets as well as Religious traditions and Christmas activities, here is what to expect from Christmas in Rome.