The Presidents Kitchen Garden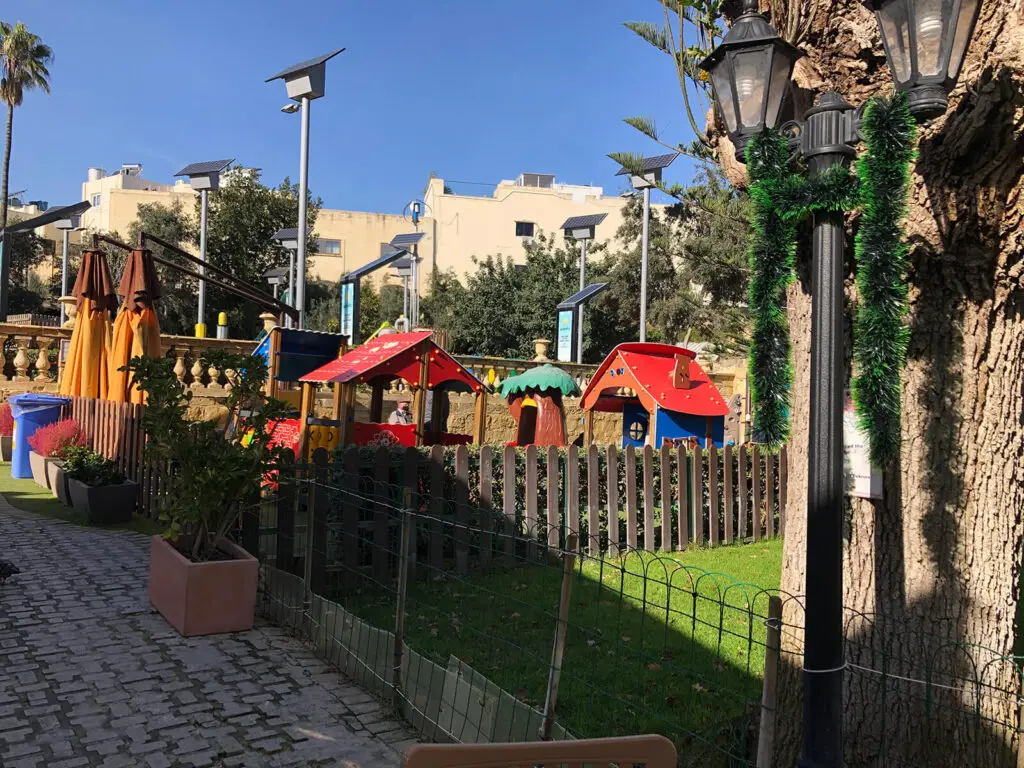 The Kitchen Garden in Malta is a fun place for families with young kids. You can let them play while you sit down and drink your coffee from the café.
Age rating: Young kids
Café: Yes
Parking: Roadside
Address: The Presidents Kitchen Garden, San Anton, Attard.
Cost: Free entry
If you are visiting the island you can get to the Kitchen Garden by car, public transport or using the Malta hop-on hop-off bus. The hop-on hop-off bus stops to let visitors off to see San Anton Gardens, and the Kitchen Garden is right behind it.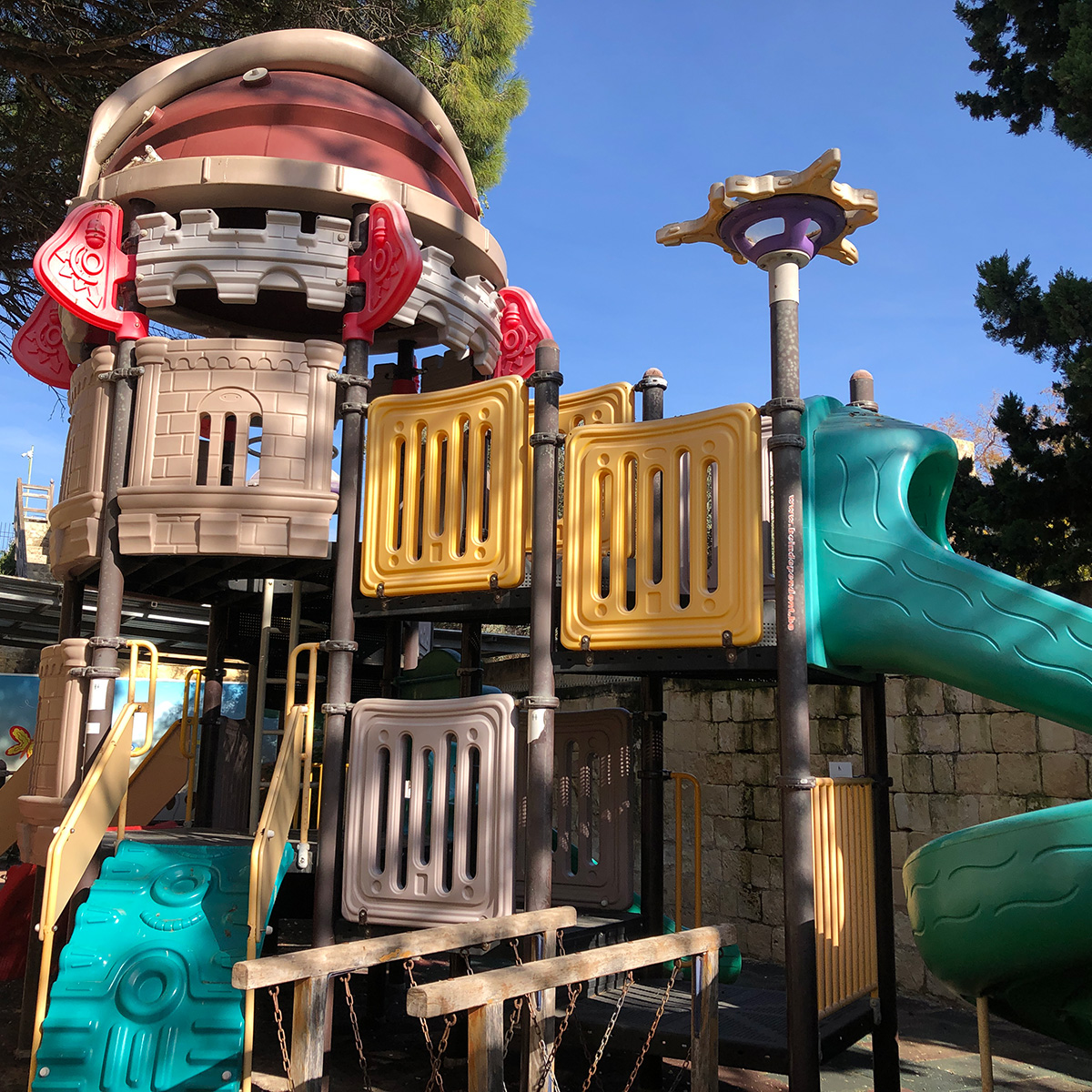 The Kitchen Garden is fantastic if you would like to spend a good amount of time in one place. Most importantly kids can spend several hours there without getting bored.
There is a good mix of animals and different play areas that the kids will enjoy. Some play areas are for little tots and others are for older kids.
What is nice is that the café is in the middle of the Kitchen Garden. Here you can sit down at the café while you can watch your kids play. You can choose to sit in different places in the café area depending on where your kids are playing. You won't be able to see every area of the playground from the café, but you could always ask your kids to stay close if you need them to.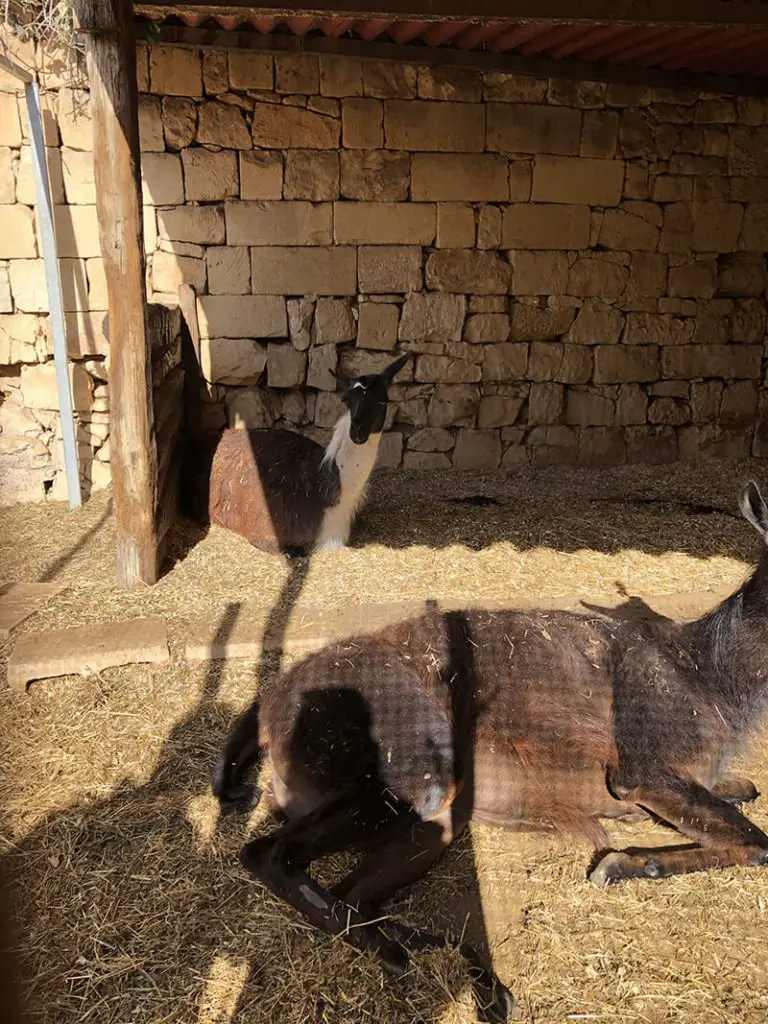 The café has a standard café breakfast and lunch menu and the food is fairly good. You can opt for something light or something more substantial depending on the time of day. Their coffee is great, their cappuccino in particular has nice frothy foam on the top.
One thing to note is that all the money made by the café is given to the Community Chest Fund. This foundation provides support to people experiencing severe chronic illness like cancer.
Picnicing
Alternatively if you do not want to spend money at the cafe, you could always take your own food. There is some grass area and benches where you can settle to have a quick picnic.
If you are into picnics then you may want to have a look at our picnic articles. Here you can get food ideas and advice.
Kitchen Garden Malta Map
Here is where you will find all the different activities, animals and areas on the map:
The entrance to Kitchen Garden
The café
Little tots play area
Older kids play area
Play area with tunnels, trampolines, sea-saws
Duck pond
Donkey stable
Aviaries
Shetland ponies and donkey stables
Goats and a crane bird
Goats, dear, chickens, emu, lamas
Horse stables
Large kids play area
Outdoor gym for adults
Passageway to San Anton Gardens
Kitchen Garden Malta Opening Hours
October 9:30 – 19:00,
November – March 9:30 – 18:00,
April June 9:30 – 19:00 and
July – September 9:30 – 14:00 and 18:00  – 22:00
Presidential Area
The Presidents Kitchen Garden is part of the wider area of the Presidential Palace. In fact you can cross the road to enter San Anton Gardens. San Anton Gardens is also a public garden area that is well maintained.
You will be able to enter San Anton Gardens from a large green doorway close to edge of the building. That is where there is Lord Strickland Street. It is labelled as number 15 on the map above.
Here are the times when the passageway to San Anton Gardens will be open:
April – June 8am – 18:30
July – August 8-19:30
September – September 8am – 18:30
October – March – 8am – 16:30
If the passageway is not open you can go down Lord Strickland Street which is parallel to the passageway. You will need to turn first left and walk down to find the entrance to San Anton Gardens. The entrance is next to the kiosk.
Other Activities