16 Healthy Picnic Food Ideas For Kids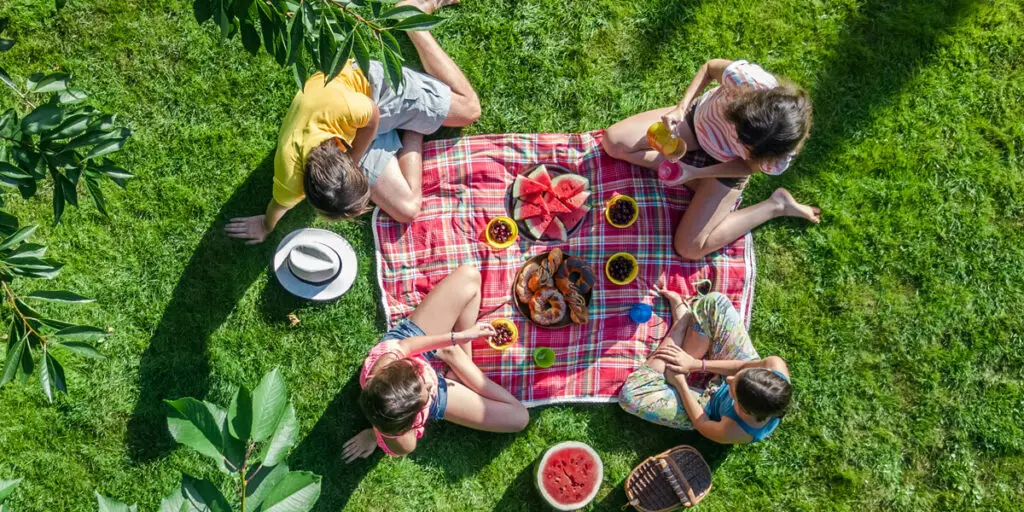 There are many picnic drinks and picnic food ideas for kids. However with any meal or snack you prepare for your kids you want to make sure they eat healthy foods. Additionally you want to ensure they eat a good amount of food. 
The issues is that for them to eat food, it is crucial that they like it! Hence I am going to give you many different options you can select. Like this you can pick and choose or try variations of things you think your kids will like. 
Firstly I will go through some information on what makes a good balanced diet. Then I will go through a list of picnic foods based on this list.
Balanced Diet Components For Kids
Kids need all the nutrients they can get for their growing bodies. To do this they need to have a balanced diet. So you want to make sure that when you make snacks for your kids they are healthy and highly nutritious.
For this task we can get some ideas from a food pyramid. Kids need the same kind of diversity of food as adults do. However the only difference is the portion sizes. 
The food pyramid shows we need less of the food groups that are higher in the pyramid. This will make the perfect balanced diet components.
As a result kids need a good amount of grains which provide carbohydrates to keep their energy up. Grains of course include any bread, rice, pasta and cereals.
Then they need a healthy amount of fruit and vegetables for fibre, vitamins and minerals. After that they need to eat some meat for protein and dairy products for calcium.
Lastly they should have very small amounts or if any of fats, salts and sugars.
Picnic Food Ideas For Kids
If we keep these food groups in mind, we can come up with a great range of diverse picnic foods. Foods that are healthy picnic food ideas for kids.
Here is a list of some ideas. They are organised and listed with the colours of the food pyramid food groups. That is to say the colours depict:
Oils, fats and sugars

Vegetables

Fruit

Meat, eggs, fish

Diary

Grains
Like this it should be easier for you to quickly scan and understand the content of the recipe. These picnic food ideas are split into 3 sections:
Healthy snacks to bake
Grilled or fried picnic food ideas for kids
Snacks from pantry and fridge ingredients
I hope your kids like these picnic food ideas!
Healthy Snacks to Bake
1. Zucchini Slice
Contains:
Vegetable oil
Eggs
Milk
Onions, zucchinis
Self-raising flour  
Zucchini slice is one of my all-time favourite snacks. In fact I have had left over slice for breakfast many times.  

For kids that do not like vegetables, the taste of the healthy Zucchinis is camouflaged by delicious bacon and cheese. So it not necessarily the healthiest snack. However it should make both them and you happy. For you the fact you know they are eating some greens is always a plus. Additionally you can eat it cold. 
2. Mini Pizzas
Contains:
Ham
Mozarella
Mushrooms
Tomato passata
Small Pita bread
Of course you can certainly change the toppings to suit whatever you or your child prefers.

Additionally you could buy store bought dough for this and cut small bits off to make mini pizzas. However you could spare yourself the hassle and buy small sized pita bread. Hence the use of pita bread here. This is something that I picked up from my aunt.
Instructions:
Place the pita bread on a flat surface. Place a table spoon or two of tomato passata and spread it evenly on the pita bread. After that you should lay some ham on the top. Next, slice the mushroom and mozzarella. Place the mushroom on top of the pita first then the mozarella. Place the pizza in a grill oven for 5-10minutes or until the cheese is melted and browned to your liking.
3. Egg Bites With Kale and Feta by Curtis Stone
Contains:
Eggs
Milk, feta, yogurt
Kale, onions, dill  
These bites are incredibly healthy snacks to bake for kids and adults alike. They are packed with all the things kids love. That is to say except for the kale, but there is little amounts of it.

This is one of the great picnic food ideas for kids. Additionally these bites are super easy to make. You have half an hour prep time and half an hour baking time.
4. Baked Pasta – Maltese Baked Macaroni
Contains:
Eggs, Beef and/or Pork
Cheese
Onion, Garlic, Tomatoes
Macaroni pasta
This dish is the traditional Maltese staple Imqarrun il-Forn. You can make one huge dish of this, but you can also scale it down and make less.

It is a dish that is packed with carbs. However it is good for several reasons. Firstly because once its cooled you can cut it into small squares. This makes it easy to hold in your hands and eat it.

Secondly it is budget friendly. Most importantly, more often than not kids like this dish.
This baked pasta dish is just as good cold as it is hot. However you might want to have it warm at your picnic. In that case you can have a look at keeping picnic food warm.
5. Scotch Eggs
Contains:
Salt
Pork sausage, eggs
Onion
Flour, breadcrumbs  
Who doesn't like a scotch egg?! You could go for the traditional fried version, but here I am listing a healthier oven baked option you may want to try.

As a result it contains much less fat because it is not deep fried in greasy oil.
6. Banana Bread
Contains:
Butter, sugar, salt Egg
Banana
Flour, baking soda
Banana bread is lovely and one of the many great picnic food ideas for kids.

If you haven't tried banana bread you should try it. Unfortunately it does have quite a bit of sugar in the bread. However it is offset by a good dose of bananas. Additionally it is much healthier than standard cakes.
Grilled Or Fried Picnic Food Ideas for Kids
7. Chicken Kebabs
Contains:
Olive oil
Chicken
Garlic
Lime  
If you plan to take a BBQ to your picnic these chicken kebabs will work well. Otherwise you can make them beforehand, let them cool and take them with you to your picnic.

These skewers are simple and something that the kids will surely enjoy. You can serve them with or without the wraps that are suggested in the recipe.
8. Healthy Picnic Loaf
Contains:
Oil
Salami
Bree cheese, parmesan
Garlic, rocket
Peppers, zucchini, eggplant, pumpkin
Bread rolls
This loaf is in this section because you have to grill the fruit.

Since it contains fruit is a healthier sandwich than most others. It is one picnic sandwich loaf that is both healthy and packed with flavour.

This is one of those picnic food ideas that does take some time to make. However it is delicious.
9. Crab And Corn Cakes
Contains:
Vegetable oil
Crab, eggs
Milk
Corn
Chives
Flour
This recipe is easy to make. Especially so if you buy the crab meat already removed from the shell.

Additionally it is a nice way to eat fish. These cakes are perfect bit sizes that are ideal for picnics.
Snacks From Pantry and Fridge Ingredients
10. No mess sandwich with tuna, cheese and tomato
Contains:
Tuna
Cheese
Tomato
Bread  
This sandwich is a really tasty and a nice change from the usual boring ham and cheese sandwiches.

It uses the laughing cow cheese to combine the ingredients together. As a result it forms a paste that is harder for kids to make a mess.

You can use any bread you like, sliced, baguettes or rolls are all fine.
Instructions:
Mash a small can of tuna with 1-2 wedges of the laughing cow cheese with a fork to form a paste. After that a deseeded and chopped tomato and combine into the paste. You can also add any vegetables you think will work well or that your child likes.
11. Smoked Salmon Wrap
Contains:
Smoked salmon
Lettuce
Tomato, cucumber, lemon juice
Wrap
Salmon wraps are always a hit and a great picnic food idea for kids.

This wrap is super delicious and its healthy. Additionally both the salmon and the avocado are packed with healthy omega-3 fatty acids.
Instructions:
Chop one avocado into medium sized pieces. You should sprinkle some lemon juice over the top of it to prevent it from browning. Chop and deseed half a tomato and part of a cucumber. Place the wrap on a flat surface and insert the ingredients in the wrap.
12. Caprese Salad
Contains:
Cheese
Tomatoes
fresh basil  
Salad are great picnic foods. Plus this Caprese salad is a simple, no fuss Italian salad that is super easy to make. It is perfect for anyone that likes cheese and fresh tomatoes.

If you prefer, you can place the tomatoes and mozzarella pieces on a skewer. However I suggest you use cherry tomatoes and small mozzarella balls for this. You should place one tomato and one mozzarella ball on the skewer and alternate them until it is full.
Instructions:
Chop the mozzarella and tomatoes lengthways. Remove the whole leaves of basil from the stalk of the plant. After that you should place the ingredients in the container you will take with you to your picnic.
13. Carrot Sticks With Hummus Dip
Contains:
Oil, salt, sesame seeds
Lemon juice
Carrots, chickpeas, garlic    
Carrots with hummus complement each other well. I love carrots dipped in hummus.

You can also buy both the ready chopped carrots and the hummus from the grocery store. This makes it quite convenient, but you can also make your own hummus if you prefer.

This is one of those good picnic food ideas for kids. However the dip can be a little messy especially with younger kids. So you might decide to opt out of this idea for a picnic for that reason.
14. Tuna And Cucumber Sandwiches
Contains:
Mayonnaise
Tuna
Celery, rocket
Lemon, cucumber
Bread
This recipe is super yummy. However your kids might not enjoy some of the greens in this picnic food idea. So you may want to remove the celery and cucumber.

Tuna and mayonnaise go great together even on their own as a sandwich spread. However you may want to reduce the amount of mayonnaise if you are removing some ingredients.

Instead of celery, rocket and cucumber you might want to mash a hard-boiled egg into the spread. It comes different, but just as delicious.
15. Cold Cuts And Cheese Platter
Contains:
Hams
Cheese
Grapes, olives, figs
Crackers
If you do not have loads of time to spare a platter is a time saving option. All you need to do is buy the types of hams, cheese and accompaniments you and your kids like.

You can also chose to take a dip or two with you to add to the platter. Like for example this healthy beetroot dip.
16. Fruit salad
Contains:
Strawberries, blueberries, apples, bananas, kiwis
A fruit salad is by no means anything original, but it is still a nice picnic food idea for kids that love fruit.

You can pick the kind of fruit that you can grab with your hands that are not too messy. Like what I suggested in this fruit salad. However you should feel free to adapt the fruit salad as you see fit.