What To Wear To A Picnic, For Kids And Grown-Ups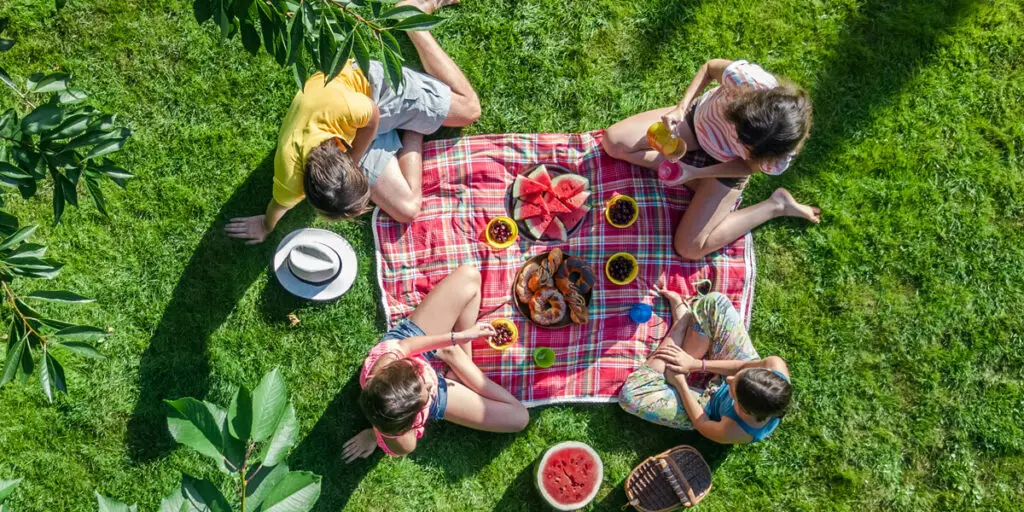 As we herald in a new season, there's a host of hot fashion trends and looks you need in your wardrobe. Whether for a family do, school get-together, or birthday celebration, we've locked down some of the best picnic outfits for the season ahead.
If you want to nail 'picnic chic' (yes, it's a thing!), then read on for everything you need to know about what to wear to a picnic?
Picnic Chic – It's Time To Go White!
Calling all trendsetters – you'll be pleased to know that right now its' all about clean crisp white clothing. What could be more perfect for an outdoor soiree? We're talking airy white suits (yes white shorts count), and of course, the humble white vest. Here are some amazing white suits on Glamour
From Jennifer Lopez to Jennifer Aniston, every self-respecting A-lister has been spotted in a plain white vest this summer as shown on The Times. Whether it's a £5 Primark special or £200 Dolce & Gabbana racer, this wardrobe staple is perfect for casual picnic outfits.
The beauty of the white vest is that it can be paired with just about anything; from a racy leather skirt, to cut-off denim shorts, and tailored crop trousers.
We all know that children get grubby at the best of times, so white might not seem the best option for little ones. Instead, accessorise with white socks, hairbands, and even pristine white pumps before they get scuffed back at school!
Best Picnic Outfits In Warm Weather
While we never need an excuse for a picnic, let's be honest – when the sun is out, it certainly calls for dining al fresco. But with it comes a considered wardrobe for eating outside.
Flowing garments are always a good choice, as well as light coloured fabrics that reflect the heat and light, especially in natural materials such as cotton and linen. Queen of effortless style, Holly Willoughby nailed this perfectly recently in a light flowing dress – and for all the bonus points – in pink gingham. Did we mention, gingham is the perfect pattern for picnic parties, trust us – it never goes out of fashion.
Nailing Outfits For A Picnic With School Mums
If you're a parent then there's simply no getting away from a picnic party over the summer. Load up with Percy Pigs and enough SPF to last you a month, and style it out in a cute picnic outfit. As with all things parenting, you'll want it to be practical, as well as sticky-finger proof.
This calls for a shopping trip to pick-up a pleated skirt – one of the most wearable fashion trends of the moment. Anything goes from plain to monochrome or bright bold colours.
While other generations may want to pair this with a bralette, you're best off keeping it simple and comfortable with a vest top of light shirt. For all the sassy feels, pair with Birkenstocks. As for your child, well, there's nothing quite like baby Birkenstocks for a touch of 'matchy matchy'! It's one of the cute picnic outfits you need in your life.
Best Picnic Outfit For Children
Which brings us to the all-important question; how should I dress my child for a picnic? As we've touched on, children like nothing more than running around and exploring the great outdoors, so practical clothes should be prioritised. Plus, hats and tops with good coverage will keep you from worrying about their sun exposure too.
When in doubt, the Royal family are a handy barometer for good taste. Take for example Prince George and his enduring style. From sunny day rompers as a baby, to well-tailored shorts with a shirt in his primary years – he sets a standard for chic picnic outfits that never look out of place on your child.
Stylish Outfits For Family Picnics And Birthdays
Whether it's for a family soiree or outdoor birthday celebration, some of the best outfits for a picnic are those that celebrate timeless style. We're talking long-flowing summer dresses or jumpsuits for women with matching accessories, and tailored chino-style light trousers paired with a polo shirt for dads.
You might call it preppy-chic, which is just as well as the high-street does this look best. Try; House of Fraser, American Eagle, John Lewis, Joules and Ted Baker for inspiration. Still got questions? We thought so. Here's what you need to know for nailing the best outfits for a picnic.
Best Place For Cute Picnic Outfits For Kids?
We get it, they're only young once and you want to look back on photos with a bursting heart. In which case, spare no expense and head to Jo Jo Maman Bebe for some of the best looks. Feeling flush – then check out Rachel Riley – one of Kate Middleton's favourite children's designers, you can never go wrong.
How Can I Accessorise Picnic Outfits?
Want to look cooler than cool? Then it's time to invest in a picnic basket and blanket that wouldn't be out of place in Town & Country magazine. Perhaps you can consider throwing a chic luxury picnic. Complete the look with a bag, hair clips and a belt that co-ordinate with your outfit.
What Is Picnic Chic?
We've mentioned it throughout this article – picnic chic is that effortless 'just thrown together' look that turns heads. Neither racy nor frumpy, it encapsulates enduring style – tailored clothing, slip-on shoes, and a designer bag, no less.
What Should A Dad Wear To A Picnic Party?
Anything you feel comfortable in. If you want to look stylish, opt for cropped trousers and a smart-casual shirt. Deck shoes without socks is what casual picnic outfits are made of. Just remember to own the look with confidence.