Top 10 Picnic Blankets To Enjoy The Outdoor Sun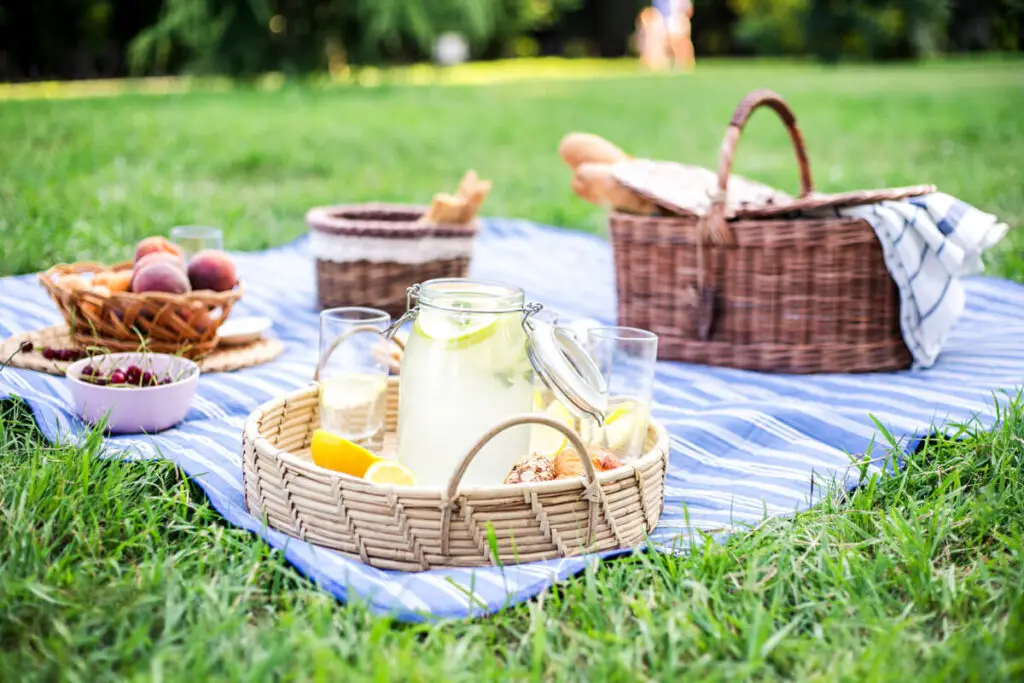 There are a great many variety of picnic blankets available across different retailers. You of course want something that suits your budget. Additionally you might prefer a picnic blanket that is pretty, traditional or something plain. However apart from aesthetics and price there are other things you might want to consider before you buy.
Before Buying a Picnic Blanket
Before you buy a picnic blanket you might want to consider:
Whether it has waterproof backing,
The season or seasons you will use it,
Whether it is easy to clean and maintain,
If is it ecologically friendly and
The size of the picnic blanket
I will go through these bullet points briefly. Like this you can see whether you think these points will weigh on your decision. On the other hand, feel free to jump down to the top list.
Waterproof Picnic Blanket
Nowadays most picnic blankets are waterproof, but not all are. You might want to consider a waterproof picnic blanket in the case of wet grass or sand. The waterproof backing will not let the damp rise and as a result make you cold. Especially during the colder months.
However this partly depends on the season also. In hot weather there is not much need for a waterproof blanket.
Seasonality
Different picnic blankets are made of different material. For example some are made of wool which is suitable for colder months and will keep you warm. On the other hand some are made of fleece which is a little less warm. While others are made from cotton and polyester or a mix of fibres.
If you plan to go picnicking all year round then perhaps you should consider buying 2 different picnic blankets. It would depend on how cold or bothered you tend to feel by the heat.
Cleaning and Maintenance
This depends on the material the picnic blanket is made of. Some you can wipe clean because they have a repellent coating. As a result coffee or wine are easily wiped off with a wet cloth or tissue.
However others you can machine wash or hand wash if they are delicate. All the cleaning  information is listed for each picnic rug. 
Environmentally Friendly
Some blankets use synthetic fibres. Others use more natural materials like for example wool or cotton. Some blankets are made from recycled material, either threads or plastic.
Large Picnic Blanket
Some people want a large picnic blanket for some extra space. Either because they have a family or they may want to invite guests. Or perhaps they just like to stretch out.
Other Considerations
You might want to consider buying a picnic basket instead of just a blanket. Especially if you are going to go picnicking outdoors. Picnic baskets come as a set, with plates, cutlery and amongst other things a picnic blanket. Here is an article comparing the top 6 most popular picnic baskets.
Best Environmentally Friendly Picnic Blankets
The Tartan Blanket Company
The The Tartan Blanket Company produces high quality waterproof tartan picnic blankets. They are all roughly the same price, 140 x 190 cms in size and come in many different colours and patterns. They are made from 30% mixed fibres, but most importantly 70% recycled wool, that is woven in dense twill weave and brushed for texture. As a result they are as sustainable as they are machine washable. You can machine wash these blankets on the wool cycle and lay flat to dry.
Eau de Nil Picnic Mat
Another environmentally friendly picnic blanket is made by Fortnum & Mason. Their Eau de Nil is a stylish picnic mat is made out of 25 recycled plastic bottles. It comes with fabric handles so you can easily roll it up and carry it around. Additionally because it is made of plastic you can easily wipe it clean.
Best Large Picnic Blankets
Large Mandala Picnic Rug
The Large Mandala Picnic blanket is incredibly large at 228 x 200 cms in size. It has an exquisite Indian pattern that gives it an eclectic Bohemian feel, handmade and printed using traditional block printing. As a result each picnic blanket is unique and has slight imperfections, but all blankets are checked by the supplier to make sure there are no major imperfections.
They are 100% cotton and come in eithr blue, orange/blue, cherry, purple, or multi-coloured. The good news is that they are machine washable, but they are not waterproof.
Large Round Ombre
Another beautiful picnic blanket that has that boho feel is the Large Round Ombre which is 218 cm in diameter. This one is also handmade and printed using traditional block printing. It comes in pink, blue, orange, grey or green. Non are waterproof, but 100% cotton and machine washable.
Extra Large Comfort Picnic Blanket
The Extra Large Comfort Picnic Blanket is 210 x 170 cm. It is not as large and pretty as the previous 2 blankets as it comes in a plain carbon grey colour, but it is waterproof. The draw back of this blanket is that it is made of 100% polyester and hand wash only.
Large Square Picnic Rug
This Large Square Picnic Rug comes in this one blue and white traditional chequered pattern only and is 200 x 200 cms. It has 3 layers; the soft fleece on the top, an extra foam layer in between and the aluminium backing. Additionally it is water proof on both sides. The aluminium backing is of course water proof and the soft fleece on top is treated to repel liquid. Due to its material it is hand wash only.
Best Low-Cost Picnic Blankets
The extra large comfort picnic blanket already listed above already is also a low-cost blanket. However here are some more to consider.  
Comfort Blanket
A smaller sized comfort blanket that is 170x140cms. It comes in a pretty neutral blue as well as another couple of colours. Since it is made out of the same material as the extra large comfort blanket it is also made of 100% polyester, waterproof and hand wash only.
Black and White Picnic Blanket
This black and white picnic blanket is made from high quality waterproof materials on both sides. You can shake off any dirt or sand and wipe clean. For the price it is a good size at 150 x 200 cm and a good quality blanket. It is made with acrylic, 4mm sponge, waterproof PEVA which you should ideally hand wash, but you can machine wash it on delicate.
Blue Herringbone Picnic Rug
A beautiful picnic blanket that has a traditional herringbone pattern, 147 x 180 cm in size and waterproof. This is a soft fleecy blanket that will keep you warm and provide a soft place to sit or lay. The carrier is made out of faux leather.
This blanket is made out of 100%polyester with PEVA backing and also hand wash only.
Colourful Plaid Picnic Blanket
This pretty colourful plaid picnic blanket is 150 x 200 cm and has a classic design. It is also made of acrylic soft fleece and has a 4mm sponge layer for extra comfort and PEVA waterproof material. It repels water and dirt, but if it's dirty you can easily wipe it clean. Additionally the loop fastener is made out of faux leather.
Unlike other blankets this blanket you cannot wash, but you can wipe it clean.
Comparing The Top 10 Picnic Blankets
Let us place the picnic blanket information side by side so that it is easier for you to compare.
Table Showing Brand and Price
| | |
| --- | --- |
| Name of blanket | Brand |
| Tartan blanket | The Tartan Blanket Co. |
| Eau de nil | Fortnum & Mason |
| Large Mandala | Bare Accessories Boho |
| Large round ombre | Bare Accessories Boho |
| XL comfort blanket | QUECHUA |
| Large square | Kanqiao |
| Comfort blanket | QUECHUA |
| Black and white | Purezento |
| Blue herringbone | VonShef |
| Colourful Plaid | Esportia |
Table Comparing the Picnic Blanket Sizes and Whether They are Waterproof
| | | |
| --- | --- | --- |
| Name of blanket | Size (cm) | Waterproof |
| Tartan blanket | 140 x 190 | yes |
| Eau de nil | 145 x 130 | yes |
| Large Mandala | 228 x 200 | no |
| Large round ombre | 218 dia | no |
| XL comfort blanket | 210 x 170 | yes |
| Large square | 200 x 200 | yes |
| Comfort blanket | 170 x 140 | yes |
| Black and white | 150 x 200 | yes |
| Blue herringbone | 147 x 180 | yes |
| Colourful Plaid | 150 x 200 | yes |
Table Comparing the Material
| | |
| --- | --- |
| Name of blanket | Material |
| Tartan blanket | 70% recycled wool, 30% mixed fibres & waterproof polyester |
| Eau de Nil | 100% recycled plastic |
| Large Mandala | 100% cotton |
| Large round ombre | 100% cotton |
| XL Comfort blanket | 100% polyester |
| Large square | fleece, sponge and waterproof aluminium |
| Comfort blanket | 100% polyester |
| Black and white | Acrylic, 4mm sponge, waterproof PEVA |
| Blue herringbone | 100% polyester and waterproof PEVA backing |
| Colourful Plaid | Faux Fur, Acrylic |