6 Best Towns to Visit in Mallorca (+ Images, Videos)
Beyond its natural beauty, Mallorca boasts a collection of charming towns that are rich in history, culture, and authentic island charm. In this article, I will take you on a journey to discover the 6 best towns to visit in Mallorca, each with its own unique character and attractions.
So, grab your travel guide and get ready to delve into the charm of these wonderful towns.
1. Palma: Cultural Capital, Historic Charm, Vibrant City Life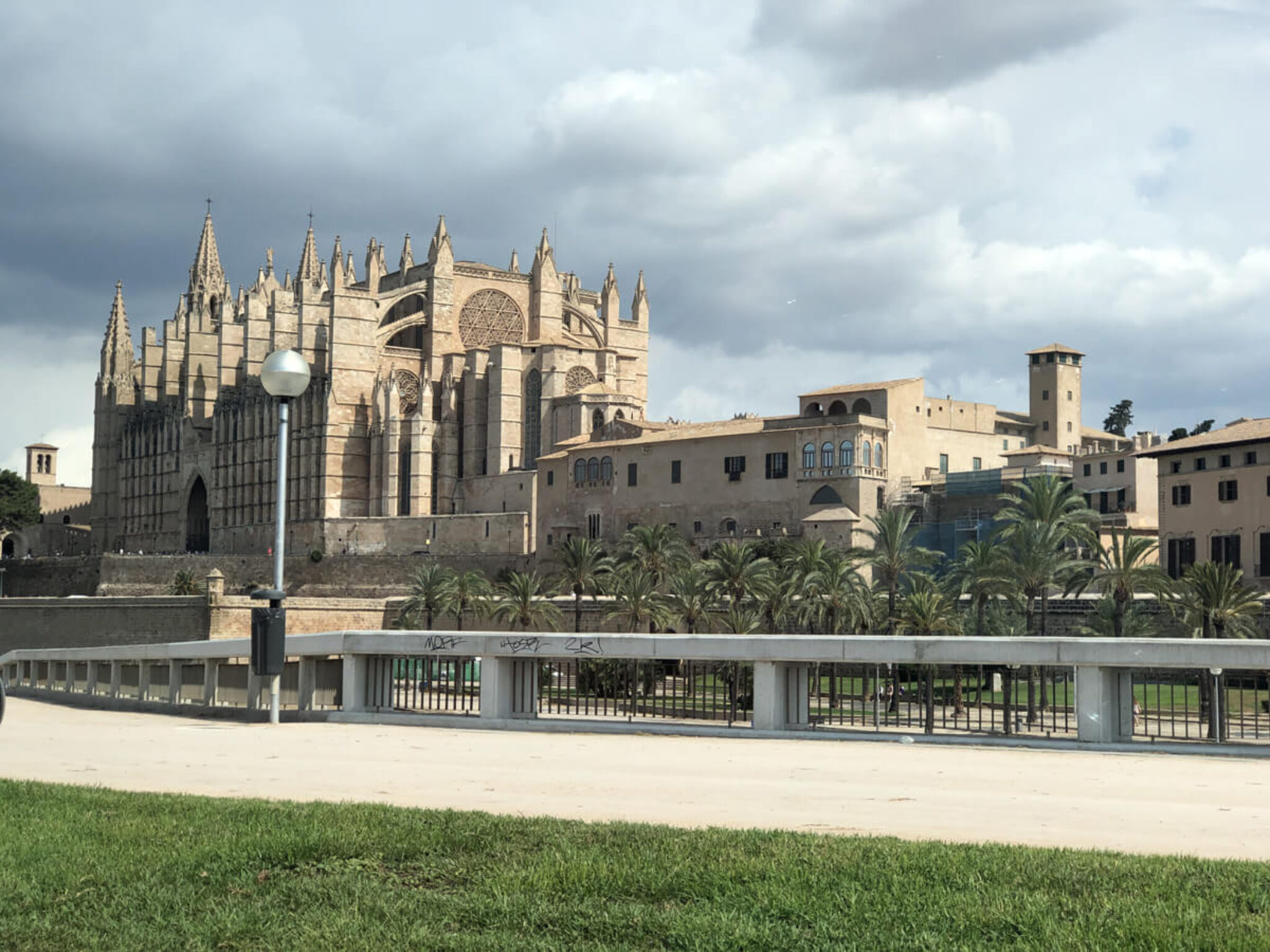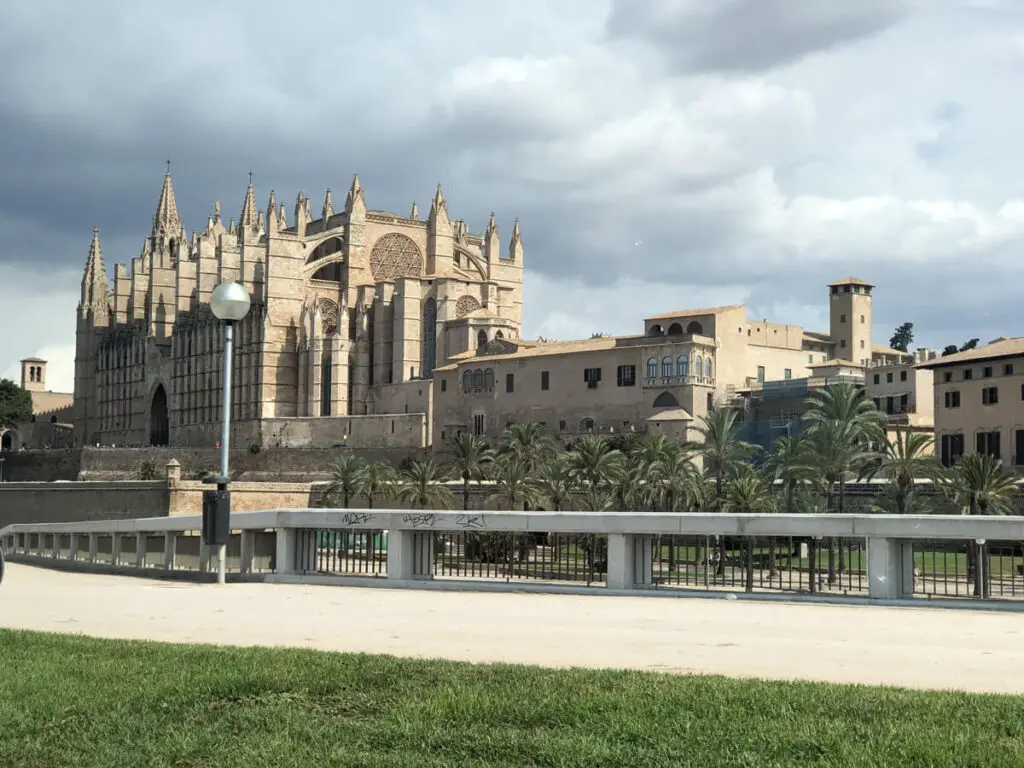 Palma de Mallorca, is the capital city of Mallorca that is nestled along the sparkling Mediterranean Sea. It's a vibrant and enchanting destination that seamlessly combines history, culture, and modern amenities.
Historical Sights
Bay far, Palma is the best town to visit in Mallorca if you are interested in history and culture. Palma offers visitors a delightful mix of historical landmarks, stunning architecture, and a lively atmosphere.
At the heart of Palma is the charming historical old town complete with narrow lanes and its most iconic attraction – the Palma Cathedral.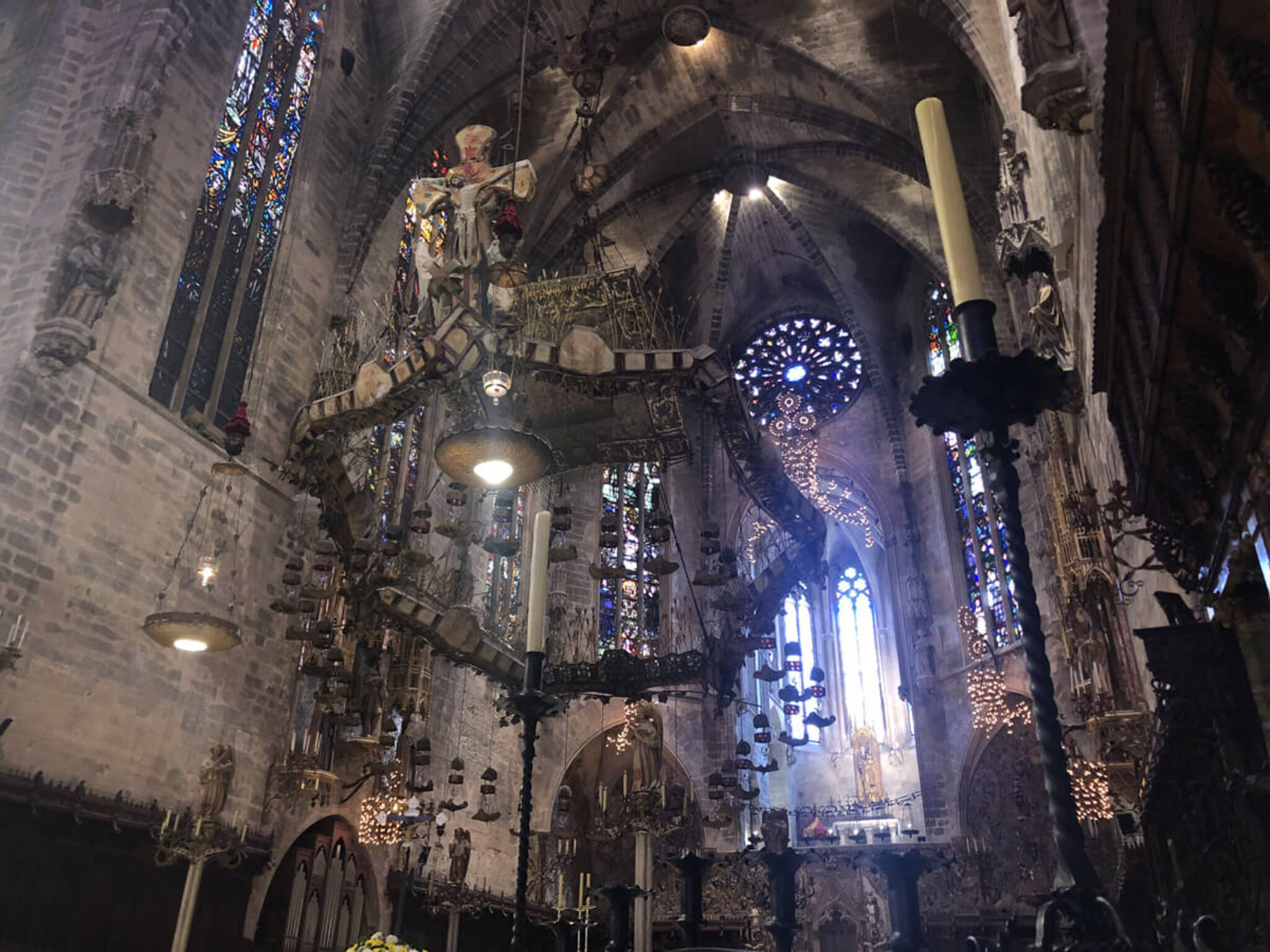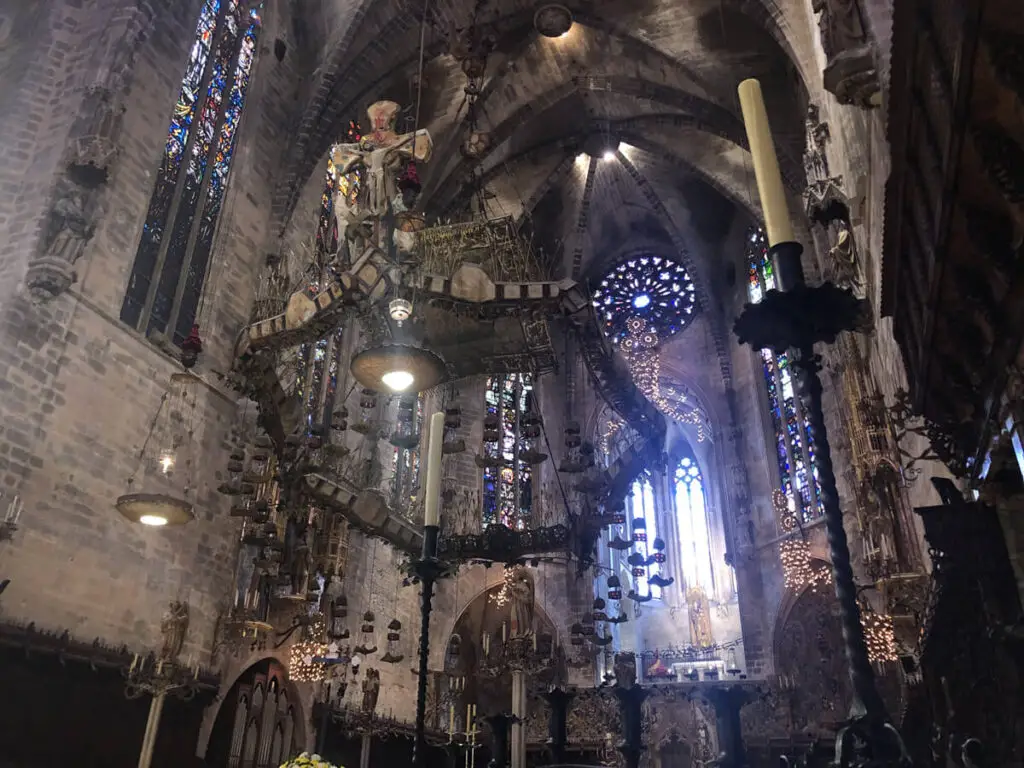 This magnificent Gothic masterpiece dominates the city's skyline. Its design is characterised by its intricate stonework, soaring arches, and ornate details, showcasing the skilled craftsmanship of the era. Its stunning rose window, known as "the Eye of Gothic," is one of the largest of its kind and fills the interior with mesmerising coloured light.
You can purchase an inexpensive skip the line entry ticket to visit Palma Cathedral and go straight inside from the side entrance over here.
Conveniently situated next to the Cathedral is the Almudaina Royal Palace. It was originally built as an Islamic fortress during the Moorish era and later converted into a residence for Mallorcan monarchs.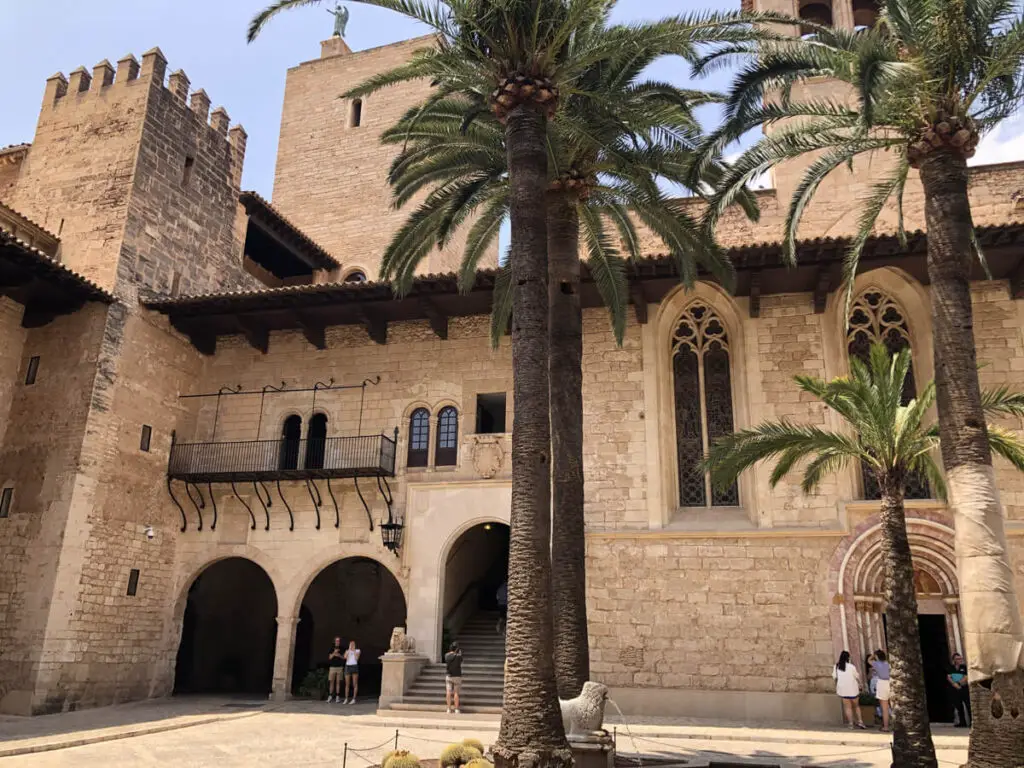 The palace's architecture combines both Gothic and Islamic elements, creating a unique and visually striking aesthetic. You can explore its well-preserved interior, which features grand halls, royal apartments, and courtyards with beautiful views of the city and the sea.
You can purchase a Palma Cathedral and Almudaina Royal Palace entry ticket online. Alternatively you can opt for a separate entry tickets so that you get the digital royal guide with entry into the Palace.
Another notable historical site worthwhile visiting once you are in the area is the Arab Baths or Banys Àrabs. These well-preserved 11th-century baths provide a glimpse into the bathing rituals of the city's Moorish past.
They contain a series of domed rooms, which were designed to create a tranquil and relaxing environment for bathing. The octagonal-shaped central pool, known as the "aljibe," is supported by sturdy columns with horseshoe arches, showcasing typical Islamic architectural elements. The baths also incorporate intricate stonework, including decorative geometric patterns and ornate detailing, further enhancing the overall aesthetic appeal.
For a break from the urban atmosphere, head to the stunning Bellver Castle. Located on a hill overlooking the city, this 14th-century circular fortress offers panoramic views of Palma Bay and the surrounding countryside. Nearby, the Bellver Forest provides a peaceful retreat for nature lovers, with walking trails and picnic spots.
Palma's Most Famous Street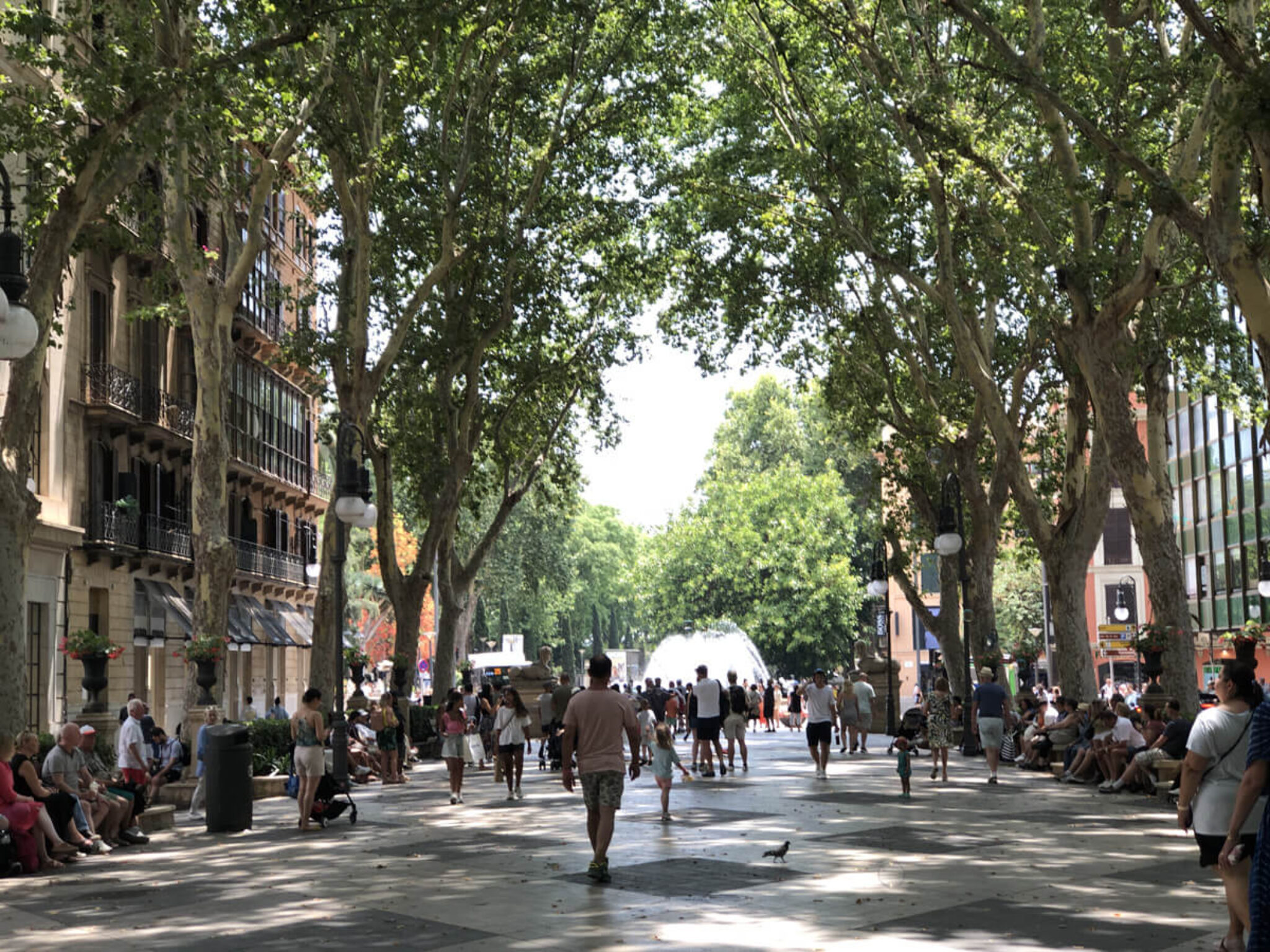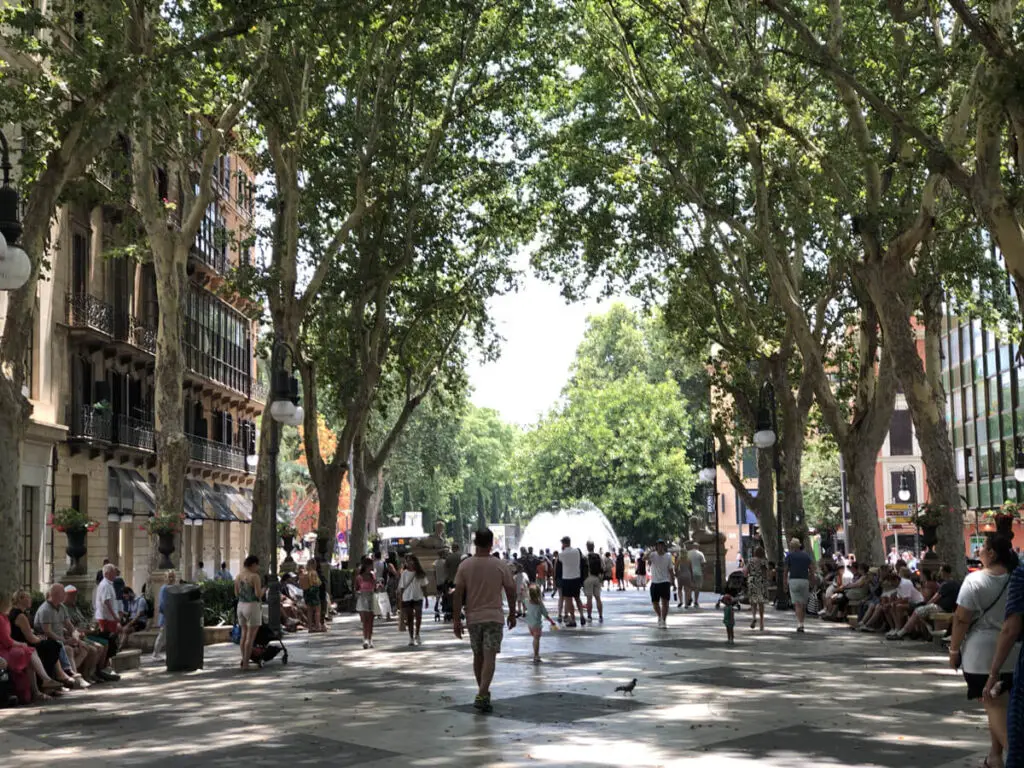 One of the most famous streets in Palma is the Paseo del Borne. This elegant boulevard is located in the heart of the city and is known for its stylish shops, upscale boutiques, and trendy cafes. Passeig des Born is lined with beautiful trees, offering a pleasant shaded walkway, and it serves as a popular gathering place for locals and tourists alike.
Cosmopolitan Streets
While you explore Palma you will come across its many cosmopolitan streets. Here you'll discover a wealth of boutique shops, bustling markets, and delightful cafes and restaurants serving a mix of international and traditional Mallorcan cuisine.
The vibrant shopping district of Avinguda Jaume III is a must-visit for fashion enthusiasts and anyone seeking unique souvenirs.
Museums
The city's cultural scene is vibrant and diverse, with numerous museums and art galleries. The Es Baluard Museum of Modern and Contemporary Art showcases an impressive collection of Balearic and international artworks. On the other hand, the Pilar and Joan Miró Foundation offers an insight into the life and works of the renowned artist.
2. Sóller: Vintage Allure and Timeless Beauty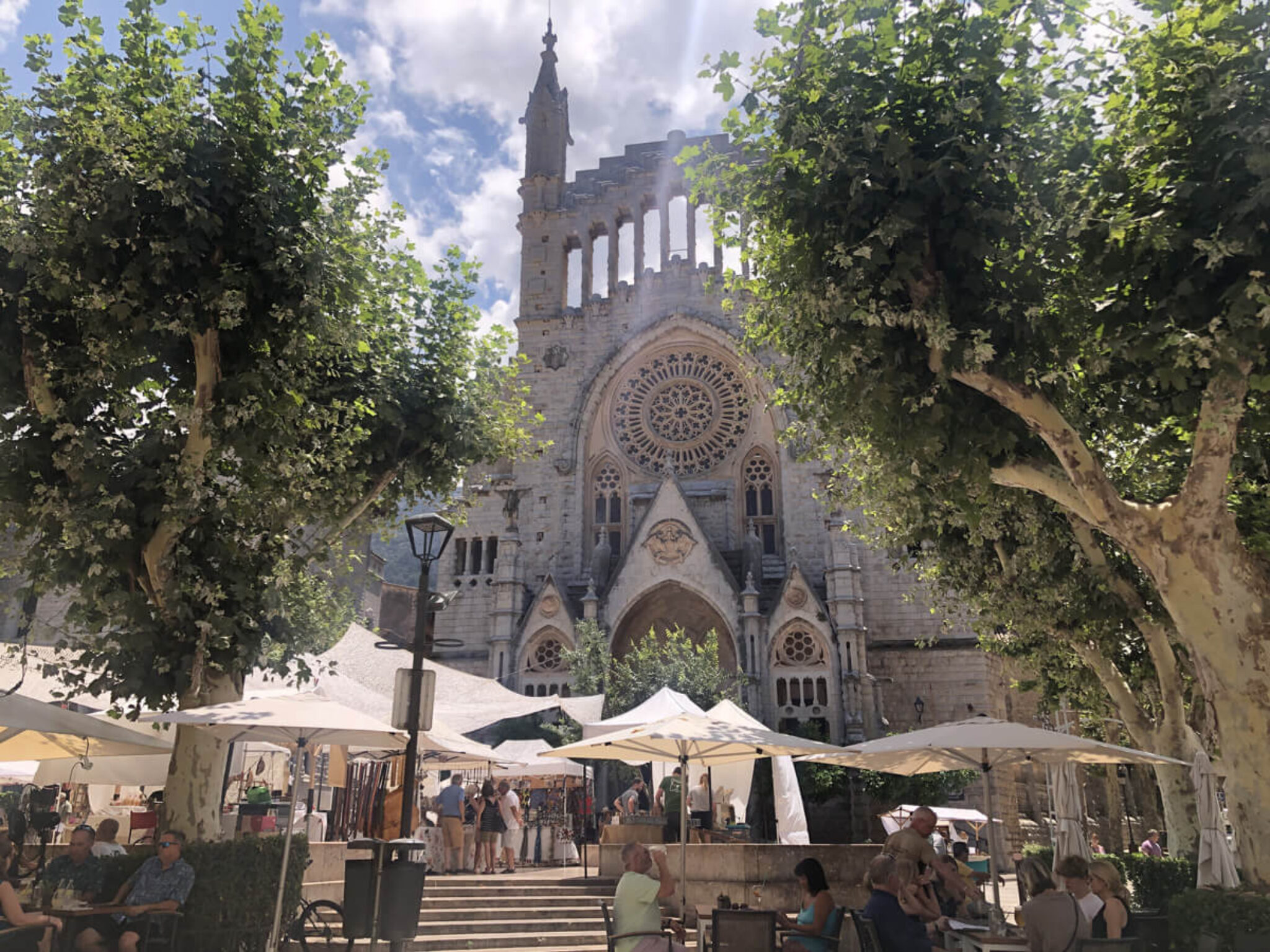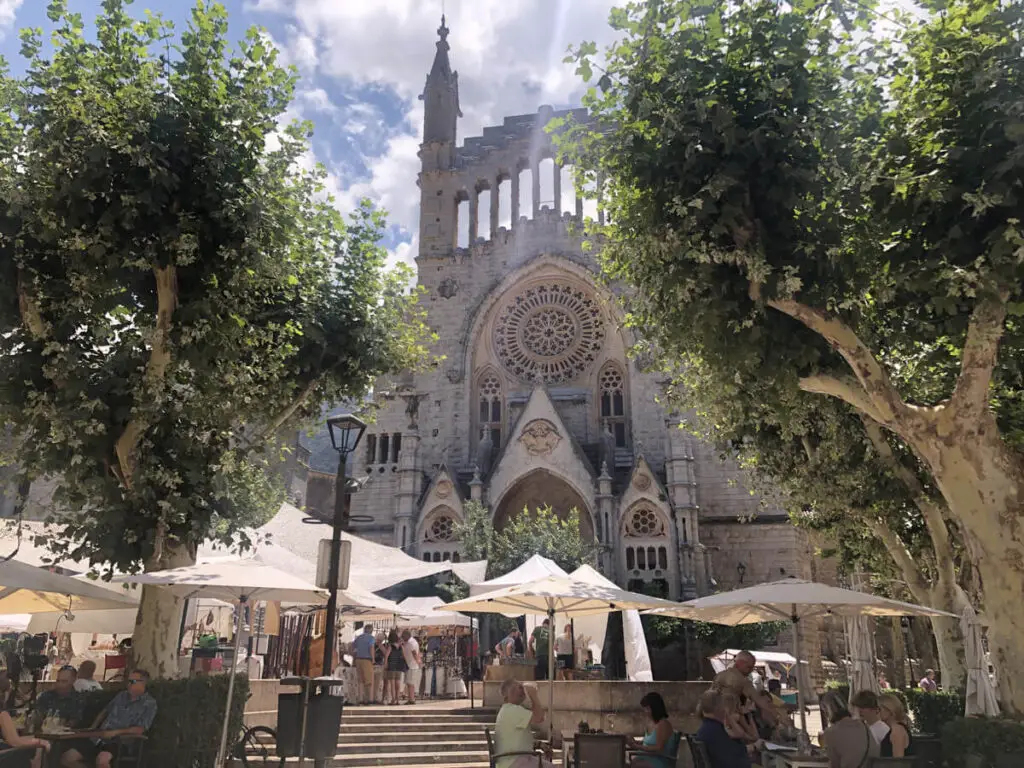 I was impressed by how beautiful the town of Sóller truly is. It is nestled in a picturesque valley on the northwest coast of Mallorca and known for its natural beauty, citrus groves, and captivating architecture. In fact it is frequently featured in various articles as one of the best towns to visit in Mallorca.
It is surrounded by the Tramuntana Mountains and offers visitors a tranquil escape in a delightful Mediterranean atmosphere. The centrepiece of Sóller is its beautiful main square, Plaça Constitució.
Lined with cafes, restaurants, and boutiques, this vibrant square is the perfect place to relax. Here you can enjoy a cup of coffee, or savour a delicious meal while soaking in the lively ambiance.
The square is also home to the iconic Sant Bartomeu Church. It's an architectural gem that showcases a blend of Gothic and Baroque styles.
If you go to Sóller on Saturday you will see a vibrant weekly market set up in front of the church as you can see in the image at the above. Here you can browse local products, including fresh produce, handicrafts, and traditional delicacies. It's an excellent opportunity to experience the authentic Mallorcan lifestyle and engage with the local community.
One of the most popular attractions in Sóller is the historic wooden train the Ferrocarril de Sóller and tram, dating back to 1913. Here is a 15 second video of the tram that showcases it's old world charm and beauty of Sóller:
If you are visiting Sóller from Palma you can purchase a ticket for the train to take you to there. The ticket also includes the tram that connects the town with its charming coastal counterpart, Port de Sóller.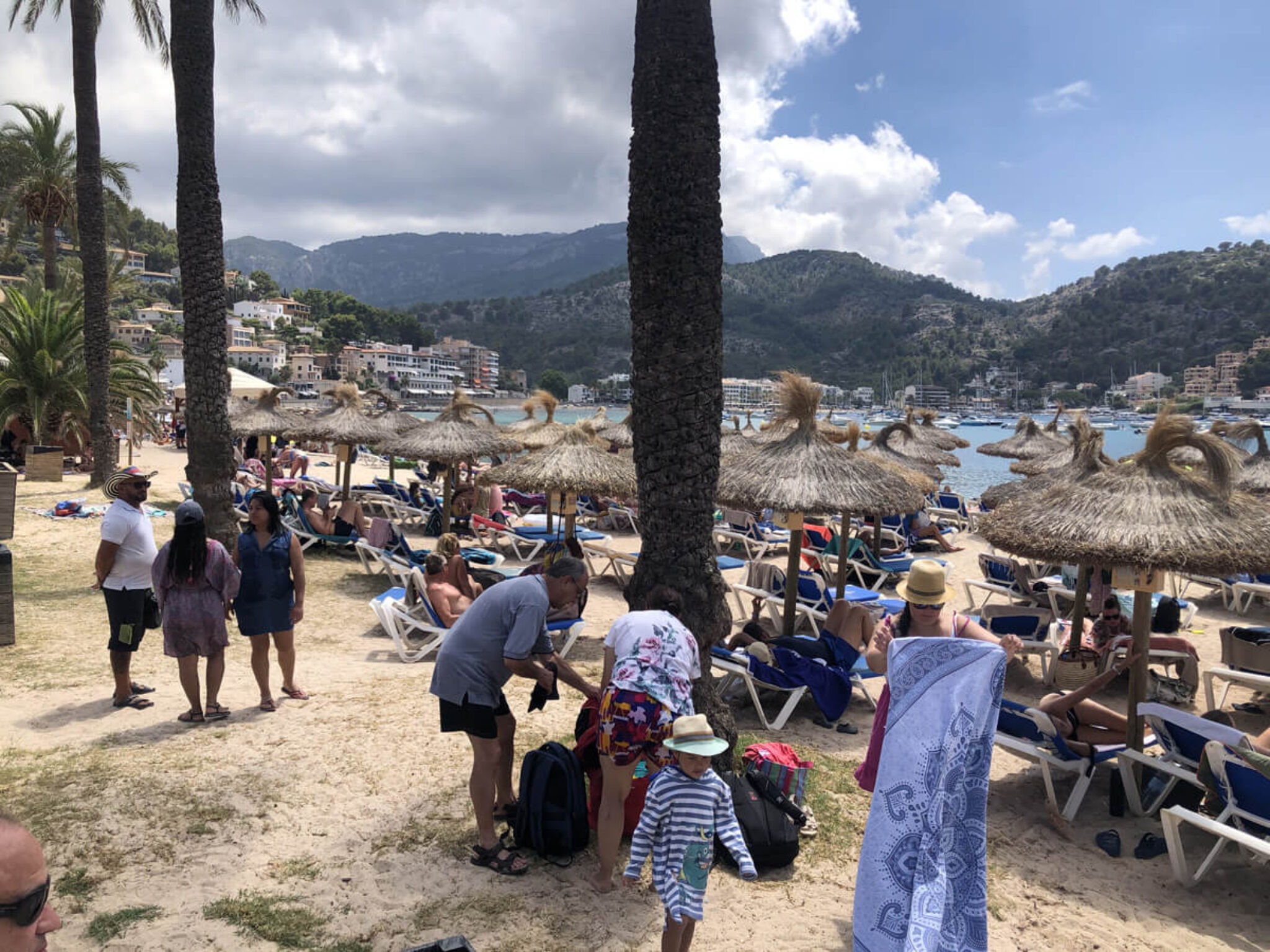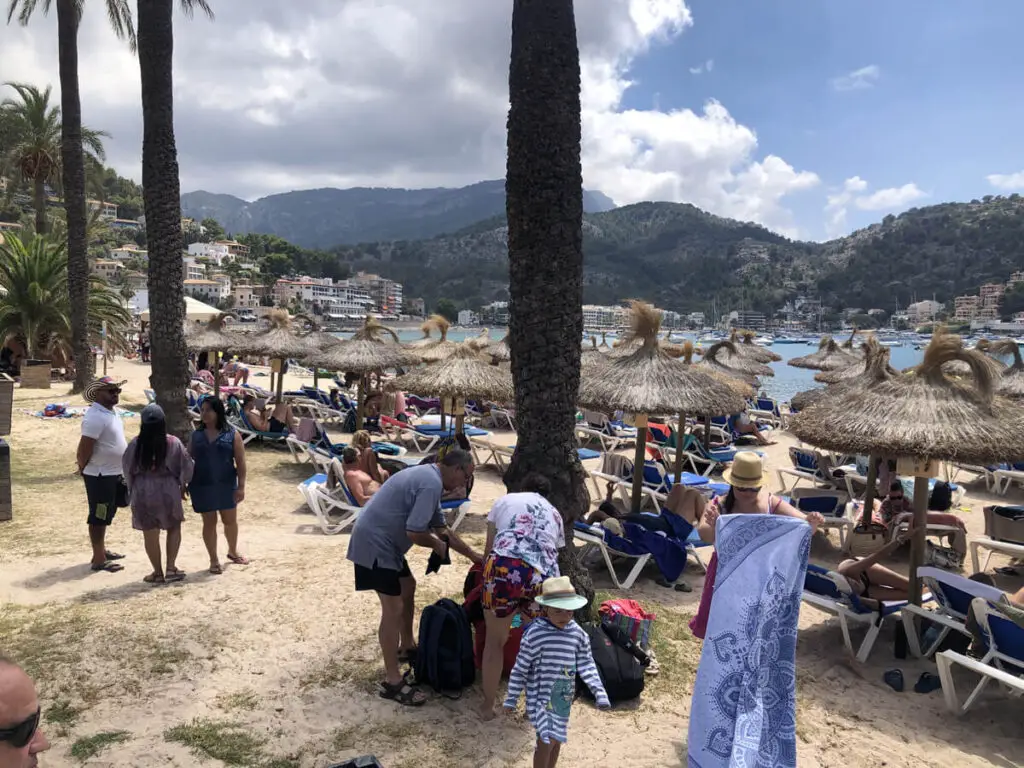 The tram ride is a nostalgic and scenic journey, offering panoramic views of the valley, mountains, and orange groves that Sóller is famous for.
The Port de Sóller has the most stunning beach area I saw in Mallorca. My husband and I in fact did opt to swim here to cool off from the summer heat.
However the water is not as clear as other beaches in Mallorca that are in the top list of best beaches I had visited. In fact, where it not for the murky water, this beach would surely be up there as the best beach on the island.
If you have time you should consider visiting the beautiful botanical garden called Jardí Botànic de Sóller. This tranquil oasis is nestled amidst the lush surroundings of the Tramuntana Mountains, offering visitors a serene and immersive experience in nature.
The Jardí Botànic de Sóller is a haven for plant enthusiasts and those seeking a peaceful retreat. It showcases a diverse range of Mediterranean flora, including endemic and indigenous species found in the Balearic Islands. As you wander through the garden's pathways, you'll encounter an array of vibrant flowers, aromatic herbs, and exotic plants.
Finally, anyone interested in art and culture will appreciate the presence of the Can Prunera Museum of Modernism. The museum showcases a collection of art and design from the early 20th century, including works by renowned artists such as Picasso and Miró.
3. Pollença: Nestled Between Mountains and Sea
15 second video showcasing Port de Pollença:
Pollença is a pretty coastal town located in the northern part of Mallorca. It is at the foothills of the Tramuntana Mountains and offers plenty of scenic natural beauty to justify its inclusion in this top list of the best towns to visit in Mallorca.
The town's main attraction is its port, Port de Pollença which has one of the best beaches in Mallorca. The beach is called Playa de Port de Pollença and is my second favourite beach, just after Camp de Mar.
Port de Pollença offers a picturesque setting with azure waters, and a charming waterfront promenade. It's a popular destination that combines natural beauty with a relaxed and family-friendly atmosphere. In fact it is one of the areas which is on the list of the 5 best areas in Mallorca for family holidays.
The long and sandy Playa de Port de Pollença provides ample space for sunbathing, swimming, and water sports. The beach is well-equipped with facilities, including beach clubs, restaurants, and water sports centres, ensuring a pleasant experience.
The town's scenic promenade, known as Pine Walk, is a favourite spot for locals and tourists alike. It stretches along the coast, bordered by pine trees, and offers breath-taking views of the sea. The Pine Walk is lined with restaurants, cafes, and shops, making it a perfect place for a leisurely stroll or to enjoy a meal with a sea view.
The Formentor Peninsula which is one of the most scenic spots of Mallorca, is just a stone throw away from Pollença. It's a spectacular headland renowned for its dramatic cliffs, stunning views, and natural beauty. It is a must-visit destination for nature enthusiasts and those seeking awe-inspiring landscapes.
Check out the view you get near the watchtower in this short clip:
The journey to Cap de Formentor in the Formentor Peninsula is an adventure in itself. There are winding roads that offers breathtaking views at every turn.
The road, known as the Formentor Road (Ma-2210), is famous for its hairpin bends and panoramic vistas of the Mediterranean Sea. Along the way, you'll pass by scenic spots like Mirador Es Colomer located here, offering a stunning view of the rugged coastline and the small island of Colomer.
4. Alcúdia: Medieval Gem With a Relaxed Coastal Vibe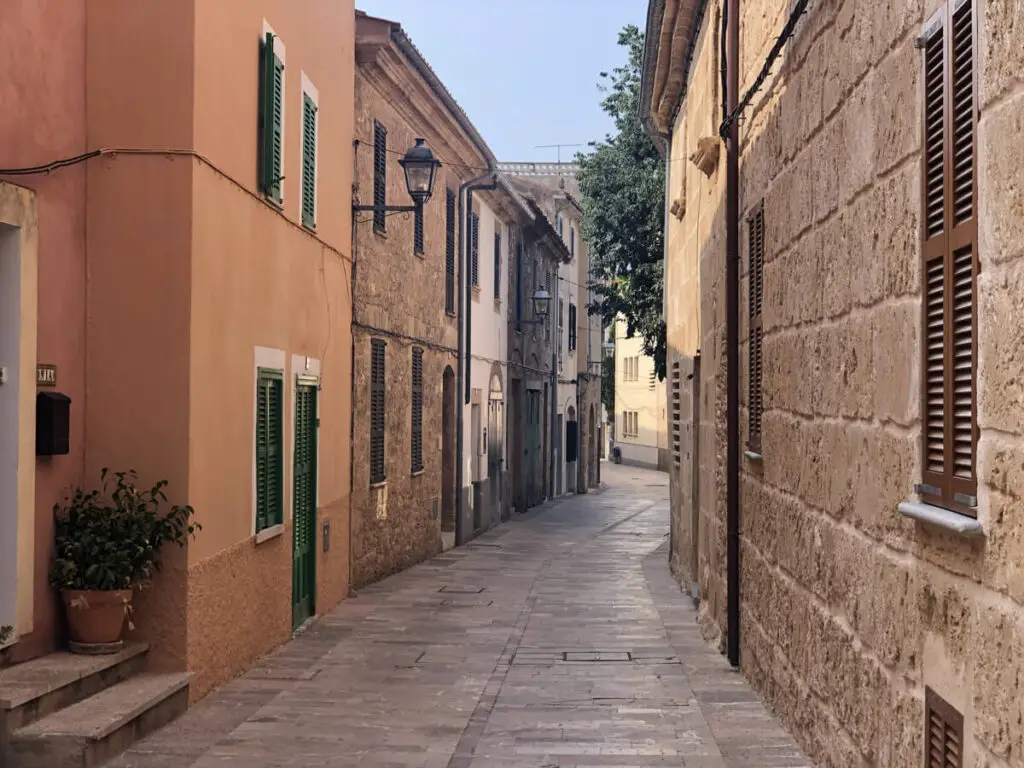 Alcúdia is a historic town renowned for its rich cultural heritage, charming old town, and beautiful beaches. It offers visitors a perfect blend of history, culture, and natural beauty.
The heart of Alcúdia is its medieval walled town, known as Alcúdia Old Town. Surrounded by well-preserved ancient walls dating back to the 14th century. The town's narrow cobblestone streets, traditional houses, and historic landmarks create a captivating atmosphere.
You can explore the old town's labyrinthine streets, visit the picturesque Plaça de la Constitució, and admire the impressive Church of Sant Jaume.
One of the must-visit attractions in Alcúdia is the Roman ruins of Pollentia. This ancient Roman city was founded in the 1st century BC and showcases fascinating archaeological remains, including a theatre, a forum, and a residential area. The site offers insights into the island's Roman past and provides a glimpse into the daily life of its inhabitants.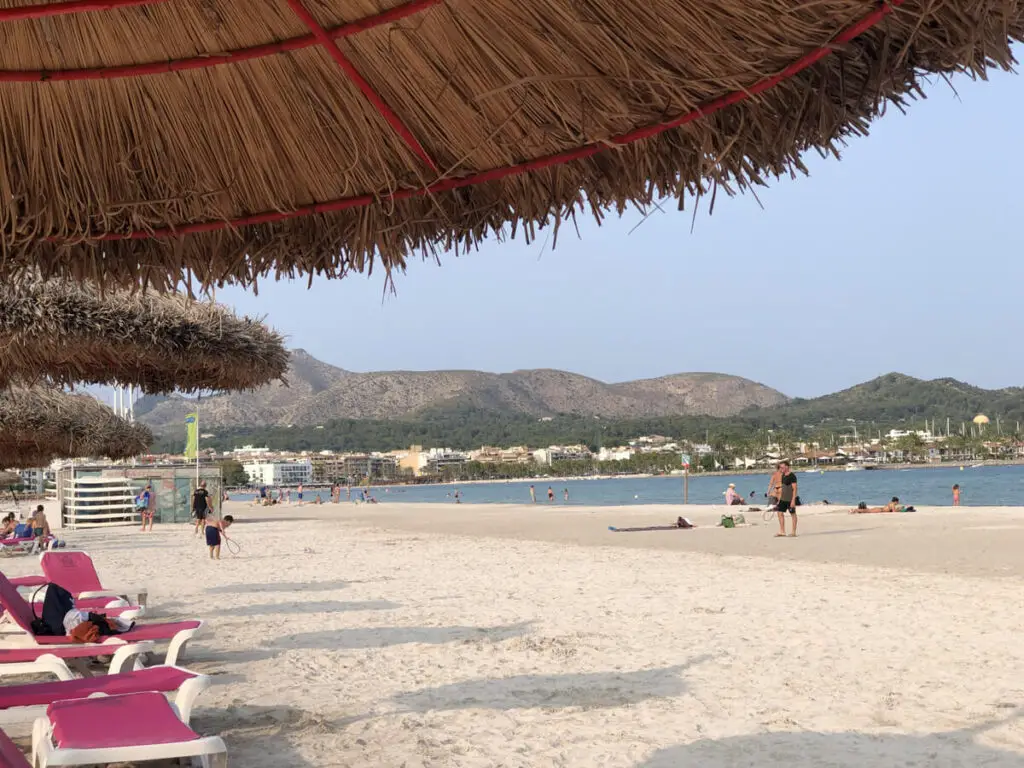 Alcúdia is also renowned for its beautiful beaches. The Playa de Alcúdia is a long stretch of golden sand, perfect for sunbathing, swimming, and water sports. This Blue Flag beach offers clear waters and a wide range of amenities, including beach bars, restaurants, and water sports centres.
The nearby Playa de Muro is another beautiful beach with pristine sand and shallow waters, making it ideal for families with children.
Although they are beautiful beaches, the Port de Pollença beach is far more beautiful than these beaches. So depending on your schedule, you may want to head there instead.  
Nature lovers will appreciate the Albufera Natural Park, located near Alcúdia. This wetland reserve is a haven for birdwatchers, with a rich variety of bird species and diverse ecosystems to explore. You can hike or cycle through the park's trails, observe the wildlife, and enjoy the tranquillity of the natural surroundings.
Alcúdia is also known for its vibrant market, which takes place every Tuesday and Sunday. The market offers a wide array of local products, including fresh produce, handicrafts, clothing, and souvenirs. It's a great place to immerse yourself in the local culture, taste traditional delicacies, and find unique items to take home.
5. Deià: Artistic and Bohemian Retreat with Coastal Serenity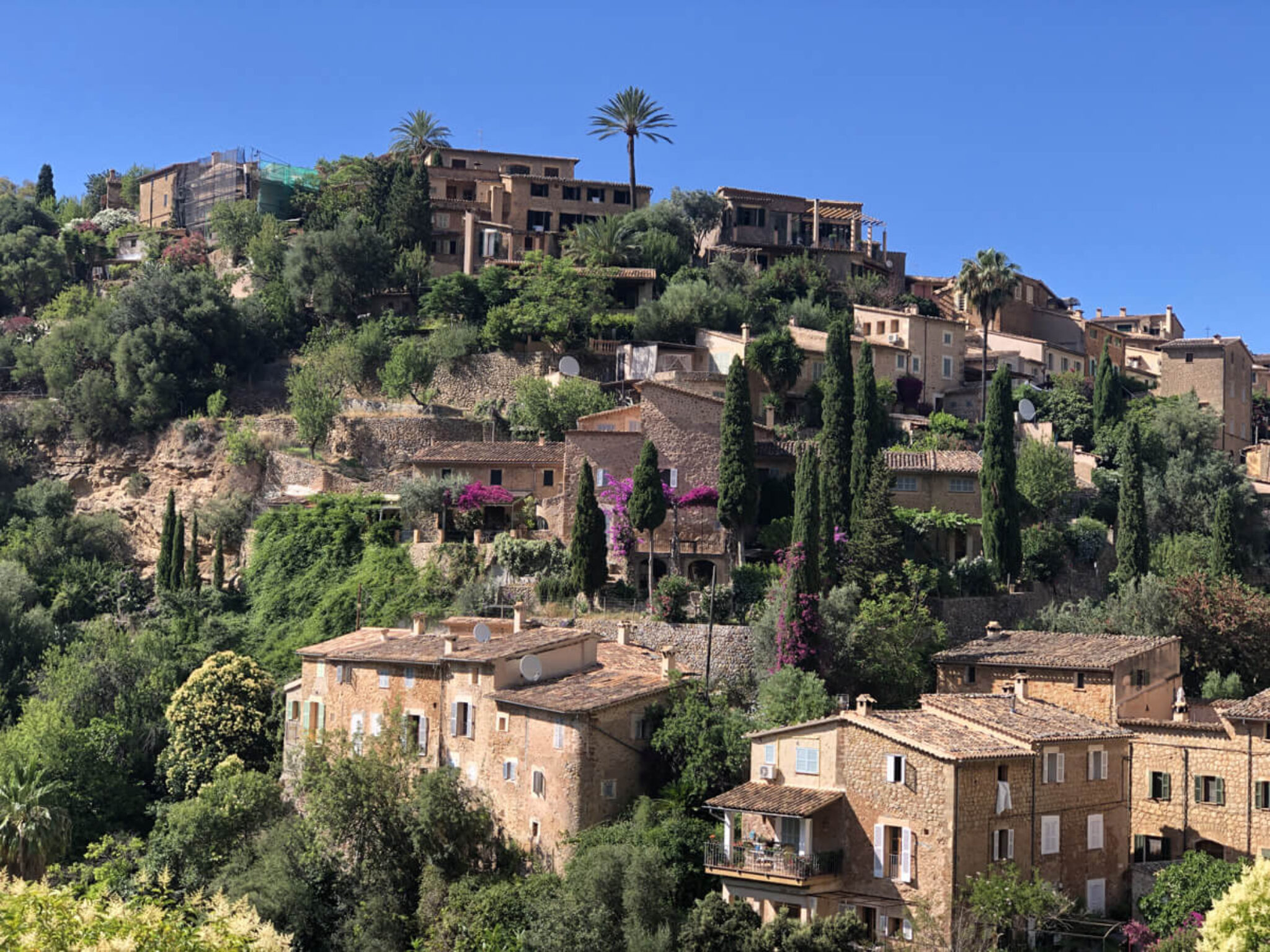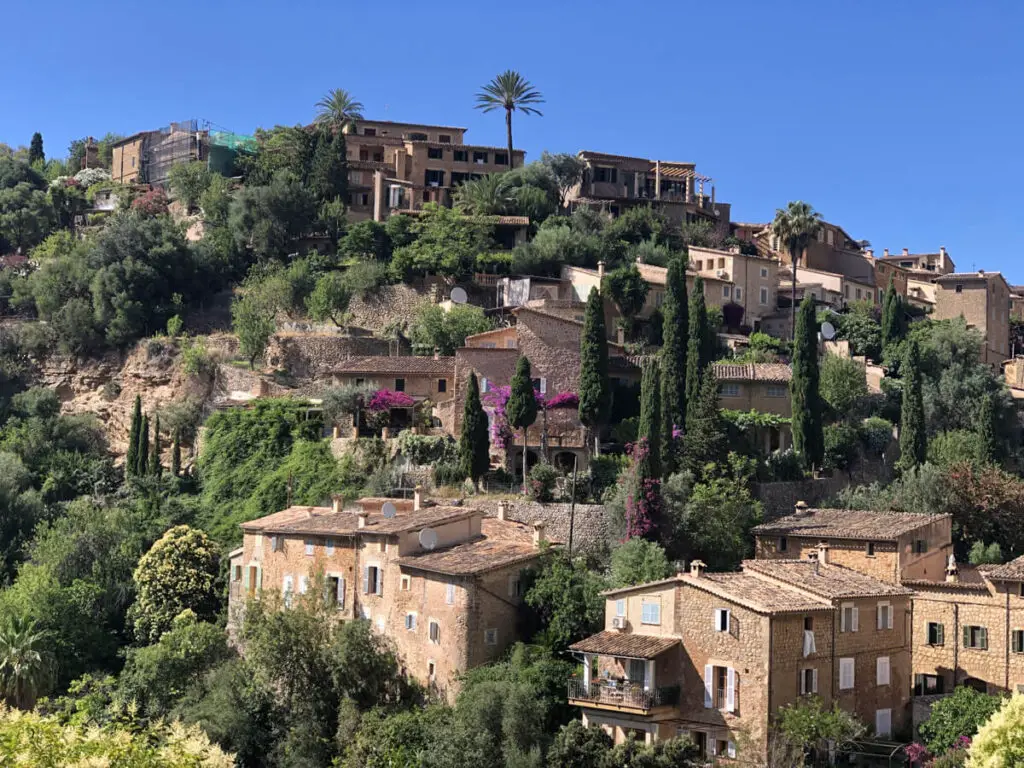 Deià is in the heart of the Tramuntana Mountains on the west coast of Mallorca. It is a picturesque village known for its idyllic setting, artistic heritage, and bohemian charm. Deià offers a peaceful retreat surrounded by olive groves, terraced hillsides, and the Sea.
One of the most notable attractions in Deià is Son Marroig, an impressive estate. The estate was once owned by Archduke Ludwig Salvator of Austria, who was captivated by the beauty of Mallorca and made Son Marroig his home.
The main highlight of Son Marroig is the iconic Archduke's viewpoint, situated on a cliff overlooking the sea. From this vantage point, you can enjoy breath-taking panoramic views of the coastline and the nearby island of Sa Foradada.
Within the estate, there is a beautiful neoclassical mansion that now serves as a museum. The museum houses a collection of artefacts and personal belongings of the Archduke, providing insights into his life and his love for Mallorca.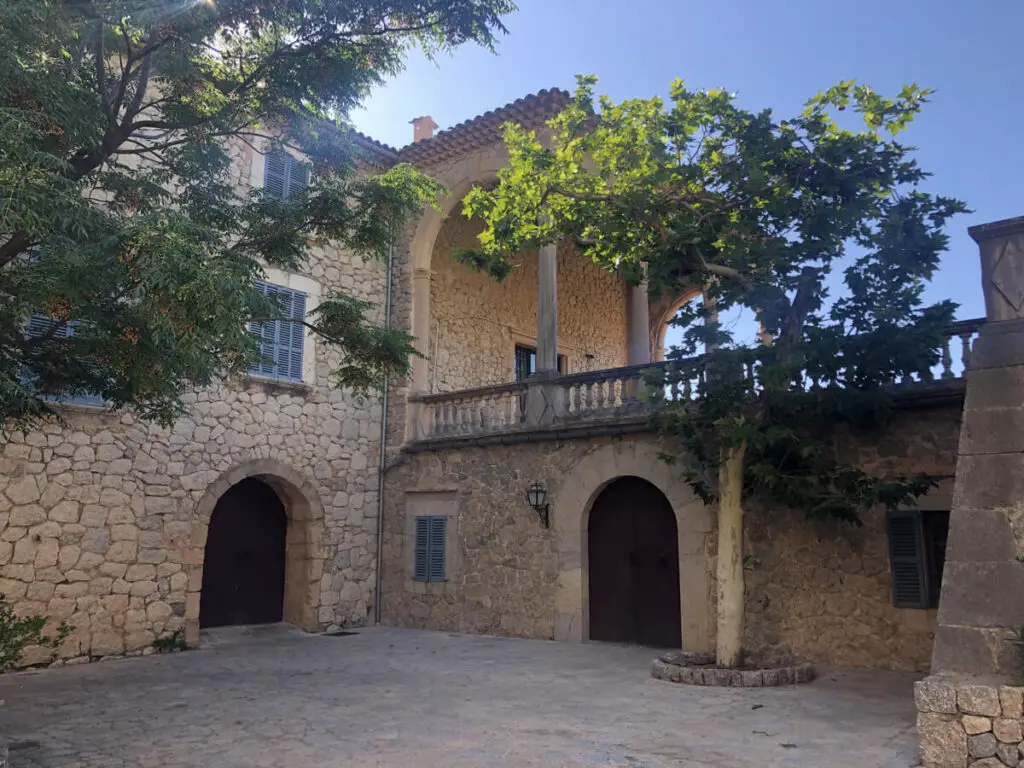 You can explore the rooms of the mansion, which are elegantly furnished and decorated, and get a glimpse into the aristocratic lifestyle of the past.
Additionally in Deià is the former residence Robert Graves a renowned English poet and novelist. His home has been turned into a museum and provides insight into his life and work.
You will get to see his personal belongings, manuscripts, and a collection of his books. It also offers a glimpse into the artistic and literary community that thrived in Deià during the 20th century.
6. Porto Cristo: Hidden Caves and Relaxed Mediterranean Ambiance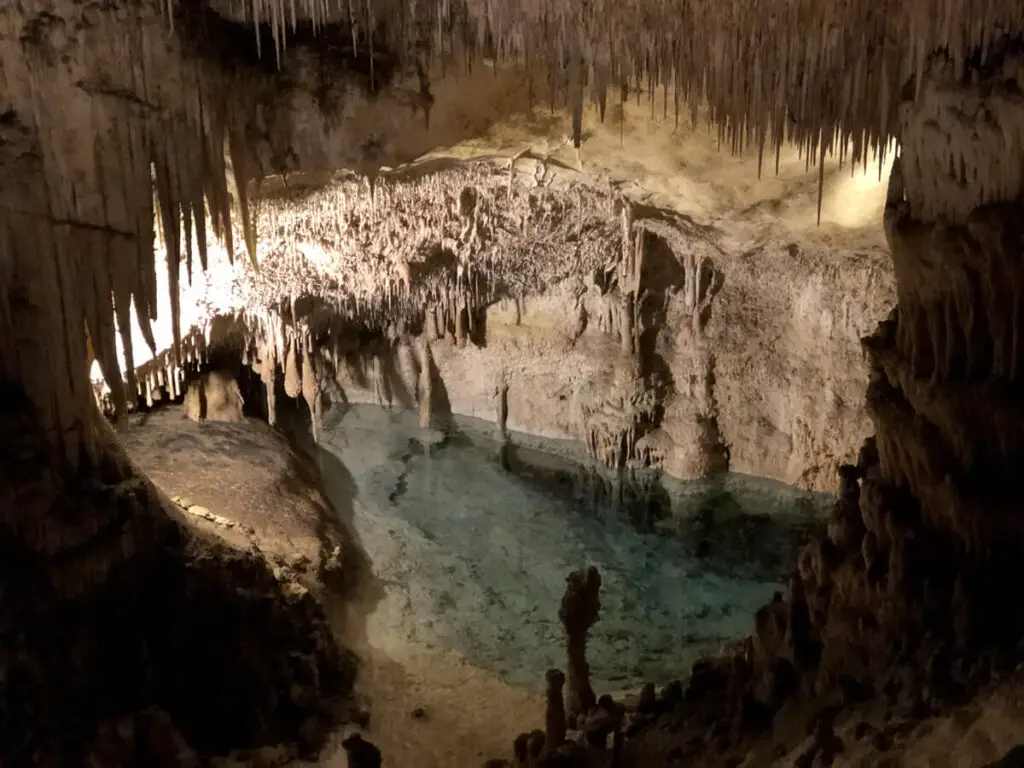 Porto Cristo is a coastal town on the eastern coast of Mallorca. It offers visitors a perfect blend of natural beauty and seaside relaxation. It's known for its picturesque harbour, stunning underground caves, and inviting Mediterranean atmosphere.
One of the main highlights of Porto Cristo is the Cuevas del Drach (Drach Caves). The Drach Caves have a mesmerising underground cave system that stretches for about 1.2 kilometres.
These caves feature stunning stalactite and stalagmite formations, vast underground lakes, and an impressive natural amphitheatre. In fact you will get the chance to sit down on a bench amongst hundreds of other visitors to enjoy a 15 minute classical music concerts.
You can purchase entry tickets into the cave and get to see these stunning caves and enjoy the concert. It was genuinely one of the best moments of my trip and not surprisingly it is a popular place of interest. Hence I highly recommend you book to guarantee yourself a seat at your preferred time.
At the end of the concert you can either walk out or take a boat ride across Lake Martel to leave the cave. It's one of the largest underground lakes in the world and a truly enchanting experience.
The picturesque harbour of Porto Cristo is a charming spot to explore. You can stroll along the promenade, lined with cafes, restaurants, and shops, and take in the views of the bobbing boats and turquoise waters. The harbour also serves as the starting point for boat tours that will allow you to explore the stunning coastline and hidden coves of Mallorca.
There is also a 14th-century Church of Mare de Déu del Carme and a couple of beaches to explore here. However there are other highlights not far off from Porto Christo that are more worthwhile visiting.
The Safari Zoo is definitely a highlight where you will get an unforgettable wildlife experience. Along the 3km path, you will get an up-close encounter with rhinos, zebras, baboons, giraffes and many more animals.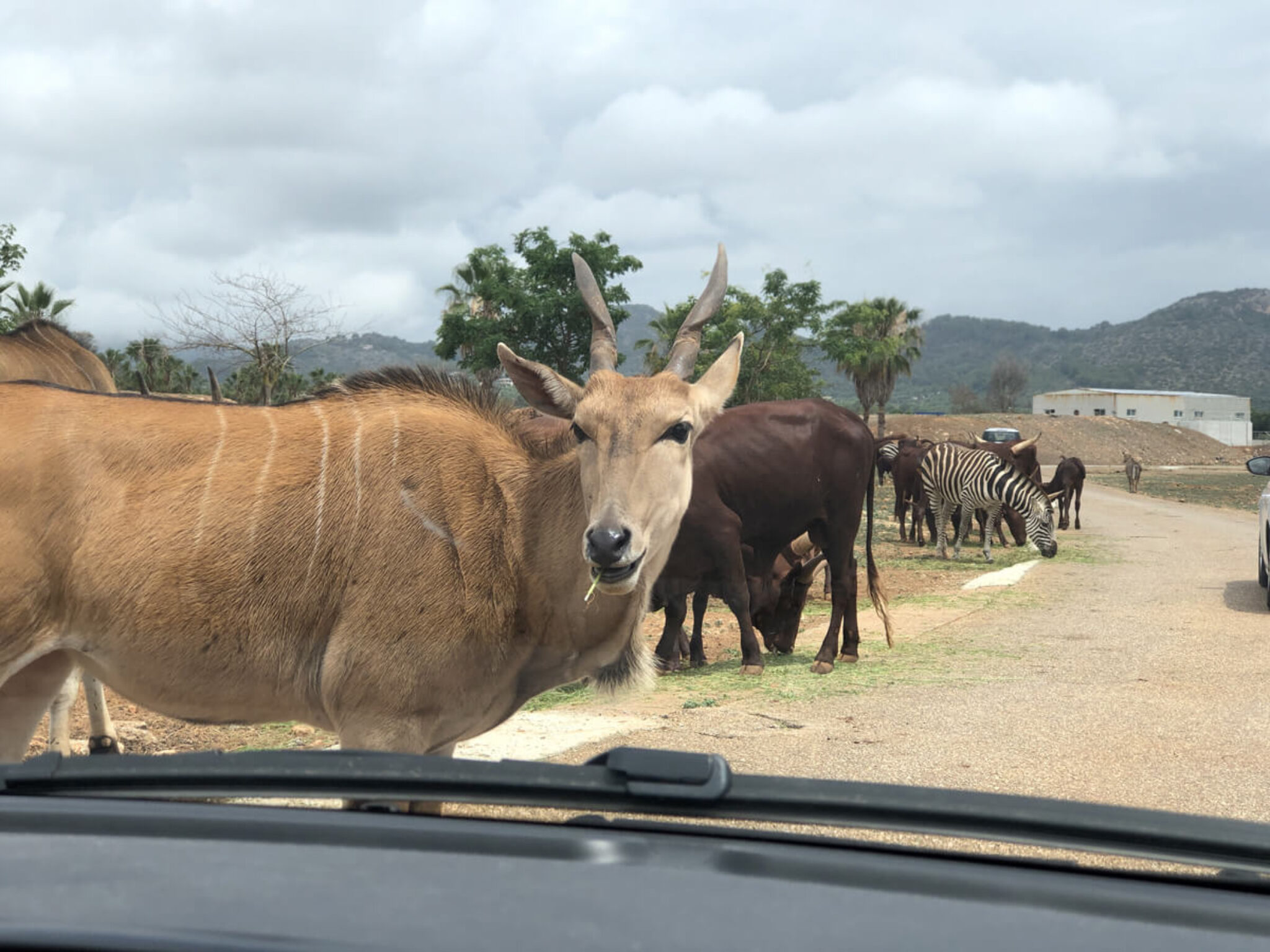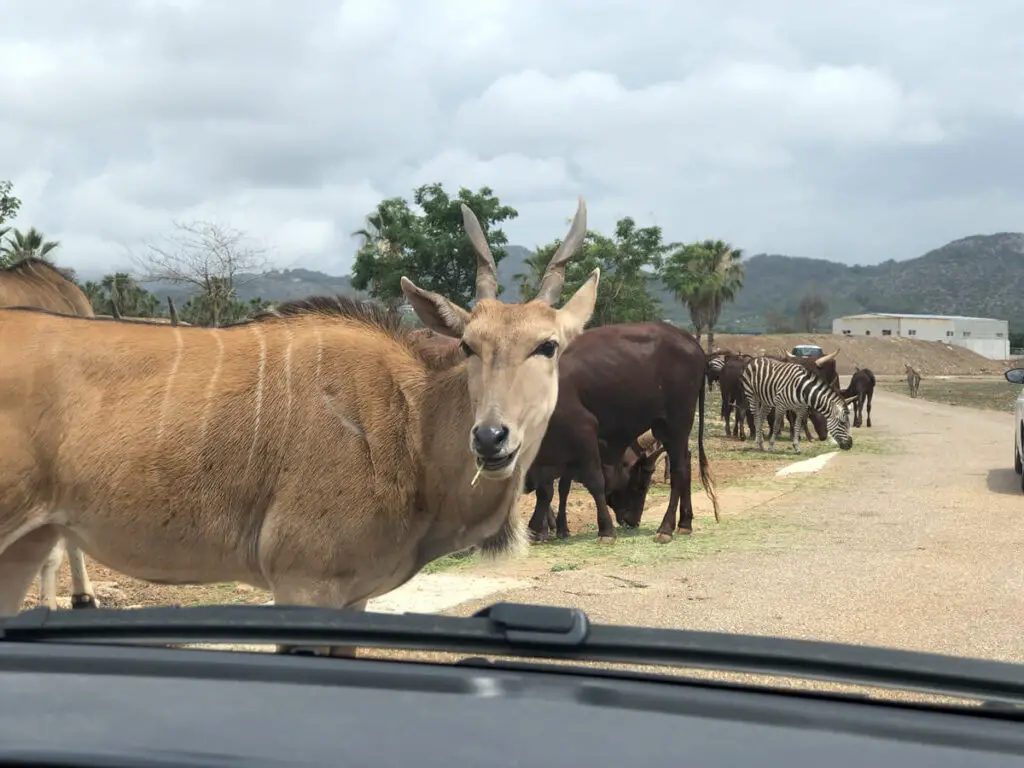 If you have kids in tow you may want to take them to Dinosaurland, or La Reserva water park. There is also the beautiful Cala Millor beach which is one of the best beaches in Mallorca. This general area is a great area for families and in fact is also listed as one of the best areas to stay for families.
Related Articles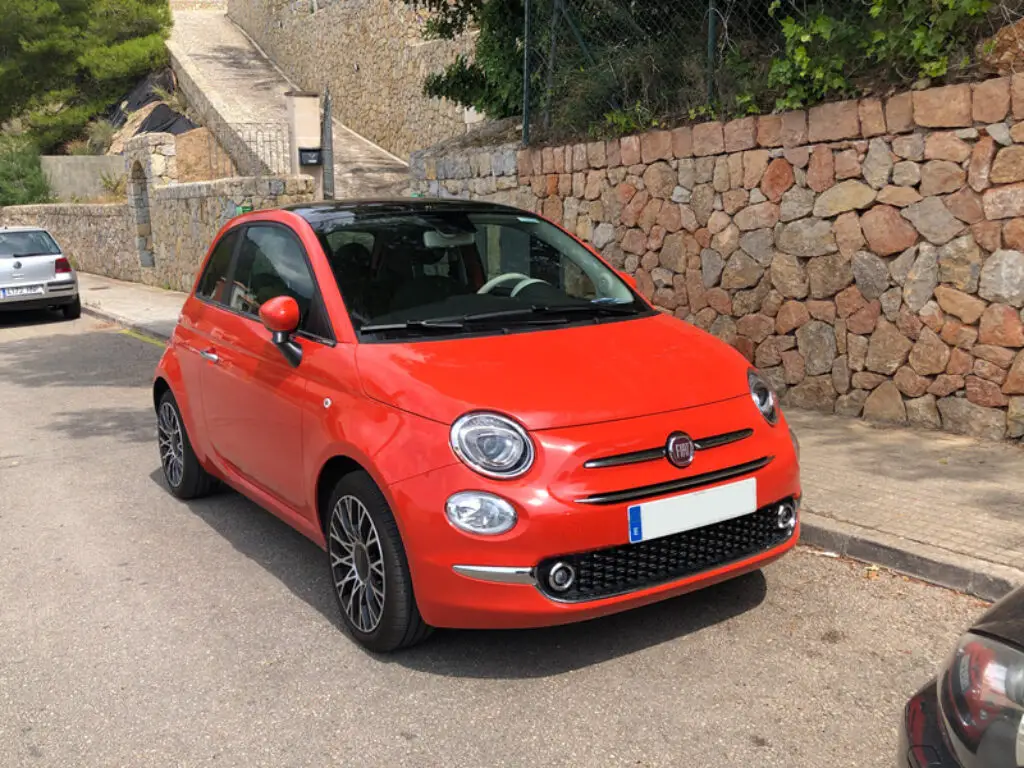 Parking in Mallorca: A Complete Guide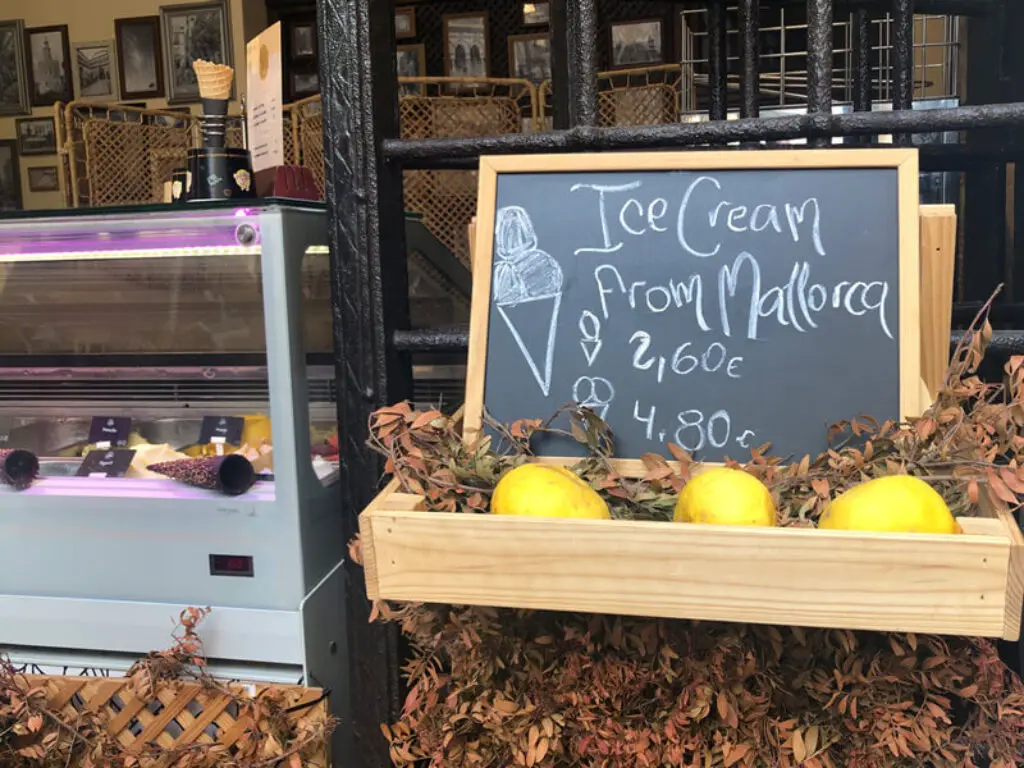 Is Mallorca Expensive? Accommodation, Transport, Food and Activities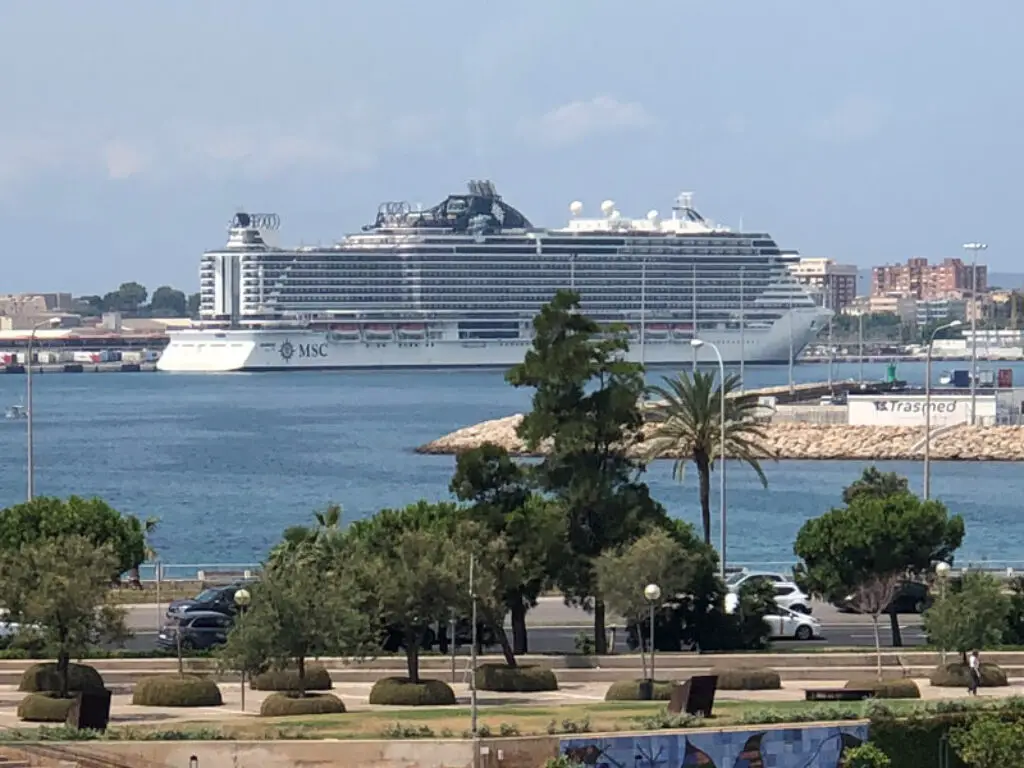 Walking From Palma Cruise Port: Info, Sites and Beaches