Not Just a Party Island – The Different Facets of Ibiza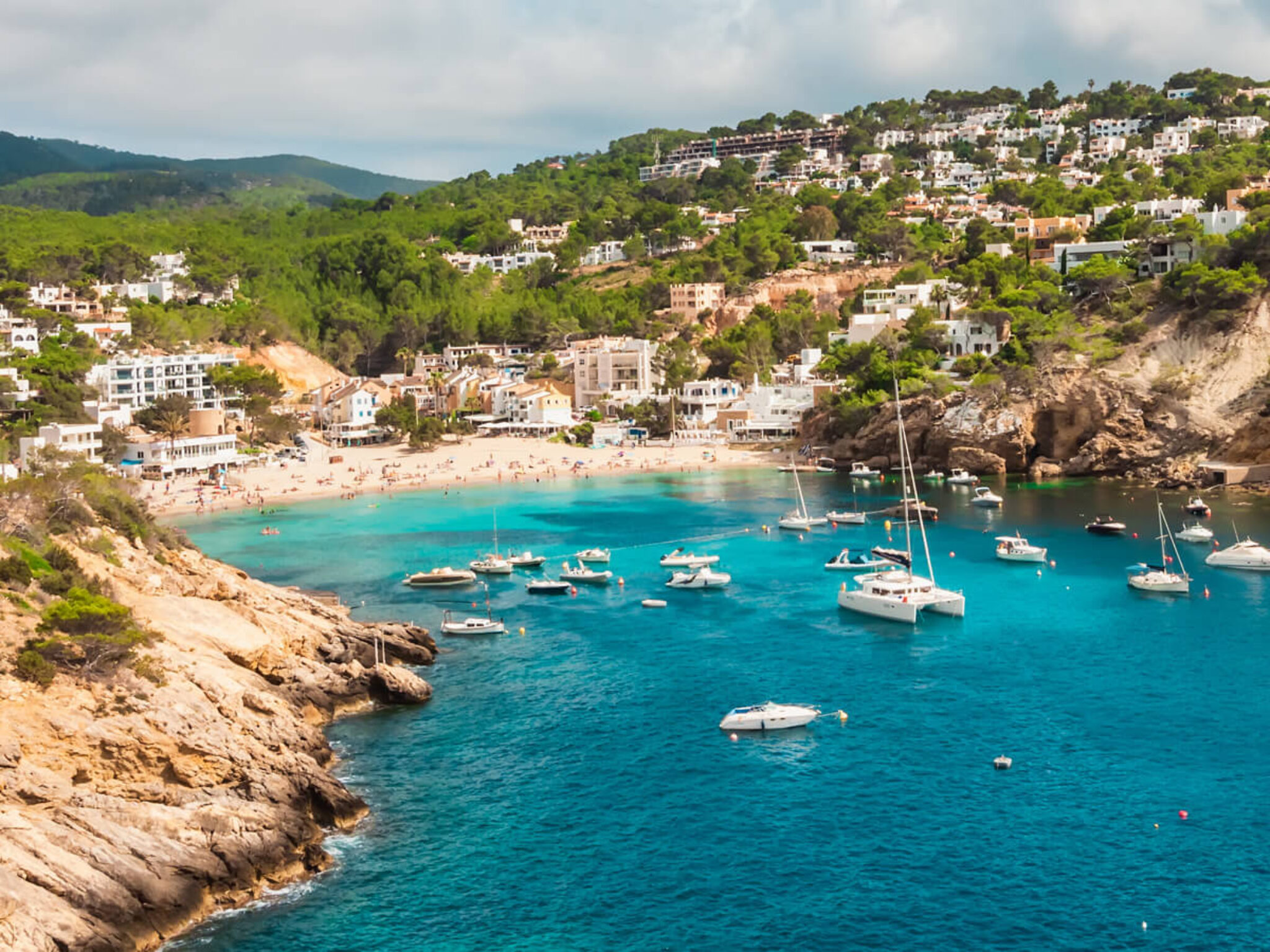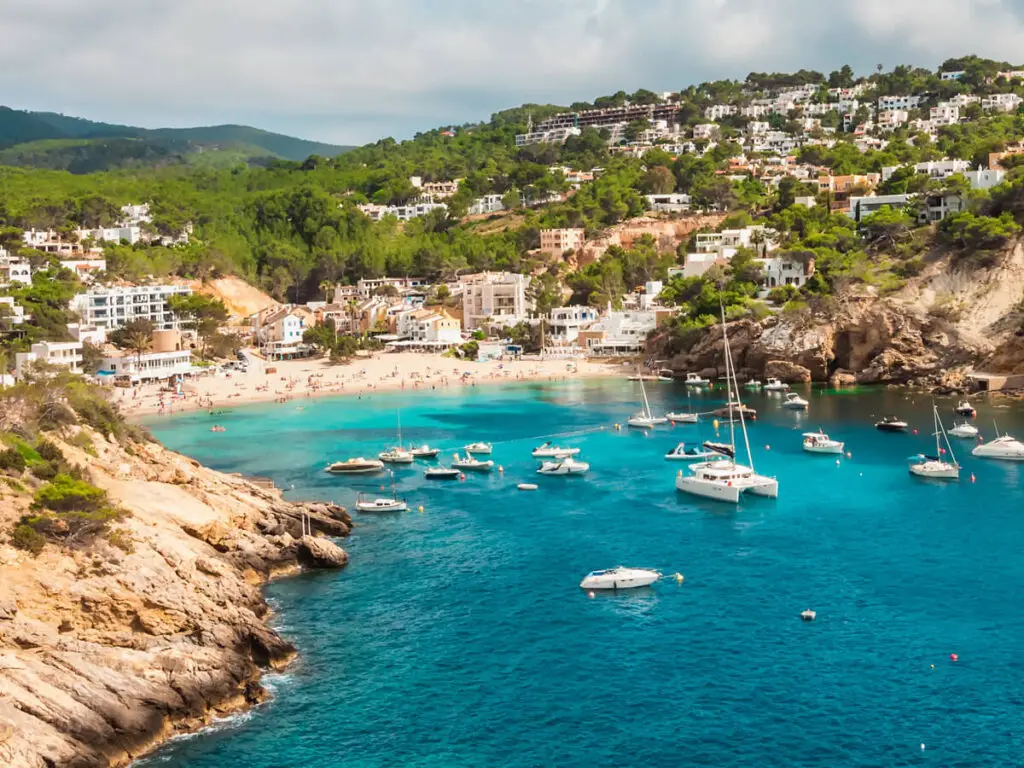 Ibiza has been a party island for decades and is the best destination for anyone craving the party scene. However there is more to Ibiza than meets the eye.
Ibiza offers a fantastic clubbing scene, but it also attracts different kinds of tourists including families with kids. They usually look for the quieter side of Ibiza, beautiful beaches, calmer and more rural areas to enjoy the scenery, trekking or cycling opportunities, cruises and boat tours, a spot of golf or relaxing at the spa.
Avoid the Party Scene in Ibiza
Ibiza has regular clubs, but also super clubs that are able to accommodate 5,000 plus people at the venue. These clubs are both indoor and open air, and are in several places across the island.
As you can imagine the open air clubs are noisier than the indoor ones, not by much however. Apart from the noise you also want to avoid the other things that come with the party scene, the dirt, drunkards, shady individuals and crime.  
The party scene in Ibiza starts later in the evening which means you can still go to these areas during the day. The main thing is that you book a hotel that far from the clubbing areas so that you can get your much needed rest and peace of mind.
If you want to stay away from the party scene in Ibiza, it helps if you know which areas to avoid. So here is a list of the most popular clubs with a map of where they are located.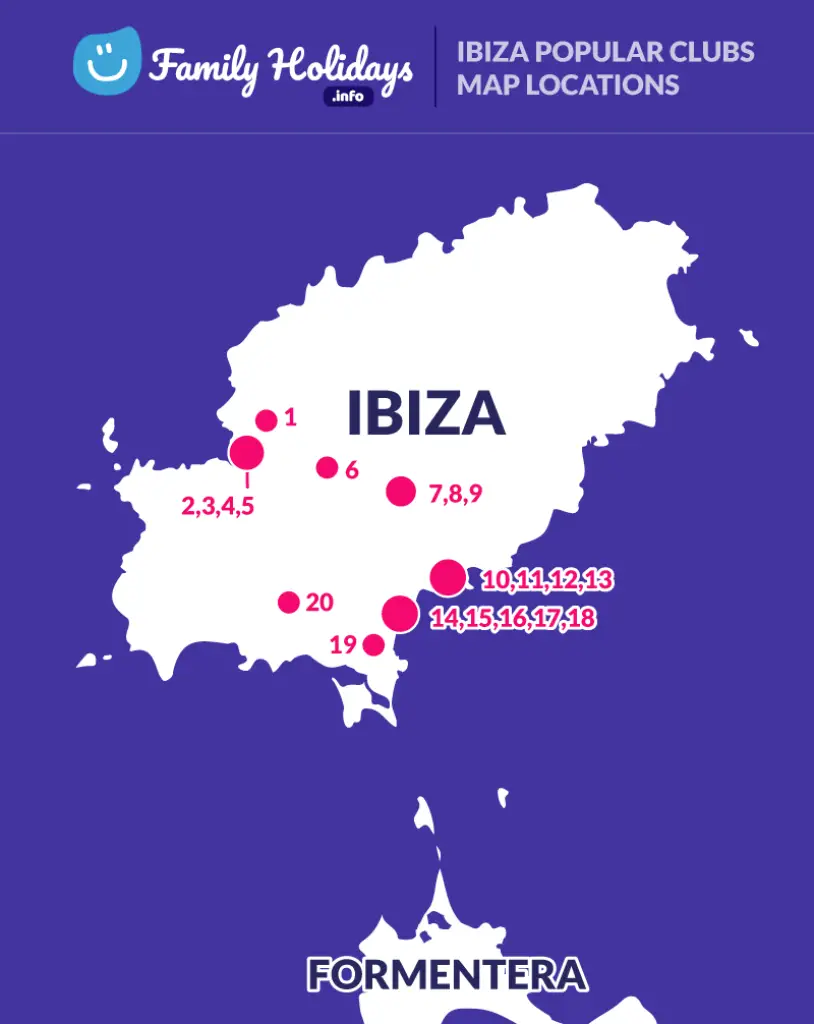 Pikes Ibiza
Ibiza Rocks Hotel
Beach Ibiza
Es Paradís
Eden Ibiza
The Zoo Project Ibiza
Underground Ibiza
Privilege Ibiza
Amnesia Ibiza
Pacha
Club Chinois Ibiza
Lío Ibiza
Lolas Club Eivissa
Octan Ibiza
Swag Ibiza Club
Ushuaïa Ibiza
Bora Bora Eivissa
Hï Ibiza
DC10
Cova Santa
As you can see the majority of the clubs are over on the south western side of Ibiza. In particular areas where there are many super clubs, you will also get smaller clubs in and around the area that make up a mini clubbing area for party goers.
There are also some smaller clubs in Ibiza over on the east side like for example Akasha Ibiza located here on Google Maps. Incidentally the areas that have the most clubs are also more prone to crime. At the top of the list are the areas of Sant Antoni de Portmany and Platja d'en Bossa.
1. Quiet Beach Resorts
If you stay away from the clubs you can get to enjoy the quieter side of Ibiza. Outside the club areas Ibiza is much more laid back, and here you can sit back, relax and take in the beauty of your surroundings.
There are a bunch of resort areas you can check out, here are links for all the listed accommodation in Santa Eulalia, Portinatx and San Miguel on Booking.com. These areas are over on the east which are perfect areas for families. Portinatx and San Miguel in particular are small village areas with incredibly limited stays for accommodation, so booking well in advance will guarantee you get the accommodation you would prefer.
Santa Eulalia has an amazing beach called Playa De Santa Eulalia which is one of the best beaches in Ibiza. It has all the amenities you need; showers, toilets, restaurants, lifeguards and water sports to keep you entertained. The beach is also quite shallow which is perfect for little tots.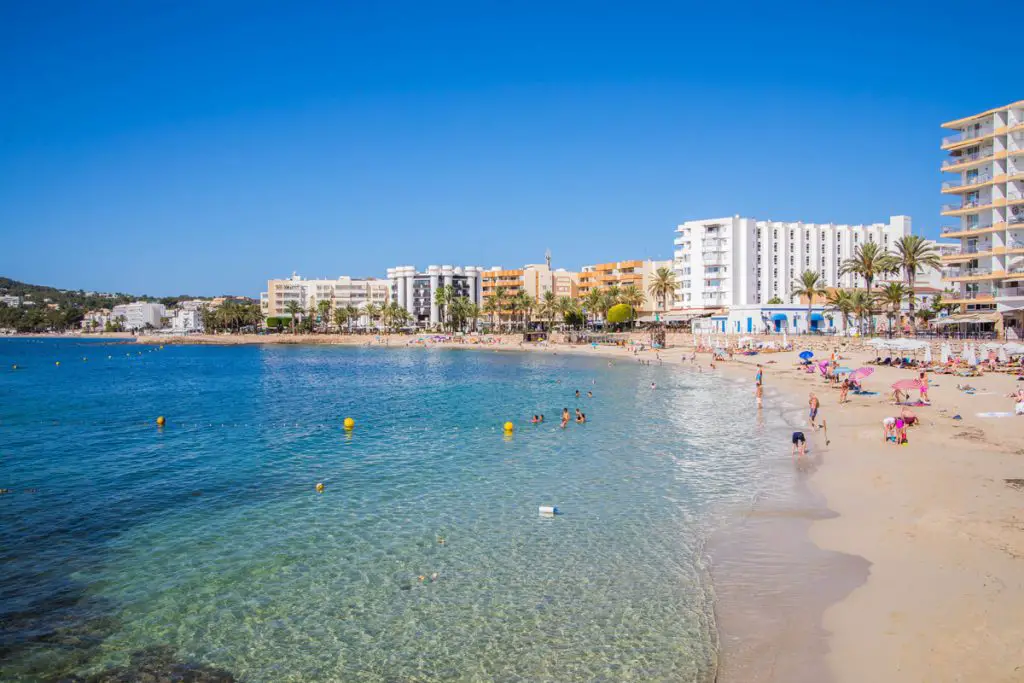 When you want a change of scene, you can go into the old town in Santa Eulària des Riu. Here you can check out the only River in Ibiza called the Santa Eulària River which passes through the town. There is also a church at the centre of the town and some pretty houses.
Santa Eulària des Riu is the posh part of Ibiza, so everything there is a little more chic and somewhat more costly. Expect fine dining restaurants and pretty boutiques in a well maintained classy area. If you wanted to indulge in the party scene for a short time while you kids are taken care of, a beach club called Chiringuito Blue is close by. As you can expect from any upmarket area is an upmarket sport to go with it – golf.
2. Golf in Ibiza
There is one golf club in Ibiza called Golf Ibiza located in posh Santa Eulària. It has 2 separate golf courses one with 18 holes and the other with 9. Both golf courses are stunning, with the smaller course less challenging that the larger one.
The nice thing about this golf club is that it is not pricy. Once you pay, you can stay for the whole day to play, and not just one round. You can also opt for one of the various VIP packages which includes lunch or breakfast at the restaurant.
3. Spa and Wellness
In the upmarket areas you can also expect a whole host of other amenities like spas and wellness centres. You can opt to go to the spa for half or a full day to properly relax. You should pick one that has everything you would need, like a pool, jacuzzi and sauna. A relaxing massage would be in order while you are there too!
If you have little kids in tow and not sure how you can pull this off, you can make use of various child minding services in Ibiza.
4. Hiking
If you are the sporty type then you might want to walk to see some of the fantastic views Ibiza has to offer. Ibiza is a beautiful island that offers not just beautiful beaches, but lovely countryside areas.
However during peak summer season it is more challenging to hike or walk on the island. Mediterranean summers are far too hot to consider this activity and I would not recommend it. Ideally spring or autumn time is the perfect weather for walks.
Alternatively you could consider seeing countryside areas and beaches with the Ibiza tourist train.
5. Ibiza by Boat
Ibiza attracts a boat load of tourists during summer time, who soak up the sun and enjoy the beach. Apart from beach resorts some tourists come along for nautical tourism. That is to say, they want to enjoy the sea and the beaches by boat.
For this, you could hire a boat for a day or more depending on your affinity for the sea. You can hire a boat and sail the boat yourself, or you can hire one with a skipper that will take you anywhere you desire.
Of course hiring a boat all to yourself is expensive, and more so in summer. Alternatively you could always opt for an organised boat tour which is cheaper than hiring a boat.
For example this cruise to Formentera with open bar and buffet lunch is pretty good for the price. Alternatively you can opt for something more sporty to enjoy the sea like this Es Figueral guided kayaking and snorkeling tour.
Related Articles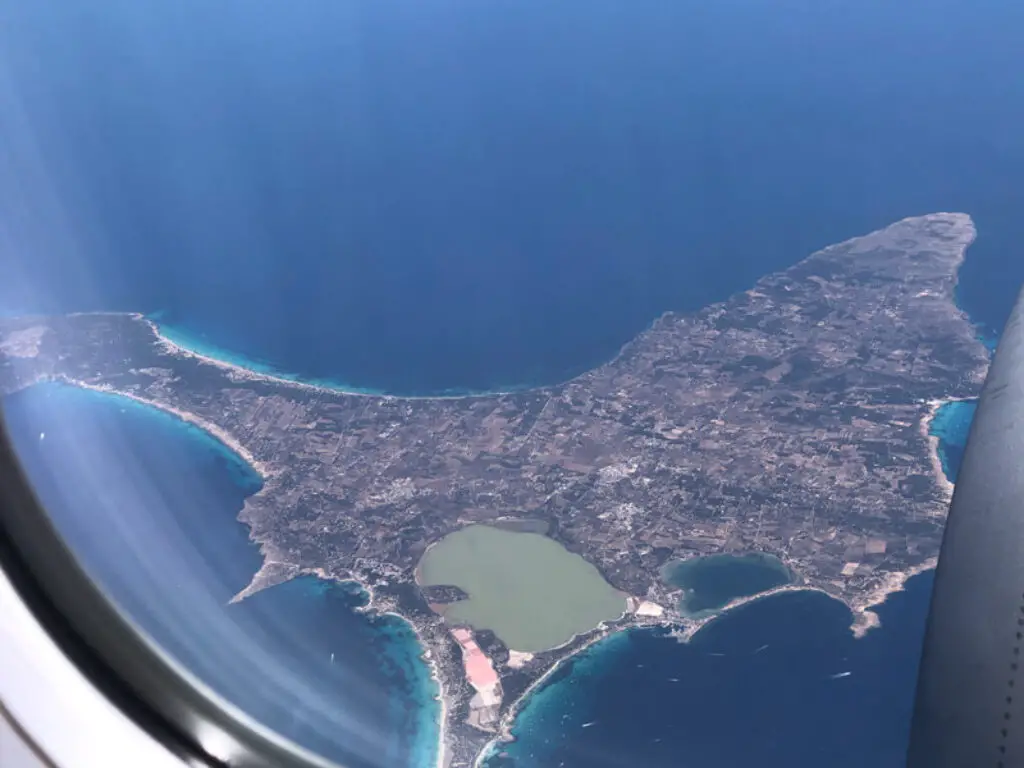 Swimming in Ibiza: Season, Snorkelling and Safety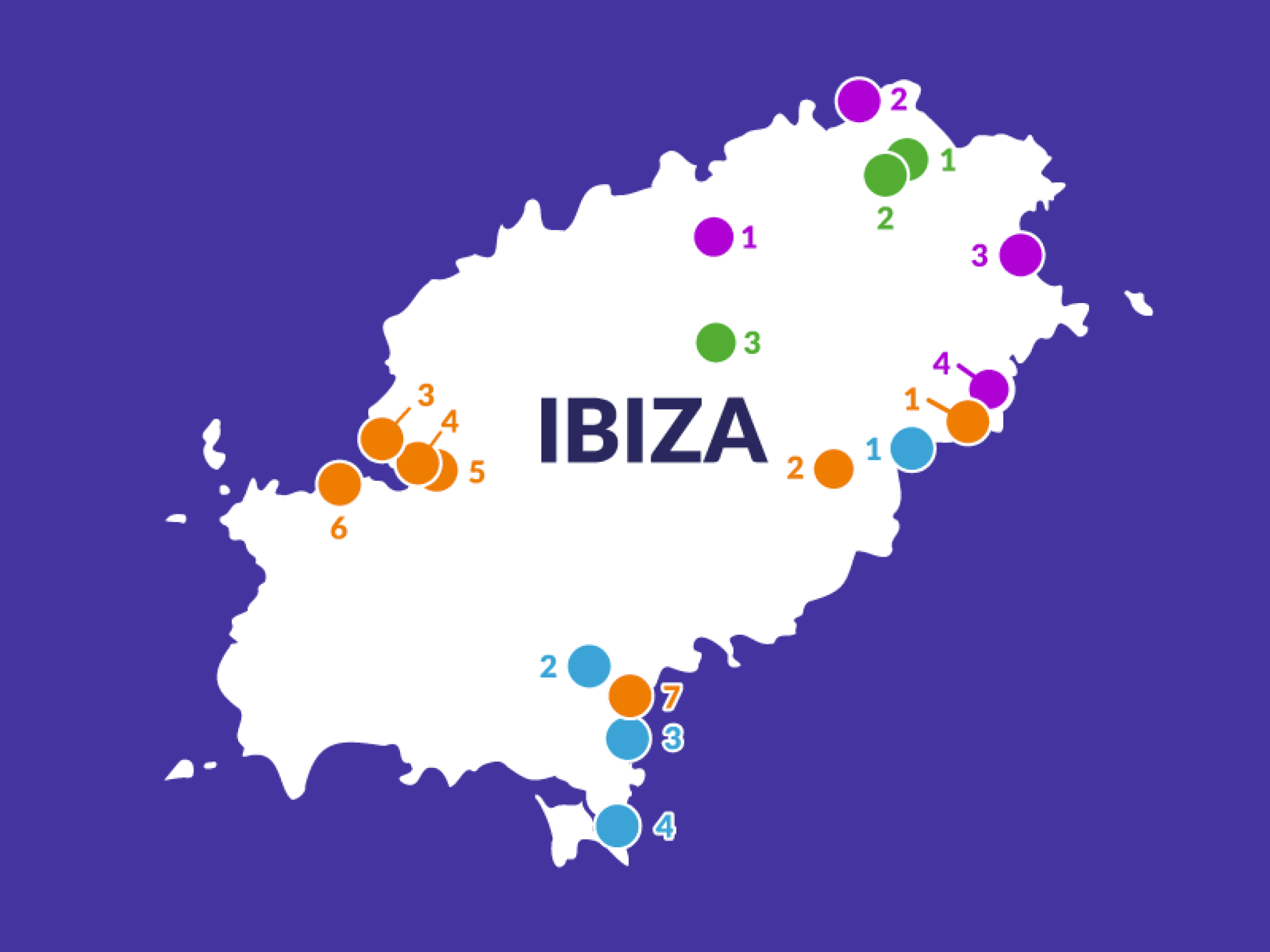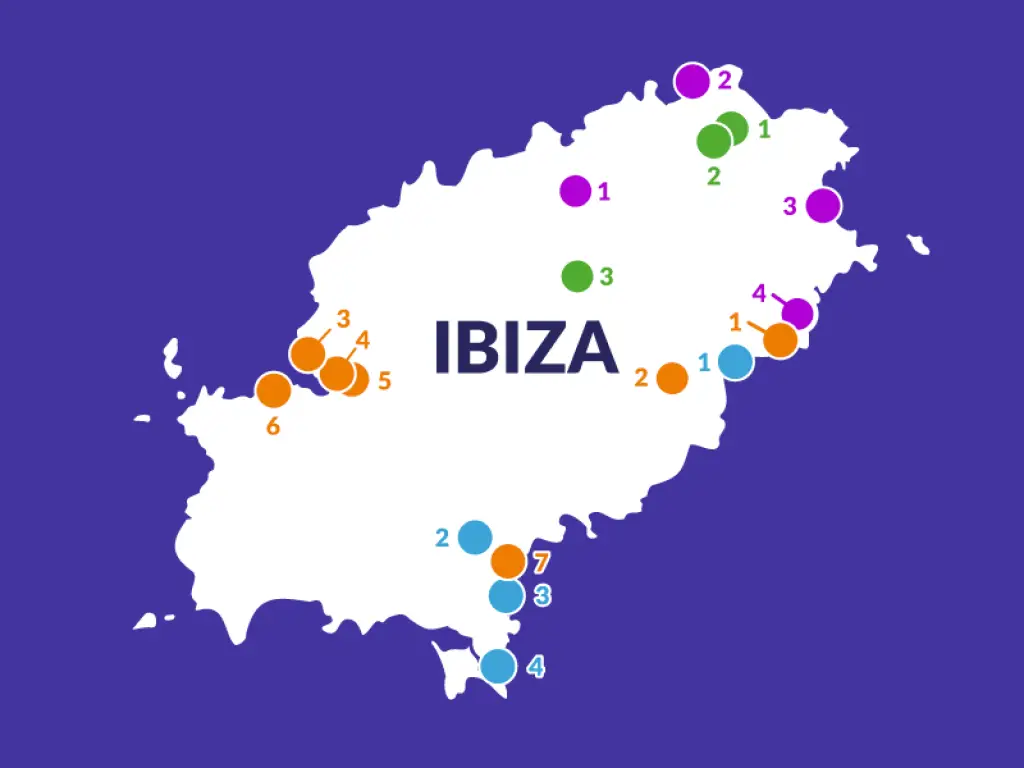 12 Fun Things to do With Kids in Ibiza + Map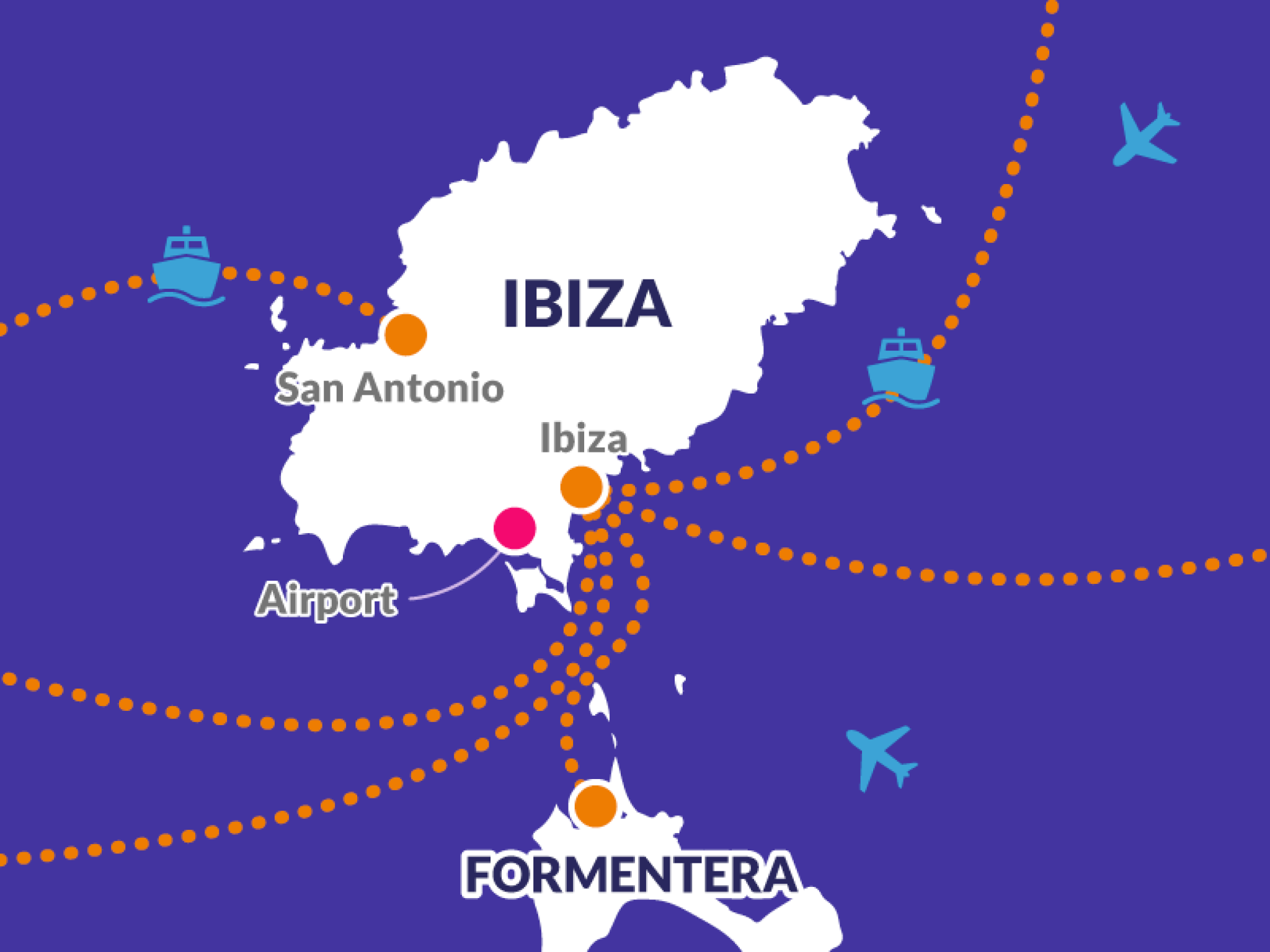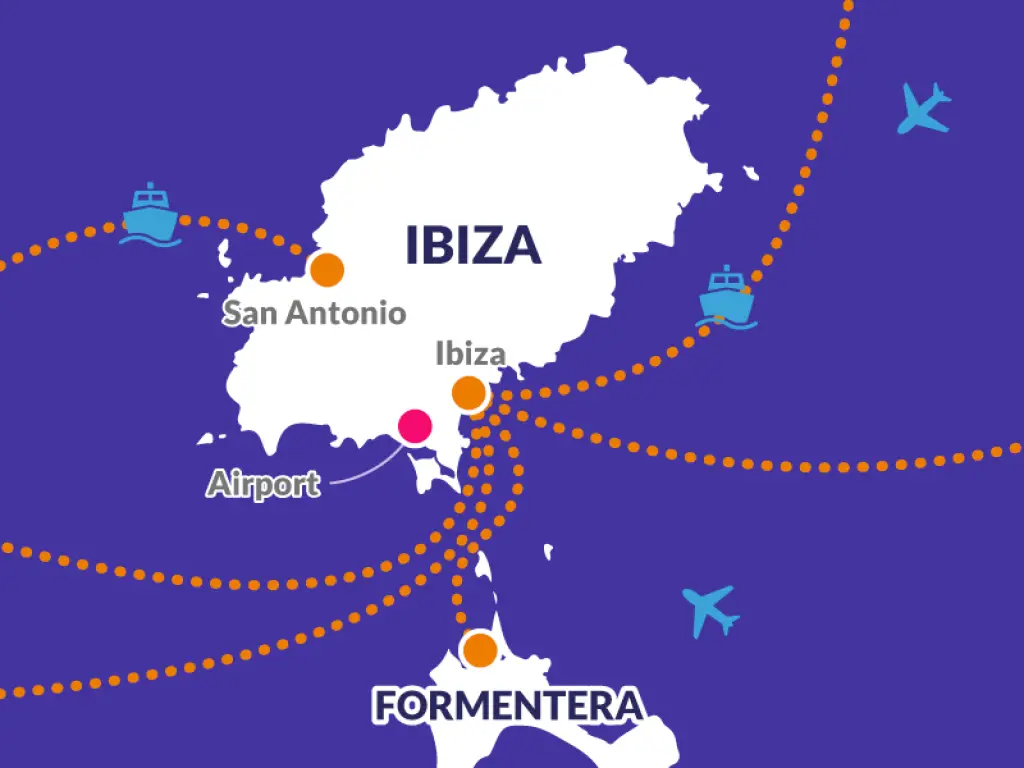 The Best Way to Get to Ibiza – Ferry, Plane or Train