11 Exciting Things to do With Kids in Crete + Locations Map
Crete is the largest and most populous of the Greek islands, known for its stunning beaches, warm weather, delicious food, and ancient history. It has all the elements for you to enjoy an amazing family holiday.
Crete is a popular destination for families with 6 highlights in Crete, 5 of which older kids and grown-ups would enjoy. However there are activities that cater for kids of all ages.
Below is a list of things to do with kids in Crete you can look forward to. Plus, if you need more information, there are specific areas and accommodations well-suited for families to better experience Crete with kids for a more comprehensive and immersive experience.
1. CRETAquarium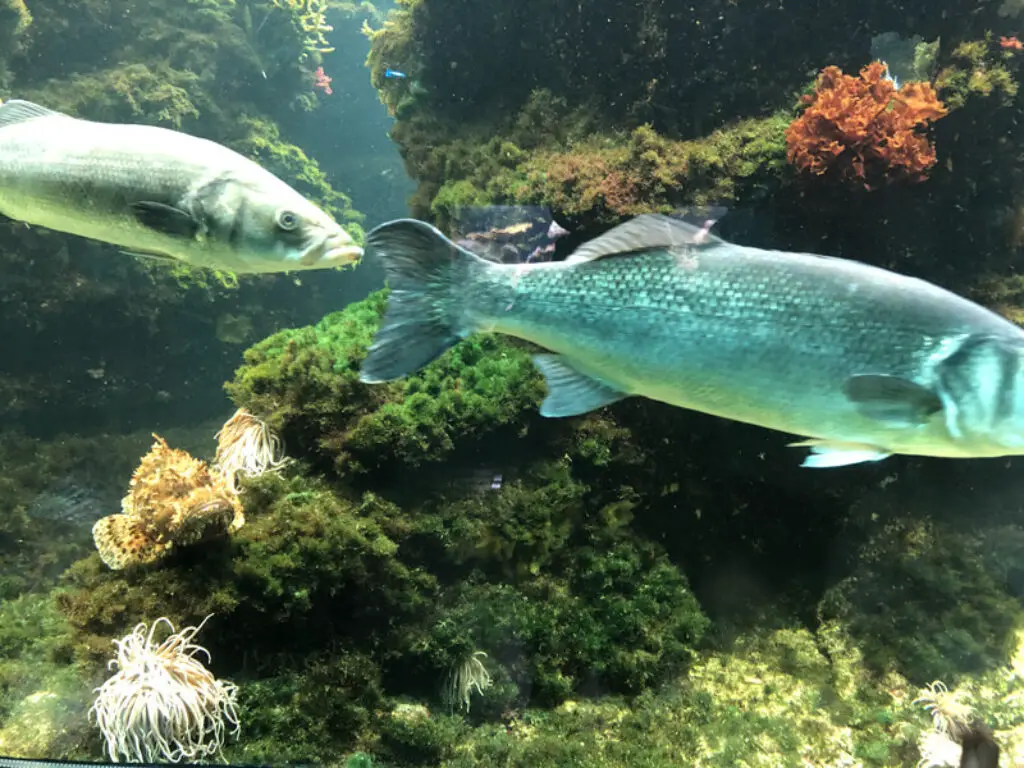 The CRETAquarium, located in the Heraklion region of Crete, is the perfect destination for a fun and educational day out with the family. This aquarium boasts over 2,500 marine creatures from over 200 species, all of which are native to the Mediterranean Sea. As you stroll through the aquarium's many exhibits, you'll encounter a range of fascinating sea creatures, from tiny seahorses and colourful fish to octopus and even sharks!
Entry tickets to the aquarium are reasonably priced, making it accessible to families on a budget. And, with a range of interactive exhibits, it's an excellent opportunity for kids to learn more about the marine life that calls the Mediterranean home. One of the highlights of the CRETAquarium is the impressive tunnel exhibit, where visitors can observe some of the ocean's most magnificent creatures up close as they swim above and around you.
If you're looking for a family-friendly attraction that's both fun and educational, then the CRETAquarium is certainly worth a visit.
2. Semi Submarine Cruise
One of the most unique ways to explore the fascinating marine life of Crete is to book this semi-submarine cruise. This glass bottom boat is perfect for families with young children who may not be able to snorkel or dive. It has a comfortable seating area inside the glass bottom of the boat for you to gaze at the fish as they swim by. There is also a chart of fish with their names you might spot right above the windows.
Departing from the port of Agios Nikolaos, the semi-submarine vessel takes you on a journey to explore the marine life around Agioi Pantes Island. The onboard audio guide provides a wealth of information about the flora and fauna you will see, making it a fun and educational experience for all ages. During the tour, you'll see many different species of colorful fish as the boat crew feeds them. Keep your eyes peeled, as you may even spot curious sea turtles, dolphins, and seals who sometimes choose to investigate the vessel.
The second part of the tour takes you on the main deck of the boat to admire the spectacular views of Agios Nikolaos Bay. Feel the sea breeze as you cruise through the bay before heading back to the port. This semi-submarine cruise is an unforgettable experience that combines adventure, education, and relaxation all in one. Don't miss the chance to explore the stunning underwater world of Crete with your family.
3. Beaches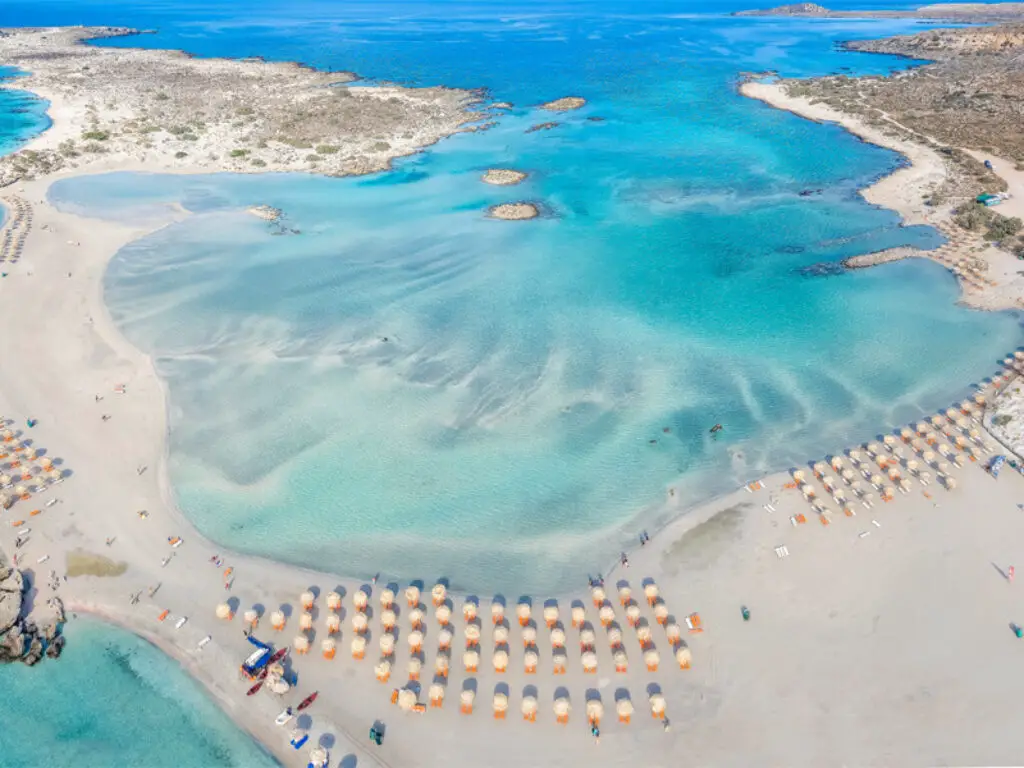 Crete is home to some of the most beautiful beaches in that are perfect for families, with crystal-clear waters and soft golden sands. If you're looking for the best beaches in Crete, you won't be disappointed. Of course, it goes without saying that Elafonisi Island beach is a must-see. With its unique pink sand and turquoise waters, it is truly a breathtaking sight to behold.
If you're not sure how to get to Elafonisi Island beach, don't worry. There are a couple of tours available that take you directly there to enjoy a full beach day. One of the tours departs from Chania, while the other departs from Rethymno or Chania. These tours are a great way to make the most of your time in Crete, and they're especially ideal for families who want to relax and soak up the sun in one of the most beautiful places in the world.
4. Water Parks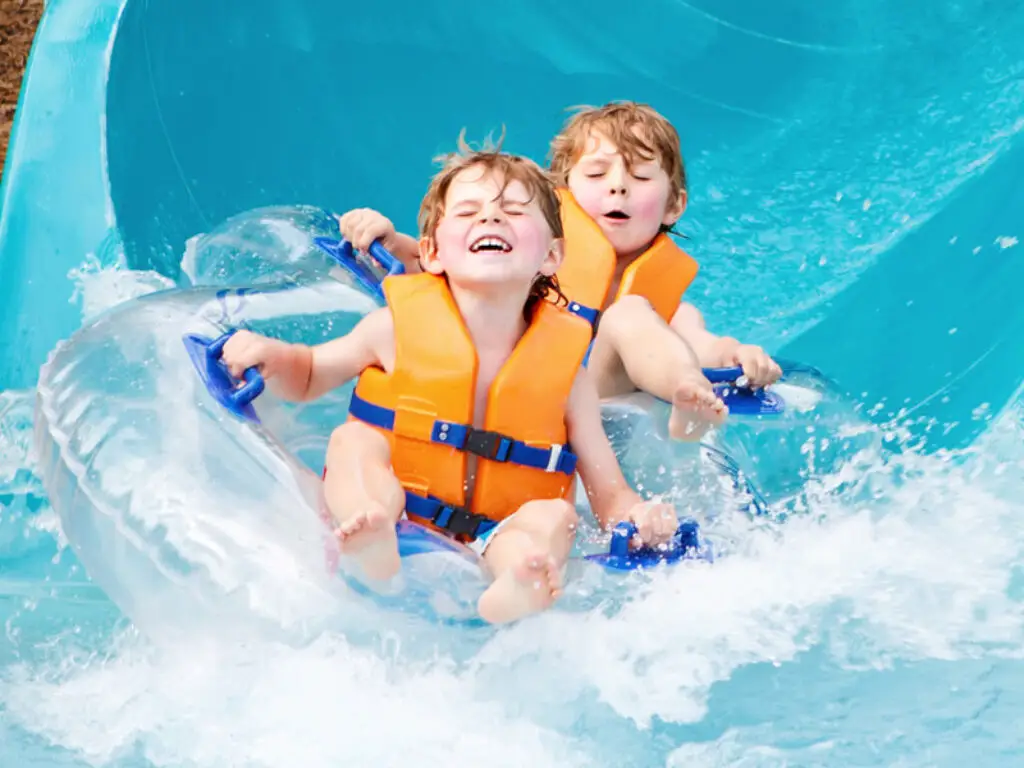 Here is a full list of water parks in Crete that will keep you and your family entertained during your holiday.
In addition to the water parks, there are also resort areas that cater exceptionally well for families. They have sorted out areas where kids can have space to play and have fun, so parents can relax and enjoy their vacation.
One of the resort areas is Hersonissos, where you can find Star Beach Village, an amazing water park. The park comes complete with a shallow pool for toddlers with a play area with small slides and higher slides for thrill-seeking older kids.
But that's not all, there is also a pirate ship in one of the pools which not surprisingly is a popular favourite.
5. Amazonas Park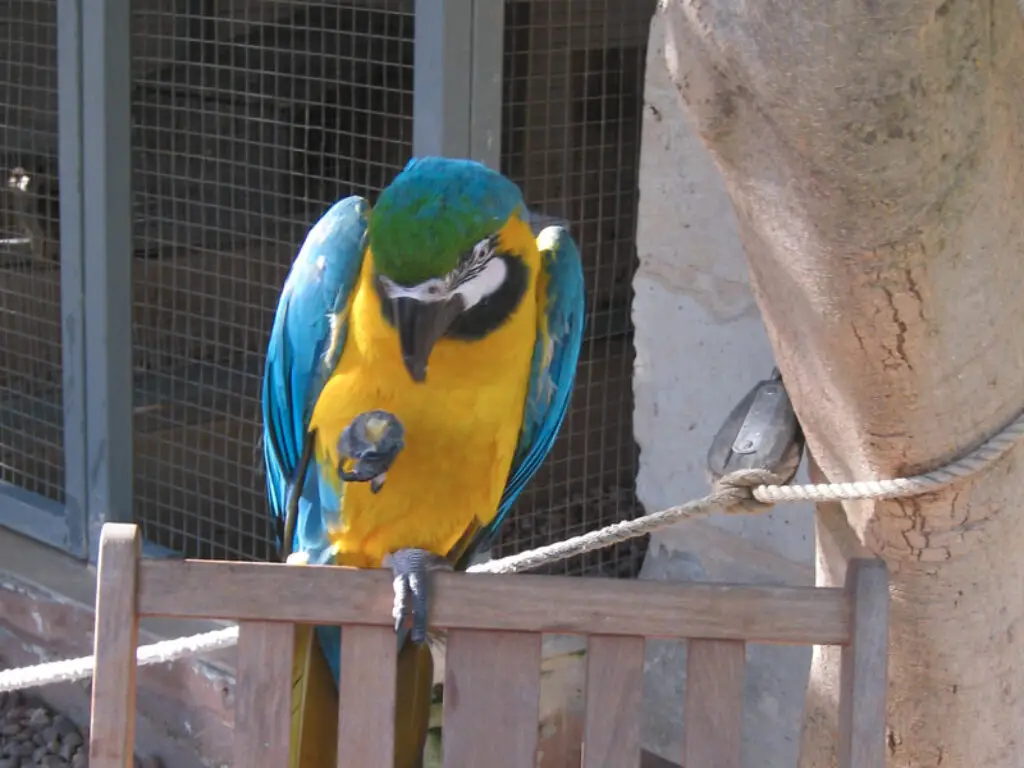 Amazonas Park is a fantastic destination for those who want to immerse themselves in nature and learn more about wildlife. Amazonas Park offers visitors the opportunity to see a variety of animals up close, including exotic birds, reptiles, and primates.
Visitors can participate in a guided tour of the park and learn about the different species, their natural habitats, and the conservation efforts being made to protect them.
The park also has several walking trails, and visitors can walk through the lush vegetation to see the animals in their habitats. The park does not have a website, but they have a facebook page for you to get an idea of the park.
For older kids and adults that want to make the most of the day, there is a full day tour that takes you to explore the nearby town of Agios Nikolaos, the charming village of Kritsa, and of course, Amazonas Park itself. This tour is a great way to experience the beauty of Crete while learning more about its history and wildlife.
6. Greek Mythology Thematic Park
One of the fun things to do with kids in Crete is The Greek Mythology Thematic Park. It is a great place to learn about the gods and goddesses, heroes and monsters that populate the myths of this fascinating culture. There are various exhibits, which are interactive and engaging, to help learn about the rich history and mythology of the region.
The park is also an excellent resource for teachers who want to introduce their students to Greek mythology. With its wealth of information and resources, it is an ideal destination for school groups and educational programs.
If you are planning a trip to Crete, make sure to visit the Greek Mythology Thematic Park. You can find more information about the park on the Greek Mythology website, learn more about the park's exhibits.
7. Katerina Amusement Park
Katerina Amusement Park is a fun-filled destination located in the heart of Crete, where both kids and adults can enjoy a wide range of attractions and activities. The park is home to exciting rides such as a Ferris wheel, bumper cars, a pirate ship, and many more. For those who enjoy a bit of competition, there are also arcade games and mini-golf courses. Additionally, the park offers a variety of food and drink options for visitors to enjoy.
If you're planning a visit to park, be sure to check out the Katerina Amusement Park website for information on hours of operation and admission prices. The website also includes details on the park's special events, such as Halloween parties and Christmas celebrations. Whether you're looking for a fun day out with the family or a group of friends, Katerina Amusement Park has something for everyone.
8. Minoan world 3D Museum and 9D cinema
The Minoan world 3D Museum and 9D cinema in Crete offers an immersive experience into the ancient civilisation of the Minoans. With over 2,000 exhibits, visitors can learn about the history and culture of this fascinating civilisation that thrived on the island over 4,000 years ago. The museum uses state-of-the-art technology to bring the Minoan world to life, including 3D models and interactive exhibits that engage and educate visitors of all ages.
In addition to the museum, the 9D cinema offers a thrilling cinematic experience with special effects that bring the history of the Minoans to life in a unique and exciting way. Visitors can purchase tickets to the Minoan world 3D Museum and 9D cinema online or at the museum itself. Whether you are a history buff or just looking for an entertaining and educational experience, the Minoan world 3D Museum and 9D cinema is a must-visit destination in Crete.
9. Labyrinth Park
The Labyrinth Park is a fun-filled destination that is perfect for families. The park is based on the legendary labyrinth of the Minotaur from Greek mythology and provides a fun and interactive way to learn about the Minoan civilisation. Visitors can explore the labyrinth, solve puzzles, and enjoy a range of games and activities that are suitable for all ages.
At Labyrinth Park, visitors can learn about the Minoan civilisation and experience what life was like in ancient Crete. The park also features an archaeological museum, which houses a collection of ancient artifacts and exhibits that provide insights into Minoan culture.
I highly suggest you check out Labyrinth Park website to see what there is installed for you. The park is open from April to October and is a great way to spend a day exploring the mysteries of ancient Crete. Visitors can also enjoy the park's restaurant, which serves traditional Cretan cuisine and refreshments.
10. Dinosauria Park
Dinosauria Park in Crete is a fascinating attraction for families and dinosaur enthusiasts. The park is home to life-sized animatronic dinosaurs, which give visitors the opportunity to experience these magnificent creatures in a unique way.
The park is also educational, providing information about the prehistoric era and the evolution of dinosaurs. Visitors can explore the various exhibits and displays, including fossils and interactive activities.
For those who want to have a more immersive experience, there is a virtual reality ride that takes visitors on a journey back in time to the Jurassic period. Additionally, the park offers various games and activities for children.
Overall, Dinosauria Park is an entertaining and educational attraction that provides a fun experience for visitors of all ages. To learn more about Dinosauria Park, visit their website.
Kids Activities in Crete Map Locations
The activities on the map are numbered clockwise starting from the top left and are not ordered as above.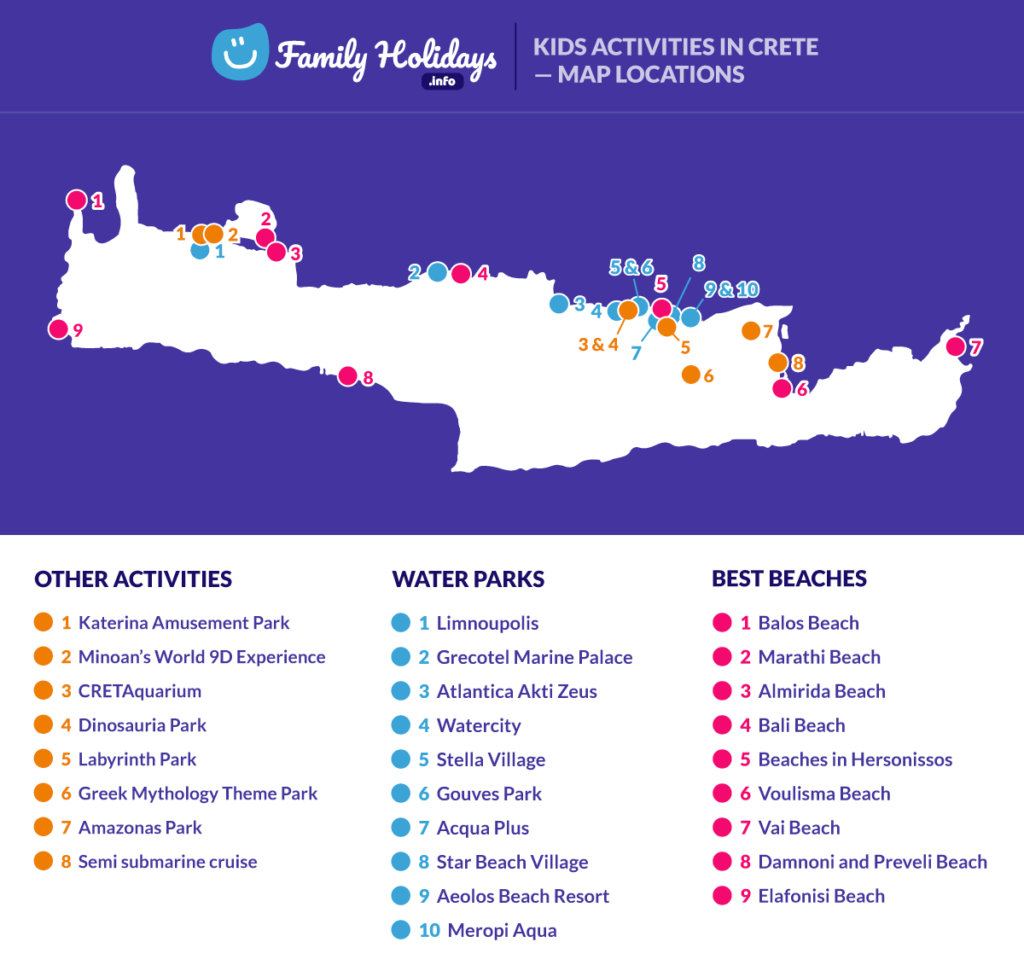 Related Articles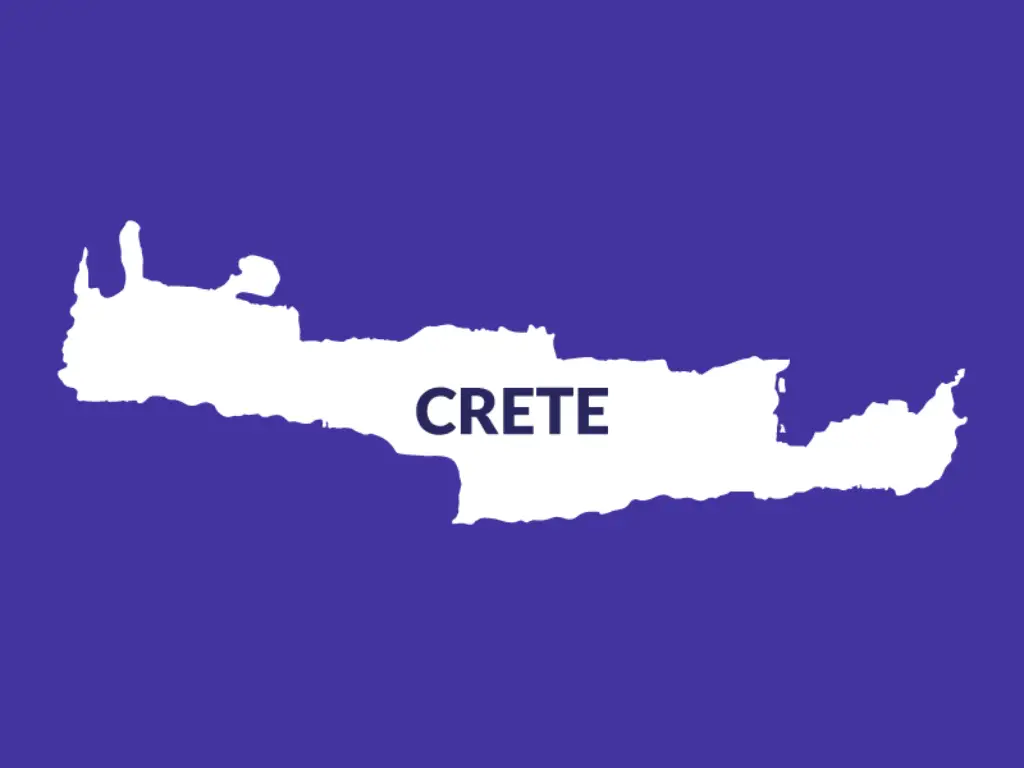 Crete with Kids: Suitability, Activities and Accommodation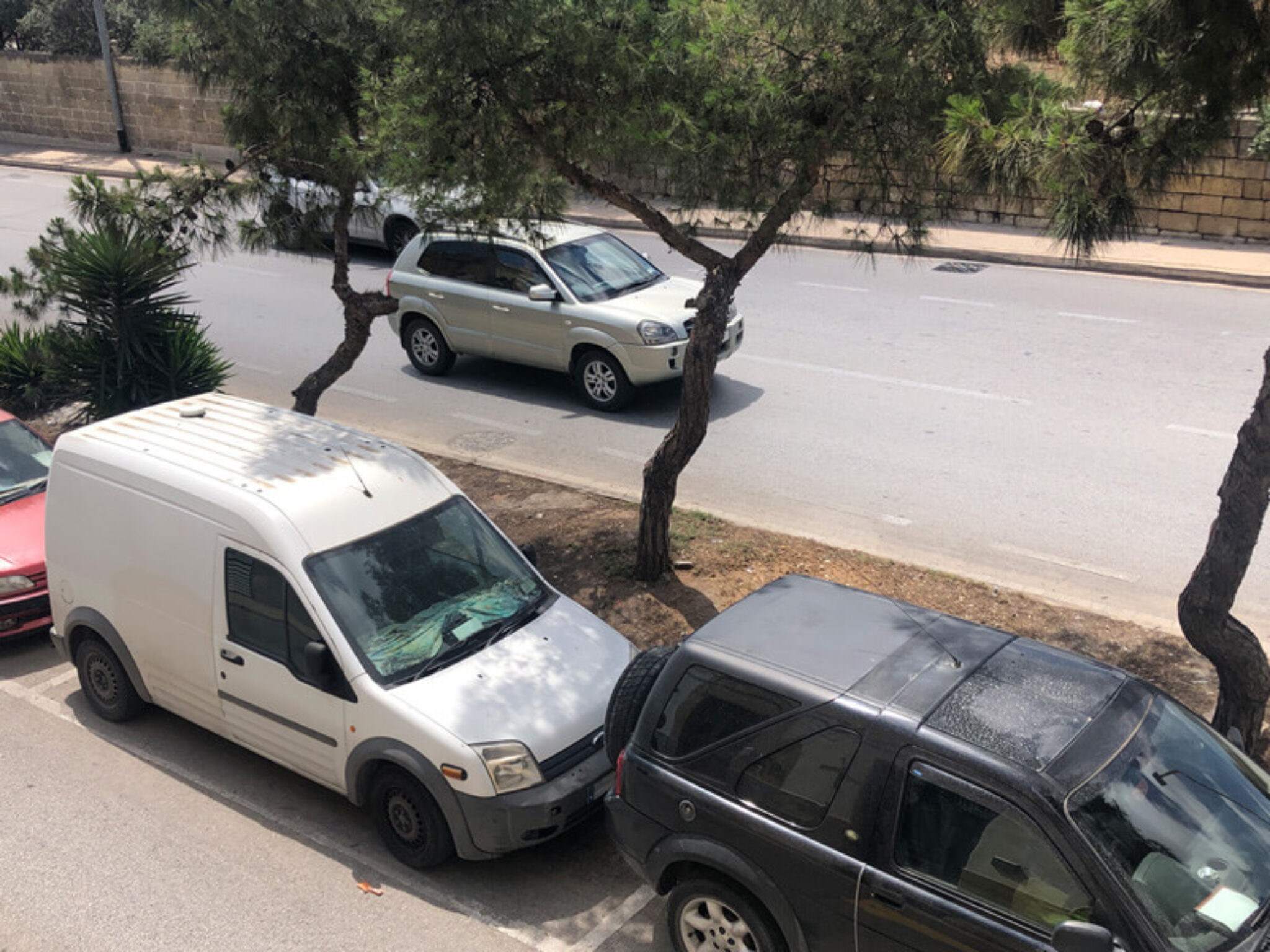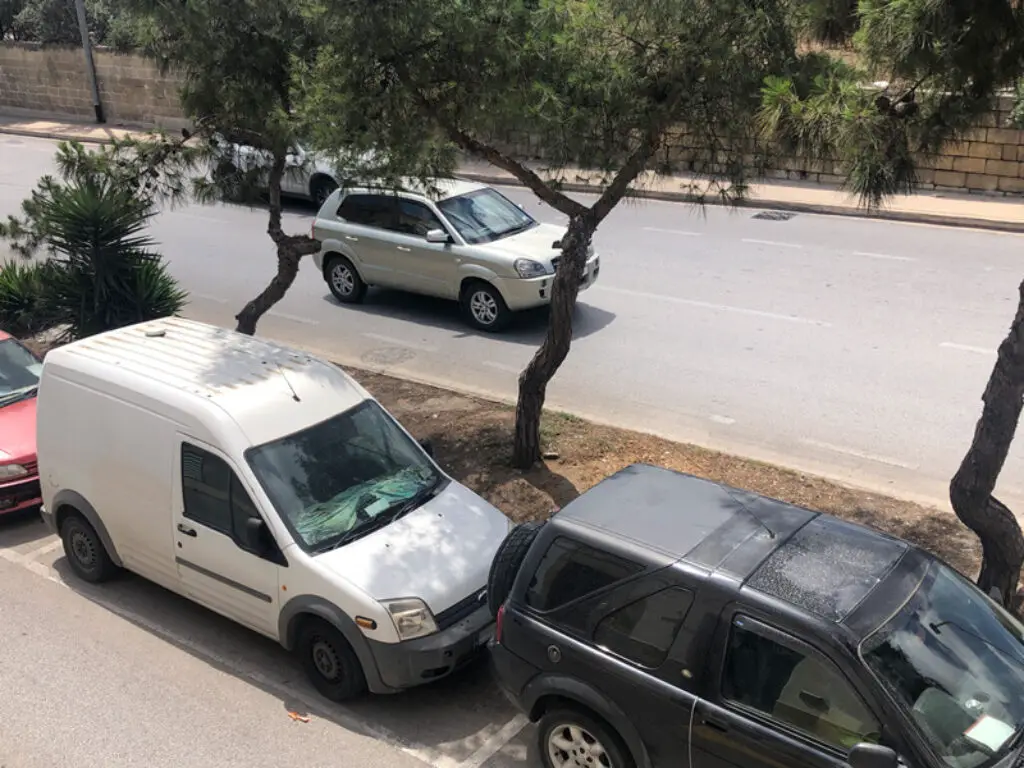 Renting a Car in Crete: Cost, Documents, Policies and Cars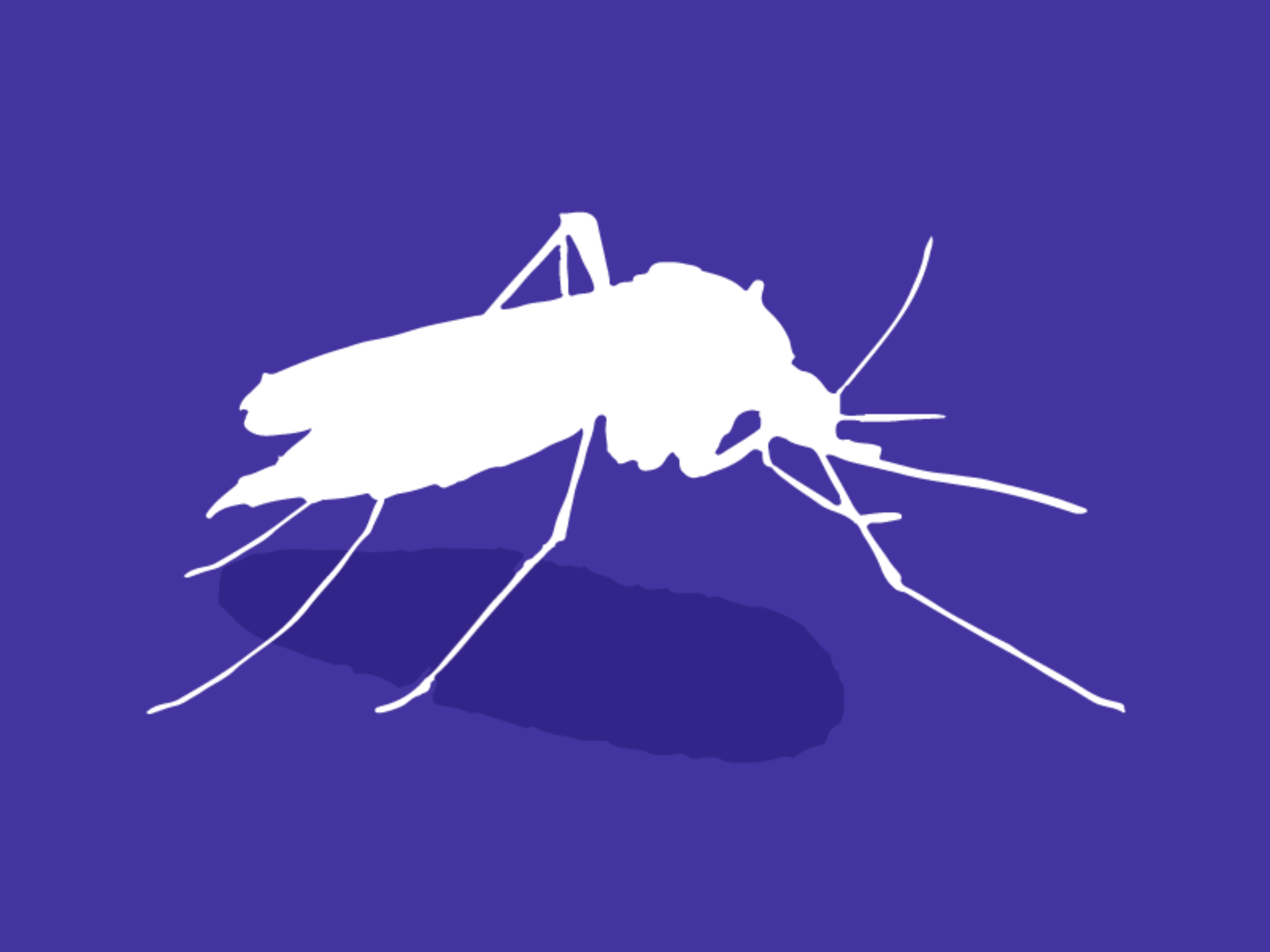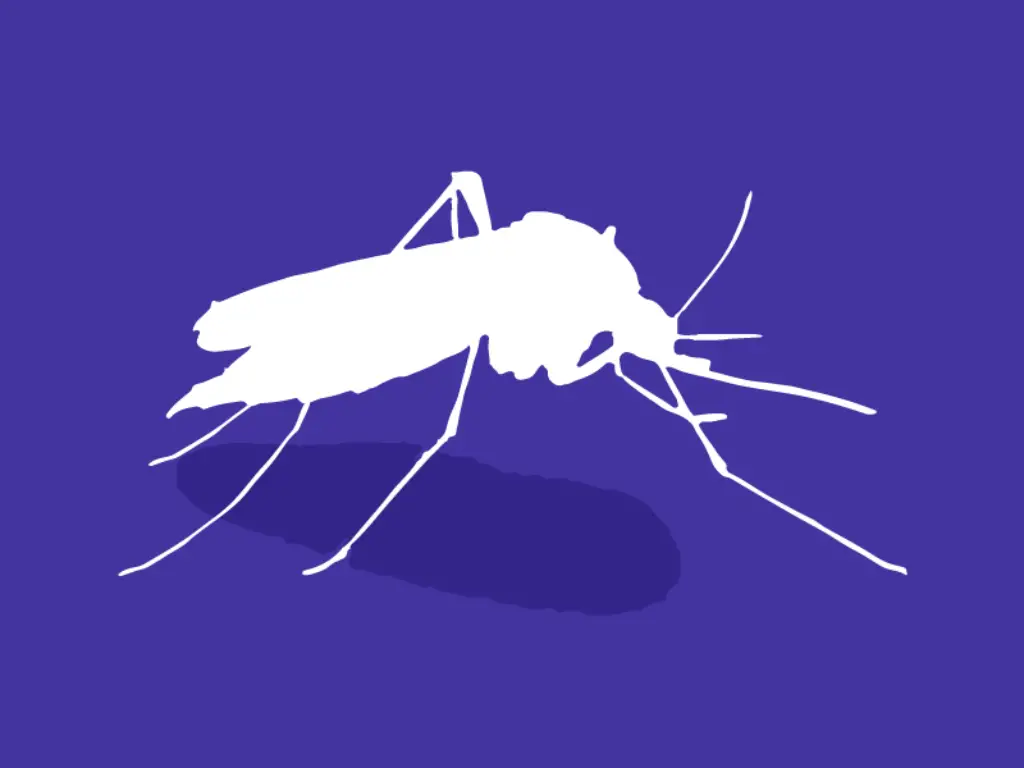 Mosquitoes in Crete: Types, Disease, Prevention and Care