10 Best Beaches in Crete for Families + Map Locations
Crete is a brilliant holiday destination for people of all ages for many reasons, one being its beaches! When traveling to its best and most stunning beaches, it's important to know which are the best beaches in Crete for the whole family to enjoy.
I have done extensive and in-depth research to discover the very best family-friendly beaches for visits to Crete! But which ones are the best for families with toddlers, while still having activities for teens and adults? Keep reading to discover the best-fitting beach! At the end of this article is a handy map showcasing the locations of the beaches mentioned on this page.
1.  Elafonisi Beach on Elafonisi Island
This first beach up on the list is first for a reason – Elafonisi Beach is one of Crete's most popular beaches to stop by!
It is not just featured on this page, but also is one of the top highlights to visit in Crete. It has earned this coveted spot amongst other notable highlights like charming old towns and significant historical sites.
Thousands of tourists visit this popular beach to enjoy the warm electric blue water and the uniquely pink-coloured sand! For families with young kids, the western part of this beach is best to use since there is a lagoon here that provides a shallow water depth that isn't deeper than 1 meter! Elafonisi is a decent distance from the city of Chania so if you do not have a car you will need another form of transport.
There is of course public transport to get there. Alternatively if you would prefer to travel in comfort, you can rent a car which is relatively inexpensive in Crete. Or opt for affordable tours that go through some lovely countryside before they get to the beach. There are 2 good ones; from Chania: Elafonisi bus trip with free time and from Rethymno or Chania: Elafonisi Island day tour by bus. Both will also give you plenty of time to swim on the beach.
Families with children will have a blast making pink sandcastles, and exploring the nearby coves and bathing pools to look for octopus and sea urchins! However the warning should be noted that local flora and fauna like sand, plants, and shells should not be removed from this beach in an effort to protect the ecosystem!
This beach has pleasant sunbeds, showers, snack bars, umbrellas, and changing rooms to take advantage of and use! A stay at this beach will be wonderful, easy, safe and comfortable for the whole gang!
Of course during the weekend or during its high-tourist season between July to August this beach becomes busy. Accommodation on this beach can be booked using websites online to make a visit even smoother.
The area is quite remote, but there are 6 places to stay that are within 1km of Elafonisi beach. They are perfect if you want to make the most of this idlic spot. Alternatively you can travel on a traditional boats to the close village of Paleochora. There are well over 100 stays you can book in Paleochora, that will allow you to easily take the boat back to return to Elafonisi Beach the next day.
2. Marathi Beach in Chania
Marathi Beach is conveniently easy to get to from the city of Chania since it's a short drive by car. Near this beach is the Patrelantonis Fish Taverna to grab a bite of tasty, freshly caught fish and many Cretan specialties for a family meal!
In the area there is also Minoa, the famous archaeological site, and a seaport city of ancient Aptera. There is an inexpensive full day tour of Chania, that includes pick up and snacks, that will help you explore this beautiful town including Aperta.
The actual beach of Marathi boasts gorgeous shallow water that's crystal clear and sheltered from strong winds. There is also a lovely pier that separates technically two beaches that combine to make Marathi!
Children of any age can play and splash around in these safe waves. This beach is well equipped with sunbeds, rinse showers, and umbrellas, and is altogether very well organised. There are even multiple taverns to eat and drink at near this beach, where families can kick back to eat a refreshing lunch! The beach even has nifty tables to snack and dine on.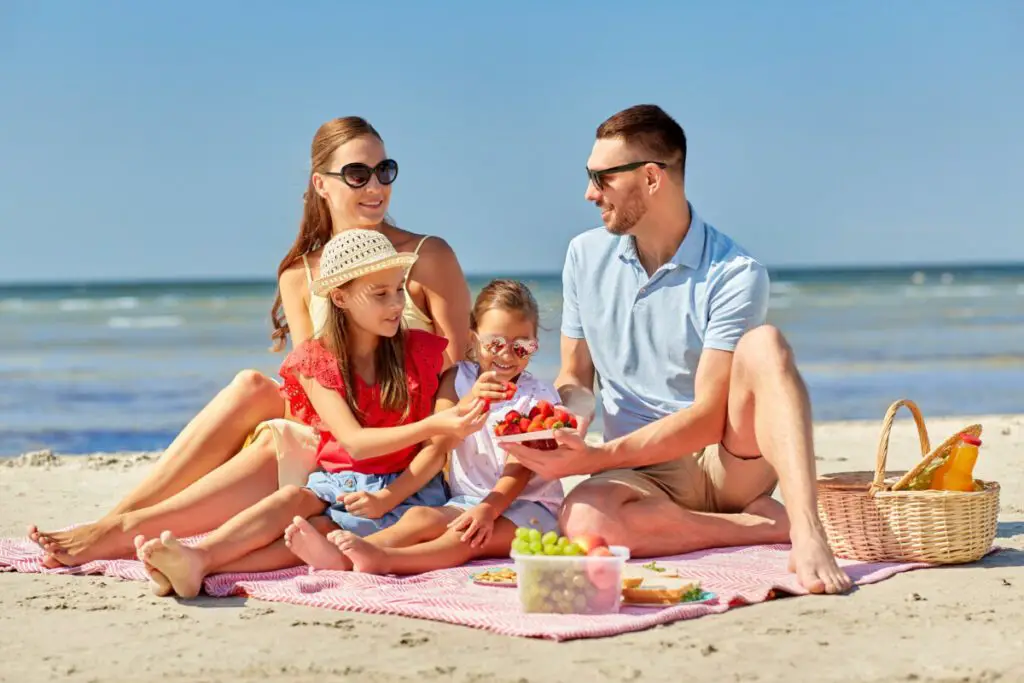 3. Hersonisos Beaches in Heraklion
If the previous entries are not tempting, try visiting the beaches in Hersonisos! These beaches are situated in Heraklion, and Heraklion is in fact the administrative capital and the biggest city of the island of Crete.
The beaches are named for Heraklion's most well-known resort, Hersonissos and provides family-friendly beaches. This famous resort has many places for accommodation close to the area.
One of the most fun is Star Beach Village and Water Park. It is the second best water park in Crete, offering a variety of thrilling water slides and other water-based attractions suitable for visitors of all ages. Additionally, its has a range of amenities and dining options, make it a popular destination for families and groups of friends.
Not only are there beaches to visit, but the resort also offers plenty of activities for families and kids to bask in. These beaches have playgrounds, amusement parks, and water parks for visitors of all ages.
If families set aside some time, they can even drop by some other attractions like the CRETAquarium which is the largest aquarium in Greece. With a basic and inexpensive entry ticket to the aquarium you will see a wide range of marine life native to the Mediterranean Sea. That includes various species of fish, but the highlight are by far the sharks, sea turtles.
There are also some other exciting kids activities you can look forward to in the area. Near these beaches are also the plentiful restaurants and taverns. Saradaris Fish Restaurant often has the best reviews of any place to eat nearby!
4. Balos Beach in the Gramvousa Peninsula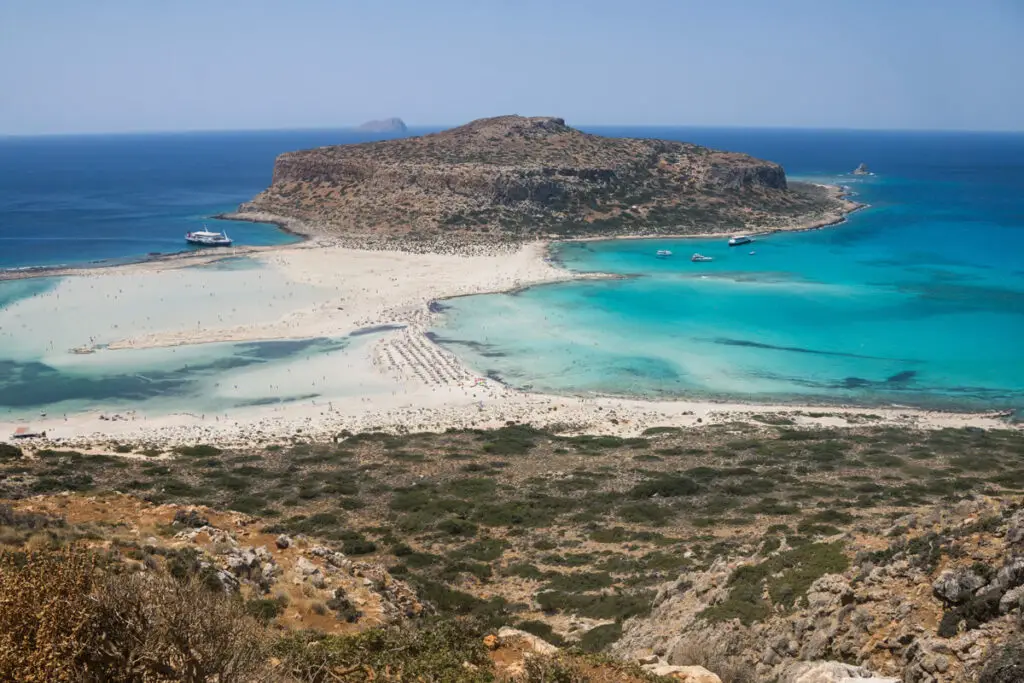 Balos beach is a stunning location situated in the northwestern part of Crete, Greece. One of its main attractions is the beach's unique lagoon shape, with clear shallow waters. This makes Balos beach an ideal destination for families looking for a peaceful and relaxing day out.
However to get to Balos beach, visitors have to walk for about 30 minutes downhill from the parking area. The path is unpaved and can be a bit steep in places, so comfortable walking shoes are recommended.
Families with younger children may opt out of this beach because of the trek. However for those who prefer not to walk, there are also options to reach Balos beach by boat from nearby towns. Here you check out the many tours with departure points by bus or boat you could opt for.
The remote location is part of the appeal. Nestled between rugged hills and cliffs, visitors are rewarded with breathtaking views of the surrounding landscapes and the Aegean Sea.
Visitors should not expect to find many amenities on the beach itself. There are no shops or restaurants, and visitors are encouraged to bring their own food, water, and other supplies. However, there are some basic facilities at the parking area, including toilets and a small snack bar.
5. Voulisma Beach in Lassithi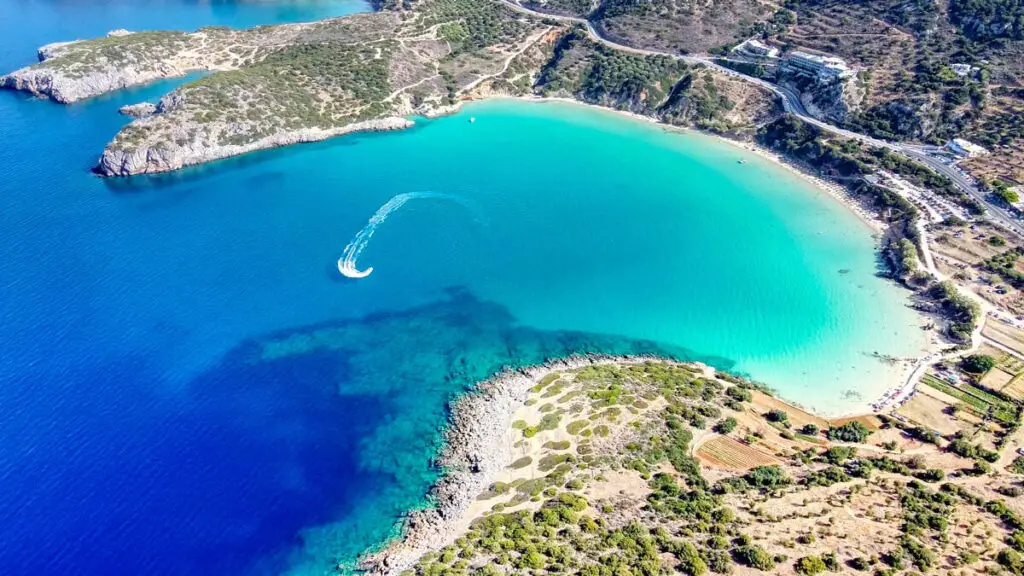 This particular beach is close to Agios Nikolaos, a town of Crete, and Voulisma is in fact one of the very best family-friendly beaches around the town!
Voulisma sports seafoam green water, sunbeds for adults, and comfortably warm temperatures for the water. Parents can rest easy while their kids play around in the shallow and gentle waves while adults get to recline back and sun tan.
Near this beach, there are many fantastic taverns, markets, and other beach basics that make for a terrific day out and about! That also includes an educational glass bottom boat excursion from Agios Nikolaos. Here kids can see fish swimming in their natural habitat and learn about the different species of fish.
For those who want more privacy or isolation, try exploring the additional other beaches that are scattered in three adjacent, nearby bays should the first couple of beaches prove to be too crowded.
If you want to make the most of this beach while you are in Crete, there are a good amount of options where to stay close to Voulisma beach.
6. Damnoni Beach in Rethymnon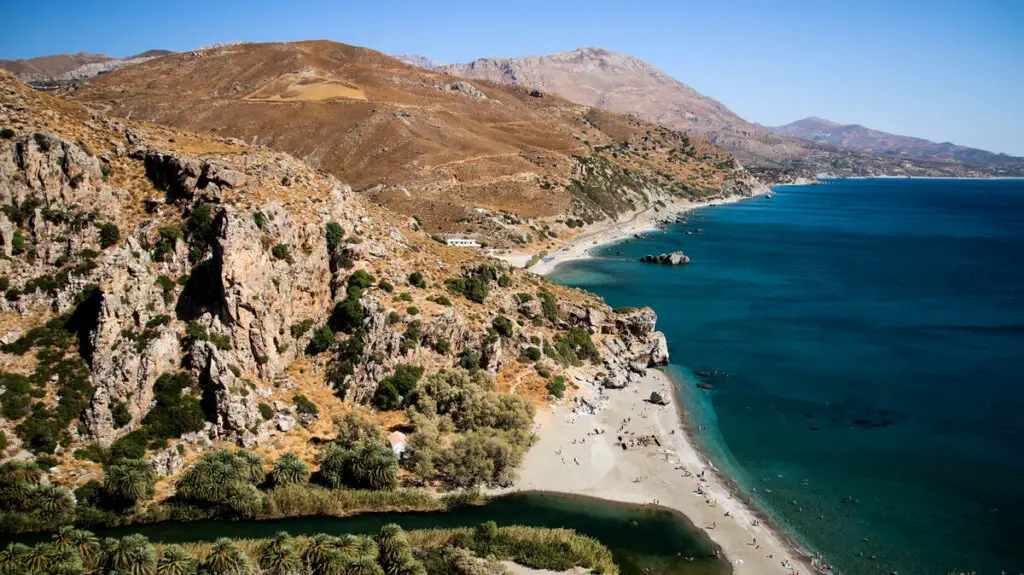 Next up is Damnoni Beach! These overall beaches of southern Rethymnon are popular due to their exotic beauty, but also for the unfortunate powerful winds during the summer season.
On the plus side, this beach is extremely protected from turbulent waves, so these are great waters for visiting with kids. For families that enjoy white sand, teal seawaters, taverns, snack bars, and supermarkets, this beach truly is an all-inclusive and convenient location to hold a beach day.
For those worried, Damnoni Beach is very organised and offers conveniences like changing rooms, umbrellas, rinsing showers, and sunbeds for all beachgoers. Further to the west is Preveli Beach, here there is a miniature river perfect for children to play and explore!
The river is a great alternative to the waves should the wind be too overpowering in the summer months. However over on this side there aren't any amenities like what you will find over at Damnoni.
There are a couple of tours that can take you to both Damnoni and Preveli beach. There is a day trip from Heraklion and another from Rethymno that will also allow you to venture through the palm forest.
For anyone venturing with younger kids on you own, you can access the Preveli palm tree forest by taking the alternative way on the left side to get to it. Visitors can even hire a taxi boat to get to Preveli in an even easier way for their children.
8. Bali Beaches in Rethymnon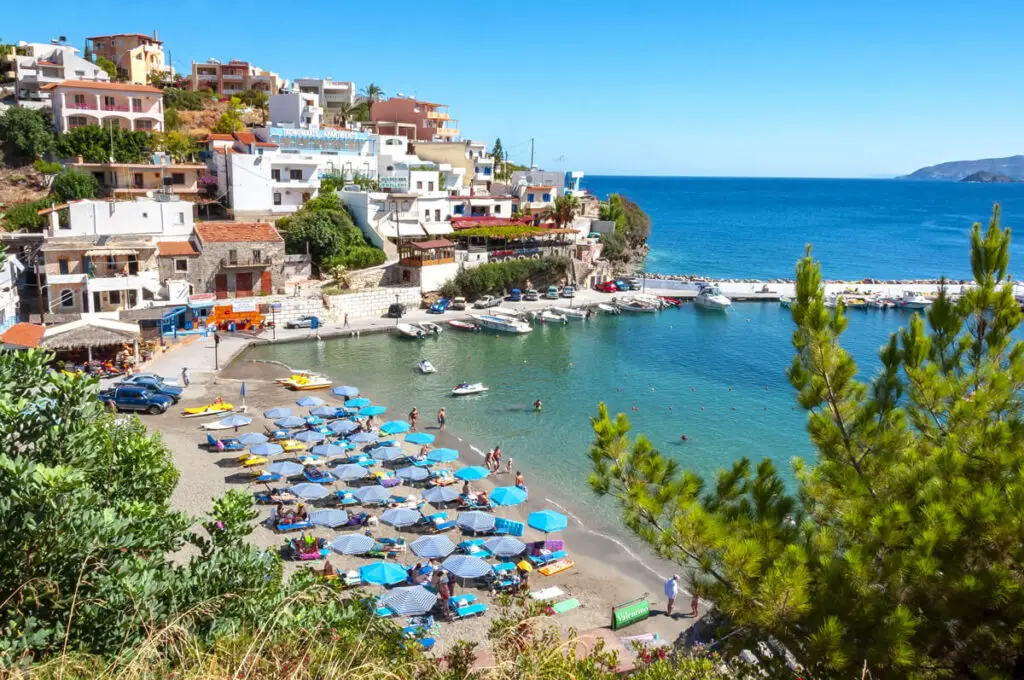 This area is yet another famously popular destination, thanks to Bali having four whole beaches to explore which have shallow waters, fine sand, and are sheltered and protected from harsh winds. These Bali Beaches sit in a big bay between the city of Rethymnon and the city of Heraklion.
These beaches have similar niceties like other beaches, such as water toys, sunbeds, and umbrellas which help to make the beach an entertaining and safe attraction for kids. Bali Beaches even have easy accessibility to other amenities that are popular for beaches, like cafes, taverns, supermarkets, snack bars, and even pharmacies to shop and eat at!
If you want to have an additional fun activity to look forward to you can book a stay at Grecotel Marine Palace & Aqua Park. It is located in Rethymno, not far off from the beaches.
It is a luxury hotel complex with family rooms, that features a large water park with a variety of water-based activities and attractions. Additionally, the hotel offers a range of amenities and dining options, making it a popular destination for families and couples looking for a relaxing and fun-filled holiday in Crete.
While you are over in Rethymno you may as well explore the highlights of the area. The old town and Arkadi Monastery not far off are some of the highlights of Crete you just don't want to miss. There is a tour of the old town including food tasting which you might be interested in.
When booking and planning to visit to these beaches though, it does get busy and crowded over the weekends. Of the four beaches of Bali, Varkotopos is usually the most pretty of all the beaches, but this also means it's often the most crowded and busy! If beaches are too overcrowded, try the closer beaches of Fodele or Panormo if it proves to be truly necessary.
7. Vai Beach in Lassithi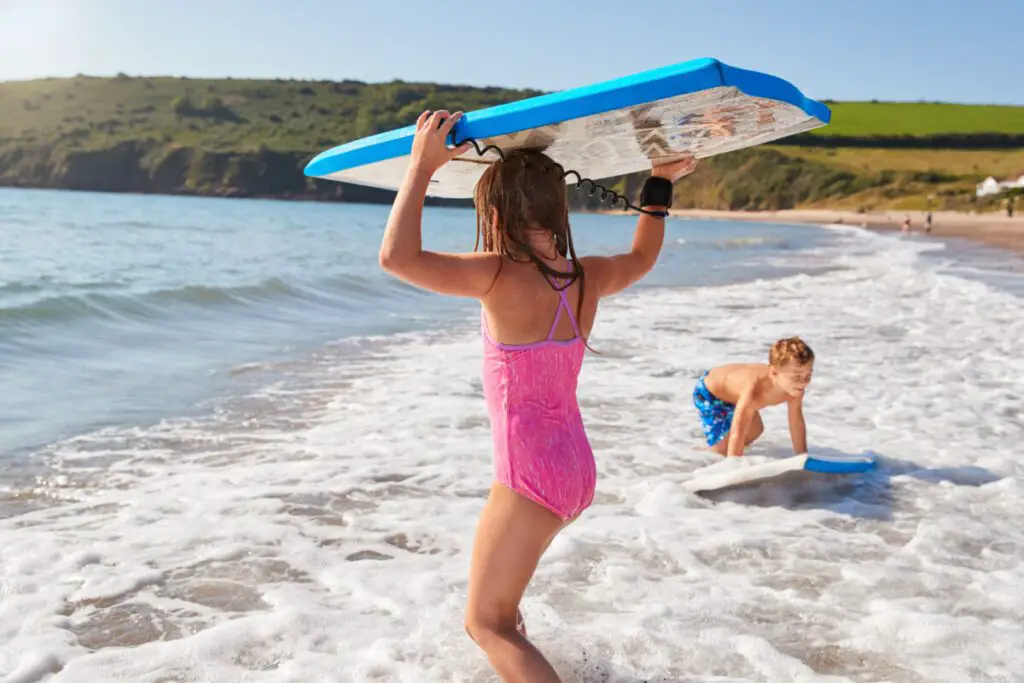 Vai Beach is another wonderful location to visit on the list! This beach is a protected location due to the Palm Forest close by, which means it may not have as many amenities for tourists as other beaches. However Vai Beach still offers water sports and a canteen for families to have fun with.
There are umbrellas and sunbeds for families to use at this beach as well. But be warned, Vai Beach also has an entrance fee unlike other entries on this list, so make sure to bring a wallet when visiting here! Should Vai Beach be too crowded, there's the Beach of Chiona or the Beaches of Itanos nearby that will have calm and shallow waters.
You can get a full day tour from Heraklion to Vai Beach, the Palm Forest, Lerapetra and Sitia. Apart from the road trip along the picturesque coast of Crete, you will get to see the famous Toplou Monastery. The palm tree forest near the beach is also fantastic! It is a beautiful natural area, home to Europe's largest natural palm grove, with over 5,000 palm trees.
9. Almyrida Beach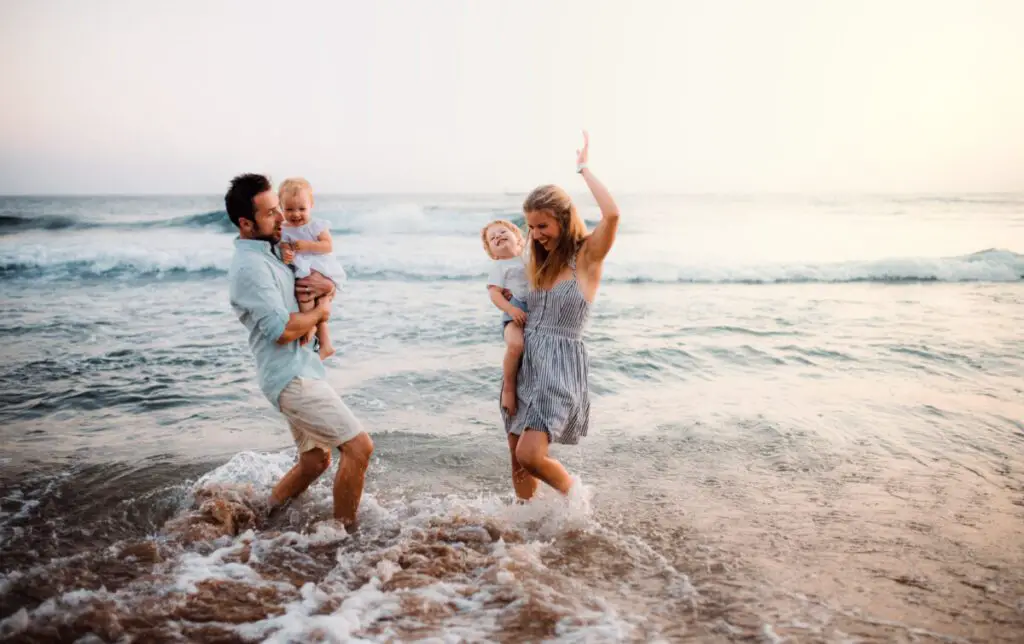 The last stop in this article for beach reviews is Almyrida Beach. Many people say that Almyrida is a great place in Crete for people who want to enjoy the ocean in some tranquility. This beach is nice and far away from the noise and hustle and bustle of the major tourist resorts.
The best time to visit Almyrida Beach is during the holidays since the beach is very well organised with bus stops nearby to use. Almyrida has two sandy beaches equipped with umbrellas, lifeguards, loungers, and a third beach made up of pebbles right before the village.
A Blue Flag is awarded yearly to the beaches of Almyrida due to the sea being so exceptionally clean in these spots and for the beaches meeting the required safety regulations and customer service facilities expected of great beaches.
The sea at Almyrida is shallow, ideal for families with kids, and is as clean as their pristine beaches! It is good to know that on some strong wind days, Almyrida can experience pretty large waves, so be aware!
There is a 3 hour boat tour from Chania that will take you to snorkel and stand-up paddle in the crystal clear waters. Since the area is so clean there is a lot of marine life to discover, and the guide will teach you all the names of the fish. Amongst other things, kids will also get some toys to play with making it a great tour for them.
Sometimes the Almyrida beaches can reach such levels of wind that it attracts windsurfers if some members of the family are looking for that thrill. The beach offers windsurfing board rental for this exact purpose, and there are also windsurfing trainers here during the high tourist seasons.
Beach Map Locations
The beaches are numbered 1 to 9 not in the way they are listed above. They start from the top left working clockwise.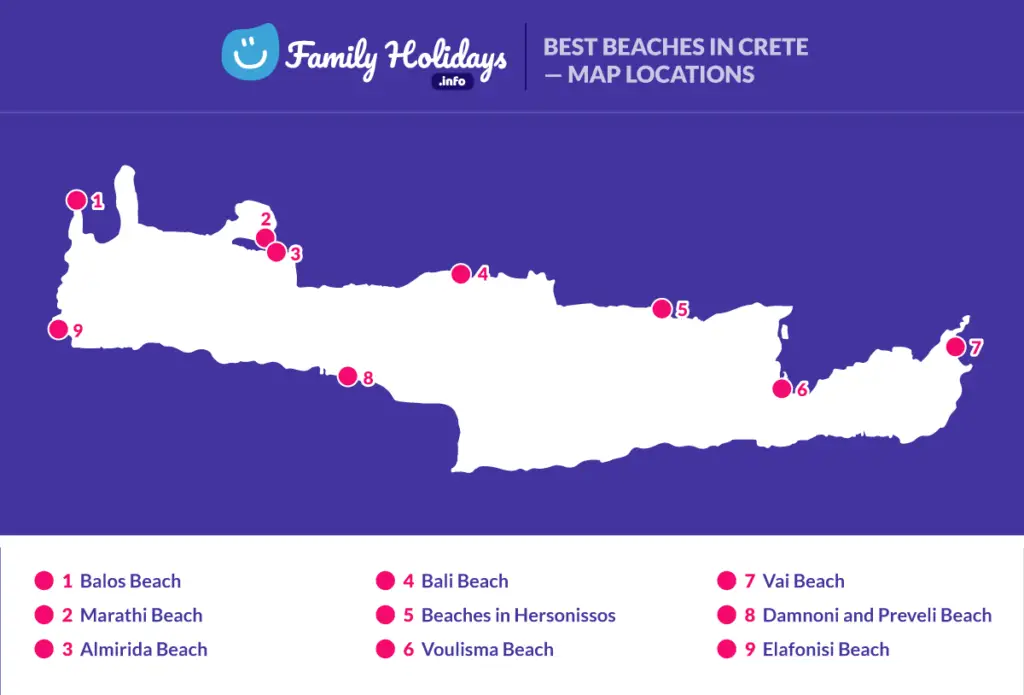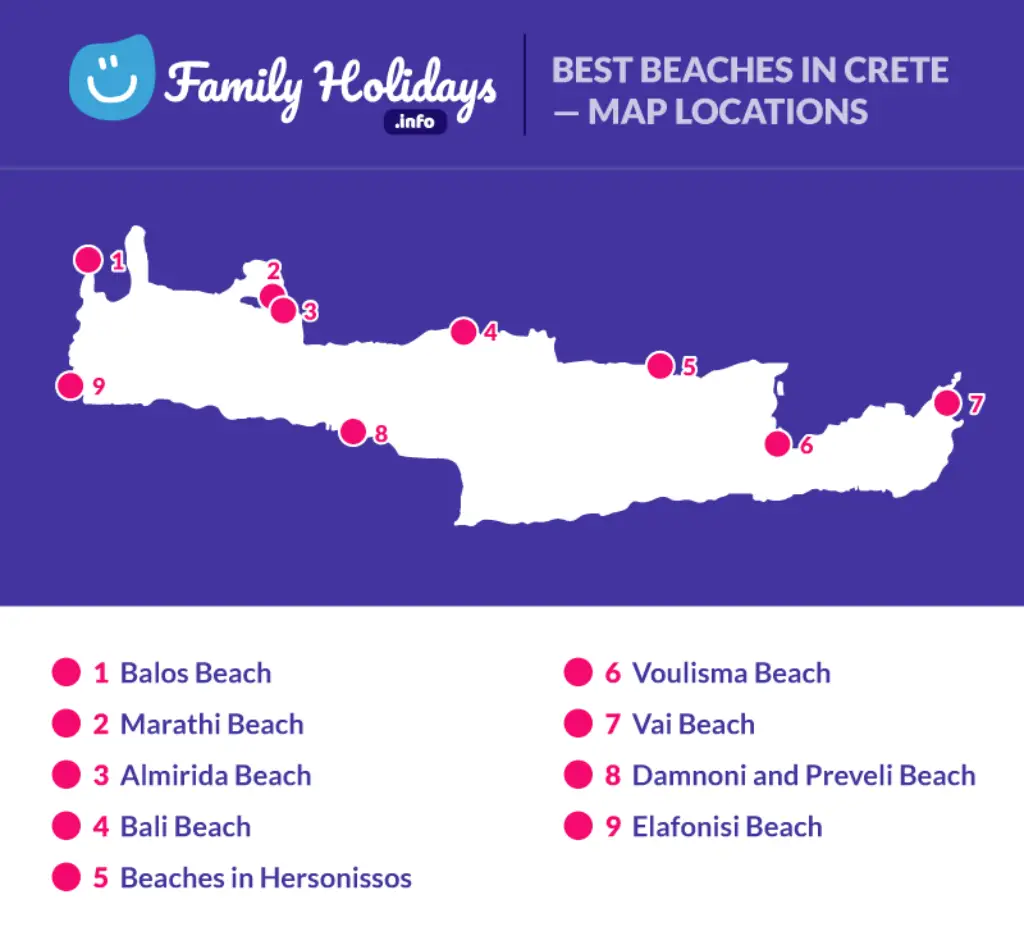 Related Articles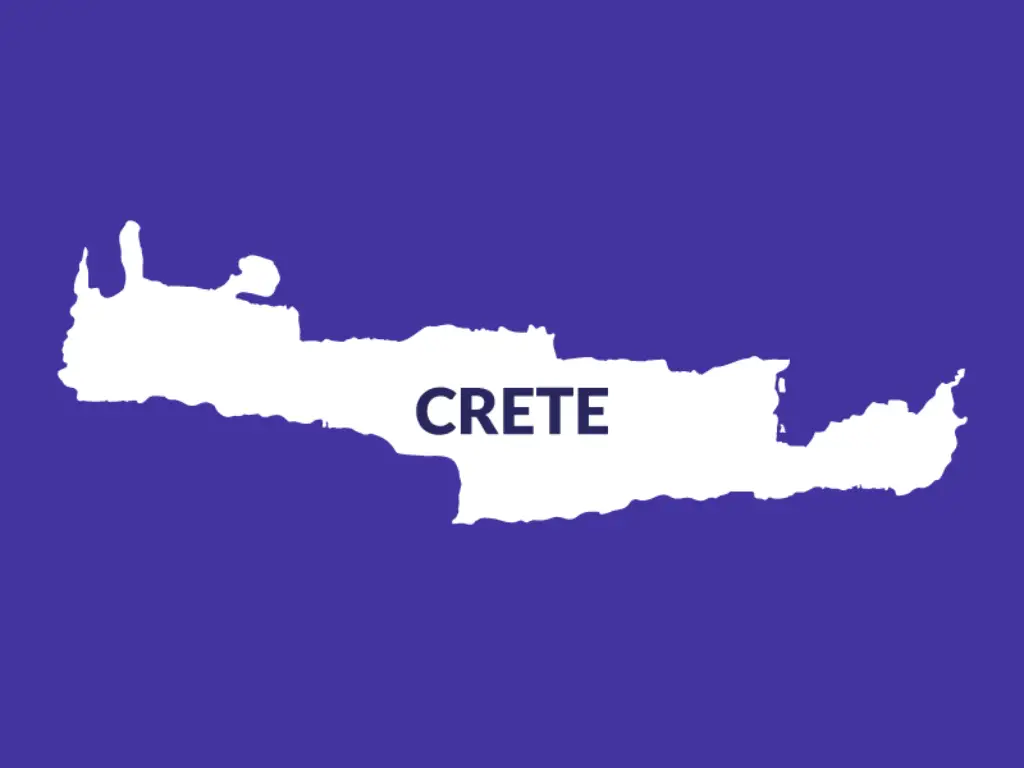 Crete Family Holiday | Kids Activities | Itineraries | Guides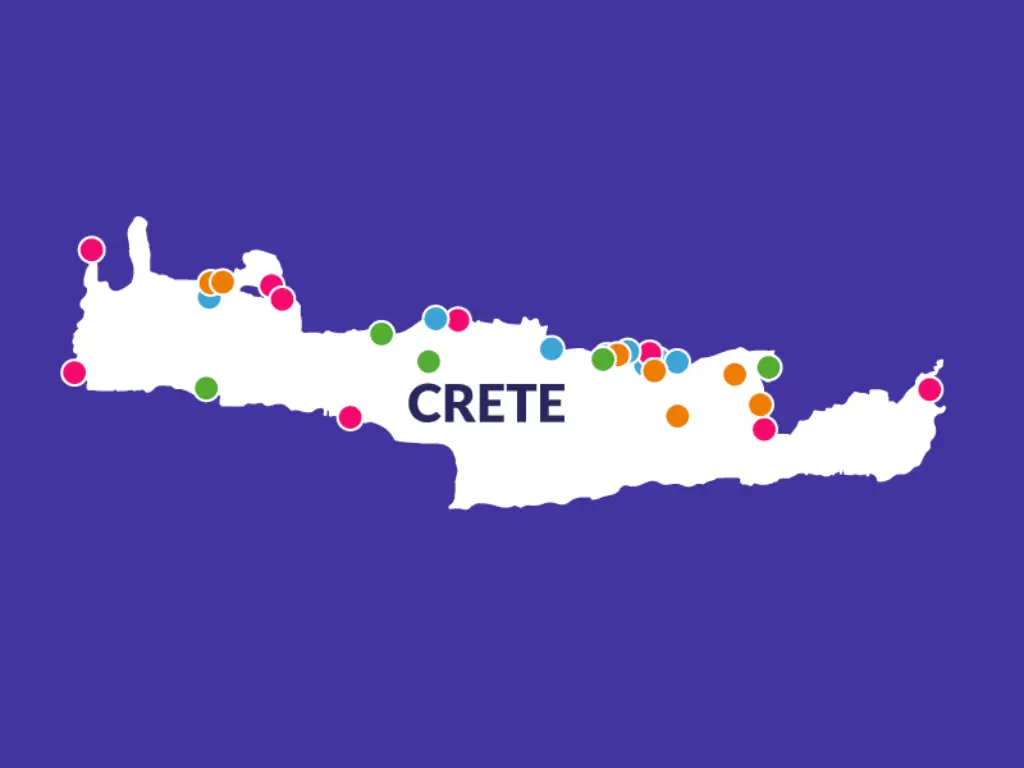 East vs West Crete | History | Activities | Scenery | Beaches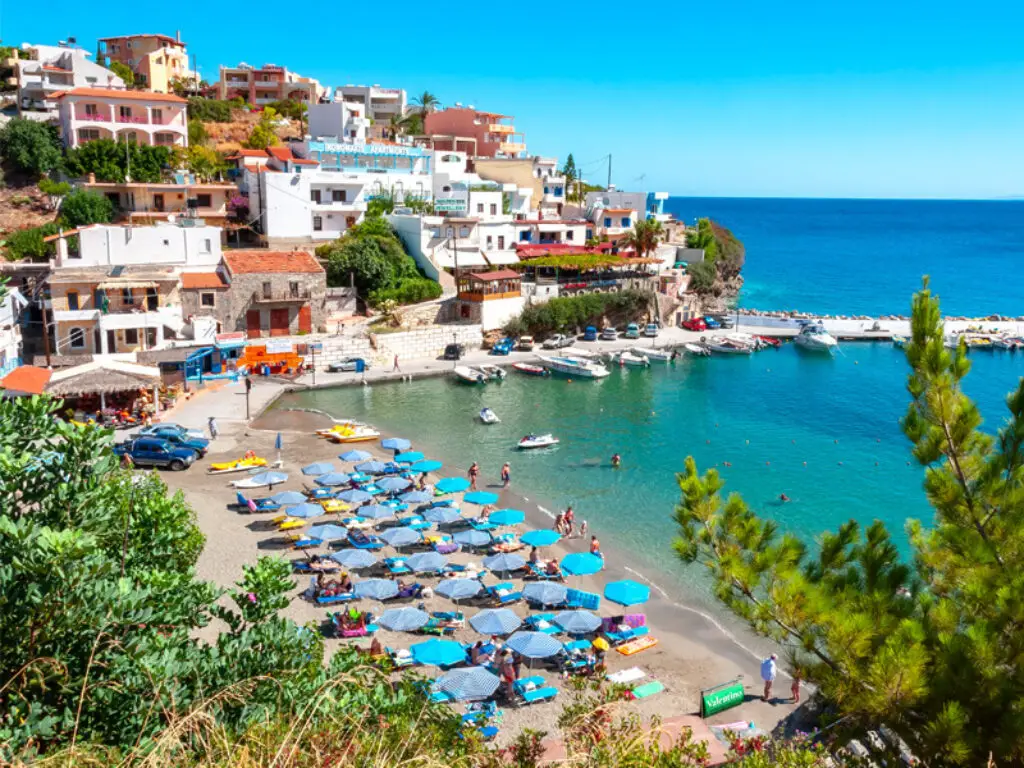 Crete with Kids: Suitability, Activities and Accommodation