Activities & Events To Celebrate Christmas In Malta 2022
Christmas is Malta's most anticipated and celebrated event of the year. With the majority of the population raised as Catholics who have a very strong sense of tradition, Christmas is very much loved and cherished. Hence there are many activities to celebrate Christmas in Malta.
There is a selection of things to do during Christmas time that appeals to different crowds. Whether you would like to stick to the more religious functions, see Santa or do a bit of both and anything in between. Here is a list of things to do in Malta to enjoy the spirit of Christmas.
1. Fairyland Santa's City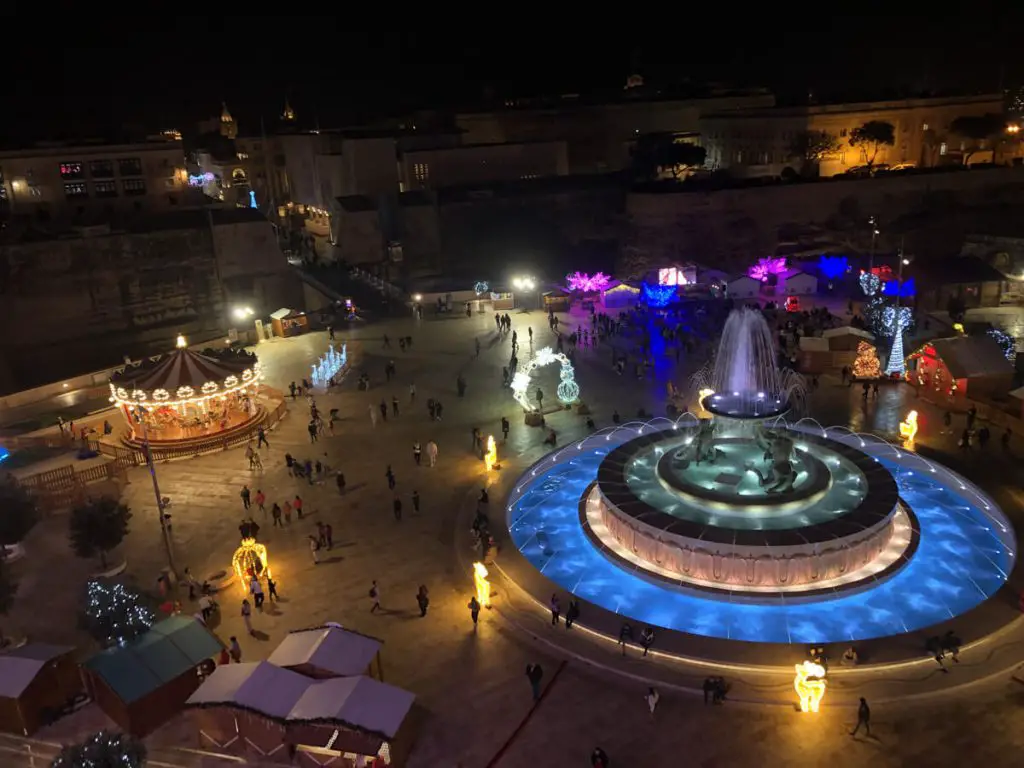 Location: Pjazza Tritoni here on Google maps
When: 8 December 2022 – 6th January 2023
Fairyland is quite small, but it is a magical place to get that warm and fuzzy Christmas feeling. Held at Pjazza Tritoni every year, this is the door step of the UNESCO site of Valletta.
On your way to Fairyland you are first greeted by an ice skating rink. After that you will see stalls lined side by side along the central strip. Here you can get some candy floss or some delicious hot chocolate and other treats. Alternatively you can buy some of the artisanal items on display.
Once you make your way past the stalls you get to the main section at the back. Here there are all sorts of activities for kids and the family.
The activities at Fairyland include:
Santa's Grotto – Here you can meet Santa and his elves in the flesh!
Rudolph's Big Wheel – A ferris wheel that will give you a birds eye view of Fairyland and the adjacent areas.
Santa's Magical Carousel
Little Airport – you can ride a helicopter on this luna park style ride
Penguin's Ice Skating – Malta may not have ice and snow, but you can still have a go at ice skating here
Mini Games – you get a headset and other equipment to play some AR games
Swiss Chalet – A wooden lodge where you can get cosy inside grab a bite to eat
You will need to pay for each activity individually either onsite or you can buy tickets on the Fairyland website. One handy thing to note, is that Fairyland is right next to the Valletta bus terminus.
For anyone visiting Malta that would like to enjoy the Christmas Spirit, Valletta is a great place to do so. There are
hundreds of places to stay in Valletta
that will allow you to appreciate the charm of this centuries old capital city. Additionally it is decorated every year for Christmas and there are many activities you can opt for from here.
2. Bethlehem in Ghajnsielem (Gozo)
Location: Ta'Passi, Mgarr Road, Ghajnsielem Gozo here on Google maps
When: Opening hours listed below
Whether you are religious or not, this activity is definitely nice to see. It is a live nativity scene with over 100 volunteers either acting or actively maintaining the area. It is spread across 20,000 square meters.
Here you will get to see many different attractions:
Grotto with the stars of the show; baby Jesus, Mary and Joseph
A blacksmith
Carpenter
Shepherd cave
Roman garrison
Roman camp
Roman arena
Animal Farm
Bethleham Inn
Village houses
Farmers store
Cabin
Room of scents
Fishermen's port
Local artisan crafts
Eatery with local foods
Wine tavern
Open market
Bakery
There are another 13 features like a water mill, wooden bridge and many other things that you will get to see. For the kids the farm animals are always a highlight which will make for a nice Christmas in Gozo.
Opening hours:
13th December 3.00pm – 7.00pm
15th December 9.30am – 12.00pm (students' edition)
17th December 4.00pm – 7.30pm
18th December 11.00am – 2.00pm (children's edition)
25th December 4.00pm – 7.00pm
26th December 2.30pm – 7.00pm
27th December 4.00pm – 7.00pm
30th December 4.00pm – 7.00pm
1st January 3.00pm – 7.00pm
8th January 2.30pm – 7.00pm (Adoration of the Magi)
Tip
Not surprisingly this event does get busy. In fact when I went to Gozo for the day, there was a queue for the ferry to go to Gozo and to come back down. We were stuck for hours in the queue patiently waiting in the car.
There will definitely be a queue up to Gozo in the morning, but you can avoid going back to Malta in the evening, either by leaving Gozo earlier once you quickly go through Bethlehem in Ghajnsielem or sleeping over in Gozo.
There are hundreds of stays listed in Gozo on Booking.com which will help you find hotels or apartments for budget accommodation up to luxury stays anywhere on the island. Like this you can set off in the morning and not sit idle in traffic.
3. Magical Illuminated Trail & Christmas Village
Location: Verdala Palace in Buskett here on Google maps
When: 17:00 – 21:00, 25th November 2022 – 7th January 2023
This is an evening attraction so little ones may need to stay up a little past their bed time to enjoy it. However it is a fun event that captures kids imaginations with an illuminated trail and Christmas village.
It is located on the door step of the President's Palace of Verdala. It is a beautiful setting especially considering the Palace was built in the 16th century by the Knights of Malta. 
It is a walk through which will help you enjoy the setting and takes around an hour to go through. You will get to see the palace up close, plus all sorts of illuminated exhibits set up for Christmas.
In this walk through you will find:
A Christmas Village
Photo booth
North Pole
Interactive tunnel
Woodland squirrels
Fantasy bees
Sea life
A neon garden
Animal kingdom exhibit
Family pandas
Earth flower
Flower land
Christmas wonderland
You can pre-purchase you tickets here on the Illuminated Trail website. All the proceeds for this event are donated to the Malta Community Chest Fund.
4. Christmas Pantomime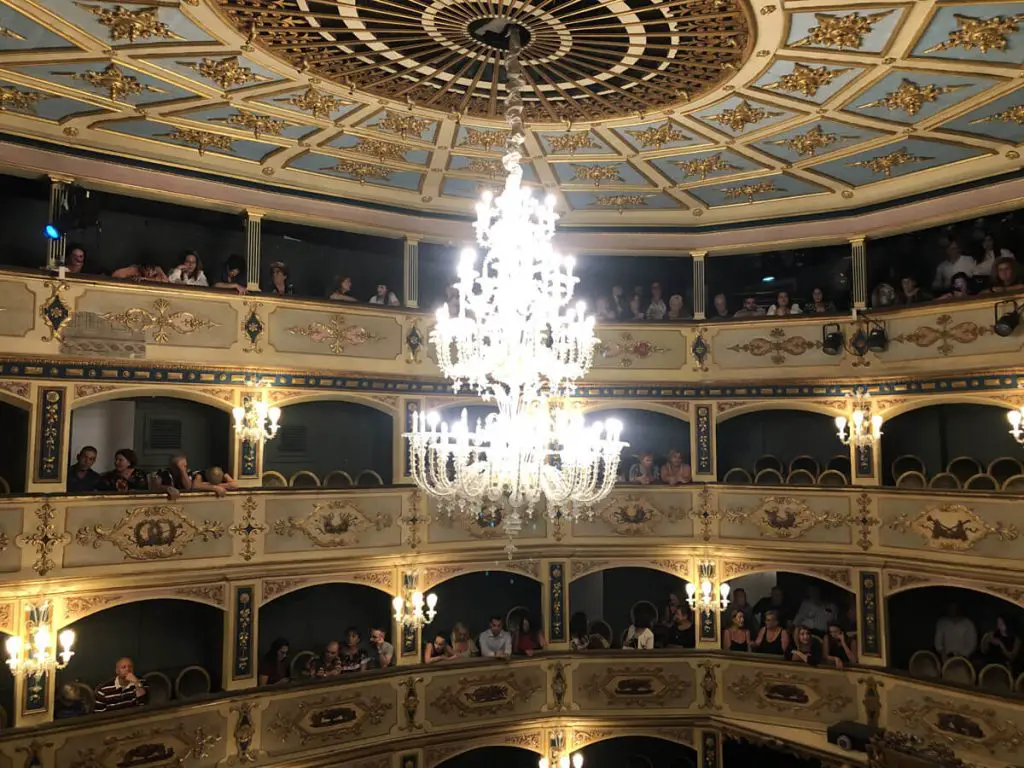 Location: Manuel Theatre, Valletta here on Google maps
When: Schedule below
Every year for Christmas there is a Christmas Pantomime held at the Manuel Theatre. Even as a little kid, I remember looking forward to this event which made Christmas in Malta special.
If you have never been to a pantomime, there is a lot of interaction with the audience. Be prepared to cheer and shout out load any phrase they ask you to. Traditionally there is the usual diva that is the more entertaining star of the show – a man dressed in drag that dishes out a good dose of humour. It is all family friendly of course.
With the Christmas Panto always has good slapstick humour for kids and adults to enjoy. Additionally there is also a good amount of satire for the adults to appreciate.
The nice thing about the Panto if you are a tourist is that you also get to see the Manuel Theatre. It is a historical site that was built by the Knights of Malta back in the 18th century.
The Panto is in English, but there are some Maltese words and phrases inserted in the conversation. Nothing major, but definitely something worth mentioning.
Schedule
23rd December 2022 and 3, 4, 5, 6 January 2023 at 19:30
26, 27, 28, 29, 30th December 2022 and 7th January 2023 at 15:00 and 20:00
8th January 2023 at 15:00
If you are interested in booking the Christmas Panto, you can check out the Manuel Theatre website.
5. Midnight Mass
Location: Various churches across Malta and Gozo
When: 24th December at 23:00
If you would like to enjoy more of the religious aspect of Christmas then you may want to attend midnight mass. Here you will get to experience a pageant and listen to Christmas carols sung by a choir. Moreover there is a speech made by a kid about the significance of Christmas, which is about the birth of Christ.
There are many spectacular churches all over Malta where you can enjoy midnight mass. However the best celebration is held at St John's Co Cathedral.
Most importantly because it is a magnificent co cathedral, adorned from floor to ceiling and steeped in history. A lot of important religious functions are organised here and they are always coordinated well.
If you would like a spot make sure you go early. Midnight mass is incredibly popular amongst locals, so even if you are early you may not get a seat.
After midnight mass, some locals maintain the tradition of grabbing a bite for breakfast right after. If you would like to also join in the tradition, here are a list of places where to get midnight Chistmas breakfast. If you decide to attend midnight mass in St John's Co Cathedral in Valletta, The Phoenicia is your best choice.
6. Christmas Cribs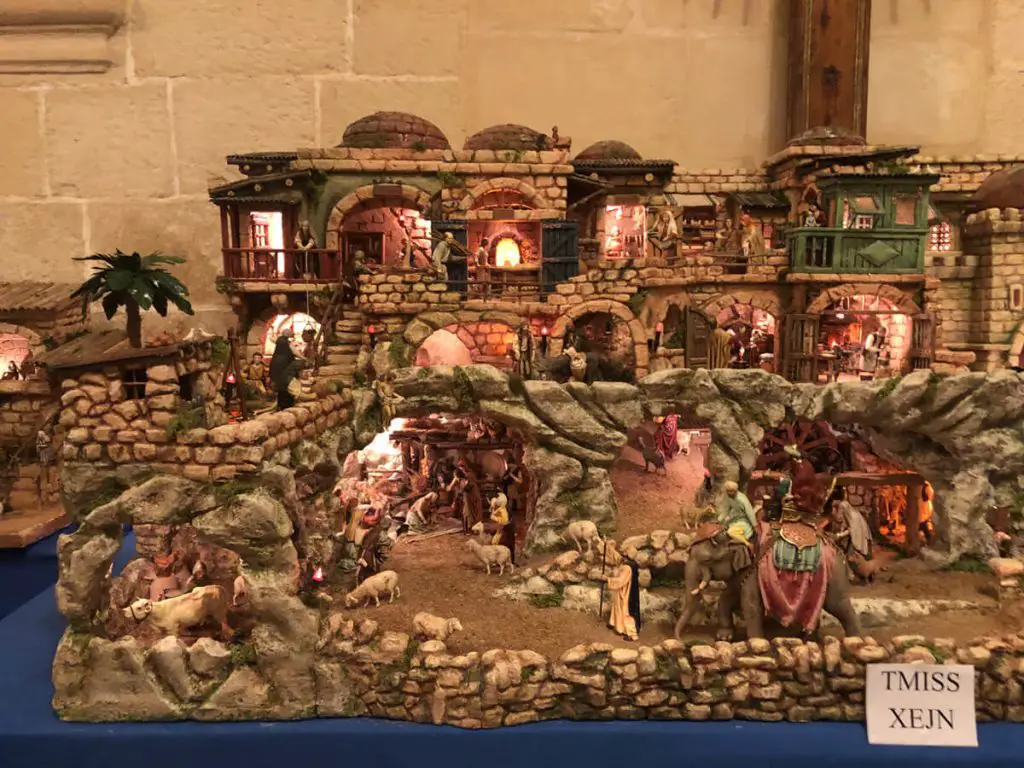 Location: Various across Malta and Gozo
When: Throughout December
There are many locations around the Maltese islands that exhibit hand made cribs. I wasn't into cribs before this year, but since working on this site and visiting several exhibitions I have come to appreciate it as a form of art, made by dedicated individuals. Usually their time and effort to create these cribs is voluntary.
Cribs in Maltese are called 'presepju' or 'presepji' in plural form. Although they are mostly static some of them have water features or mechanisms to move elements in the crib that make them even more interesting.
To see cribs, keep an eye out for signs around villages that notify passers-by about these exhibitions. However there are also notifications on Facebook to notify people of ongoing Crib exhibitions.
In fact I went along to see the one in Rabat at the Kunvent Patrijiet Frangiskani right next to the Church of the Nativity of Our Lady (Ta' Giezu). That exhibition finished off on the 11th December, but recently I went along to the one in Qormi.
De La Cruz Garden Crib Exhibition
Location: De La Cruz Garden right here, in Qormi
When: 17:30 – 20:30 until the 6th January 2023
On the ground floor you will see a small exhibition which is not that impressive, but what is impressive is the crib downstairs.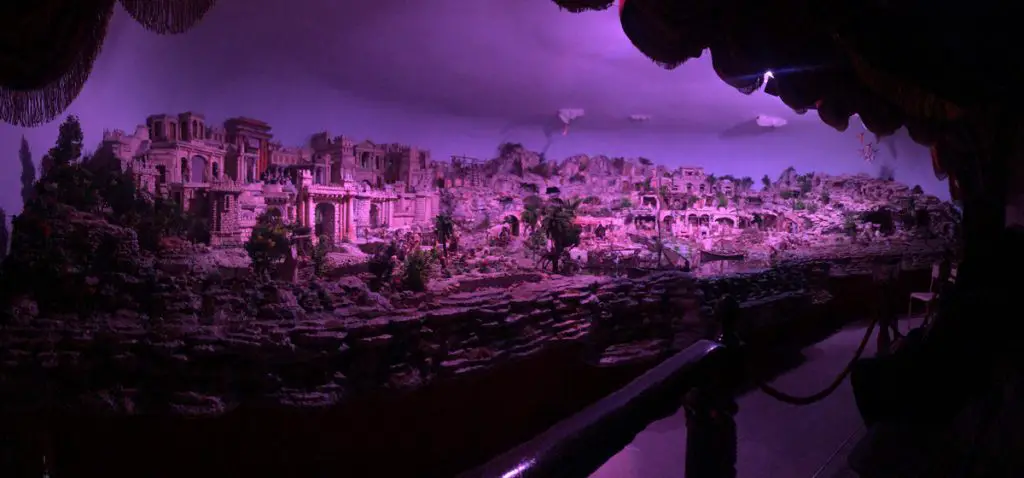 It is so large I had to take a pano shot to show the whole crib in the image above, it is probably at least 6 meters wide. They put on a show that is half an hour using this crib starting from the moment angel Gabriel came to visit Mary. The show is in Maltese, but if you know the story you really do not need to understand the exact words of what is being said.
There are loads of moving elements, a lake, lighting, music and a voice over to tell the story. My husband was also impressed with it, and that's saying something because he has seen many crib exhibitions before.
7. Christmas Market
Sliema Christmas Market
Location: Bisazza Street, Sliema
The Sliema Christmas Market is Malta's only Christmas market that keeps occurring every year. However sometimes other Christmas markets are set up in other locations. The Sliema Christmas market is small, and not anything like the biggest Christmas markets in Europe or the Christmas market in Piazza Navona which has a stunning Baroque piazza as a backdrop.
However it has some nice local produce, various gifts and decorations and wine. Santa also comes along to visit and say hello to the children.  
Sliema is one of the main trendy shopping areas in Malta where the locals like to go. So it is the perfect place for a Christmas market because people are there for the shopping. The Sliema Christmas market is located in Bisazza Street, Sliema here on Google Maps.
The Christmas market is usually organised for a weekend in December. You can find out when the market is on by checking the Sliema Local Council's facebook page.
Ta' Qali Artisan Village Chritmas Market
Location: Crafts Village in Ta' Qali
There is supposedly another Christmas market over in Ta' Qali at the Ta' Qali Artisan Village that is on between the 7-24th December. I went over in 2022 hoping to feature the activities and Christmas items to purchase on the new Family Holidays YouTube Channel.
However there is nothing much there so I may not have a video for this week. The elves were making their best effort to entertain the small handful of people there by singing and telling stories to the kids. There was also a very small bouncy castle and most of the shops weren't even open. There were no Christmas items to buy at all.
8. Christmas Village
Location: Ta' Xbiex Marina here on Google Maps
When: 5 – 6th December 2022
This Christmas Village has live music and entertainment as well as many attractions. It should keep the family entertained for at least a couple of hours. As is mentioned on the Christmas Village facebook page, you can expect:
A nativity scene
Polar ice rink
Magical Bouncy castles
Merry Trampolines
The Elf's Train Ride
Rudolph's Jumperoo (bungee cord jumping)
Santa's Grotto
Jolly Chairoplanes
Mrs Claus Sweet Ponies
A Crafting Section
VR Racing Motorbike
VR Game Simulator
VR Warship Simulator
Entry into the village is free, but you need to register your free ticket online. The nice thing about this Christmas village is that it is located in Ta'Xbiex. It is a stone throw away from Sliema and St Julian's where most tourists stay. Additionally it is easily accessible from Valletta by ferry to Sliema as mention in the article on how to get around Malta.
9. In Search of Rudolph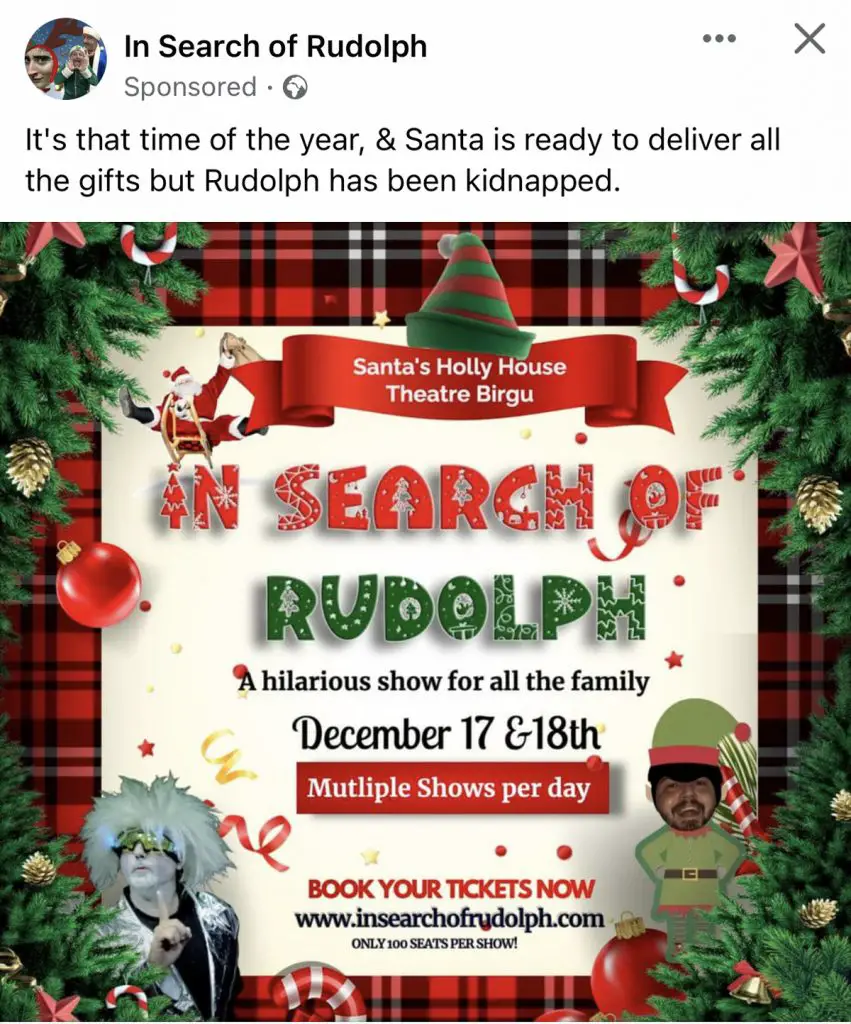 Oh no! Rudolph has been kidnapped and Santa is concerned he might not be able to deliver presents for Christmas! If you would like to see how Christmas is saved, then book tickets for In Search of Rudolph, a show that all the family will surely enjoy.
It is an entertaining, funny and interactive one hour long show. On 2 nights only at the theatre behind the Dominican Convent in Birgu (Vittoriosa).
Christmas in Malta FAQs
Is Malta good for Christmas?
Malta is a great place for Christmas. Firstly the temperature during December and January is milder than the rest of Europe, between 13 and 18°C. Secondly, there are many religious and non religious activities for families and shops and other activities are open.
How do they celebrate Christmas in Malta?
In general many local Maltese attend midnight mass at 23:00 in various churches around the island, and some then go for breakfast at midnight. Later for lunch on Christmas day, they have a traditional family Christmas lunch and exchange Christmas gifts. However throughout December the locals attend other Christmas events and activities to get into the spirit of Christmas.
What do they eat for Christmas in Malta?
Most Maltese have a very traditional Christmas meal with family on Christmas day. It usually always features a three course meal with wine constantly flowing. A pasta dish like lasagna is usually served as a starter. Then roast Turkey, but sometimes another kind of roast meat with gravy, a side of vegetables and roast potatoes as a main dish. For dessert there is Christmas pudding amongst other tasty treats.