5 Days in Sardinia: 3 Itineraries to Consider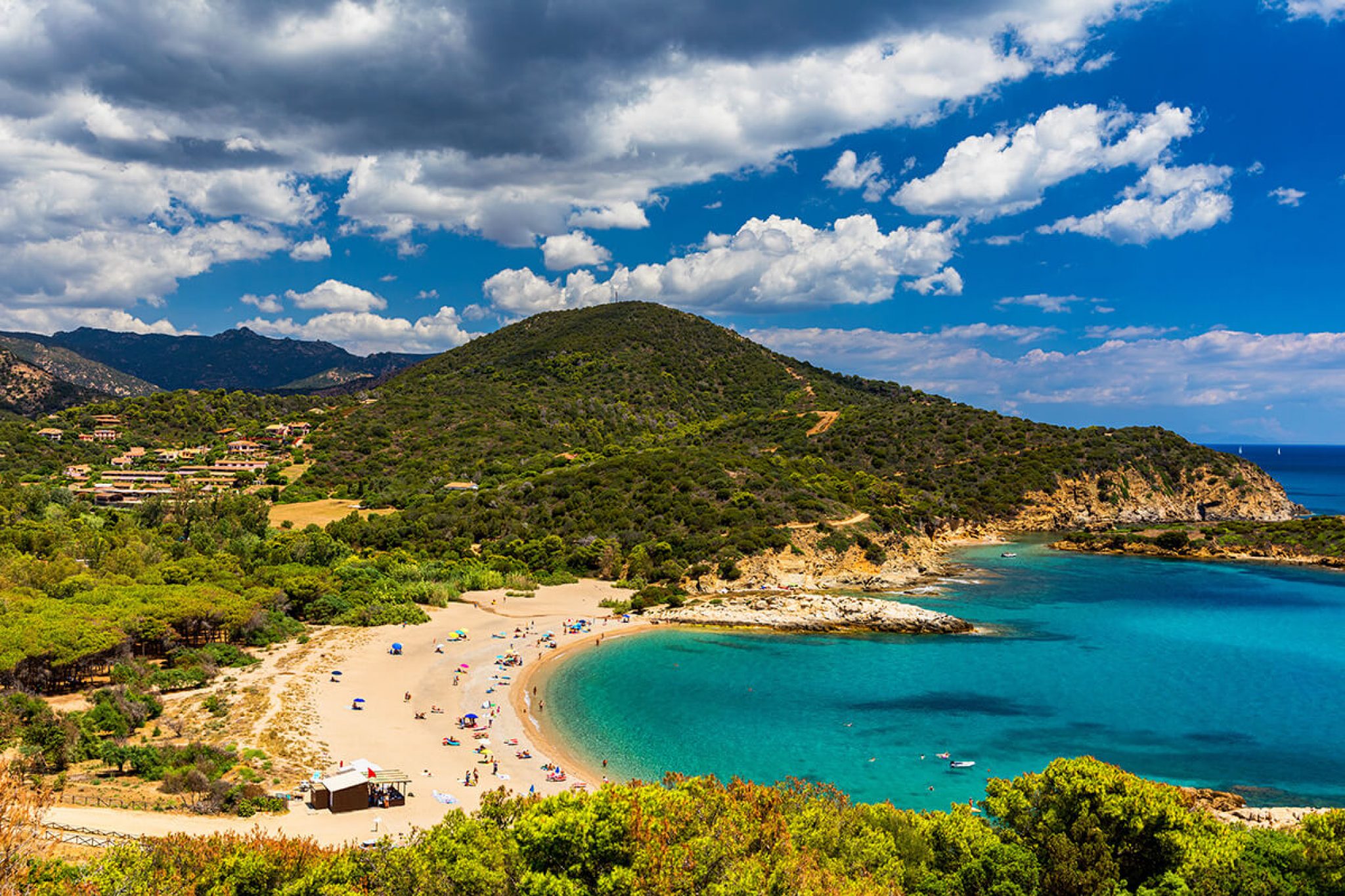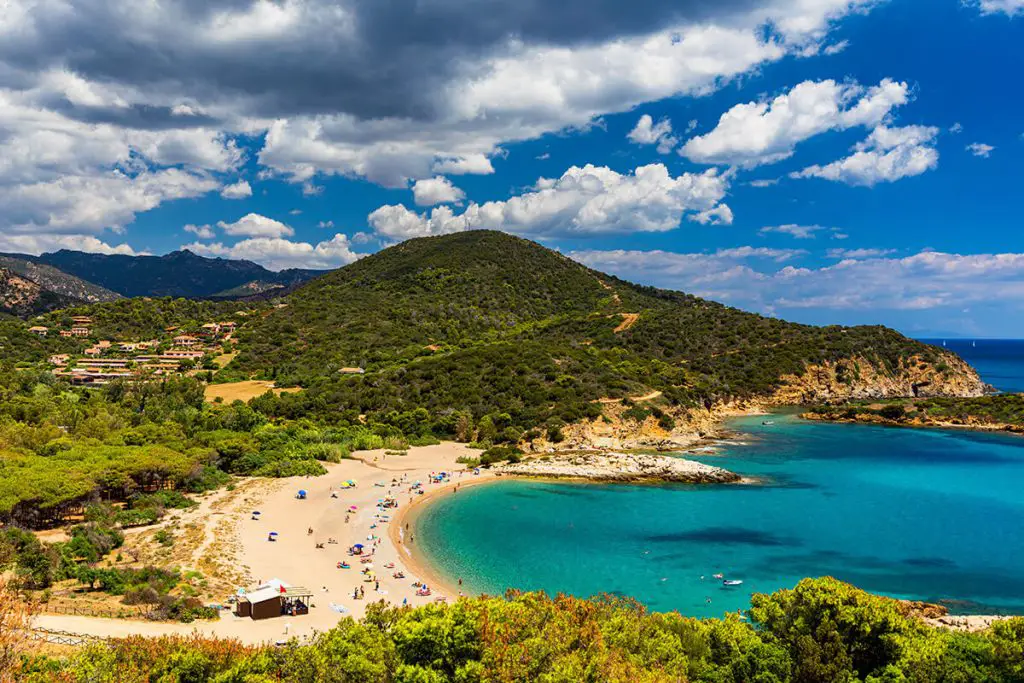 Sardinia is the second-largest island in the Mediterranean. It is a treasure trove of natural wonders and renowned for its many incredible and stunning landscapes. It also has a glamorous coastal resort area, contrasted by many charming towns and historical areas.
5 days in Sardinia will provide enough time to explore either the north, central or southern area or possibly sample a little bit each. Each area offers unique experiences, so your itinerary should align with the type of holiday you are after. In general it requires around 12 days to cover the island comprehensively.
This article has 3 itineraries one for each area; the north, central and southern areas. They are not suitable for families with young kids, but for a more mature audience that is able to appreciate history and scenery.
Before I get stuck into it, I'm briefly going to go through some helpful information.
Guides
If you need guidance on whether to pick the north or south of Sardinia, here is an article on which part is better. It has categories for the side that is more authentic, the nicest, better for kids activities, better for beaches and history.
That article doesn't cover the central area. However I have some information about each area for the 3 itineraries listed on this page. There is also a guide on experiencing Sardinia with kids that covers, suitability, kids activities and the best family-friendly resorts.
You could use public transport for some destinations for all 3 itineraries, but not all. Here is a guide on getting around Sardinia that covers public transport as well as other modes of transport. The public transport network is spotty, and you may end up spending many more hours travelling than necessary.
Hence if you hire a car I recommend you use Discover Cars. Discover Cars has exceptional service and won the 2022 prestigious Tech Award for the best car hire company. Plus, they have a vast network of trusted partners and competitive prices to enable you to find the best deal.
If you are not travelling during peak season, you may get away with not booking any accommodation. You can figure things out as you go along and and settle wherever suits you best at the time. However during peak season you should book accommodation. I will suggest one or several places to stay as I go through the itineraries.
Now let's get right into the itineraries, first starting off with northern Sardinia.
Northern Sardinia
Northern Sardinia is known for its glamorous coastal resorts, pristine beaches, and vibrant nightlife. It offers stunning turquoise waters, trendy beach clubs, and upscale marinas. This region attracts visitors seeking a mix of relaxation, entertainment, and luxurious experiences.
Additionally, it is home to the renowned Costa Smeralda. It's a playground for the rich and famous, offering upscale shopping, gourmet dining, and exclusive yacht charters.
As a result, the north is more commercialised and offers a less authentic experience of Sardinia. However it is the nicest part and you can travel to more rural areas in the north to sample Sardinia's true character.
In this 5-day itinerary you will journey through the highlights of northern Sardinia. This includes the charming city of Alghero to the breath-taking beaches of Costa Smeralda.
Get ready to immerse yourself in the beauty of this region and create unforgettable memories along the way.
Day 1: Alghero – Historical Charm and Coastal Beauty
Your adventure begins in the charming city of Alghero. It is renowned for its Catalan influence and well-preserved old town. You can start your day by exploring the cobbled streets of the historical centre.
Admire the medieval architecture and vibrant atmosphere as you make your way to the impressive Cathedral of Santa Maria. Step inside to marvel at its beautiful frescoes and take in panoramic views of the city from its bell tower.
There is a short 2 hour walking tour with a professional guide. The guide will take you around and divulge all the history of this stunning town.
Afterward, head towards the city walls and stroll along the promenade, known as the Bastioni Marco Polo. Here you can enjoy breath-taking views of the sea and the surrounding coastline as you walk along the ancient fortifications.
Don't forget to visit the captivating Neptune's Grotto (Grotta di Nettuno) and its fascinating rock formations. It's a stunning sea cave that is one of the best caves in Sardinia. It is accessible by boat or through a scenic cliffside staircase.
As the day comes to a close, treat yourself to a delightful dinner in one of Alghero's seafood restaurants. Indulge in local specialties such as spaghetti ai ricci di mare (spaghetti with sea urchin) or bottarga (cured fish roe) dishes. Pair your meal with a glass of Vermentino, a crisp white wine typical of the region, and savour the flavours of Sardinian cuisine.
3 of the best stays you can book in Alghero are in the old town area and hence small BnB's. They are: the Alghero Roof Garden which has superb ratings, Lu Bàtil B&B and Aigua are the next best options.
Day 2: La Maddalena Archipelago – Island Paradise Exploration
On day two, you should embark on a full-day excursion to the stunning La Maddalena Archipelago. Start your journey by taking a ferry from the port of Palau to the main island of La Maddalena. It is a 15 minute crossing with ferries departing every 30-60 minutes all year round.
Upon arrival, you can rent a boat or join a guided tour of La Maddalena to explore the crystal-clear waters and pristine beaches of this enchanting archipelago.
Cruise through the emerald-hued waters, stopping at breath-taking spots like Spiaggia Rosa (Pink Beach) on Budelli Island, known for its unique pink sand. Take a dip in the inviting waters of Cala Corsara or Cala Coticcio.
Both beaches are renowned for their pristine beauty and picturesque surroundings. Not surprisingly Cala Coticcio is features on Sophie's list of the best beaches in Sardinia.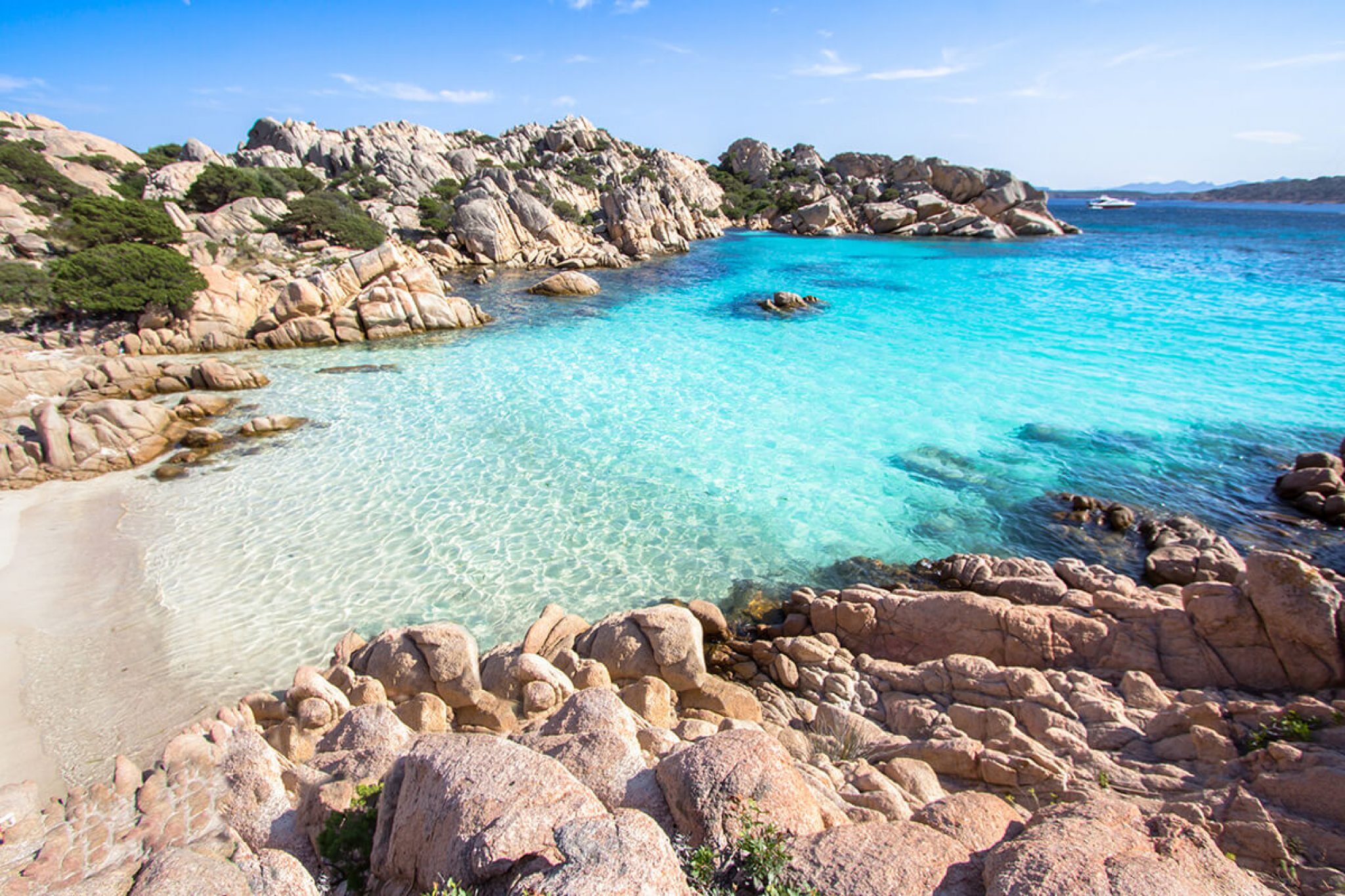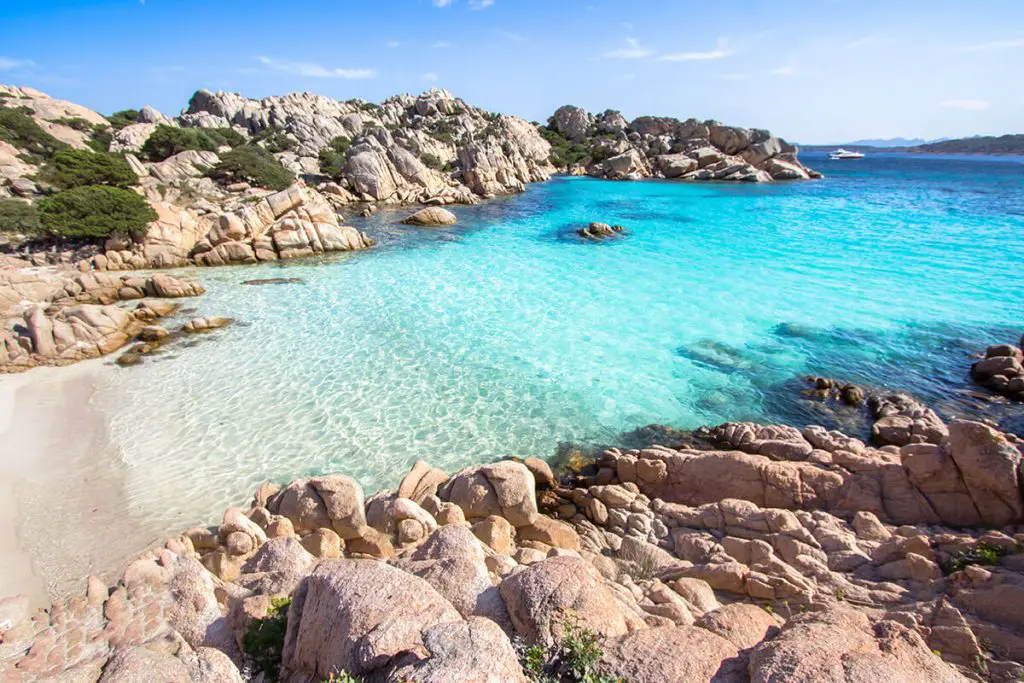 As you explore the archipelago, don't miss the opportunity to visit the town of La Maddalena itself. Wander through its charming streets, browse local boutiques for souvenirs, and enjoy a leisurely lunch at one of the seaside restaurants.
In the late afternoon, you should return to Palau and take some time to relax on its beautiful beaches or explore the town. Palau offers a range of activities, from water sports like windsurfing and snorkelling to hiking trails that offer panoramic views of the surrounding islands.
Enjoy a stunning sunset and savour a delicious dinner in one of Palau's waterfront restaurants before heading back to your accommodation.
A couple of the best places to stay are on the main island of La Maddalena. The Sardinia-Holiday La Casa di Punta Nera and Residence Cala Francese – Case sul mare.
Day 3: Costa Smeralda – Beach Bliss and Glamorous Charm
Day three takes you to the world-renowned Costa Smeralda. It's a glamorous stretch of coastline known for its pristine beaches, luxury resorts, and upscale lifestyle.
Begin your day by heading to Porto Cervo, the heart of Costa Smeralda. This exclusive town is filled with high-end boutiques, designer shops, and luxurious yachts adorning the marina. Take a leisurely stroll along the promenade, admire the stunning architecture, and immerse yourself in the glamorous atmosphere.
After exploring Porto Cervo, it's time to indulge in the natural beauty of the Costa Smeralda beaches. Drive along the coastline and discover the breath-taking gems that dot the shoreline.
You should stop at Spiaggia del Principe, a picturesque cove with turquoise waters and soft, golden sand. Unwind on the beach, take a refreshing swim, or simply bask in the sun while enjoying the serenity of this idyllic spot.
Continue your beach-hopping adventure and visit Liscia Ruja, another stunning beach renowned for its crystal-clear waters and pristine sands. Here, you can relax under the shade of an umbrella, swim in the sea, or take a leisurely stroll along the shore.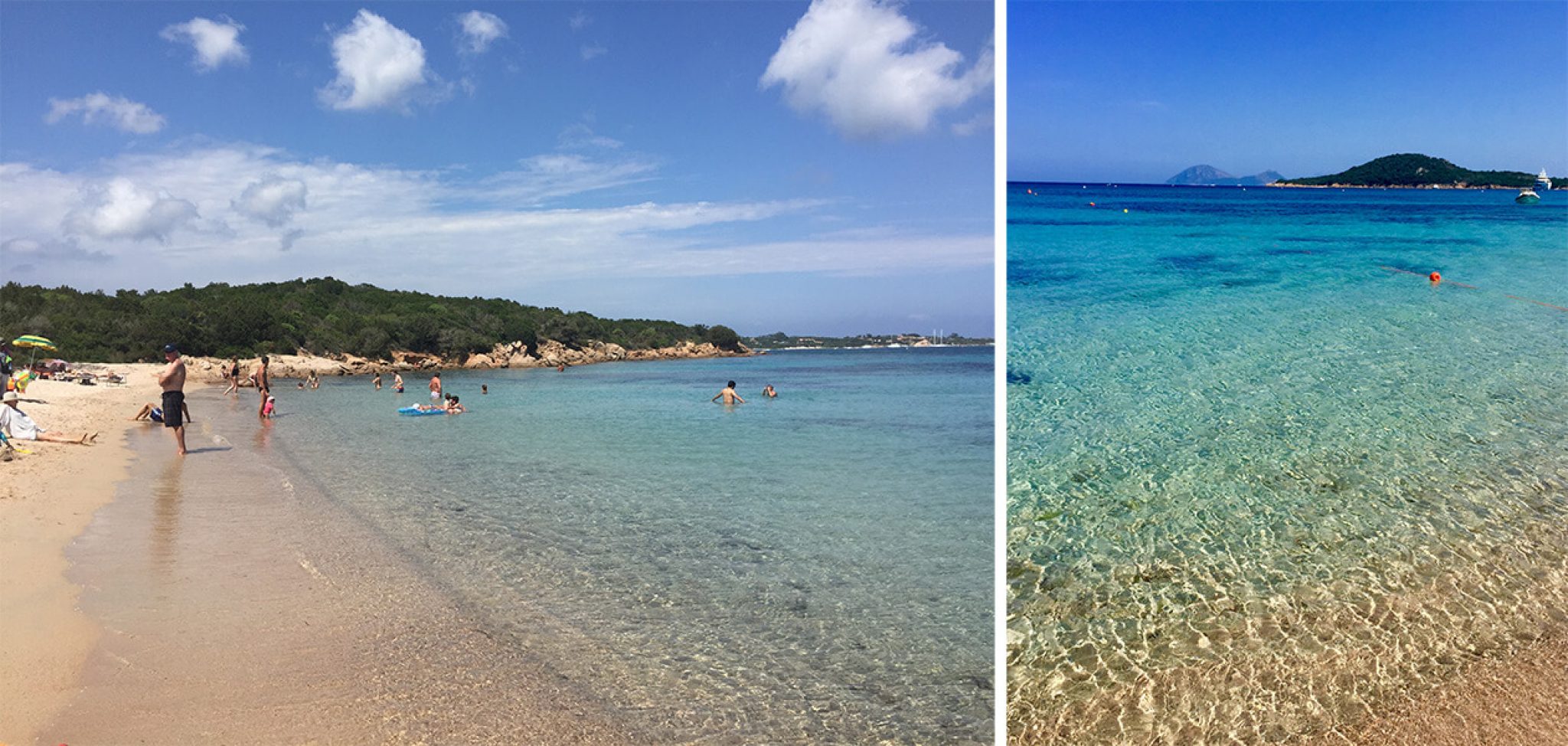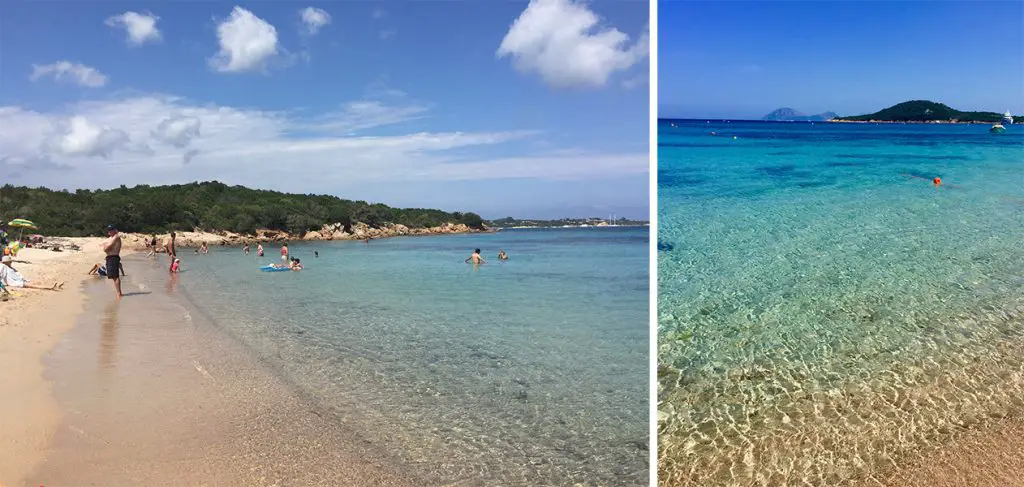 If you seek affordable luxury accommodation, Valesmeralda Boutique Rooms in Porto Cervo is an excellent choice. Situated in a prime location, the place has garnered high ratings due to its accommodating and helpful hosts, ensuring a pleasant stay without straining your budget.
Day 4: Olbia and Archaeological Treasures
On day four, explore the vibrant city of Olbia and its surrounding areas. You can start your day by visiting the National Archaeological Museum of Olbia.
It houses a fascinating collection of artefacts that depict the region's ancient history. You will get to learn about the ancient Nuragic civilization, explore Roman ruins, and learn about the maritime history of Olbia.
After immersing yourself in the city's past, take a stroll through Olbia's historic centre. You can admire the charming streets lined with colourful buildings. Here you can browse through local shops for unique souvenirs, and enjoy a coffee at one of the bustling cafes.
Once you are in the area you should take the opportunity to visit the Basilica of San Simplicio. It's a beautiful Romanesque church that dates back to the 11th century.
In the afternoon, venture out of the city and head to the nearby ancient site of Nuraghe Riu Mulinu. This well-preserved nuraghe, a unique stone structure built by the Nuragic civilization, offers insights into Sardinia's prehistoric past.
Conclude your day by exploring the beautiful coastline near Olbia. Visit Pittulongu Beach (Spiaggia Pittulongu), a sandy paradise with crystalline waters perfect for swimming and sunbathing. Take your time to relax and soak up the sun before heading back to Olbia.
If you would like to stay in Olbia's city centre then Almasarda is lovely and not too pricey. On the other hand Sea Love is more expensive, but it's stunning and not far off from Pittulongu Beach.
Day 5: Sassari and Cultural Delights
On the final day in northern Sardinia, you should venture to the vibrant city of Sassari. It is known for its rich cultural heritage and historic sites.
You can start your exploration at Piazza d'Italia, the main square of the city. Here you can admire the elegant architecture of the surrounding buildings, including the neoclassical Town Hall and the Cathedral of St. Nicholas.
As you walk through the narrow streets of the old town, you'll find charming cafes, local and shops. Make sure you visit the Museo Nazionale G.A. Sanna, which showcases an impressive collection of artwork and archaeological artefacts that highlight the region's history and culture.
Next, make your way to the beautiful Basilica of San Nicola, an architectural masterpiece that dates back to the 13th century. Step inside to admire its stunning interior adorned with intricate frescoes and sculptures.
After exploring the city centre, head to the outskirts of Sassari to visit the prehistoric site of Monte d'Accoddi. This unique archaeological complex features a large stone platform and an altar-like structure. It is believed to have been used for religious rituals during the Neolithic period.
There are a good number of stays you can opt for in Sassari and a good number are well-rated especially in the city centre. Piazza Azuni 18 Guest House is lovely, well priced and 7 minute's walk from Piazza d'Italia.
Exploring Central Sardinia
Central Sardinia is characterised by its rugged landscapes and traditional villages. This region is known for its ancient Nuragic ruins, such as the UNESCO-listed Su Nuraxi in Barumini, which offer a glimpse into Sardinia's prehistoric past.
Central Sardinia offers scenic mountains, pristine forests, and picturesque countryside. It is perfectly suited to outdoor enthusiasts, hikers, and anyone seeking an authentic experience steeped in local traditions and folklore.
Get ready for 5 days in Sardinia's through the heart of the island.
Day 1: Cagliari – Gateway to Central Sardinia
Sardinia has 3 airports, none of which are in central Sardinia. So you can land at the airport of the vibrant city of Cagliari, the capital of Sardinia. Here is where your adventure begins.
Spend your first day exploring the city's historic centre, known as Castello. You can wander through its narrow streets and admire the medieval architecture, and visit the impressive Cagliari Cathedral. Take in panoramic views of the city and the sea from the Bastione di Saint Remy.
To help you explore and understand the history of the area, you might want to opt for a tour. This inexpensive and well rated 2-4 hour walking tour of the old city of Cagliari is perfectly tailored to do just that. The guide will take you to all the highlights so you are able to get an comprehensive understanding of the city.
Afterward, you can immerse yourself in the local culture by visiting the Museo Archeologico Nazionale. This museum houses an extensive collection of archaeological artefacts from across Sardinia. Marvel at the Nuragic civilization's remains, including the iconic bronze statues known as the Giants of Monte Prama.
In the evening, indulge in traditional Sardinian cuisine at one of the local restaurants in Cagliari. Sample dishes like malloreddus (Sardinian saffron-flavoured pasta), culurgiones (Sardinian-style ravioli), and roasted suckling pig.
There are hundreds of stays in Cagliari you can consider. Residenza le Scalette is fantastic since it is exceptionally well rated, inexpensive and 300 meters from Bastione di Saint Remy.
Day 2: Barumini and Su Nuraxi – Ancient Ruins and Cultural Heritage
On day two of your 5 day adventure, you should venture inland to explore the ancient ruins of Barumini and Su Nuraxi. You can begin your day with a visit to the UNESCO World Heritage site of Su Nuraxi di Barumini.
This well-preserved Nuragic village dates back over 3,000 years and offers a fascinating glimpse into Sardinia's prehistoric past. Take a guided tour to explore the central tower and surrounding structures, and learn about the Nuragic civilization that once inhabited the area.
Afterward, make your way to the village of Barumini and take a stroll through its charming streets. Visit the Casa Zapata, a historical house that showcases traditional Sardinian architecture and local craftsmanship. Admire the intricate details and learn about the region's cultural heritage.
In the afternoon, head to the nearby Giara di Gesturi, a high plateau known for its unique landscape and wild horses. Take a guided hike or horseback ride through the plateau, surrounded by breath-taking views of the countryside. Keep an eye out for the majestic Giara horses, an endemic species found only in Sardinia.
As the day comes to a close, return to Cagliari and enjoy a relaxing evening in one of its lively piazzas. Savour a gelato or a cup of Italian coffee while soaking up the lively atmosphere.
Here there are some really amazing stays in some traditional Sardinian properties. Cortis Antigas is the best stay you could get in Gesturi, if not in all of Sardinia. However it is expensive, an alternative is Il Borgo dell'Arcangelo in Barùmini which is somewhat less expensive or B&B Casa Piras which in inexpensive and also well rated.
Day 3: Gennargentu National Park – Natural Beauty and Hiking Trails
On day three, venture into the rugged landscapes of Gennargentu National Park, the largest national park in Sardinia. Start your day by exploring the Gorropu Gorge, often referred to as the "Grand Canyon of Sardinia."
Embark on a thrilling hike through the gorge, surrounded by towering cliffs and breath-taking scenery. Be prepared for a challenging but rewarding adventure, as the gorge offers unique geological formations and stunning views.
Afterward, continue your exploration of Gennargentu National Park by visiting the stunning Su Gorropu Canyon. It's a natural wonder known for its dramatic limestone cliffs and crystal-clear waters. Take a leisurely walk along the canyon's edge as you admire the panoramic views.
For lunch, enjoy a picnic amidst nature or head to one of the local agriturismi (farmhouses) located near the park. Here, you can indulge in traditional Sardinian dishes made with locally sourced ingredients, providing an authentic taste of the island's gastronomy.
In the afternoon, take advantage of the numerous hiking trails that crisscross the national park. Lace up your hiking boots and choose a trail that suits your fitness level and interests.
If you do not have a good pair of shoes you can buy a pair of Rocky Boots. It's a renowned footwear brand known for its durable and high-performance boots that offer worldwide delivery. They have a heritage of over 85 years, and offer a wide range of rugged footwear designed for outdoor enthusiasts, workers in demanding industries, and military personnel.
When you are in the forest you can marvel at the panoramic vistas, and embrace the tranquility of the mountain landscapes. Keep an eye out for unique flora and fauna, as Gennargentu National Park is home to a variety of rare and endemic species.
Staying somewhere close to the park is perfect for some relaxation. Plus the stays here are lovely and incredibly inexpensive and budget friendly. The best one is B&B Su Biancu in Urzulei, it's beautiful and surrounded by some stunning scenery. Alternatively there is a traditional Sardinian property called B&B Santu Giuvanni in Fonni.
Day 4: Orgosolo and Nuragic Sites – Culture and History
On the fourth day, you can delve into the cultural heritage of the town of Orgosolo and the nearby Nuragic sites. You can begin your day in Orgosolo, renowned for its vibrant murals that adorn the town's walls. Take a leisurely stroll through the streets. Here you can admire colourful artworks that depicts historical, political, and social themes.
You can immerse yourself in the local culture by visiting the fascinating Museum of Mediterranean Masks. Here you can learn about traditional Sardinian masks and their significance in local festivals and rituals. You will learn about the island's folklore and traditions through the extensive collection of masks on display.
Afterward, venture to the nearby Nuragic sites of Nuraghe Serbissi and Nuraghe Arrubiu. These ancient stone structures provide a fascinating glimpse into Sardinia's pre-Roman history.
In the afternoon, make your way to the picturesque town of Mamoiada, famous for its traditional carnival masks and folklore. Visit the Museum of Mediterranean Masks in Mamoiada to further deepen your understanding of Sardinian traditions and cultural heritage.
End your day with a visit to a local winery, where you can indulge in wine tasting and learn about the island's viticulture. Savour the unique flavours of Sardinian wines, such as Cannonau and Vermentino, while enjoying the serene countryside ambiance.
Orgosolo is not far off from Gennargentu National Park, so you could very well stay another night at one of the stays there. However Orgosolo also has some lovely views and you can get some incredibly budget friendly places that are beautiful.
Candulieri is one such place, but if you do not find a place there then B&B Peonia Orgosolo is the next best option. It is slightly more expensive, but still budget friendly.
Day 5: Villanovaforru and Farewell to Central Sardinia
On your final day in central Sardinia, visit the village of Villanovaforru, known for its archaeological sites. Begin by exploring the fascinating Nuragic Complex of Genna Maria. It's an ancient settlement consisting of circular huts, a central tower, and a sacred well.
Continue your journey through time by visiting the Menhir Museum of Laconi. The museum houses a collection of megalithic statues known as menhirs. These enigmatic stone figures provide insights into the island's prehistoric past and are believed to have had ritualistic and symbolic significance.
Conclude your visit to central Sardinia with a leisurely lunch in Villanovaforru, enjoying traditional Sardinian dishes in a local trattoria. Indulge in specialties like porceddu (roast suckling pig), fregola (a type of pasta), and pecorino cheese, all accompanied by the warm hospitality of the locals.
After lunch, take a moment to explore the charming streets of Villanovaforru and visit the Church of Sant'Andrea, an architectural gem adorned with intricate decorations and a rich history.
Villanovaforru is a tiny area, so if you wanted to stay close to Villanovaforru then I would suggest a couple of places in adjacent villages. Al Vicolo VI in Sardara is a fantastic option and also incredibly inexpensive. There is also Piccolo Fuedo over in Sanluri which is a little bit more dear.
Southern Sardinia
Southern Sardinia is more authentic than the north. It captivates visitors with its historic sites, but mostly for its stunning beaches and relaxed coastal charm.
The region is home to the capital city of Cagliari. It has a mix of ancient ruins, medieval architecture, and a lively dining scene that blend harmoniously.
The coastline boasts beautiful sandy beaches, such as Chia and Villasimius, surrounded by crystal-clear waters and natural reserves.
Southern Sardinia offers a mix of cultural exploration, beach relaxation, and a taste of traditional Sardinian hospitality. All this makes it a popular destination for travellers seeking a well-rounded experience.
In this 5-day itinerary you will experience the highlights of southern Sardinia.
Day 1: Cagliari – City Adventures and Historic Wonders
So as not to repeat myself, you can check out day 1 of Central Sardinia. It already has all the suggested locations to visit and what food and drinks to savour.
Day 2: Villasimius – Beach Bliss and Nature Exploration
On day two, venture eastward to the picturesque town of Villasimius, renowned for its pristine beaches and natural beauty. Start your day by visiting Spiaggia di Porto Giunco, a stunning beach with turquoise waters and soft, white sand.
Relax under the sun and take a refreshing swim and enjoy the breath-taking views of the surrounding landscape. Afterward, you should embark on a nature exploration adventure at the Cape Carbonara Marine Protected Area.
Here you can hike along the coastal trails that wind through rugged cliffs and Mediterranean vegetation. Admire the scenic beauty, spot unique flora and fauna, and capture memorable photos of the dramatic landscapes.
In the afternoon, head back to the town centre of Villasimius. Explore its charming streets lined with shops, cafes, and gelaterias. Take your time to browse for local crafts, souvenirs, or perhaps indulge in a sweet treat with a scoop of authentic Italian gelato.
As the evening approaches, savour a delightful dinner at one of the town's restaurants. Enjoy the laid-back atmosphere and the taste of fresh, locally sourced ingredients.
Although rural, this area of the island is marginally more expensive than other parts of the south. There are a couple of places that aren't as expensive that are a couple of kilometres from the beach front. Perdas Rooms is a wonderful traditional building and the next best is Hotel il Girasole.
Day 3: Nora and Pula – Ancient Ruins and Coastal Delights
On day three, you should explore the ancient city of Nora and the charming town of Pula. You can begin your day with a visit to the archaeological site of Nora, located on a picturesque peninsula near Pula.
This well-preserved site showcases the remains of an ancient Phoenician and Roman city. You can take a guided tour or explore the ruins independently, wandering through ancient streets, marvelling at the amphitheatre.
There is also a Roman Theatre, where performances were once held, and the Temple of Tanit, dedicated to the Phoenician goddess of fertility.
After immersing yourself in history, head to the nearby town of Pula. This charming coastal town offers a delightful blend of history, culture, and natural beauty.
In the town centre, you'll find picturesque squares, quaint shops, and local eateries. Enjoy a leisurely lunch, savouring traditional Sardinian dishes such as culurgiones (Sardinian-style ravioli) or maialetto arrosto (roast suckling pig).
In the afternoon, make your way to the stunning beaches of Chia, located just a short drive from Pula. Chia is renowned for its pristine white sands, crystal-clear waters, and scenic coastal dunes.
Spend the rest of the day unwinding on the beach, taking refreshing dips in the sea, and soaking up the sun's warmth. If you're feeling adventurous, try your hand at water sports such as windsurfing or paddle boarding.
Afterward, head back to Pula and indulge in a delicious dinner at one of its local trattorias, savouring authentic Sardinian flavours and fresh seafood dishes.
The south has some more expensive accommodations than the central area. In fact many stays are well over €100. However Villa Margherita Suite and Charme in Pula is well rated and well-priced. Piccolo Ranch is the next best option, but is not as well rated as the other stays I have suggested.  
Day 4: Costa del Sud – Coastal Exploration and Hidden Gems
On day four, set out to discover the hidden gems along the Costa del Sud (South Coast). You can begin your day by visiting the beautiful beach of Sa Colonia (Spiaggia di Sa Colonia). It is often regarded as one of the most picturesque beaches in Sardinia.
With its fine white sand and transparent waters, Spiaggia di Sa Colonia is a paradise for beach lovers. Relax on the shore, snorkel in the crystal-clear waters, or take a leisurely stroll along the coastline.
Next, continue your coastal exploration by visiting the stunning beaches of Porto Pino. This area is known for its unique sand dunes, creating a striking contrast against the azure sea. Take in the breath-taking views, feel the soft sand beneath your feet, and relish the tranquillity of this natural wonder.
After enjoying the beach, head to the charming town of Sant'Antioco. Explore its narrow streets, lined with colourful houses and local shops. Here you can visit the Ethnographic Museum to learn about the island's traditional culture and way of life.
As the day winds down, find a cozy spot in the town for dinner. Don't forget to taste the local delicacy, bottarga (cured fish roe), which Sant'Antioco is famous for.
There are some amazing places over in Sant'Antioco where you can stay. B&B il Nido is very inexpensive and lovely. However the best rated place is Il Sentiero B&Bio, after that Casa Angelo B&B not far off in Calasetta.
Day 5: Chia – Nature, Relaxation, and Farewell
On your final day, dedicate your time to further exploring the beauty of Chia. Begin by taking a hike or a nature walk in the surrounding hills. Here you'll experience stunning panoramic views of the coastline and the Mediterranean Sea.
Chia offers several trails, ranging from easy walks to more challenging hikes. You should pick an option that suits your preference at the time and fitness level.
After your nature excursion, spend the rest of the day relaxing and enjoying the pristine beaches of Chia. Whether you choose to unwind on the famous Su Giudeu beach, with its turquoise waters and golden sands, or opt for the more secluded and intimate setting of Cala Cipolla.
Chia is a lovely area, but it is in general more expensive than the areas in and around Sant'Antioco. There are a couple of places that aren't too expensive that are still well-rated and nice: Villa Bianca and L'Oasi di Chia.
Conclusion
In conclusion, Sardinia offers a captivating journey with its diverse regions. Whether you explore the stunning coastlines and glamorous resorts of the north, delve into the ancient ruins and rural charm of the central area, or immerse yourself in the relaxed coastal vibes and historic sites of the south, there is something for every traveler.
These 5 days in Sardinia itineraries provide a glimpse into the rich tapestry of Sardinia's landscapes, history, and culture. Embark on your Sardinian adventure and create lasting memories in this enchanting Mediterranean gem.
Safe travels and buon viaggio!
Related Articles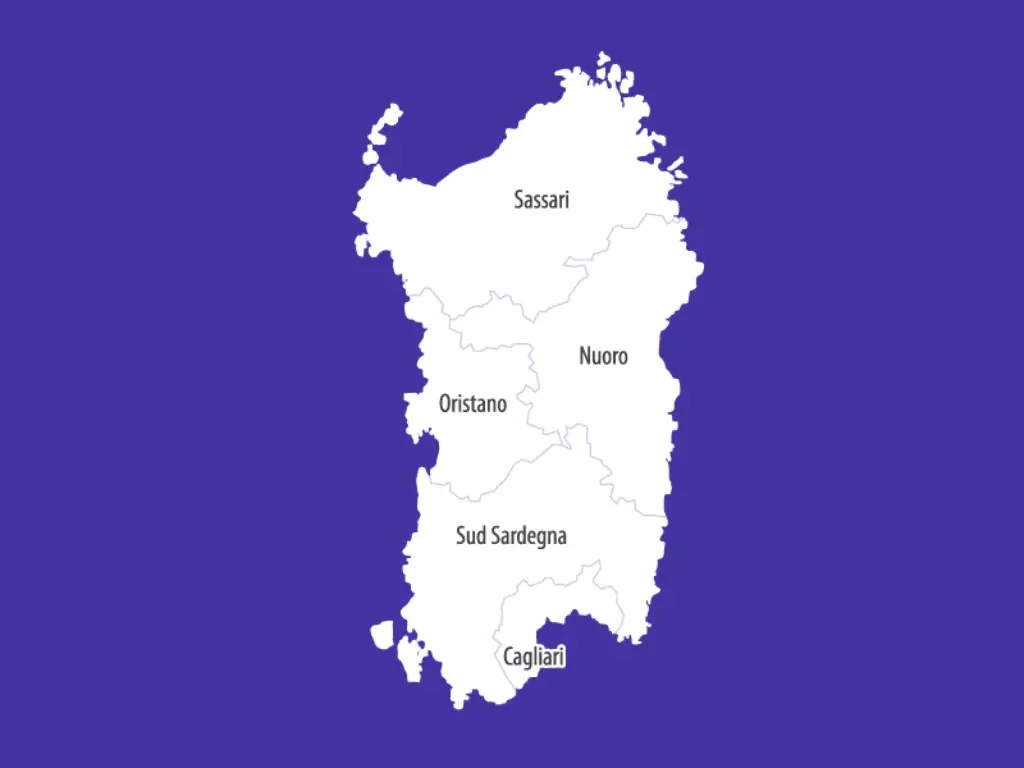 Holiday in Sardinia: Activities, Itineraries and Guides