12 Breathtaking Family-Friendly Beaches in Sardinia + Map
Visiting at least one beach is definitely a must in Sardinia especially with kids in both north and south. However, are you wondering what part of Sardinia has the best beaches, or where to find the most beautiful hidden beaches in Sardinia? If so, you've come to the right place.
It might have a small population of 1.6 million residents, but there are more than 200 Sardinia beaches covering 1900 km of coastline to discover. Most of these are breathtaking and beautifully presented, some with hidden alcoves, others in popular tourist spots. Wherever you decide to go with the kids, you won't be disappointed.
To help navigate the island, we've broken it into Sardinia beaches in the north and south, easily accessible in our map below…
Best Beaches in North Sardinia
Distinguished by its rugged landscape and clifftop views, the North of the island is known for tucked-away Sardinia beaches with turquoise waters. Perhaps, most notably, the coast of Costa Smeralda is where the high-rollers go in this beautiful area of Sardinia to make the most of it.
If we had to pick on whether the north or south beaches are better, the north has a slight edge. Plus, it also happens to be the best part for families to experience Sardinia with kids in tow.
1. Spiaggia di Cala Coticcio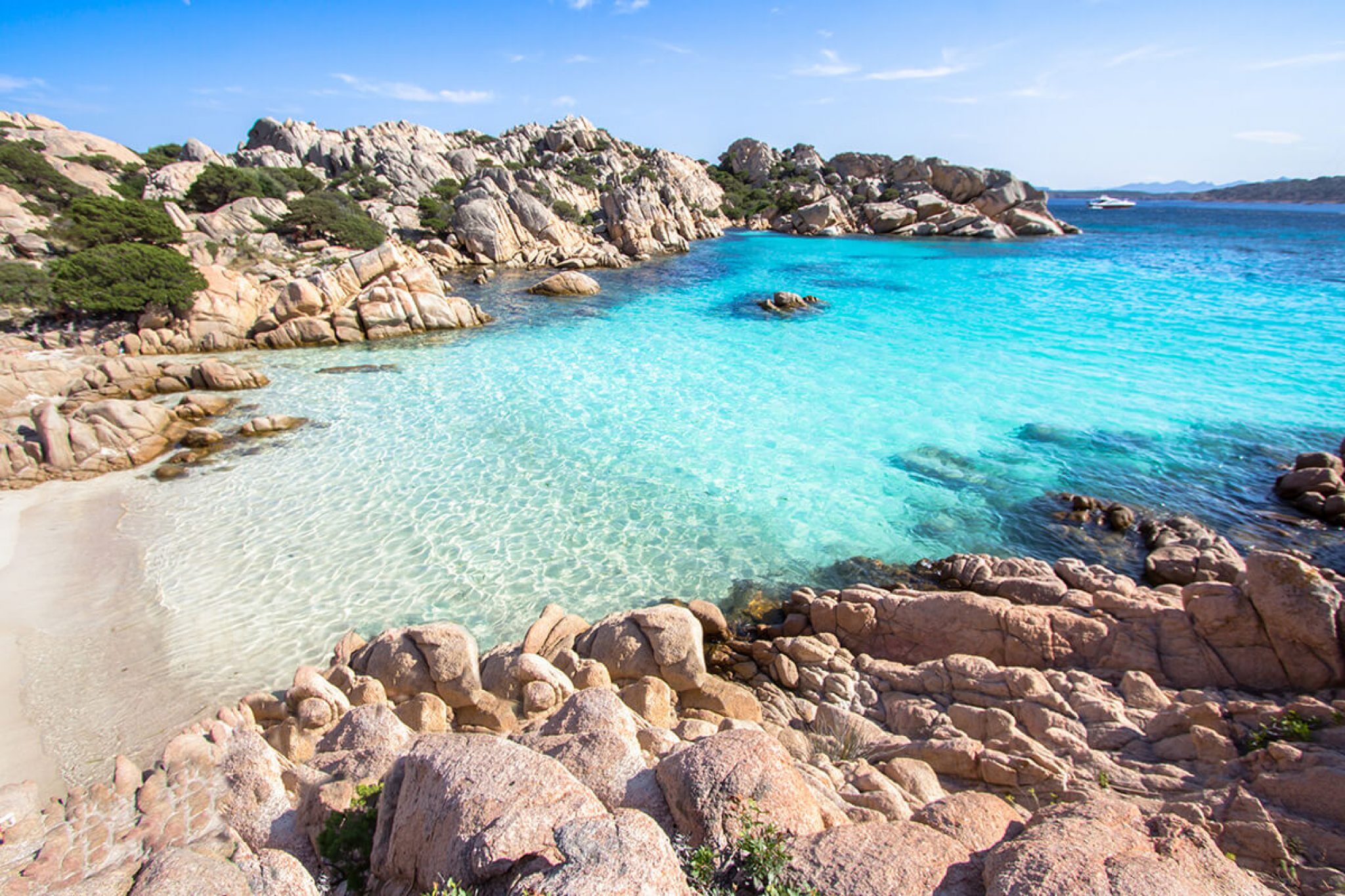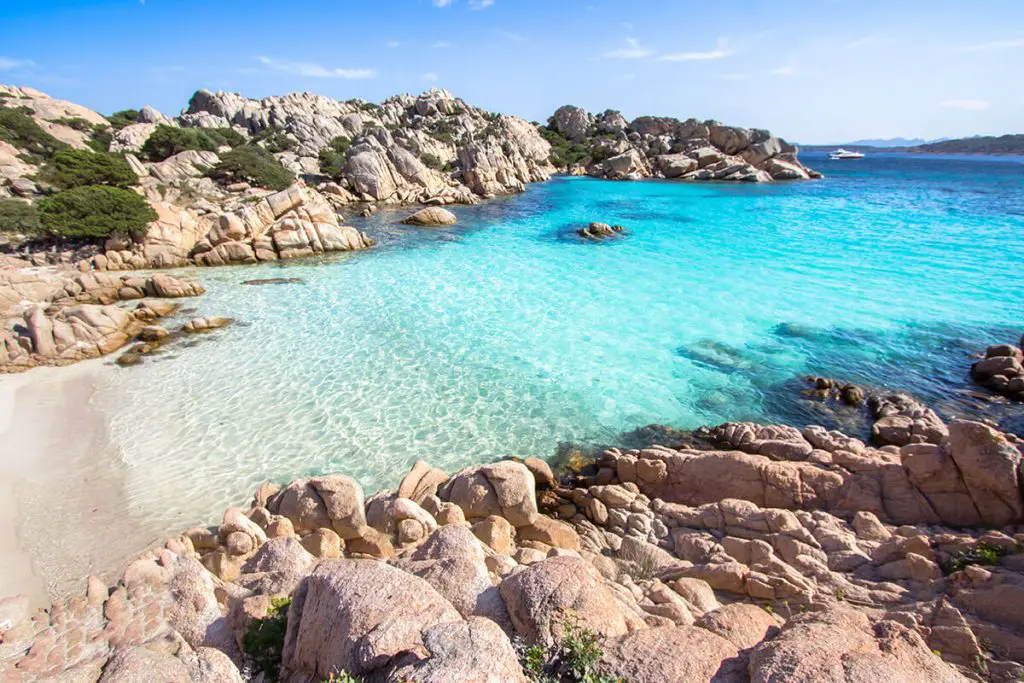 Location: On Google Maps
When it comes to hidden gems, Coticcio might just be one of the best beaches in Sardinia that's off the beaten track. Arrive on the island of La Maddalena for a fun jaunt and day of boutique beach deluxe with Blue Flag standards. There is a full day boat tour that can take you to Cala Coticco that also tours the magnificent islands of La Maddalena beforehand. You will be awe struck by the beauty of these small islands.
Granted, Cala Coticcio may be small (10 metres) but it's highly memorable and as close as you'll get to a marooned beach – if you time it right. Tucked away in Maddalena National Park, the small alcove is accessible by private or organised boat tour. You can hop on the ferry from Palau to La Maddalena island, and then need to drive or cycle to Caprera: in short, this is definitely one for 10+ children.
For those that do make the pilgrimage, you are highly rewarded with impossibly white sands and deep blue waters in this real natural pool known as a 'Tahiti'. The downside – there are no facilities on site,  you'll need to bring everything from water to shade. With not a huge amount to explore, it's best to pair it with a larger tour of the island, you won't regret it!
2. Liscia Ruja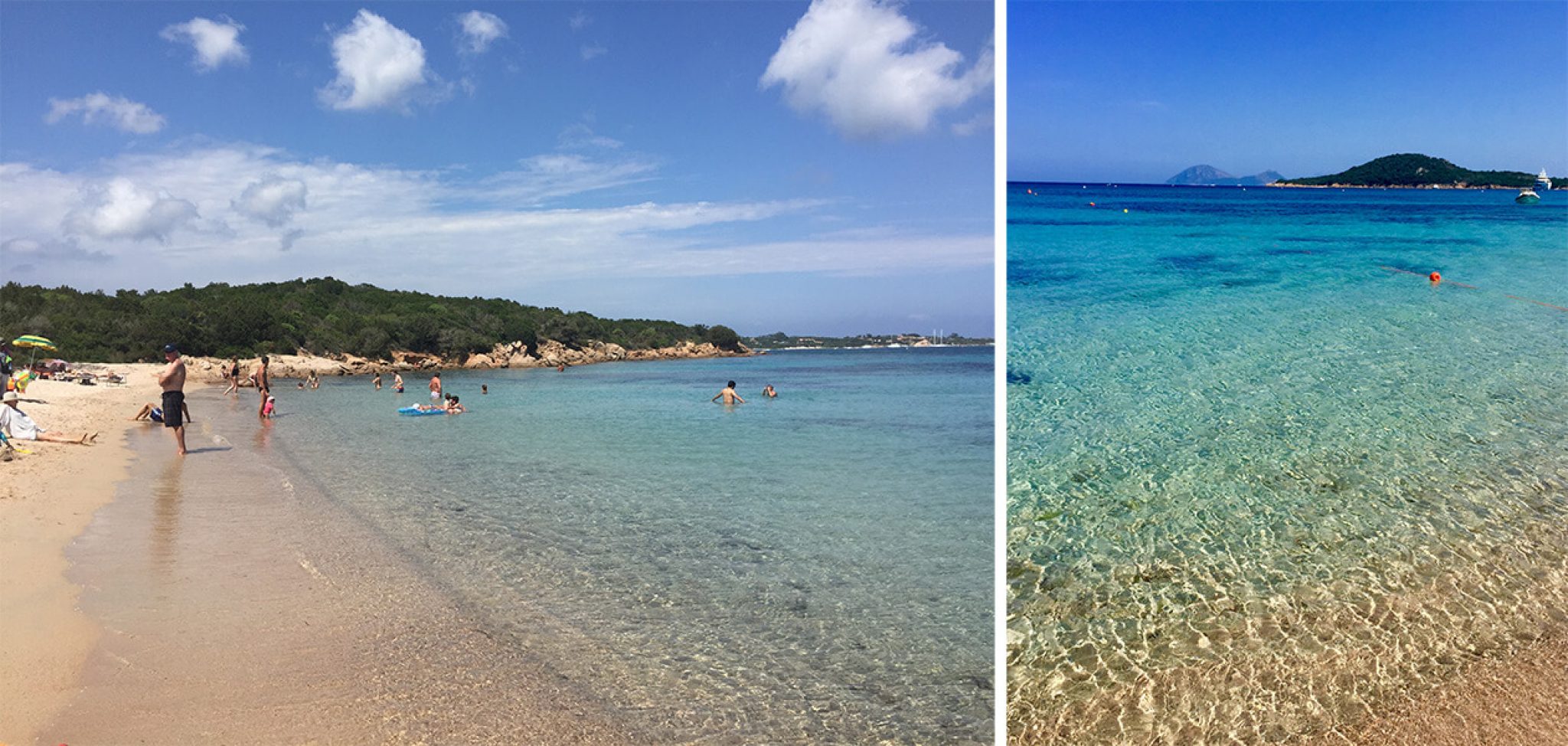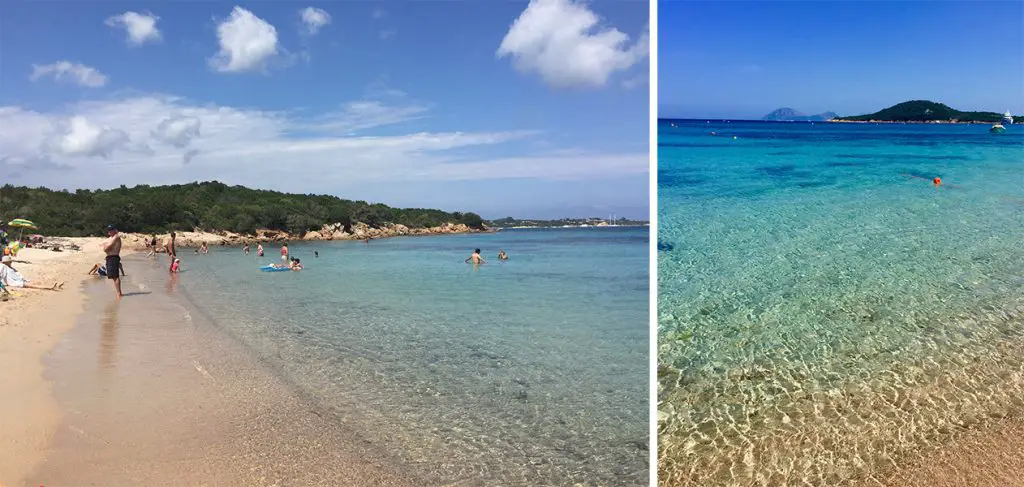 Location: On Google Maps
Not far from the bustling city of Oblia, Liscia Ruja attracts a mixed crowd of locals and tourists alike. One of the beauty spots on the north-east coast, it's everything you could hope for in a family day out.
It's known as one of the best beaches in Sardinia's north coast, with a long stretch of golden sand and turquoise waters for children of all ages to splash about in. There's plenty of space for stretching out, however you'd be wise to bring your own towels, water, SPF and shade for the little ones.
It's also advisable to drive to the beach, and there is plenty of parking, costing approx. 2 euros an hour. That said, be prepared for quite an unsteady track to reach the water's edge. This can be a little challenging with a buggy in tow. When it comes to refuelling, there's a few kiosks where you can get basic staples – and it's the only place on the beach with accessible toilets.
3. Spiaggia La Marmorata
Location: On Google Maps
One of the most northern Sardinia beaches, Marmorata is the perfect choice for a family beach day out with everything you need close by. The long wide beach can easily accommodate plenty of sunbathers, plus there's tons of beach loungers and umbrellas available for rent if you don't mind the €15-25 charge. There's a small beach bar here, with all the essentials, and  the nearby area has enough restaurants should you wish to escape the sun for a bit.
Although it can get busy here, choose a day when winds are high and you'll have the place to yourself. Children will especially love the sports facilities including boat hire, helping to pass the day. With on-site parking being affordable and plentiful, it has everything you need for a chilled and enjoyable family beach day.
4. Spiaggetta di Cala di Volpe
Location: On Google Maps
Just because you've got kids, it doesn't mean you can't enjoy luxury. Cala di Volpe is the perfect beach for enjoying just that. A celebrity favourite, 'Volpe' is one of the hippest Sardinia beaches you'll stumble across. On the stunning coast of Costa Smeralda, it's clear waters and almost-pink sands attract the rich and famous.
Its private coves and crystal-clear shallow waters – ideal for children of all ages.  Its close proximity to the local marina filled with superyachts and five-star hotels, also means that the beach is well serviced. Here you can find plenty of loungers and shade – although it doesn't come cheap.
Within easy reach there are several dining options, including the ever-popular Cala di Volpe Barbecue restaurant. One point to note – as the evening closes in, there is a bit of a 'party vibe' in the area, with its bustling VIP club scene. Big kids (and adults) will love it – younger guests, less so. Pack your Gucci sandals!
5. Spiaggia Longa, Isola Rossa
Location: On Google Maps
As far as family-friendly beaches go, Isola Rossa ticks all the boxes. This pretty clean beach boasts warm clear waters and golden sands that never get too busy whatever time you come. Perfect for families with kids of all ages, the beach is particularly fun for children that can swim – especially when an occasional wave swings by to jump over.
There are sun beds with umbrellas for rent – aprox €15 for two, making it a good base for spending the day. This coupled with the fact that it's very accessible, pebble-free and with nearby parking, make it a firm favourite. Not forgetting, there's lots of food and drink available in local kiosks on the beach at reasonable prices.
In fact the area of Isola Rossa ticks many boxes and it might be worth staying in the Isola Rossa area.
6. Spiaggia Conca Verde
Location: On Google Maps
Found at the end of the luxury Hotel Coluccia in Conca Verde, this small and sheltered golden beach is a wonderful spot for families looking for a chilled rest. The fine sand and low sea levels make it attractive to those with young children.
If you want to mix the experience with a poolside break, the local Hotel Coluccia is just seconds away (50 metres to be precise), complete with WiFi and bars throughout.
Back to the beach, it's handy to bring some supportive shoes, since the seabed can be a little rocky. This does however make it fun for hunting shells and pebbles with the little ones. Being a quaint beach, there isn't a huge amount of amenities on site, but Lo Squalo Beach Bar is a cosy spot for enjoying lunch under its small sheltered umbrella.
7. Spiaggia di Porto Pollo
Location: On Google Maps
When you reach early teen status and beach holidays are all about keeping the kids occupied, Porto Pollo is a good call. Here older kids can partake in a host of water sports, thanks to its perfect wind conditions – making it one of the top kitesurfing spots in Europe.
There's something for everyone in one of several water schools, including windsurfing, kitesurfing, surfing and canoeing to keep the adrenaline pumping. For adults, the reddish soft sands and endless dunes make for a spectacular backdrop to photograph and enjoy.
As one of the bustling beaches in Sardinia, the 3.5 kilometre long beach is well serviced. There are many beach bars, restaurants and parking to make a day of it – or longer. Take a look on the map, to see how easy it is to reach.
Best Beaches in South Sardinia
To the south coast, beaches in Sardinia take on more of a family-friendly 'bucket and spade' vibe. Compared to the north, they're typically longer, sandier and geared towards tourists.
8. Cala Goloritze Beach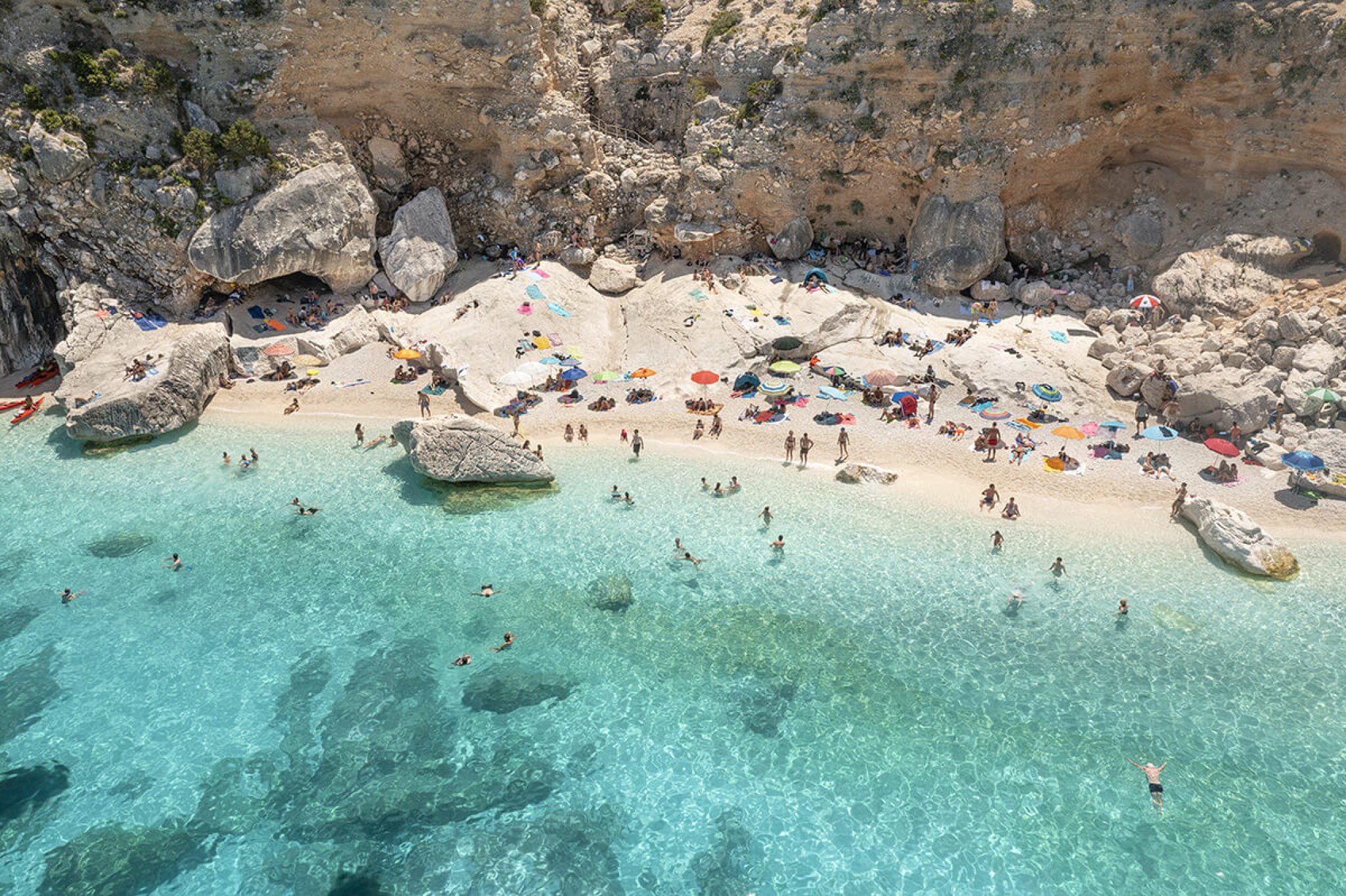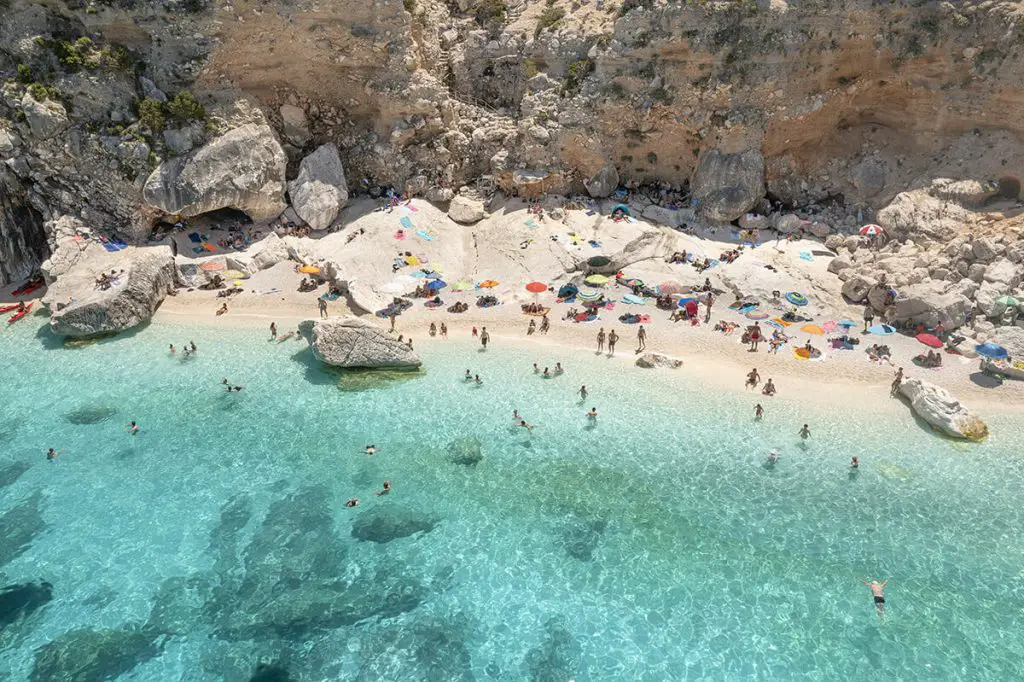 Location: On Google Maps
For all the Robinson Crusoe feels, Cala Goloritzé is like something out of a movie scene, with its endless view of pristine sands. To get here though, you'll need to come by car or sea, requiring some forward-planning.
Once you arrive, you'll be greeted by stunning views, unique limestone cliffs and tiny white pebbles – one of the reasons why it's one of the most photographed Sardinia beaches. Due to its remote location, you will need to bring all essentials with you, including sun shade, food and drink, and plenty of snacks to keep hunger at bay.
One other thing to note is that its waters tend to get much cooler than others due to its geographical position off the Gulf of Orosei – waters which also get very deep very quick. For this reason, it's not one of the best beaches in Sardinia for young babies. Instead, it's better suited to slightly older children – those old enough to be able to snorkel and see the beautiful fish in these waters.
Is it worth going out of your way to visit this beach? The area is stunning and there are other things to do close by to visit. If you want to take your time to explore the area you may want to consider an overnight stay at Cala Gonone. Erika covers whether Cala Gonone is worth visiting and lists activities to do there and map locations for them.
9. Spiaggia di Sa Colonia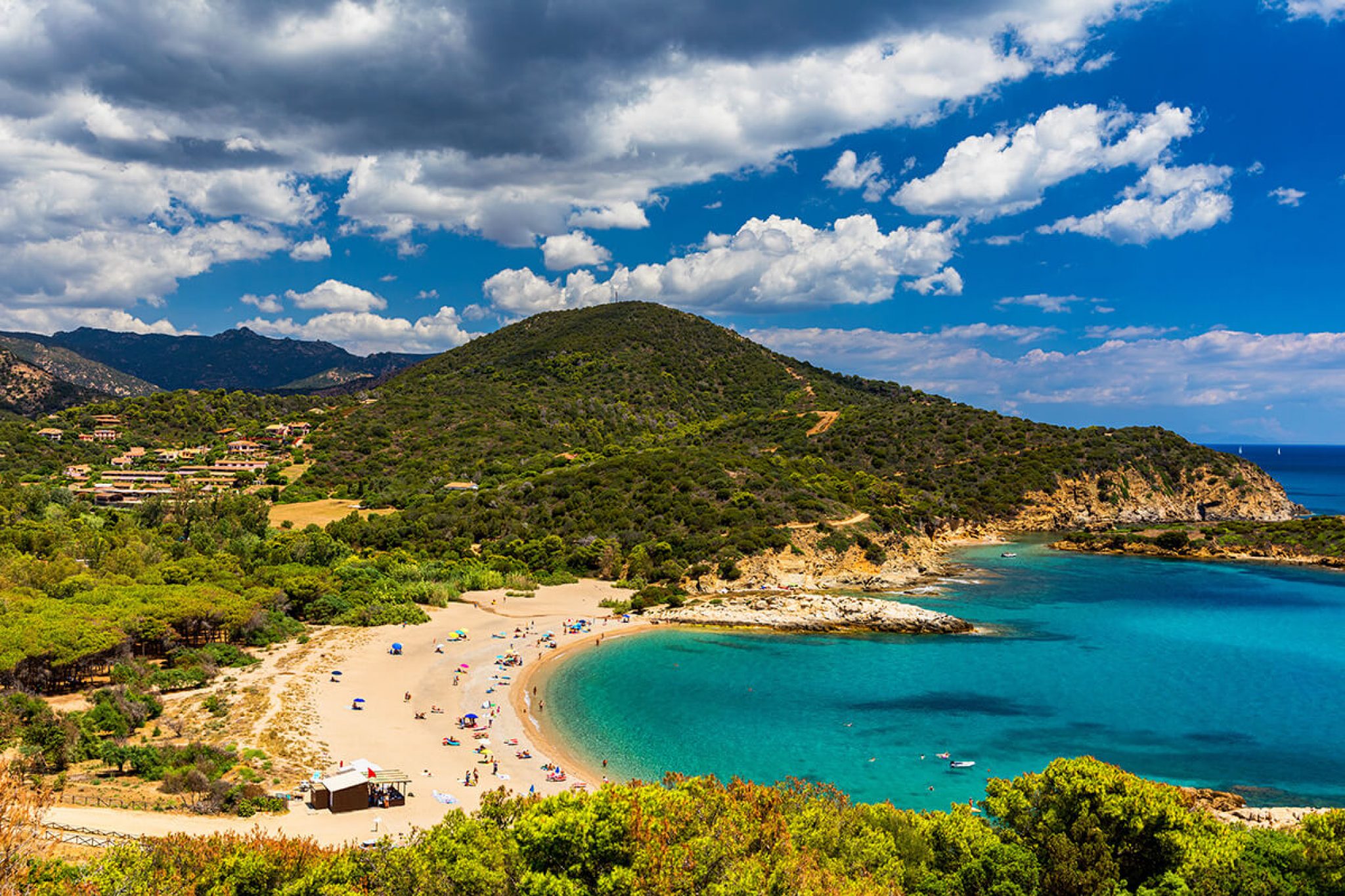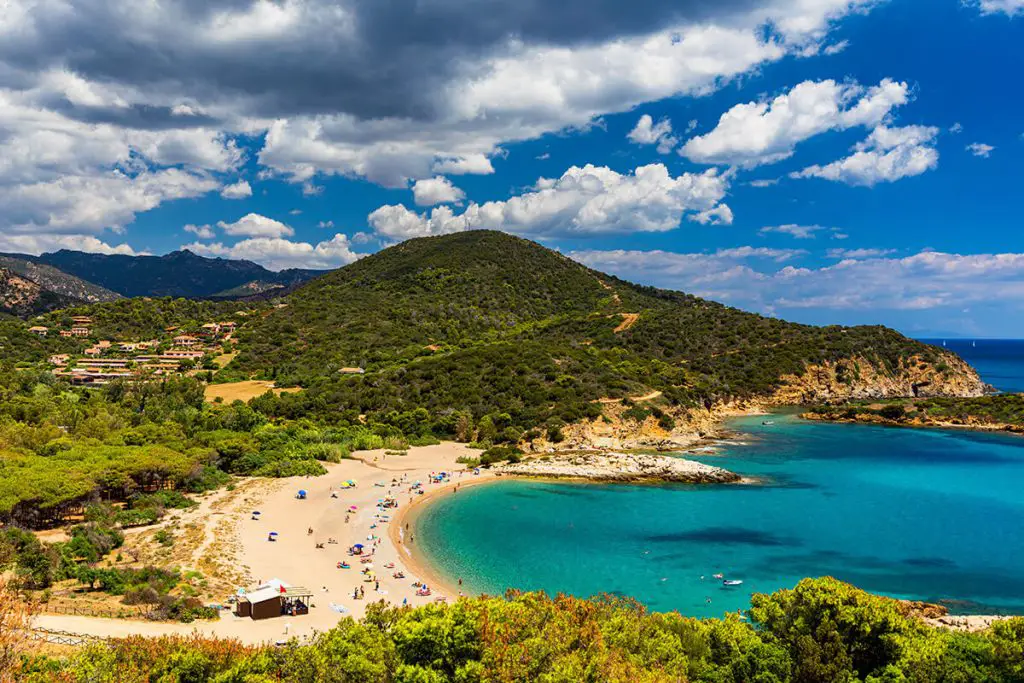 Location: On Google Maps
Welcome to 750 metres of blissful beach. This majestic coastal retreat is a wonderful choice for families seeking a natural beauty spot. You're instantly struck by peach-coloured sand and aqua-marine waters rising up to greet you.
As if that wasn't enough, a short walk from the beach is a Lagoon packed with flamingos, and if you're lucky, you might even spot a dolphin or two! Not just one of the most beautiful beaches in Sardinia, this is also a well-equipped hangout with all the necessary comforts available. There's ample umbrellas and beach chairs for rent, and a couple of kiosks serving take-away food.
Arrive by car and make the most of your day, with parking costing just €5 for the day. There are also public toilets too, although you have to pay to use them. Granted, in peak summer months the beach gets very crowded, especially as a popular kitesurfing spot. However, this doesn't take away from the fact that it's one of the best beaches in Sardinia for families.
10. Poetto Beach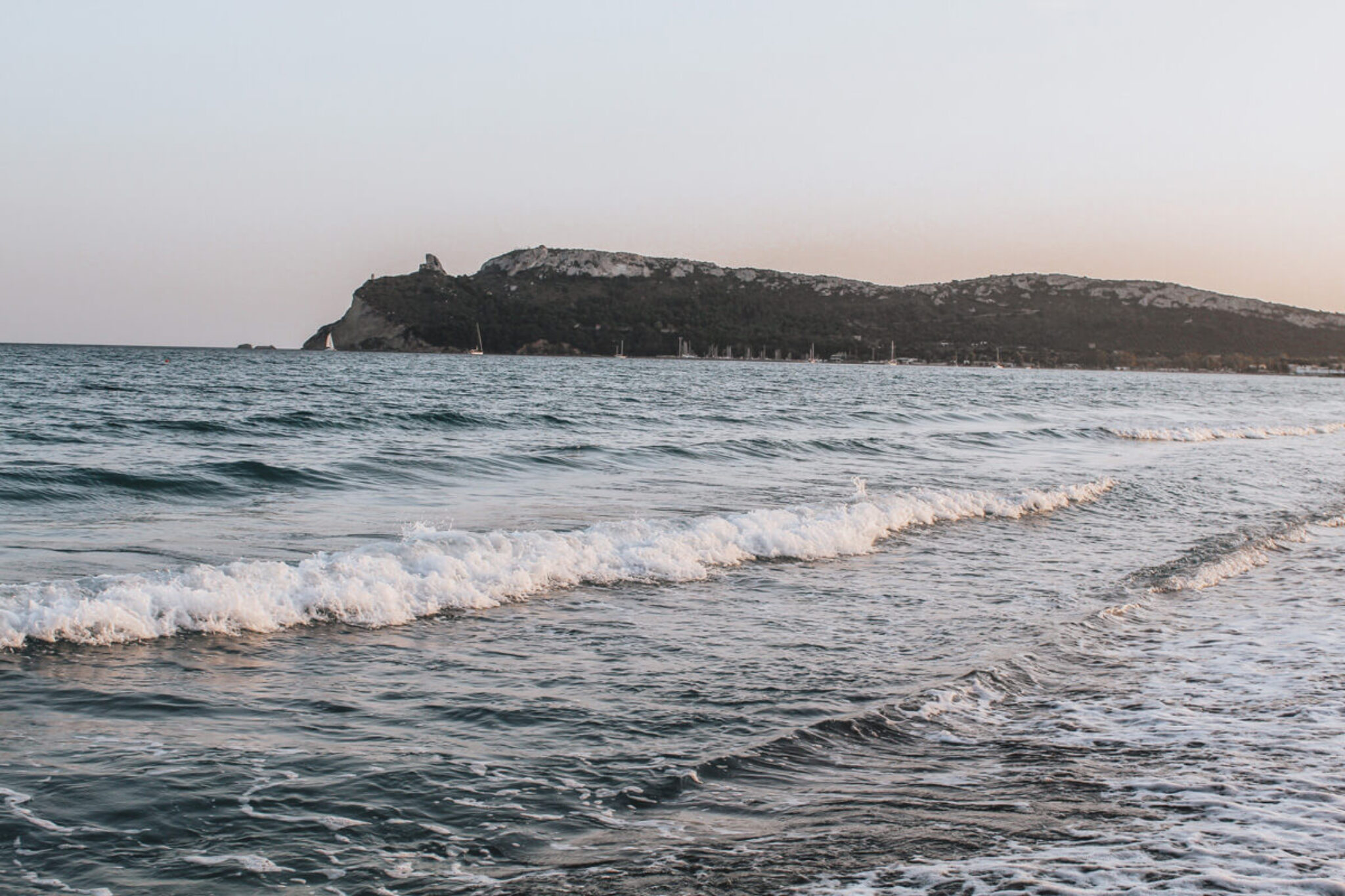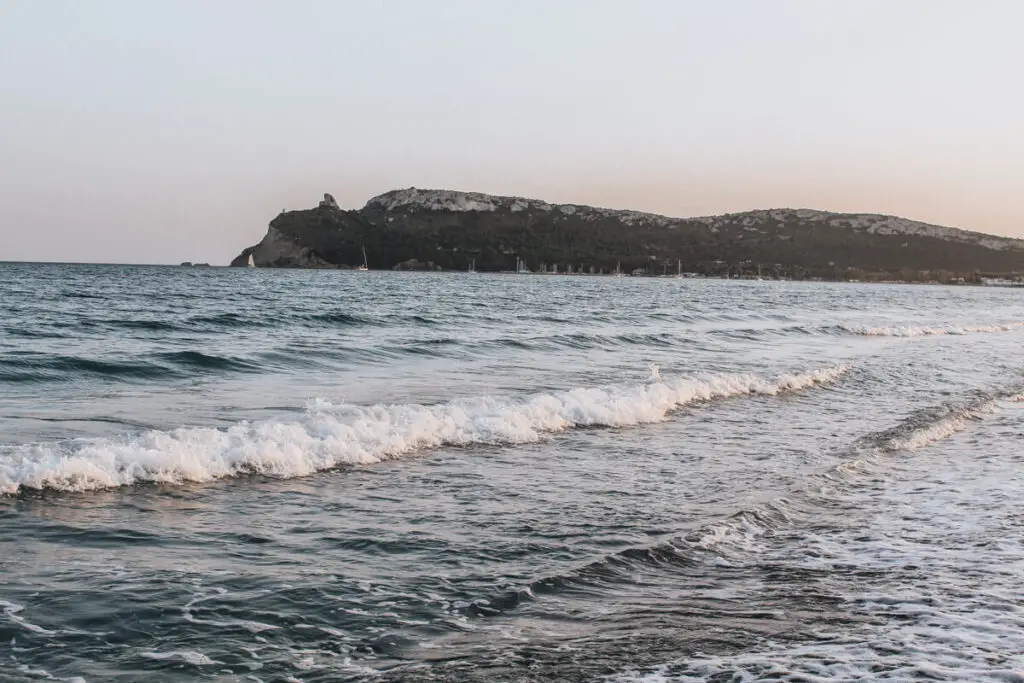 Location: On Google Maps
Urban, chic, well-equipped – it's no secret that Poetto is one of the best beaches in Sardinia's south coast, as highlighted on the map. Somewhat of an institution, it's one of the most famous strips of sand, especially loved by locals. You can see why – there's everything you need to hand, including restaurants and kiosks for refuelling, water sports for action, and 10km of unspoilt sand for relaxation.
However – it seems to be tradition that you bring your own umbrella, don't forget to pack it! Especially good for young children, the waters here are shallow and inviting, with plenty of room for making sandcastles. Easy to get to, it's one of the few beaches easily accessible by public transport too.
Top tip: if you pitch up by the nature reserve, you'll get a chance to see flamingos, as well as enjoy the local children's playground.
11. Spiaggia di Porto Pino
Location: On Google Maps
One of the finest Blue Flag beaches in Sardinia, this family-friendly destination is a stunning backdrop for guaranteed beach action. Whether the little ones want to splash around in translucent waters, or try their hand at surfing or scuba diving, it is all possible here. And parents can relax a little, since the beach has lifeguards on duty too.
The 4km oasis is characterised by sand dunes and rugged coastline, and if you're lucky you'll even spy pink flamingos in one of the ponds nearby. Just 10-minutes by car from nearby Sant Antioco, the parking lot is easy to reach and just 5 euros for the day.
When you arrive, it's just a few minutes from the car park to the beach – popular with parents or those with additional access needs. Ideal for a family day out, the beach is well-equipped with public bathrooms (although no showers), along with several bars and water sports for hire.
12. Spiaggia di Maladroxia
Location: On Google Maps
Hanging off the westerly coast of Sardinia, the outpost of Sant'Antioco  is connected by an archipelago of dotted coastline connecting it. This makes for a beautiful and dramatic drive as you approach Maladroxia – one of two popular beaches here – the other being Coacuaddas.
Tourists come here for its soft fine white sand and sloping low waters – ideal for toddlers, plus it's free to visit. As a Blue Flag beach, it's perfectly equipped for families with a high standard of facilities throughout its 400 meters length. Along with watersports equipment for rent, there's a beach bar, kiosk, restaurant, and bath house for visitors to enjoy, along with a generous parking area and disabled access.
Although situated in a small town, you can find a smattering of restaurants and hotels close by – see the map for quick reference.
Best Beaches in Sardinia Map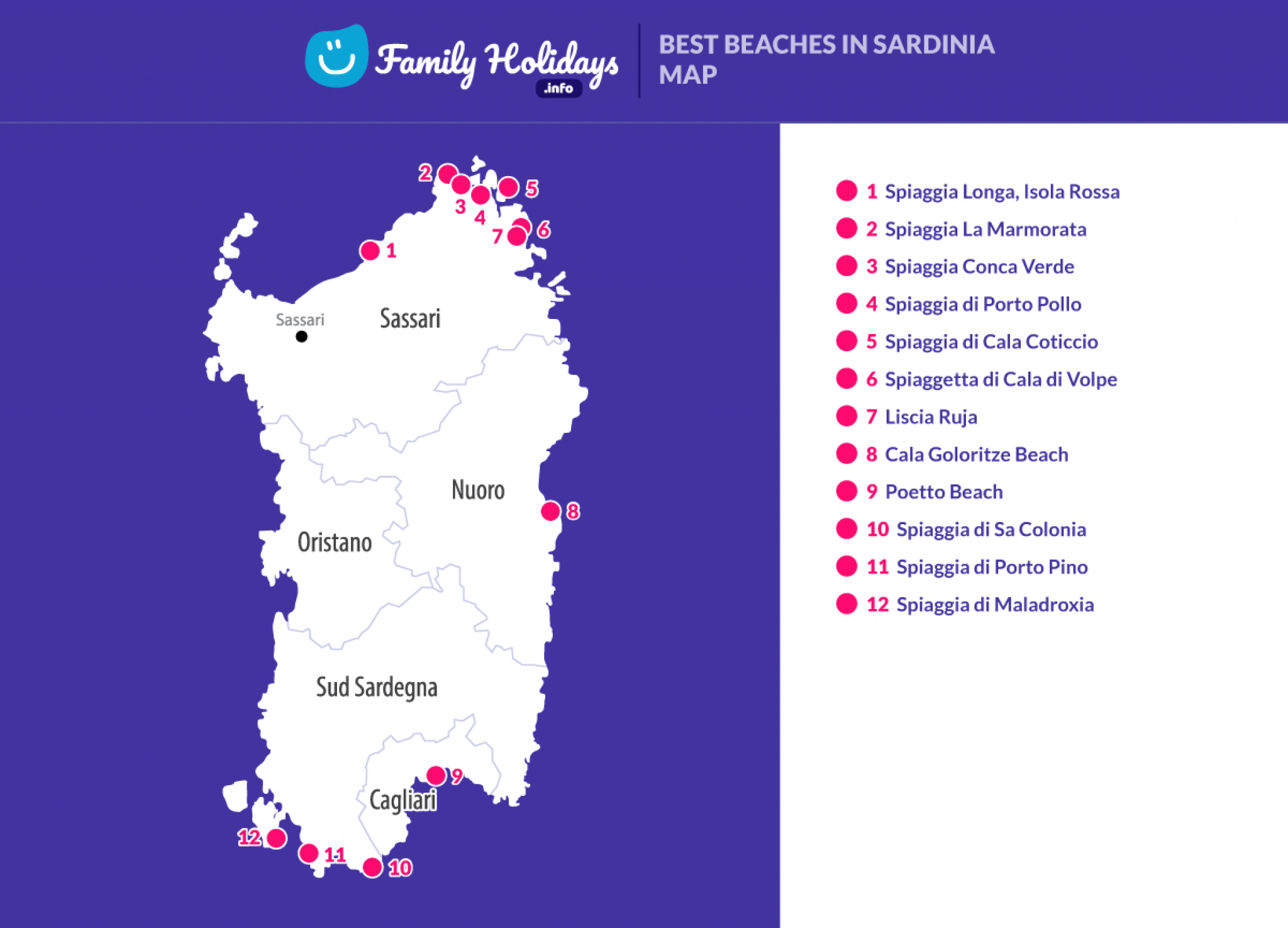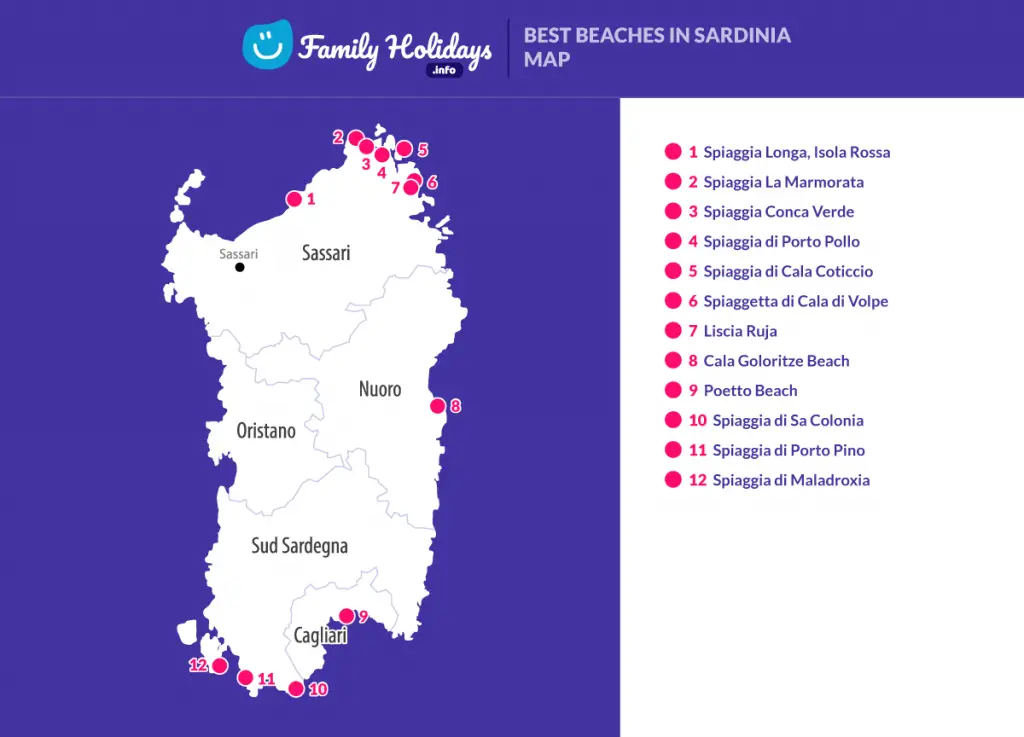 Other Activities and Related Articles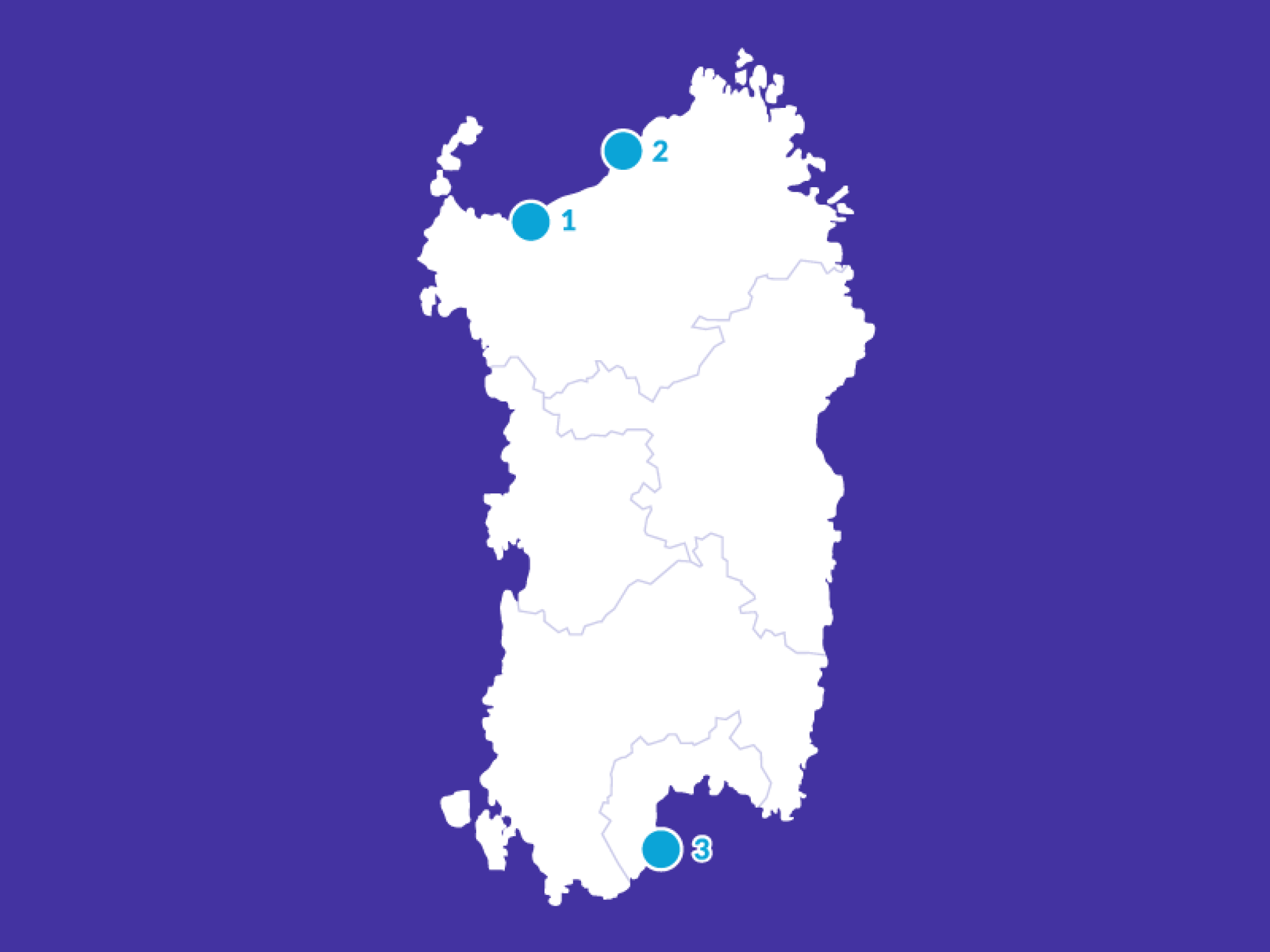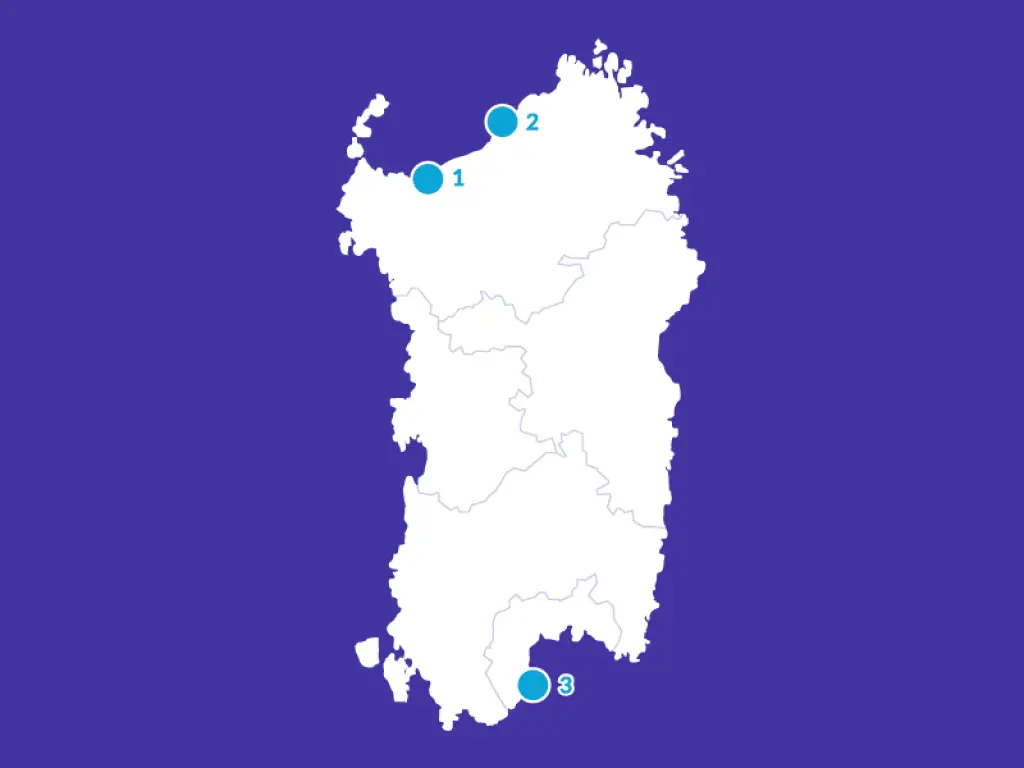 The 3 best water parks in Sardinia for the entire family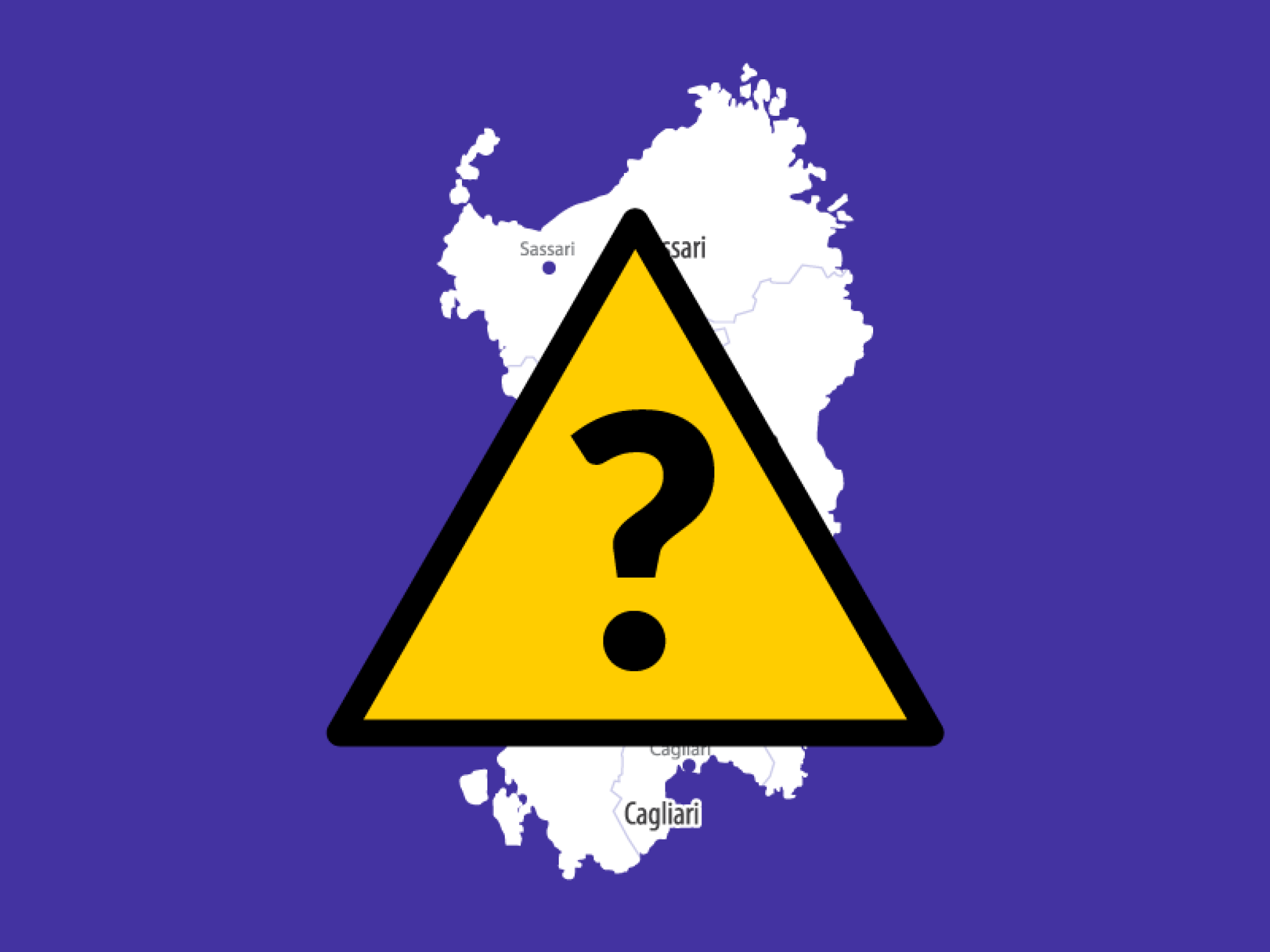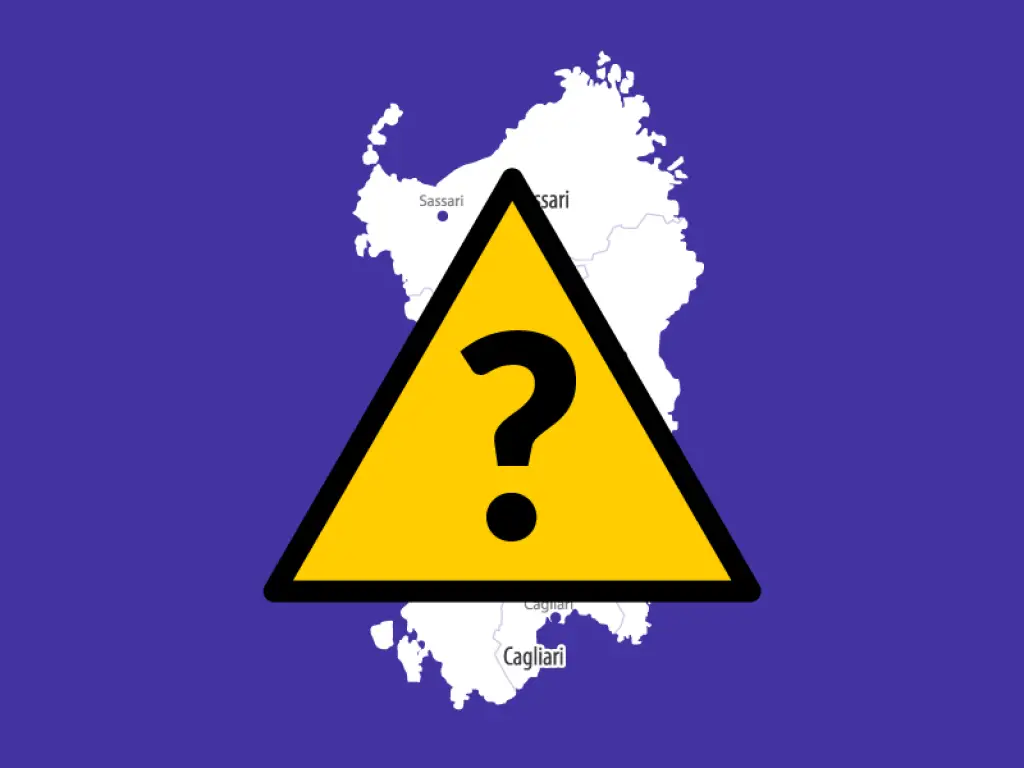 Is Sardinia Safe? Information for Tourists Going to Sardinia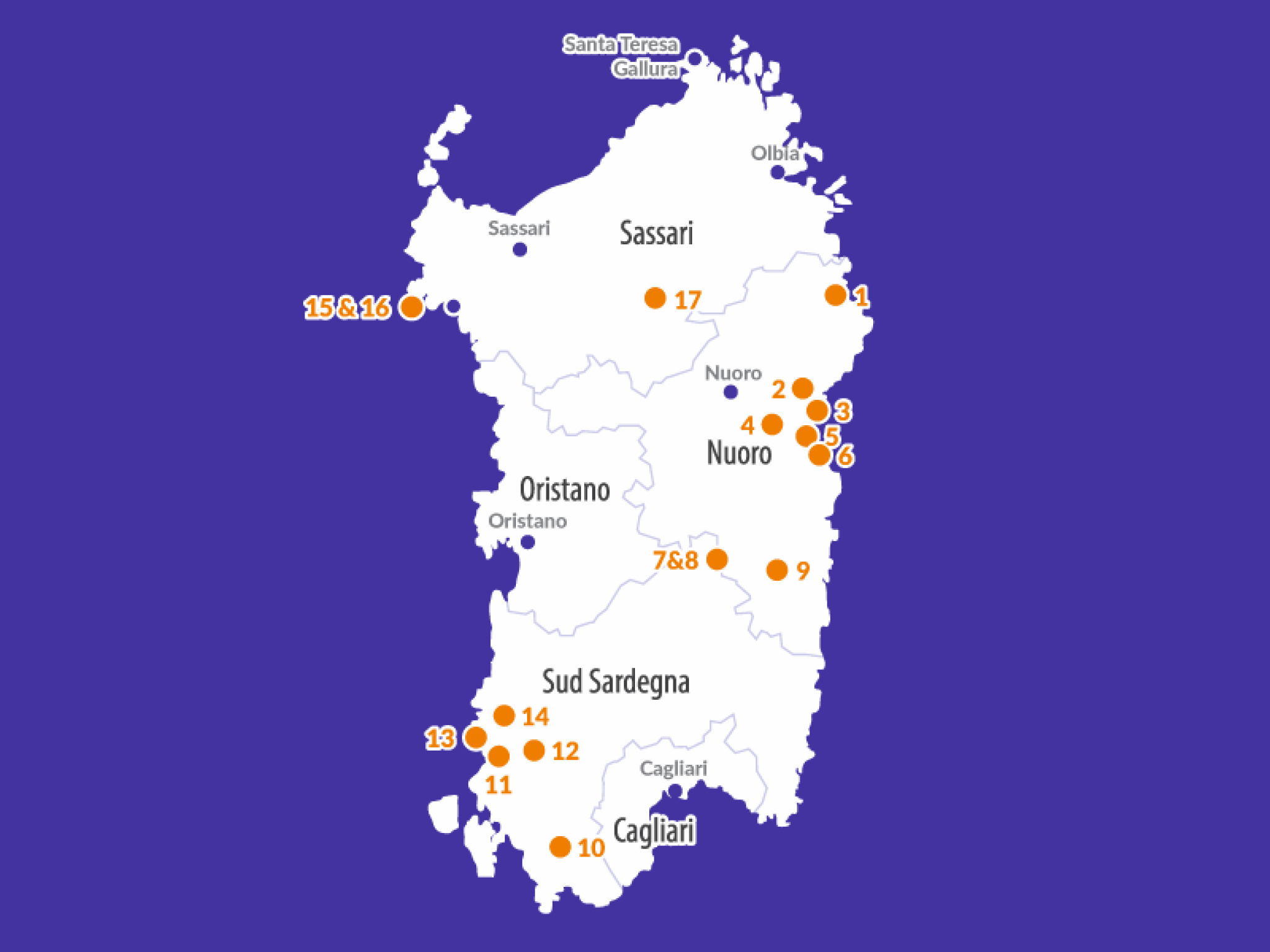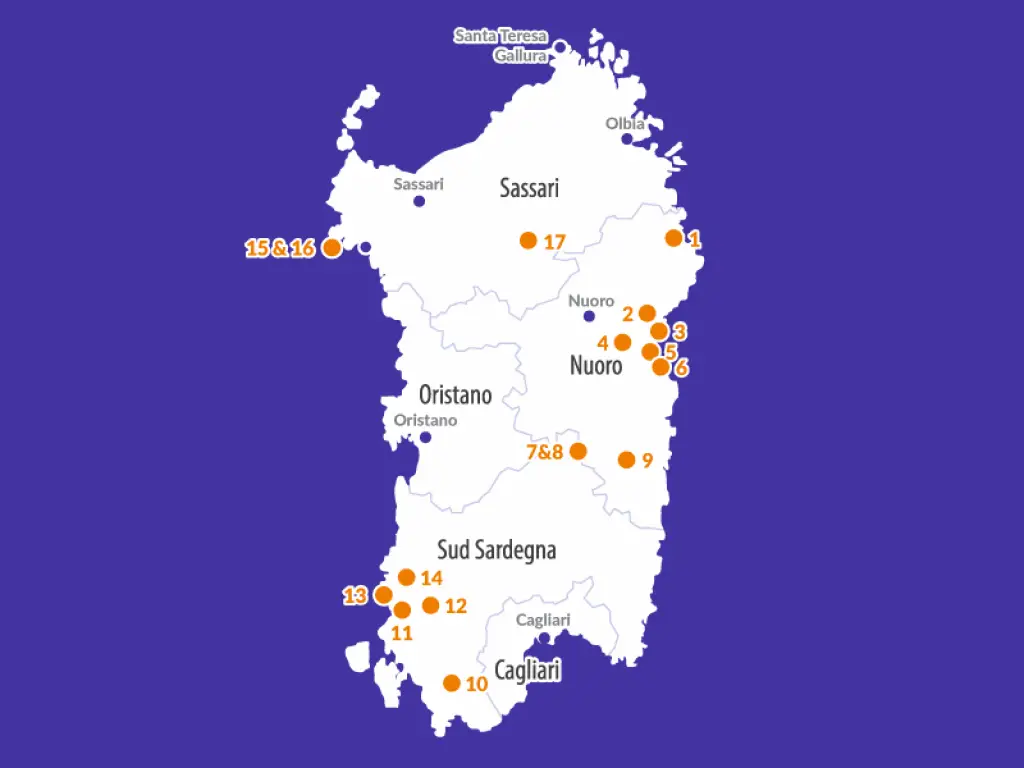 16 Intriguing & Beautiful Caves in Sardinia + Map Locations