Best Way to Get Around Sardinia by Taxi, Train and Car
The beautiful island of Sardinia has long been regarded a top destination for families, couples and tourists. Boasting more than 200 beaches, and many sites and activities on its shores, it's also a destination that demands to be explored. So then, what is the best way to get around Sardinia?
Travelling by car is the best way to get around Sardinia because it allows you more freedom. But, if you're not going far, public transport is good for inner city travel, even if it takes longer. 
Here's what you need to know…
Driving Around Sardinia
For most tourists and visitors, car hire tends to be the most popular and best way to get around Sardinia. This allows you to travel at your own pace, at your own time, and within the comfort of your own surroundings.
If you have young children, this might also be a preferable option, however don't forget to bring your own car seat. Although most car hire companies offer children's car seats, the quality of these is debatable – plus, when you read the small print, you'll notice that most of the time they aren't guaranteed in stock. In short, it's not a risk worth taking.
If you're wondering how to travel in Sardinia by car and if the roads are safe, the good news is that it's pretty straightforward. There are no motorways, nor road tolls, and outside of the capital –there's very little traffic. This all makes for a simple driving experience, and you'll find that there are dual carriageways or superstradas, which are fairly easy to use.
On the whole, roads are well kept and safe. If you're an anxious driver or not a fan of winding roads, avoid some of the mountain areas which can get a bit windy in places.
That said, if you're looking to soak up coastal views, this is definitely the way to go. And, unfortunately some of the caves and beaches in hard-to-reach-areas can be a bit rocky on the way down too.
However there are many amazing coastal caves that you can access by organised boat rides from nearby locations. Same goes for some beaches that are less accessible.
Car Hire in Sardinia
If you decide to rent a car, be prepared that costs vary greatly depending on the time of year you visit, the size of the vehicle, and the amount of time you need it for. Typically, peak season runs between May and September, when you can expect to pay a lot more.
As a quick guide, car hire for a week in October tends to start from €9 per day for a compact model, compared to €28 a day in July, using Discover Cars. Discover Cars won the award for the world's best car rental booking website in 2022. They list deals from different car rental companies across Sardinia so you can find the best deal, and provide exceptional customer support.
Typically, you can expect to pay €200 for a week's car hire, which doesn't include the cost of petrol or insurance. While it may be one of the best ways to get around Sardinia, it's certainly not the cheapest. Here is an article on whether it's worth hiring a car in Sardinia if you need some guidance.
Top Tips for Driving in Sardinia
Don't forget they drive on the right in Sardinia!
The law requires you to drive with your lights on all the time.
Have some loose change on you for car parking, this is around 50 cents an hour.
Taxis in Sardinia
It's worth knowing that taxis in Sardinia don't come cheap, and most drivers have limited English. That said, if you just need to get to and from the airport, this may be preferable to car hire, and it's certainly more straightforward than public transport in Sardinia and having to share your space.
Taxis are charged per car, not the amount of passengers, making it a standard charge. To give you an idea of costs, you can expect to pay €25 to get from Cagliari airport to the city centre – roughly a 15-minute journey, excluding tips.
Top Tips for Taxi Hire
Download a reliable taxi app before you fly
Pre-book taxis where possible, using your concierge or opting for official taxi ranks at the airport
Always have spare change, as some drivers do not have card payment options
Sardinia Public Transport
Yes – you can get around the island without a car. In only a few cases can go the easy route and opt for guided tours which pick you up from your hotel and will take you around in comfort.
Like this Su Nuraxi Barumini and Giara tour from Cagliari where you can explore one of the most important archaeological sites in Sardinia – a Bronze Age defence system dating back to the 2nd millennium B.C.
Of course there is also public transport, made up of buses, trains, and in some situations the ferry. All provide a cheap alternative to taxi and car, and are a good option if you're travelling alone and not on a schedule with the kids.
As you'd expect, as well as being the cheapest means of getting around, it's also the slowest. Let's take a look at these transport modes in more detail.
1. Buses in Sardinia
The island of Sardinia is well connected by an extensive network of bus routes. Although this means there's plenty of options, as a tourist it can be hard to navigate and confusing if you don't know where you're going.
That said, they run reasonably often and timetables are available at every bus stop, also known as a 'Autostazione'. Be prepared, however, that reduced services run on a Sunday, making it even slower to travel.
On the upside, city buses are clean and the bus stations are well marked, making them easy to find, just in case you're wondering how to travel in Sardinia with ease.
It's wise to plan your journey ahead of time. You can check official timetables on the ARST website, but it's in Italian so you may prefer using Google Maps.
You can also purchase a tourist ticket if you plan to use the buses a lot. These are valid from 1 June to 30 September, for use on all ARST services except Trenino Verde. They start from €45 for a seven-day pass, which is very reasonable.
You can even use it for airport transfers if you feel brave. For instance, if you arrive into Olbia airport, there is a daily service (running from 6.50am until 19.35) with  buses to popular destinations – Nuoro and Siniscola.
Although generally reliable, it is not advisable to use public transport in Sardinia if you're travelling with babies and young children, unless you know where you are going.
Tips for Travelling by Bus
Tickets can be purchased at bus stations, but it's handy to know that you can also buy them at bars and tabacchi (tobacco shops).
If you're running late and hop on an ARST bus, you can pay a premium on board for the privilege
2. Trains in Sardinia
It's no secret that travelling by train in Sardinia is not without its challenges. The railways aren't exactly modern, and there's often works taking place. Trenitalia is the main network, run by the government, connecting all corners of the island. The ARST tends to operate between smaller towns.
Generally speaking, trains are on time, but they are very slow. As an example, it takes four hours to get from Cagliari to Olbia by train, but just two-hours by car. As ever, pre-planning is essential for public transport in Sardinia, since many trains only operate once or twice a day.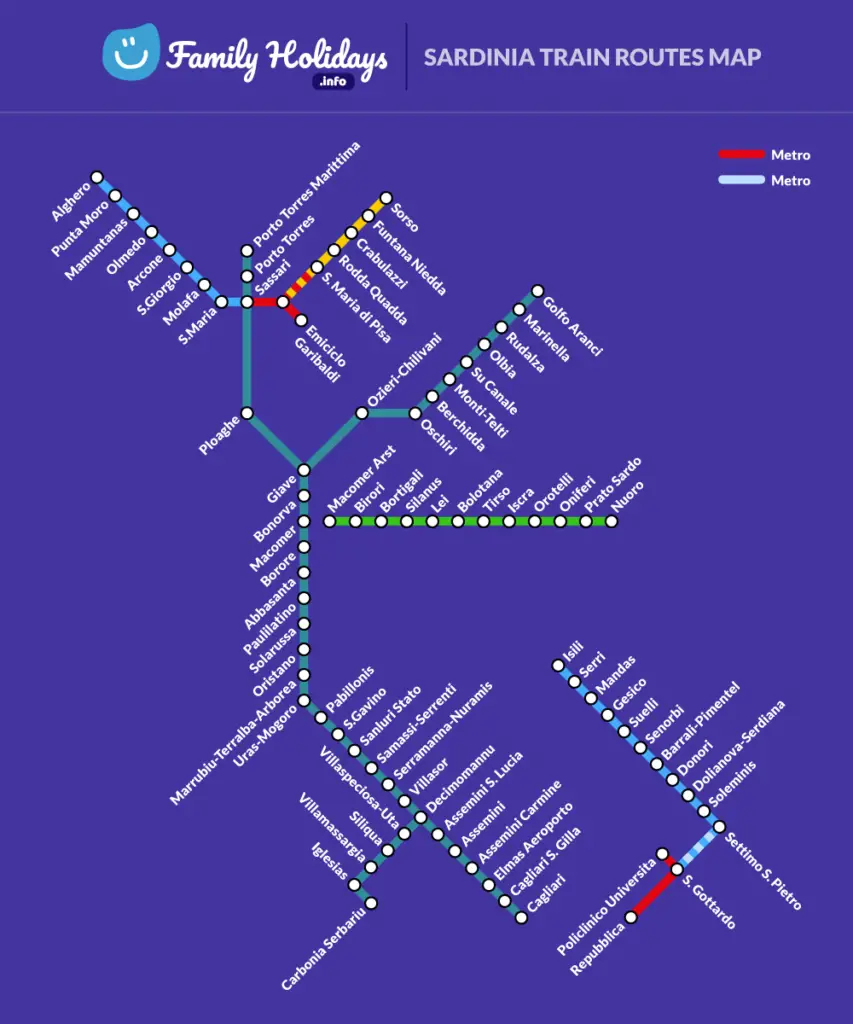 The Omio website is great in this case because it allows you to easily search, compare and book travel options for trains and in some cases it will suggest bus routes also, all in one platform. Tickets are cheaper online, but if you're in a rush, you can also buy them on board from the conductor – extra fees apply.
Tips for Travelling by Train
If you're planning to make the most of the train service, the Trenitalia Pass might be worth considering. This starts at €129 for a seven-day pass.
3. Sardinia by Ferry
Worthy of a quick mention, ferry is another option for public transport in Sardinia. This will connect you to certain islands like San Pietro or La Maddalena. The ferry service is run by Declomr, and fares start from around €10 per person, you can also bring vehicles for more.
If you are going to travel out of Sardinia by ferry then Direct Ferries is your best option for doing so. It offers a comprehensive selection of ferry routes and operators, allowing customers to easily compare prices and schedules and find the best deals for their travel needs. That also includes a trip to neighbouring Corsica.
How to Travel Around Sardinia to Popular Destinations
By road, train, bus and ferry – Sardinia has it covered when it comes to getting about. However, we have hand-picked six of the most popular family destinations we listed in our article Fun Activities to do in Sardinia with Kids. Here we provided some ways to reach them by car and Sardinia public transport. We've also highlighted these on the map below.
Going From the North to the South
It's no surprise that travelling by car is the best way to get around Sardinia, this is especially true if you're going from the north to the south of the island. Be prepared that even by car, it takes about four hours. The roads from Sassari to Cagliari and to Olbia are good though, making it a fun day of road trip adventure.
Along the way it is worth a stop to visit Sardinia in Miniature park because it offers a unique and interactive way to learn about the island's history, culture, and traditions in a fun and entertaining way. With over 40,000 miniature figures and detailed replicas of famous landmarks, the park provides an immersive experience that both kids and adults will enjoy.
When in the south, there are endless beaches to explore. One of the best is Spiaggia del Maladroxia, which made our best beaches in Sardinia toplist. It's a wonderfully sandy beach with shallow waters for the little ones to splash about in.
Getting to Grotta del Miracolo
A popular tourist spot, this spectacular cave is noted for its dramatic stalactites, worthy of a visit with older children especially. The trek here is not simple, and not for those who don't like adventure.
Head towards Golgo Plateau by car and follow the directions to the Golgo church, whereby you follow a dirt track for a further 13kms. At last you'll find a parking lot, but it's a good 30-90 minutes further walk from Cala Sisine Beach to get to the Grotto.
Getting to Vertical Park
One that children of all ages will enjoy, Vertical Park is a fun family day out, and there's plenty of ways to get here, including the bus. Take the 110 to Sestu San Gemiliano station, and it's a 3 minute walk from here.
Leoland Luna Park
Filled with roller coasters, fairground rides and plenty of cotton candy, Luna Park is always a winner with the little ones. If you're staying in Olbia, this is fairly easy to get to, which you can reach in 30-50 minutes using local Sardinia public transport.
There are a few options, the best is to hop on the 610 bus heading to 'Olbia Corso Vittorio Veneto' to get here, or the 'Reg' train getting off at Golfo Aranci. From here it's about a 10-minute journey by foot, so pack walking shoes.
Getting to Water Paradise
With its glorious weather and stunning scenery, Water Paradise is a fun day out. There are a host to choose from, but Water Paradise is a firm-favourite, especially if you're staying in the north of the island, in and around Sassari.
If you choose to come by car, be prepared that there's a €15 parking charge, unless you can find somewhere else close by to leave your vehicle. For this reason, you may find it better to take Sardinia public transport.
The 728 bus frequently passes through the area, and is well-serviced. The route starts at the northern point of Santa Teresa Gallura and runs down the coastline until it reaches popular Sassari Via Padre Zirano. However, you'll want to get off at Caserlsardo Bar Sax, from which it's a couple minute's walk.
Travelling Around the Island
Sometimes it's the journey, as much as the destination, right?! With no motorways to restrict you, it's easy to do the loop of Sardinia and take in the ever-changing terrain from north to south. This can be done in 12 hours, so it's best to break up into four or five overnight stops with children, and enjoy the ride.
Just keep an eye on speed limits (even if the locals don't as you'll come to realise), which are 90km/h on main roads and 50 km/h in towns, cities and villages.
Activities in Sardinia Map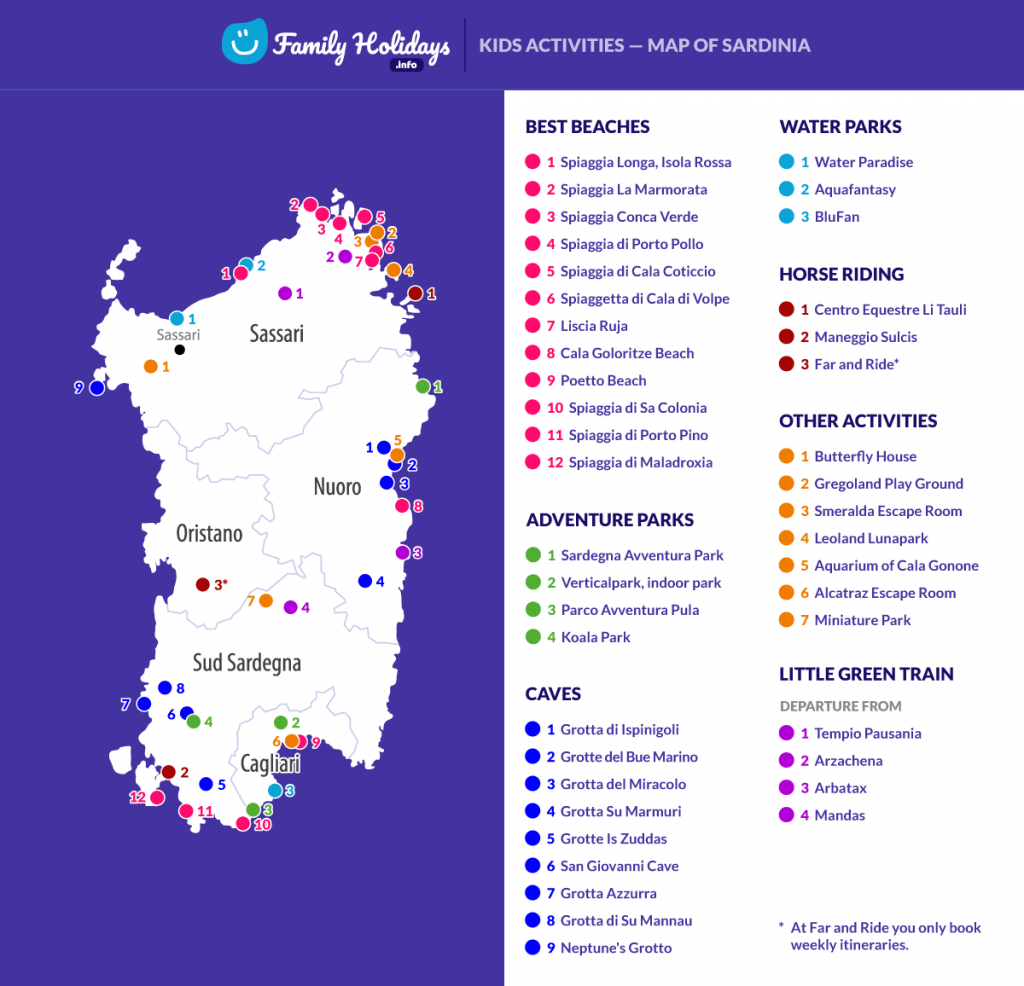 Other Activities and Related Articles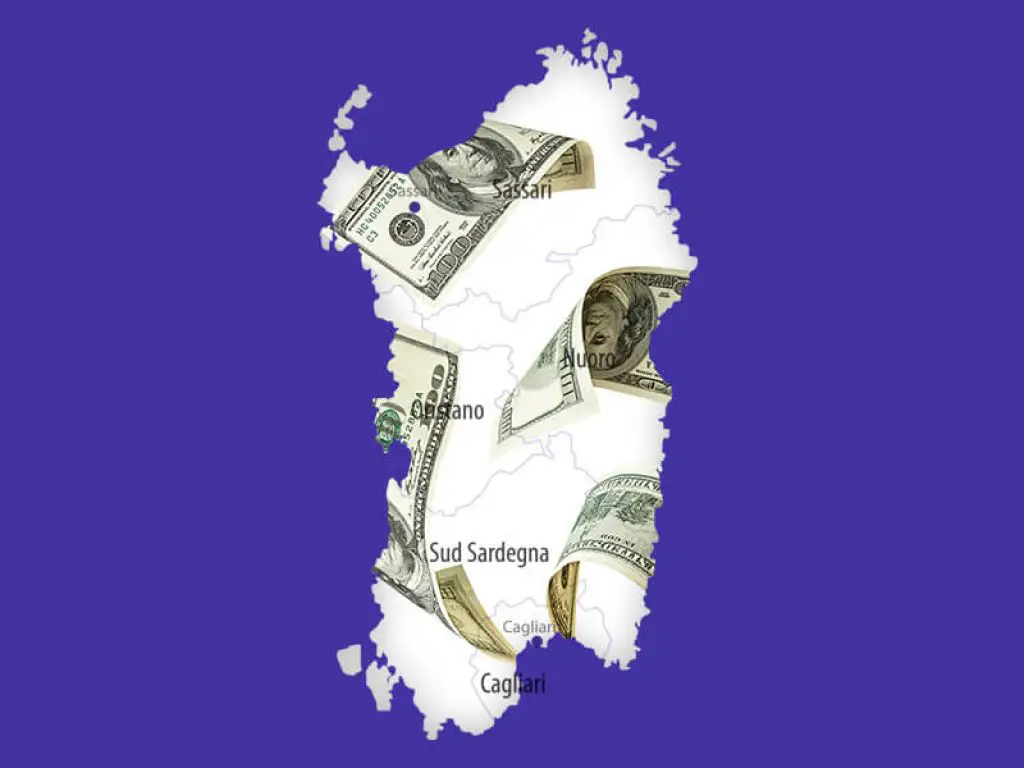 Is Sardinia Expensive? A Detailed Price Guide for Tourists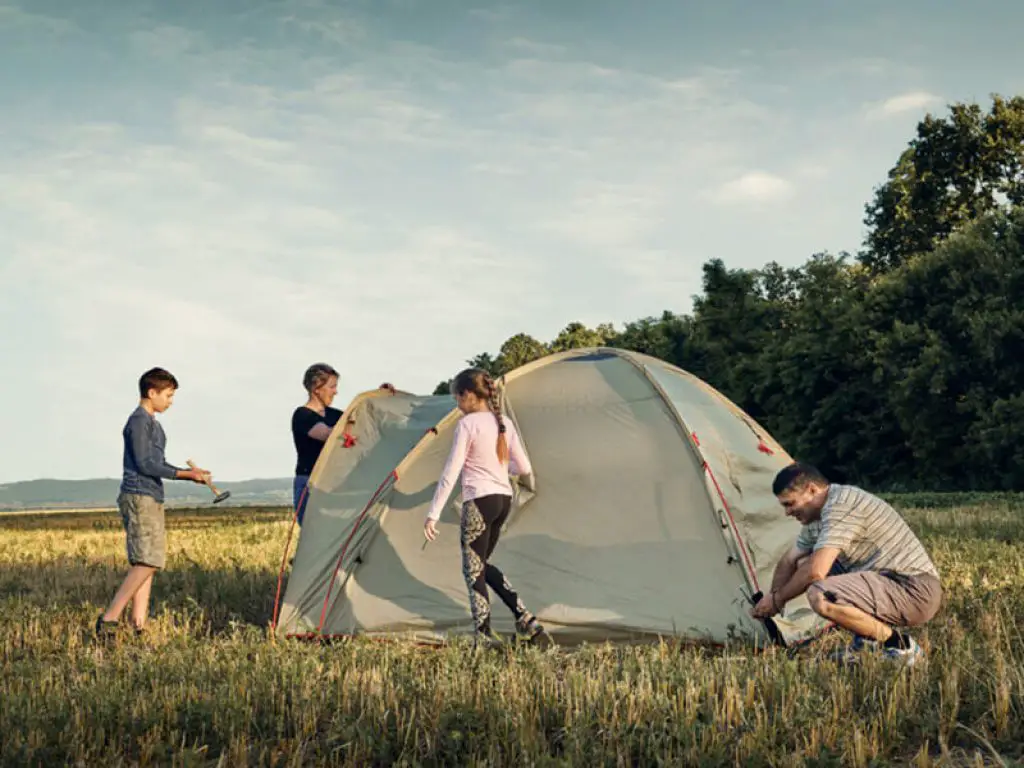 Locations For Memorable Camping Trips With Kids in Sardinia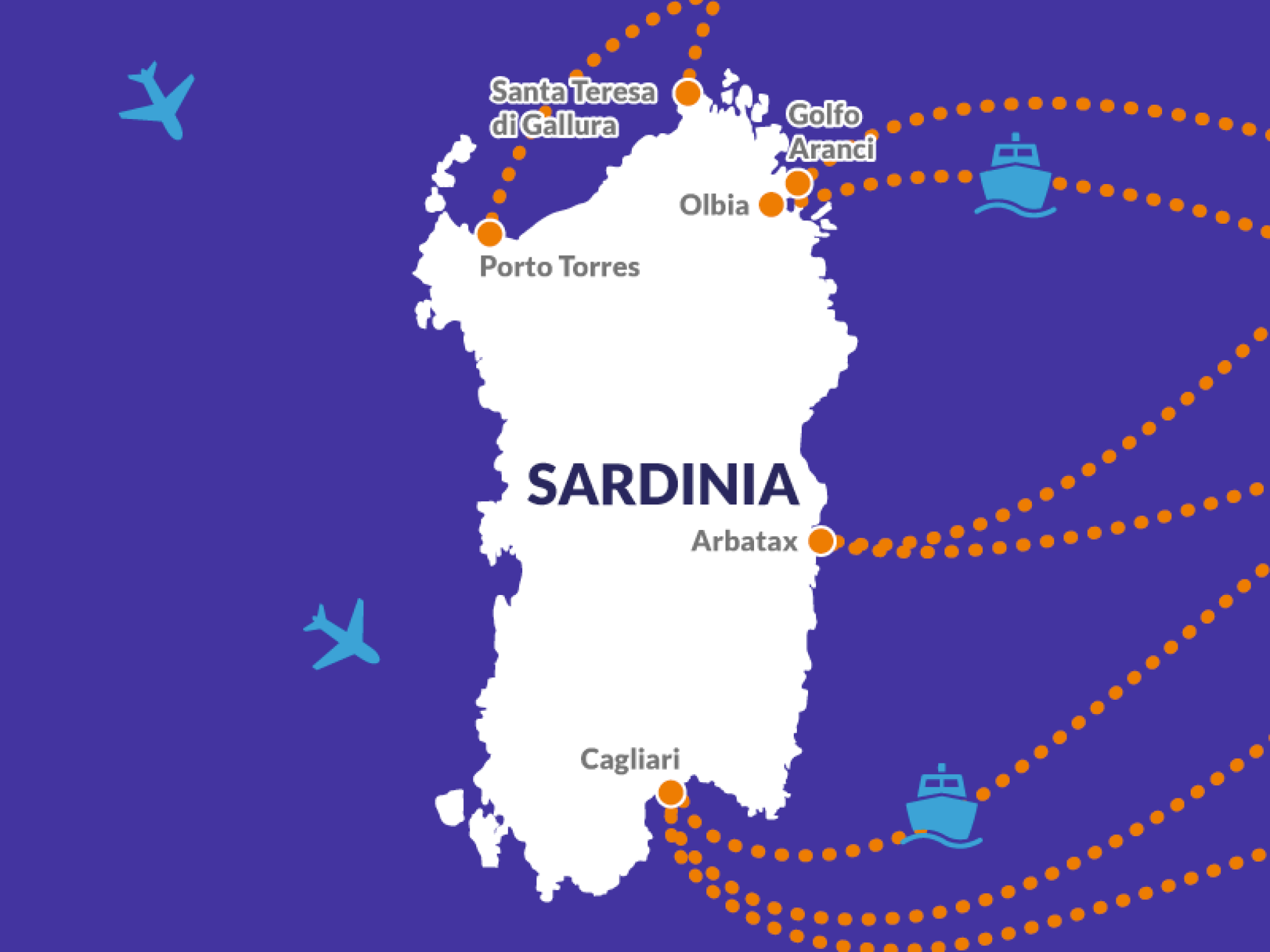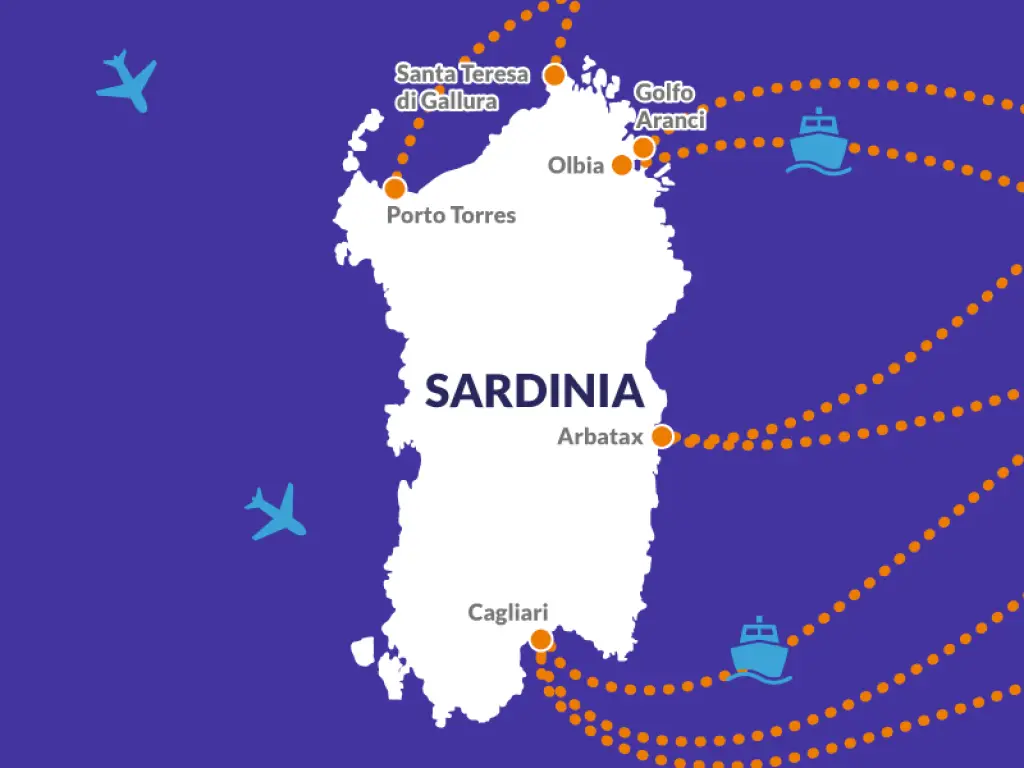 A Guide to Travelling to Sardinia