10 Fun Things to do With Kids in Corsica + Map
Corsica has a lot of natural beauty with most of the island still largely undeveloped. It is incredibly geographically diverse, it is mountainous with dense forests, deep valleys and stunning coastal beaches. In fact a lot of things to do with kids in Corsica are mostly outdoor activities.
Corsica is a perfect place to get away from the hustle and bustle of home to this quiet island retreat. It is best enjoyed during warmer months when you can enjoy the full range of activities listed below. You can also find ideas for itineraries and further information about Corsica.
For ease sake there is a map with all the locations of the activities listed at the end of this article.
1. A Cupulatta Tortoise and Turtle Village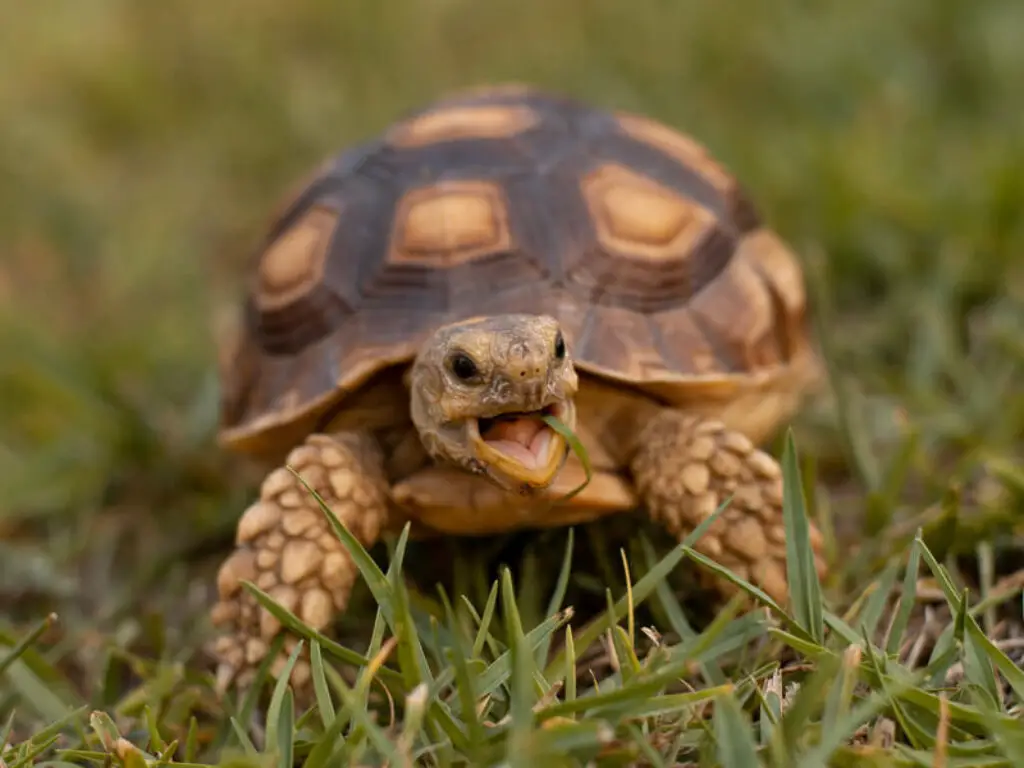 One of the things to do with kids in Corsica is visit the A Cupulatta Tortoise and Turtle Village. This splendid conservation centre is spread across 2.5 hectares of land and has more than 3,000 tortoises and turtles.
You can purchase tickets to the A Cupulatta Sanctuary here to see all the 170 different species from all regions of the world spanning from Asia to the Americas. That includes little hatchlings all the way up to giant Galapogos tortoises.
The sanctuary is open 7 days a week from April to mid-November. However it is best to visit during warmer months since tortoises are reptiles and therefore cold blooded. This means they are more active during warmer months and would not stay in their hibernating spots. Instead they come out outside to move around, much to the delight of visitors. Plus they are exceptionally curious creatures and they are as curious about us as we are of them.
2. Beaches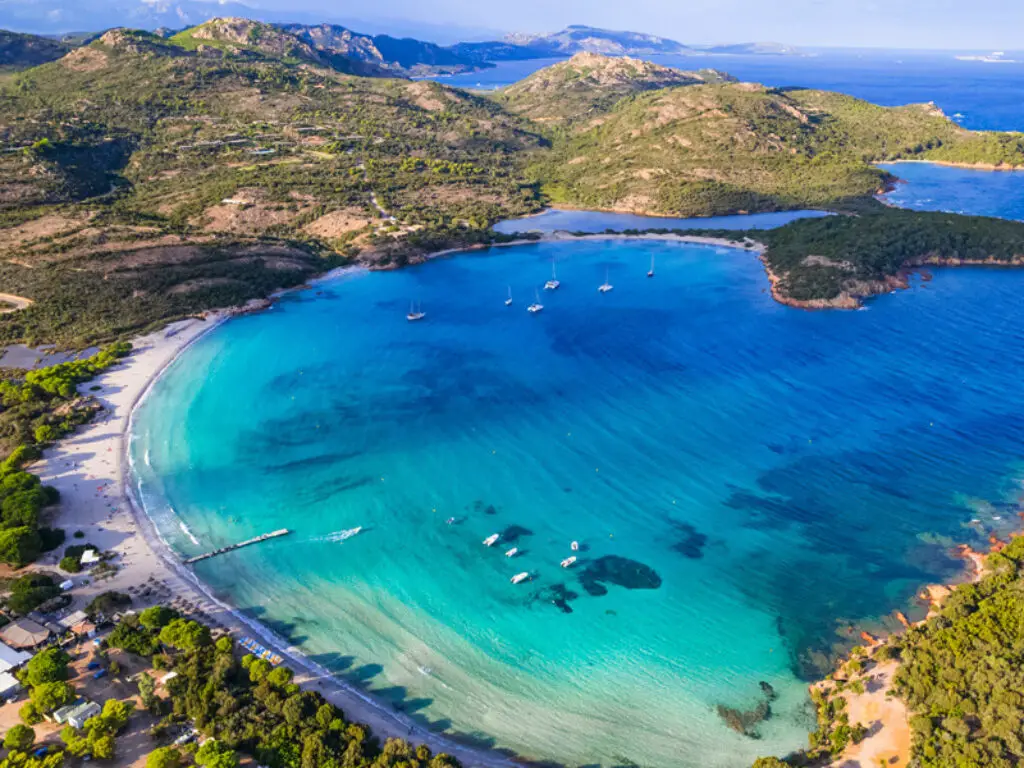 Corsica has some lovely sandy beaches that are perfect to explore and enjoy. There are a select few that are stunning and exotic looking, similarly to the Caribbean-like beaches in Sardinia.
As you can image you can find all sorts of different beaches. There are plenty of remote ones with mountainous or hilly landscape surrounding you or more commercial ones with amenities. There are beaches with water sports which is great for families with kids that are looking for activities. Here is a list of some of the best beaches in Corsica.
3. Water Parks
What kid does not enjoy a water park? There is one water park in Sardinia called Western Splash your kids can look forward to. It is not a large water park by any means, measuring around 40 meters by 70 meters. However it has a couple of pools for older kids and a shallow pool for younger kids.
The shallow pool has 3 small water features releasing water including a couple of mushrooms and a whale. There are also a couple of small slides for the children to play. Younger kids also have a playground and there are plenty of sun lounges and a cafeteria for a bite to eat. Expect 7 steep slides or rides for thrill seekers also.
Check out the Western Splash website (French site). If you and your kids like water parks, you might also like to combine the experience. That is what I will cover next.
4. Camping + Water Parks
Something unique which makes sense for Corsica with its stunning landscape is combining a water park experience with camping! It is an all-round fun experience for the kids with a fantastic family-friendly environment.
Firstly you get to camp and you have a choice of family tents, chalets or mobile homes. Secondly you have water parks and other facilities. Some parks are very well organised and they run kids clubs with various activities whether tennis, beach volley, ping pong and other fun things to do.
The kids will also have plenty of other kids to play with while they use the facilities at the park. There might be shows in the evenings in some parks to ensure you will always have something to do. There are 70+ camping parks listed on Booking.com which are all over Corsica, Camping Arinella Bianca is one of the better ones.
5. Canyoning
Since Corsica has so many mountains there are many canyons that have formed. They are brilliant for active families and one of the things to do with kids in Corsica to make an amazing trip.
The canyons are gorgeous with fresh, clear water and you will swim in them if you opt to explore them. There are guided tours of the gorges and your guide will take you straight through them.
You can also jump into the gorges, some of which are 20 meters high and perfect for anyone with a sense of adventure. However your guide will adapt the route to avoid jumps altogether for kids or anyone not comfortable doing it. As you can imagine there are age restrictions for kids when canyoning. Most canyons are for slightly older kids, but there is one which is good for kids 6+. Here is an article to guide you on the top 9 Canyoning Spots in Corsica.
6. Adventure Parks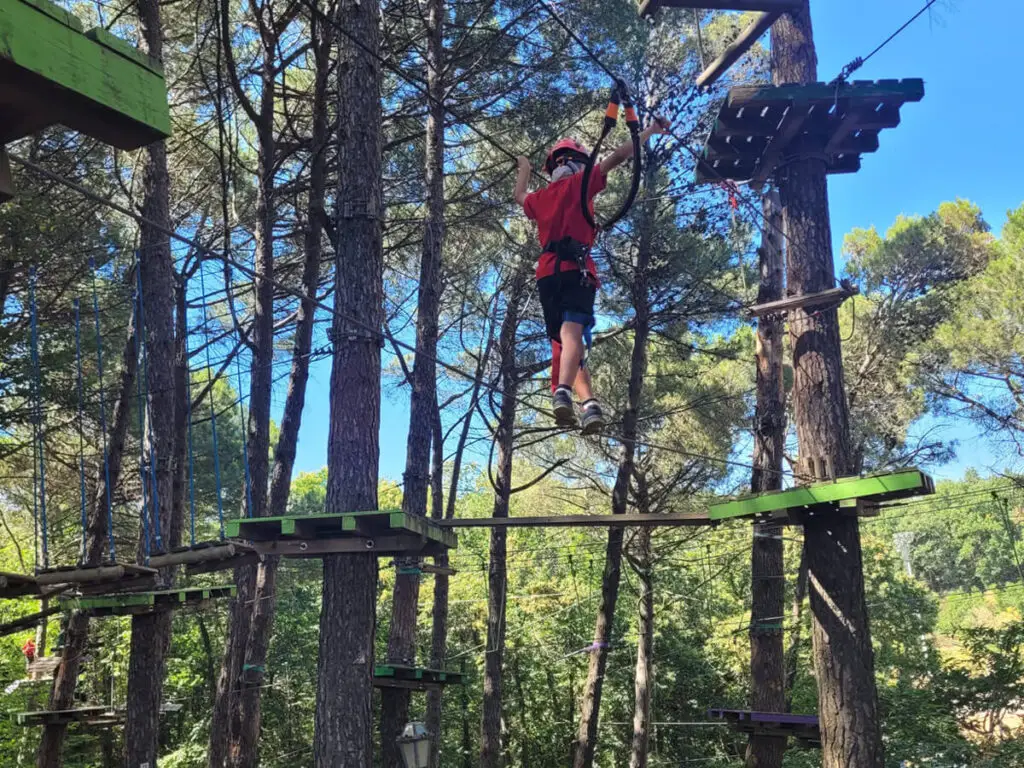 Adventure parks are always fun, especially for kids who always enjoy trying new experiences. Climbing from one platform to another in the tree tops or zip lining is an amazing experience. Little kids usually have smaller courses closer to the ground which are safer for them. Like this they can still have fun while they are visiting.
There are many adventure parks and some offer a variety of different activities to keep you occupied. Activities includes canyoning, snorkelling and mountain biking to mention a few.
There are a select few popular adventure parks you may want to try, including:
7. Horse, Donkey or Pony Riding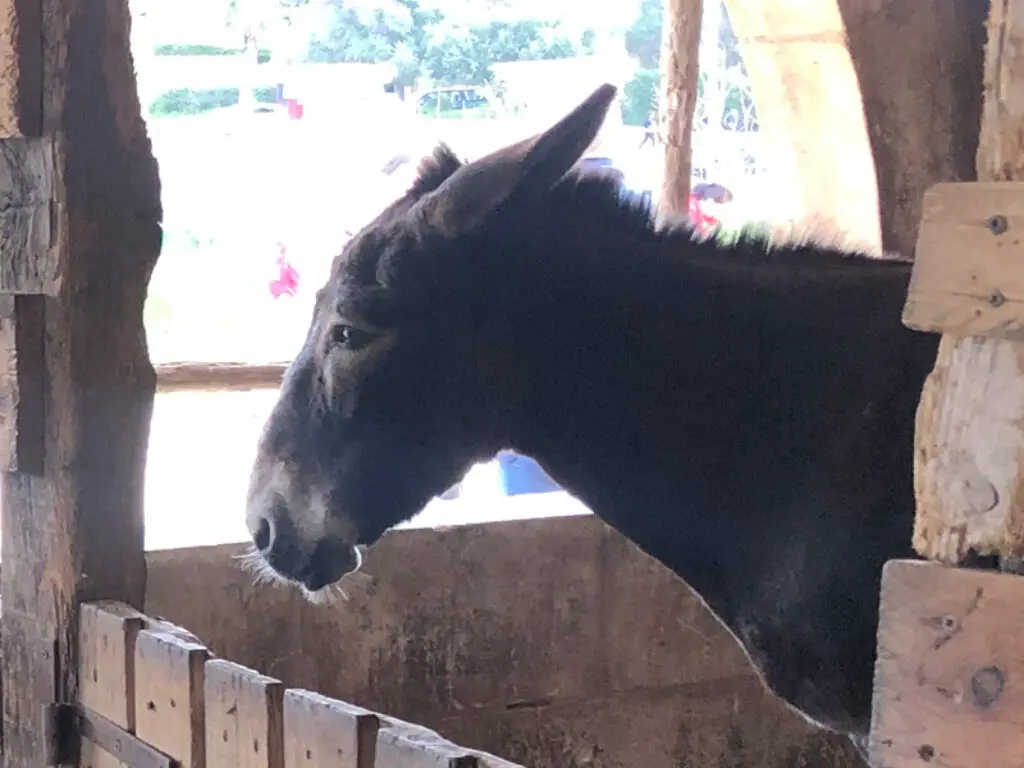 The amazingly scenic views, and vast amounts of country side and beaches across the island make Corsica a perfect place for horse riding. You can go for a leisurely horse ride while you take in the scenery and relax while on holiday. Plus since kids love animals, they would really enjoy the outing.
You can take kids that are a little older on horses since stables have age restrictions. On the other hand, younger kids can have a ride on smaller, docile and sweet donkeys or ponies.
Surprisingly there is a long 5 day donkey trekking tour through Corsica offered by Europe Active you could consider if you really wanted to be at one with nature. However there are of course shorter tours.
You can opt for a 1 or 2 hour pony or donkey ride at Filit'Horse that will take your family through the heartland of Corsica. Weather permitting from mid-June to mid-September, you might even get the opportunity to swim in a river. You will be happy to know that this activity is available to kids aged 3-12 years. It is expensive, but the price is per pony.
There is also La Promenane stables, with half day itineraries as well as longer ones.
8. Visit a Farm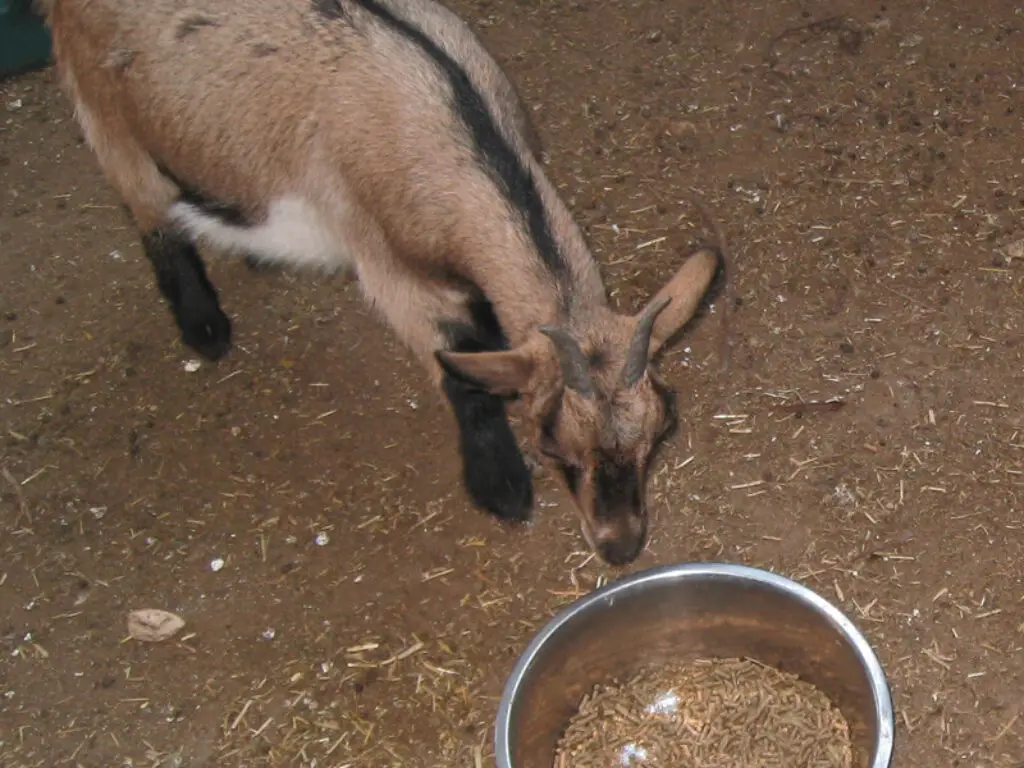 There are several farms which is one of the wonderful things you can do with kids in Corsica kids would certainly enjoy.
You will see some nice farm animals like goats, sheep, pigs and rabbits and the farm will likely sell their own produce. You might even be able to stay for a picnic or have a meal at a café or restaurant at the farm.
Alta Rocc'Anes (French) is one farm that focuses their attention to Corsican farm animal breeds. They give a tour of the farm and offer explanations in French, English and German. The farm has a picnic area, playground for kids and offer donkey rides.
There is also Ferme de Padula (French) an educational petting farm. You will get a tour of the farm and kids can also pet and feed the animals by hand.
9. Corsica Zoo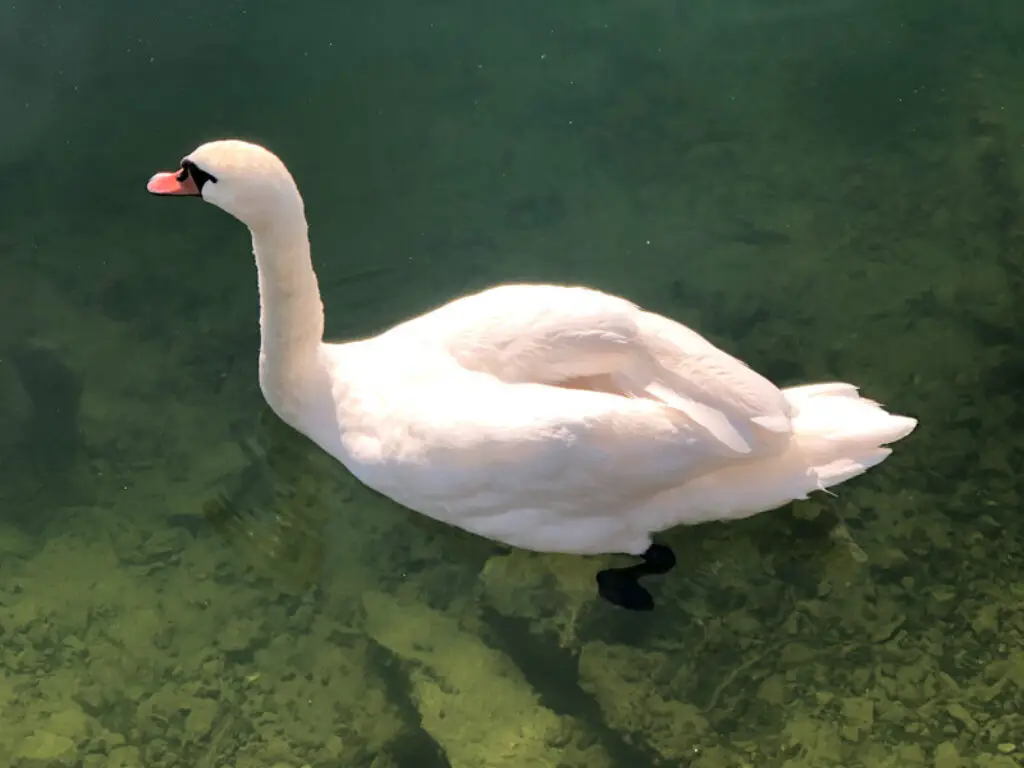 There is a small zoo in Corsica with around 26 different enclosures with a range of different animals. You will find a mix of farm animals like your average hens, goats and pigs as well as exotic ones. Some of the exotic animals you will see are camels, lamas, lemurs and Australian kangaroos.
Also on the premises is a small café area for snacks as well as a kids playground. The Corsica Zoo is great to keep the family occupied for around half a day.
Here is the Corsica Zoo website.
10. Luna Park
If you over in the North side of the island there is a very small luna park which some attractions. The luna park opens late around 8pm which means that kids will have to stay up a little past their bed time.
There is the usual merry-go-round, several games like rifle shooting and bumper cars. Of course there is also a cafeteria and a sandwich bar for something light. This luna park has an average rating because it is small, plus the rides are somewhat expensive for what they are. Expect to pay €5 for the merry-go-round.
Kid Activities in Corsica Map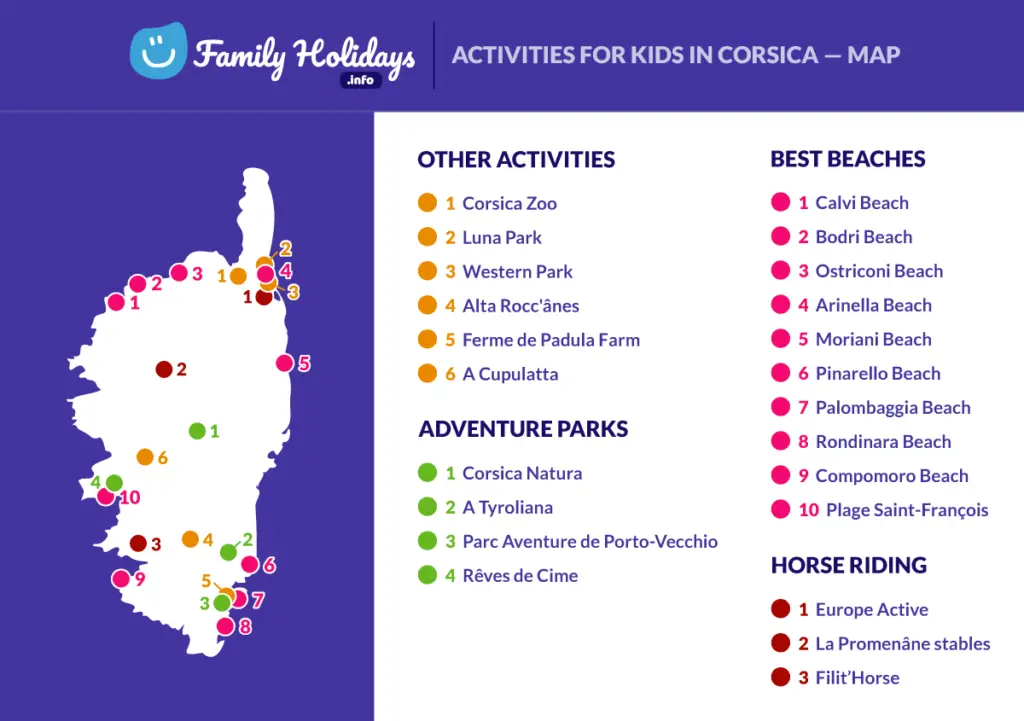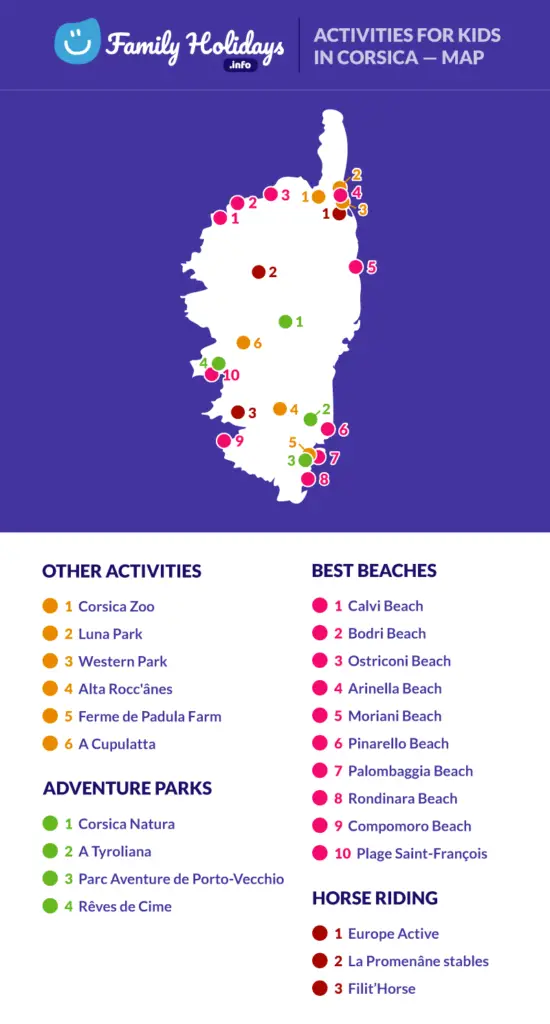 Related Articles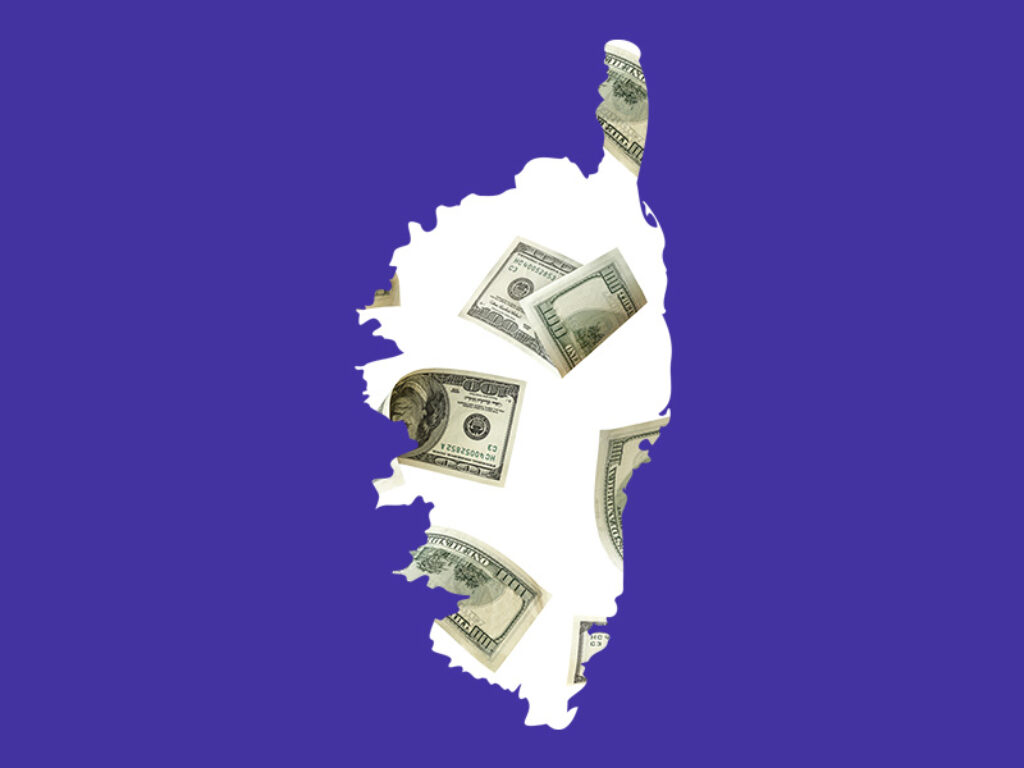 Corsica Travel Costs: Accommodation, Food, Transport and Activities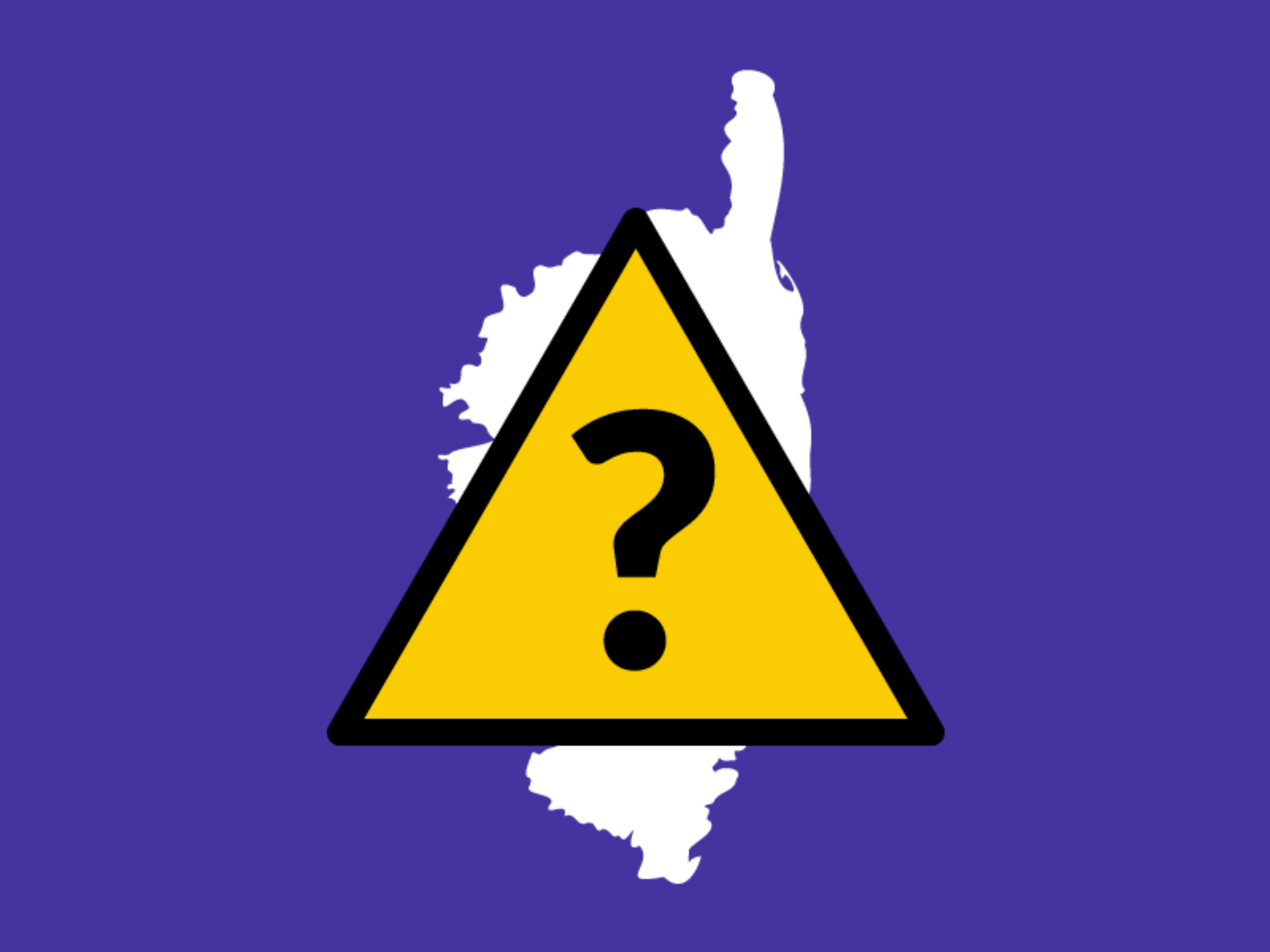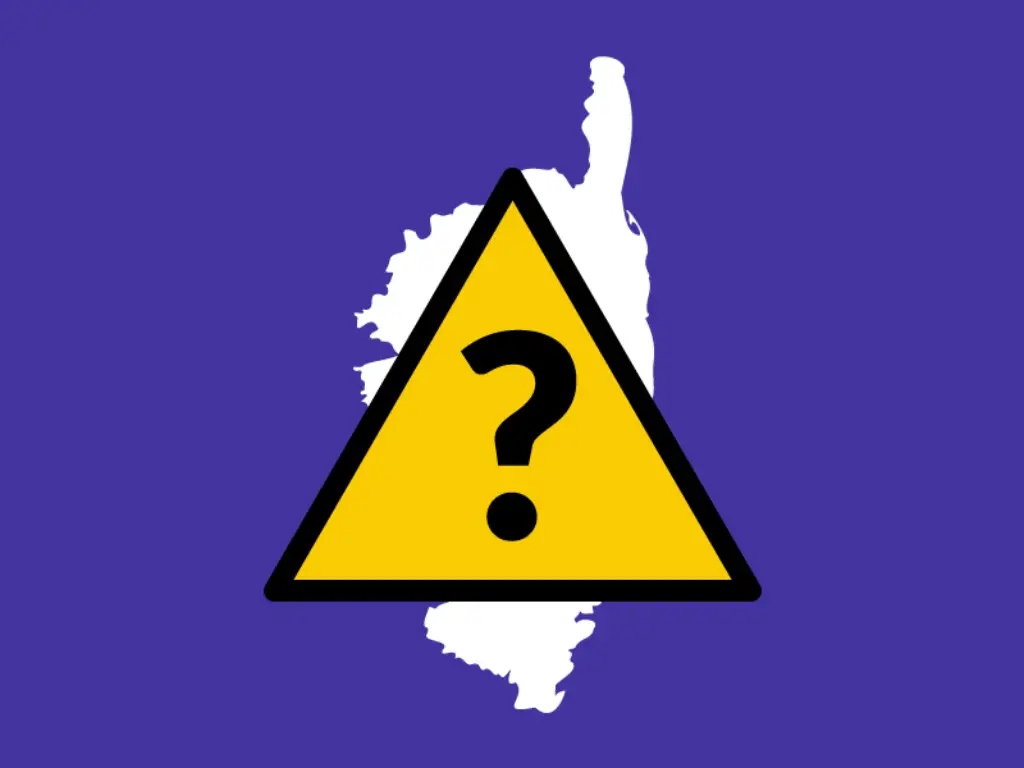 Is Corsica Safe? Statistics, Information and Tips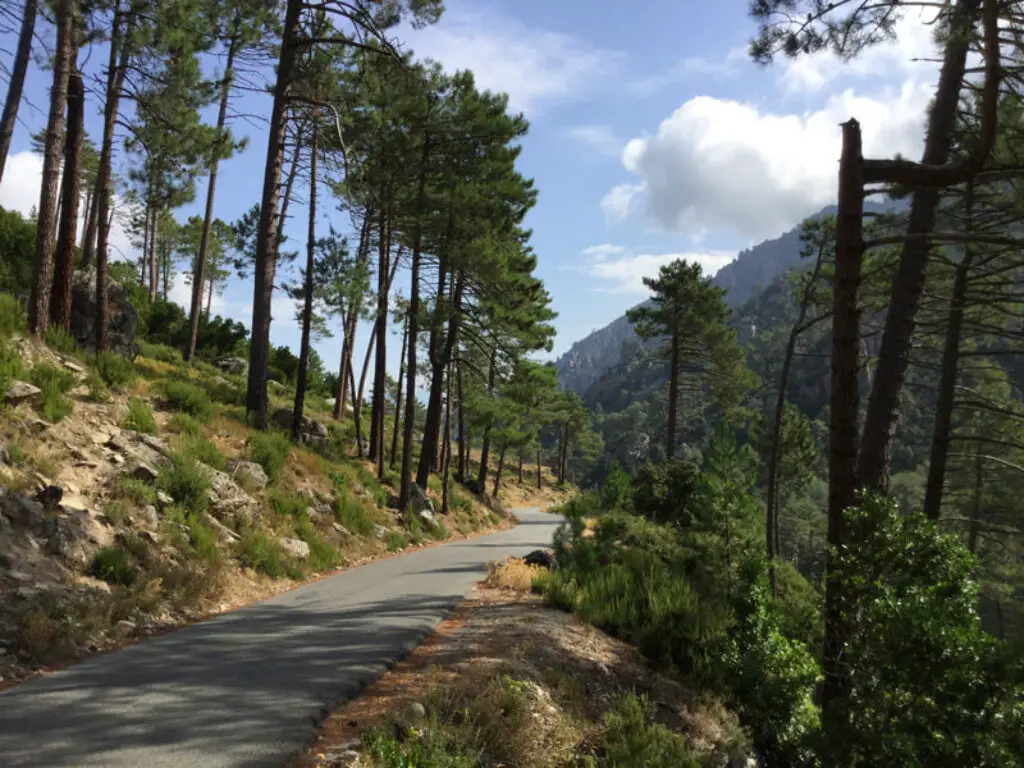 Best Side of Corsica: History, Activities, Scenery and Beaches