10 Most Beautiful Beaches in Corsica for Families + Map
The French Island of Corsica is renowned for its incredible beaches. With jaw-dropping natural scenery, opportunities to enjoy watersports, and calm, warm waters for swimming in, there's a lot to love about the many beaches in Corsica. With that in mind, let's take a look at 10 of the best beaches in Corsica for families. First things first, which part of Corsica has the best beaches?
The south part of Corsica boasts not only the best beaches on the island but some of the best in Europe! Palombaggia is up there with some of best. However there are many in the north like Pinarello Beach which is a firm favourite as it offers something for everyone, including watersports, while remaining peaceful and avoiding the crowds of larger resorts.
Our Top Ten Beaches in Corsica
Just choosing ten top choices is a tricky task when it comes to Corsica beaches that are great for families. Visitors really are spoiled for choice. But to narrow things down a bit, here are our top ten best beaches in Corsica for an incredible family vacation.
1. Palombaggia Beach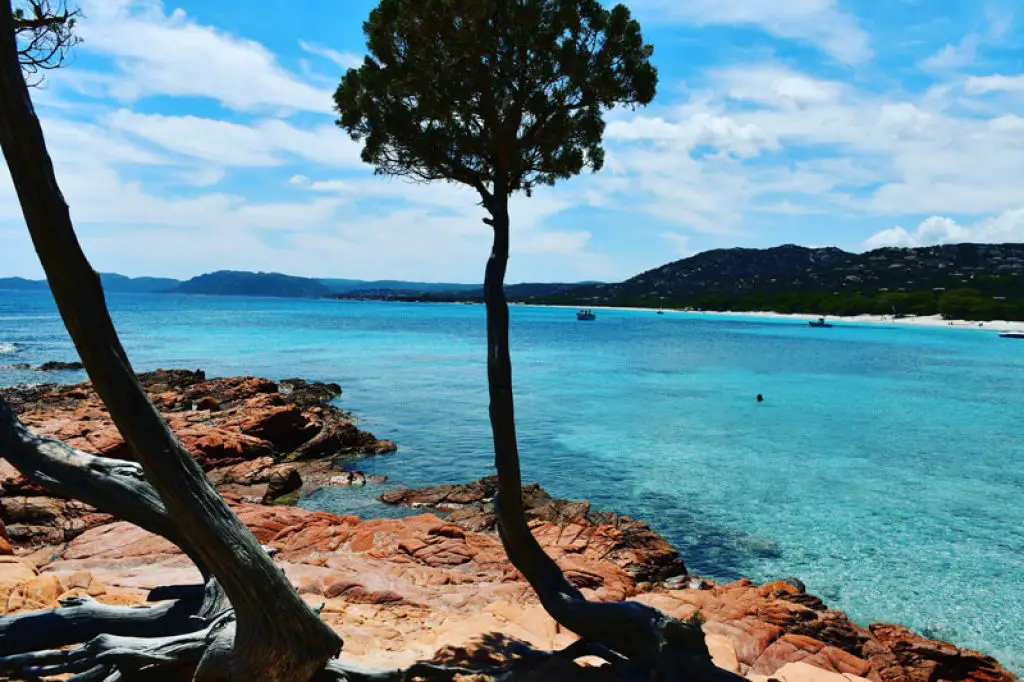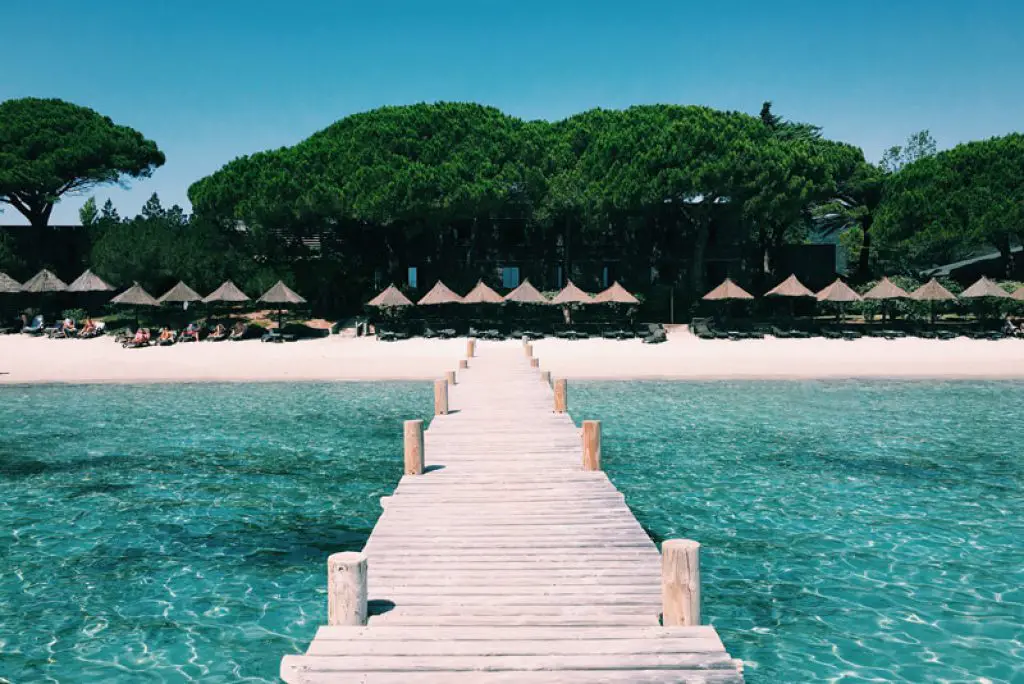 Location: on Google Maps
With its crystal clear cyan sea and gorgeous, bright white sands, backed by lush green trees, you might easily mistake Palombaggia Beach for Bali or the Seychelles. Stretching for 1.6 km on the island's southeast coast, it's about a 20-minute drive from the town of Porto Vecchio, though parking can be tricky if you arrive later in the day during the high season.
This is easily one of the best beaches in Corsica and it offers a little bit of everything. The trees provide shade from the sun, though there are some parasols and tables for hire too. Meanwhile, the sea is calm enough for paddling and swimming, while the rose-colored rocks that jut out of the clear waters just invite adventure!
The sand stretches far and long enough to ensure it never gets overcrowded, even during the height of summer. It's also a top spot for relaxing in the sunshine and enjoying the natural beauty that surrounds you.
2. Pinarello Beach
Location: on Google Maps
With plenty of shady spots and shallow waters, as well as the chance to try a variety of water sports, Pinarello Beach is a fantastic choice for the entire family. The beach is just north of Porto-Vecchio on the east coast of the island. It's an absolutely stunning spot, with clear, cyan waters and golden sands backed by vibrant pine trees. It's a long stretch of sand so it rarely gets too busy.
You'll find plenty of free parking right next to the beach making it one of the easiest beaches to reach. Plus, there are several restaurants overlooking the sea, all serving up a variety of dishes to keep hunger at bay.
For small kids, the shallow, warm, and calm waters are superb for paddling. Meanwhile, older kids may enjoy trying out kayaking or windsurfing. And parents can relax in the sun or shade, enjoying the peace and breathtaking scenery.
3. Calvi Beach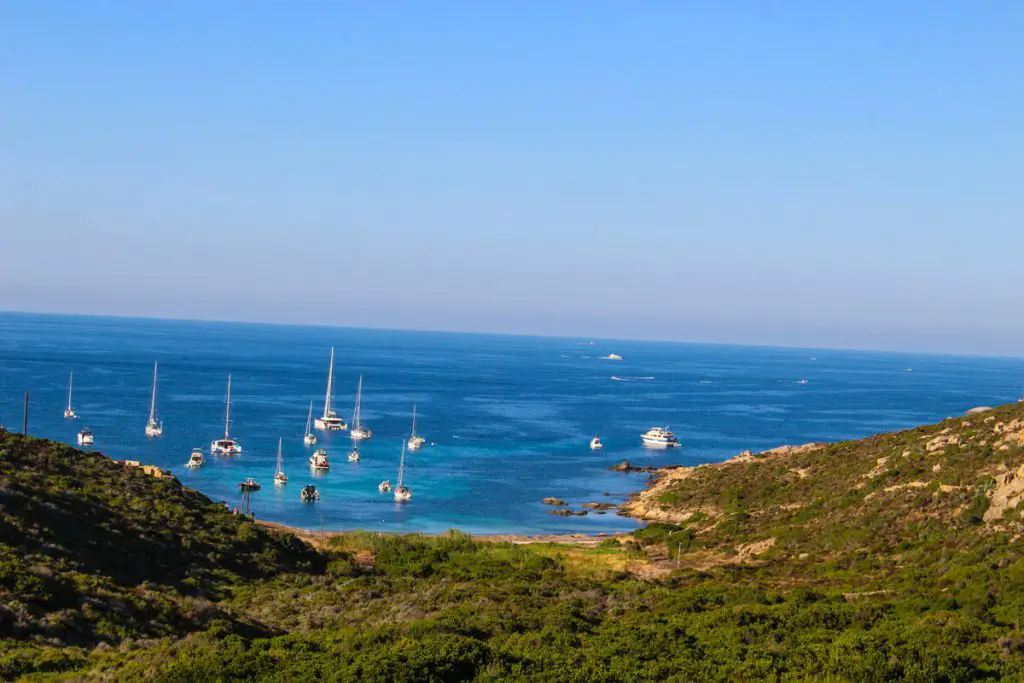 Location: on Google Maps
Plage de Calvi is one of the most popular beaches in Corsica and an excellent choice for families. Located on Corsica's north coast, it's just a stone's throw away from the medieval port town of Calvi and you can see the stunning citadel from the beach. Since it's within walking distance from town, it's ideal if you're staying in Calvi and don't have transportation, plus you'll find no end of excellent restaurants and cafes nearby.
The beach itself boasts gorgeous soft white sand, stretching for 6 km around the crescent-shaped bay. For swimming or paddling, the warm, clean, and crystal-clear water is wonderfully inviting. The beach slopes gradually into the sea, with a long stretch of shallows, making it ideal for children who are just finding their feet in the water. As a sheltered bay, the sea is almost always calm and the waves gentle.
Meanwhile, the sands stretch far and wide, leaving ample room to lay down a towel and relax under the sun, taking in the stunning beauty all around. As one of Corsica's most popular beaches, it can become crowded during the high season, so it's best to arrive early in the day in summer.
4. Plage Saint-François
Location: on Google Maps
This is the best beach for those staying in Corsica's capital, Ajaccio. It's just a short walk away from the center of the city, perfect for those who don't fancy the prospect of finding parking. The gorgeous golden sands stretch around the horseshoe-shaped bay, and while the beach is quite narrow at high tide, it soon stretches out beneath the old stone promenade as the tide goes out. Head for the historic citadel if you plan to relax on the sand, as the beach is wider here.
The palm tree-lined promenade rises high above the beach, offering shade and a stunning backdrop that dominates the beach. It's a fantastic place for swimming with a good mix of shallow waters and slightly deeper areas. You can also enjoy simply relaxing on the soft sands or taking a stroll around the bay before the tide comes in.
There are several access points to the beach, though they all involve steps, so this might not be the best choice for buggies. You'll find showers here for washing off at the end, and plenty of excellent restaurants and cafes for lunch or dinner.
5. Ostriconi Beach
Location: on Google Maps
Set amid absolutely stunning natural beauty, Ostriconi Beach is just a short drive from L'Ile Rousse and a must for those seeking a more natural and wild experience. The beach sits between the sea and the mountains, resulting in a fairly isolated bay that rarely feels crowded. You'll find a huge stretch of soft white sand and plenty of places to sit down and relax in utter tranquility.
Despite its remote location, the beach does have a lifeguard service throughout the summer. Having said that, the gorgeous blue sea can be rough at times, with large waves. It also lacks the facilities of some of the other beaches on this list, such as showers and parasols. It does boast a large car park, though it's a bit of a walk from there to the beach, around 10 to 15 minutes or so.
As such, it's not the ideal choice for families with smaller children, but an excellent beach for those with older kids who are looking for a little adventure and some truly sensational views.
6. Campomoro Beach
Location: on Google Maps
Situated on the southwest coast of Corsica, Campomoro Beach is another peaceful choice for those looking to avoid the crowds. It's a short drive from the port town of Propriano and you'll find several parking areas near the beach though it's best to get there early to secure a spot. The bay boasts a 1 km crescent-shaped sandy beach with soft white sand and some of the clearest waters the island has to offer.
This is one of the best choices for families looking to discover a little marine life. The crystal clear waters make it easy to spot fish and there are plenty of opportunities to try snorkeling. It's also possible to hire kayaks and canoes, ensuring there's something for all the family. If you're in need of refreshments, you'll find a number of cafes, ice cream stands, and bars behind the beach.
With lush vegetation, craggy rocks, and numerous mountains all around, the surroundings are phenomenal. It truly is a superb place to relax in a tranquil environment while the kids enjoy all that the beach has to offer.
7. Bodri Beach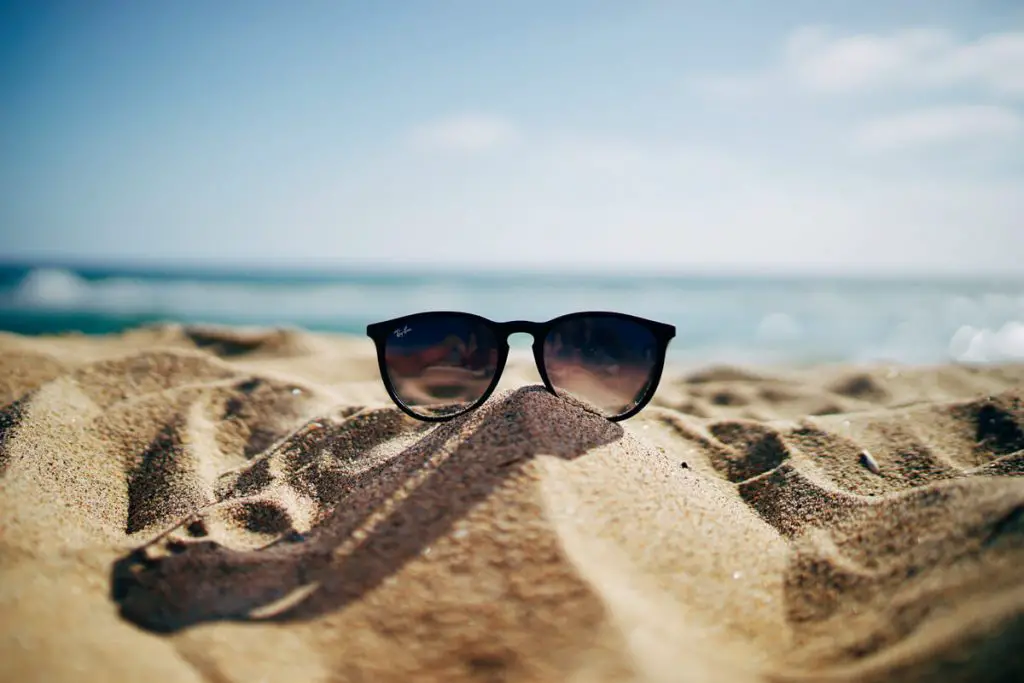 Location: on Google Maps
Bodri Beach is another fantastic choice on the north coast of Corsica and it's just a short drive from both Calvi and L'Île-Rousse. It's certainly not the longest beach on the island, stretching just less than 350 meters in total, but it offers a wide expanse of gorgeous white sands with plenty of space for everyone.
The beach offers a spacious and affordable car park, just a short walk away from the pristine sands. The warm, crystal-clear sea is ideal for paddling or swimming, with a gentle slope ensuring kids won't find themselves out of their depth. It's also another fantastic spot for snorkeling.
Lifeguards patrol the beach throughout the summer season, making it a safe spot for all the family. The sandy beach is bordered by large boulders that are great for climbing on and discovering the rock pools that have been left behind. Refreshments can be found nearby, and there's often a food truck during the summer months. Be advised that a small section of the beach is reserved for naturalists, though this is on one of the further edges.
8. Moriani Beach
Location: on Google Maps
Plage Moriani is one of the largest beaches on the island, stretching almost 14 km down the east coast of Corsica. It's backed by undulating sand dunes for much of its length, with mountains in the distance offering some spectacular views. With gold sand and clear blue seas, it's a fantastic place for swimming, paddling, sandcastles, and simply relaxing in the sun.
For more facilities, head to Moriani Plage Resort, which is lifeguarded during the summer and home to a number of cafes, restaurants, and bars, as well as showers, shops, and much more. For a more tranquil experience, there are many access points for the beach, typically at the various villages scattered along its length.
As part of the Costa Verde, it's an idyllic spot for a nice stroll or a more intense hike, with numerous paths and trails in the area.
9. Arinella Beach
Location: on Google Maps
Arinella Beach sits on the northeast coast of Corsica, just south of Bastia. It's a great choice for those using public transport to get around, as you can take a shuttle directly to the beach from Bastia Tourist Information Office. If you are driving, you'll find a large car park that backs onto the beach.
It's a lovely peaceful beach that enjoys stunning scenery, clear turquoise water, and soft white sand. It's also a top spot for snorkeling, with the clear water revealing a wealth of marine creatures. Take care with swimming though, especially with young children, as the water can become quite deep rather quickly.
The warm water is always inviting, but if you prefer to keep your feet dry, there are also facilities for football, basketball, and volleyball, as well as an exciting playground. You'll also have no problem finding places for refreshments near the beach, with several choices when it comes to lunch.
10. Rondinara Beach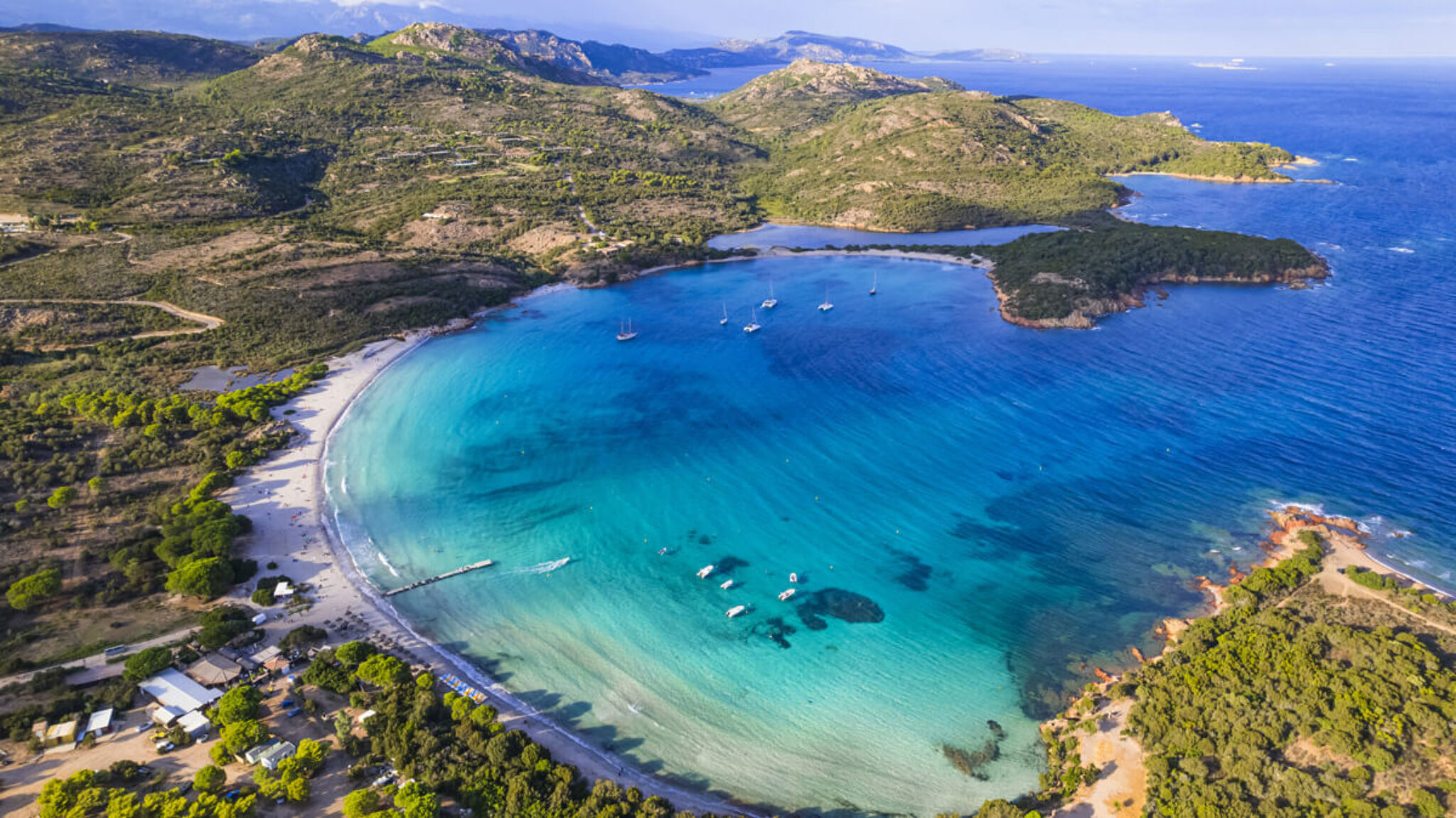 Location: on Google Maps
Rondinara Beach is a superb spot on the southeast coast of Corsica. This secluded bay offers incredible scenery and plenty for the entire family to see and do. It's a short drive from Porto-Vecchio and you'll find a spacious and affordable car park just a short walk from the beach. The beach offers a breathtaking horseshoe-shaped stretch of golden sand that looks out to the turquoise waters of Rondinara Bay.
The sand slopes gently into the sea, creating a large expanse of warm, shallow waters that kids will love to paddle and swim in. Heading further out, you'll find some superb opportunities for snorkeling, taking in a variety of sea creatures as you enjoy gazing beneath the gentle waves.
The sands curve for more than a kilometer, ensuring there's plenty of space for everyone. It rarely feels crowded, making it a top spot for relaxation.
Best Beaches in Corsica Map
Here is a map of the best beaches in Corsica. They are numbered from 1 to 10 starting from the north and working clockwise.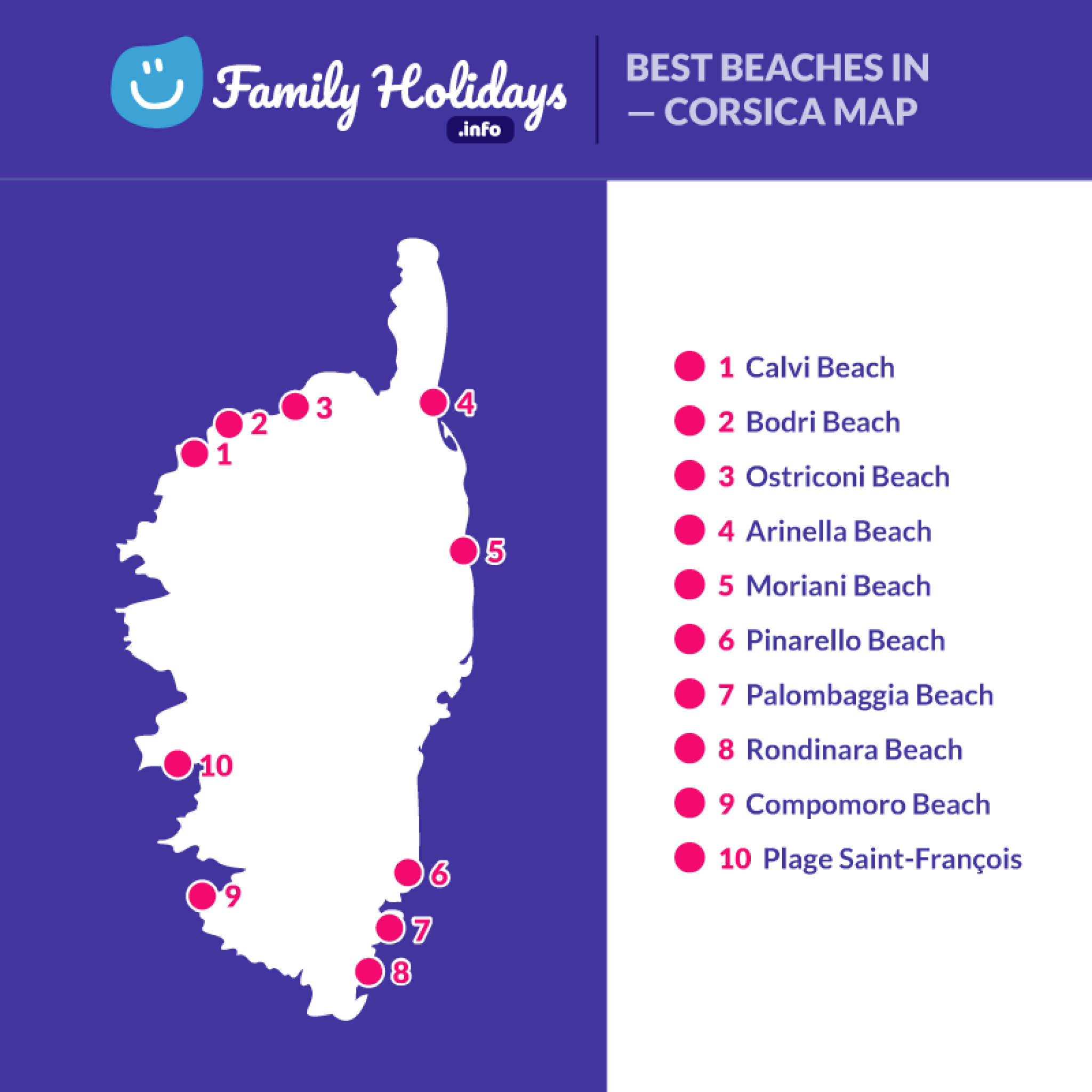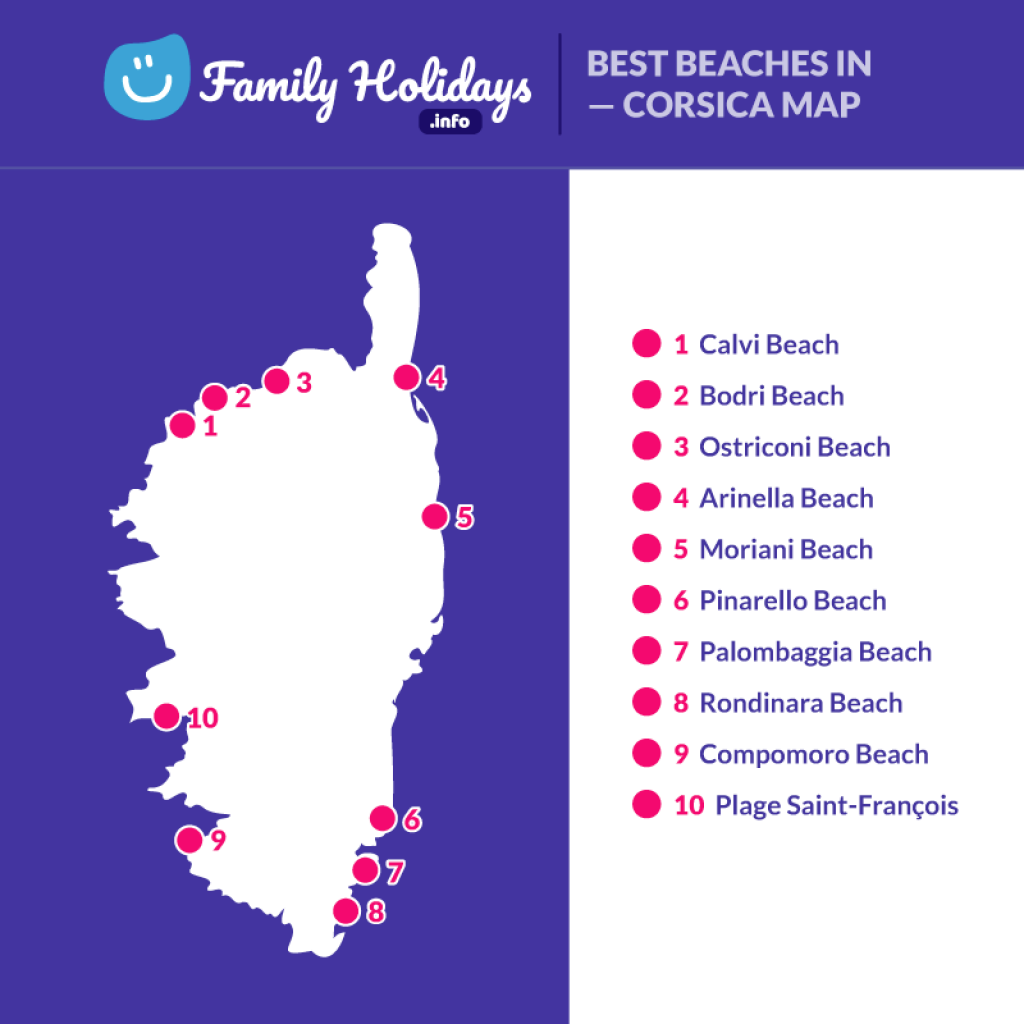 Conclusion
Corsica is home to a wide array of stunning beaches, with a healthy mix of all-inclusive resorts and more remote bays. There are many different activities to partake in and enjoy, from paddling with the kids to kayaking or snorkeling. Many of the beaches listed offer excellent water conditions for small children, with gentle sand banks and warm, shallow waters.
And, while some beaches are busier than others, they all boast incredible natural scenery and a friendly environment. For us, the beaches in the north part of the island are the best, but there are plenty of stunning options elsewhere, with some fantastic choices along the south coast too.
Related Articles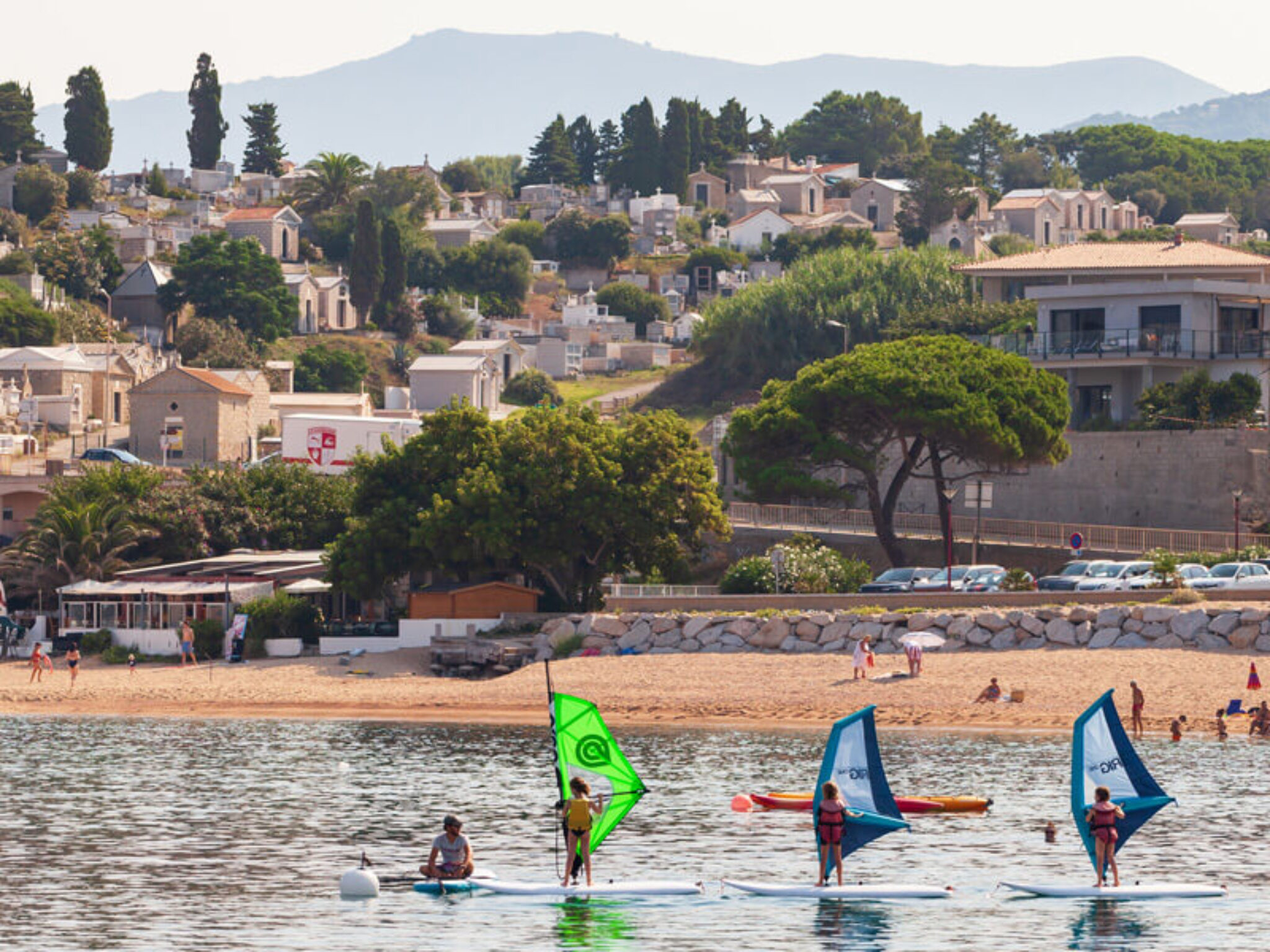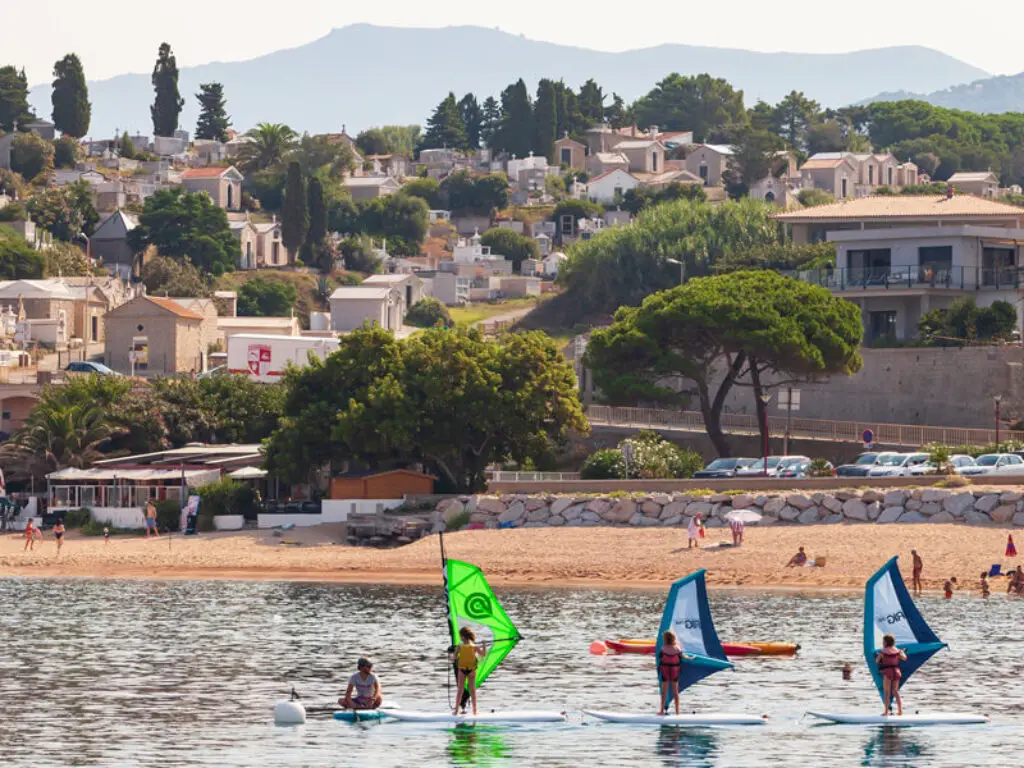 Corsica Family Holidays | Guides | Itineraries | Kids Activities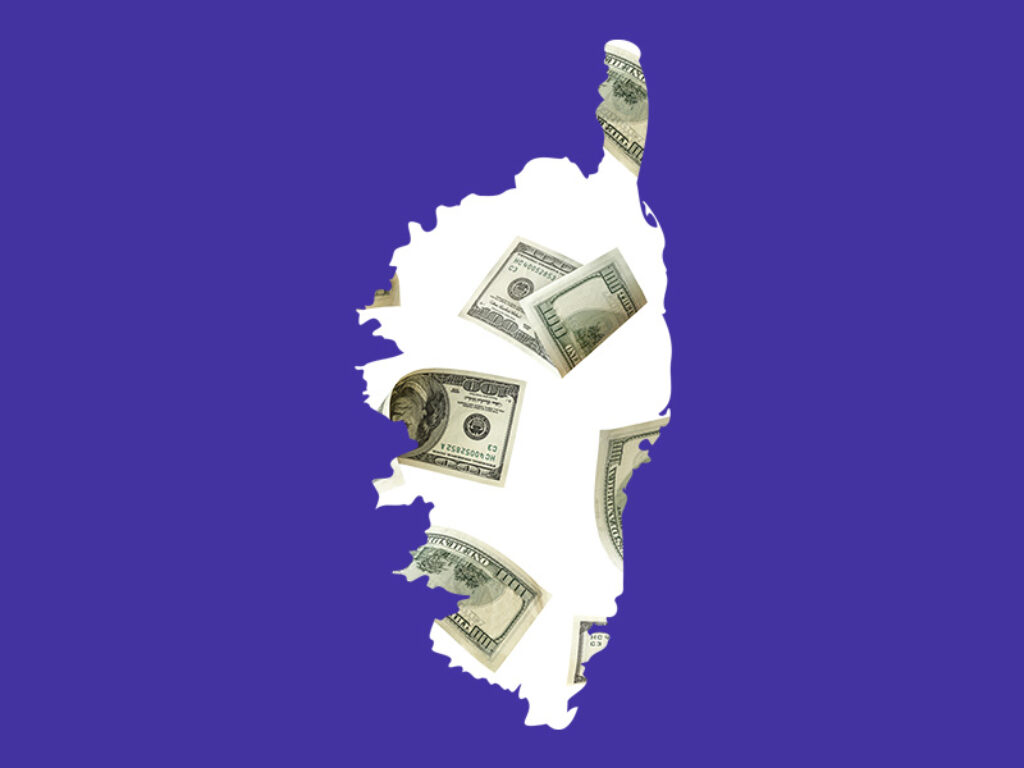 Corsica Travel Costs | Accommodation | Food | Transport | Activities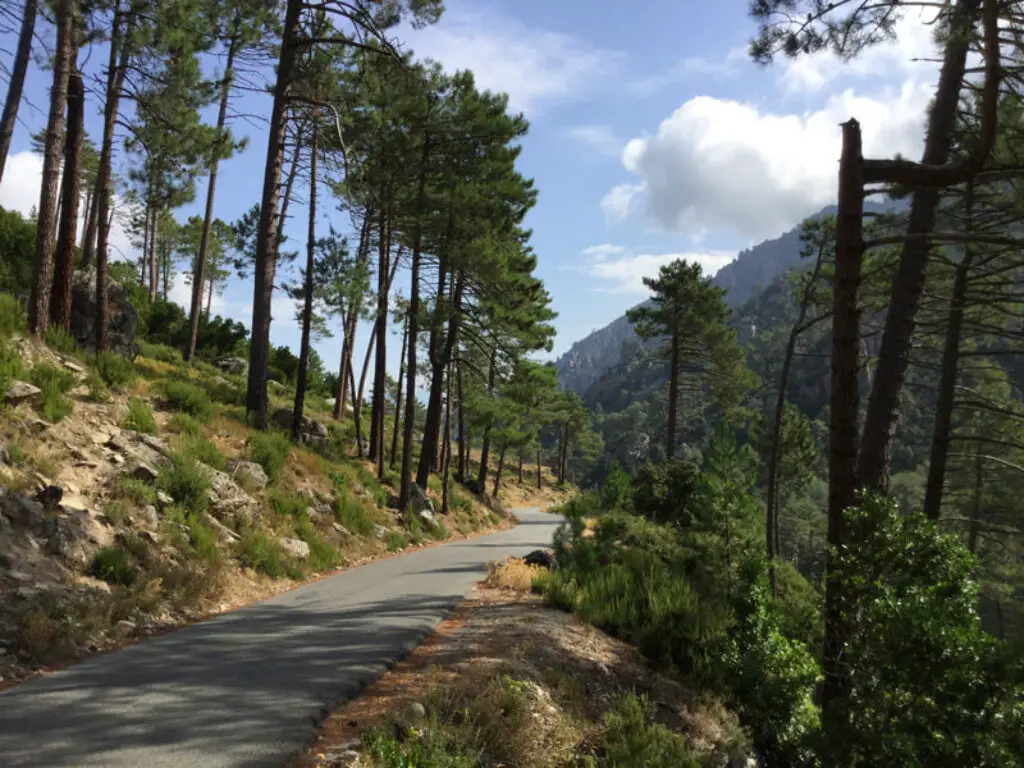 Best Side of Corsica | History | Activities | Scenery | Beaches