9 Reasons Why Mallorca is a Good Place to Visit With Kids
Mallorca is one of the best destinations to visit with kids of all ages. It has a reputation as a safe and welcoming destination, offering sunny Mediterranean weather, beautiful beaches, great cuisine and is overall stroller friendly. There are also many kids activities and family-friendly resorts, making it an ideal destination for families.
Here is more detail with the 9 reasons why Mallorca is a great place to visit with kids. Additionally there are also guides for Mallorca here which you may find handy if you are considering holidaying there.
1. Beautiful Beaches
Mallorca is renowned for its stunning beaches with crystal-clear turquoise waters. They offer a plethora of activities and attractions for families with kids in Mallorca.
There are over 200 beaches to choose from. They include long stretches of golden or white sand, secluded coves, and even pebbled beaches.
The beaches in Mallorca are not only visually appealing but also family-friendly. Many of them provide gentle slopes and calm waters, creating safe swimming conditions for children. You can check out the list of the best beaches in Mallorca here.
Alongside swimming, the beaches offer a host of exciting activities suitable for kids. Many beaches have dedicated play areas and playgrounds like for example this one next to Palma Nova beach.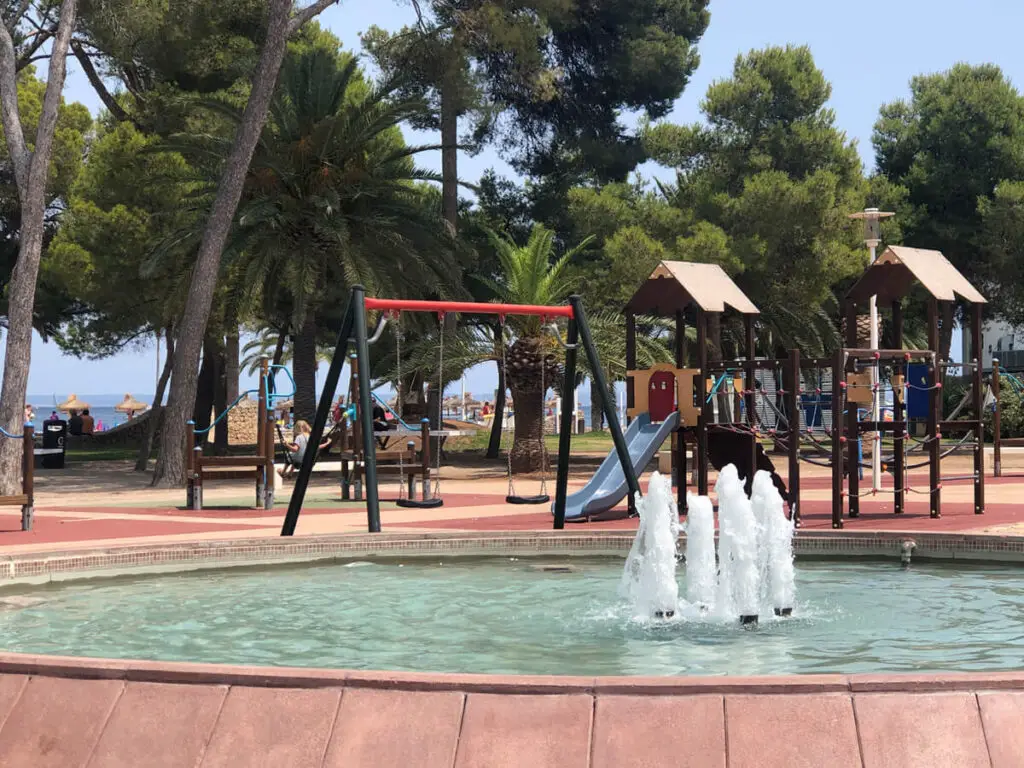 Additionally, rental services are available for water sports equipment such as paddleboards, kayaks, and inflatables, providing endless entertainment for the whole family.
Some beaches in Mallorca also offer amenities such as beachside cafés, ice cream parlours, and snack bars. There is also ample space for picnics, beach games, and sunbathing, making the beaches a hub for family fun and relaxation.
2. Many Kids Activities
There are many activities for kids you can find all over the island. From pony riding and petting farms to various zoos and theme parks. Here is a handy map of what activities there are and where they are located: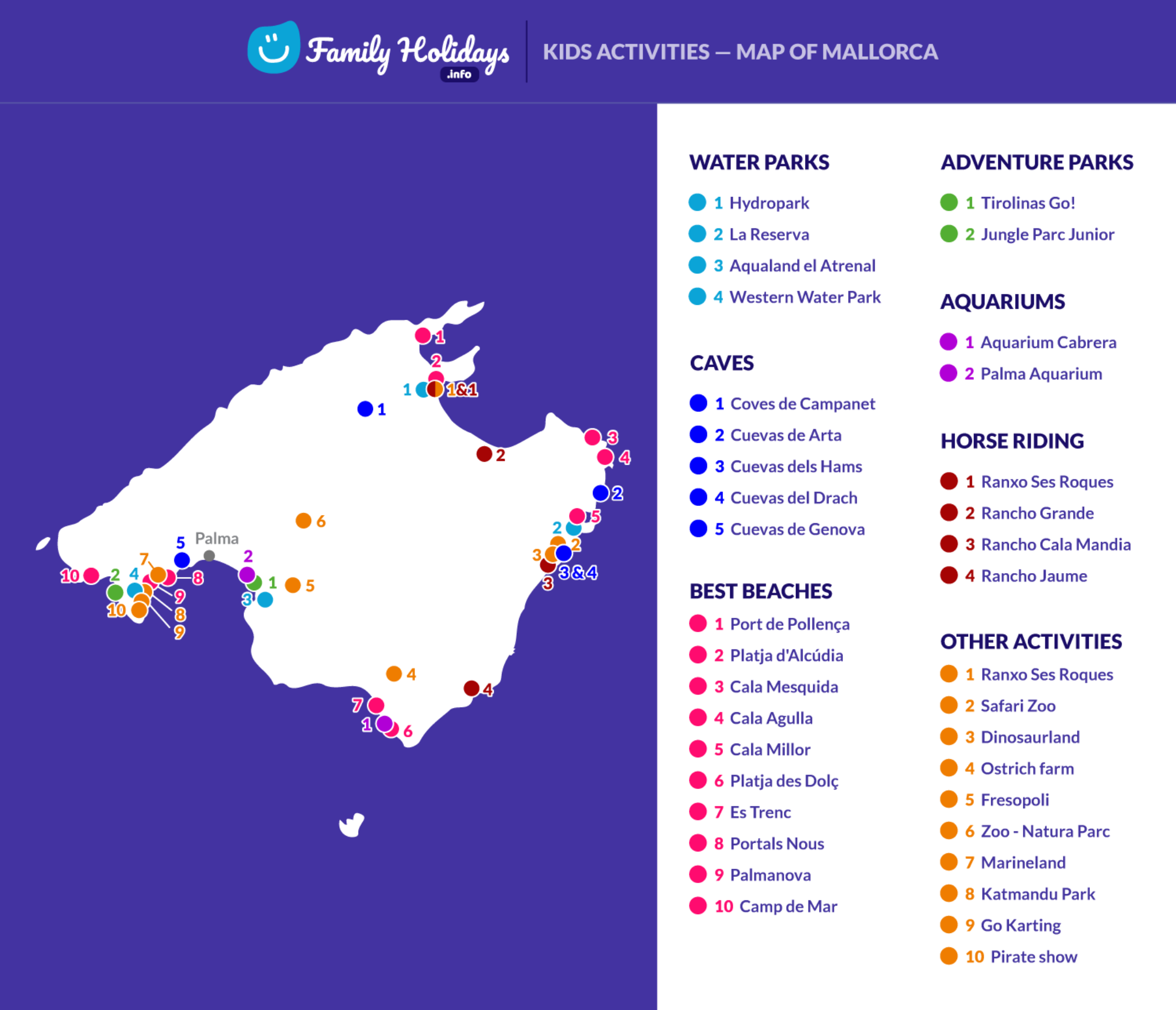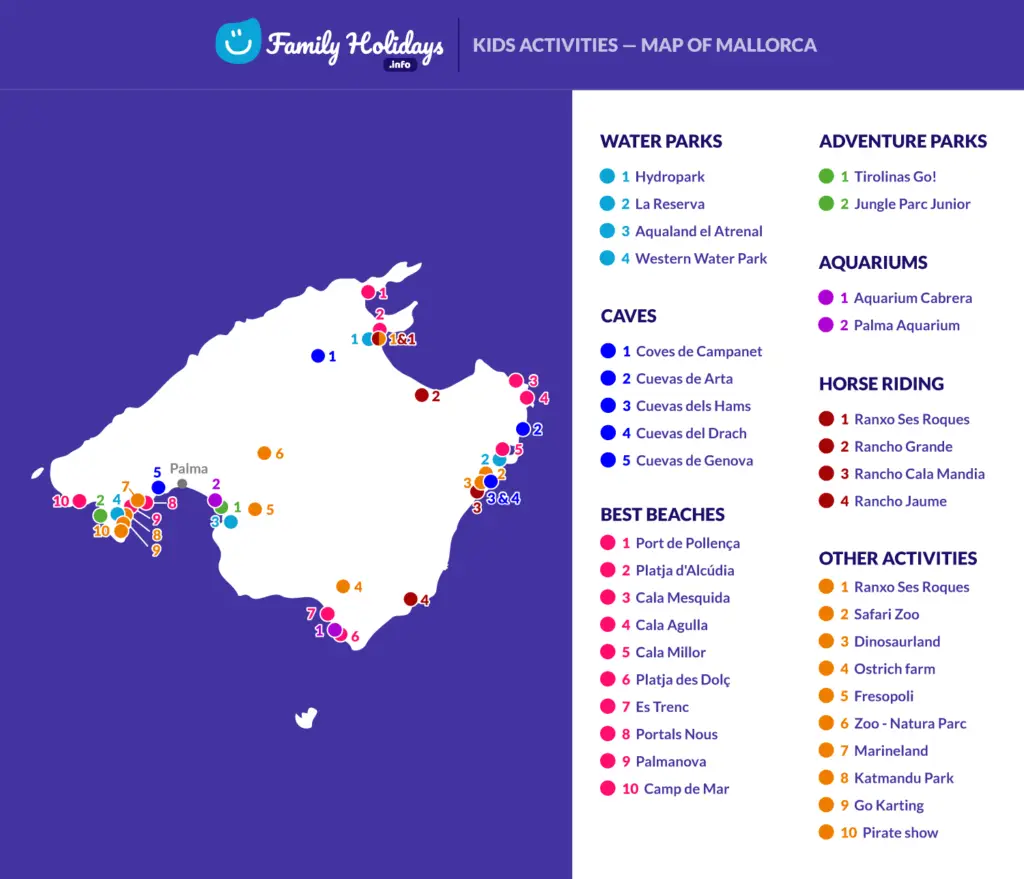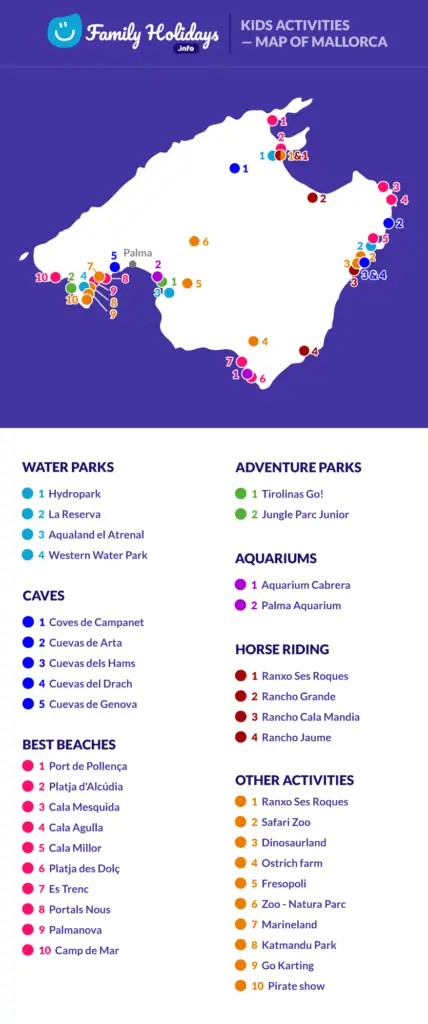 You can find out more information on these activities on the things to do with kids in Mallorca page.
Katmandu Park, Marineland and Aqualand El Arenal are definitely the best ones. You can spend a day at these places without the kids getting bored. Some of the rides at Katmandu park and Aqualand El Arenal offer some thrilling rides and slides for kids seeking adventure.
However if you want more excitement, then why not try one of the adventure parks. Jungle Parc Junior is great for the smaller kids whereas Tirolinas Go! is better suited for older ones.  
For something different you could opt for the Safari Zoo or Palma Aquarium. Here kids can get up close with animals. Plus Palma Aquarium features a cool underwater tunnel and interactive exhibits.
3. Family-Friendly Resorts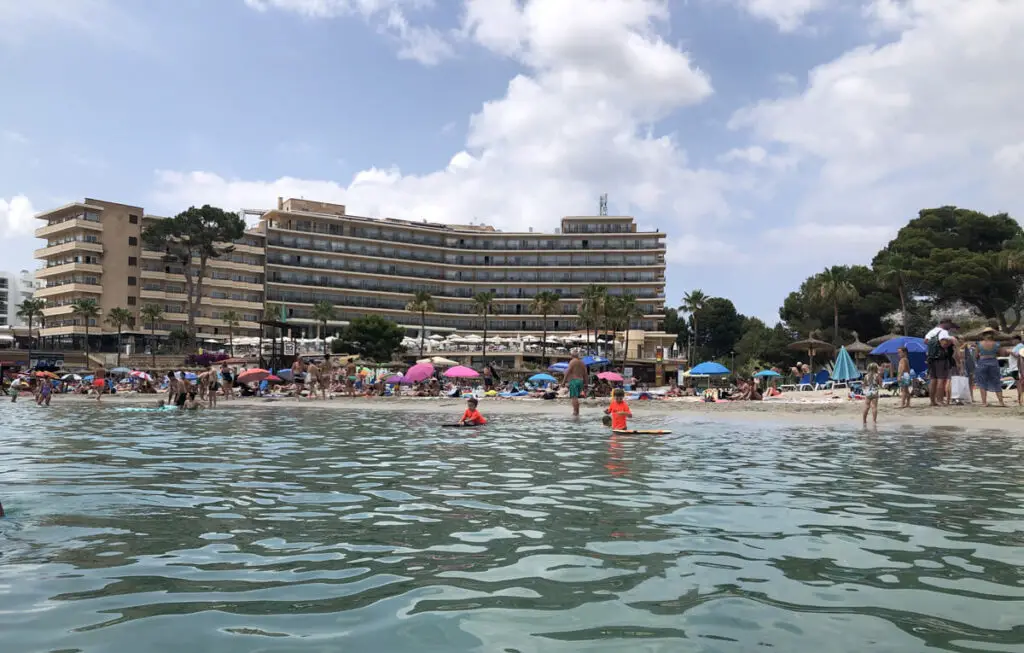 There is an array of family-friendly resorts that cater for families traveling with kids in Mallorca. These resorts go above and beyond to ensure a memorable and enjoyable stay.
They offer a range of amenities and services designed with kids in mind. Many feature dedicated kids' clubs or activity centres where children can engage in supervised games, crafts, and age-appropriate entertainment.
These clubs often have trained staff who organise fun activities and ensure the safety of the children. In this way it will give you the opportunity to get some well-deserved relaxation time.
In some cases these resorts also offer swimming pools with shallow areas for young children or dedicated kids pools. A small minority are themed with shallow water slides suitable for kids. Others have splash parks with interactive water features, providing hours of entertainment for little ones.
In addition to the facilities, the resorts often have entertainment programs specifically tailored to children and teenagers. Kids can enjoy activities like treasure hunts, arts and crafts workshops, mini-discos, and movie nights. Teenagers might find themselves engaged in sports tournaments, video game lounges, or adventure activities.
The best resorts for families in Mallorca are Marins Playa in Cala Millor and Grupotel Parc Natural & Spa at Playa de Muro in Alcúdia. This is because they offer absolutely everything, including: family rooms, kids pools, kids' club, babysitting/ child services, indoor play area, kids' outdoor play equipment, children's playground, board games/puzzles, games room, table tennis, evening entertainment, spa and wellness centre and a fitness centre amongst other things.
However there are some other resorts in different areas that almost have as many amenities. Additionally some are less expensive than others. You can check out the full list of the best resorts on the 5 best areas in Mallorca for families.
4. Pram and Stroller Friendly
Mallorca is generally stroller-friendly, especially in popular tourist areas and urban centres. The island has made efforts to accommodate families with strollers. As a result, you can expect a reasonably convenient experience when navigating with a stroller.
In major towns and cities like Palma, Alcúdia, and Sóller, you will find well-maintained pavements and pedestrian areas that are generally accessible for strollers. These areas are usually flat and easy to navigate, making it convenient to stroll around with your little ones.
Most popular tourist attractions, such as Palma Cathedral and Bellver Castle, have wheelchair-accessible entrances, which also make them accessible for strollers. Many restaurants, cafes, and shops in these areas are equipped with ramps or step-free access, allowing you to move around with ease.
It's worth noting that some older parts of towns or villages might have narrower streets or uneven surfaces. At times you may also come across areas with stairs like in Palma close to Palma Cathedral as you can see in the image below.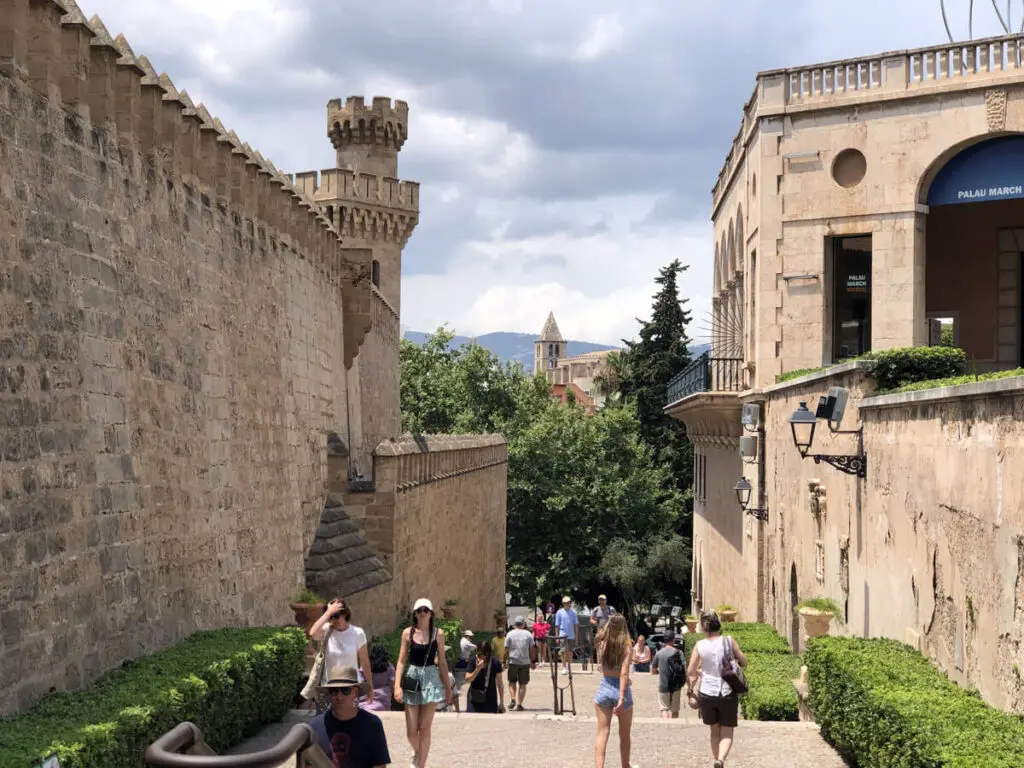 This make manoeuvring a stroller a bit more challenging. However, these areas are usually limited and you can avoid them by choosing alternative routes.
Additionally, public transportation in Mallorca, such as buses and trains, is generally stroller-friendly. Buses are equipped with ramps or low floors for easy boarding, and trains often have designated areas for strollers.
I was truly surprised by the sand on the beaches in Mallorca. Unlike the ones in Malta where I live, your feet do not partly sink as you walk across the sand which makes walking on sand a lot easier. I'm not sure if it's because the sand is more compacted or whatever the reason is. However it enabled families to easily walk onto the beach with their strollers in tow.
Overall, while there may be some occasional challenges in certain areas, Mallorca is generally accommodating for strollers. This will allow you to comfortably navigate the island with your stroller and enjoy all that Mallorca has to offer.
5. Outdoor Activities
Mallorca is a paradise for outdoor activities. The island's natural beauty and diverse landscapes provide the perfect backdrop for outdoor adventures.
One of the most popular outdoor activities is exploring the coastal areas. Families with kids in Mallorca can embark on boat trips and catamaran excursions to discover hidden coves, sea caves, and stunning cliffs.
Snorkelling and diving are also popular activities. In this way, you get a chance to observe the vibrant marine life and explore underwater ecosystems.
For those who prefer land-based adventures, Mallorca offers numerous opportunities for hiking and cycling. The Tramuntana Mountains provide breath-taking trails and scenic routes suitable for all skill levels. Families can explore ancient paths, visit charming villages, and enjoy panoramic views of the island's landscapes.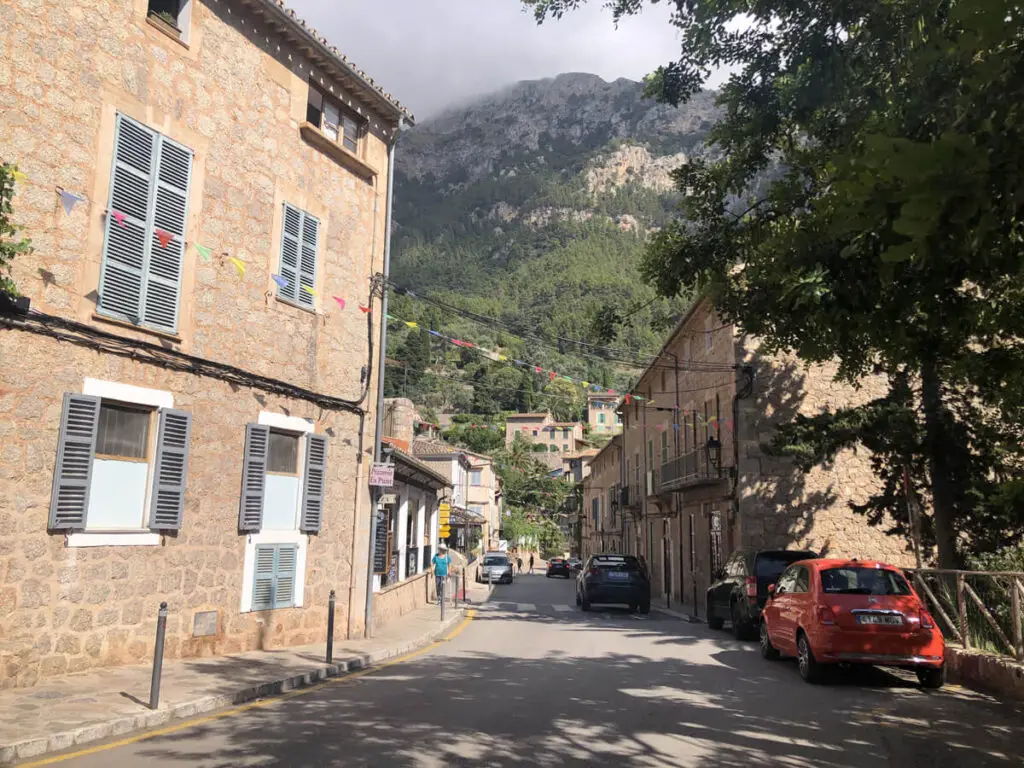 Mallorca's crystal-clear waters also make it an ideal destination for kayaking, paddle boarding, and windsurfing. Families can rent equipment and glide along the coast, to discover picturesque spots.
Nature lovers will appreciate the island's natural parks and reserves. The S'Albufera Nature Reserve, for example, is a haven for birdwatching, with numerous species of birds and wildlife to observe. Families can take leisurely walks, guided tours, or even rent bicycles to explore these protected areas.
Adventure parks and treetop adventure courses provide thrilling experiences for the whole family. Kids and adults alike can enjoy zip-lining, rope bridges, and other adrenaline-pumping challenges amidst the island's lush forests.
Whether it's exploring the coasts, hiking in the mountains, enjoying water sports, or immersing in nature, Mallorca offers an abundance of outdoor activities that cater to families seeking adventure, exploration, and quality time in the great outdoors.
6. Cultural Experiences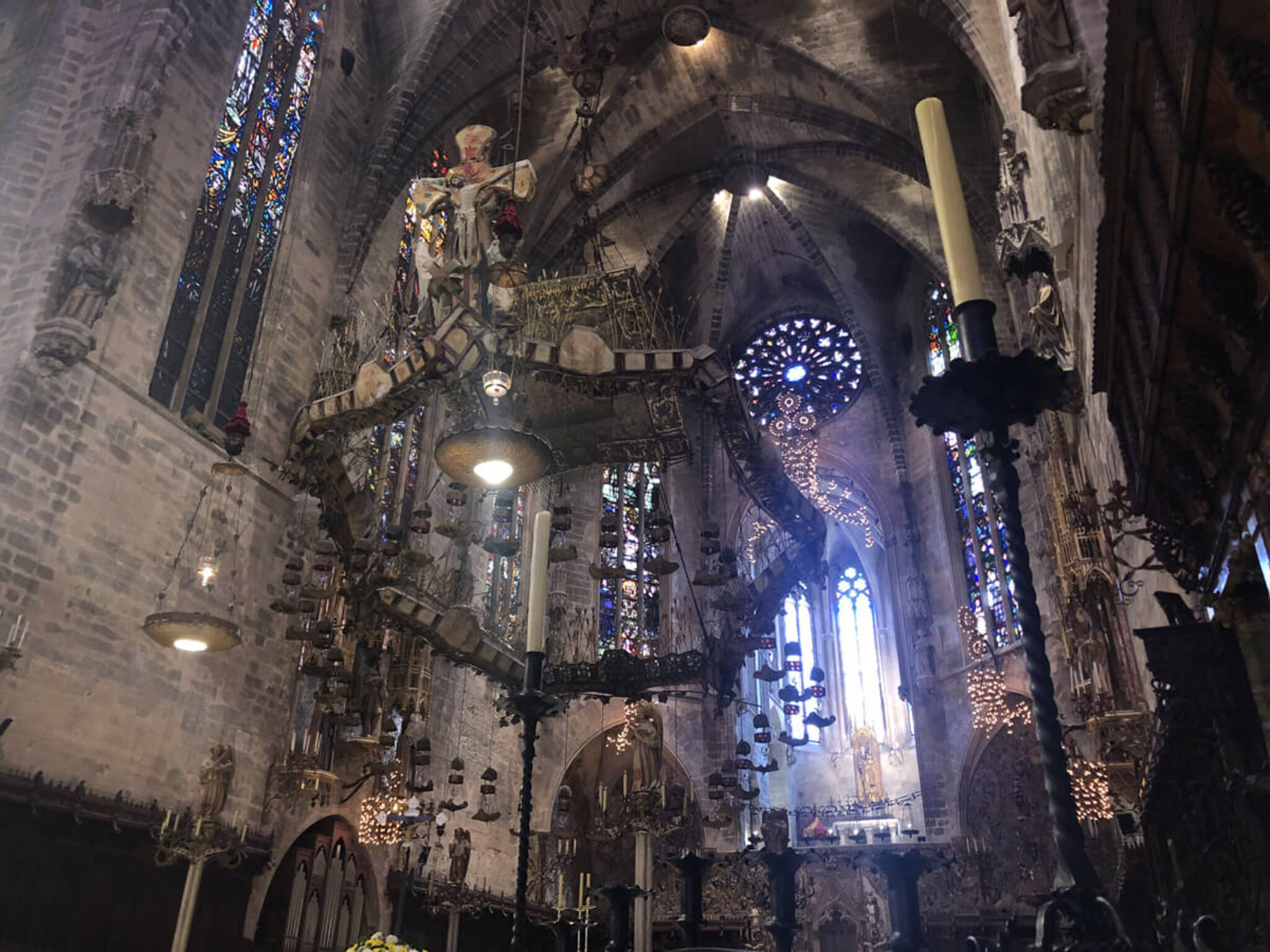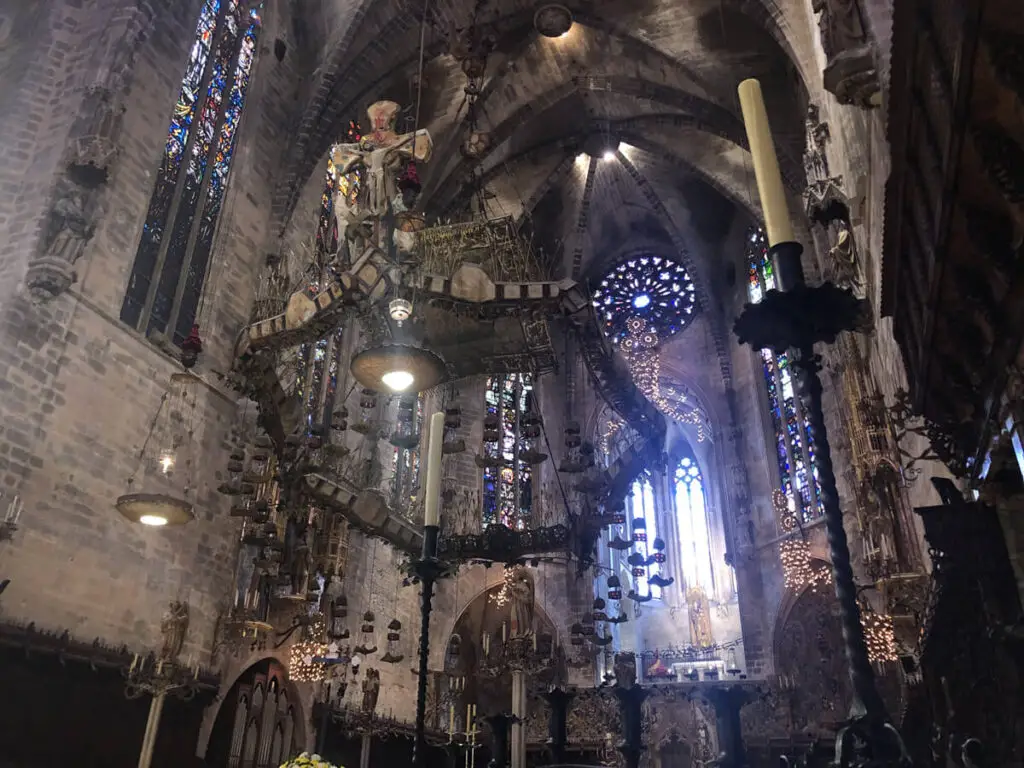 Mallorca is not just a destination for sun and sea; it also offers a rich cultural heritage that families can explore and appreciate together. The island is dotted with historical sites, museums, and charming towns that provide unique cultural experiences.
The capital city of Palma is a treasure trove of cultural attractions. You can visit the impressive Palma Cathedral, with its Gothic architecture and stunning interior.
The Royal Palace of La Almudaina is a former Moorish fortress. It offers a glimpse into the island's history and houses various artworks and artefacts. You can explore the narrow streets of Palma's old town and stumble upon beautiful courtyards, historic buildings, and vibrant markets.
Mallorca is home to several interesting museums. The Es Baluard Museum of Modern and Contemporary Art showcases local and international works of art, while the Museum of Natural Sciences delves into the island's natural history.
The interactive exhibits at the Palma Aquarium provide an educational and immersive experience. This will allow you and your family to learn about marine life from around the world.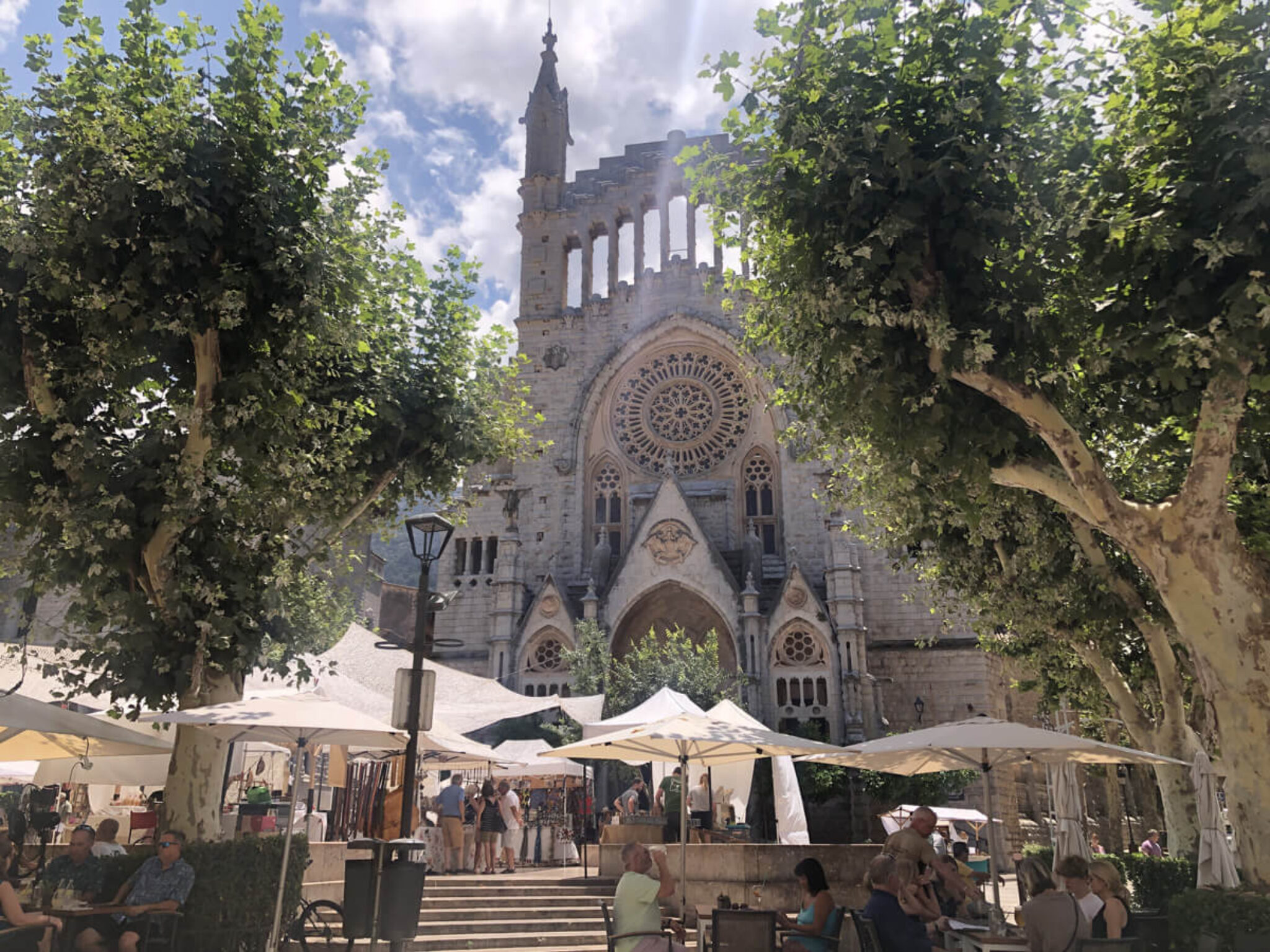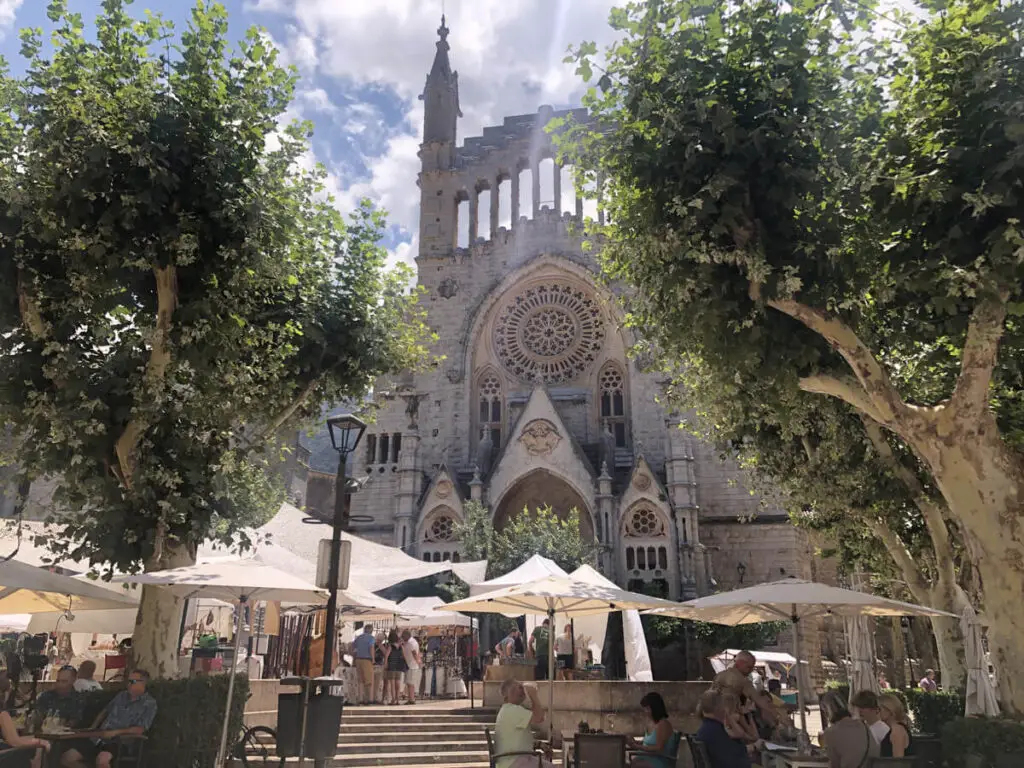 Charming towns such as Valldemossa, Sóller, and Alcúdia offer a glimpse into traditional Mallorcan life. You can wander through narrow cobblestone streets, admire historic architecture, and visit local markets. The markets are a great opportunity to sample traditional food and handicrafts.
Throughout the year, Mallorca hosts cultural events and festivals that provide a taste of local traditions. From vibrant fiestas to music concerts and art exhibitions. You can easily immerse yourselves in the island's vibrant cultural scene.
By exploring the cultural experiences, you and your kids in Mallorca can gain a deeper understanding of the island's history, traditions, and artistic heritage. This adds a layer of enrichment to your holiday experience.
7. Delicious Cuisine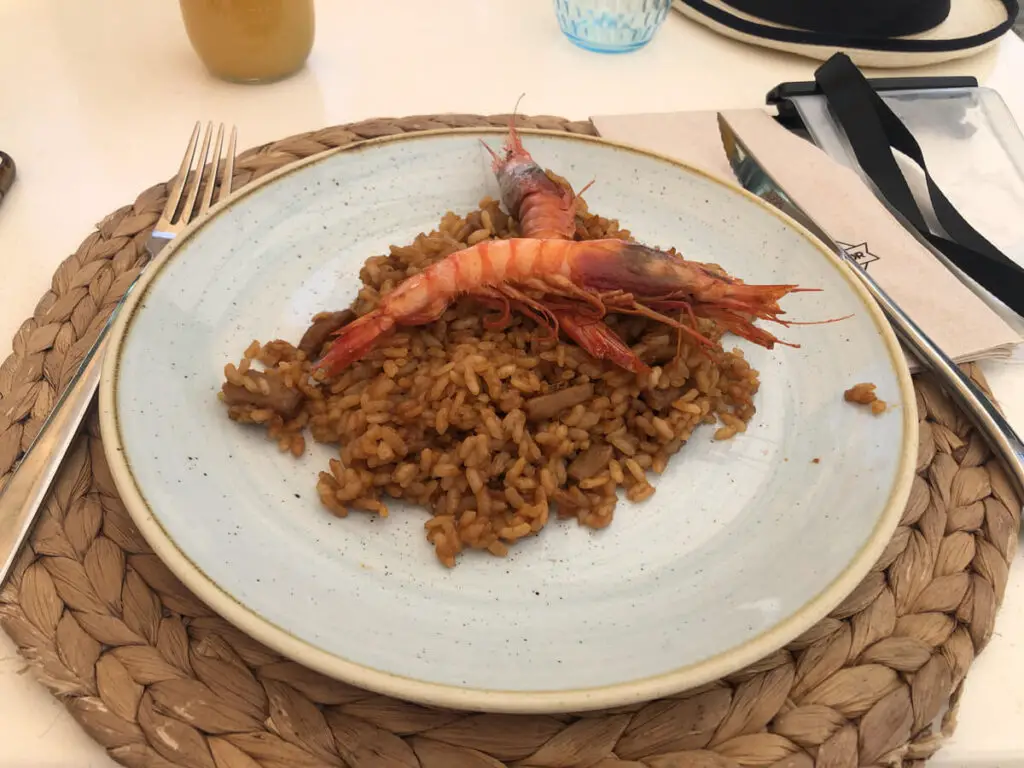 Mallorca is a culinary delight, offering a diverse and delicious cuisine that families can savour and enjoy together. The island's gastronomy combines traditional Mediterranean flavours with local ingredients, resulting in a unique culinary experience.
Mallorcan cuisine showcases an abundance of fresh seafood dishes, thanks to the island's coastal location. You can indulge in delectable seafood paella, grilled fish, or the renowned local specialty, caldereta de langosta (lobster stew).
Pa amb oli, a traditional dish of rustic bread topped with olive oil, tomatoes, and a variety of toppings like cured meats and cheeses, is a simple yet flavourful option loved by locals and visitors alike.
Mallorca is also known for its delightful pastries and sweets. You can indulge in ensaïmadas, a spiral-shaped pastry dusted with powdered sugar and often filled with cream, chocolate, or fruit. Another popular treat is the almond-based pastry known as gató de almendra. It is often served with a scoop of almond ice cream.
The island is also famous for its local wines and liqueurs. Parents can sample Mallorcan wines made from native grape varieties, such as Manto Negro and Prensal Blanc, while the little ones can enjoy the non-alcoholic version of the traditional herbal liqueur known as hierbas.
Mallorca's culinary scene offers a wide range of dining options. There are family-friendly restaurants serving international cuisine to traditional taverns and local markets where you can savour regional specialties.
8. Warm Mediterranean Climate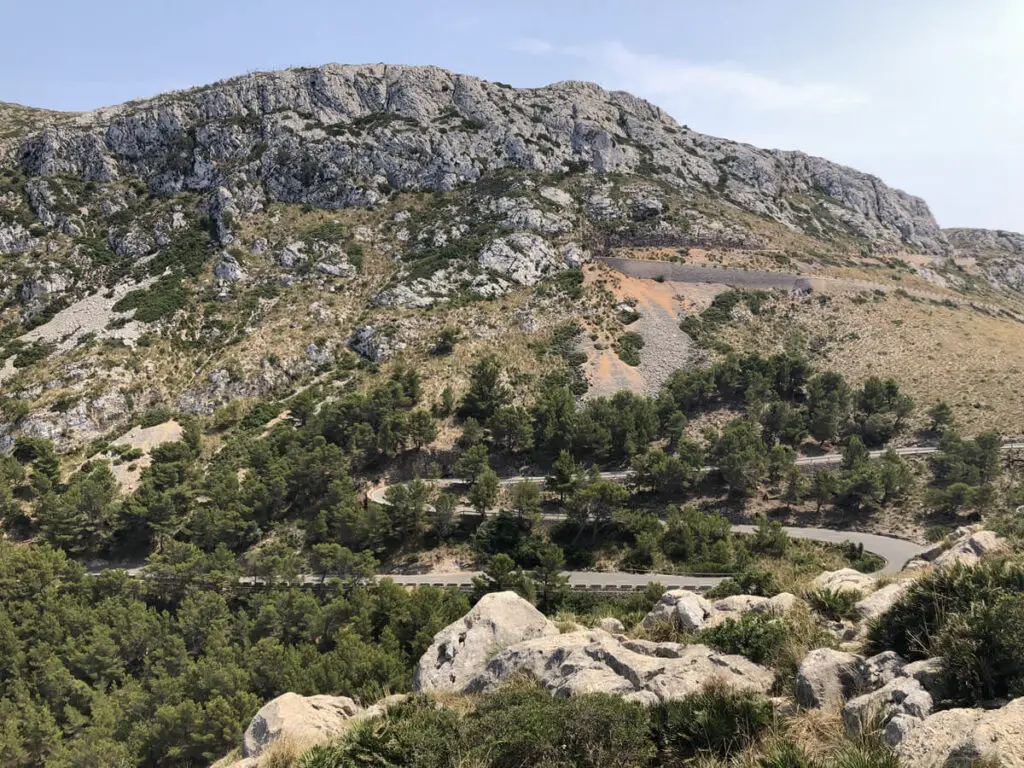 Mallorca enjoys a pleasant Mediterranean climate, characterised by mild winters and hot summers. The island's weather makes it an ideal destination for families with kids in Mallorca seeking outdoor activities and beach relaxation.
During the summer months, Mallorca experiences warm and sunny weather. Temperatures often reach the mid to high 20s Celsius (mid-70s to mid-80s Fahrenheit). It's the perfect temperature to make the most of the beach, water sports, and enjoy outdoor adventures without being overwhelmed by extreme heat.
Spring and autumn bring milder temperatures, making it a great time to explore the island's natural beauty. During this time you can go hiking in the mountains, or visit cultural sites without the peak summer crowds.
Even in winter, Mallorca experiences relatively mild weather compared to other European destinations. While temperatures may drop, they rarely reach freezing point. This means you can enjoy outdoor activities and visit attractions, albeit with fewer beach-related options.
The Mediterranean climate in Mallorca is also characterised by a fair amount of sunshine throughout the year. You can expect to bask in the sun and enjoy the island's natural beauty. That goes for whether you're lounging on the beach, exploring hiking trails, or strolling through charming towns and villages.
With such a favourable climate, you can enjoy many activities and make the most of your holiday, no matter the season. Whether it's swimming in the sea, hiking in the mountains, or simply soaking up the sun, the Mediterranean climate enhances the overall experience of a family holiday in Mallorca.
9. Safe and Welcoming Environment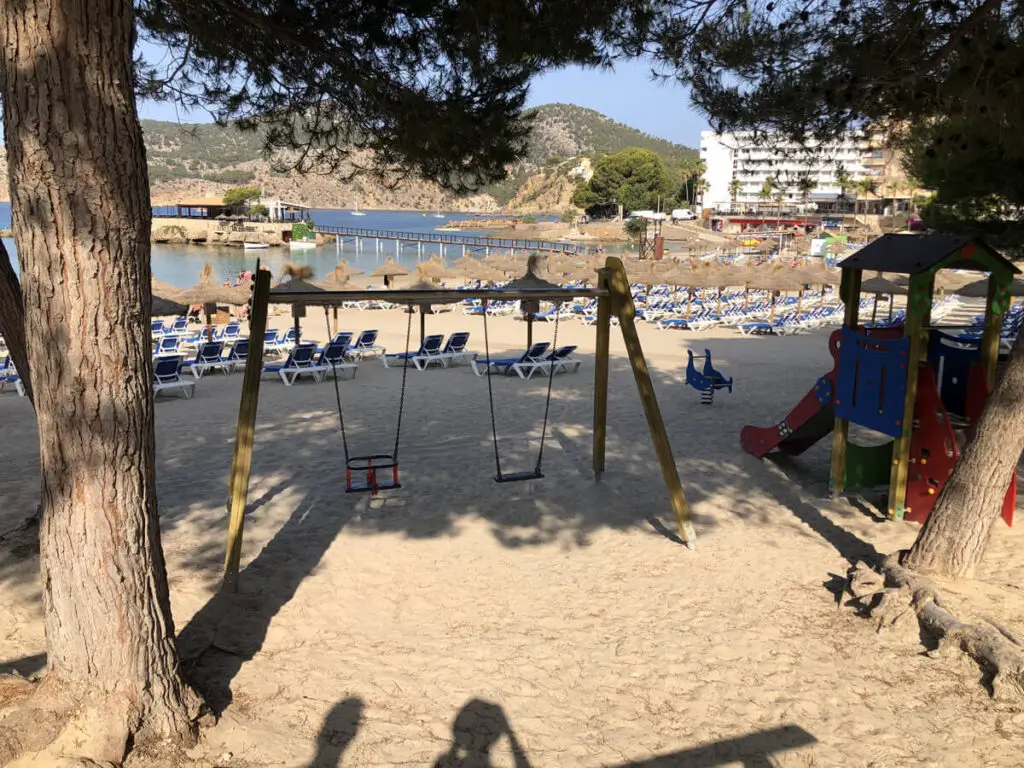 The Balearic islands have a 45% higher crime rate than the national average. However since Spain is the 6th safest country in Europe, Mallorca is actually safe as I detailed in the article is Mallorca safe.
While I was there, I always felt safe. In fact Mallorca is known for its safe and welcoming environment. This makes Mallorca an excellent choice for families seeking a secure and enjoyable holiday destination.
Mallorca's overall low crime rate and well-maintained infrastructure contribute to the overall safety of the island. Families can explore the towns, cities, and beaches with peace of mind.
However I would recommend you do not take more than you need to the beach as a precaution. Leaving your belongings unattended on the sand while you are in the sea provides a great opportunity for pickpockets to take your belongings.
Since my mobile phone is my most precious item that I cannot stay without, I use a waterproof mobile pouches from Amazon for the beach. Like this I can hang it around my neck with the lanyard and take it with me into the water and have peace of mind knowing my most precious item is safe with me.
All I leave behind on the sand is my towel, sun screen and some loose change. Additionally the pouch is made from a material that conveniently allows me to message, answer calls and take pictures while I'm in the water.
As I mentioned earlier, the island's tourist areas and resorts are designed with families in mind and offer a comfortable and safe experience. This includes dedicated children's areas and lifeguards on duty at beaches.
Moreover, Mallorca has a well-developed healthcare system. There are many hospitals, clinics, and pharmacies available throughout the island. So you can feel reassured that medical assistance is readily accessible in case of any unforeseen circumstances.
FAQs
is Mallorca stroller friendly?
In general Mallorca is stroller-friendly, especially in popular tourist areas. In city centres you will find well-maintained pavements and pedestrian areas that are accessible for strollers. However you can find some old town centres that have narrow streets, or less maintained areas or a select few locations with stairs.
Is Mallorca toddler friendly?
Mallorca is a great place for a family holiday including those with toddlers. It has many activities for children, several of which are toddler friendly and resort areas that cater to the needs of children of all ages. That includes kids' clubs as well as babysitting services and facilities that cater for toddlers.
Related Articles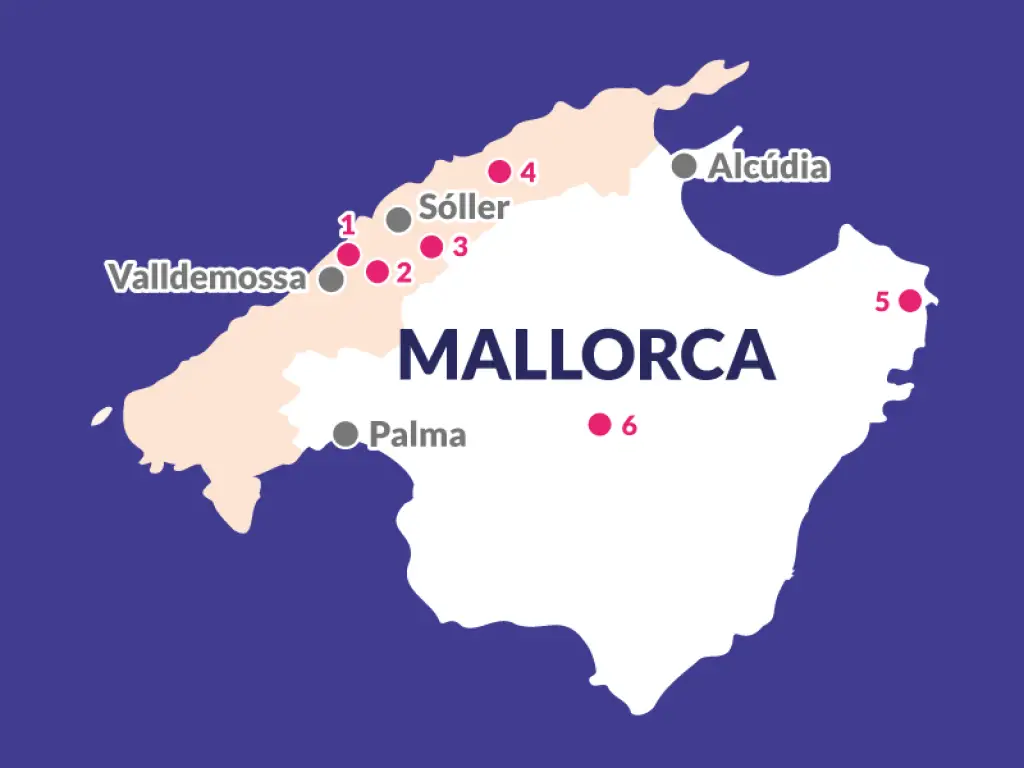 The Best Side of Mallorca for Views, Beaches and Activities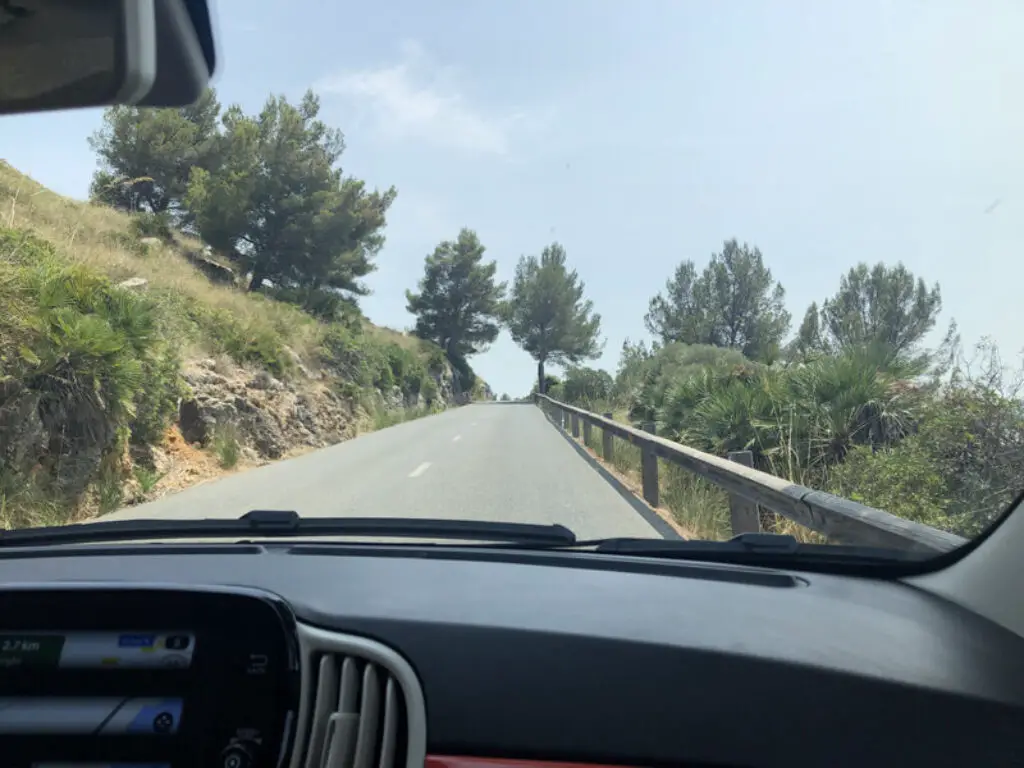 Hiring a Car in Mallorca: Costs, Documents and Policies