6 Family Friendly Winter Sports Destinations in Europe
There are countless amazing winter sports destinations in Europe, offering up a wealth of activities. From skiing to ice skating, snowboarding to sledding, the possibilities are endless. So, if you're planning your next winter sports holiday but are struggling to find a family-friendly winter resort, you've come to the right place.
In this guide, we've taken a look at six incredible family-friendly winter sports destinations across Europe. So, whether you're looking to teach your kids how to ski, introduce them to Santa, or try out curling, we've got you covered. Don't worry, each location also has plenty to keep the adults entertained as well!
Let's take a closer look.
1. Zermatt-Matterhorn, Switzerland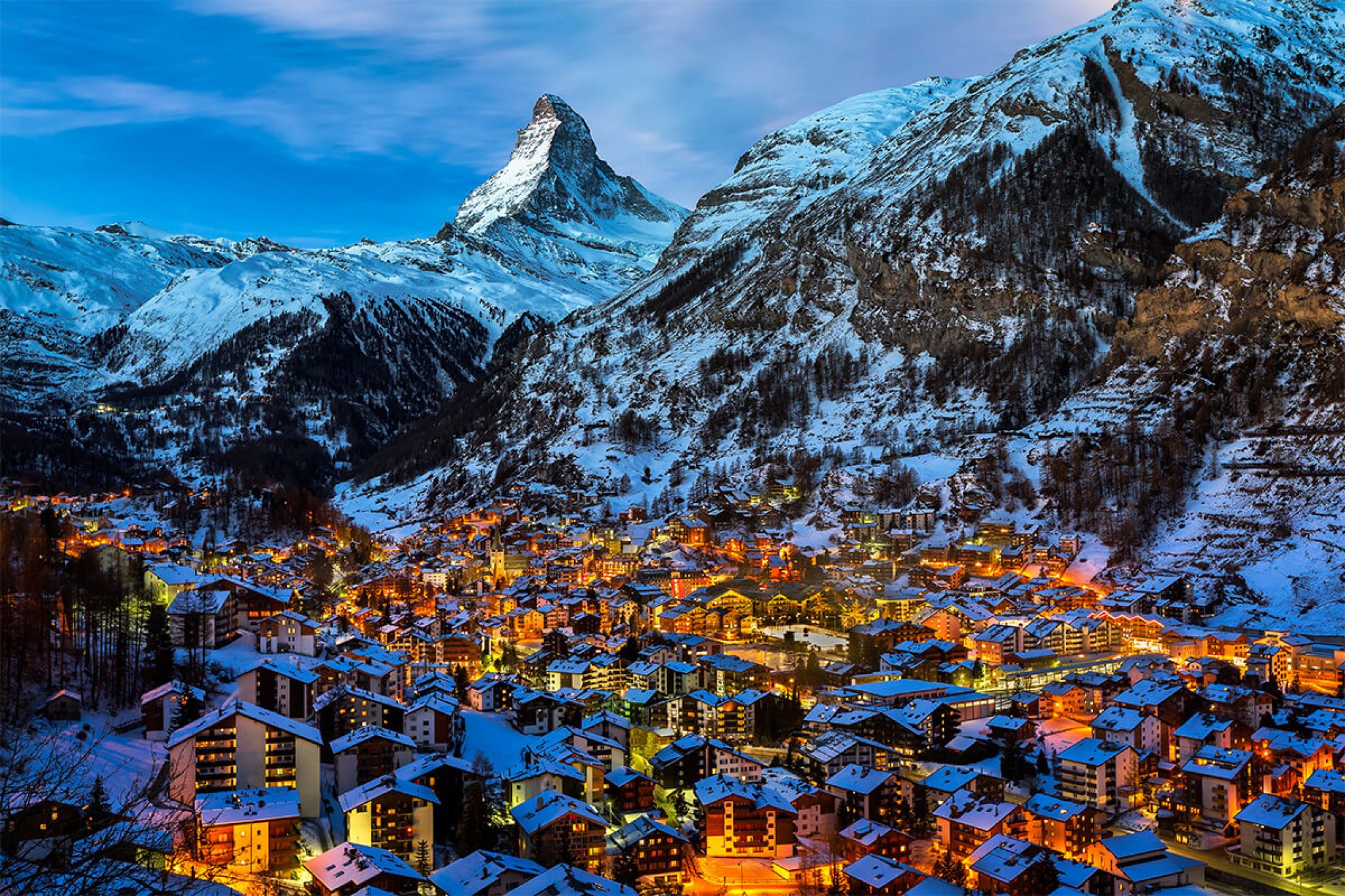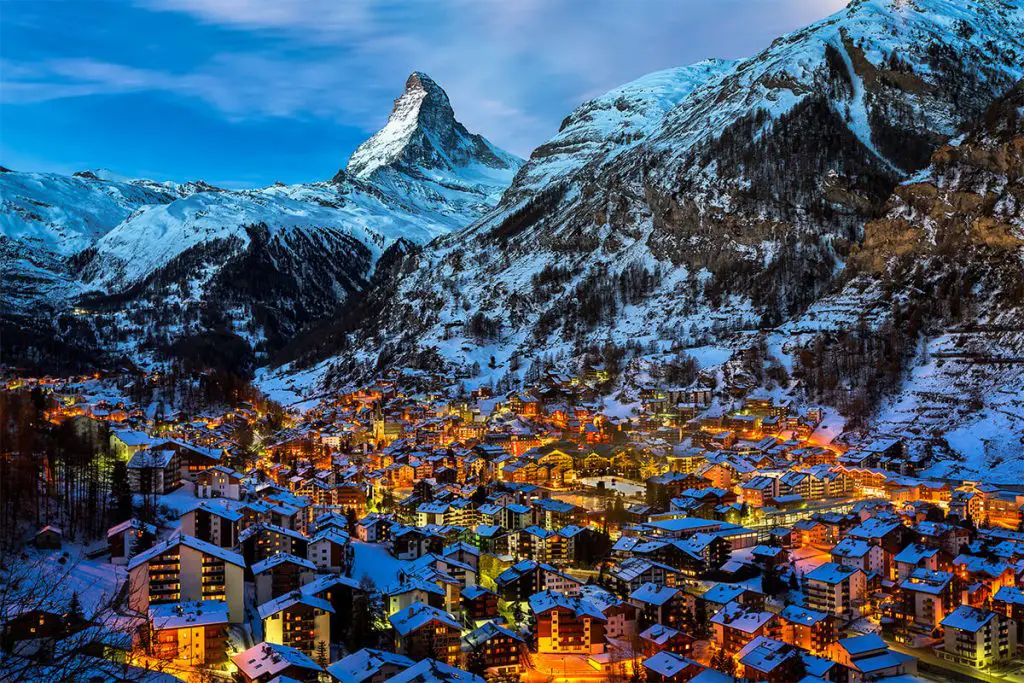 The Majestic Matterhorn is one of the most well-known mountains in the Alps. With its iconic jagged peak, it towers 4,478 metres into the sky. At the Zermatt winter resort in Switzerland, you can enjoy spectacular views of this gorgeous mountain from all angles.
Straddling the Swiss-Italian border, it's one of the most famous resorts in the Alps, boasting almost 4,000 metres of altitude, breathtaking scenery, and a multi-cultural vibe. Plus, snow is guaranteed 365 days a year, so you don't even have to wait for winter!
But it makes our list because it's also one of the best winter sports destinations in Europe for families. To be as close as you can be to the action, here are the best locations to stay closest to the ski lifts in Zermatt for practicality.
Why It's Great for Families
Zermatt boasts a huge range of world-class ski schools, with lessons for snowboarding, skiing, and other winter sports on offer. Kids of all ages and abilities can take lessons or simply have fun on the various beginners' slopes and snow playgrounds.
Wolli's Park for beginners is located at Sunnegga and is one of the best for families. With five magic carpets and countless activities outside of skiing, it's one of Europe's best family-friendly winter sports parks. To be as close to the park as possible, you can select from a few hundred
stays within 3kms of Wolli Park
.
Zermatt offers plenty of activities as well as skiing and snowboarding too, ensuring a fun-filled family holiday. During your stay you can also indulge in ice skating, curling, and sledging. For a change of scenery, why not jump aboard the Gornergrat Bahn, a train that takes you 3,000 metres high for excellent views of the mighty Matterhorn.
Cost
Zermatt is widely regarded as one of the most expensive European ski resorts, and a day ticket does cost more compared to other large European ski resorts. However, in terms of value, visitors to Zermatt get a lot more for their money, with more activities, more kilometres of trails, and some of the best winter scenery in the world.
2. Kitzbühel, Austria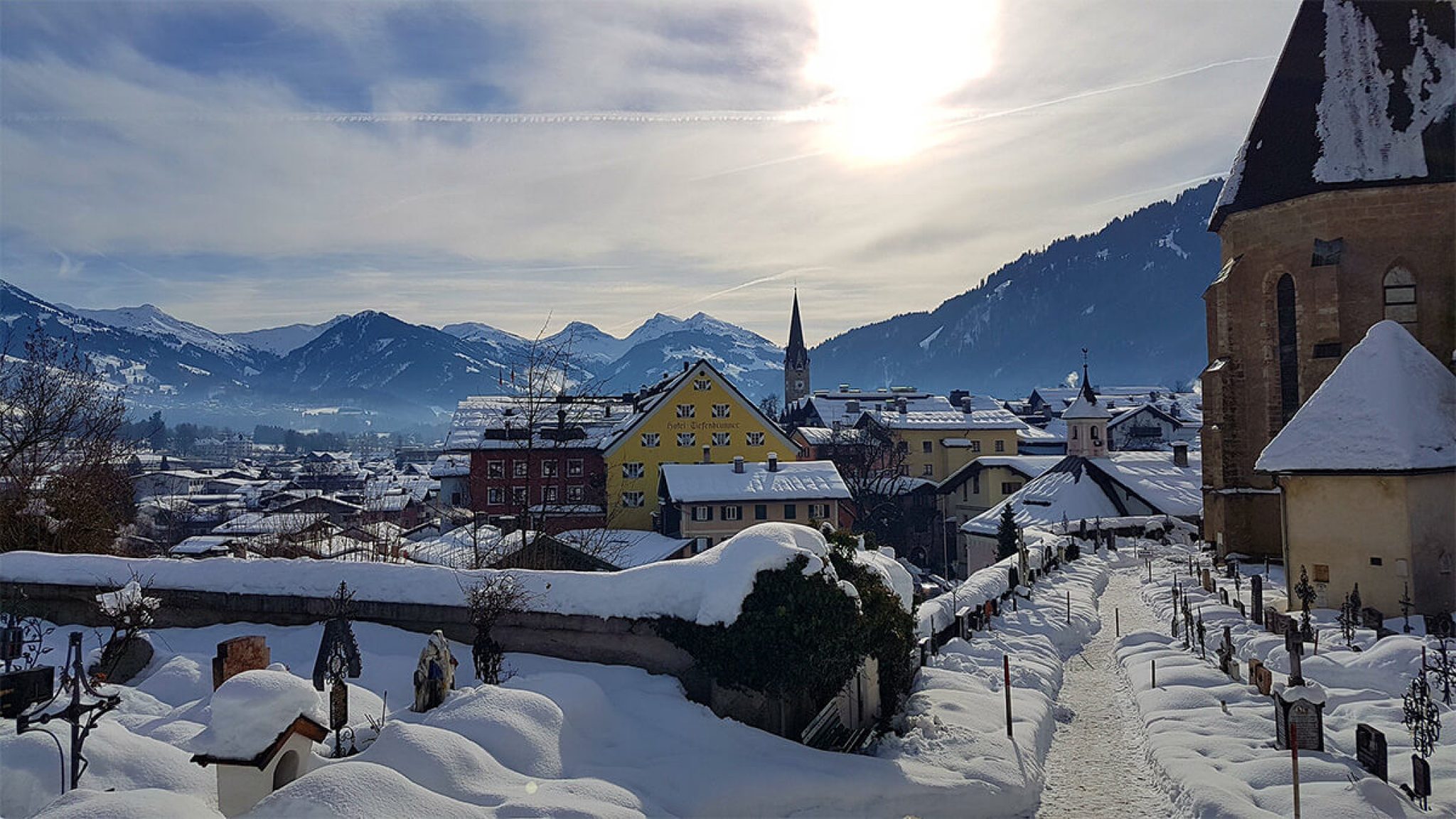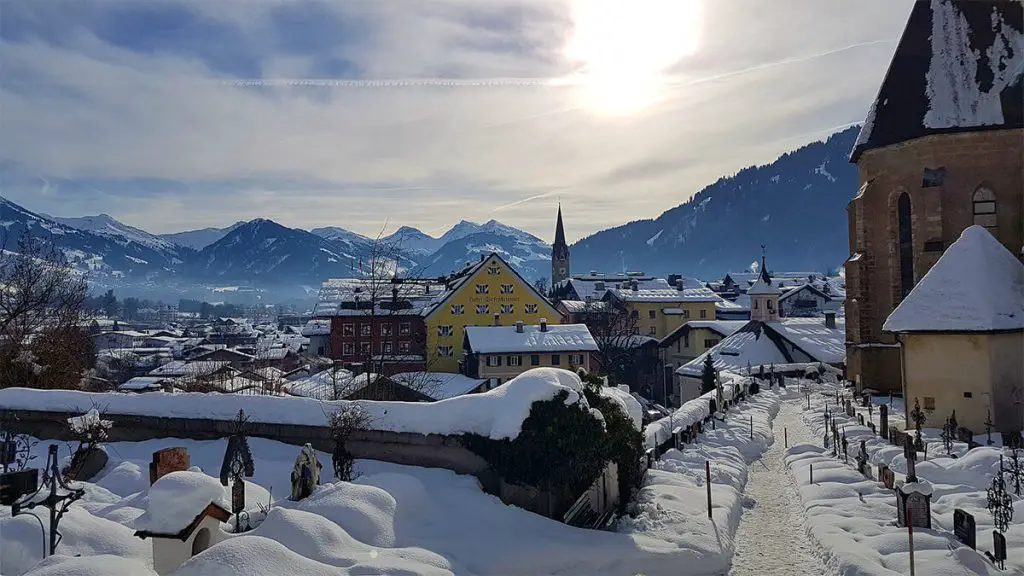 The picture perfect village of Kitzbühel offers a veritable winter wonderland for families, at a very reasonable cost. With its quaint shops, houses, and hotels, it's a stunningly pretty place for a winter sports holiday. Plus, since most of the businesses are small and family-run, there's a warm, welcoming atmosphere.
A landscape of vivid forests and towering mountains, Kitzbühel boasts fresh, clean air and a wealth of things to see and do. In terms of skiing, there are 170 kilometres of trails with something for all abilities. There are 1500+ stays all over Kitzbuhel, but not very many that are conveniently close to go skiing. Here is where to stay in Kitzbuhel to be close to the ski lift.
Why It's Great for Families
Kitzbühel is home to 22 ski schools, which cater to kids as young as three right up to experts. There's also the Bärenland, a kids only area for younger children to enjoy in safety. For older kids, the Audi Quattro Fun Slope is a must, while future ski stars can show off their skills at the Kitzski Family Park, ideal for jumps and tricks.
Cost
Despite being one of the most beautiful, accessible, and varied winter resorts, Kitzbühel is also one of the most affordable. Costs are far below the European average in terms of accommodation, ski hire, lift passes, and dining.
3. Hafjell, Norway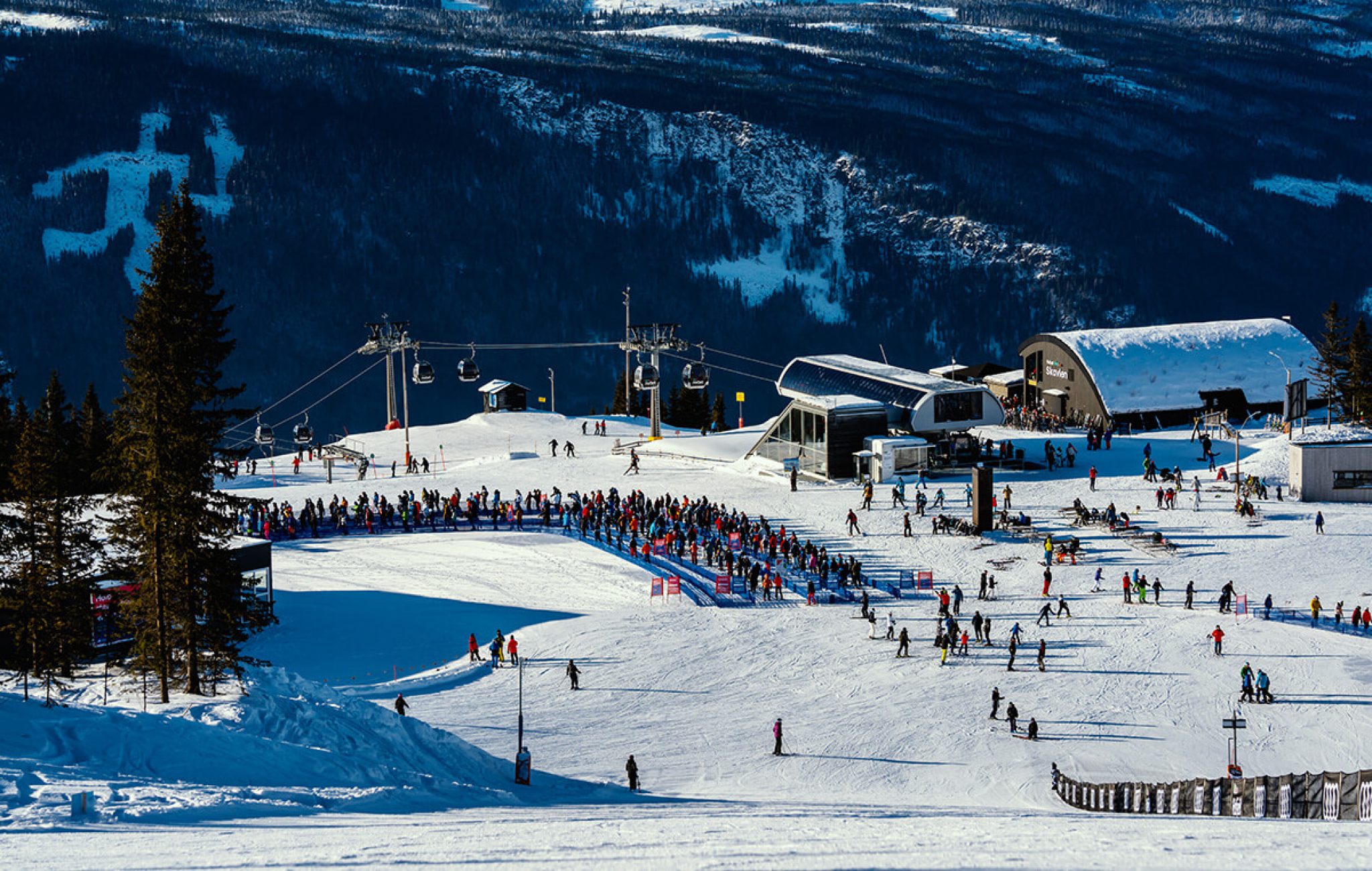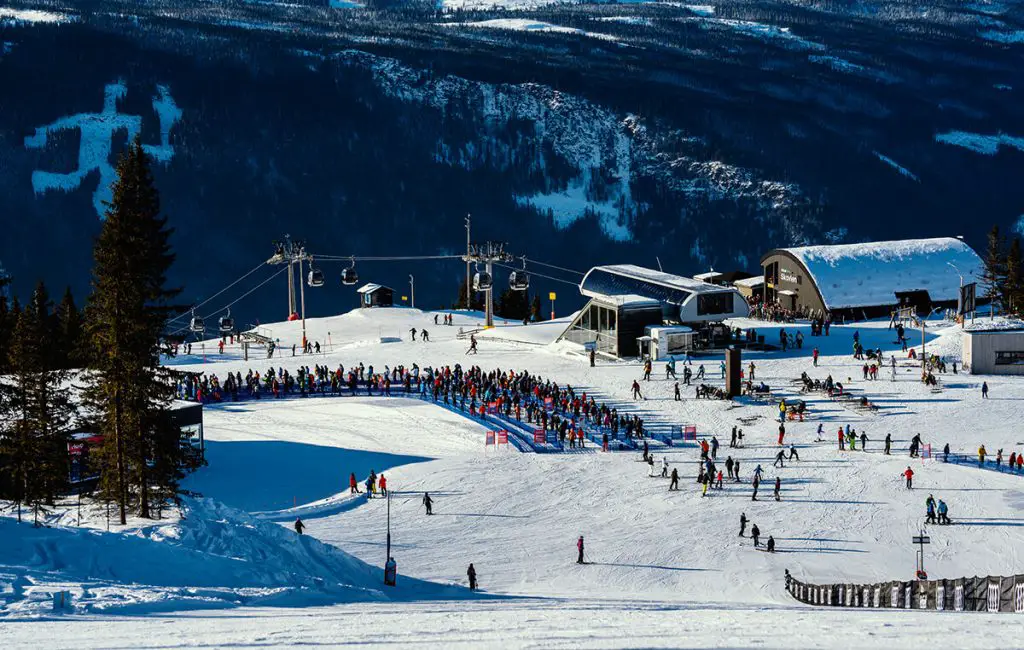 If you're looking for somewhere outside of the Alps, Hafjell Ski Park in Norway is one of the best. It's also easy to access, just take the E6 highway north of Oslo. Once you're there, you'll find jaw-dropping natural scenery and some amazing skiing opportunities.
There are 33 slopes to choose between, with something for every ability. In addition to downhill skiing, Hafjell is also home to the most extensive cross-country ski trail in the country. So, even if you or your kids aren't so keen on skiing down the slopes, you'll find plenty to keep you entertained.
Even though there are many kilometers of area for skiing, there aren't many places to stay in the area. So here is where to stay in Hafjell to be close to the skiing action.
Why It's Great for Families
Hafjell is one of Norway's most kid-friendly ski resorts. Boasting three children's areas and extensive equipment rental, children can simply play in the snow to their heart's content, or take ski lessons. The local ski schools accept kids as young as three years old and offer lessons for all abilities.
As they learn and gain confidence, there are plenty of increasingly challenging slopes for them to test their new skills on. Numerous magic carpets make getting back to the top again a piece of cake, and lots of fun!
Cost
Contrary to popular belief, skiing in Norway and other Scandinavian countries isn't actually more expensive than in the Alps. Indeed, lift passes, accommodation, and transport can often work out marginally cheaper. However, both shopping and eating out can be very expensive, so if possible, look for catered accommodation.
4. Ruka Resort, Lapland, Finland
Lapland, the home of Santa, is arguably one of the most popular places for a magical winter escape. In Christmas especially there are additional activities to look forward to in Lapland.
It's also a fabulous choice for a winter sports holiday. Finland is home to tonnes of superb ski resorts, many of which can be found in and around the vast Lapland region. Ruka Resort is a top choice for families, who will find countless things to see and do.
Smaller than most other European resorts, there are a few hundred places to stay to make the most of winter sports. It also boasts a friendly, relaxed atmosphere that is great for kids. The slopes are also extremely beginner friendly, though there are also plenty of more challenging trails for intermediate skiers.
Why It's Great for Families
Ruka is one of the top family-friendly winter sports destinations in Europe, and you'll find far more than just skiing and snowboarding on offer. Kids and adults alike can indulge in activities such as cross-country skiing, snow-shoeing, husky sledding from Rovaniemi, and reindeer safaris from Levi . Indoor play areas mean that kids can have fun whatever the weather. Of course, you'll also get the chance to meet with Santa in Santa Park!
Outside of the resort, you can also take various day, or night, trips to reindeer farms, or to see the mystical Northern Lights. One of the best ways to do this is to stay for at least one night in an Igloo that has a glass ceiling. There are only a few; firstly Santa's Igloo, there is Pandomes Aurora Igloo Hotel or Aurora's Nest Glass Igloo. Any one of these will enable you to enjoy the lights in a warm, cosy and dreamy environment at one of the best locations for aurora's.
Cost
A visit to Lapland, especially during Christmas, is never going to be cheap. Having said that, the costs for accommodation, ski hire, food and drink, and ski lessons are for the most part lower than in Scandinavian and Alpine resorts. Even the special activities like Husky sledding aren't too expensive when you consider just how magical the experience is.
5. La Plagne 1800, France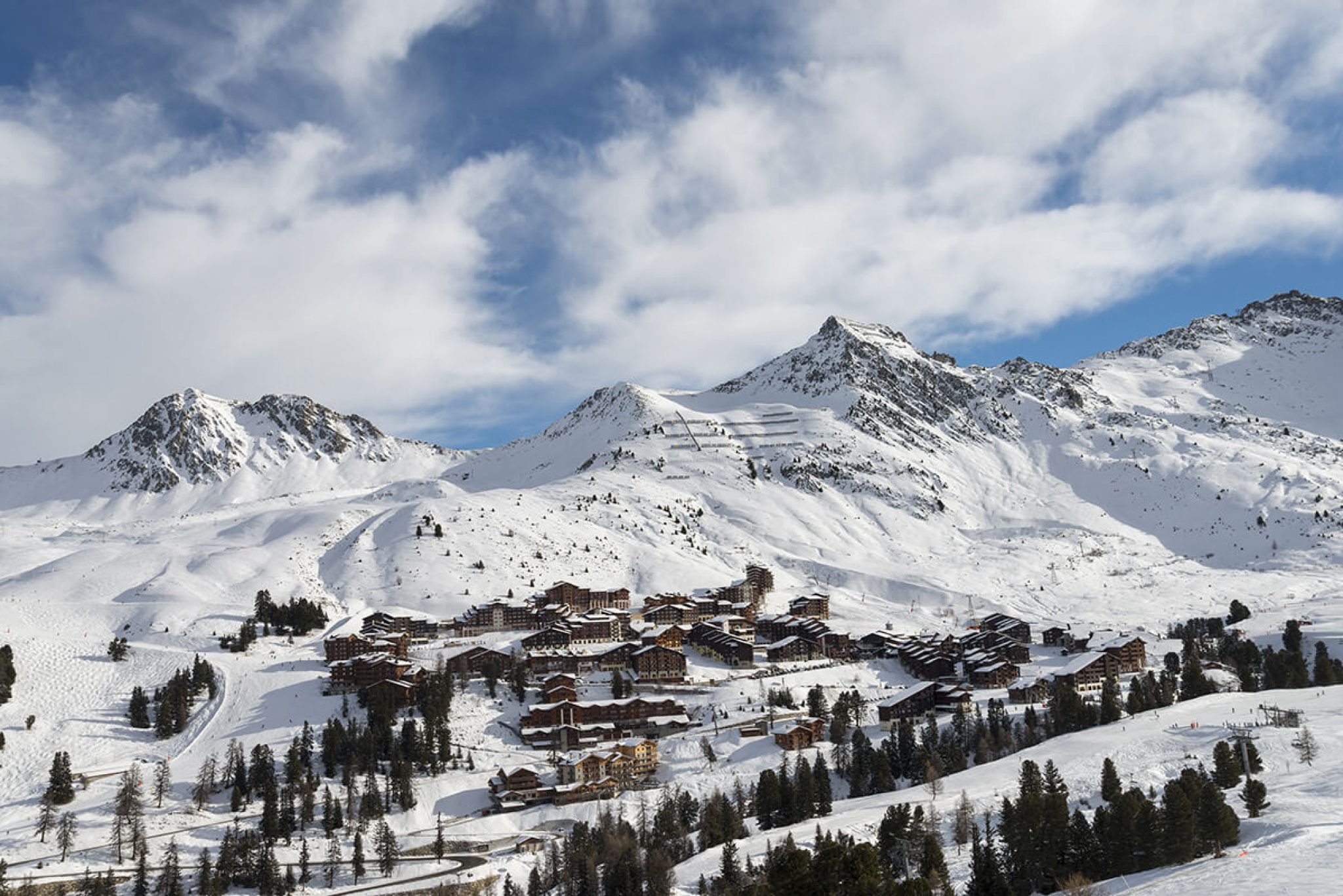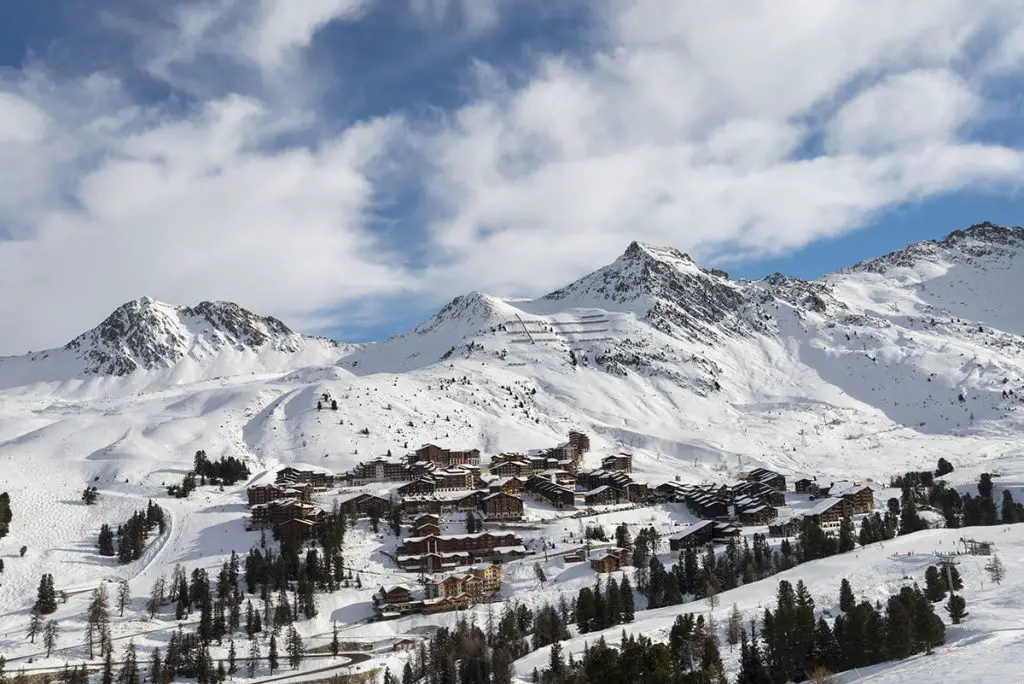 La Plagne is a superb French resort. It's the largest in the world when it comes to total ski days and the number of available beds, though it's actually made up of 6 smaller villages.
La Plagne 1800 is the most family-friendly, boasting a wealth of child-friendly chalets, kids' activities, and beginner slopes. The village is almost entirely car-free, creating a safe atmosphere, while access to the slopes is within walking distance of most accommodation—saving the hassle of getting everyone on the bus each day!
Home to the biggest ski lift on earth, the Vanoise Express, La Plagne boasts slopes for all abilities, plus access to the third largest ski area in France, Paradiski. There are countless superb catered chalets to choose from like the ones Will-I-Ski, meaning you can sit back, relax, and enjoy the various activities on offer.
Why It's Great for Families
Kids as young as three can enlist in ski school, learning the ropes and progressing onto ever-more challenging slopes. Baby tow-ropes and magic carpets make it fun and easy for the young ones to get to grips with skiing. There are several Ski schools here, the better ones are:
There are also several child-only snow zones, complete with magical fairies and dragons, ideal for playing in the snow. Outside of skiing, other family-friendly activities include horse-drawn and dog sled rides throughout the backcountry, paintballing, ice skating, and indoor games arcades. For those looking for an extra thrill, tobogganing in La Plagne is an absolute must!
Finally, La Plagne boasts short transfer times from various major airports. That's always a plus when travelling with younger children! Omio is your best bet to instantly check train, bus and flight routes, trip duration and prices simultaneously to compare the best way to get there.
Cost
This French resort can be pretty expensive, but when you consider all that you get, it's not too bad, especially if you pay for a fully catered chateau for all the family. However, compared to other resorts in the Alps, it's not overly expensive. In fact, there are several discounts for families, such as free lift passes for kids under five, and family ski passes in which each member pays a child's rate.
6. Kranjska Gora, Slovenia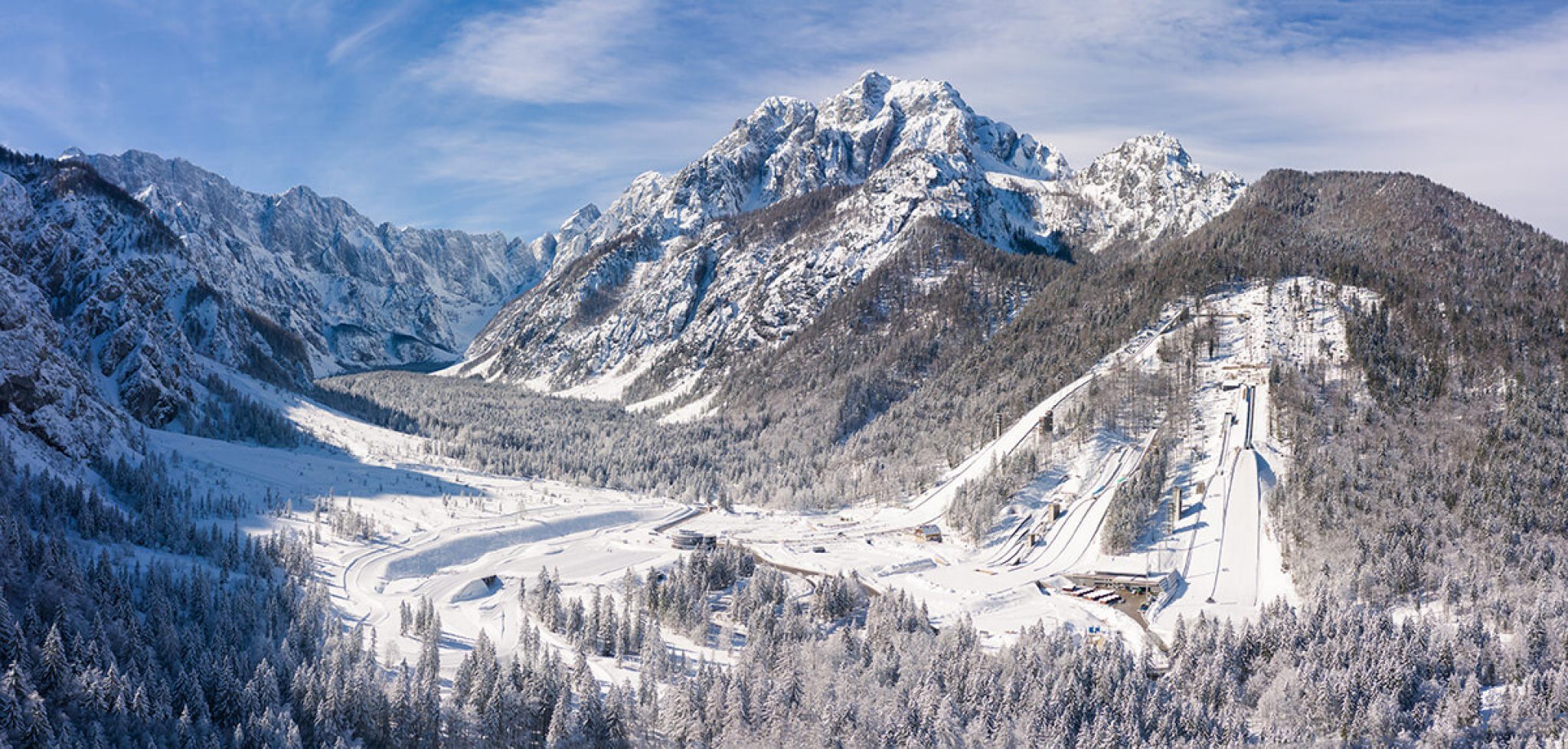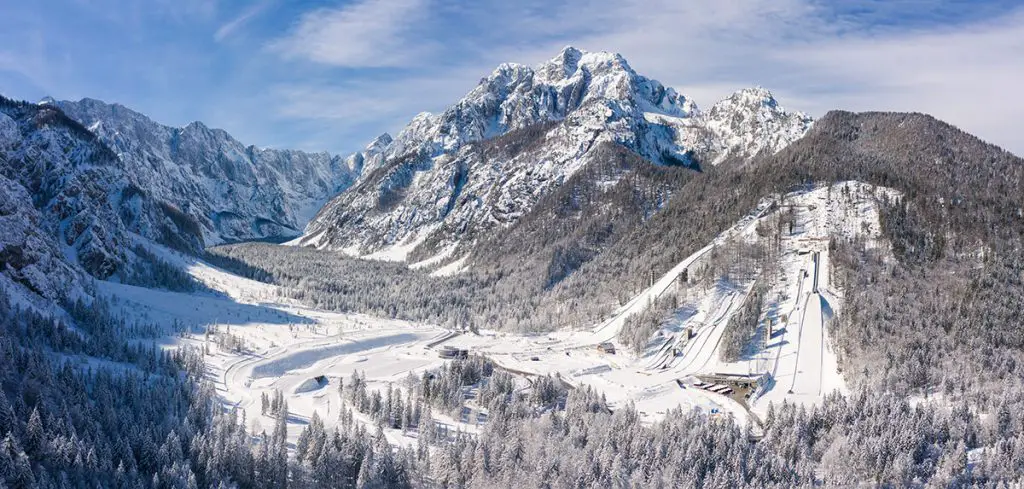 Slightly off the beaten track, though well-connected with airport transfers, Kranjska Gora takes us to the gorgeous Julian Alps in Slovenia. This postcard perfect little town is friendly and welcoming.
It feels more like a town that's lived in by locals than a resort geared towards tourism, offering a nice feeling of community. A stroll around the centre takes in countless family-owned bakeries, cafes, craft shops, and restaurants, with a good amount of places to stay in the area to make the most of the slopes and everything else.
It's almost like something out of a fairytale, and there are plenty of treats for the kids (and adults) to enjoy, such as waffles and the thickest hot chocolate you've ever tasted! You'll find slopes for skiers of all abilities, with numerous easy-going areas that are great for kids and beginners.
Outside of skiing, families can enjoy staying in a country that is small enough to accommodate day trips to various interesting places. An excursion to the gorgeous Lake Bled—be sure to try the local vanilla cream slices!—is superb in winter. While a visit to Slovenia's capital, Ljubljana, is a must. Once you are there, you can get a tour from the capital to Lake Bled and Bled castle.
Why It's Great for Families
This small yet friendly resort is an excellent place for children to learn how to ski. The relaxed and friendly ski instructors offer gentle encouragement, and since it's not such a big resort, they can spend more time with each student. It's a remarkably positive environment that will see kids gain confidence on the slopes in no time!
Other activities that kids will love at Kranjska Gora include ice skating, snowshoe walks, and sledging.
Cost
Kranjska Gora is a wonderfully affordable ski resort, especially when you compare it to resorts in the Alps or Scandinavia. Accommodation, food and drink, and ski passes are far more affordable, plus you'll often find discounts and packages available.
Winter Sports Destinations in Europe: FAQs
These six superb winter sports destinations in Europe are sure to keep the whole family happy. But, if you've still got questions, be sure to take a look over some of the most common queries.
Which European Country Is Famous for Its Winter Sports?
Austria is a veritable mecca for winter sports in Europe. It offers a range of activities, including skiing, snowboarding, natural ice skating, tobogganing, ice hockey, curling, and much more. Additionally, a winter resort in Austria is typically more affordable than France, Italy, or Switzerland.
What Is the Most Popular Winter Sport in Europe?
Skiing takes pole position by a long stretch in terms of the most popular winter sports in Europe. Indeed, Europe takes the title of the skiing capital of the world, with tens of millions of Europeans taking to the slopes each year. In recent years, snowboarding has been increasing in popularity, though skiing still takes the number one spot.
Which European Country Is Best for Skiing?
France is perhaps the most accessible European country for skiing, with easy rail, road, and flight links to a huge range of resorts. It also boasts some of the largest and most popular resorts in the world, with slopes to suit all abilities. Amazing infrastructure, great food, and varied accommodation options make France a top choice for a winter sports holiday.
Where Is Good for Skiing in January in Europe?
January is a superb month for skiing in January and any one of the winter sports destinations on this list is an excellent choice. Looking to ski outside of the season? Head over to the magnificent Zermatt-Matterhorn Resort, which boasts snowy slopes 365 days a year.