10 Beautiful Beaches in Spain for Families + Map
When it comes to selecting a country with a lot of amazing beaches, Spain should be at the top of the list since it has so much coastline along with several other islands. Because of this, you can enjoy a beach that is along the Atlantic Ocean or the Mediterranean Sea.
However, not all of these beaches are great for families as some are isolated, or much too crowded. Throughout the rest of this page, I will tell you about some of the best family beaches in Spain and why. Additionally you can see the map locations of all these beaches at the end of the list.
1. Platja Gran, Tossa De Mar, Costa Brava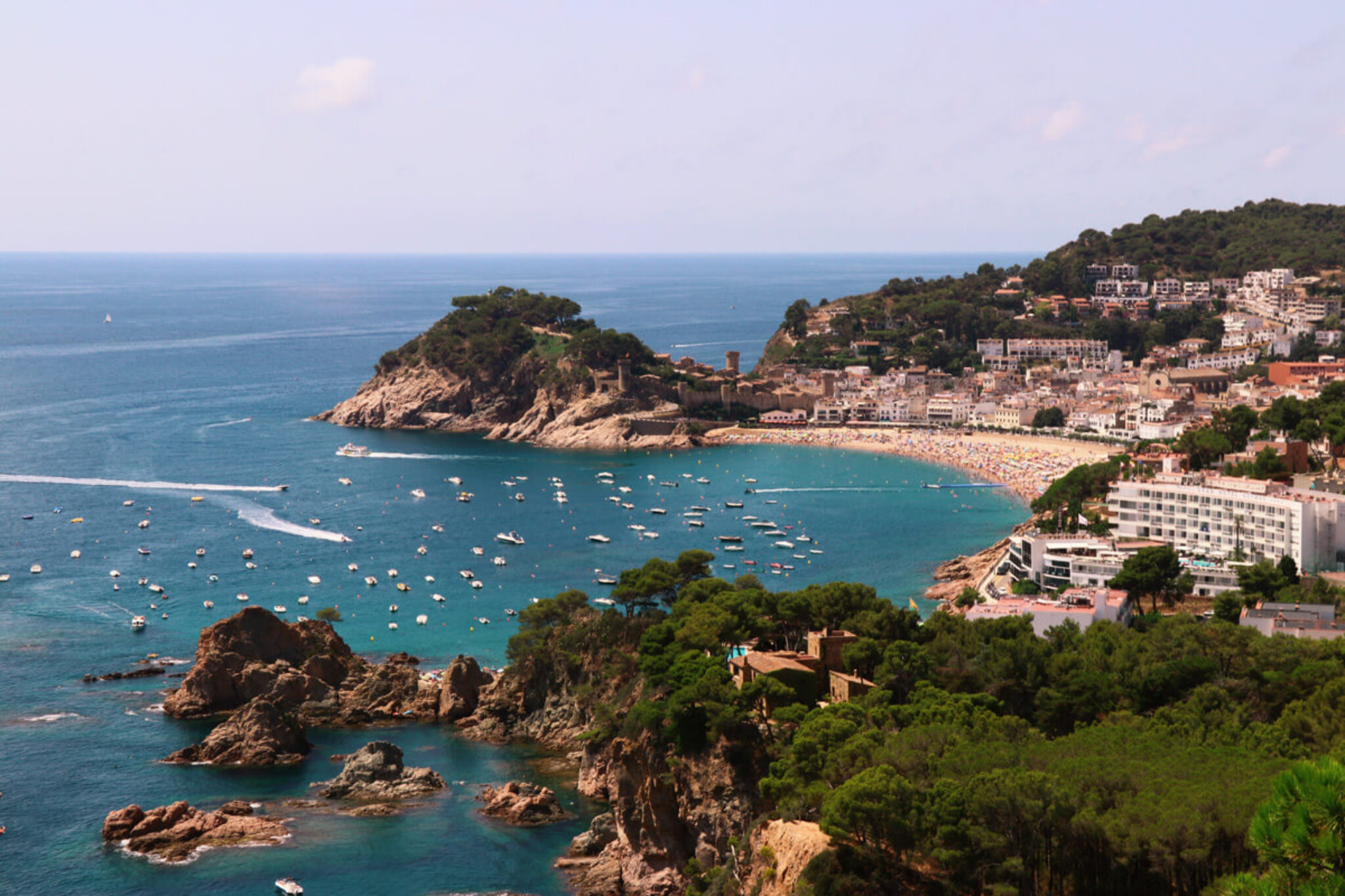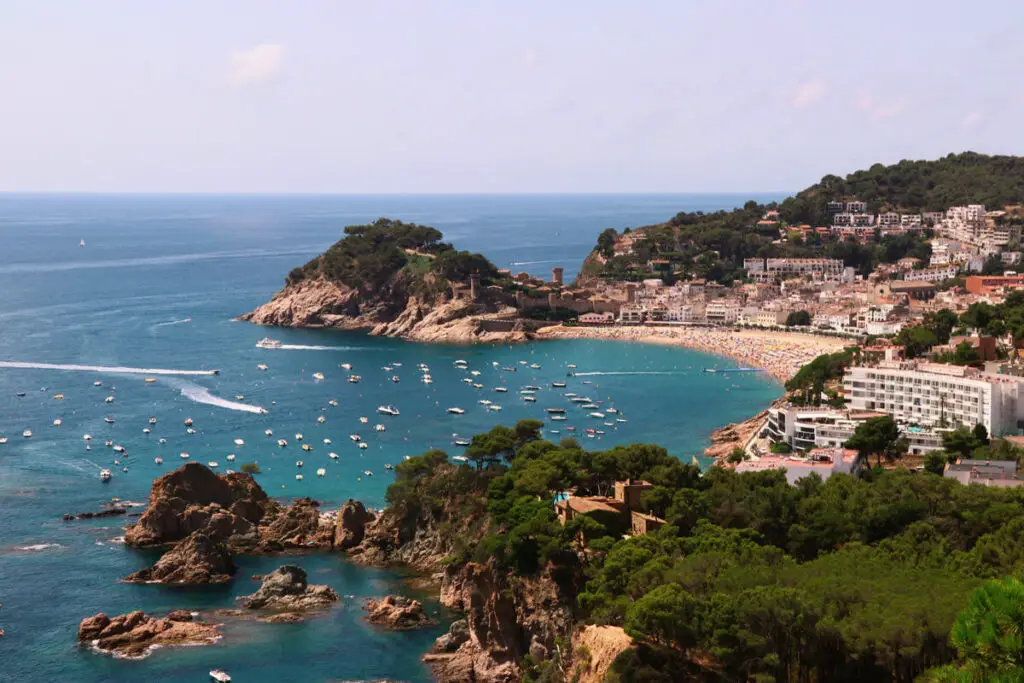 Location: here on Google Maps
Tossa de Mar is a old town with tons of character dating back to 966 with a castle built in 1187. Additionally to its history it has several beaches including Platja Gran – an incredibly pretty beach.
Platja Gran is in my opinion, the best beach in Spain for families, but also for any other tourists. Not surprisingly it is regularly featured in top lists among the best beaches in Spain.
The beach has tons of character, firstly because it is lovely, and surrounded by natural rocks, vegetation and pretty houses. Secondly the bay is overlooked by an old 14th century tower and fortifications.
It is certainly not a surprise as to why this bay is so popular. Additionally for practicality, you have cafes right on the beach to grab a bite to eat when you get hungry. For young kids it has shallow waters close to the sand area which is great for them.
If you do not go to this beach, Tossa de Mar has some other beaches along its 14km coastline. That includes others like Es Codolar which is a pretty sheltered cove. Since Platja Gran is the main beach its got some great facilities with different food options, sun lounges, lifeguards and showers. Moreover the kids have some water sports to keep them occupied.
Tossa De Mar is not far off from Barcelona. You have around an hour and half drive to travel a distance of 90kms. This pretty town is well worth a visit if you like a more laid back feel. You can even stay in Tossa de Mar and enjoy the old town for longer, with the opportunity to go to Water World Aquatic Park if your kids prefer some thrilling slides as opposed to the beach.
2. Playa de Mónsul, Costa Almería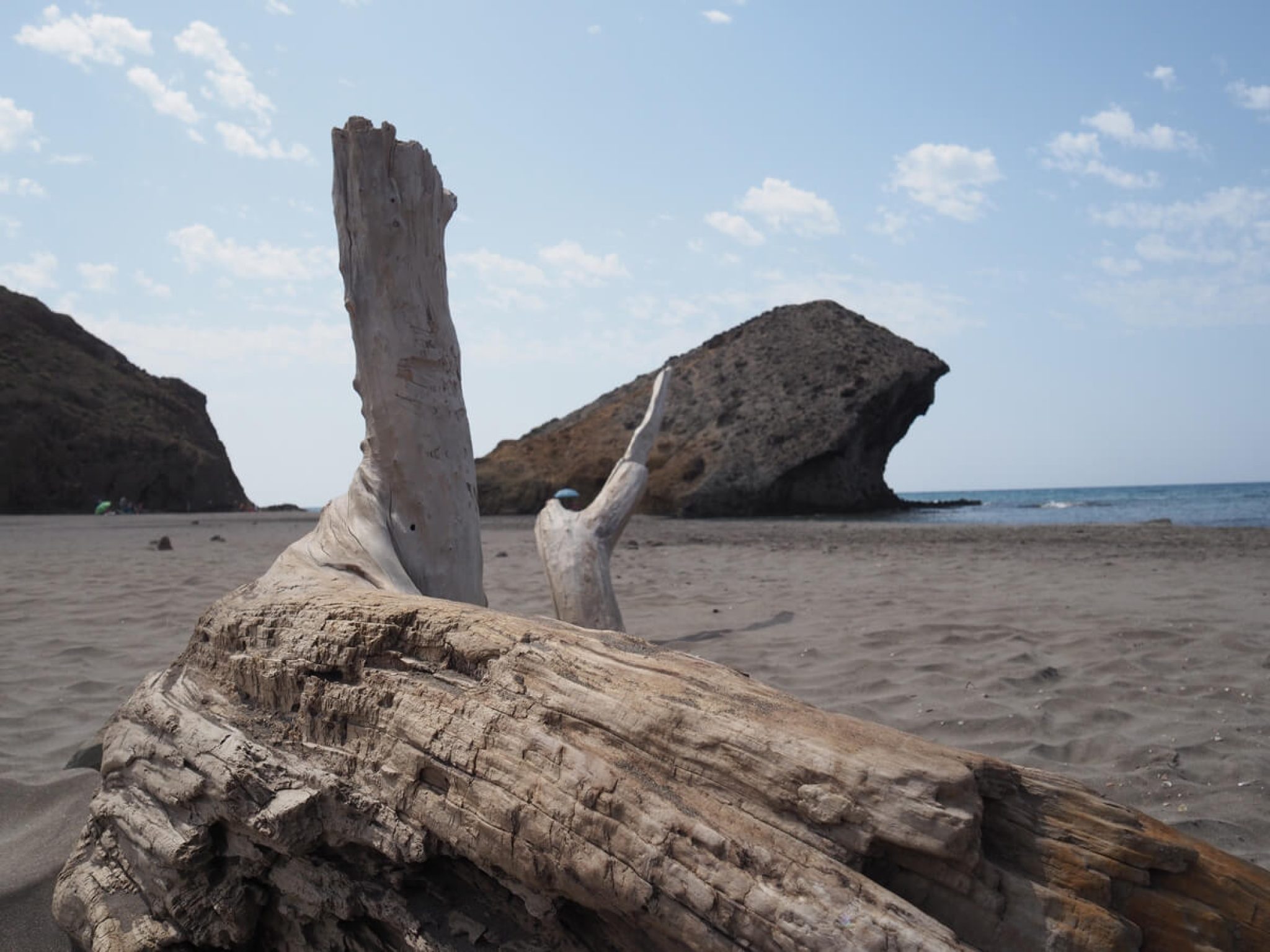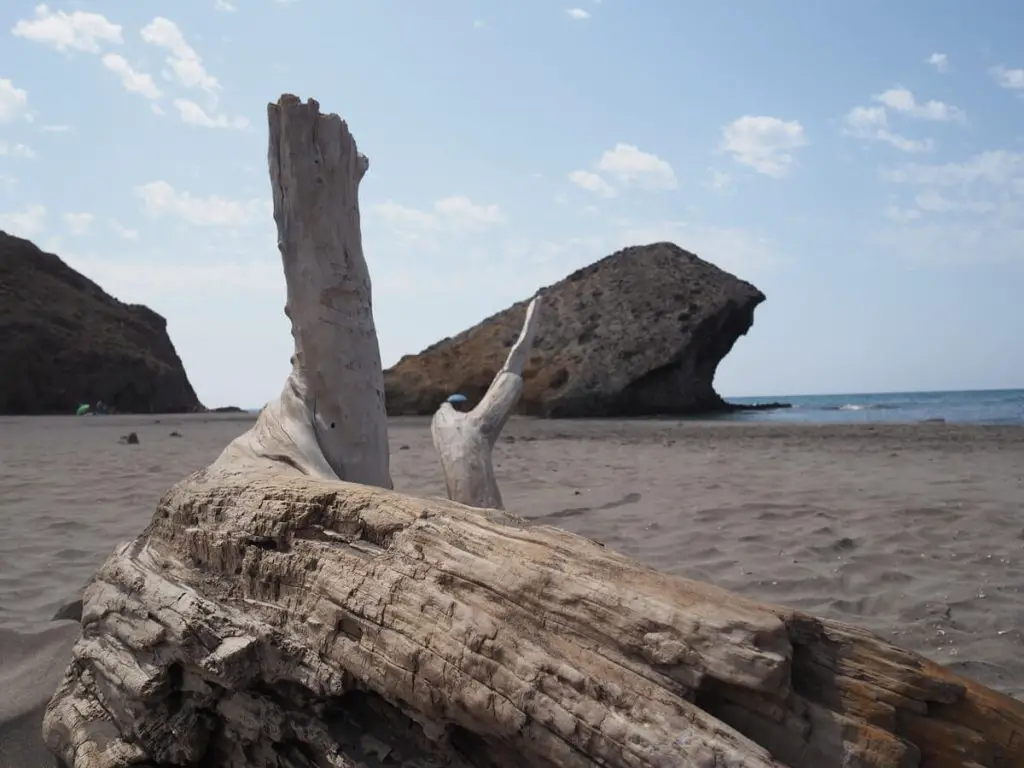 Location: Playa de Monsul here on Google Maps
When you look at a picture of Playa de Mónsul, you might recognise it. This is because this is a very popular spot where many scenes in movies have taken place at. The most popular of these was in Indiana Jones: The Last Crusade.
However, besides being a popular movie spot, this is a great beach and one of the best beaches in Spain. It is located in the south of Spain bordering the Mediterranean Sea. It is a beautiful sand beach, with lots of sand dunes in the nearby areas to explore. Along with the beach and the dunes, you can also play and have fun around these massive rocks, which can even provide some natural shade with their overhangs.
One of the negatives that you are going to have to deal with for Mónsul is the fact that it is a bit far from the nearby city of Granada. It will take you about 2 hours and 20 minutes of driving in order to get down to the beach. However Granada is a great spot to settle for a while, as there are several tours and things to look forward to in Granada apart from Playa de Mónsul.
If you are travelling to the beach by car, there are some parking spots for when you get there. When it comes to food, drinks and anything else you will want to prepare things before you leave because the beach is part of a reserve. There is no where close by where you can get a bite to eat or any supplies.
3. Platja de la Fragata, Sitges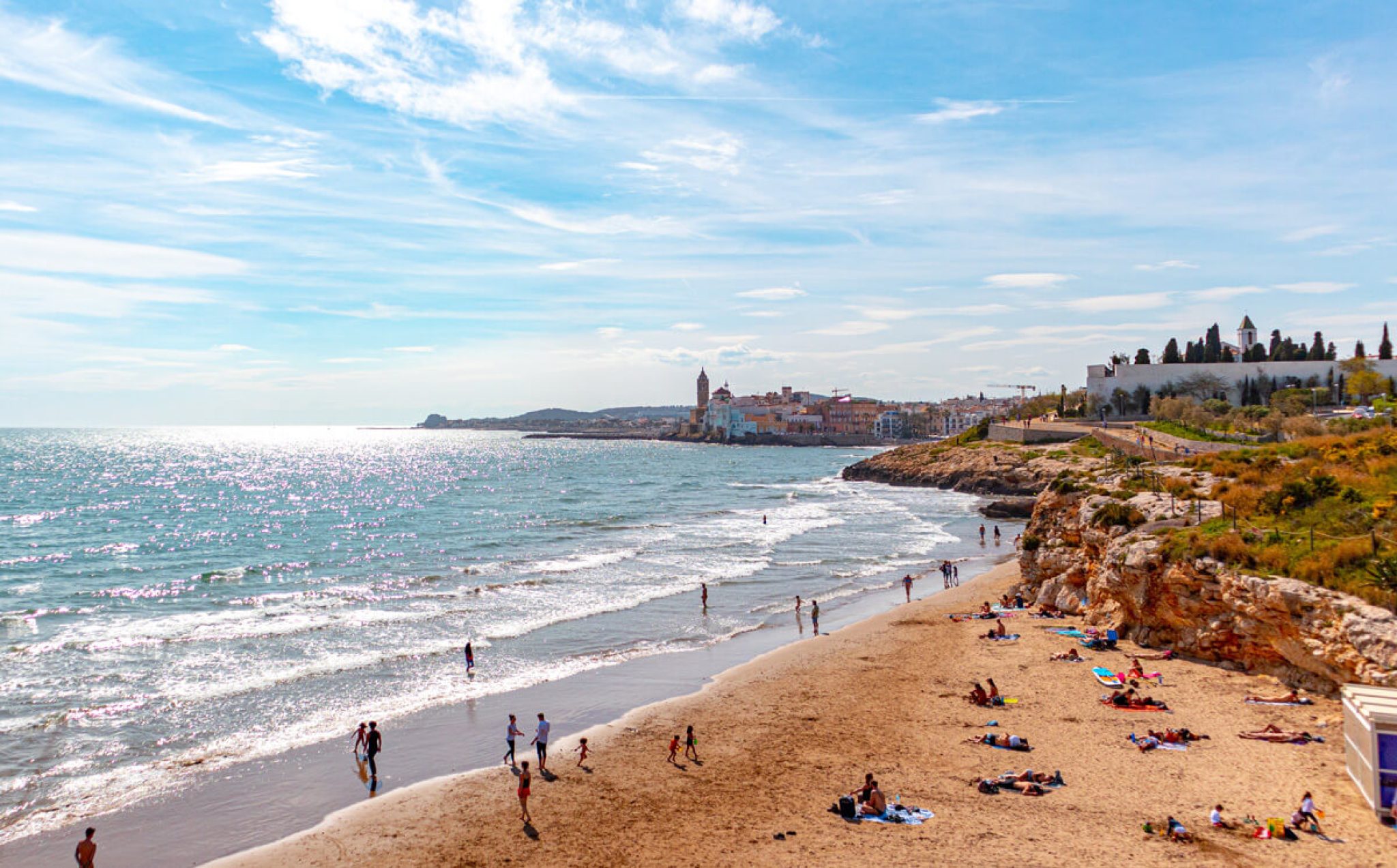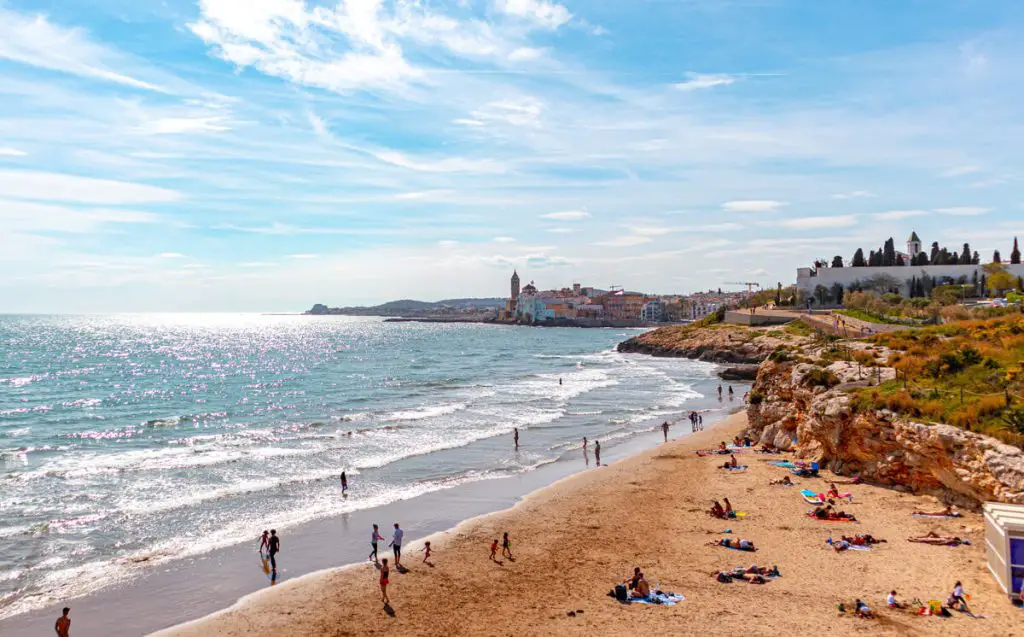 Location: Sitges here on Google Maps
Sitges is a pretty, small coastal town that is south west of Barcelona, known for a couple of things. Firstly, all along the promenade you will find stunning mansions built side by side. Of course the rich like to keep themselves entertained, so you will find some nice shops, restaurants and nightclubs for entertainment.
Apart from the well kept, pristine area, Sitges has some lovely sandy beaches. That includes Platja de Sitges, Platja de la Bassa Rodona, Platja de l'Estanyol and Platja de la Ribera. The most well known is Platja de la Bassa Rodona, but Platja de la Fragata is the most family friendly.
At Platja de la Fragata you get a nice view of the church plus there are plenty of water sports on offer here. You do need to bring your own umbrella for shade however.
To get here you might want to consider this tour from Barcelona to Montserrat and Sitges. You will get your dose of history, then consider not going back to Barcelona with the rest of the group. My colleague Erika did that when visiting Hallstatt in Austria, you can stay in Sitges if you want to enjoy the beach.
4. Platja de Llafranc, Costa Brava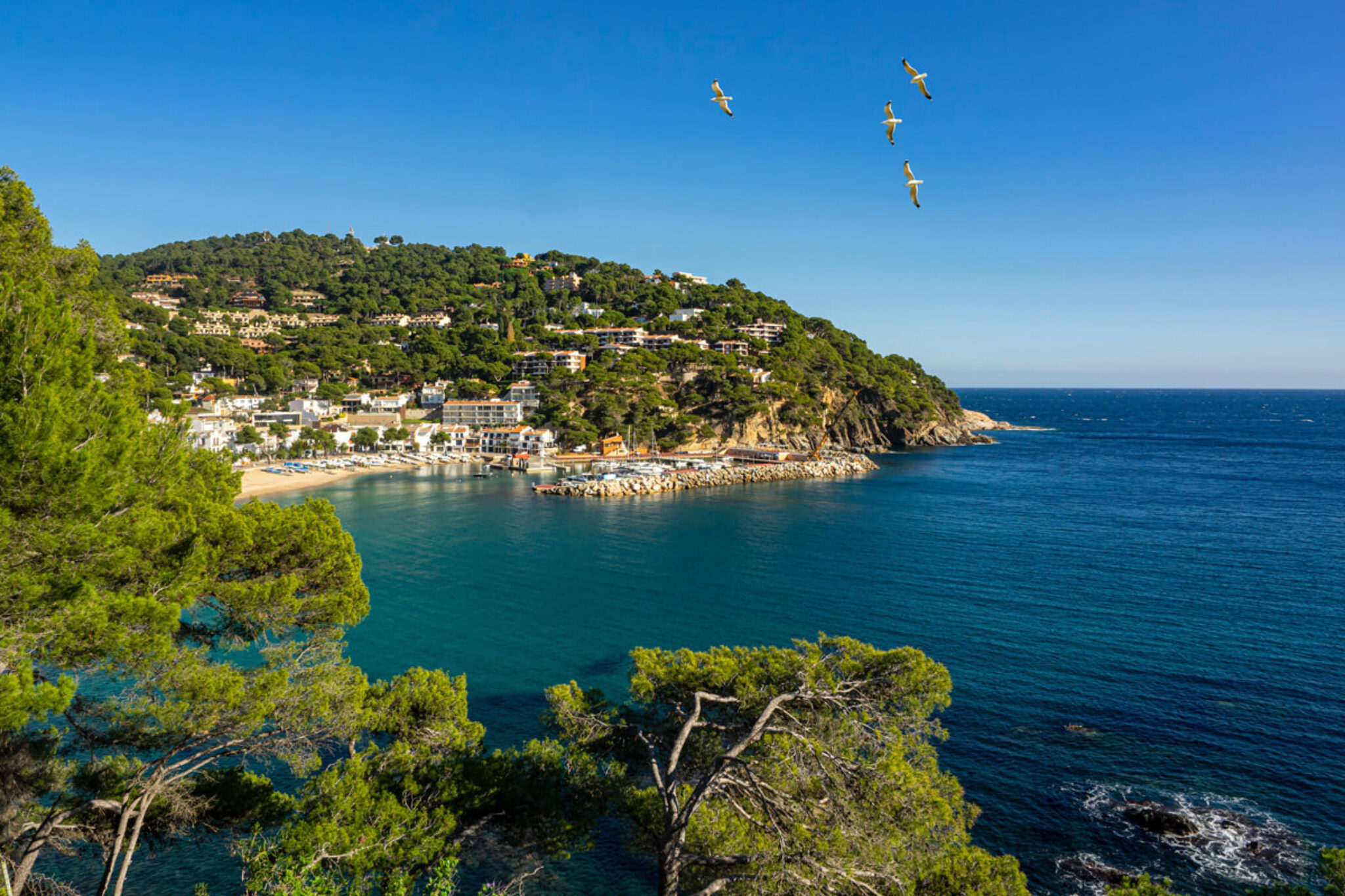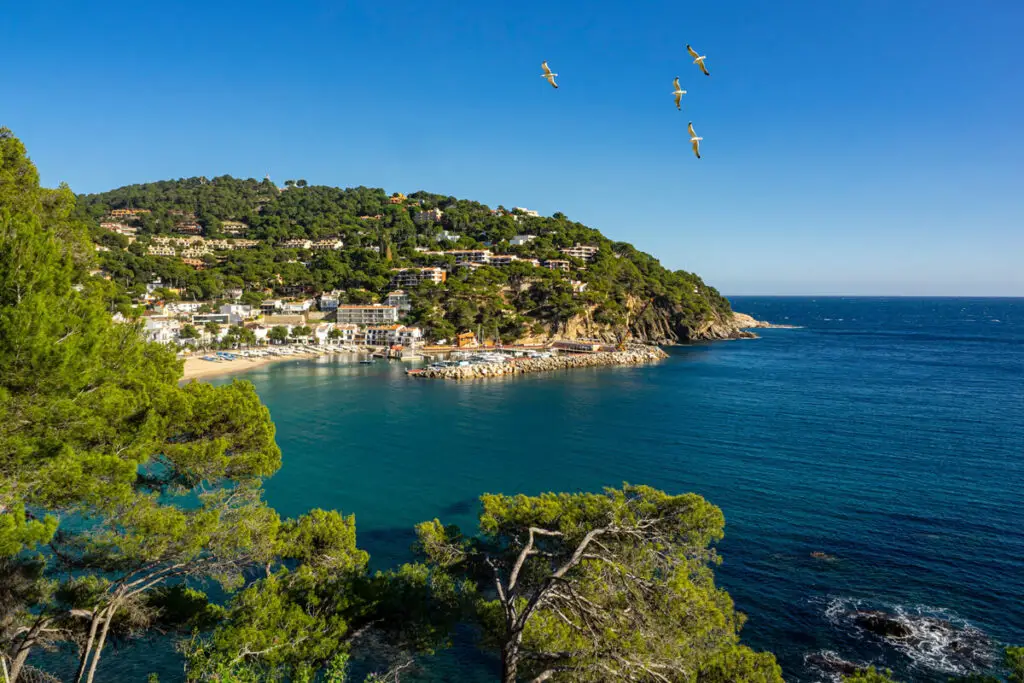 Location: Platja de Llafranc on Google Maps
Platja de Llafranc is a picturesque beach located in the heart of Costa Brava. With its clear waters and soft golden sand, it's easy to see why this beach is so popular with both locals and tourists alike.
This beach is particularly well-suited for families, with its gentle sloping shore making it safe for children to swim and play in the water. The beach is also equipped with sun lounges, parasols, and showers, making it a comfortable spot for a day out in the sun.
You can also hire a boat and there are lifeguards on standby watching closely should there be any need for them to intervene. There are also several beachside restaurants and cafes, serving up delicious local cuisine and refreshing drinks. Visitors can enjoy a leisurely lunch with a view of the sparkling Mediterranean sea.
For those looking to explore further, Platja de Llafranc is just a short distance from the charming town of Llafranc, with its narrow streets and picturesque fishing port. There are also several hiking trails in the area, offering a chance to explore the stunning natural beauty of the Costa Brava. However if that doesn't work for you, you can opt to travel on a coach with a tour to explore the area.
Overall, Platja de Llafranc is a beautiful and family-friendly beach, perfect for a day out in the sun. With its clear waters, soft sand, and range of activities and facilities, it's easy to see why this beach is such a popular destination on the Costa Brava.
5. Playa de Temperáns, Costa Galicia South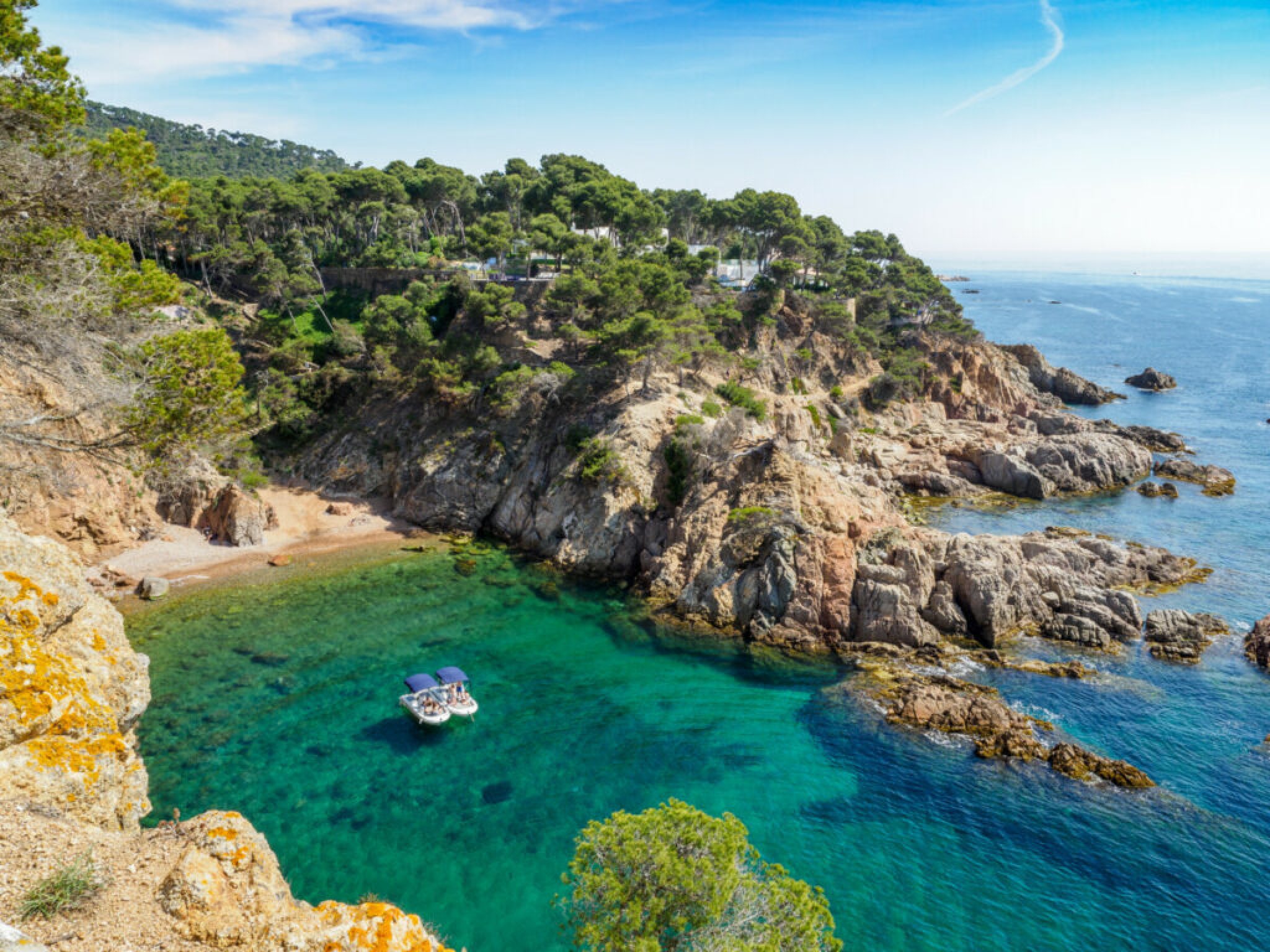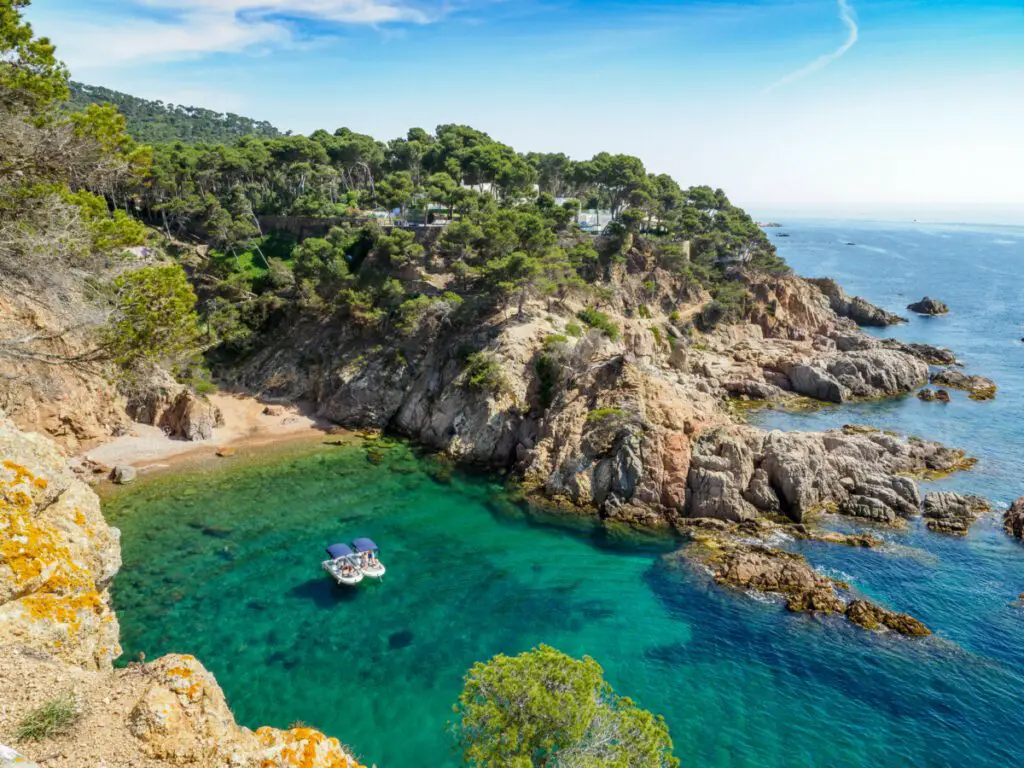 Location: Playa de Temperáns on Google Maps
The third beach on this list is Playa de Temperáns, which is located in the Northwest part of Spain, just across from the town of Vigo. In total, this beach spans about 1,500 km of coastline across the northwest of Spain, however, I will focus specifically on the section just across from Vigo.
This section of beach is somewhat secluded as it takes about 15 minutes on a smaller road to get here, however, it has very soft, warm sand to enjoy and for a good section of the water, it remains shallow so kids can play in it without it getting too deep. This beach also is somewhat sheltered by a number of trees which keeps it secluded.
When it comes to finding a place to stay, you can stay at a hotel, Casa Temperan, that is just next to the beach, making travel even easier. Food is a bit farther away in the small town of Nerga, which is located just north of the beach, but it will only take you about 5 minutes to get into the town and find a variety of restaurants.
6. Cala Puerto Negro, Costa Azahar
Location: Cala Puerta Negro here on Google Maps
Located on the coast between Barcelona and Valencia is the small beach of Cala Puerta Negro. Fortunately, this beach is nearby the town of Peniscola, but when it comes to the beach there are a few small neighborhoods that offer housing for those who are wanting to enjoy the beach.
The beach itself is fairly small as it is a section of sand that goes down to the Mediterranean Sea that is located on each side by rocks. The beach does have parking, so if you do stay outside of walking distance, you can still drive and park close to the beach.
When it comes to finding a place super close to the beach, you are going to have more of a struggle not finding a place as there are 5 different hotels/apartments located within walking distance of the beach for you to stay at. When it comes to some food places, there are some fast-food options around the hotels, however, the best food will be located in Peniscola at restaurants like La Bodegueta, and La Taberna Mio Cid.
7. El Sardinero Beach, Santander, Cantabria
Location: El Sardinero beach here on Google Maps
Now, we are going to head back up to the mainland of Spain, and continue until we get to the northern coast of Spain where we will find El Sardinero beach. Most of the other beaches all had some unique attribute that set them apart from many other beaches, but Sardinero is your typical beach, but it is located directly next to the city of Santander.
This means getting a place to stay and food to eat is extremely easy and can even be done on food as many different hotels border the length of the beach. This beach is slightly more crowded during the summer than the others, but it is still a great option!
8. La Roqueta Beach, Guardamar de Segura, Alicante
Location: La Roqueta beach here on Google Maps
Located in the southeast of Spain, you have the large La Roqueta beach, which is located right next to the city of Guardamar de Segura. This beach is another option for a beach located directly next to a city, but with this beach you will be able to enjoy a bit more peace and quiet as the beach stretches on for several kilometers, leaving plenty of room for everyone to spread out and get their own space.
When it comes to finding a place to stay there are a variety of beachfront hotels and even a few beach campground options if you want to be out on the beach throughout the warm summer night.
9. La Misericordia Beach, Málaga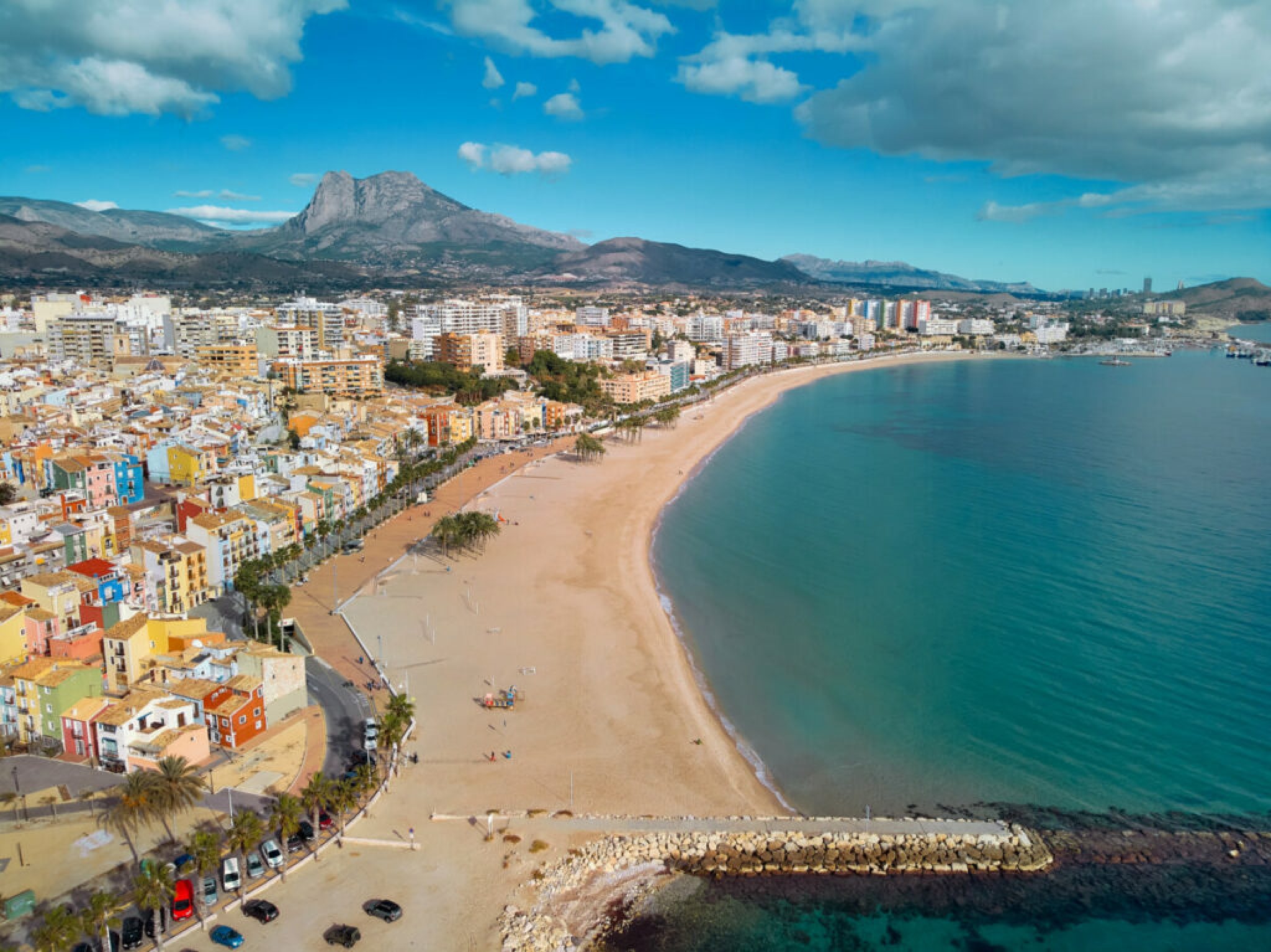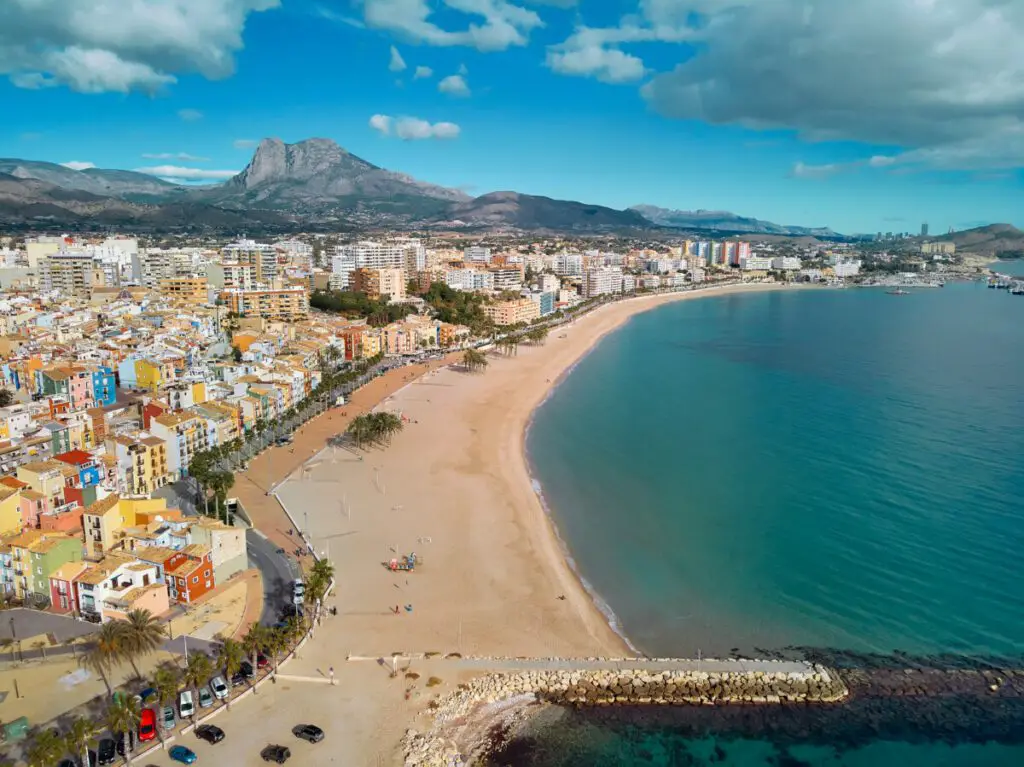 Location: La Misericordia beach here on Google Maps
Located in the south of Spain to the east of the Strait of Gibraltar and just south of the city of Malaga, there is a long stretch of beach known as the La Misericordia beach. This is a nice beach as you are going to be able to park your car near the beach, meaning you aren't going to have to walk far in order to get to the beach.
There are also several shady areas to rest and relax in. You will want to keep an eye on the water as it can rise fairly high during the tides. There is also a pier at the southern end of the beach for those who want to go to the ocean but don't want to swim can still have a very enjoyable time.
10. Playa de Poo, Alicante
Location: Playa de Poo here on Google Maps
In the north of Spain between Santander and Gijon, there is a series of small secluded beaches. However, one of these beaches stands out as the best of these beaches and one of the best beaches in Spain. Additionally it is a great family-friendly beach called Playa de Poo.
What really makes Playa de Poo great is the fact that it is a large beach, with plenty of sand and water. However the entirety of the water area is beautifully shallow.
Along with this, Playa de Poo isn't directly on the ocean, but rather a bit of beach that is protected from the contestant waves by an outcrop of rocks. This means you can enjoy the shallow water with no worries about waver.
When it comes to finding a place to stay you have a few options. The first is the small little hotel that is next to the beach, but you will also have several other hotels located in the city just 5 minutes away. The beachside hotel also has a restaurant for you to get something to eat at, and the town has several other restaurants as well.
Best Beaches in Spain Map Locations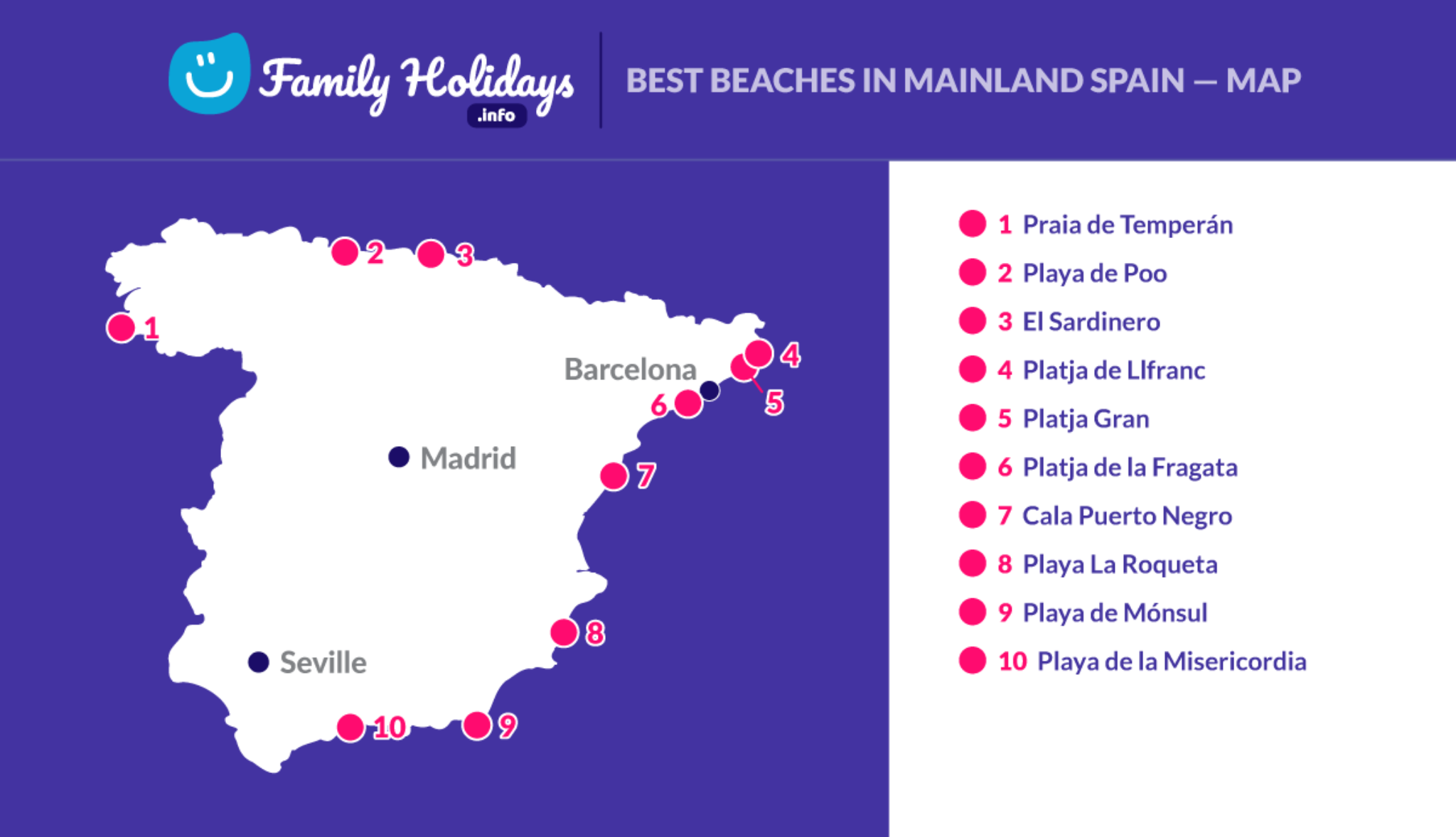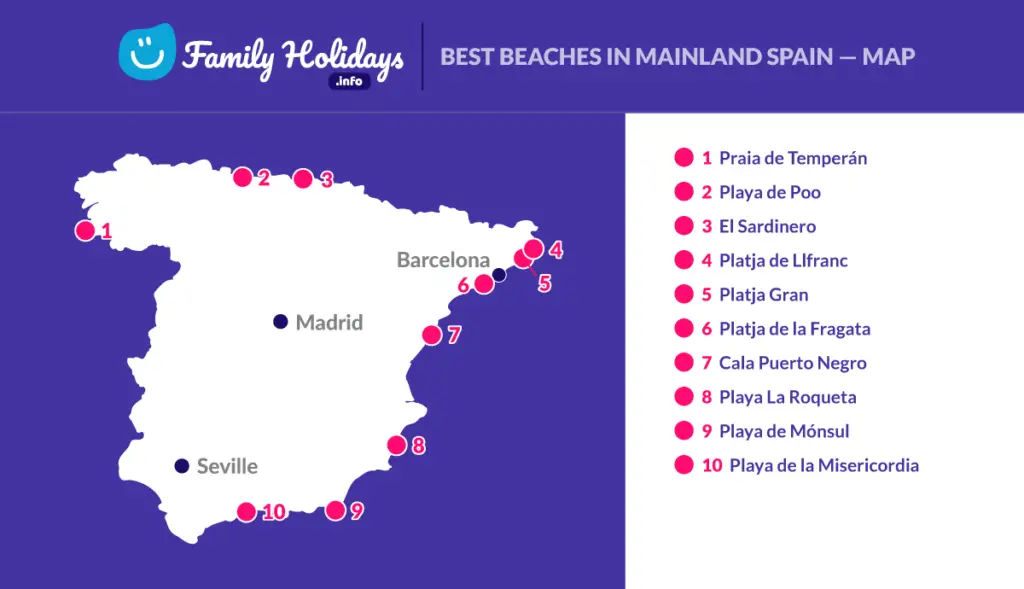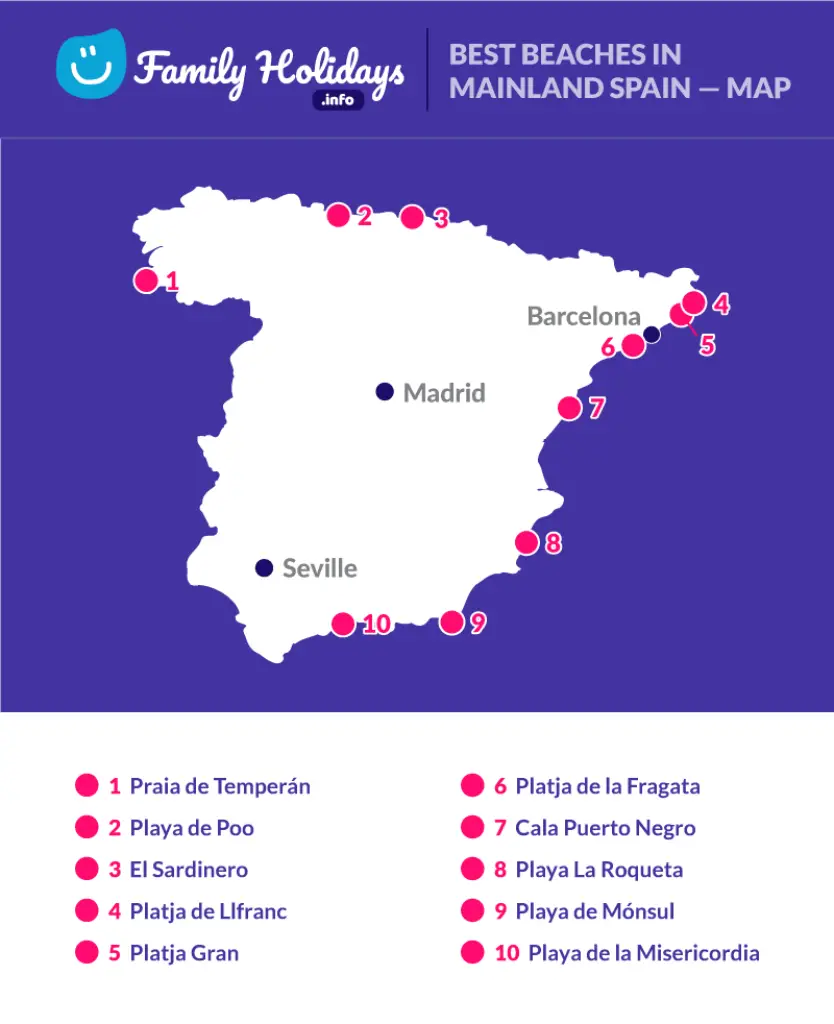 Related Articles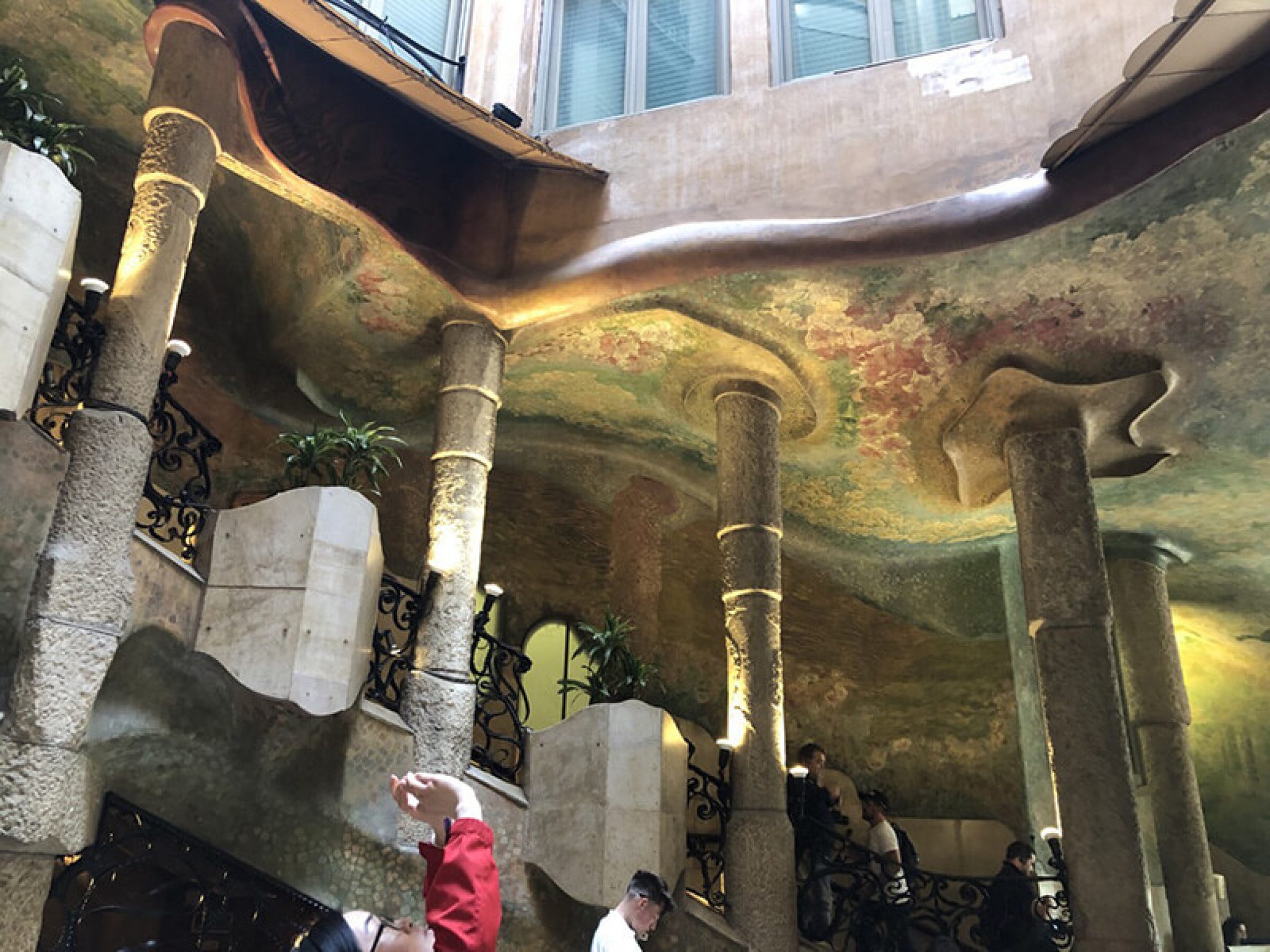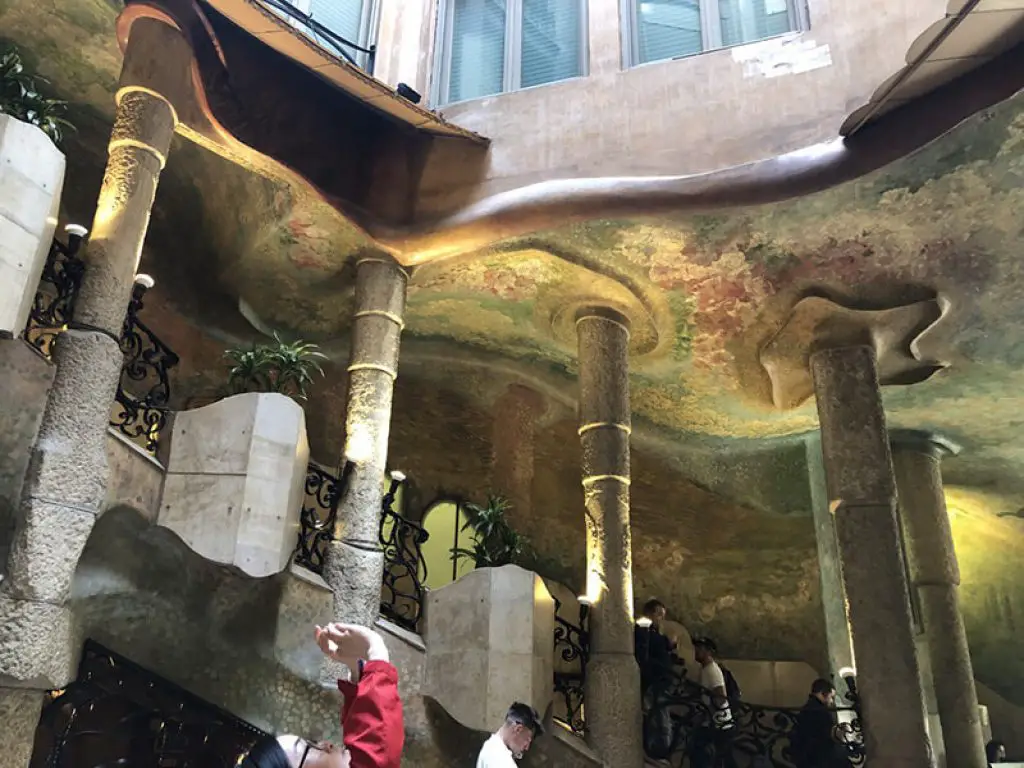 Family Holiday in Spain, Kids Activities, Itineraries and Guides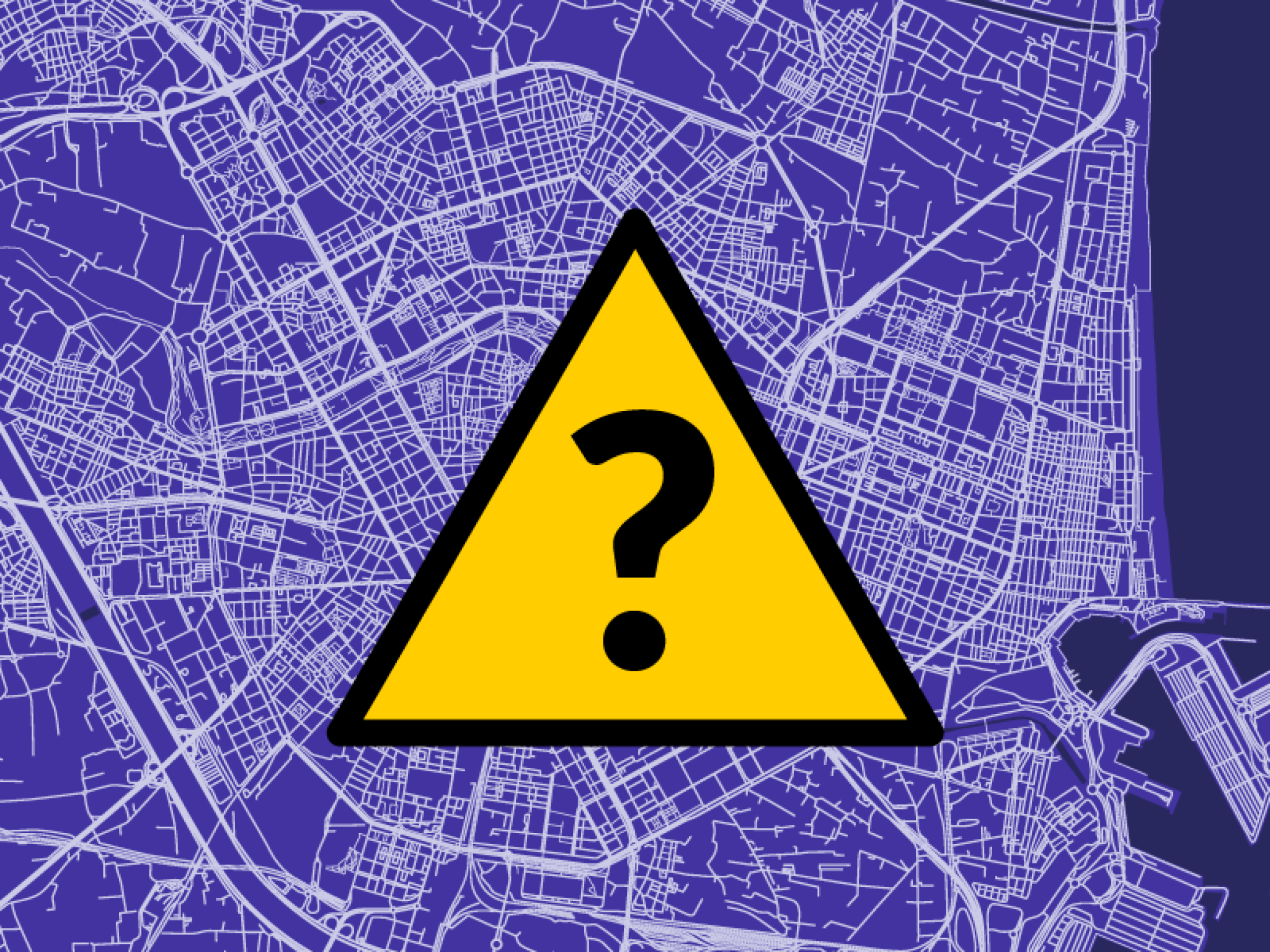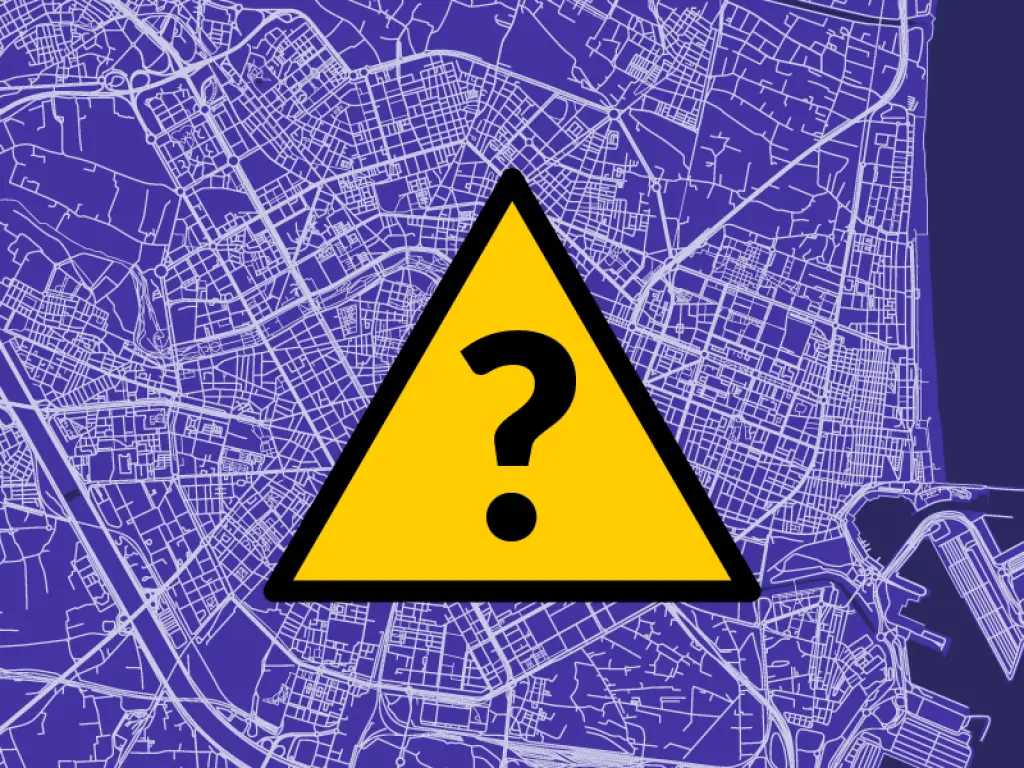 Is Valencia Safe? Information for Tourists Going to Valencia