The Best Way to Get to Mallorca – Ferry, Plane or Train
If you are thinking of travelling to Mallorca you have two options of how to get there. You can get to Mallorca either by plane and/or ferry.
Flying into Mallorca is the most efficient way to get there because there are direct flights from 185 airports. That is unless you are travelling from the ports of Ibiza or Ciutadella in Menorca where you can travel onboard a fast ferry. These journeys will take between 1 hour and 15 minutes to 2 hours and 15 minutes, but may be more expensive than flights.   
Your journey will depend a few things. Firstly where you are coming from, where you want to explore and how you want to explore it. So here is some detailed information on trains, planes and ferries. You will find route maps, travel times and rough price guides.
Travel by Train
The Eurail travels to 40,000 destinations across Europe including the island of Sicily. However it does not travel to Mallorca. So if you are in Europe a little further away from the airports or ports that travel to Mallorca, you may prefer to travel part of the journey by train. After that you will need to switch and catch a flight or ferry.
If you plan to catch the train and then the ferry, you should stop in Barcelona or Valencia. However Barcelona usually has slightly cheaper ferry rates. All ferry companies departing from various locations sell tickets through Direct Ferries.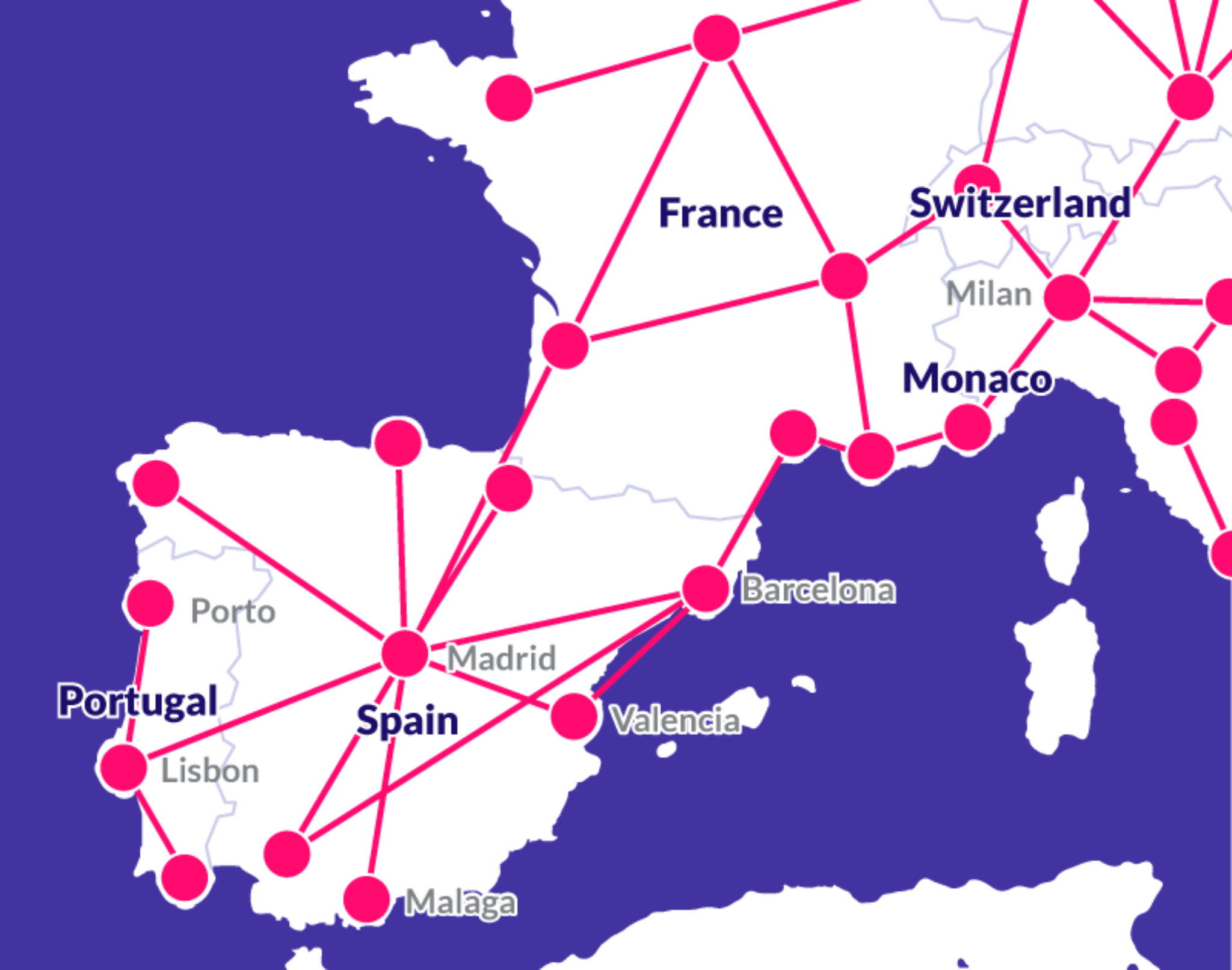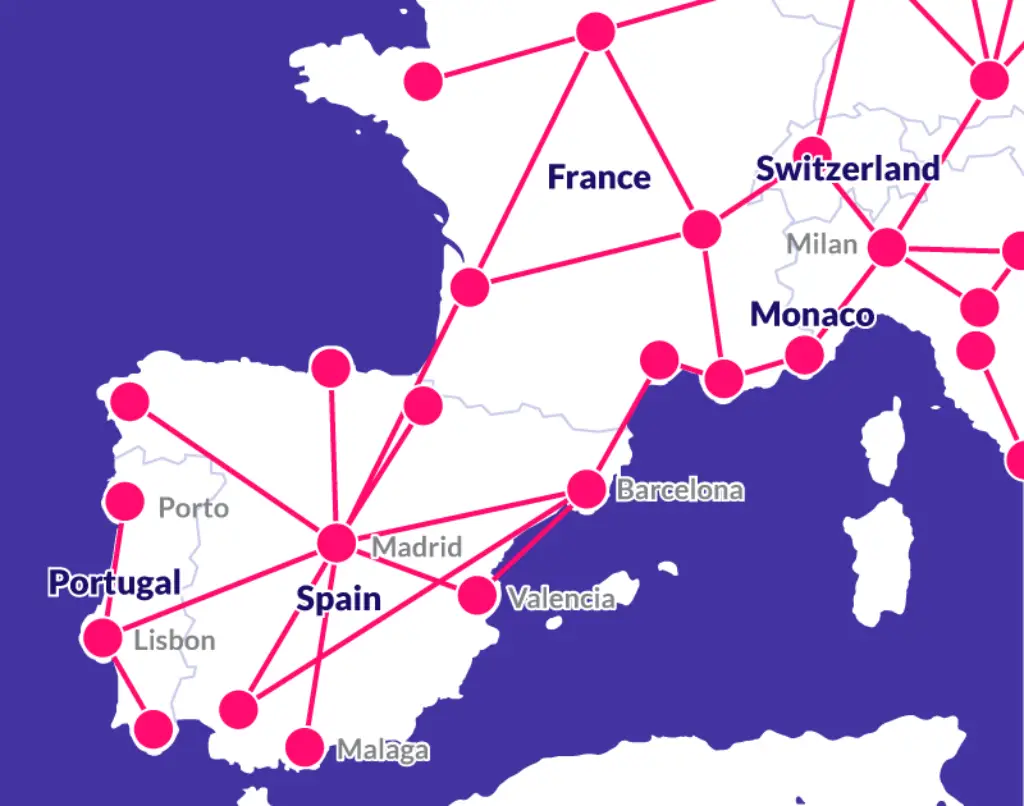 Travel by Plane
Mallorca has several airports, but only 1 international airport that handles passenger flights. The Palma de Mallorca Airport is in the capital of Palma and is the third largest airport in Spain. It handles almost 30 million passengers per year.
There are direct flights to Mallorca from 185 different airports around the world. That includes a lot of major airports, for example; London Heathrow and Gatwick, several in Italy and France, Zurich, Munich and New York Newark Liberty.
However some may only operate during the summer time and not all year round. In fact the flights from New York operate 3 times a week during summer.
You can travel to Mallorca using any of the 66 different airlines that fly into Palma. Some of the most popular airlines that fly direct to Mallorca are:
For a full list of airports and flights that travel direct, you can hop onto the Palma de Mallorca airport website.
Flight Times to Mallorca
Here is a small table to give you an idea of the time it takes to travel from the most popular airports. Most airports have more than one airline offering a flight.
Although different carriers may leave from the same airport and take the same route, they may take a different amount of time to travel to Palma. So the travel times in the table below are a rough guide, give or take 5 to 15 minutes.
| | |
| --- | --- |
| Airport | Travel Time |
| Barcelona | 50 mins |
| London, Gatwick | 2hrs 15 mins |
| New York, Newark Liberty | 8 hrs |
| Munich | 2 hrs 10 mins |
| Paris, Orly | 1 hr 55 mins |
| Rome | 1 hrs 45 mins |
| Zurich | 2 hrs |
Cost of Flights
Direct flights within Europe to get to Mallorca can cost anywhere between €25 to €500. Of course flights from outside Europe can be more expensive.
The cost of a flight within Europe will depend on how far the airport is, which airport and when you travel. For example travelling from Paris can be quite expensive. On the other hand since Barcelona is a close, internal flight, it is one of the cheapest ones you can get.
Travel by Ferry
One of the ways to get to Mallorca if you are on the mainland is by ferry. This suits the ones that like to take it easy because you can enjoy a scenic ride while you relax onboard. This is especially good if you decide to also explore the mainland either before or after you visit Mallorca.
There are a total of 8 ferry routes that can take you to Mallorca. All of the ferries depart from different parts of Spain as you can see in the map.  
Each route has a different distance to travel. As a result the ferry can take anywhere from 1 hour and a quarter to 9 and a half hours. However one of the major drawbacks of travelling by ferry is the weather.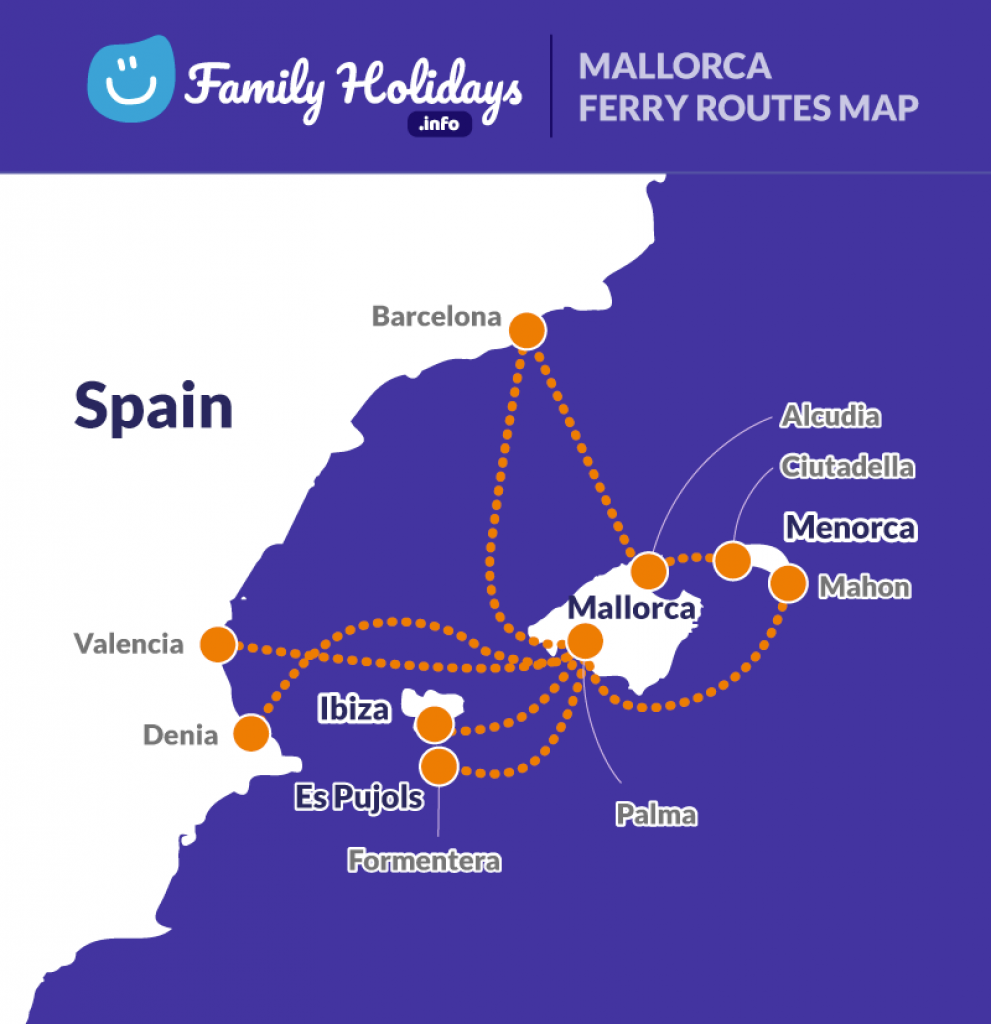 If the weather is not good for sailing, then the ferry could get postponed until the weather calms down. This is especially the case in cooler months because in summer you are almost guaranteed 100% good weather almost all of the time.
All ferries heading to Mallorca allow you to drive onto the ferry with a car.
On average there are more than 100 ferries per week to get to Mallorca during the summer. However in winter the amount of ferries doing the journey get reduced.
How Long is the Ferry to Mallorca?
There are 3 companies that offer ferry services to Mallorca; Trasmed, GNV and Balearia. Some if the ferries are faster than others. In fact this is why some routes have a range for travel time as you can see in the table.
| | | |
| --- | --- | --- |
| Departing Port | Mallorca Arrival Port | Travel time |
| Barcelona, Spain | Alcudia | 5 hrs 45 mins – 7 hrs 30 mins |
| Barcelona, Spain | Palma | 7 – 8 hours |
| Ciutadella, Menorca | Alcudia | 1 hr 15 mins – 2 hrs |
| Denia, Spain | Palma | 5 hrs 15 mins |
| Formentera | Palma | 3 hrs 30 mins – 4 hrs 15 mins |
| Mahon, Menorca | Palma | 5 hrs 30 mins |
| Port of Ibiza, Ibiza | Palma | 2 hrs 15 mins – 4 hrs |
| Valencia, Spain | Palma | 7 hrs – 9 hrs 30 mins |
Cost of the Ferry
Ferries can cost anywhere from €50 all the way to €160 for a single passenger without a car. Interestingly enough, it does not depend so much on the distance you have to travel from one port to another. If you travel from Barcelona or Mahon you will pay a for a cheaper ticket.
If you would like to have a look at the ferries or book a ticket you can use Direct Ferries as I mentioned earlier. You can change the country you are from at the top right. Like this the site will display the language and currency you use.
Related Articles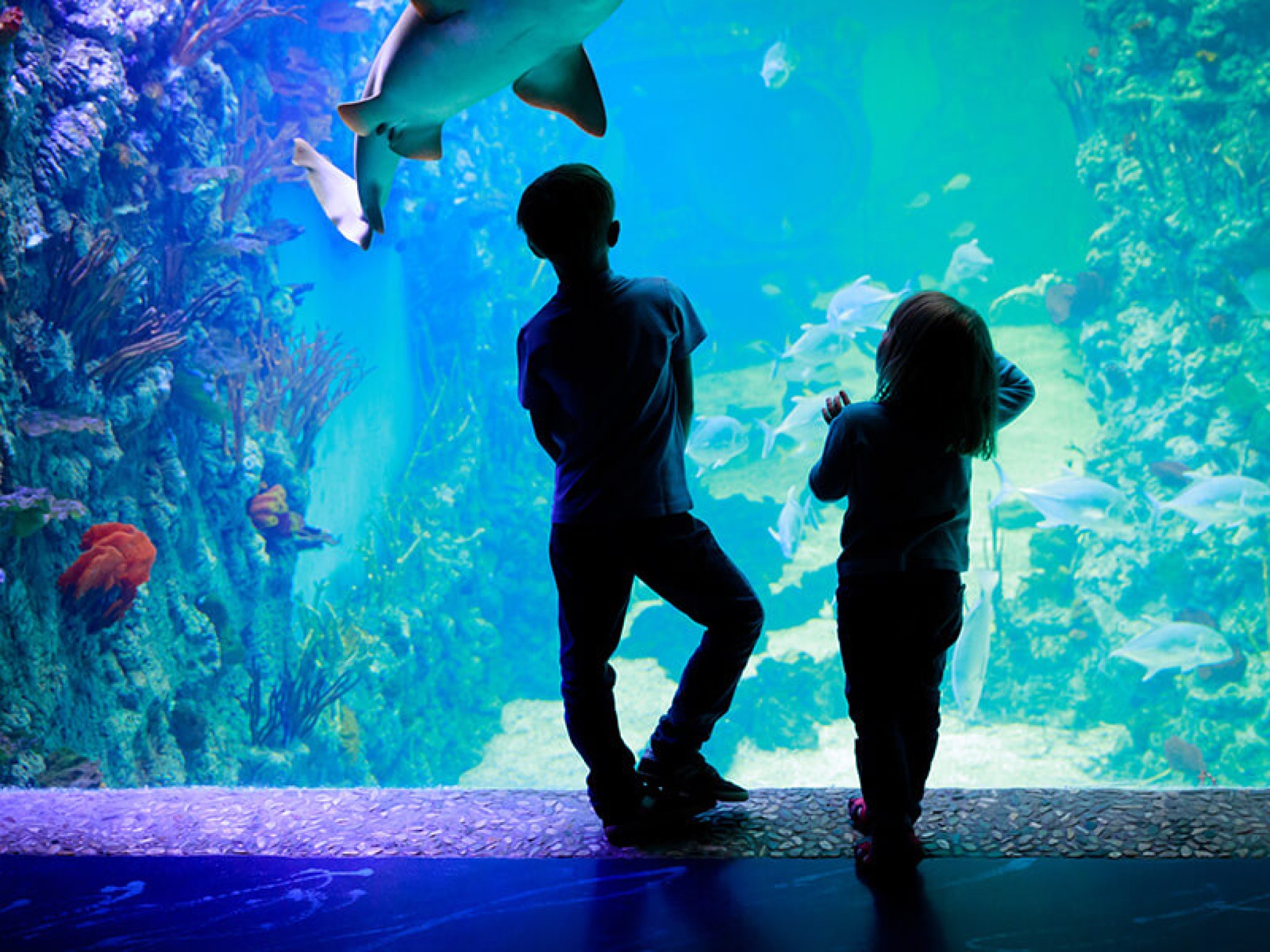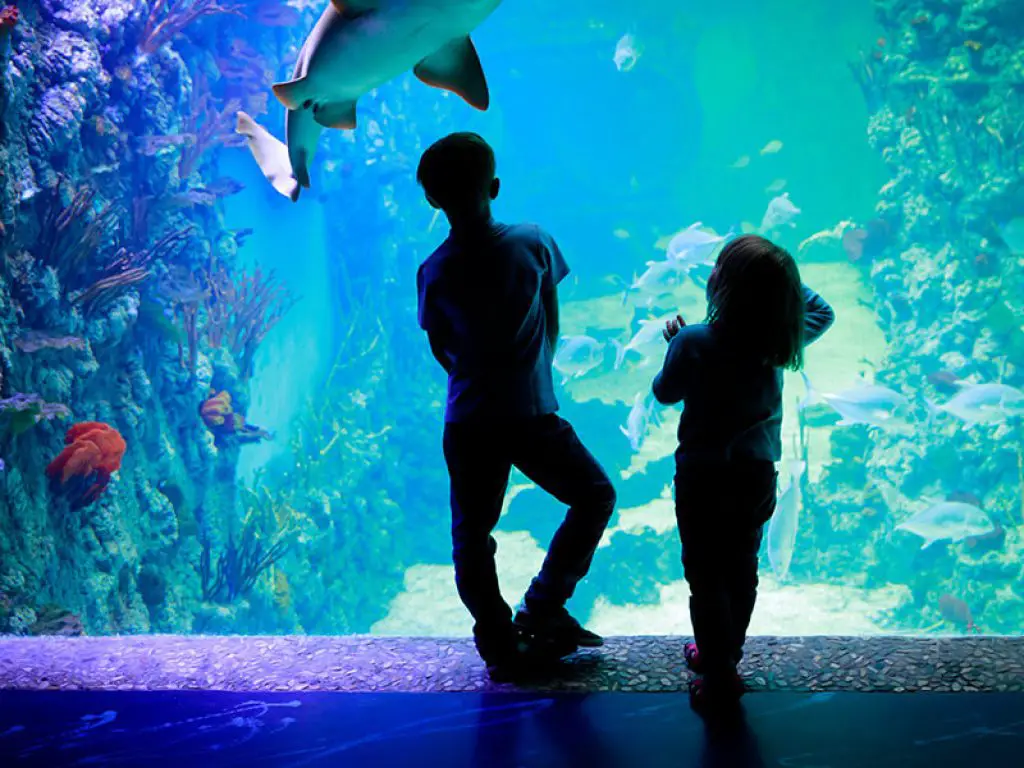 Mallorca Family Holidays, Kids Activities, Itineraries, Guides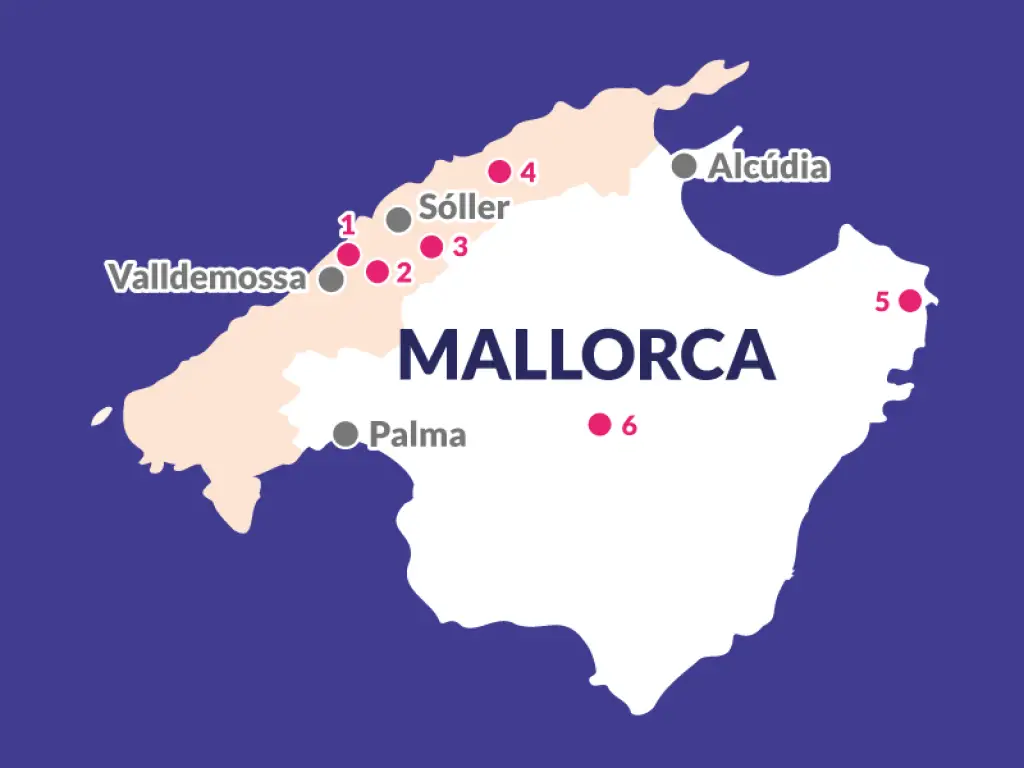 The Best Side of Mallorca for Views, Beaches and Activities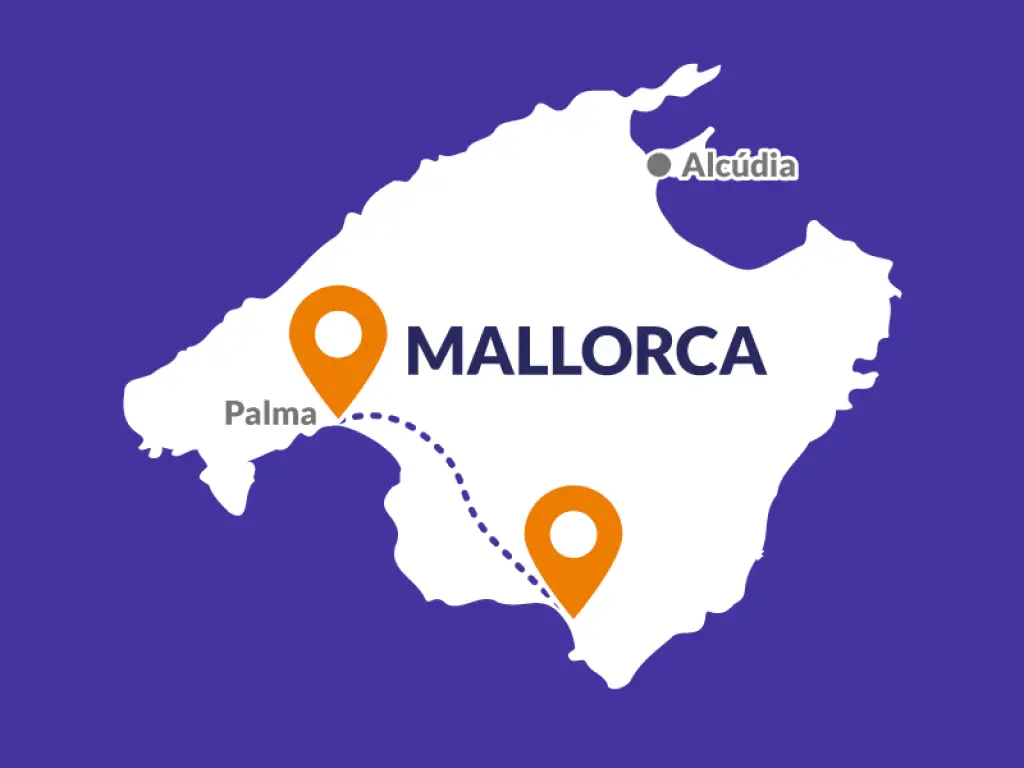 Getting Around Mallorca: Public Transport vs Car Rental vs Taxi